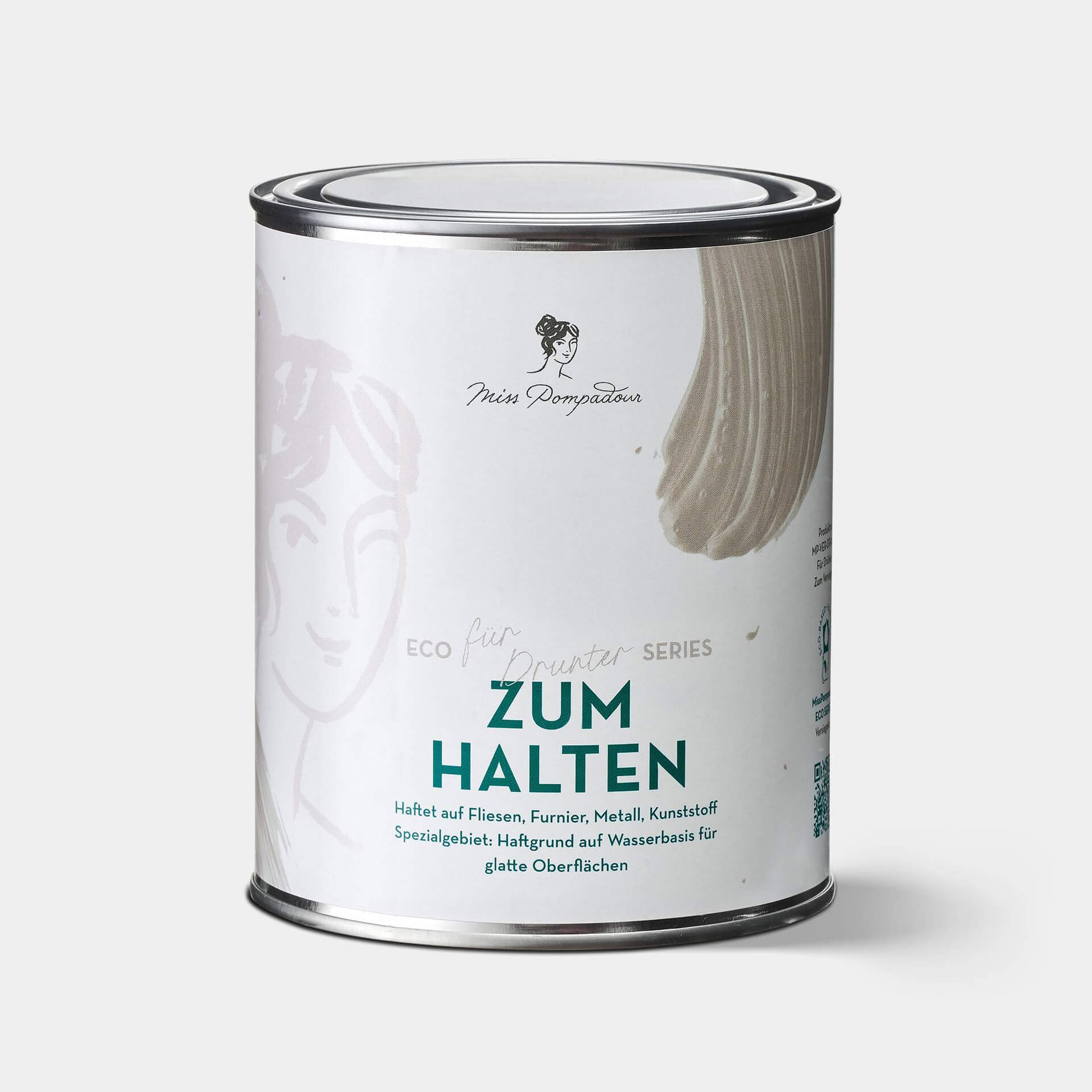 MissPompadour
To Bond - Primer
The MissPompadour Primer is suitable for the pre-treatment of extremely smooth surfaces. With the MissPompadour Primer you create a secure hold for the actual colour coating and an even coating surface.
Superior adhesion to smooth surfaces


For wood, metal, plastic and walls
Interior and exterior
Good flow, smooth application
Water-based
Available, delivery time 2 to 4 Working days
This is what our customers say
Like all our paints and varnishes, To Bond is plant and water based. You don't have to worry about the environment or sustainability - we've already done that for you. Because the vegetable base consists of raw materials in the 2nd cycle of edible oil production. This means that the production of To Bond is not at the expense of agriculture.
To Bond - MissPompadour Bonding Primer
We have put all our experience into the development of our MissPompadour products, and of course all of yours. And to ensure that paint can adhere perfectly to a very smooth surface, we have developed the MissPompadour Bonding Primer. It is used whenever you want to paint extremely smooth surfaces such as glass, plastic, high-gloss lacquer or glossy veneers. Apply a layer of To Bond to the smooth surface before painting. The primer then ensures that a grippy layer is created, which forms a perfect, even base for the actual paint. It is absolutely worthwhile to do this one step before the actual painting. This way, we can guarantee that you will be able to paint even a high-gloss kitchen with MissPompadour Bonding Primer without any problems. Even on tiles, which often have a very smooth surface, you should pre-paint with To Bond. To Bond should also be used whenever you want to paint different surfaces. This will give you an even surface to paint.
The application of To Bond
First of all, you should clean the surfaces to be painted so that they are free of dust and grease. This is especially important when painting kitchen furniture. This is especially important when painting kitchen furniture, because the vapours produced in the kitchen are invisible on every surface. The best thing to do is to use a grease cleaner. Of course, you can use our To Clean for this. But a washing-up liquid will also work. After all surfaces have dried, stir the primer well and apply it in a thin layer to the surface. It is best to use a paint roller. For all areas where a brush is necessary, we recommend the Fine MissPompadour Brush. Its bevelled shape makes it easy to reach even hard-to-reach areas. It also leaves no visible brush strokes. Leave To Bond to dry for about 4 hours at a room temperature of about 20°C before painting. On tiles and other very cold surfaces, it is better to wait a day before starting to apply the paint.
The environmental compatibility of MissPompadour Bonding Primer
We make every effort to ensure that our own products are as environmentally friendly as possible. This is not always easy, because paint is a chemical product. To Bond - MissPompadour Bonding Primer is not only water-based but also plant-based and ensures that the entire painting process with our paints is as environmentally friendly as possible. To Bond is white/milky.
| | |
| --- | --- |
| Application: | Indoors and outdoors on smooth surfaces. For metal, wood, tiles. |
| Processing: | Dry after approx. 4 hours (best to wait 6 hours). This information applies to a room temperature of about 20 degrees and 65% humidity. If it is cooler, you should wait a little longer, especially for bathrooms in the basement. |
| Quantity: | 1 litre |
| Reach: | 1L is enough for about 10 m2 |
| To Bond: | Download technical data sheet |