Wall Paint Pastel: How to Paint Pastel Colours
5 min reading time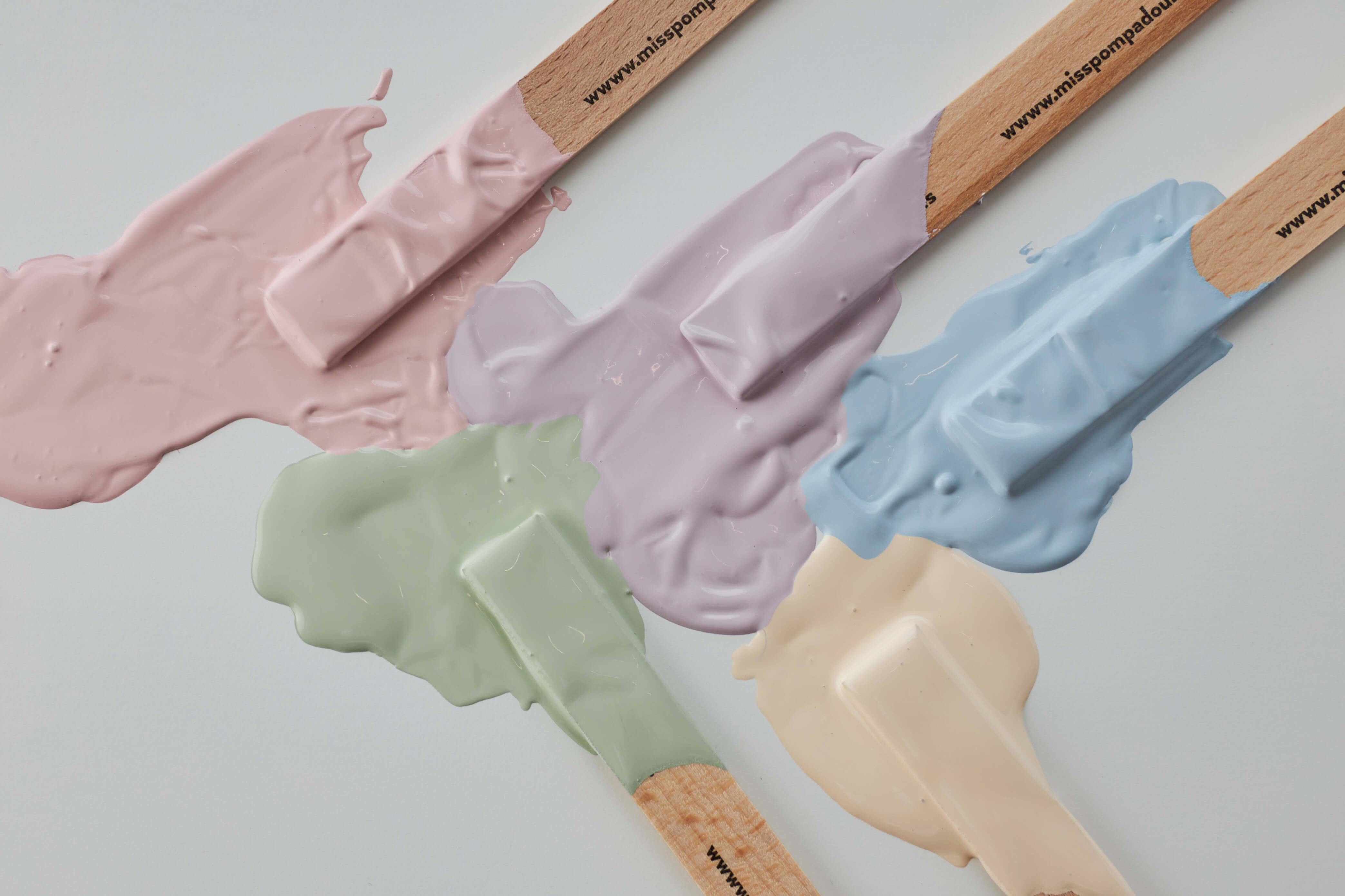 The dark winter days are coming to an end, and outside it's slowly becoming more colourful. Are you longing for more colour and freshness inside your four walls? Then here's the perfect guide for you: Find out how to bring the blossoming of nature into your home with delicate, airy pastel colours.
Walls in pastel shades: inspiration from our painting community
Especially in spring, we long for lightness again, when the world begins to blossom once more. Wall paints in pastel sh ades even bring this freshness and security into your home all year round. The members of our MissPompadour painting community will show you how you can set the scene with pastel shades. Let yourself be surprised and inspired!
The right pastel shade for your home
You might think that pastel shades are only something for "girls" and look more childish than fashionable. Pastel colours are back in fashion for grown-ups and people with a sense of style - real trend colours, in fact. With the perfect combination, you can furnish your home elegantly and chicly with wall paints in pastel shades. Find out how you can best implement your ideas with wall paints in pastel shades.
The colour scheme of pastel shades: Which colours belong to the pastel shades?
Originally a term from painting, pastel colours nowadays refer to the colour scheme of shades that are characterised by a high proportion of white and low saturation at the same time. At the same time, they still offer a strong luminosity because they do not contain any grey components. This means that the original colour shade is not distorted, but merely desaturated.
For your walls, this means that you can use clear colours that are not obtrusive.
Pastel colours from MissPompadour
Wall paints in pastel or varnishes in soft pastel shades: The colour palette of MissPompadour provides you with numerous pastel colours. Whether you are looking for a soft mint green, a light sky blue or a soft old pink, you will find them all here!
Chalk paints in pastel shades
Chalk paints
in pastel shades are also a great way to brighten up your living space. Our LittlePomp
Chalk Paints
come in 15 beautiful pastel colours to give your space a sophisticated matte look.
Pastel in bedroom, living room, kitchen and hallway
Due to their versatility, wall paints in pastel can be used in any room in your home.
If you are looking for a pastel wall paint for your bedroom, we recommend soothing colour shades. Pastel green, a light blue or, for lovers of romantic living styles, a soft, warm old pink are well suited. Combine with white furniture and bed linen in subtle or natural colours, shades of grey or white. With this combination, you'll do everything right with pastel colours in your bedroom.
Ideal pastel colours for your bedroom:
Green with Sage
Rose with Marshmallow
Blue with Cloud
There are also plenty of pastel wall design ideas for your living room: For an open and invigorating atmosphere, you can paint one or two adjacent walls with a pastel yellow. This is particularly suitable if you have a light or even sky-blue sofa.
If you want to relax in your living room, choose a soft green or beige. Unlike yellow, you can paint them on a large scale in your living room.
A boost of creativity, on the other hand, is provided by delicate shades of purple, which really only add a touch of colour to your living room walls. On all walls, however, the colour purple can seem oppressive, which is why we recommend one or two accent walls. You can then complement it with a warm white, such as White with Vanilla. You can also use White with Sun to bring warmth and cosiness into the room. Wallpapers in complementary colour shades are also an enrichment for your living space.
Ideal pastel colours for your living room:
Yellow & Creative
Green with Glacier
Beige with Peach
Purple with Lavender
White with Vanilla
Of course, you can also paint your kitchen in pastel colours. Create a good mood with inspiring colour shadesn, whether on your walls or furniture. With varnishesn in pastel, you can transform your kitchen fronts with an old-fashioned wooden look - and thus your entire kitchen - into an oasis full of vitality in no time at all.
For example, combine a pastel orange on your walls with a fresh green or subtle brown, because you can furnish yourself with pastel colours without weighing down the room. Thanks to their low saturation, they can also be used in small rooms without making them look smaller.

Ideal pastel colours for your kitchen:
Orange with Salmon
Green with Aqua
Brown with Choc
Blue & Calm
Professional tip: Try it yourself and give your kitchen fronts and furniture a fresh coat for the warm season! We explain how to prepare your kitchen furniture for painting and how to implement your ideas in our blog on painting kitchen furniture.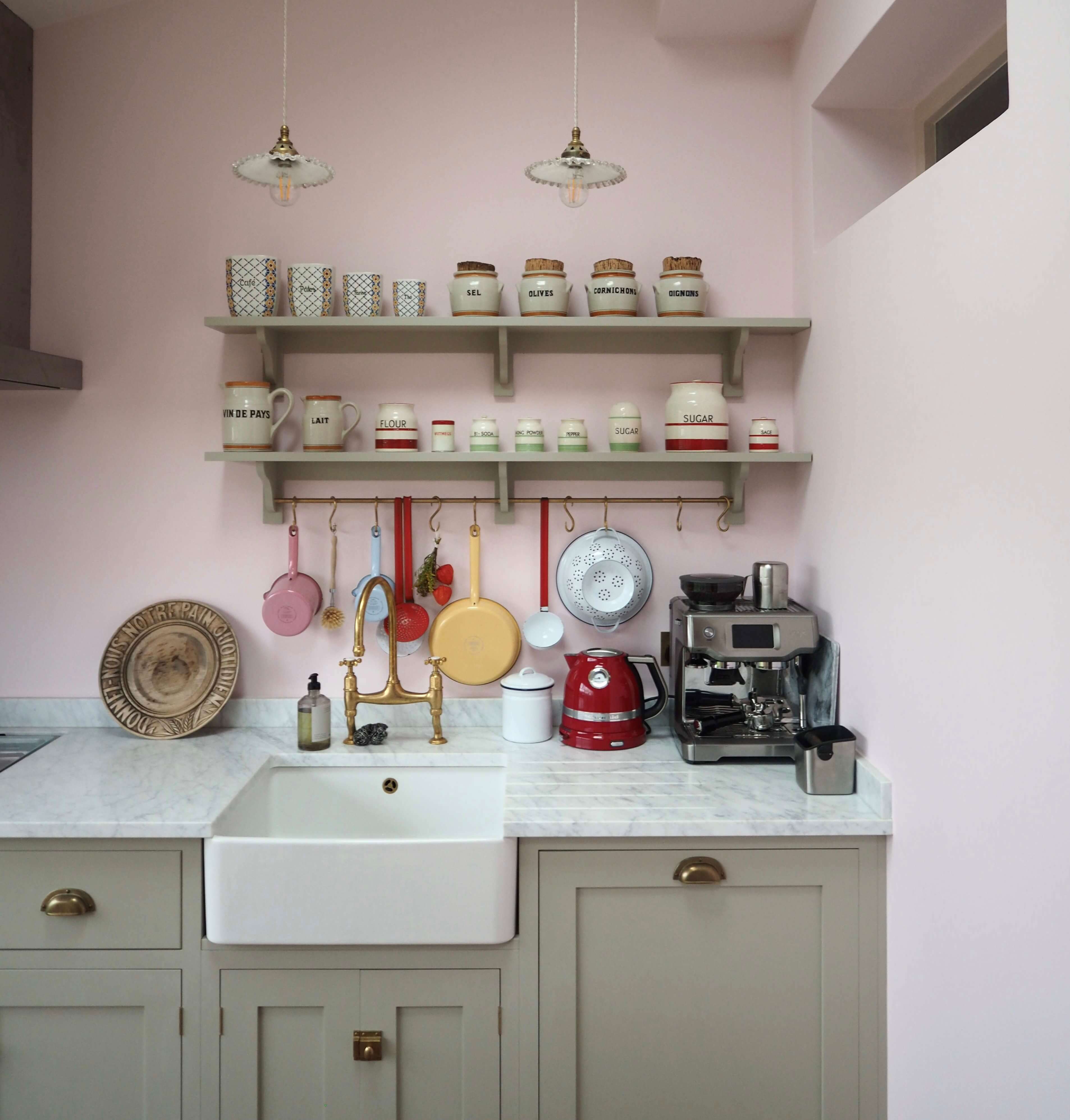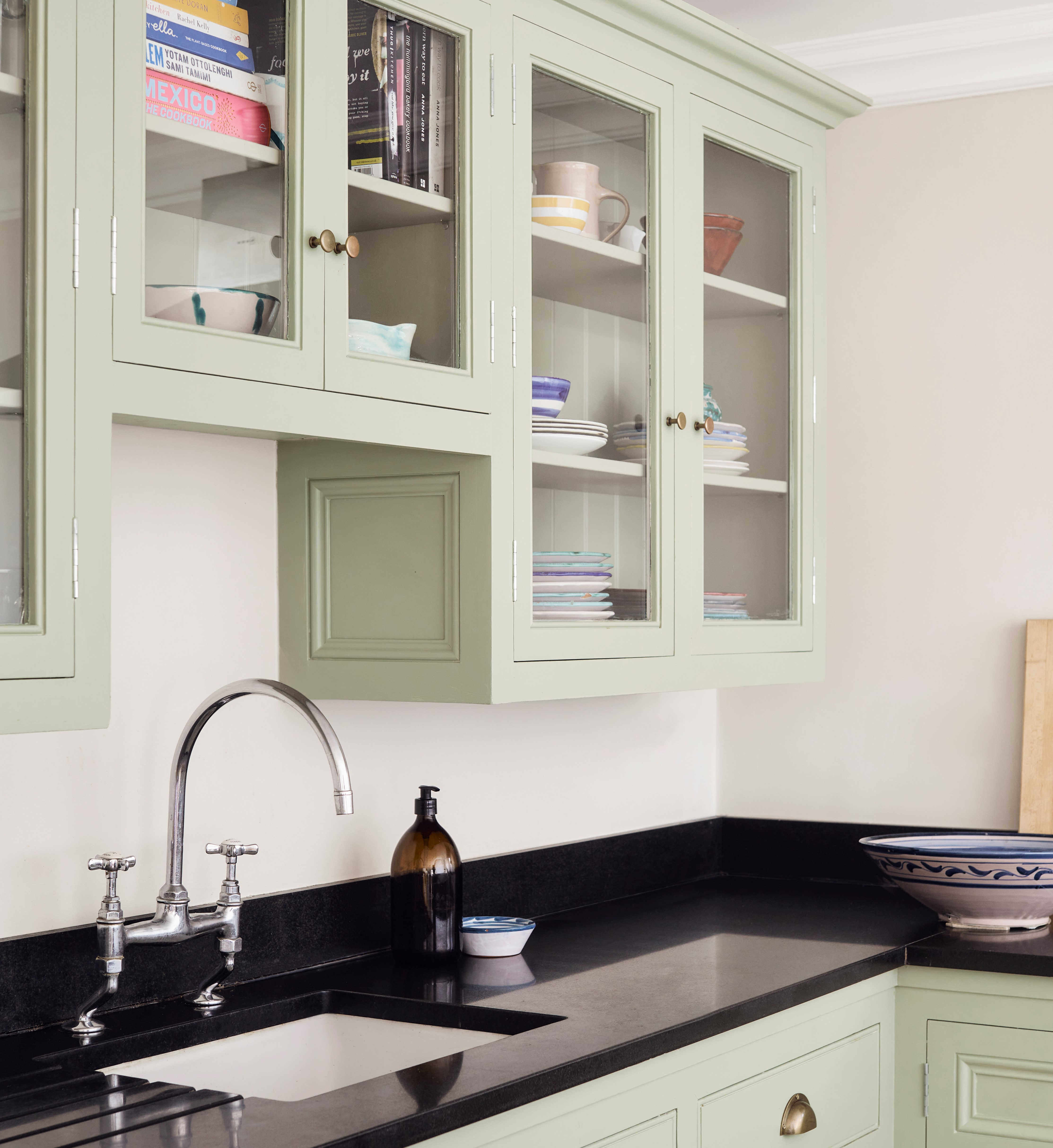 Your hallway and entrance area also benefit from the lightness of pastel shades. Use pastel shades for the wall paint in the hallway, as their brightness enriches the usually windowless room but does not darken it. When choosing a colour, pay particular attention to how it looks in all lighting conditions, i. e. with natural and artificial light, as well as when it is only illuminated by windows in adjacent rooms. This way you are sure to be completely satisfied with the colour shade you choose. Simply use our colour cards to make your choice easier
Ideal pastel colours for your hallway:
Blue with Cloud
Beige with Peach
Green & Gentle
Rose & Unique

Professional tip: For a uniform look, paint the ceiling in the same colour shade. This frames the hallway and makes it look harmonious. For more inspiration and tips, we have an article on painting the hallway for you.
The noble effect of pastel colours
With wall paints in pastel you can realise all your ideas without creating a cluttered impression. You get an extremely elegant result when you combine pastel shades with grey walls or furniture. Especially with dark grey, such as our Grey with Black, both the pastel trend colours and the otherwise rather clean colour shade come into their own perfectly.
If you prefer a light and fresh interior, paint an accent wall pastel and the surrounding walls white. This way, you get a clear wall design with pastel colours and at the same time you can stick to a minimalist living style.
Step-by-step: Painting pastel colours the right way
It's easy to give your walls a new coat of pastel paint! We have compiled the most important steps for you here in a step-by-step guide:
Step 1: Preparing the walls
If you want to paint your walls in pastel colours, make sure you have a white background beforehand. This will really bring out the luminosity of your colour shade.
Step 2: Masking & Protecting the Floor
Tape down your walls - this is especially helpful if you want to leave a border at the top and sides. You can find out how to mask perfectly in our article on painting walls
Even though our paints hardly splatter, you should protect the floor and the surrounding area with a plastic drop cloth or a painter's fleece, at least in the immediate area.
Step 3: Painting the pastel colour
Now you have chosen your perfect pastel colour, the wall is prepared and the rest is protected
Stir your paint thoroughly to distribute the pigments evenly. Pour the paint into a paint tray to make it easier to spread. This also prevents contamination of the original can. Then paint the surface with a paint roller or brush. Areas at the edge of the wall can be painted particularly well with a brush.
Note: Make sure to paint the surface quickly and evenly with the roller. Apply the second coat after 4 to 6 hours. Finally, carefully remove the tape while the paint is still wet.
FAQ: Frequently asked questions
If you still have questions about pastel colours, we have compiled the most frequently asked questions for you:
Which furniture goes well with pastel shades?
If you want to create an elegant effect in your home, use anthracite or grey furniture. They go well with any pastel shade and look chic too.
White is ideal for a clear interior style and can be combined with any pastel shade, e.g. in the form of furniture.
How often do I have to paint over pastel colours?
As with all our colours, we recommend at least 2 coats for pastel colours. If you have pre-painted with white, this should be sufficient. Depending on the substrate, a third coat may be useful.
Material and Accessories for Painting with Pastel Colours
plastic drop cloth or newspaper: Our plastic drop cloth is suitable for protecting the floor against paint splashes.
Adhesive tape: To protect window and door frames, skirting boards, etc., our To Mask - MissPompadour Adhesive Tape will be of great help.
Brush or paint roller: For painting large areas, choose a wide brush or preferably a paint roller. We recommend using a bevelled brush such as our To Paint - MissPompadour fine brush so that you can also reach corners and edges easily.
Finished reading yet?
Here you will find more exciting topics