Painting Children's Toys with LittlePomp
5 min reading time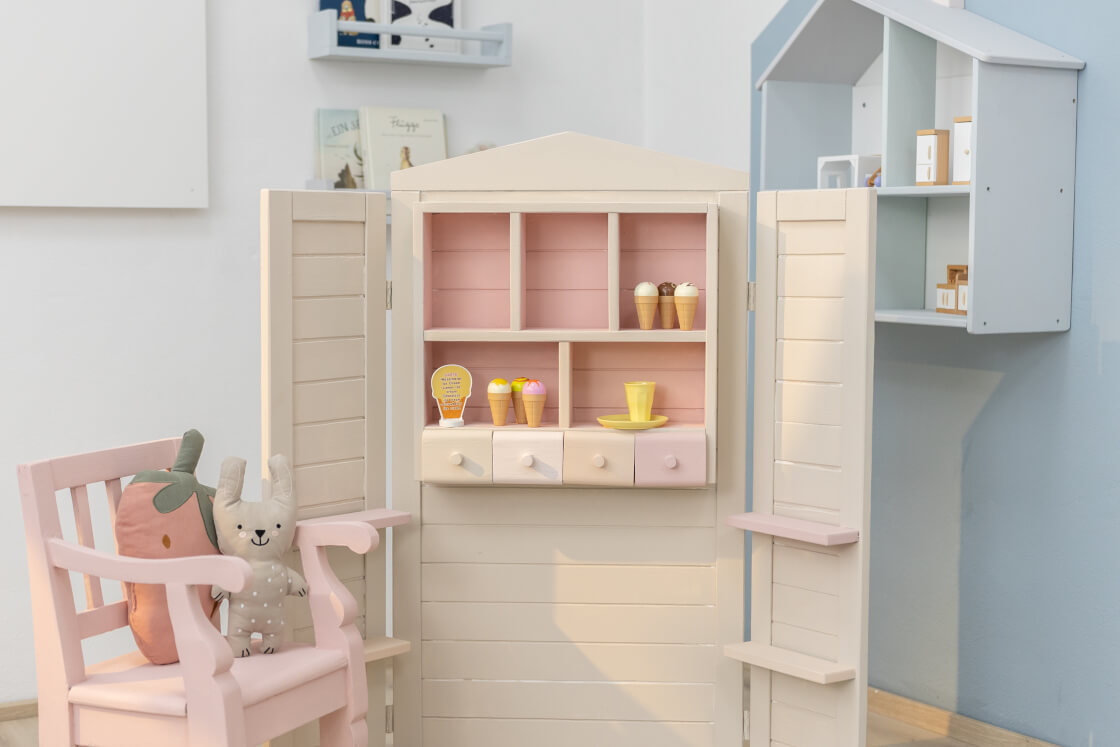 Painting children's toys: What to consider?
MissPompadour has put together a collection of 15 beautiful colour shadesn with the nursery paint LittlePomp, which are perfect for everything in the nursery. Use the matt LittlePomp colours to paint children's toys, such as play kitchens, play houses or wooden toys. Personalise your children's favourite toys.
We recommend you use one of our MissPompadour brushes. Use them to paint small parts as well as large areas, perfectly and without streaks. It doesn't matter what material the surface is made of. The LittlePomp colours adhere well and safely to plastic and wood.
Of course, you can also spray the colours by diluting them with approx. 10% water. Especially for large surfaces, such as the walls of a playhouse, this is a quick alternative to a roller. The painted surfaces can easily be wiped off with a damp cloth or, if they are more heavily soiled, cleaned with a gentle cleaner. Once dry, our chalk paints are waterproof.
Absolutely harmless - these are the colours from LittlePomp
The most important thing in a child's room is that all materials used are environmentally friendly and completely harmless to health. Because babies and toddlers spend a relatively long time in their rooms and must not be exposed to toxic substances under any circumstances. Even if you want to work with paint as a pregnant woman, your health must not be endangered when painting children's furniture.
That's why we have paid special attention to the harmlessness of LittlePomp's chalk paints. They are solvent-free, water-based, do not smell when applied and do not emit toxic substances when drying. They are VOC-free and - what is especially important - of course saliva and sweat-proof, so that your baby can work on furniture and toys with his teeth without any problems. The paint will not be dissolved by your child's saliva or sweat.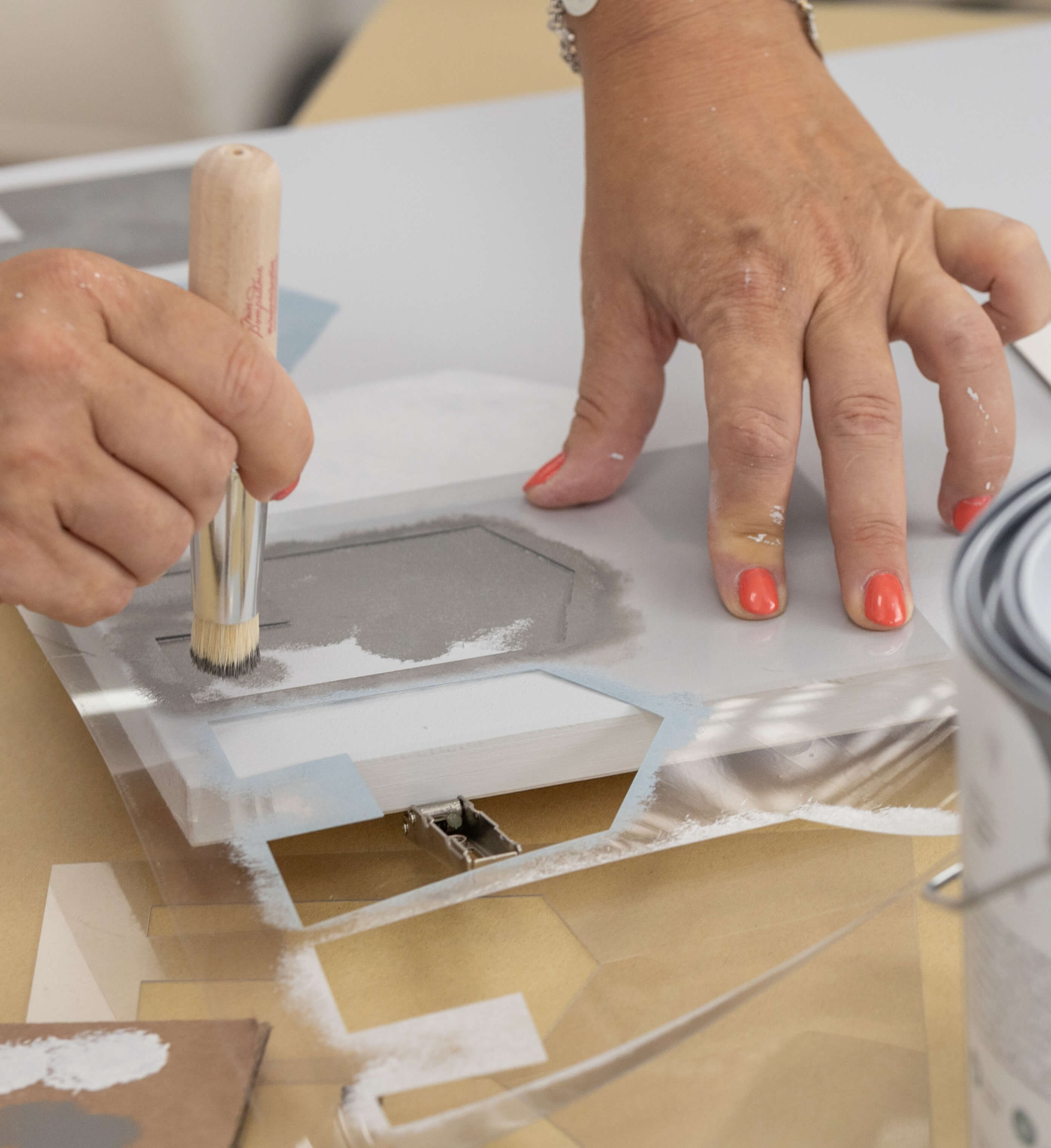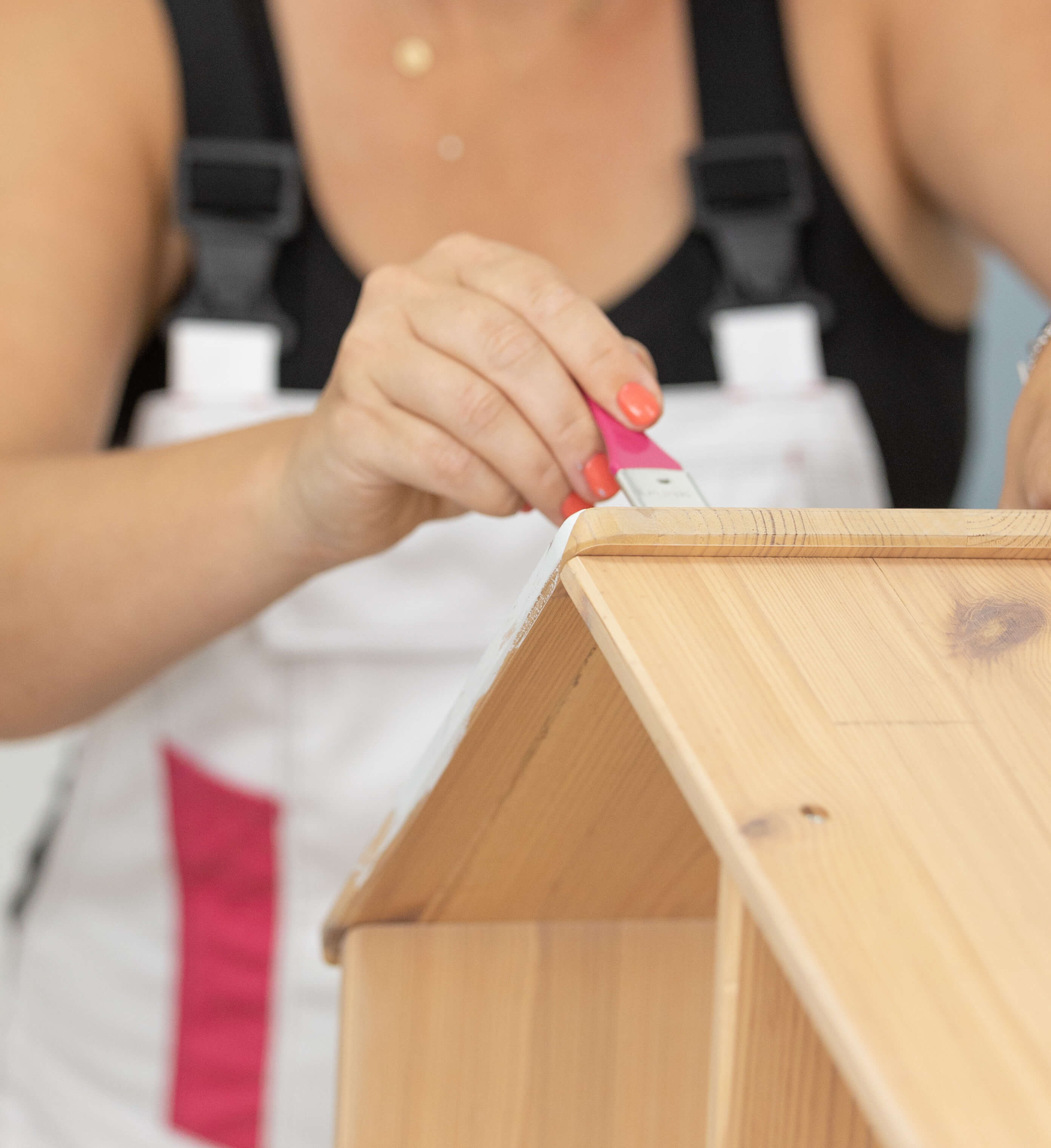 Instructions: Step-by-step to the perfect result
If you follow our instructions, nothing can go wrong. It's like with all handicrafts: If you start your work well prepared and continue step by step, you will achieve a perfect result.
Step 1: Have the right tools ready: roller or brush?
To decide on
the
right tool
, you need to look at your toy to see if you will be painting large or small areas
. To apply
a
coat of paint to
larger
, smooth
surfaces
, such as those found on
a playhouse, we recommend a
roller
.
If your toy has many
corners
,
angles
and decorative elements, use our fine
brushes
. They are of high quality and allow you to paint without streaks. Once you have decided on a tool, first cover the floor under your project well. Then you can get started!
Step 2: Thoroughly clean and sand children's toys
Clean the
toy to be painted thoroughly. This is not only for hygienic reasons, but also helps the paint to adhere better. The grease-dissolving, gentle and environmentally friendly cleaner
MissPompadour To Clean
works best here.
Sanding
with sandpaper or a sander is only necessary if there is
flaking old paint
on your surface or if the surface is very rough and damaged. You may have to remove such damage first with
MissPompadour To Fill.
Step 3: Give children's toys a new coat of paint
If you are working on an intact old varnish, no further preparatory work is necessary. If your toy is made of natural wood or the surface is very irregular, we recommend applying a primer. Use our To Block - MissPompadour stainblock for this. This keeps tannins and odours from leaking into the paint. In addition, it creates an even base even on surfaces that are difficult to paint. To paint plastic toys, we recommend our To Bond -

MissPompadour

primer. This prepares the often very smooth plastic surfaces perfectly for painting.
Let the
primer
dry
for
about 4 hours and then start applying the paint. When painting children's toys, you will find that LittlePomp's chalk paint does not emit an unpleasant odour, is easy to apply and covers fantastically. Work as quickly as possible and rather with a thin coat. Make sure you don't paint more than 2-3 times over one area so that the paint doesn't lift off again.
Step 4: Allow the paint to dry
This is not a very time-consuming step, at most it requires patience. Let the paint dry for 4 - 6 hours. After that comes the second coat, through which the chalk paint really unfolds its beautiful effect. After another 4 hours, the paint is dry enough for you to touch it. It will be completely dry and absolutely stable after about 2 weeks.
Step 5: Apply the sealant
Much-loved children's toys have to withstand a lot. Even though LittlePomp Chalk Paints are extremely robust, we recommend that you apply a sealant when painting toys to further stabilise the surface and make it easier to clean. Our MissPompadour - To Seal is perfect for this.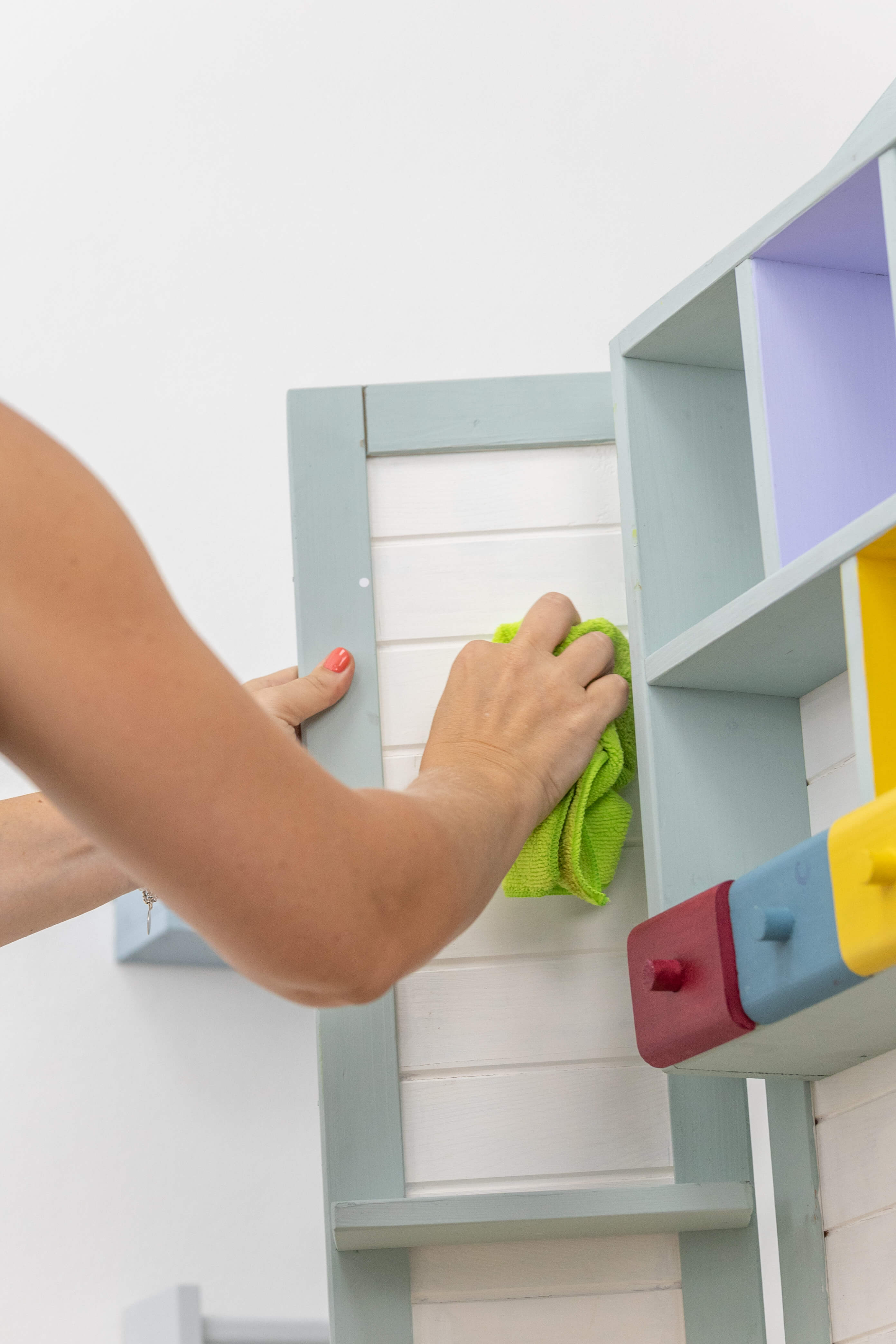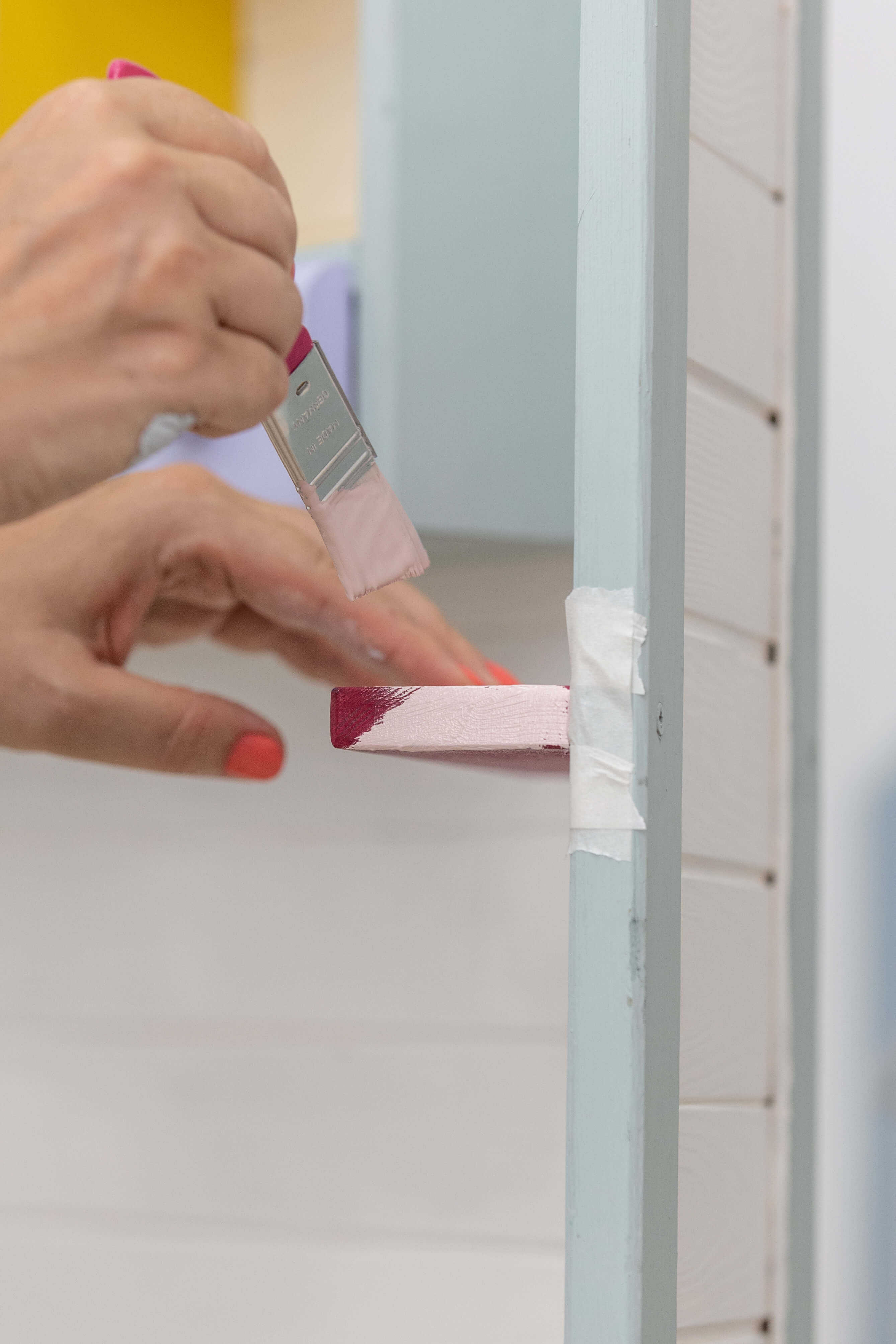 Which colour shades look good on children's toys?
As the LittlePomp chalk paints have been specially developed for children, you are spoilt for choice with all 15 colour sh ades in the collection. Use a strong colour shade like Green & Spontanous , Grey & Mindful or Blue & Noble for the toy. If you prefer soft colour shades, we recommend one of the beautiful off-white shades from our collection. A light pastel shade like Pink and Unique is also a perfect candidate in this case
Simply paint the walls or children's wooden furniture with a matching light colour. For a very small room, choose the same light colour shade for walls and furniture to make small rooms look bigger. You can find more inspiration for your child's walls in our article on the subject of children's rooms - wall design.
Painting children's toys is a breeze with these tips
It's really quite easy to achieve a great result when painting children's toys with LittlePomp's chalk paints.
As mentioned at the beginning, there are hardly any limitations. For particularly old toys or those whose past you don't know, you can prime to be on the safe side. Use MissPompadour To Block for this, because this primer reliably prevents changes in the colour shade, e.g. through bleeding of tanning agents. If you want to live out your creativity further, decorate the plastic and wooden toys with an attractive creative stencil. In our shop you will also find beautiful stencils with children's motifs. They are not only suitable for decorating a wall, but can also be used to decorate an old rocking horse or a playhouse.