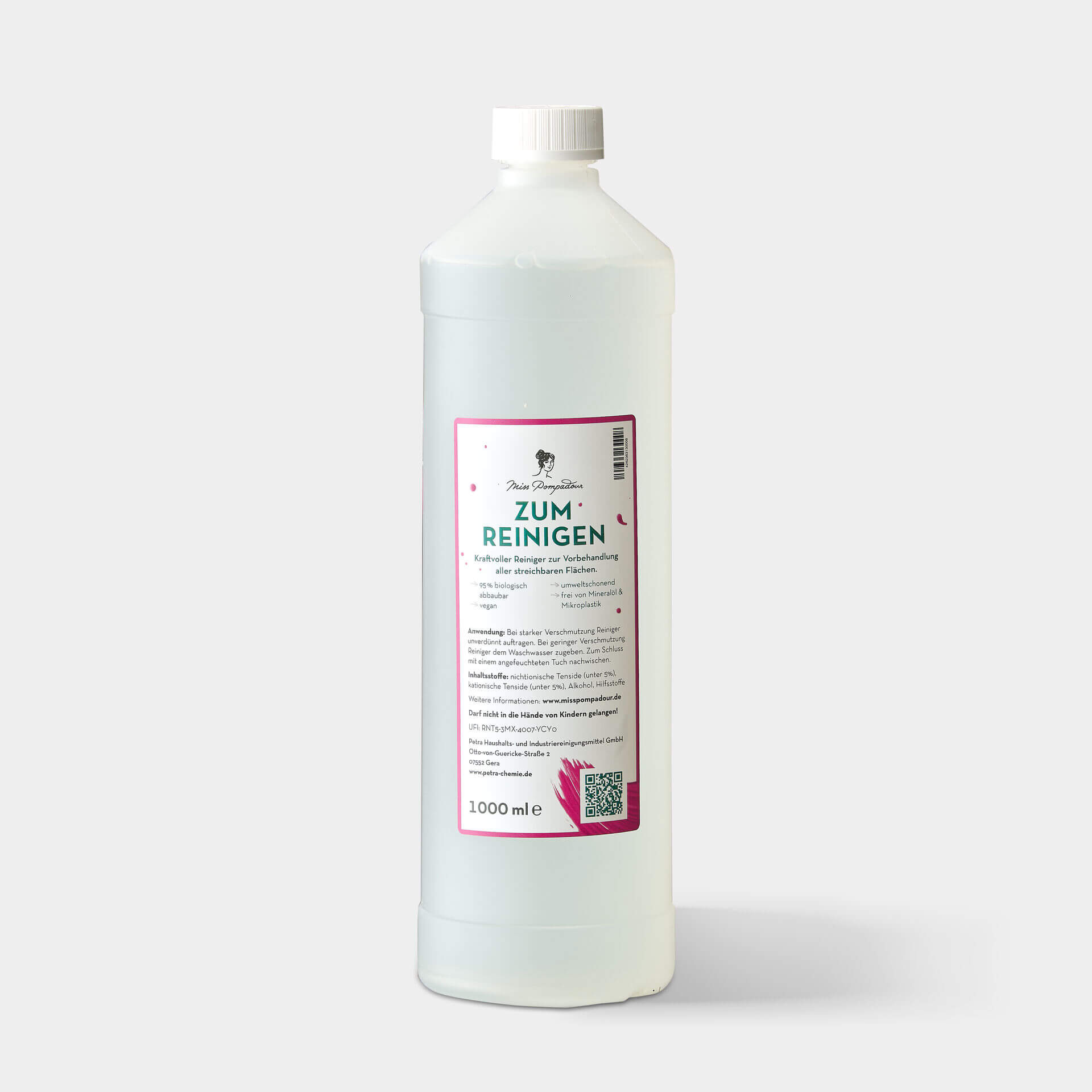 MissPompadour
To Clean - Cleaner
To Clean - the powerful cleaner from MissPompadour - creates grease-free and absolutely clean surfaces. With To Clean you get a well-prepared surface for your painting. Powerful cleaning of all surfaces, environmentally friendly, animal-free, free of harmful chemicals.
Available, delivery time: 2 to 4 Working days
⭐️ Very popular product: Bought over 7000 times during the last weeks
High quality products for your perfect result
Free & individual color consultation
Safe delivery by DHL GoGreen
This is what our customers say
To Clean - MissPompadour Cleaner
This is what MissPompadour was really missing. Because from now on, no one who wants to prepare a surface for to-painting needs to search desperately for an efficient cleaner. And these cleaners are often extremely toxic and harmful to the environment. And you don't have to go through the hassle of mixing washing-up liquid solutions either. Because now there's To Clean from MissPompadour. It's a preparation and cleaning agent for all surfaces you want to paint. To Clean is a really powerful cleaner that creates an absolutely clean and, above all, grease-free surface. With its effective formula, it dissolves even the most stubborn dirt. This is especially important if you want to paint kitchen furniture. Because there, despite all the cleanliness, a stubborn film of grease has often settled on all surfaces. This is where To Clean effectively attacks. The cleaner is liquid, colourless and clear. And it also has a pleasant fragrance.
The environmental compatibility of our cleaner
Those who know MissPompadour know that we attach great importance to the environmental compatibility and sustainability of our products. And this is not only important to us with our MissPompadour paints, but also with all the other products we offer for painting. That's why MissPompadour Cleaner, for all its effectiveness, is also free of harmful chemicals. This makes it very environmentally friendly and it goes without saying that it is produced without animal testing.
The use of To Clean by MissPompadour
You can use the cleaner on all surfaces. Despite its enormous effectiveness, it does not attack even the most sensitive plastic surfaces. (And last but not least, it is gentle on your skin). In case of heavy soiling, you can even apply To Clean undiluted. If your car is less dirty, simply add a few drops of To Clean to the wash water. Finally, wipe with a damp cloth. And your workpiece or surface is perfectly prepared for a coat of To Block or paint.
| | |
| --- | --- |
| Application: | For heavy soiling, apply the cleaner undiluted. For light soiling, dilute with water. Wipe the anus with a wet cloth. Keep out of the reach of children! |
| More features: | Powerful cleaning of all surfaces, Environmentally friendly, Animal-free, Free from harmful chemicals |
| Quantity: | 1 litre |
| Technical data: | Ingredients: Non-ionic surfactants (less than 5%), cationic surfactants (less than 5%), alcohol, excipients |