Wall Paints & Varnishes in Blue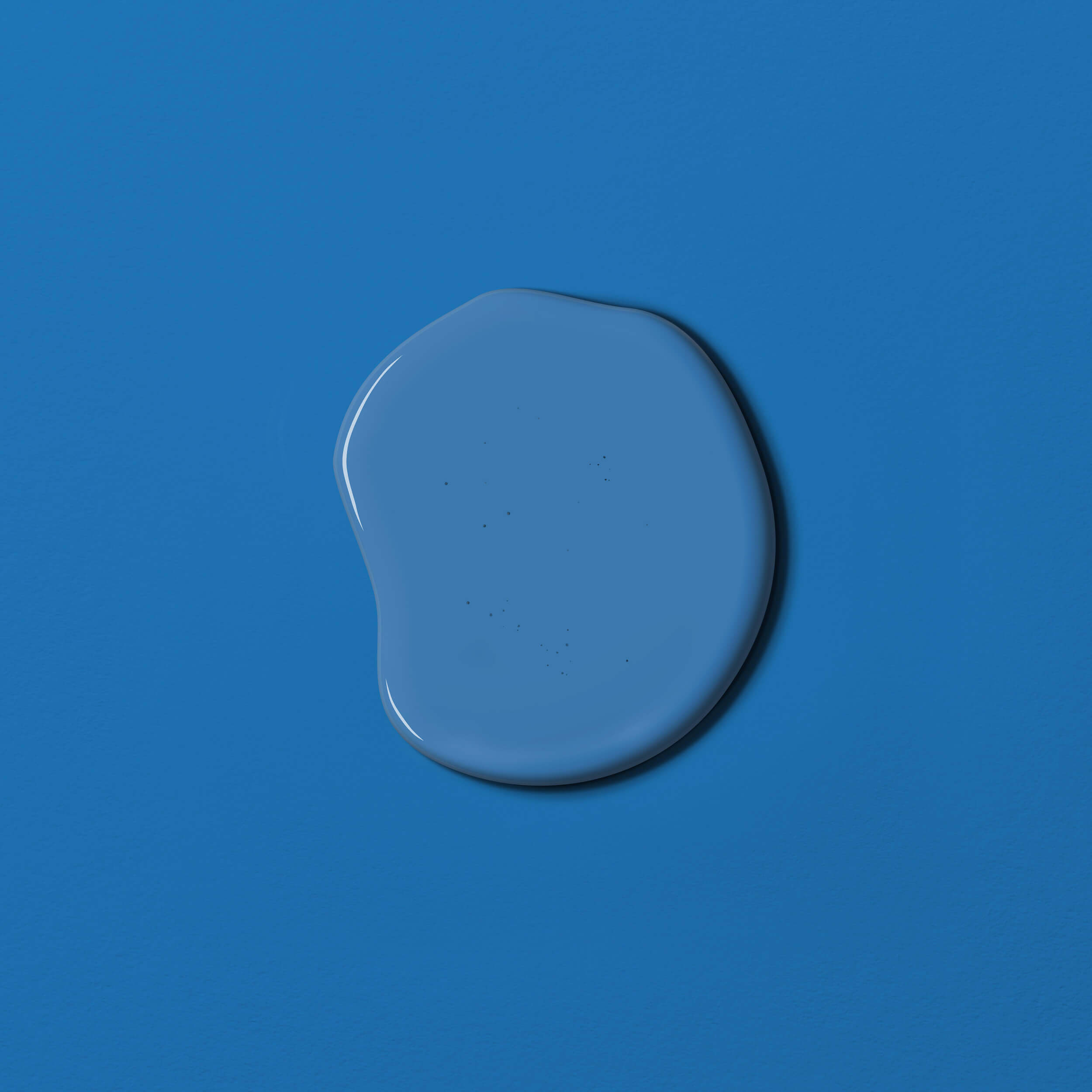 What shades of blue are there?
When you think of blue, many variations come to mind, almost more than with other colours: Sky blue, deep blue, sea blue and many, many more. In terms of effect, blue belongs more to the cool colour shades. Blue radiates calm and at the same time reminds us of the vastness of the ocean, the cooling and clarifying effect of water, as well as the infinity of the sky and thus the distance.
But blue can also create a warm effect as soon as it contains parts of red. Therefore, different colour nuances with their respective effects are suitable for different rooms
Different shades of blue
First of all, get an overview of the different shades to make it easier to choose a suitable shade of blue. After all, you can choose between different variations of blue, such as dark blue, a delicate pastel blue, greyish pigeon blue and many other shades.
The following shades of blue are available:
with a black component, for example Blue with Black or Blueprint from Mylands
with a strong grey component of reduced colour intensity, such as Blue Grey by Painting The Past, Blue with Fog by MissPompadour and Long Acre by Mylands
pure blues of medium intensity like Blue with Jeans and Boathouse

blue mixed with red, for example Blue with Violet and Maritime
light, pastel tones commonly known as sky blue - these include Morning Blue and Hawkesmoor from Mylands
The effect of blue as wall paint
Blue has a cool, calming and clarifying effect. An accent wall painted in a deep dark blue makes the room cosier without constricting it. There is a reason why bedrooms with blue walls are the trend par excellence.
A maritime, pure blue, on the other hand, gives freshness and expansiveness, creating the impression of cleanliness and an endless horizon. Light blue visually enlarges rooms and, due to its coolness, has a relaxing effect at the same time. With this colour you can concentrate effortlessly. You see, different shades of blue have different effects on your rooms and your mind.
Which rooms is blue best suited to?
Because of their soothing and liberating effect, blue tones are wonderful for wall painting in areas where you are looking for calm and serenity. Blue is a great choice for your bedroom or living room.
Bedroom: A deep blue wall in the bedroom, for example behind the bed or in the living room behind the sofa, is an eye-catcher. In combination with soft earth and white tones, you can create a cosy atmosphere in which you can recharge your batteries
Bathroom: In the bathroom, you can use maritime and particularly fresh blue tones to give you an extra kick of freshness in the morning and get the day off to a good start. Porcelain and Swedish Blue by Painting the Past or the subtle Eaton Square by Mylands are perfect for this. Other ideas for your bathroom would be to paint the ceiling an almost white blue, such as Something Blue and Walpole, extending the paint to the middle of the wall. The lower part of the walls can be embellished with a warm dark blue.
Children's room: As an idea for the design of the children's room, you can combine light blue with earth tones to create a cosy and comfortable atmosphere.
If the pastel touch of light blue wall paint appeals to you, you can use it in your child's room or in the office. Beautiful examples are Blue with Cloud by MissPompadour, Morning Blue by Mylands or the slightly bluish white Something Blue by Painting the Past.
Of course, there are also spectacular blues with which you can set exciting accents. Used sparingly, it can have an extraordinary effect. These include Blue with Violet by MissPompadour and Indigo by Painting the Past.
Which colours can I order from MissPompadour Paint?
In our shop you will find blue varnishes for all your furniture, as well as tiles, kitchens and many other projects. Of course, you can also order wall and chalk paints for all your walls.
Wall paints in blue
Our manufacturers offer you a wide range of blue wall paints
MissPomapadour wall paint is available in two versions. The Valuable Wall Paint is the sustainable wall paint with a noble, very matt finish. If you need something extra robust, choose The Functional Wall Paint, which is absolutely abrasion and impact resistant and can also be wiped clean
You'll find more diverse shades of blue in the velvety chalk paints from Painting the Past, as well as the traditional English colours from Mylands. If you want to buy a blue wall paint, you have the choice between different qualities that exactly fit your requirements.
Varnish in blue
If you want to paint your furniture, tiles, stairs or floors, we also offer a full range here. All blue colour shades are also available in robust varnish qualities and in various gloss levels.
Varnishes in different qualities
Matt, silk matt or glossy - our blue varnishes are available in three differentfinishes:
Matt varnishes have a restrained and natural effect. Choose between MissPompadour Matt Varnish, Painting the Past matt varnish and Mylands Wood & Metal matt.
Silk matt varnish looks good on all surfaces. It is robust yet subtle. You can choose between MissPompadour Eggshell Varnish, Painting the Past varnish Eggshell and Mylands Wood & Metal Eggshell
If you want your furniture to be eye-catching, paint it glossy with the Wood & Metal Gloss Varnish from Mylands.
Note that the semi-gloss varnishes are the most durable. We therefore recommend these silk-matt qualities for more heavily used surfaces such as kitchens, tiles or floors
Tips for the relaxing trend colour
Precisely because the colour scheme is so large, you can use blue in very different areas of your home with different effects. Let yourself be inspired by our large colour selection and integrate blue nuances into your own personal living style.
Living styles and trends in blue tones
The blue colour scheme has a wide spectrum of different shades. This makes these colour shades suitable for many different styles of living. From country house style to art deco and boho style, there are no limits to its use. You can even use this versatile colour shade for warm interior styles such as the 60s or oriental furnishings.
If you prefer strong blue tones and a natural effect, we recommend the maritime living style, which is often used in bathrooms and guest toilets. But it can also show its character in living rooms and entrance areas.
Which colours harmonise well with blue?
Many colours can be combined excellently with blue. You can underline the effect of blue with warm white tones. Dark blue forms a strong contrast to white, light blue really starts to shine in combination with clear white. Warm sand and earth tones give the cool colour shade a pleasant framework and additionally emphasise the relaxing effect
With the complementary colour orange or with a strong red
, you achieve an unusual constellation. Make sure that the red has a bluish undertone so that the colours harmonise perfectly.

If
you want to be particularly bold, you can paint an accent
wall
in
orange wall
paint
and the furniture in front of it in a strong or dark blue
.
Deep blue wall paint behind a red chest of drawers is a very special eye-catcher. A soft, but no less attractive combination is a piece of furniture in orange in front of blue-grey wall paint. And the neutral colour blue-grey allows even more wonderful colour combinations. Natural tones, such as the warm Brown with Nougat or the Green with Sage by MissPompadour, as well as white tones in all shades, but also signal colours such as Pink with Peony create a beautiful harmony.
In the end, you can paint almost all your rooms with the different shades of blue, because it supports your ideas through and through.
What can I combine the blue colour scheme with?
Blue suits all interior styles and gives natural materials a beautiful background. Use it with light natural wood, lush green plants and natural fabrics like linen or cotton. Wicker and rattan furniture also accentuate blue colour shades. Decorate in velvet and accessories in gold or copper tones if you want to create a sophisticated effect. Golden and yellow-golden colour shades go very well with dark blue. The beauty of this versatile colour is that it gives you plenty of scope and doesn't limit your options.
Order wall paint and chalk paint in blue online at MissPompadour
Paint your way through the whole house with our colours - you will find every colour shade in a suitable quality for every project. Whether kitchen, bathroom, children's room or garden house - we have the right thing for you! By the way, you can buy all the painting tools
you need in our shop. Put together your shopping basket and we'll send it to your home within a few days via DHL GoGreen. If you need help choosing the right colours and accessories, just contact our
free customer service
. We'll be happy to help you!