Paint, wall paints, varnishes & Co.
Do you want your four walls to shine in new splendour? Choose from our large selection of sustainable and environmentally friendly wall paints and chalk paints. Order your favourite high-quality paint in our shop now and start your next DIY project. Learn more about our paint range >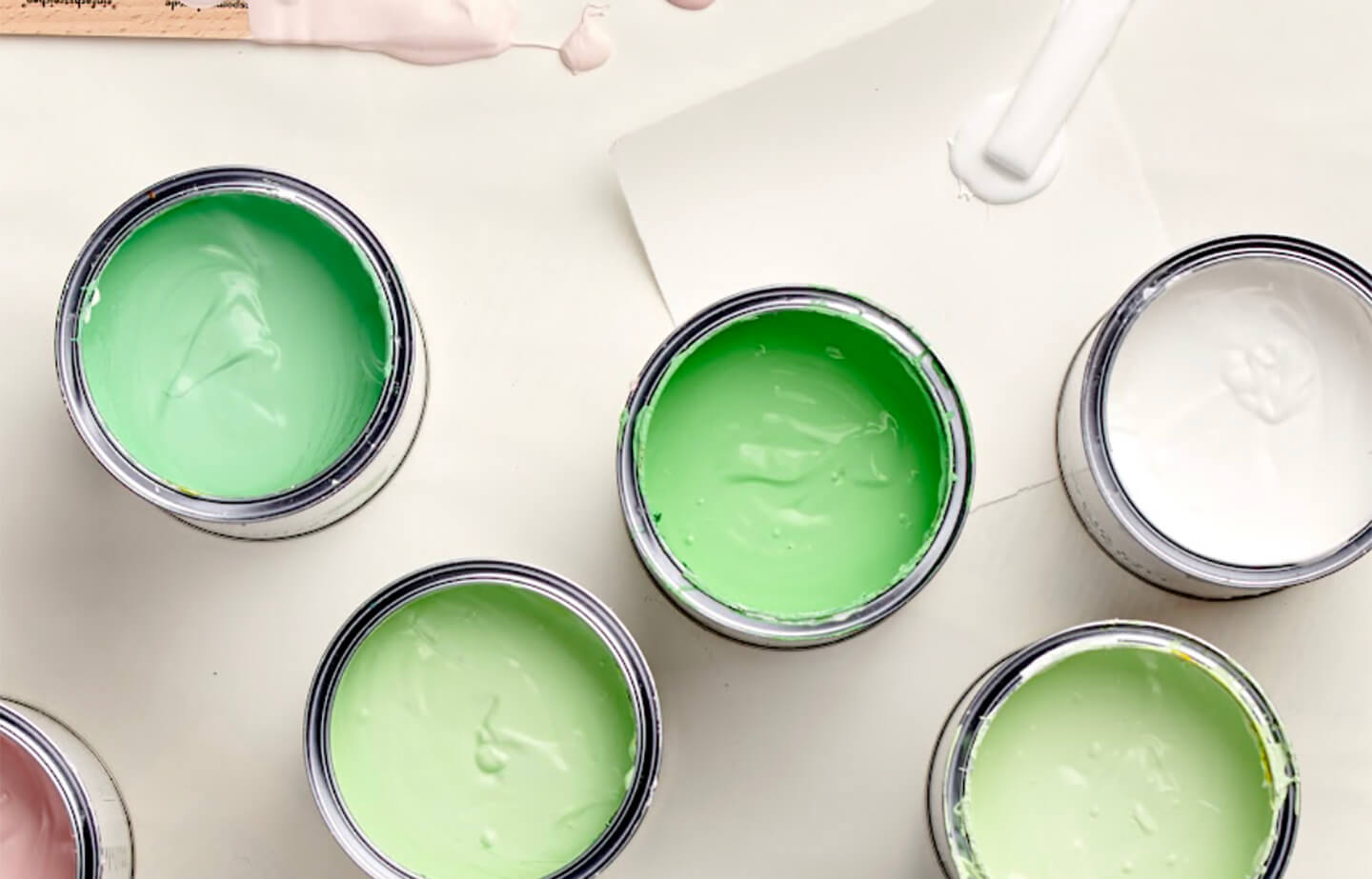 Colours, buy in the MissPompadour online shop: Choose from around 550 products
It doesn't always have to be new decor - instead, simply adapt your walls and furniture to the season or your new style. At MissPompadour, you can choose from a
wide range of colour shades, gloss levels and application areas
. In our assortment you will find various manufacturers of high-quality varnishes and wall paints. Be it the traditional colours of Mylands and Painting the Past, or the sustainable varnishes and emulsion paints of our own brand
Save yourself a trip to the DIY store - buy your paint online from our shop.
Which colour do you want?
In our online shop you will find paints for every occasion and every project that comes to mind
Both our varnishes and wall paints will impress you with their opacity and colour depth. Use the wall paint inside for your bedroom, children's room or even for the kitchen. All our paints do not evaporate and are completely harmless to health. All colour qualities are available in all colour shades.
Design your home with the following colours and varnishesn
wall paint

chalk paint

varnishes

Outdoor paint

blackboard paint & magnet paint
We have the right colours for your DIY project
You are looking for wall paint for inside, your wooden kitchen doesn't please you anymore or the old chest of drawers could be more colourful? With us you can buy paint online for all occasions.
Our range offers you powdery-matte chalk paints for your walls, as well as sustainable emulsion paint from various brands. For rooms where a lot of things happen, such as bathrooms, kitchens and children's rooms, you can order washable wall paint. One advantage of our wall paints is that they can be used on almost any surface. You can paint with emulsion paint and even latex paint. With our interior paints, you can give your walls a completely new effect with a fresh coat of paint.



We offer the varnishes in different gloss levels.
On the one hand you will find matt versions:
MissPompadour Matt Varnish, the varnish made from renewable raw materials, Wood & Metal Matt by Mylands, which gives marble powder its smooth and velvety surface, or Painting the Past varnish Matt, perfectly suited for a powdery-matt paint in shabby style. Each manufacturer offers a very special look, so there is something for every taste.



You can also find glossy varnish in our online shop. This is the Wood & Metal Gloss varnish from Mylands. With 80% gloss, it has an extremely smooth and shiny surface that shows off dark, bold colours to their best advantage. Definitely a gloss level for enthusiasts. Just buy the colour that suits you best.



Although we don't offer glazes, you can easily mix them yourself. Add up to 10% water to the paint of your choice and you have created a glaze. Be aware of the slightly reduced stability and seal on stressed surfaces.



You can choose from a wide range of different colour shades:

If you like it modern and clean, have a look at our colours

in grey

tones. For a warm ambience, we recommend

wall and furniture colours in beige

and all its many shades. We also offer friends of colourful and bright colour shades a wide range of colours in our shop. As you can see, you can easily buy all colours from us. The colour schemes differ depending on the manufacturer. Whereas Painting the Past impresses with rather restrained, greyish colour shades, MissPompadour and Mylands also shine with strong colours. In all our brands you will find the colour shades in different gradations.



For which surfaces can you buy paints?
There are many reasons To Paint: You want a change of style, the old tiles in your new house remind you too much of the 60s or your wooden furniture seems too dark and oppressive. We have the right varnishes for all these situations and more.
Simply order varnishes and wall paint online for every occasion and surface:
Wood
Metal
Plastic & laminate
Walls
Our top brands for you
MissPompadour
Mylands
Painting the Past
Our assortment offers you products from various manufacturers, so that you can order colours tailored to your needs
Do you value
sustainability
, short delivery routes and paints made from sustainable raw materials when painting? Then go for the
varnishes and wall paints from MissPompadour
. Or paint with Mylands, the traditional manufacturer from England that can look back on almost
140 years of experience
. The colours enriched with marble powder bring the style of English country houses into your home.
If you particularly like
Shabby and Skandi styles
and matt colours are your favourite, then the
wall paints and varnishes from Painting the Past
are the best way to achieve your desired result. If you want a glaze, simply mix your favourite colour shade with a little water.
This is what we stand for: Sustainable paint from MissPompadour
For MissPompadour, sustainability is an important issue. That's why we've focused on renewable raw materials for our own brand.
You will find that our own varnishes and wall paints are in no way inferior to those of other manufacturers in terms of robustness, strong coverage and quality. By the way, not only the base, but also the plastic packaging of our wall paints is made from recycled materials. Sustainable all round!
So you can buy paint from us with a clear conscience.
Why you should order your paint from the MissPompadour Online Shop
At MissPompadour, you not only benefit from the wide colour scheme in various gloss levels. We offer fast delivery with DHL GoGreen in sustainable packaging. Our colours are protected by recycled and recyclable paper, and we do not use any plastic at all.
If you want to buy colour from us, but have questions about how to use it or need help deciding on a colour shade, our free colour consultancy is at your disposal. Our competent customer service will be happy to help you choose the right products.
In addition to many other payment methods, we also offer purchase on account, which can be particularly important for large projects.