Brown & Earth Colours
Wall Paints & Varnishes in Brown & Earth Tones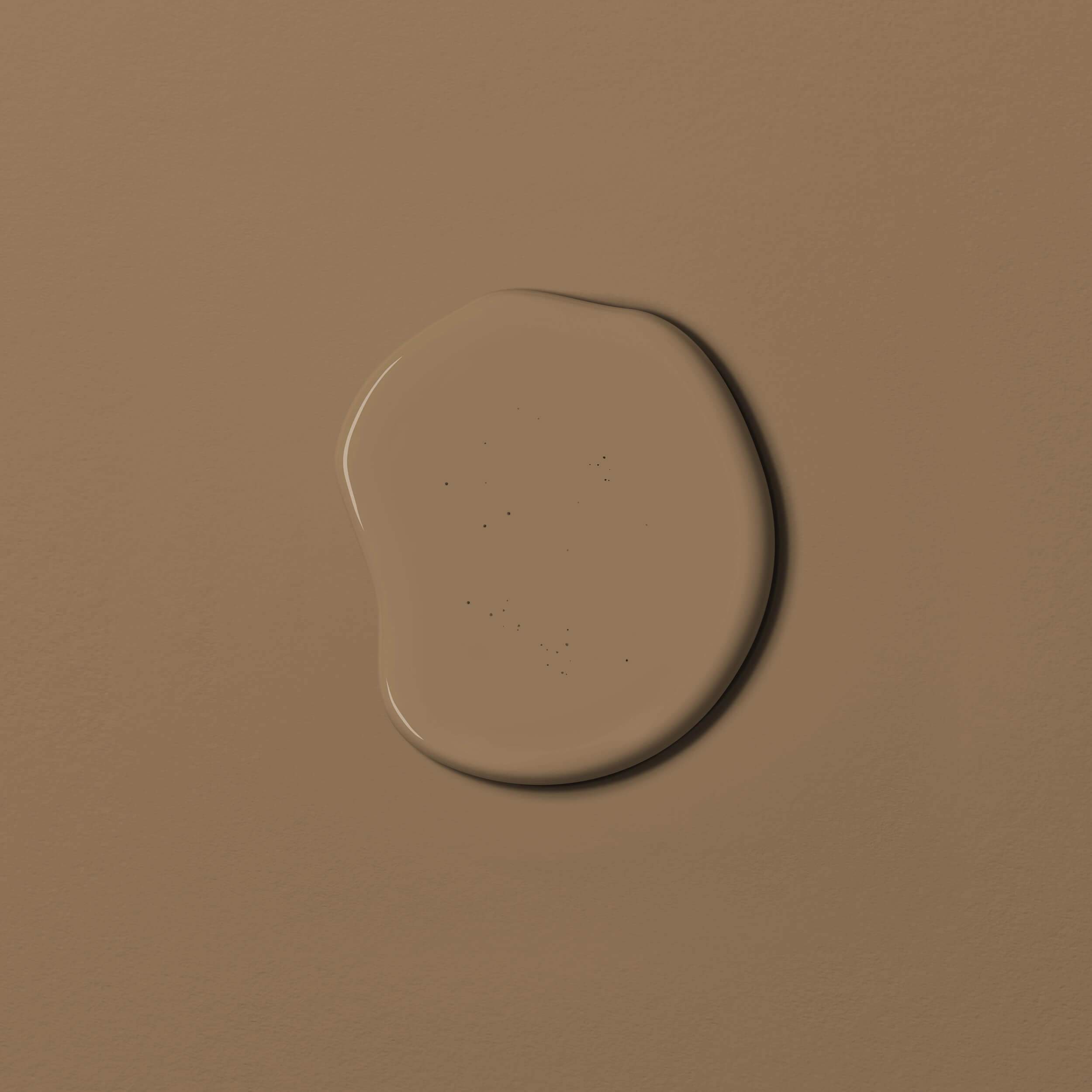 What shades of brown are there?
As with all colours, there is no one brown. Depending on the occasion and the room, you can use different shades. Whether you want to paint a warm brown reminiscent of milk chocolate , want a sandy brown for your bathroom or want to give your warmly lit living room a sophisticated look with a greyish brown - with our colour selection, all options are open to you.
What colours are earth tones?
We associate brown with
earth and nature
. If you want to use brown wall paint and design your home in homely earthy tones, you can use
light brown, sand, chocolate
brown or even
cinnamon
brown for your wall design.
Warm earth tones include
, for example,
ochre, orange-brown
or
beige tones
mixed with red or ochre
.

Among the earth tones there are also cool variants. These include cool sand colours and basically any brown in which the grey component predominates.
What are your shades?
As you begin to explore the colour scheme of brown, you realise how complex this seemingly simple colour shade is.
Depending
on
whether more red and
orange
or blue and violet are
added to
the
brown,
it can appear warmer or colder.

The brown colour scheme ranges from light browns, such as
ochre, to medium browns ( caramel or nougat) to deep, dark browns reminiscent of dark chocolate
.

In addition to soft, light browns such as
Brown with Choc, you will also find light earth tones that tend towards beige, such as Grouse by Mylands or Soft Linen
by Painting The Past.

If you're looking for a warm and homely brown that you can also use in the living room, our Brown
with Terracotta is highly recommended for an accent wall.
Millbank
from Mylands is also a soft, warm brown that is appetisingly reminiscent of nougat and can be used on several walls.

If
you prefer darker wall paints, the deep and reddish
London Brown
is a good choice, as
is
Brown with Dark Chocolate
.
If you're feeling brave,
we have Brown
with Black
- a bit like soft black, but also a deep dark brown
.

On the other hand,
if you'
re looking for a wall paint in earthy tones
,
check
out
Linen
and
Pebble
from Painting The Past. These are cooler and therefore perfect to combine with aqua tones.
How does brown work as wall paint?
The colour shade brown has a calming and grounding effect. As a colour from nature, brown has a relaxing effect and can be used everywhere. It conveys a sense of security and structure and therefore has a very homely effect. Its restraint makes it unobtrusive and keeps it in the background. As you can see, brown wall paint can be combined in many different ways.
How brown looks in detail, however, depends very much on the prevailing undertones. A brown-grey wall paint has a different effect than a wall in warm earth tones or an accent wall painted with dark brown chalk paint.
While warm brown tones convey security and reliability, cold brown tones can have a more sober effect.
For which rooms are earth tones particularly suitable?
Earth tones can be used in rooms where you want to create a cosy
atmosphere. Retreat rooms are particularly suitable for this.

If you want to create a cosy feeling in a room, use one of the many earth tones. Brown works well in both the
living room and the bedroom.
You can
use
our wall paints for
wallpaper and woodchip
.
Since brown is calming and thus curbs your creativity, it should not be used in the office or hobby room.
Design one wall in the living room or bedroom with earth tones - for example, a dark, soft brown like Raw Umber or Brown with Dark Chocolate on an accent wall behind the couch. The other walls can be painted in a warm, light colour shade to complete the effect.
In this way, you create an area for relaxation and rest.


Because of the
cosy atmosphere
that brown tones create, it is also worth considering decorating the children's room in earthy tones. Brown chalk paint, such as
Mocha
or
Calico
from Painting the Past, is a good choice.
Brown varnishes also fit perfectly in the bathroom. By combining fresh aqua tones with earthy tones on the tiles, you can conjure up your own personal oasis of well-being.
Use one of our velvety matt chalk paints in brown to slow down your entrance area.
Tips on trend colours: chocolate brown, sand & co.
Precisely because earth tones are so universally applicable, the concrete colour selection can seem complicated. But we can reassure you - brown really is universal!
Living styles and trends in earthy colour shadesn
Earth tones, just like
grey
, can be used in a wide variety of living styles, they are flexible living colours.
Whether you are furnished with cool, neutral colours in Boho, prefer the Scandi style or go for exotic furnishings in oriental style - thanks to their broad colour scheme, there are no limits to
brown and earth tones.

Brown even suits
eclectic living styles: simply use an intense colour shade such as Orange with Rust or Brown with Terracotta
.

Paint brown with wall paint to have a universal colour for your interior style.
Which colours go with earth tones?
Basically, all colours go well with earth tones. Especially other natural colours can be perfectly combined with them.
Combine Green with Sage with a wall painted Brown withNougat to create a cosy, natural atmosphere.
Warm earth tones such as Brown with Dark Chocolate are particularly well complemented by colours with red components. Freshen up a chest of drawers with Brown and paint the wall behind it in Rose with Brown - you're sure to create an elegant effect.
Fresh turquoise and aqua t ones, together with earth tones, also achieve a special radiance. Once the lower tiled area in the bathroom has been painted with the cosy Millbank, use Green with Jade on the upper tiles for the perfect holiday feeling. Round off your oasis with a clear white like White with Character on the ceiling.
Use a warm earth tone, for example Brown with Terracotta, on one wall and combine it with a bright yellow to create a room atmosphere reminiscent of a sunny day. Alternatively, paint with a warm, light green to emphasise the brown.
Clear white tones are also suitable as a combination. This prevents it from looking too "dirty".
Other spice and taupe tones are also ideal. If you stick to natural colour shades in your combinations, you'll definitely be on the right track.
What can I combine earth tones with?
You can also stay in the natural realm when it comes to decoration. Wood and natural fabrics such as linen and cashmere, or even cotton, create a successful atmosphere when combined.
Metallic t ones such as brass and gold achieve a very exciting and elegant effect with the various earth tones.
Use green plants to create interesting accents.
You can lay a sage green carpet on your floor to create a rounded overall impression. Combine with light wood picture frames or deep gold accents for an ideal wall design.
Which colours can I order at MissPompadour Paint?
At MissPompadour you will find earth tones in a wide variety of designs. Whether you want to embellish your walls, your furniture or your old bathroom tiles - we have varnishes and chalk paints for every occasion.


Wall paints in earth tones
Choose from velvety matt chalk pain ts from Painting The Past, traditional English marble colours from Mylands and sustainable and robust wall paintsfrom MissPompadour. Whichever of the soft earth tones you choose, you'll love the results!
If you want a washable version for the hallway, simply choose The Functional Wall Paint by MissPompadour.
As you can see, we offer you wall paint brown in all possible variations.
Varnishes in earth tones
Luckily, you can embellish more than just walls!

Our furniture and tile varnishes also give you the opportunity to freshen up your beloved heirloom or old-fashioned kitchen tiles.

You can choose between different gloss levels.
Qualities
Whether you want to paint your furniture in a matt varnish to maintain the natural, understated look or bring it to the fore with a glossy varnish - our earth tones also leave all your options open. Of course, there is also the silk matt varnish, which is very popular for a more neutral effect.
When choosing between the different qualities, bear in mind that the matt varnishes are more suitable for furniture that is not subject to much wear and tear. The silk matt furniture and chalk varnish, on the other hand, can also be applied to tiles, kitchen furniture and regularly used furnishings. The same applies to the glossy varnish
Order wall and chalk paint in brown & earth tones online at MissPompadour
Once you have chosen your favourite earth tone, simply order it to your home. We'll ship it within a few days with DHL GoGreen
, so you can use the sustainable wall paints and velvety matt chalk paints as quickly as possible. If you need help choosing the right colour shade or the most suitable quality, our free
customer advice
is of
course there for you
.