Black
Wall Paints & Varnishes in Black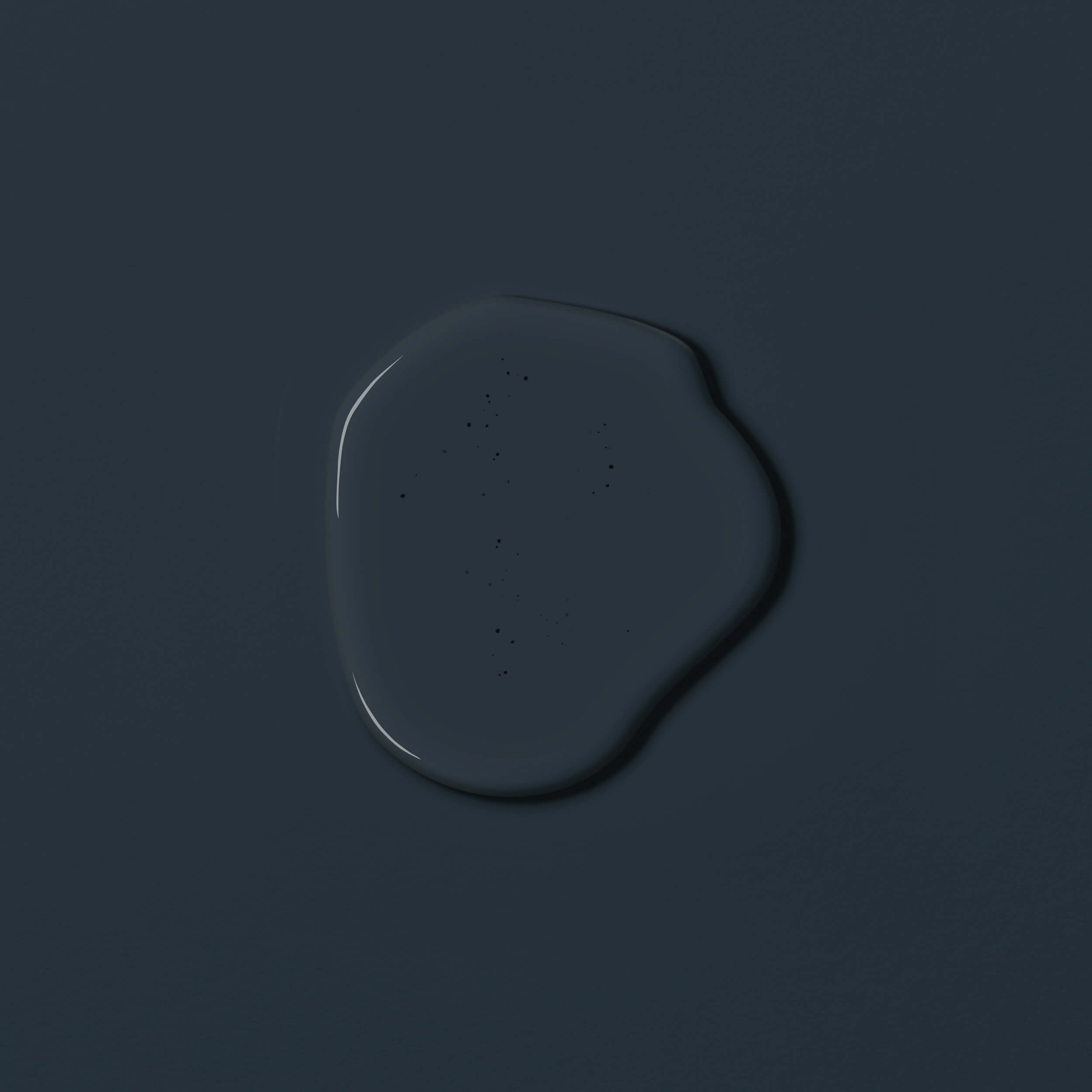 What shades of black are there?
Even though it is hard to believe, there are different shades and undertones in black. Depending on the intensity of the black colour shade, various other colours can blend in.
What shades are there?
Black wall paint is available in various finishes.
The deep black that first comes to mind is a cool colour shade. Pure blacks include Black with Black by MissPompadour, Downing Street by Mylands and Soft Black by Painting the Past.
In addition, there is a blue-black, which is a slightly lighter colour shade that shows a blue shimmer under certain lighting conditions. A typical example of this colour shade is Blue with Ink by MissPompadour or Sinner by Mylands.
The same applies to green, which, when mixed with black, forms an interesting colour that changes depending on the light and appears subliminally green. Green with Black by MissPompadour or Blackout by Mylands belong to this colour nuance.
If you like it even lighter and softer, choose anthracite instead. This is a very lightened black - depending on how you look at it, it can also be considered a dark grey. Black with Slate by MissPompadour, Sinner by Mylands or Graphite by Painting the Past are the right choices. If you're looking for a soft black with a little grey, the colour shade Black with Velvet by MissPompadour might be your favourite.
How does a black wall look?
At first, the thought of a black wall can seem gloomy. But black wall paint can have a really great effect, depending on the room concept. For example, decorate in front of your black wall with gold objects to brighten up the wall and create a classy effect.
Which rooms is black suitable for?
Black wall paint is recommended for individual walls rather than for entire rooms, as otherwise the room can quickly appear too dark
Black wall paint fits particularly well as an accent in the following rooms:
in the living room, for example behind the couch
as a special wall in a teenager's room
in the bedroom, behind the bed decorated with lamps or fairy lights
as a spice wall in the kitchen
If you paint a wall in the living room, e. g. in Black with Velvet, you can create a sophisticated atmosphere with the right accessories. Golden and coloured accents are accentuated even more. Use black wall paint in the living room to accentuate picture frames and works of art on your walls. It's not for nothing that galleries are often painted in dark, neutral colours. But a black wall is also almost a must-have for fans of industrial chic
With the right decoration, black wall paint also looks stylish and elegant in the bedroom. To contrast with the accent wall, paint the rest of the walls in a warm cream shade to feel really comfortable.
Black walls are also often desired in a teenager's room. These perhaps first signs of rebellion may seem off-putting to parents at first, but don't worry, if you use the black accent wall correctly, not only your child will be happy about it. If another colour becomes the favourite later on, you can paint over the black wall paint.
Black is a great colour for furniture in the kitchen, because kitchen cabinets painted black look modern and very elegant. However, black wall paint in the kitchen also creates an unusual and elegant effect on the walls.
With a black
guest toilet
, you definitely make a statement and create a stylish atmosphere. Silky black varnish brings fashionable elegance to the small space without being restrictive.
Especially if you
paint
your plastered
walls in petrol
to match the black painted
tiles
.
Black is Beautiful: tips on the trend colour black
Black has long ceased to be a niche colour. Instead, black wall paint is used especially in modern ambience and as an accent colour for individual walls. Especially with the silk matt varnishes, you can achieve an elegant, fresh effect. Black varnish on your furniture gives your room a special grace.
Living styles and trends in black tones
Black can be found in its nuances in many styles of living. Black is indispensable in Modern Style, which thrives on straight lines and restrained, rather achromatic colours. Black also plays a leading role in Industrial Style, which is inspired by factory halls and lofts - whether as a single element, such as a table frame, or as a wall paint. In the playful Whimsical Style, a black wall can provide the perfect setting for all golden, glittery and fairytale elements. In the Glamour Style, too, black provides an ideal base for extravagant metallic shine and the glamorous velvet elements.
Which colour shades go well with black?
Since black is a neutral colour, you can combine it with almost anything. If you like it purist or minimalist, you can combine it with grey and beige t ones. If you prefer strong colours, you can place furniture painted in petrol, dark green, Bordeaux red or mustard yellow in front of the black wall. If you like it luxurious and noble, add golden accents
But painting almost tone-in-tone
is also possible with black. Paint
your walls in a warm,
light grey wall paint
and use a pure black as an accent colour. A piece of furniture painted black also looks very elegant against a grey wall. Use a black wood varnish in matt
to achieve a subtle effect.

If you want your wall design to be more eye-catching, the black
varnish with gloss
is particularly suitable.
What can I combine black with?
When it comes to decoration, you have all kinds of options with black, depending on your interior style. As a colour shade, black provides a backdrop for everything else, so you are spoilt for choice.
If your interior style is sophisticated, you can opt for decorative items in gold or metallic tones.
Natural materials make an interesting contrast to a black accent wall, while decorations and pictures in geometric shapes
are supported in their minimalist effect by black.

Industrial-style metal
complements a room painted with matte black wall paint beautifully.
Which colours can I order from MissPompadour Paint?
If you want to decorate your home in black, you can choose between
black varnish in gloss or matt finish for your furniture, stairs or metal surfaces
black wall paint
black wall paint. At MissPompadour you will find the right colour quality for your black project for all areas of application.
Colours in black
At MissPompadour Paints you will find the following black colours:
Wonderful matte black chalk paint is offered at Painting the Past. Mylands also offers various shades of black from deep black to lighter shades
The ecological wall paint The Valuable Wall Paint by MissPompadour is also available in black
If you're looking for an indestructible wall paint that will stay beautifully black for a long time, even in stairwells, hallways or other heavily used rooms, you should go for The Functional Wall Paint. It is completely wipeable and extremely robust.
For a black wall paint in matt, we recommend the chalk paint from Painting The Past. But you can also find black, glossy wall paint here. Choose The Functional Wall Paint or the Mylands Marble Matt for a light shine. If you ever get tired of your black wall, you can simply paint over the black wall paint. Just use another colour shade from our diverse colour scheme.
Varnishes in black
Besides walls, furniture, tiles and decorative elements in black are real eye-catchers. For this purpose, there are the varnishes, which you can use in different versions - depending on the effect you want to achieve.
Qualities
If you want to refresh a piece of furniture with a matt black wood varnish, the matt varnish quality from Painting the Past is the right choice
If you are looking for a more robust version, you should go for Eggshell Varnish from MissPompadour, Wood & Metal from Mylands in the Eggshell quality or the varnish Eggshell from Painting the Past. With these qualities you can also give your window frames
a new look. For
detailed information on how to do this
,
read
our
magazine on painting window frames
.

Add
eye-catching
accents in black
with Mylands Wood & Metal varnish in the
high-gloss gloss quality
.
Order wall and chalk paint in black online at MissPompadour
Once you've chosen your favourite black, simply order it to your home. We'll ship it within a few days with DHL GoGreen, so you can use the sustainable wall paints and velvety matt chalk paints as quickly as possible. If you need help
choosing the right colour shade or the most suitable quality, our free
customer advice
is of
course there for you
.