Wall Paints & Varnishes in Green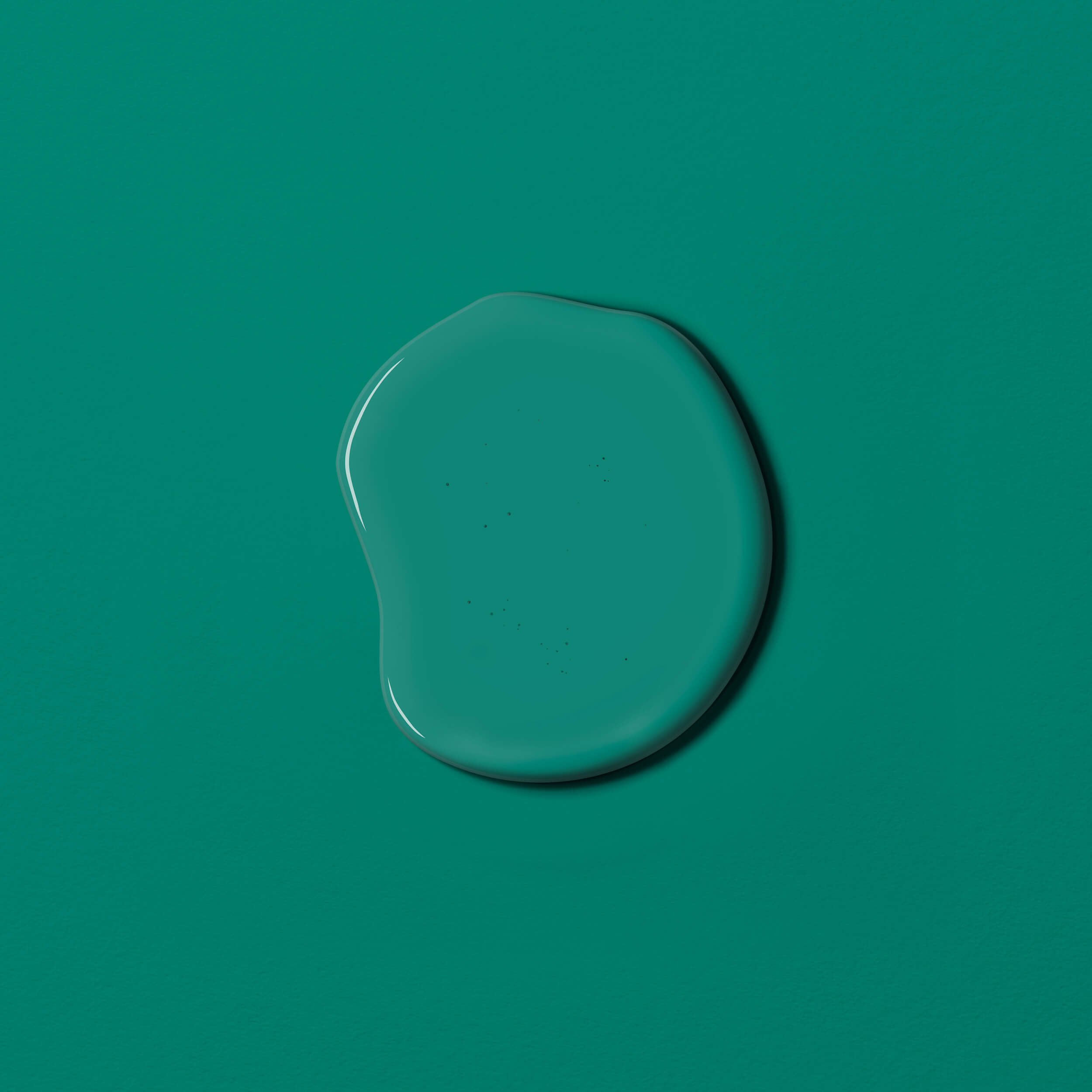 What shades of green are there?
In our colour scheme you will find a variety of
different shades of green
. There are
aqua shades, where the blue part dominates
, and
lime shades, where the yellow part predominates
. You will find everything from a light, restrained green like a
lime
green to a deep
dark green
reminiscent of the leaves of tropical plants. So there is something for every style.
What shades are there?
Green is the first colour you think of when you hear the word "nature".
Accordingly, it comes in the most diverse variations and nuances. Starting with a light, slightly greyish and discreet sage green, to the strong and light apple green, to the darkanddeep forest green. Of course, there are plenty of intermediate shades and combinations, such as olive, bottle green, khaki, turquoise and lime. Together with red and earth tones, tones are created that almost look brown.
You already realise: there are no limits to your ideas with green.
The effect of green as wall paint
Green tones radiate harmony and serenity, which makes them calming. In addition, the colour is associated with life, nature, as well as contentment and hope. Forest and leaf green colour shades have a balancing effect and create harmony.
Aqua shades create freshness and relaxation, while yellowish green shades are invigorating and stimulating.
If you decide to buy a green wall paint, why not be brave and choose a dark green chalk paint, such as Messel or Artillery Ground by Mylands? Alternatively, we recommend Camouflage from Painting the Past, a dark olive green.
Choose a wall paint in dark green to create a soothing atmosphere with one wall. Green with Forest by MissPompadour, for example, is a great wall paint for your living room or bedroom.
Sage green wall paint also has a relaxing effect, such as Green with Sage by MissPompadour.
Which rooms is green suitable for?
Due to their positive qualities, shades of green are actually suitable for all rooms of the house. Both the cooler and the warm tones have a positive effect on a healthy living climate, depending on the room
A bathroom painted in aqua tones can support a positive start to the day
A bedroom painted in delicate sage green calms the senses and thus promotes restful sleep.
But living rooms painted with mint green wall paints also radiate cosiness and have a relaxing and balancing effect.
If you prefer a dark, deep tone, you can paint an accent wall in the living room or bedroom and then apply a delicate rosé tone to the rest of the walls. This is another way to achieve a relaxing and calming effect without having to forego strong tones.
Tips on the trend colour green
There is a green colour to suit every interior design style. Whether you want to paint your dining room in a matt chalk paint, give your bathroom tiles a maritime makeover with mint-coloured chalk varnish or paint your entrance area in a timeless, washable, elegant dark green.
Living styles and trends in shades of green
There are blue- and yellow-tinted greens. Actually, all colour shades - yellow, pink or red - go well with blue-tinged greens. If you want to paint a room that contains many different colours, blue with green is always the best choice.
Overall, green conveys freshness and vitality. You can paint the wall paints wherever there is a lot of activity. So it is ideal for living rooms and kitchens.
Green is very popular in the English style of living. It is also popular in the boho style, where green is often used as a strong accent.
Which colour goes well with green?
Natural and earthy tones go particularly well.
If you have painted olive green as a wall paint, a warm beige, for example, creates a calm and relaxed atmosphere. You can either paint it on the other walls of the room or use it to freshen up your furniture.

If you
have used
sage green as a wall paint, add cherry wood furniture or decorate the floor with a reddish brown carpet. Especially with our chalk paints in sage green, you achieve a velvety matt effect against which the other colours really shine.
A light, soft apple green can be juxtaposed with a vibrant pink for a lively effect, perfect for boho style.

Alternatively, you can paint your walls in a restrained rosé and place a dark green-painted chest of draw
ers in
front of it - decorated with gold elements, you achieve a sophisticated, self-assured impression. This goes particularly well with a romantic, French interior style.

Aqua tones look great next to pastel tones such as a soft pink or a light sand tone.
Warm green, such as our Green with Apple, always goes well
with
light, warm cream t
ones
.

But
blue
and
petrol tones
also
look
good
with
woody greens such as Green with Forest
.
Combine
Green with
Moss
and
Blue with Cloud
for a
fresh yet relaxing look
.
Greenwith Lagoon and Green with Aqua are ideal if you want to create a calming wellness area.
You can achieve an exciting contrast by combining green with a signal colour such as orange or yellow. MissPompadour's colour scheme includes the fantastic Orange with Goldfish or Yellow with Saffron. A yellow wall with a green-painted chest of drawers creates an exciting effect. Here, the signal colours can serve as accents alongside the shade of green
What can I combine green with?
Honey-coloured wooden furniture goes well with any shade.
Furnish
the room with decorative items such as cushions in a peachy rose colour - paired with golden elements such as candlesticks or table legs, you achieve a lively, harmonious effect.

Rose gold, copper or silver can also be combined with all different shades of green, and we recommend white furniture
to
go with them
.
For an elegant, more mature style, you can use a deep wine red instead of rosé, such as MissPompadour's Red with Merlot, preferably in combination with an olive tone.
If you like to decorate your room with plants, a blue-tinged green is recommended as it goes well with different plants. Green tones can be combined with rustic wood in exactly the same way - this looks particularly natural and lively.
Oak is also a great match for green with blue tones - whether as a parquet floor or a piece of furniture.
Which colours can I order from MissPompadour Paint?
You can order all shades of green as wall and furniture colours. If you paint the wall and the piece of furniture in front of it in the same colour shade, you can make your piece of furniture disappear in front of the wall. Or - the other way round - accentuate it perfectly by painting it with the varnish of your choice. This also brings more calm into the room.
wall paints in green
In our shop you will find every gradation of green wall paints for your project. Whether you're looking for a fresh, soft lime green for your dining room or a dark forest green for your living room, a turquoise aqua green for the bathroom or a greyish green for the hallway - you can buy your wall paint in green for every project
at

.
If you're looking for a robust colour
for
your heavily used walls, our
washable wall paints and chalk paints
are
just as suitable
.
Varnishes in green
Of course, you can also find all our green shades in robust lacquer qualities. Paint
your bathroom walls a fresh white
with
our
tile varnish
and combine it with a light green. We also have chalk paints for furniture in green. How about Green Tea Eggshell for your kitchen?
It will give it a
special freshness.

Or give
your
old cupboard wall a noble, dark green coat of paint. But your floors can also be embellished with the lacquer qualities. How about a light
grey-green
for your
kitchen floor
?
Qualities
Of course, you can do more than just paint furniture and walls.

If you want to give a big old cabinet
a
particularly classy, glossy look, choose the deep, rich green of Mylands Brompton Road in Wood & Metal
Gloss.
This is a stable varnish with about 80% gloss - combined with gold decoration, it gives your living room an old English look.
If you want to make your old oak chest of drawers look more country, paint it a fresh, matt green. Use one of our matt chalk paints from Painting the Past in dark or sage green, for example Cottage Green matt or Camouflage matt. You can also use our furniture paints such as Green with Grey in Matt Varnish from MissPompadour
If you want to paint your tiled wall in the kitchen or bathroom an invigorating satin green, try one of our coloured green paints. Use one of the Eggshell varnishes from Painting The Past or Mylands - or of course an Eggshell Varnish from MissPompadour.
Green Tea, Green with Matcha and Serpentine are particularly appetising.
By the way
,
dishwasher and fridge can
also be easily painted over with
the
colours for metal
.
Order wall and chalk paints in green online at MissPompadour
You can use the purchase on account option in our online shop as well as PayPal. Of course, payments by instant transfer and direct debit are also possible.
By the way, did you know that you don't need a PayPal account to use PayPal Plus and can still take advantage of all the benefits? Just try it out for your next purchase!