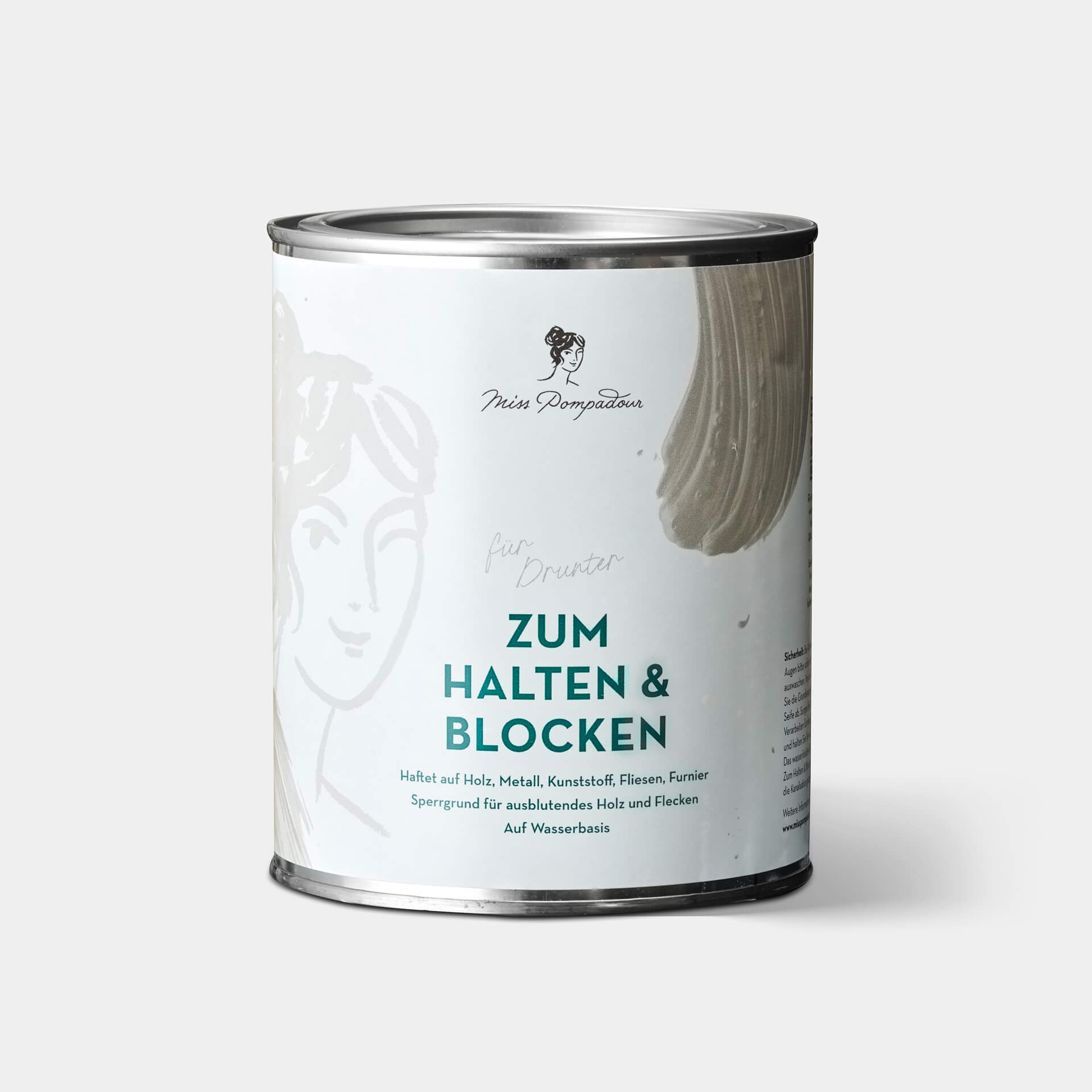 MissPompadour
To Bond & Block- Bonding and Sealing Primer
To Bond & Block is simply brilliant. Whether walls, wood, tiles, metal, or glass, with our all-purpose primer/sealer, To Bond & Block, you can now ensure that problematic surfaces are perfectly prepared for painting.
Low VOC & water-based
Smooth application with good coverage
Excellent adhesion & blocking effect
German production
Available, delivery time: 2 to 4 Working days
⭐️ Very popular product: Bought over 7983 times during the last weeks
High quality products for your perfect result
Free & individual color consultation
Safe delivery by DHL GoGreen
This is what our customers say
To Bond & Block - MissPompadour Adhesive and Stainblock
A stainblock primer is used to create a barrier between the surface and the paint coat. It is used to prime wood and metal surfaces. A bonding primer provides optimal adhesion to very smooth surfaces like plastic, tiles, and glass. With MissPompadour To Bond & Block, you now have a 2-in-1 primer that can be used on all substrates.
How to use To Bond & Block
As always, the most important thing to do before painting is to clean the surface thoroughly. Our mild, eco-friendly MissPompadour To Clean is great for this. After cleaning, apply a full coat of To Bond & To Block. Important: If you use the primer on smooth surfaces, you can re-coat after approx. 3 hours. For an optimal blocking effect, wait at least 8 hours or overnight when painting untreated or stained wood. Be sure to clean your brush or rollers thoroughly between priming and painting, or use separate work tools.
To Bond & Block on Wood
Some woods contain natural tannins that can bleed out after painting, creating stains on the paint coat. This is often the case with oak, but also with softwoods and various tropical woods. Old pieces of furniture are often stained. An old stain finish can react with the new paint coat, causing discolouration. With this primer, you'll be on the safe side, without the risk of any staining. Apply a full primer coat and allow to dry for approx. 8 hours. If the substrate is highly absorbent or if the first coat discolours, apply another coat!
To Bond & Block on Metal
Prepare uncoated iron and rusty metal first with a rust protection primer. The rust must be thoroughly removed before the primer is applied. When the rust protection primer has dried, apply To Bond & Block. Then your surface is protected against further corrosion. After approx. 3 hours drying time, you can apply the paint. For stainless steel, coated iron and non-ferrous metal, you can use To Bond & Block directly and do not need a rust protection primer.
To Bond & Block on tiles, plastics, glass and other very smooth surfaces
Here, too, you should clean the surfaces so that they are completely dust and grime-free. This is especially important when painting kitchen furniture. The fumes that develop in kitchens are, often unnoticeably, deposited on every surface. After all surfaces have dried, stir the primer well and apply a full coat. To Bond & Block provides a more stable base coat on which your paint can adhere well. High-gloss and laminated kitchen surfaces can also be primed first. Leave the primer to dry for approx. 3 hours at a room temperature before painting. On tiles and other colder surfaces, it is best to leave the primer to dry overnight before applying the first paint coat.
To Bond & Block on the Wall
The MissPompadour Stainblock also allows you to paint problematic wall surfaces. Especially in an old building, it can happen that a wall has undefinable stains that cannot be completely covered with wall paint. These are usually old grease traces from soot, water stains or similar - such stains can be also be primed first. Apply the primer to the stains with a roller and allow to dry for at least 8 hours. Then apply a coat of wall paint.
To Bond & Block like all our products are water-based. Brushes and rollers should be cleaned thoroughly with warm water directly after use.

| | |
| --- | --- |
| Application: | Indoors and outdoors on smooth surfaces. For metal, wood, tiles. |
| Processing: | Trocken nach ca. 3 - 8 Stunden (je nach Untergrund). Diese Angabe gilt für Raumtemperatur von etwa 20 Grad und 65% Luftfeuchtigkeit. Sollte es kühler sein, solltest Du noch etwas länger warten, insbesondere bei Bädern im Keller. |
| Quantity: | 1 litre |
| Reach: | 1L is enough for about 10 m2 |
| Zum Halten & Blocken: | Technisches Datenblatt herunterladen |