Wall Paint for Wallpaper & Woodchip
Sometimes even your
wallpapered wall
needs freshening up. With our paints, it can be done without any decoration. The effect is simply impressive.
Find out more
about our paints for wallpaper and woodchip!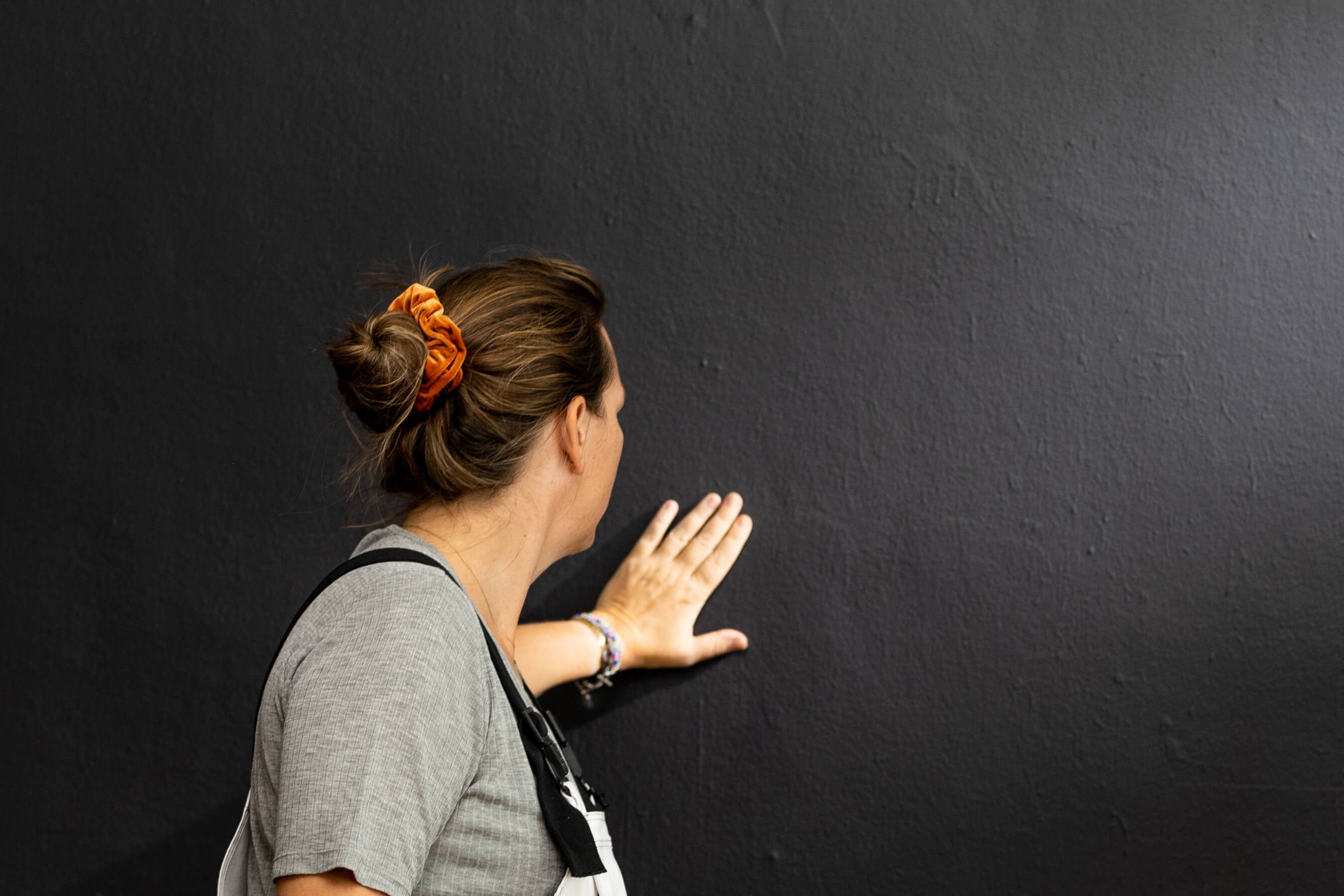 Wall paint for wallpaper & woodchip: What you need to know
Everyone has a room in their flat or house that could do with more colour! This also applies to a wallpapered wall.
Not only woodchip wallpaper - you can also paint paper wallpaper , non-woven wallpaper, patterned wallpaper and textured wall paper perfectly. It doesn't matter what kind it is - with our paints you can paint all your walls! Painting offers you the ideal opportunity to give your home a new look again and again. Painting an accent wall in a different colour is just as quick as a tour of the furniture stores in search of new decorations.
Here you will find important information on wall paint for the different types of wallpaper.
What makes wall paint for wallpaper and woodchip stand out?
With our wall paints you can give a plain wallpaper a noble and special look. The particularly powdery and matt look of our sustainable colours and chalk paints turns the most boring wallpaper into an eye-catcher. The paint has super opacity, is abrasion-resistant and robust, and is practically odourless. You are spoilt for choice, because we offer hundreds of colour shades. So, which is your favourite shade?

Basically, you can paint over any wallpaper with a brush or paint roller. Of course, the paint is suitable for woodchip wall paper. It is important that the wallpaper is still firmly attached to the wall. If it is partially loose, the moisture created during painting can further loosen the wallpaper. If the wallpaper was wallpapered well, you will usually not be able to see the edges of the individual strips after painting.

Common uses for wall paint
Sometimes it's not the pattern of the textured wallpaper that bothers you, but simply the colour. And woodchip wallpaper was invented to change colour more often anyway. So it's perfect for us colour-crazy people!
Or the retro pattern of your non-woven wallpaper that was in fashion a few years ago no longer suits your style - a fresh coat of paint can also remedy that. You can also paint your textured wallpaper.
Your wallpapered ceiling can be changed just as easily with our colours!
Choose the right colour for your wallpaper
In our shop we have a large selection of different wall paints that you can use for painting your wallpaper! To make your decision easier, we have put them together in a small overview.


Which paint is suitable for painting over wallpaper?
All our wall paints are perfect for painting wallpaper. You can choose from hundreds of great colour shades from MissPompadour - The Valuable Wall Paint to Mylands Marble Matt Emulsion to Painting the Past wall paint. Even if the wallpaper has already been painted with emulsion paint or latex paint, you can paint it again without any problems
If you also wantto paint plastered, heavily used walls, we also have the matching washable wall paints in our range.
MissPompadour - The Valuable Wall Paint
MissPompadour's own brand. High quality ecological paints with a matt finish.

strong opacity
wide range of fine-tuned clear and powdery colour shadesn
high proportion of renewable raw materials from sustainable production
lowest possible VOC content
available in 1 l and 2. 5 l containers

colour cards available
Painting the Past wall paint
Stylish chalk paints with a nostalgic look

high opacity with finely differentiated colour scheme
unobtrusive, in the style of old English cottages
matt, subtle and gentle
powdery, smooth surface
Tester 60 ml and 2, 5 l container
colour cards available
Mylands Marble Matt Emulsion
English premium wall paint with marble powder

highly durable wall paint with very good covering power
the wide colour scheme covers pastel as well as rich and dark colour shades
100 ml, 1 l, 2, 5 l and 5 l containers available
colour cards available
Use this colour for woodchip wallpaper
You want to paint woodchip wallpaper? The above-mentioned paint qualities are all also suitable as paint for woodchip wallpaper. Make sure that the wallpaper can accept the paint well. It should be neither too absorbent nor too water-repellent. Before applying the paint, try it out on a spot to see how it behaves on your surface.

Tip 1: Before you start painting, you can first close up old dowel holes, stains or nail holes with our To Fill - MissPompadour Filler
Tip 2: You can easily paint over your wallpaper. The best way to do this is to pour the paint into a paint tray. For all corners and edges you can use our brushes and paint the surfaces with a paint roller. You can also use a small roller. Our wall paints have quite a heavy weight - you will last longer with the smaller roller!
Tip 3: Since woodchip is uneven, we recommend working crosswise. First paint the surface from top to bottom and then again crosswise. This way you can reach all the depressions. If you have a heavily textured surface, a high-pile paint roller may be a good choice.
Order paint for woodchip and other wallpapers in the MissPompadour Shop
Why should you order your paint from MissPompadour Paint? With our MissPompadour wall paints, we place special emphasis on sustainability. Our Matt Varnish paint is vegan and contains a large proportion of plant-based raw materials that can regrow within the lifetime of your paint. Of course, they are solvent-free with an extremely low level of preservatives. Because of this and their smooth and stable surface, they are also suitable for children's rooms without any problems. They have a long service life and thus allow for resistant coats of paint.
In addition, they are practically odourless - as far as this is possible with wall paints. Thanks to the extremely high opacity, you can easily paint over even intensive colours.
If you have more surface to paint and order MissPompadour wall paint in 2. 5l containers, you will not only benefit from our freeCO2-neutral shipping. You also contribute to bringing recycled plastic back into the cycle. Because the 2. 5 litre buckets of our wall paints are made of 100% recycled plastic.
With so much choice, do you need help? Then simply contact our free colour and customer advice service!
Is your renovation coming up or do you want to get started as soon as possible? Then it's best to order now!
We ship within a few working days and do everything we can to get you started on your project!
Not only do we offer a wide range of colours, but we also offer a wide range of payment methods. Whether you want to buy on account or prefer to pay by instant bank transfer - all options are open to you. With PayPal Plus you can also pay by SEPA direct debit - or send the amount directly via PayPal as usual.
By the way, you don't need a PayPal account to benefit from all the advantages of PayPal Plus. So nothing stands in the way of your project! On the brushes, get set, go!