Wall Paints & Varnishes in Yellow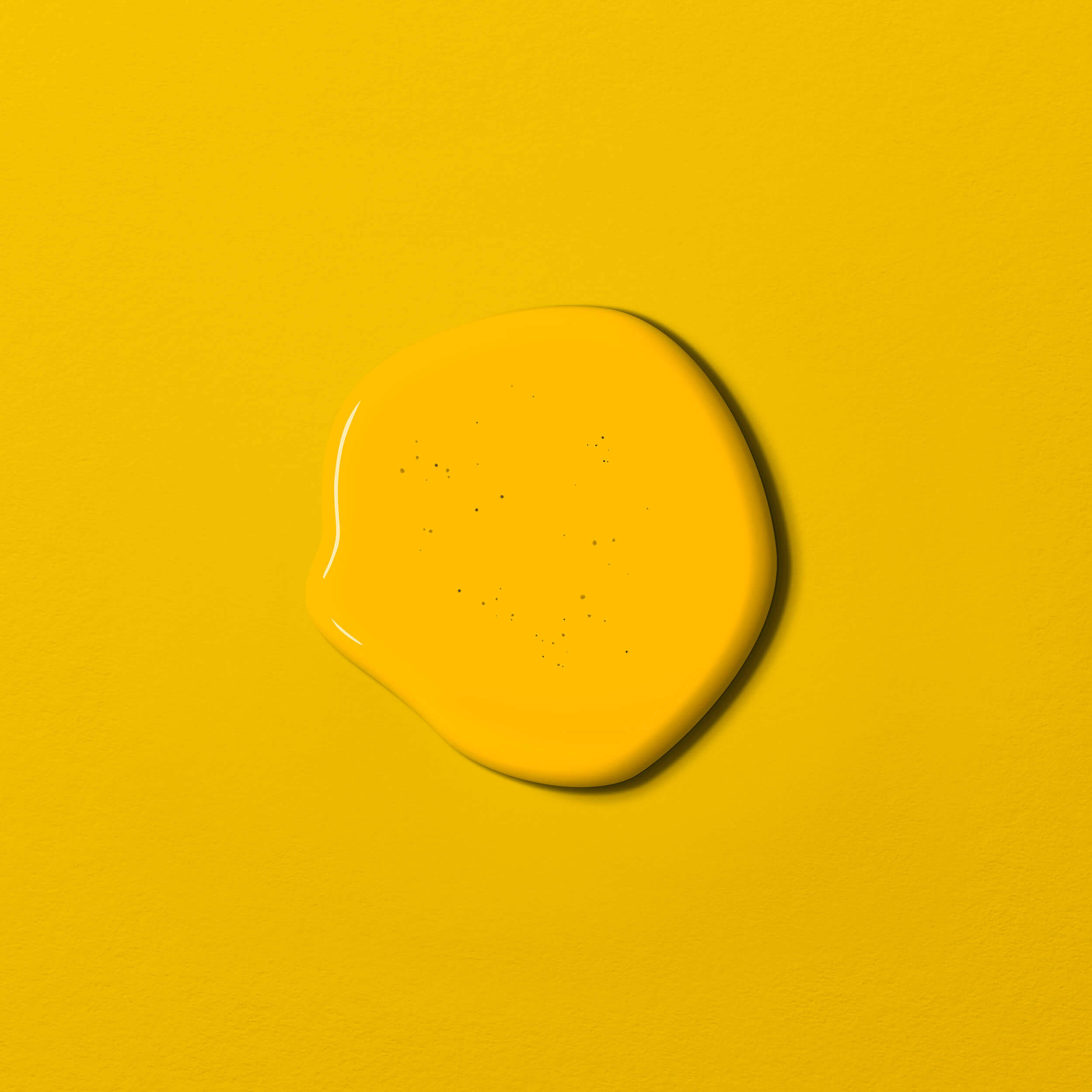 What shades of yellow are there?
It is also true for yellow that different shades of yellow have a completely different effect depending on their composition. Depending on which pigments are mixed with yellow, you can achieve a warm or cool atmosphere. Which variant you choose depends on how you want to use yellow tones in your interior design concept.
From mustard yellow to ochre: what shades are there?
The colour scheme of yellow tones ranges from an almost white, delicate pastel yellow to strong, fruity tones to a dark, warm yellow that tends towards ochre.
White with Vanilla by MissPompadour is a typical example of an almost white yellow. Haymarket by Mylands is a warm, almost muted yellow, as is Yellow with Saffron by MissPompadour. Yellow with Lemon by MissPompadour or Circle Line by Mylands create a strong, bright yellow in your rooms.
Let the sunshine in: The effect of yellow as wall paint
Yellow is a warm colour and makes a room look bigger and wider. This makes yellow colour shades ideal for small and dark rooms. If you opt for a light yellow wall paint, you can paint all the walls of a room with it. If you are more inclined towards a mustard yellow wall paint, you should opt for an accent wall in your favourite yellow.
A pastel yellow wall paint has a stimulating and invigorating effect, promoting the ability to perform and concentrate. Because of its association with sun and warmth, yellow puts us in a positive mood and allows us to communicate well.
For which rooms is yellow particularly suitable?
Yellow is particularly ideal for use in the dining room. A calm, warm tone like ochre yellow comes into its own here. Wharf Sacking by Mylands is a great example of this. Sunny yellow wall paint such as Yellow with Sun by MissPompadour also fits wonderfully in this area.
In rooms where meetings take place, yellow is also very suitable due to its stimulating effect. Here, the choice should fall on soft, yellow chalk paint, such as Mustard by Painting the Past. But you can also enjoy the stimulating effect of yellow in the study. Why not paint part of the room in a Mediterranean yellow wall paint? Verdure Yellow from Mylands is a representative of this trend.
MissPompadour tips on the bright trend colour yellow
Yellow can create surprising effects when used in moderation and in a well-considered way. The brightening and stimulating effect of this colour, which has unjustifiably fallen into oblivion, should not be underestimated.
Living styles and trends in yellow tones
If you love the Mediterranean style of living, you should definitely not be without yellow. A radiant yellow on the wall, such as Yellow with Sun by MissPompadour, is the ideal yellow Mediterranean wall paint. Combined with natural woods and other natural tones, such as dark green, strong blue or even dark, intense red, you can achieve a relaxed ambience that will make you forget many a dark day outside your window
If your décor is more retro, you can use strong yellow tones especially well. Whether as furniture or wall paint, colours such as Yellow with Lemon from our collection and Mid Chrome from Mylands suit this style. These impressive colour shades are just as suitable for an eclectic style of living.
Yellow can also be wonderfully integrated into an elegant interior style. You can combine a petrol shade such as Green with Teal from the MissPompadour collection with an elegant yellow such as Golden Square from Mylands. Add golden accents and you'll feel like a princess in your newly designed home.
Which colour shades go well with yellow?
When used correctly, yellow can be used together with many colours. A combination with the complementary colour violet goes very well. For an expressive effect, create a wall in the warm, intense Yellow with Saffron by MissPompadour and complement it with furniture in the deep purple Duke's House by Mylands. A lemon-yellow colour such as Yellow with Lemon, complemented with a purple such as Plum Tree by Mylands, also has a dynamic effect.
Shades of green in various gradations also look highly interesting and very natural with yellow. A wall in the calm Green with Forest by MissPompadour with a dresser in Yellow with Lemon by MissPompadour in front of it is guaranteed to create a highlight in your interior.
But all earth and brown tones
together with light, cool yellow tones also make a very harmonious combination. In
addition to a wall in an accent colour, you can
choose
a
wall paint in beige
for
the other walls
. Don'
t forget intense red
and
blue
tones, which
form an exciting relationship with all yellow tones. Therefore, you should combine them in a minimal and targeted way.

If
you want to give yellow a noble
and elegant touch, combine it
with delicate petrol and clear white
tones
. In this environment, yellow really starts to shine.
What can I combine the colour with?
Yellow goes particularly well with dark wood tonesand dark lacquered furniture. To achieve a Mediterranean effect, you can also combine furniture and decorative objects in pure white. Strong green plants with large leaves look particularly good in a yellow and sunny ambience. To yellow in spicy tones, such as curry yellow, soft and velvety materials in anthracite and black tones look particularly cosy and inviting.
Which colours can I order from MissPompadour Paint?
All our yellow shades are available in wall paints and varnishes. Therefore, you can paint all surfaces with yellow paint, no matter whether you want to paint the floor, the wallpaper, the tile backsplash in the kitchen or refresh a piece of furniture that is getting on in years. You'll find the right colour and paint quality for all your projects.
Wall paint in yellow
The wall paint from MissPompadour is available in two different colour qualities: our ecological and matt The Valuable Wall Paint for all your "normally" used living areas, as well as our extremely stableThe Functional Wall Paint, which can be used especially in the entrance area or in kitchens. Thanks to its smooth surface, it can be wiped clean without any problems and is still matt at the same time.
Our range is complemented by the velvety chalk paints from Painting the Past and the traditional English wall paints from Mylands.
Whether you want to freshen up your plastered wall or your wallpaper has become unsightly, our wall paints in yellow won't stop at any surface.
Varnishes in yellow
Besides the wall paints you will also find the varnishes in all colour shades. With these you can paint all surfaces from wood to tiles or even glass. Use yellow wood paint to accentuate a piece of furniture or be brave and paint the entire surface in this cheerful colour shade.
Choose from different gloss levels and qualities
With the varnishes you also have the choice between different qualities, which you can select according to your area of application. For surfaces that are exposed to greater stress, you need the robust varnish qualities.
These include the Eggshell Varnish quality from MissPompadour, the Eggshell version of the Wood & Metal quality from Mylands and the Eggshell varnish quality from Painting the Past.
If you prefer a matt finish, the matt varnishes from MissPompadour, the Wood & Metal varnish from Mylands in the matt quality and the matt varnish from Painting the Past are the right choice for you.
If you like a glossy finish, you can let the yellow tones really shine in the high-gloss gloss version from Mylands.
Order yellow chalk and wall paint online at MissPompadour
Once you have decided on your favourite shade of yellow, you can order directly from our online shop. If you are unsure and have any questions, our
free customer advisory service
will be
happy to help you
You have the choice between numerous payment options:


Purchase on account

PayPal

Instant bank transfer

Direct debit



Once you have placed your order, we ship it quickly so that it arrives within a few days and you can get started with your project. We are committed to being as sustainable as possible, which is why you buy organic paints and varnishes from us. Beyond our product, we care about the environment, so we use recycled packaging and the filling material is also plastic-free.