Painting Doors: DIY-tutorial and Professional Tips
8 min reading time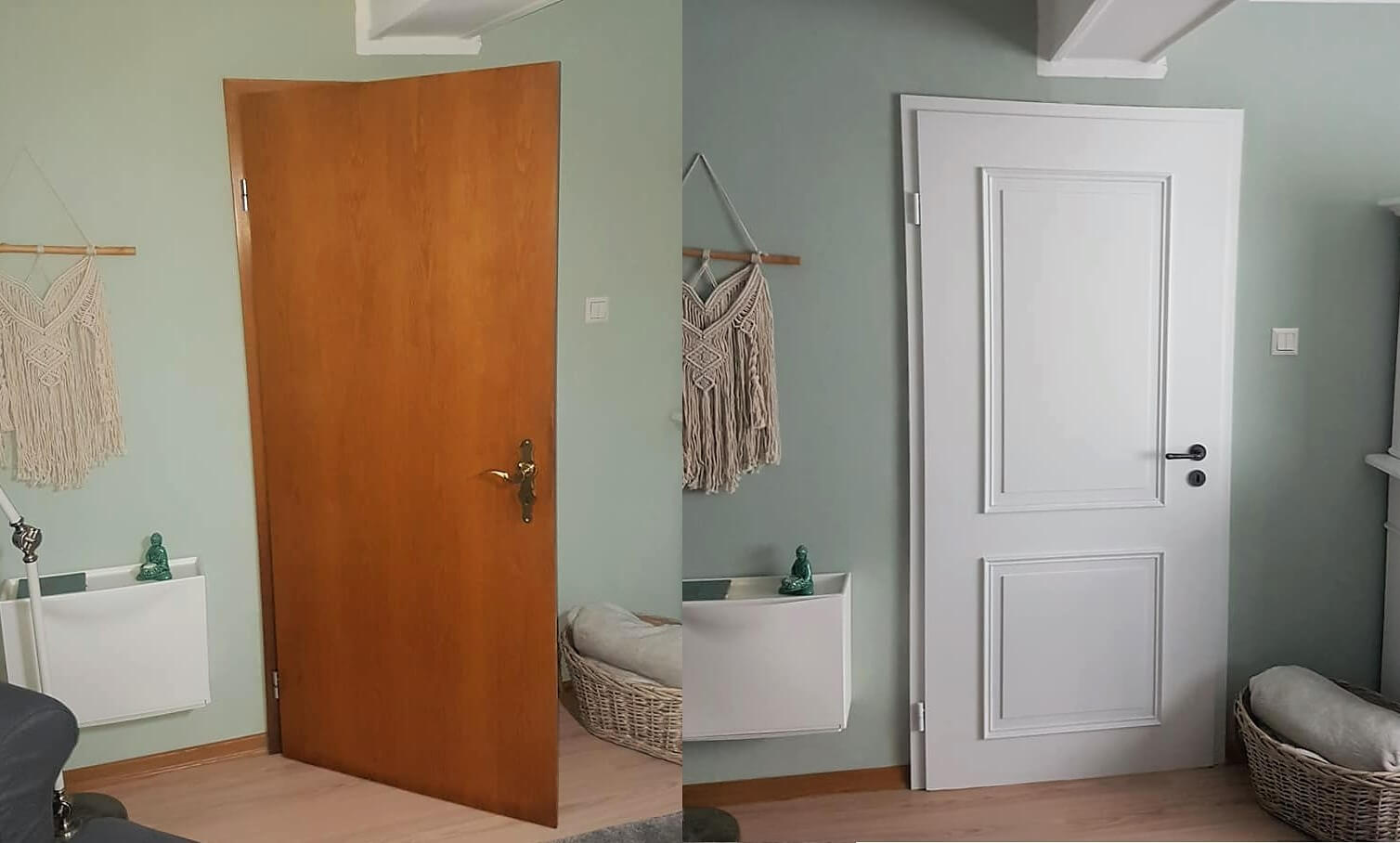 Do you perhaps have those unloved wooden doors in your home that destroy any colour concept in the room? Or do your painted interior doors show more traces of "lived life" after a long time than you can still find beautiful? Then there's only one thing to do: paint the doors with our water-based varnishes. It's amazingly easy to do, and most of the time you don't even have to sand them down at all.
Before/After sample photos for painting doors
Why should you paint your bedroom door? Every room starts with the door, so we should give it the attention it deserves. Old doors in particular benefit from painting, as they are often made of real wood and custom-made. See how easy it is to turn an old door into an eye-catcher with a little paint and get inspired!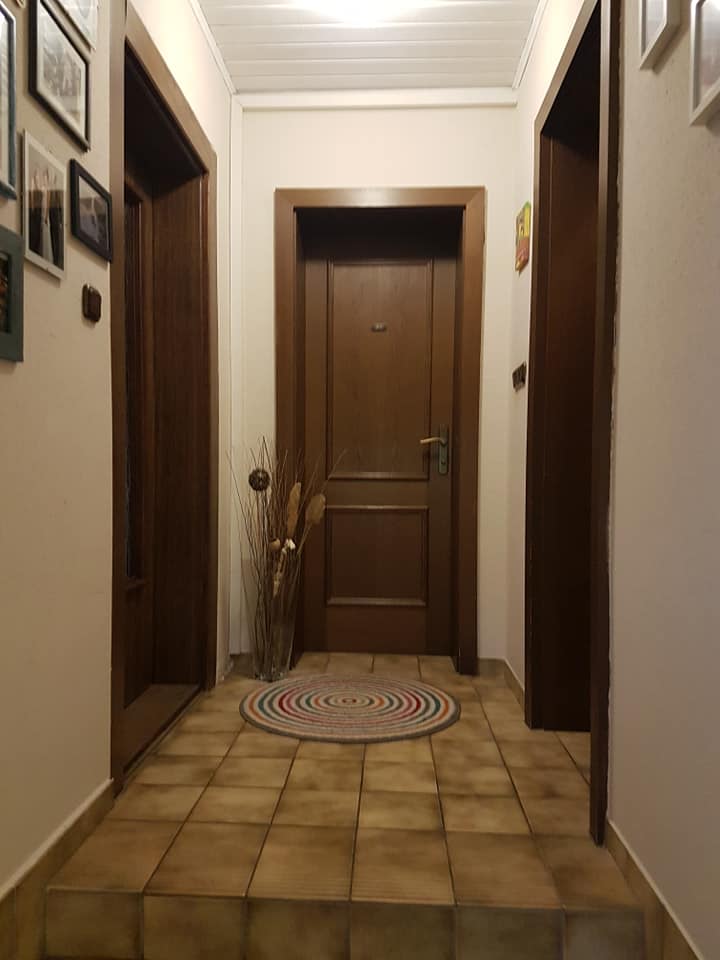 Before
- A dark hallway should be given a modern and bright look
MissPompadour White with Melting - Eggshell Varnish 1L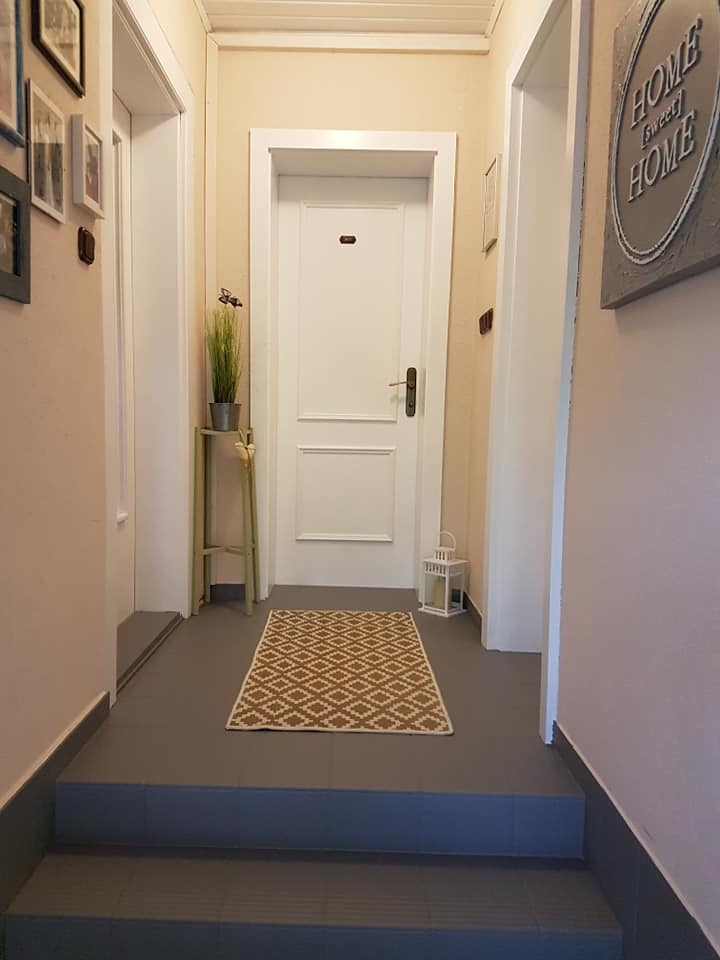 After
- That's why, among other things, the doors were painted with MissPompadour White with Melting in Eggshell Varnish quality.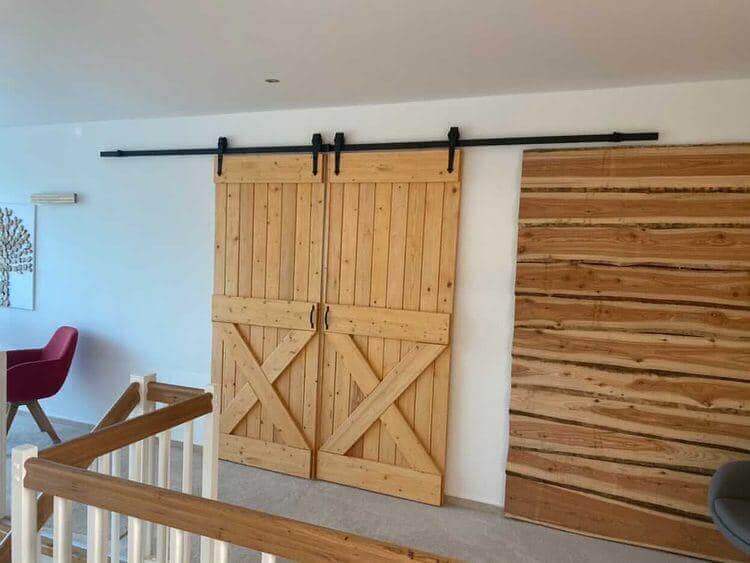 Before
- A newly installed sliding door as an eye-catcher? You need colour!
MissPompadour Green with Forest - Eggshell Varnish 1L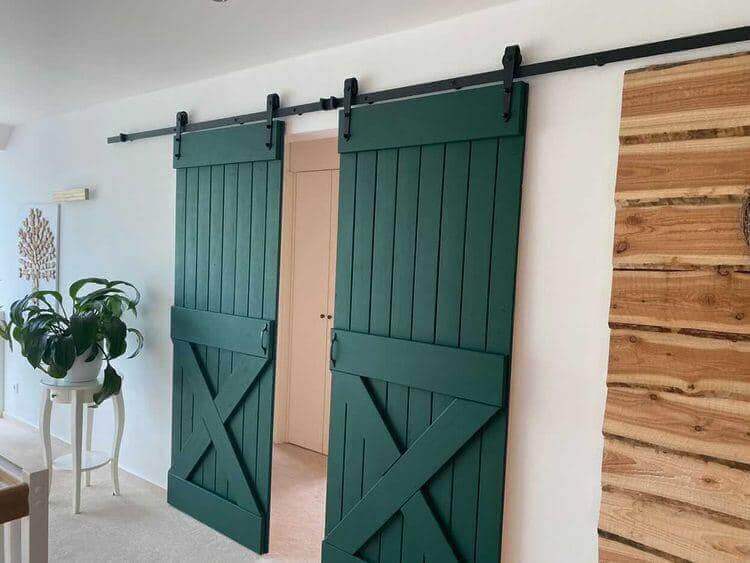 After
- Painted in Green with Forest by MissPompadour, this sliding door has become a real eye-catcher.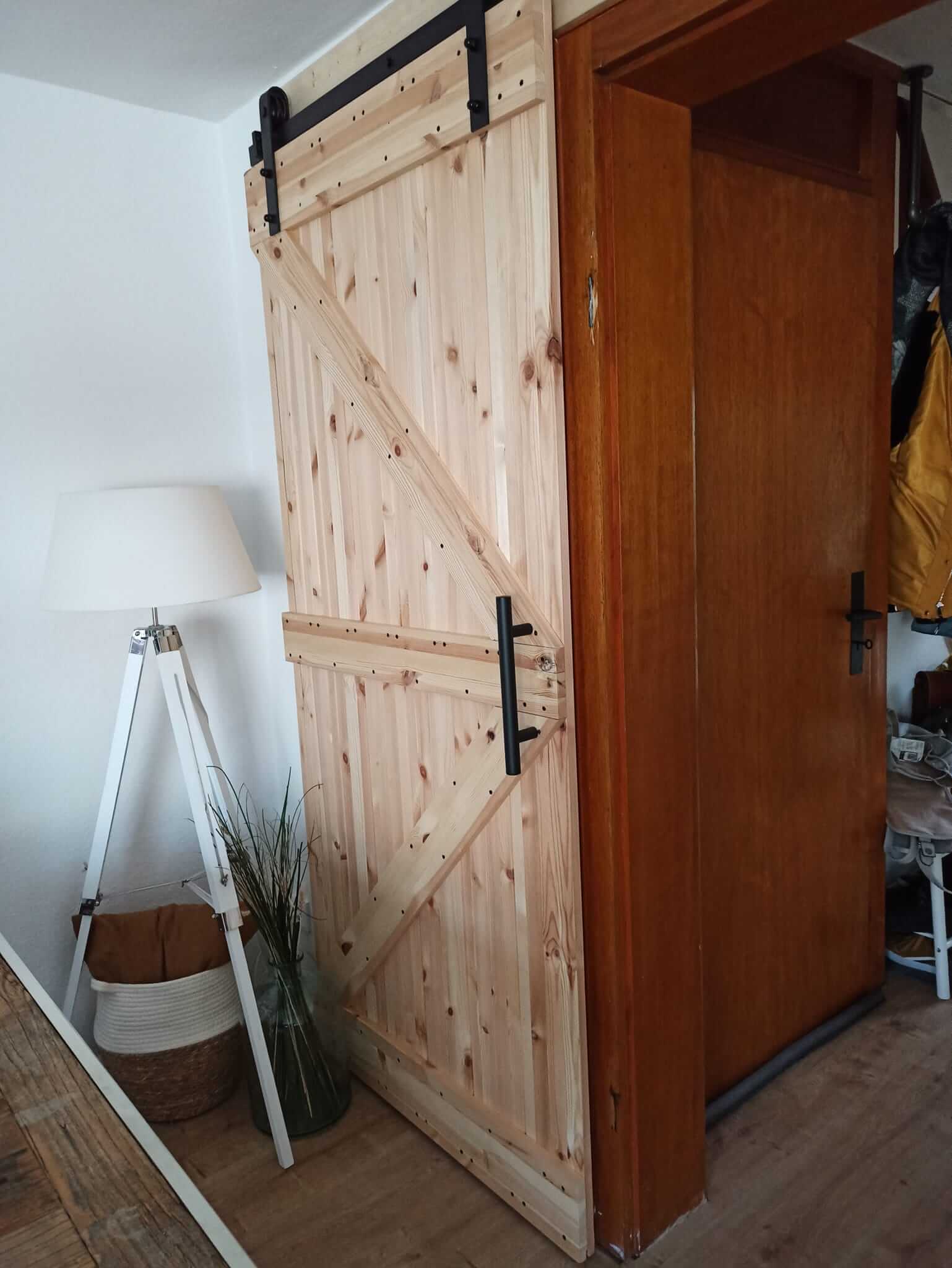 Before
- A standard sliding door was in desperate need of an update.
MissPompadour White with White - Eggshell Varnish 1L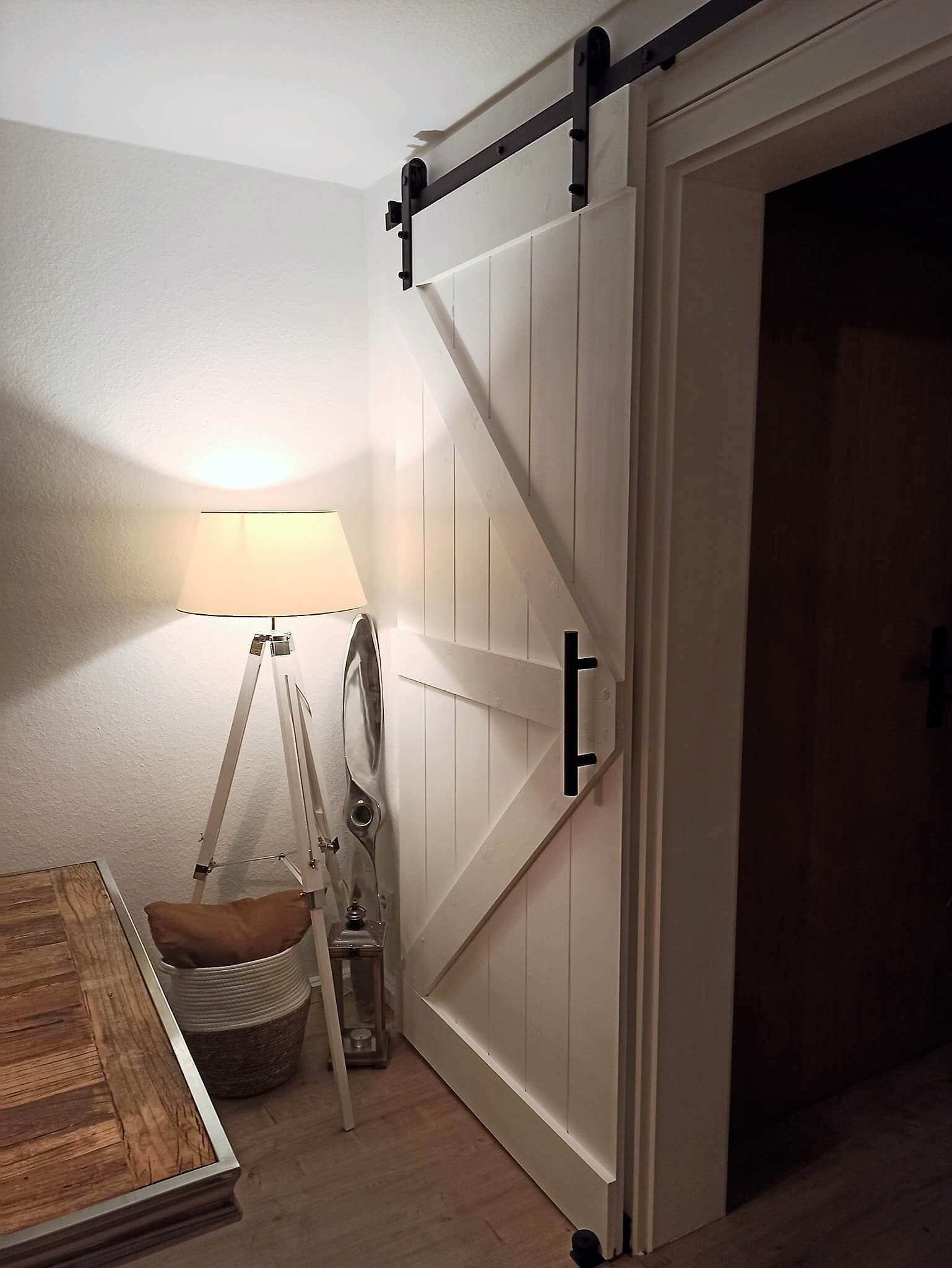 After
- It doesn't take much at all: just a little colour - Voilá!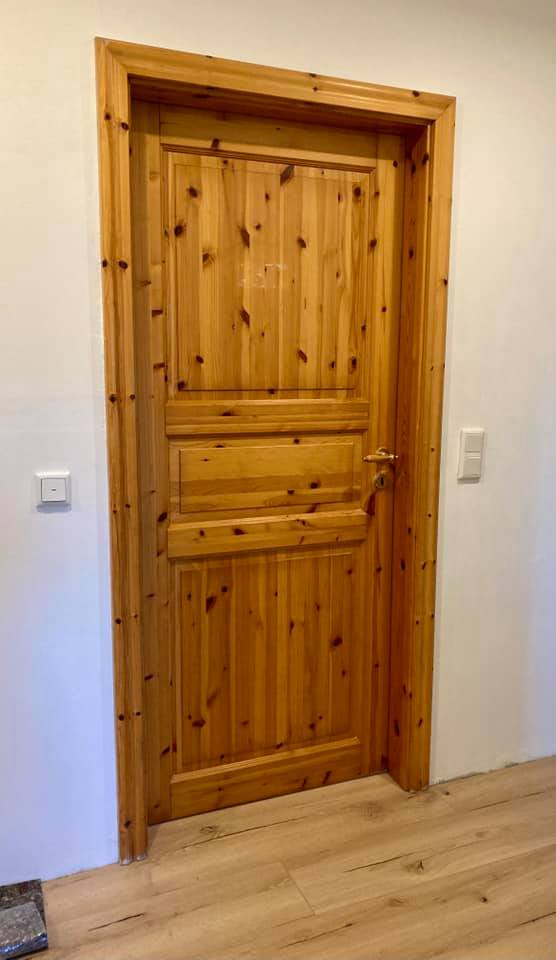 Before
- Here too, the customer's wish was to make the style of the hallway more modern.
MissPompadour Black with Slate - Eggshell Varnish 1L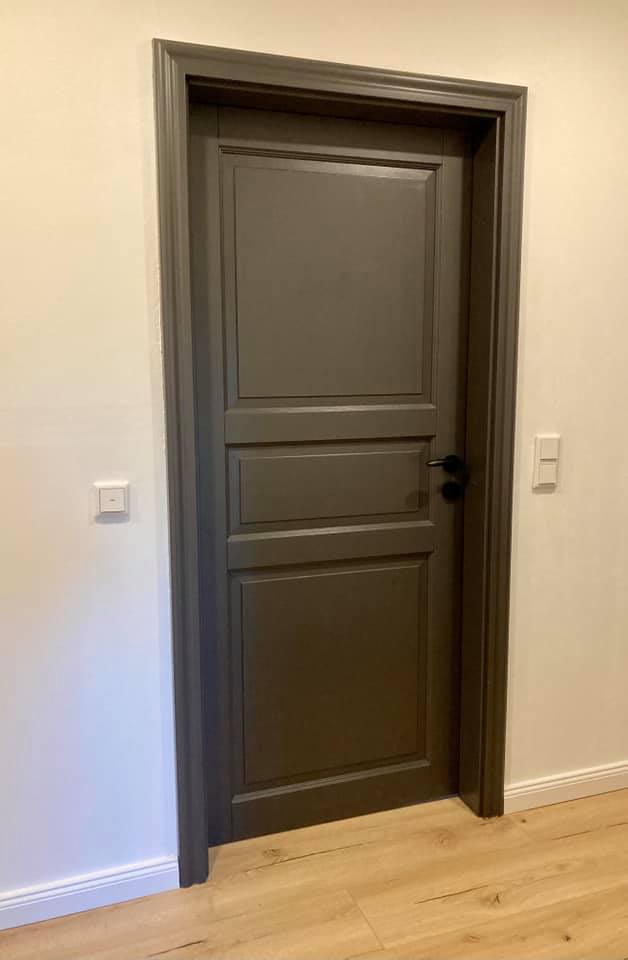 After
- MissPompadour Black with Slate is a real statement door that adds modern style to the hallway.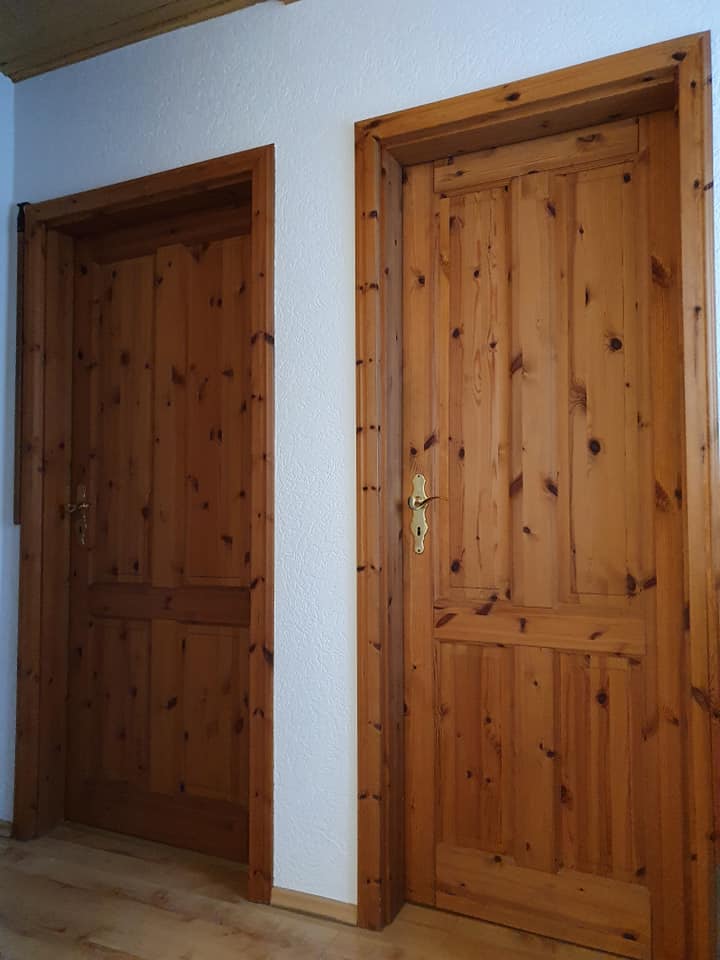 Before
- Already darkened softwood doors that take away too much light from the room here.
MissPompadour White with Melting - Eggshell Varnish 1L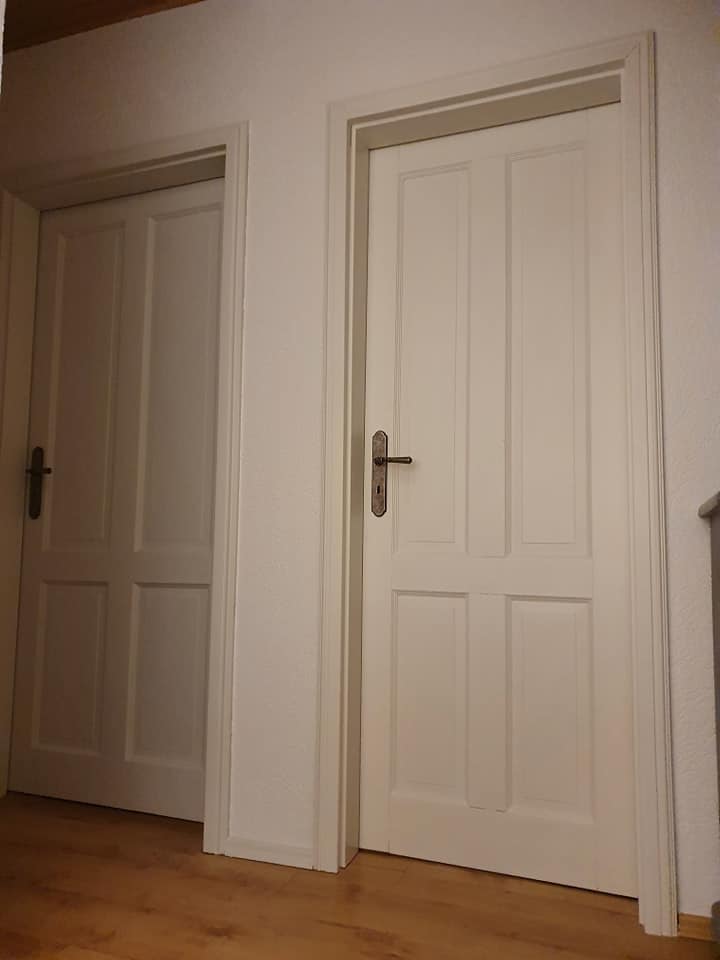 After
- A new coat of MissPompadour White with Melting gives the hallway a modern, bright character.
Step-by-step instructions for painting doors
Step 1: Choose your varnish
To paint your doors, we especially recommend our silk matt
MissPompadour Eggshell Varnish
. You can use it to paint real wood as well as veneered or laminated doors. It provides you with an
easy-care surface
that is particularly
impact-resistant
and hard-wearing. When choosing your colour, simply use our
colour cards
to view the colour shades in advance in your lighting conditions.
Step 2: Prepare the surface
Simply paint your door without sanding if the old varnish is still intact. However, if there are damaged areas
and chipping
, you should first sand or smooth them down. Use very
fine-grained sandpaper
for this.
You can easily conceal any dents or holes with
To Fill - MissPompadour Filler
. You should remove fittings and anything that can be loosened.
Step 3: Clean door and frame
Degrease the door and door frame with
To Clean - MissPompadour Cleaner
and lukewarm water and wipe well with clean water. It is important that the surface is
free of dust and grease
. However, leaching agents or other chemical pesticides are not necessary.
Step 4: Prime surfaces
With
real wood
, such as pine or spruce, you play it safe with the To Block
- Miss
Pompadour
Stainblock
to ensure that ingredients from the wood do not stain the new paint. This discolouration is called "bleeding". Wait 4 - 5 hours or overnight after priming.
On
laminated doors and plastic veneer
, use
To Bond - MissPompadour Primer to
ensure an easily paintable surface. Apply the primer as thinly as possible and allow it to dry thoroughly.
Step 5: Paint the door
Now apply the layers of paint. Apply as many coats as you like until you are happy with the result. Often 2 coats are enough for a perfectly opaque result. Let each coat dry very well. Usually 4 - 5 hours are enough, but depending on the environmental conditions it can take longer. Ensure good air exchange and medium temperatures so that the paint can cure well. The surfaces will become more stable from day to day and will have reached a very good stability after 10 - 14 days.
Step 6: Seal the paint
Painting doors: Colours and materials - what you need to consider
Which colours are suitable for painting doors?
The most suitable are our MissPompadour Eggshell Varnishes. They are very hard-wearing and therefore particularly recommended for painting doors.
Which colours are suitable for wooden doors what else do I need?
MissPompadour Eggshell Varnish stainblock
To Block by MissPompadour to prepare substrates for painting
To Seal - MissPompadour Topcoat
Which colours are suitable for plastic doors what else do I need?
MissPompadour Eggshell Varnish stainblock
To Bond from MissPompadour to prepare substrates for painting
To Seal - MissPompadour Topcoat
We have described the application of the individual primers, colours and sealers in detail in our
step-by-step instructions
.

Professional tip: Easily change the style of your doors by applying trims, e. g. made of wood. This is best done after sanding (if necessary). Then simply paint them in the colour of your choice!
Frequently asked questions about painting doors
1. Can you simply paint over doors?
Can all doors be painted?
Yes, you can paint real wood as well as plastic and metal doors, veneered or foiled doors and door frames.
If you want to paint with light colours, it is worth priming real wood doors with MissPompadour To Block, so that the wood does not bleed. Oak, tropical wood or even softwoods can otherwise release tannins and discolour the fresh varnish. Stains and glazes can also bleed through new paint.
Raw metal doors and frames are given corrosion protection with the Stainblock so that nothing rusts. If you want to paint plastic doors, you can use MissPompadour To Bond to make the paint adhere better. This white undercoat also facilitates opaque painting of light white tones.
Can you paint doors without unhooking them?
If you have the space and the possibility, hang the doors out and store them on trestles for painting. If that's not possible, or the effort is too great, then just paint them hanging. It's a bit more work to paint the side at the hinges.
Can you paint doors without sanding them?
If the old varnish on your doors is not peeling off, you can simply apply a new coat of varnish. You should only remove layers of paint that are not durable. It is best to start with a slightly coarser sandpaper (grit <100) and then sand again with finer sandpaper (grit >200).
2. How do I deal with other materials in my door?
Can I also paint the glass inserts of my door?
Yes! If it is very smooth glass, it is worth priming with MissPompadour To Bond.
Can I also paint silicone joints on glass inserts?
If your door has silicone joints, for example in glass inserts, you can paint over these with MissPompadour To Seal Silicone and then simply paint with it.
Can I also paint the rubber seals?
Yes, you can simply paint over the seals. After the varnish has dried for 4 hours, you can rub them with baby powder to prevent them from sticking to the painted door. Or you can take the opportunity to replace your door rubbers with matching ones.
Can I also paint door handles?
Yes, you can also paint door handles. It is important what material they are made of. In our guide, we explain how you can paint metal or work on plastic surfaces, for example. Please note, however, that door handles are subject to a lot of wear and tear.
3. What else do I need to consider when painting doors?
Which coating tool do I need?
It is best to pour the varnish into a small paint tray and work with a varnish roller for water-based varnishes. Then brush or roll the paint thinly and evenly onto the door leaf. The easiest way to paint the edges is with our To Paint - Fine MissPompadour Brush. Our brushes are also perfect for the corners and shoulders of coffered doors.
How much varnish do I need for a door?
For a normal door, approx. 90 cm wide, approx. 2 m high, without glass insert and with frame, we calculate an area of approx. 5 square metres. If the door is painted, you will need about half a litre of MissPompadour Eggshell Varnish for two coats of paint.
In the case of light white tones or large colour differences, two coats may not be enough. Then it is better to order a little more. With 2. 5 litres of MissPompadour Eggshell Varnish, you can benefit directly from our price advantage and our free shipping.
How do I paint my front door?
Basically, the procedure for a front door is very similar to that for an interior door. There are just a few small things you have to take into account. Take a look at our article on painting the
front
door!
Video tutorial on painting doors & making doors disappear
Required accessories and recommended products for painting doors
Trestles for storing the unhinged door: Of course, you can also paint your door while it is hanging. Trestles make it a little easier for you to reach hard-to-reach places.
Screwdriver for removing fittings: This is the cleanest way to work and saves you a lot of tedious masking.
Sandpaper or sanding pad: For all places where old varnish has flaked off. These should be sanded smooth first.
Cleaning cloth and bucket to thoroughly clean the door first: The surface must be free of dust and grease for your paint to hold well.
Masking tape for masking the door frame: It is best to remove the masking tape when the paint is not yet dry so that you get a clean edge.
plastic drop cloth or newspaper: To protect your floor under the frame.
Brush, varnish roller and paint tray: It is best to pour the varnish into the paint tray. Use the brush to paint corners and edges, and the paint roller to paint the surfaces.
Professional tip: When you turn the door, it is best to put soft cloths over the frames so as not to damage the new paint.
Already finished reading?
Here you will find more exciting topics
The perfect colour for your doors
A selection of our most popular colour shades How to make your project a success
Our perfect accessories for painting doors