Painting Wooden Furniture Like a Pro: We Show You How it's Done
15 min reading time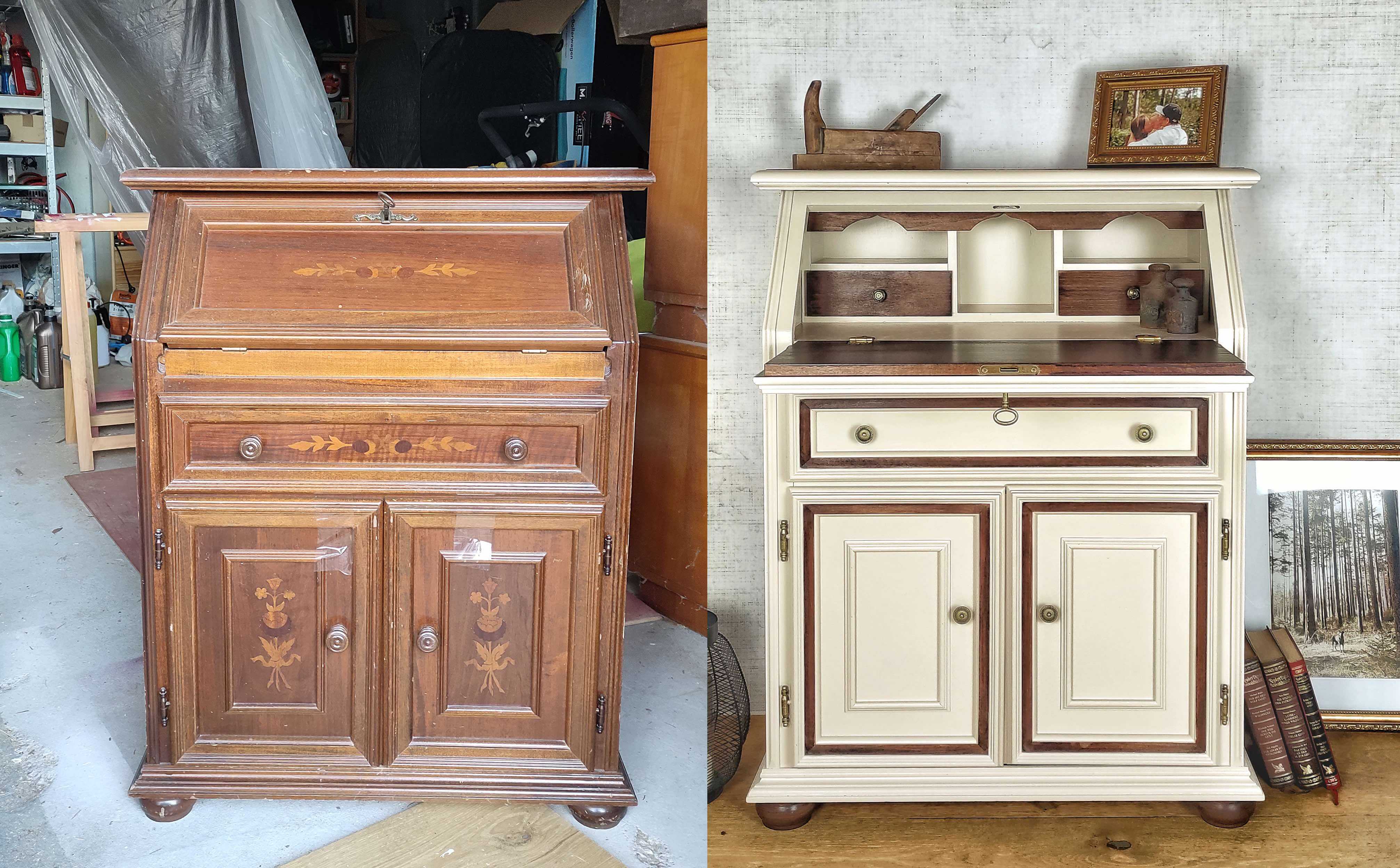 Do you also have one or two pieces of furniture at home that you just can't look at any more? Still in top shape in terms of quality, but visually just not modern any more? Maybe you have inherited a great old secretary, but the dark brown colour just doesn't match your style? Our answer is: it's easy to paint old furniture! With our paints, you can repaint your old furniture and easily give it a new character.
Before/After sample photos of painted and lacquered wooden furniture
Why should you paint your wooden furniture? Because with a little paint and a little effort, you can create your very own piece of furniture! You can easily adapt your existing old or new furniture to your personal style as often as you like. Take a look at what our creative community has already done with their wooden furniture and let yourself be inspired!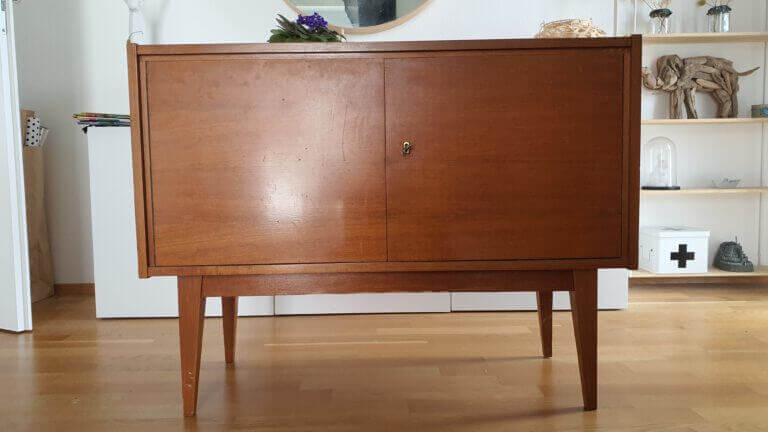 Before
- Actually, our customer liked the chest of drawers so much, but it simply had too many scratches and quirks already.
MissPompadour Green with Forest - Eggshell Varnish 1L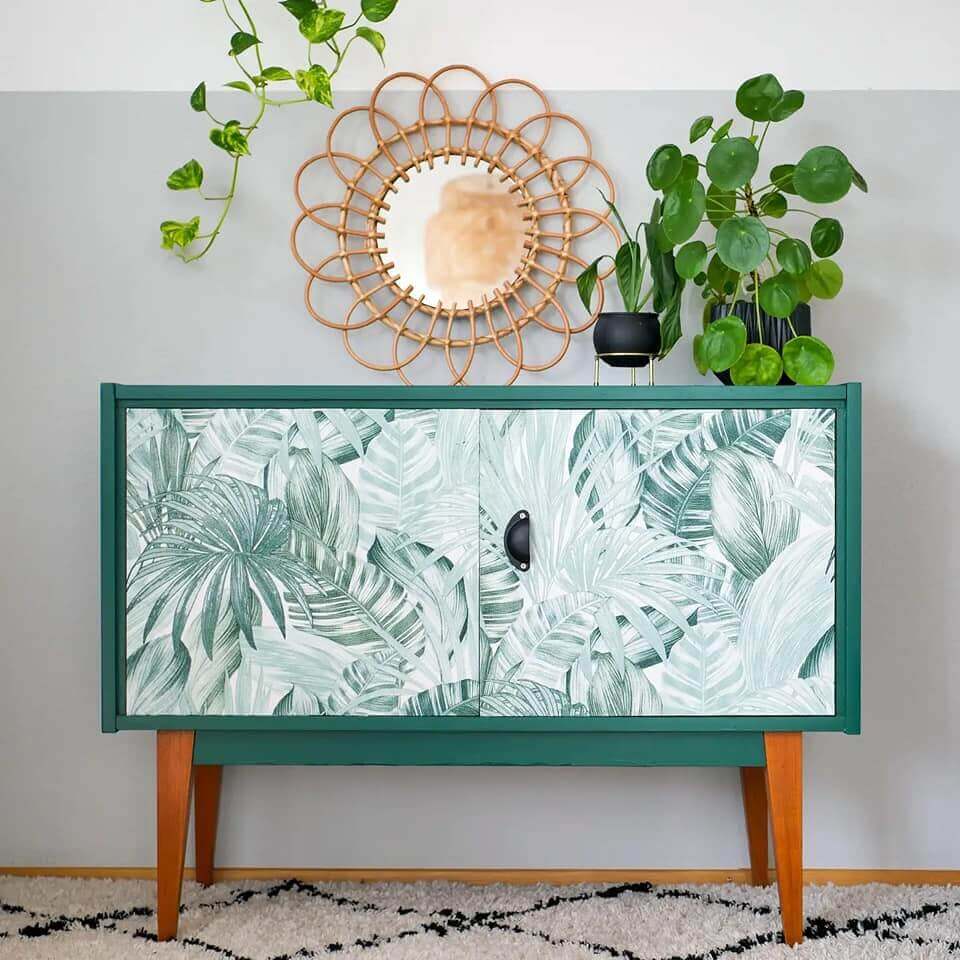 After
- This update was worth it! Painting a wooden chest of drawers with a wow effect! The carcase was painted with MissPompadour Green with Forest. Wallpaper on the doors and a new handle.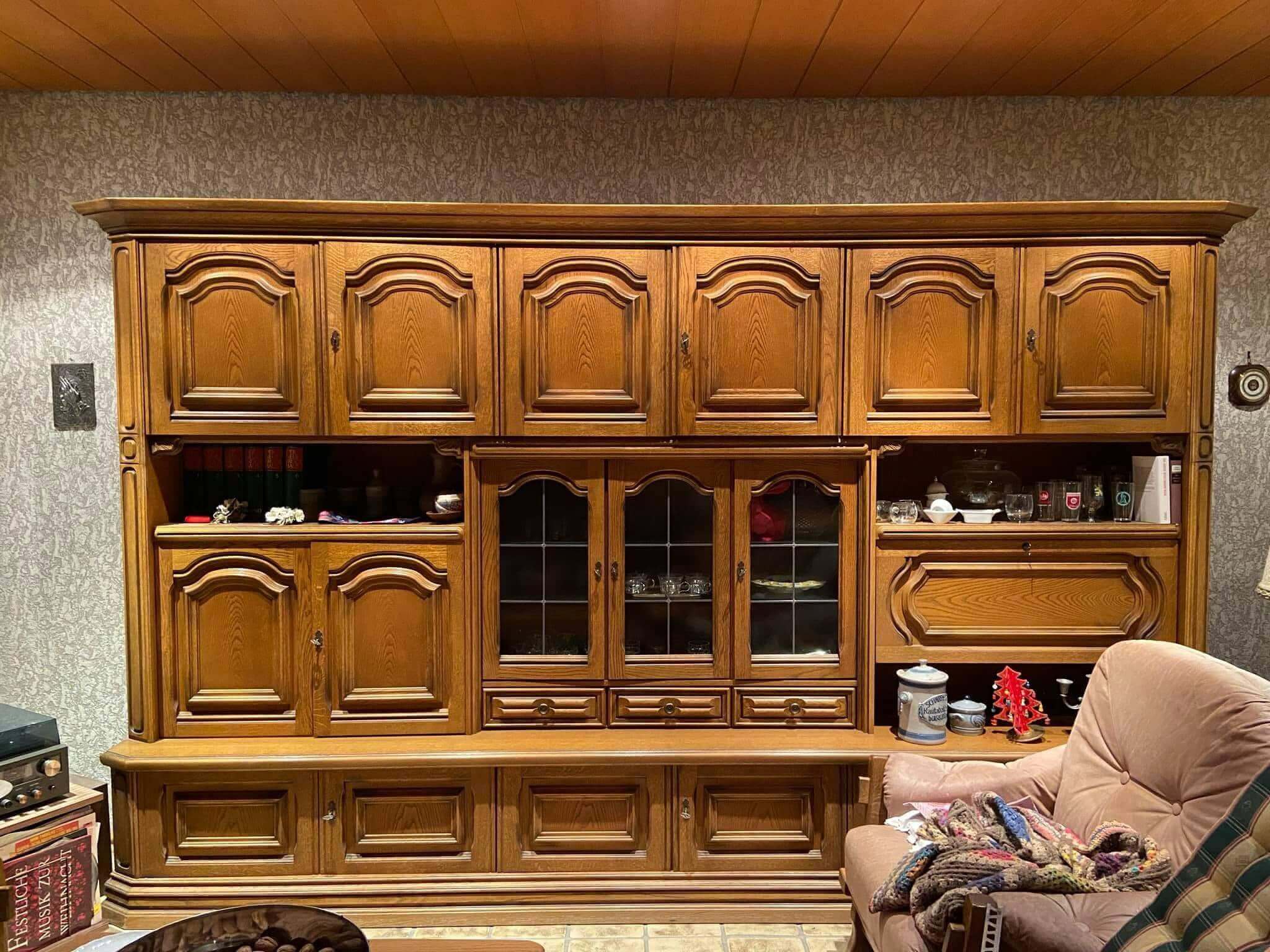 Before
- A classic and really old-fashioned wall unit in rustic oak. How good that you can also paint veneered furniture.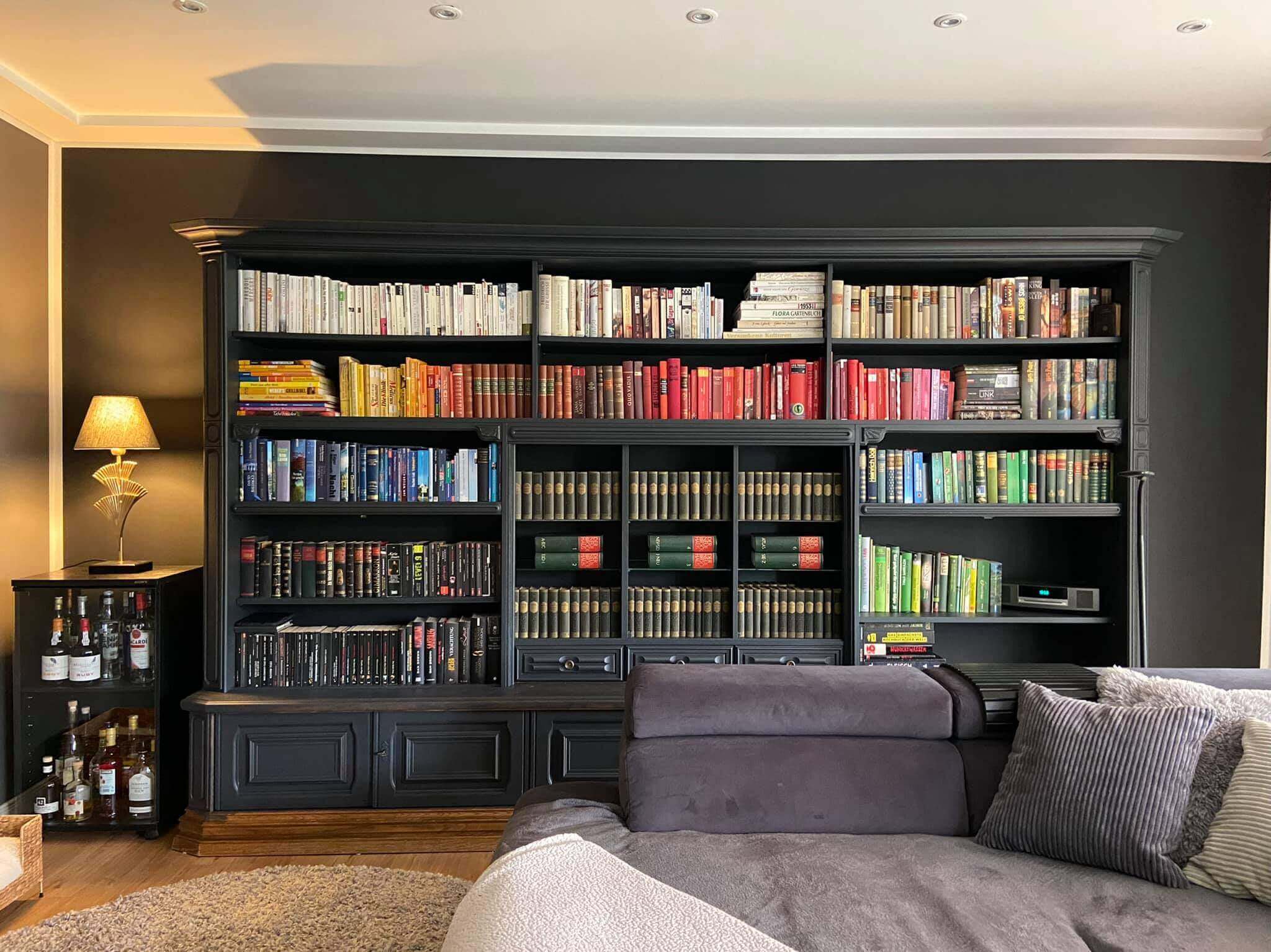 After
- Just take the doors out and paint them. The wall behind is painted in the same tone.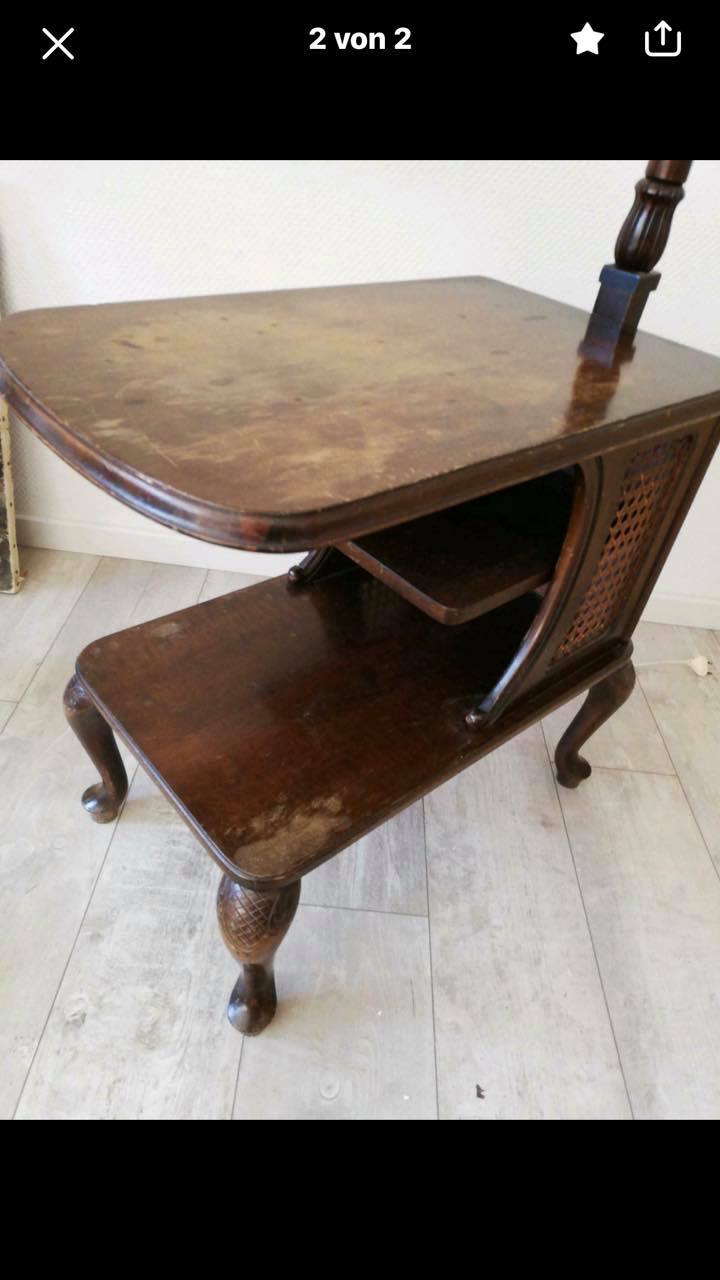 Before
- An old side table with integrated lamp, which unfortunately was no longer in good optical condition.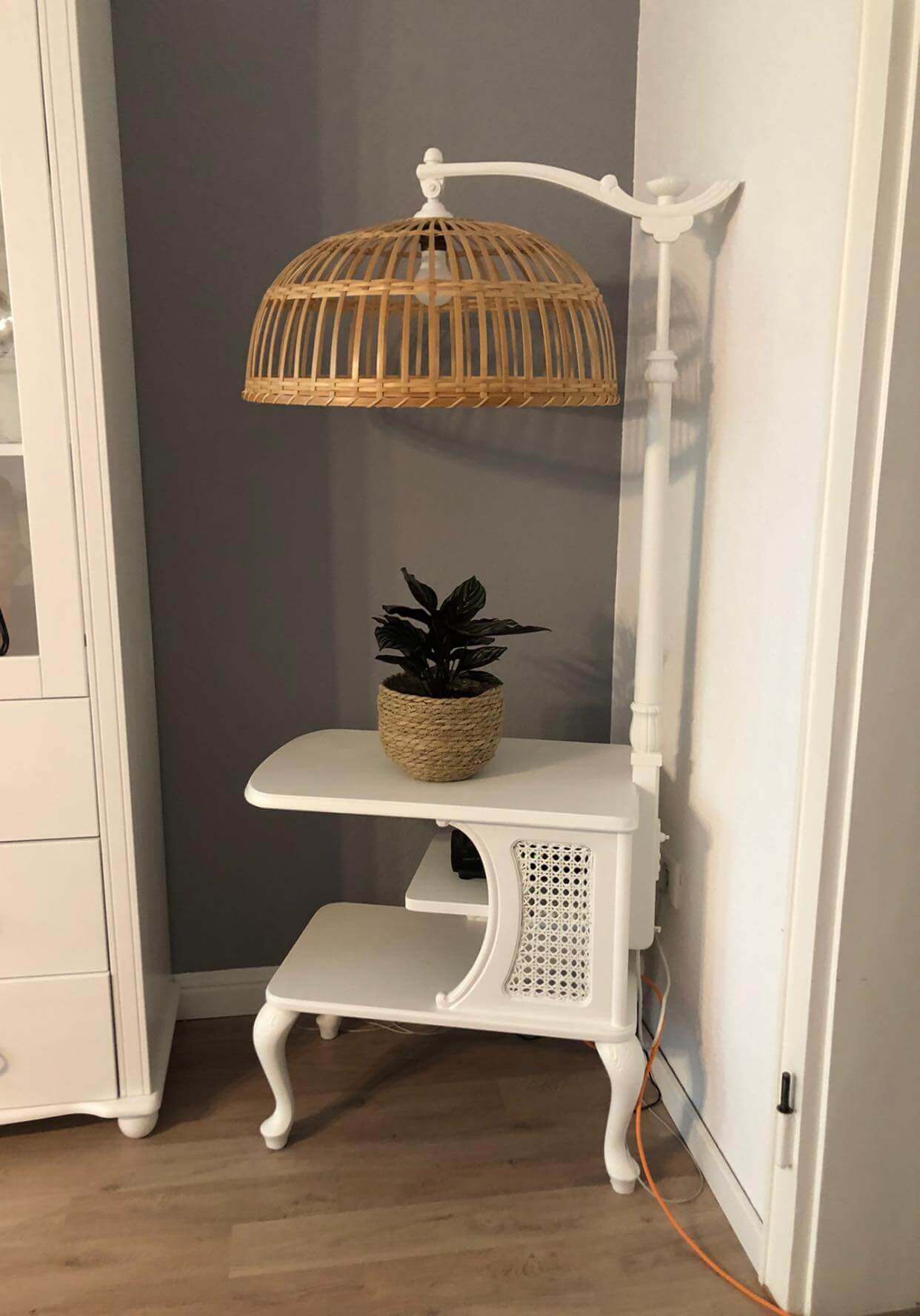 After
- With a fresh coat of paint, the little table became an individual eye-catcher. You don't have to sand, you can simply paint.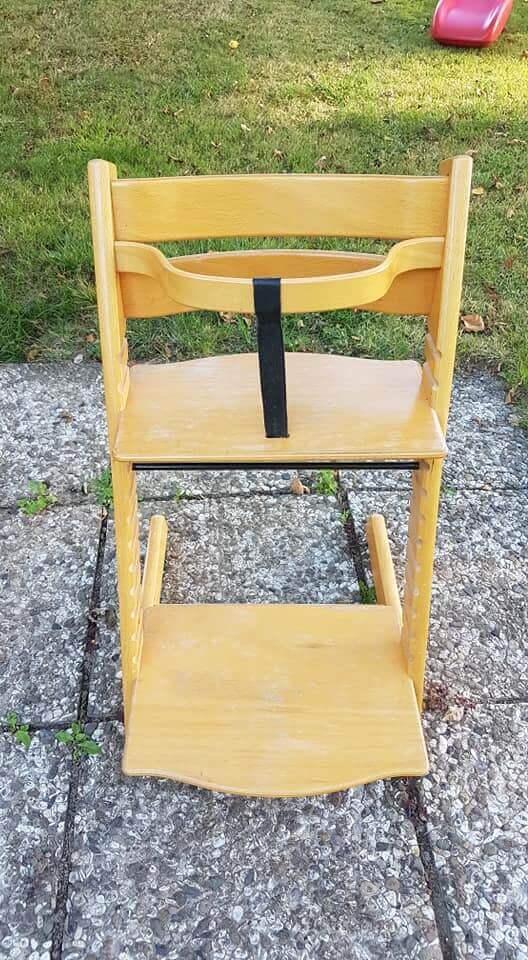 Before
- The classic children's chair, which survives many generations, does not have to go to the bulky waste because of its blemishes.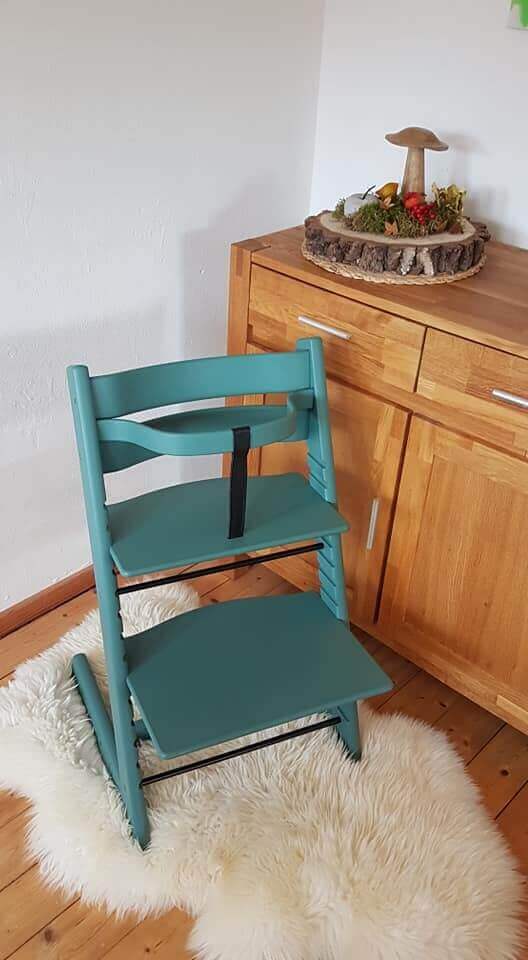 After
- Because with a fresh coat of paint, this children's chair is like new and ready for the next round.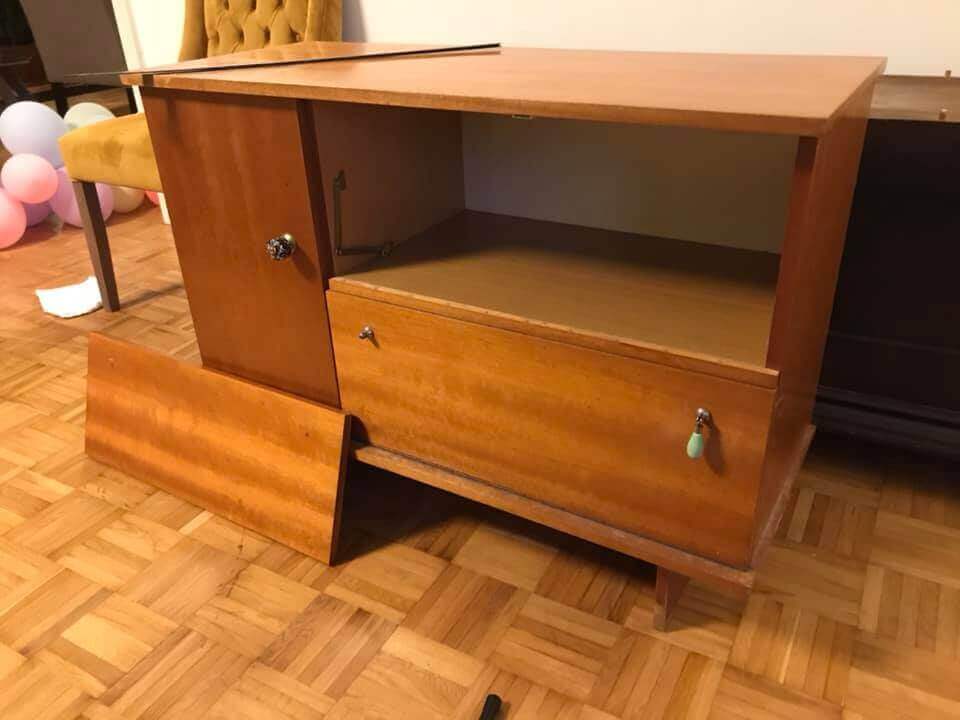 Before
- An old bar cabinet with water damage. It has potential. Painting wooden furniture is simply fun!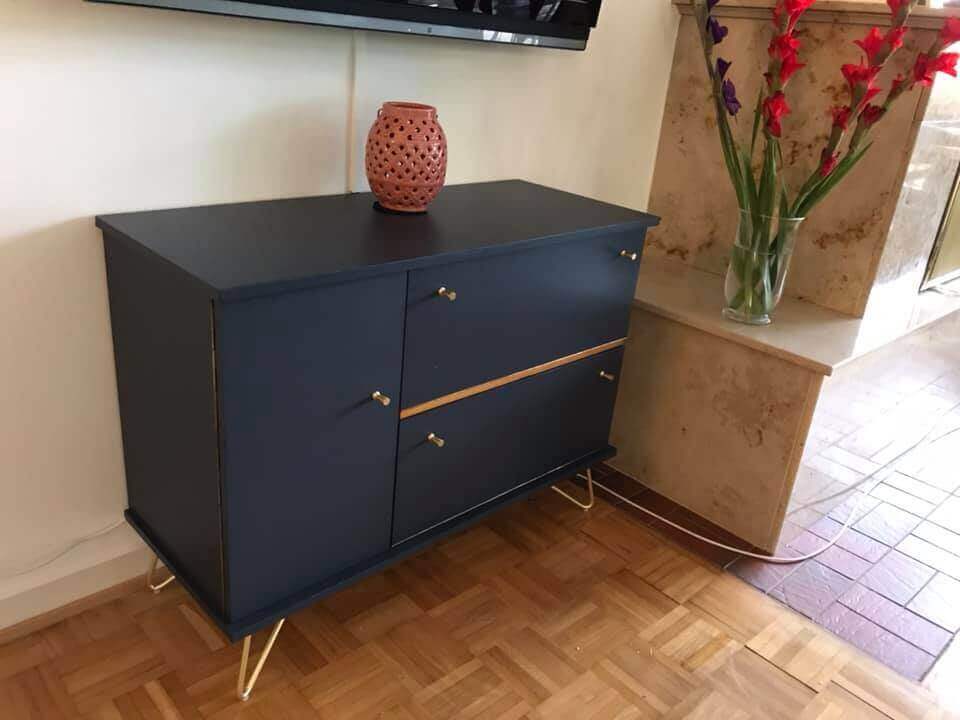 After
- With new handles and feet and a change of colour, the cabinet is chic again.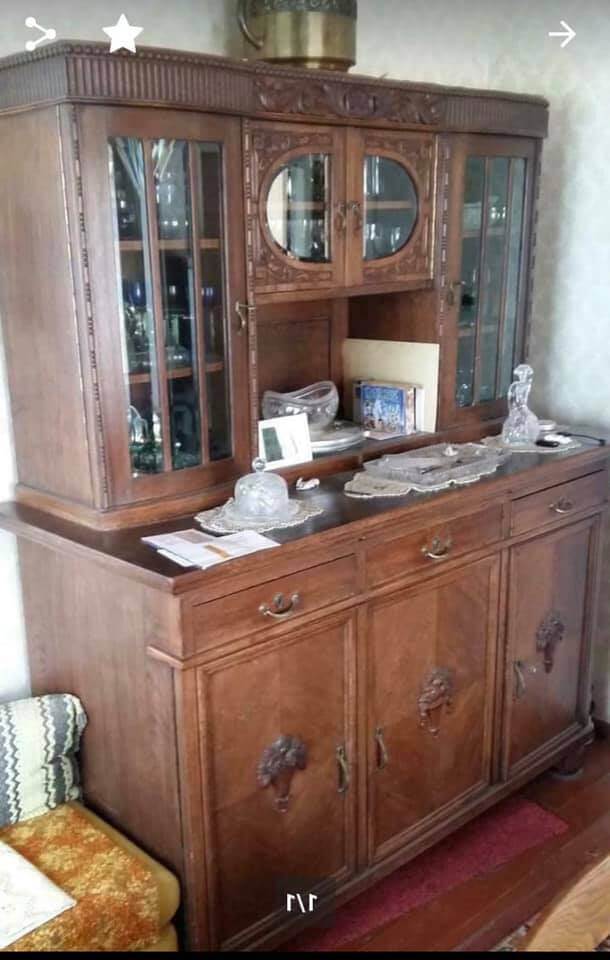 Before
- This buffet was heavy, massive and dark. It shouldn't have moved into our customer's house like that. How good that the customer had the idea to paint the wooden cabinet.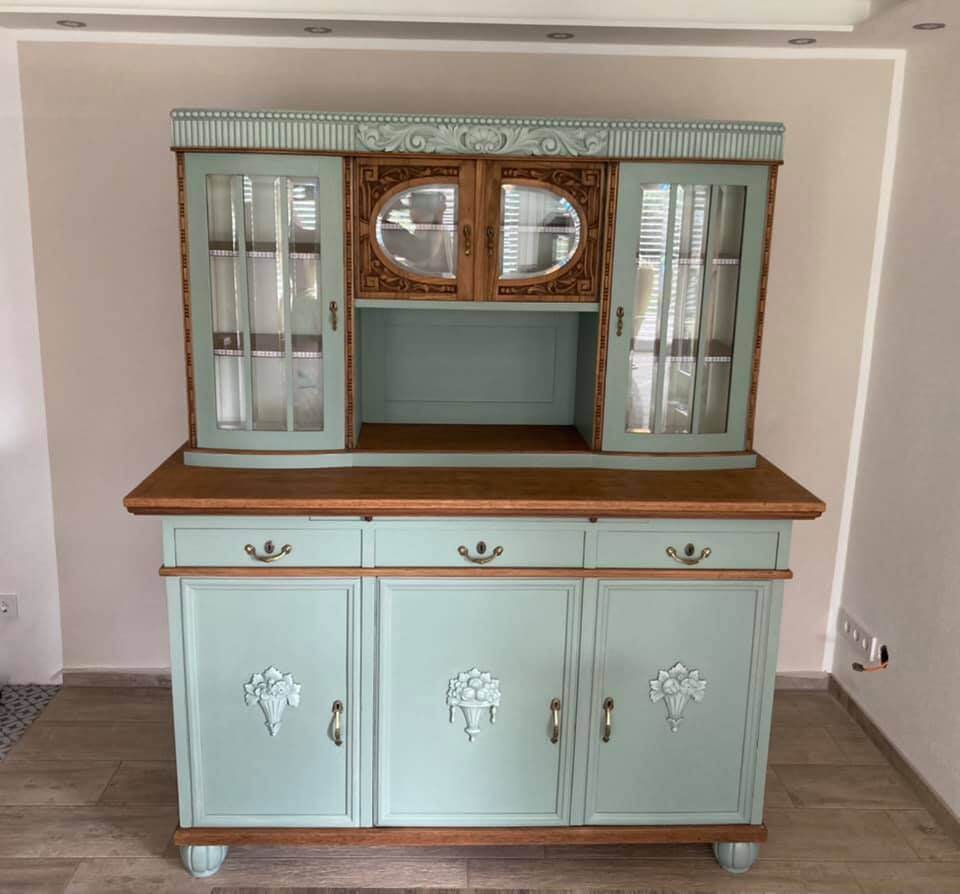 After
- Nothing of the heaviness has remained. The wooden surfaces were finally treated with antique wax to beautifully emphasise the grain.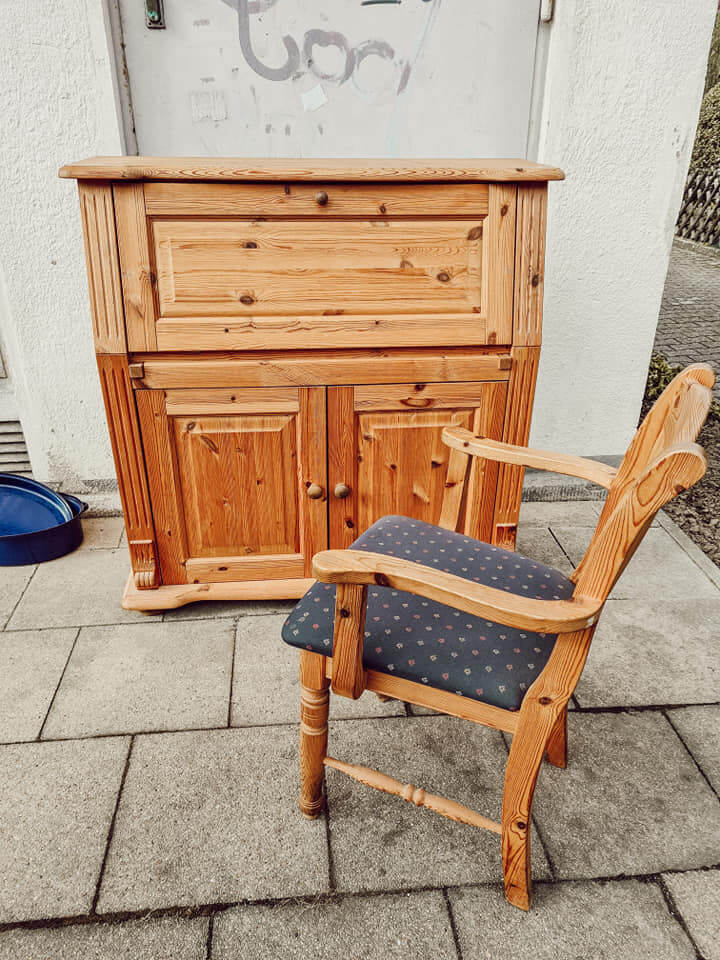 Before
- It's hard to believe that this secretary and chair are bulky waste finds....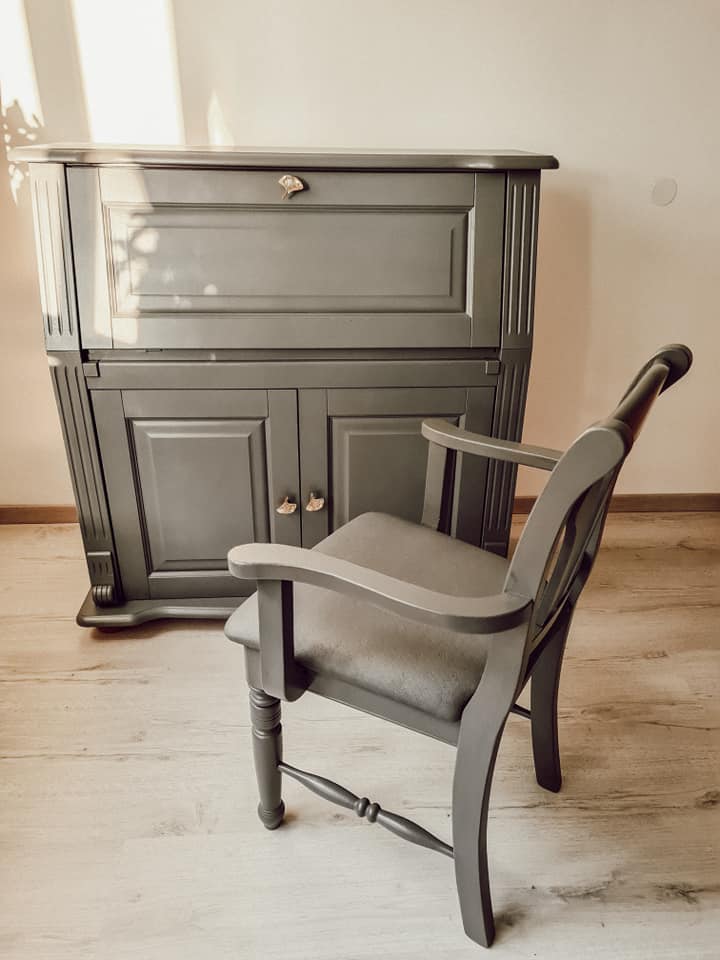 After
-...when you could still do so much with them. In anthracite, they look like new. And what great handles!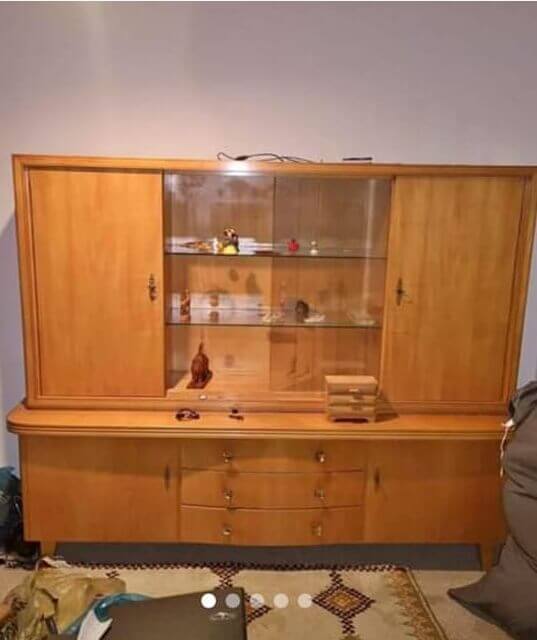 Before
- Actually still quite beautiful, but simply not suitable for the style of living. No problem for our customer.
MissPompadour Green with Glacier - Eggshell Varnish 1L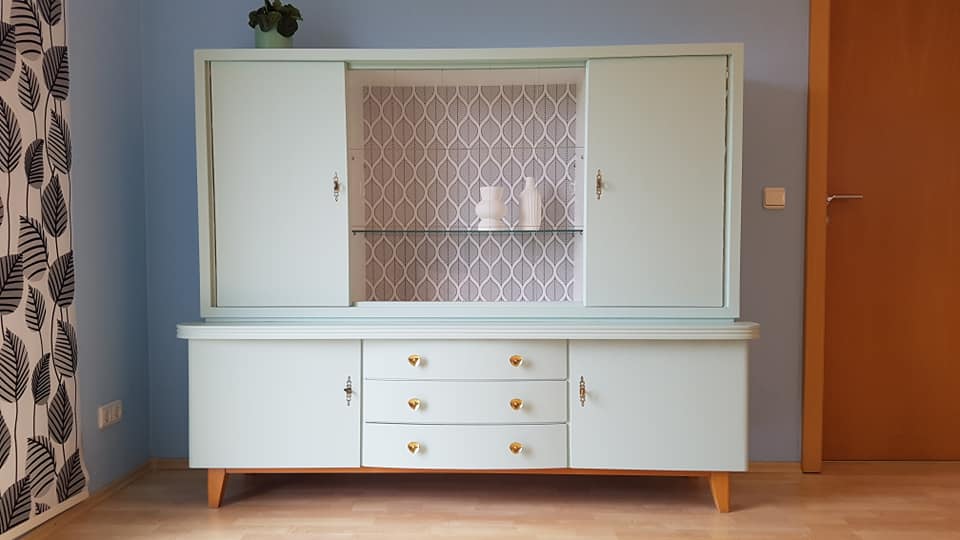 After
- Bright and fresh with MissPompadour Green with Glacier. The golden handles and fittings then fit in really well again.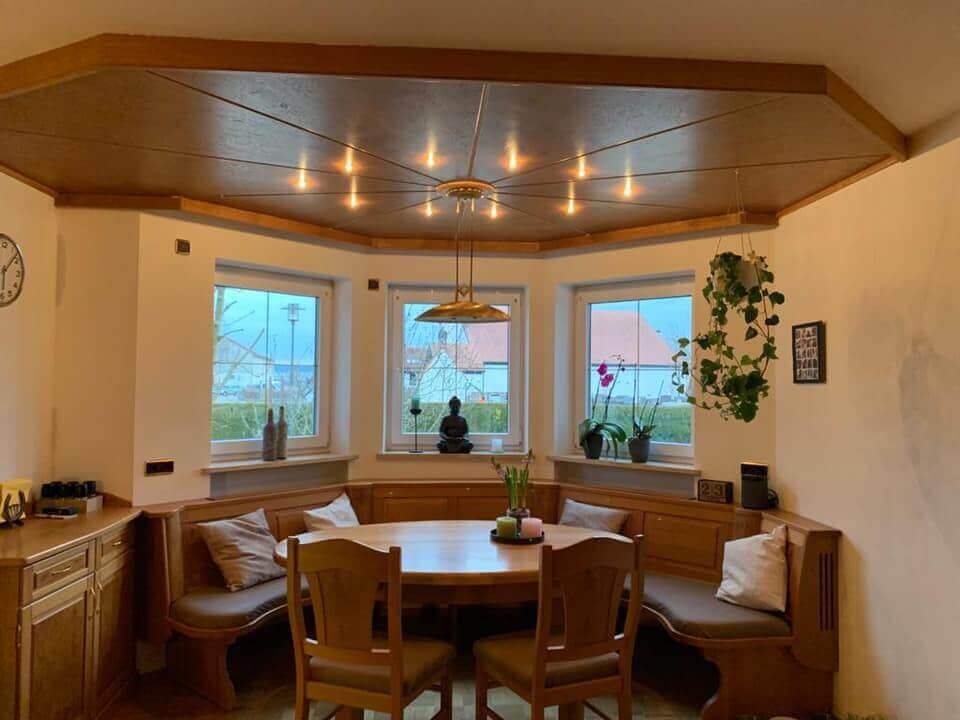 Before
- The wooden look on the ceiling and in the seating area just seemed old-fashioned and oppressive here. Inviting? Not really. Painting wooden furniture white makes all the difference.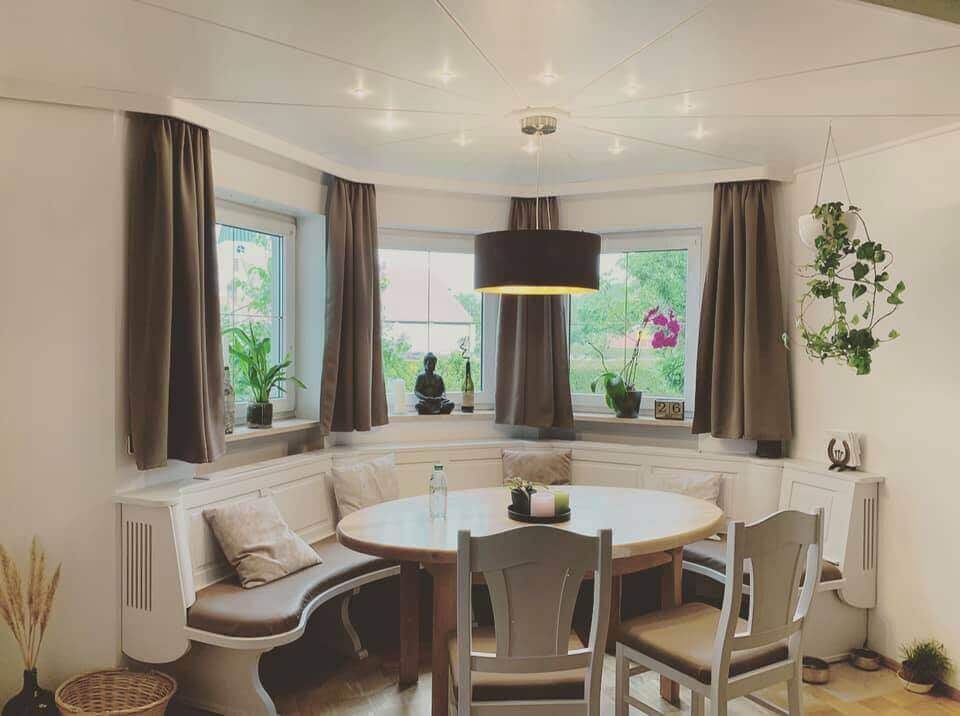 After
- Paint the wooden bench and table with a tinted white, then the family will enjoy coming together again.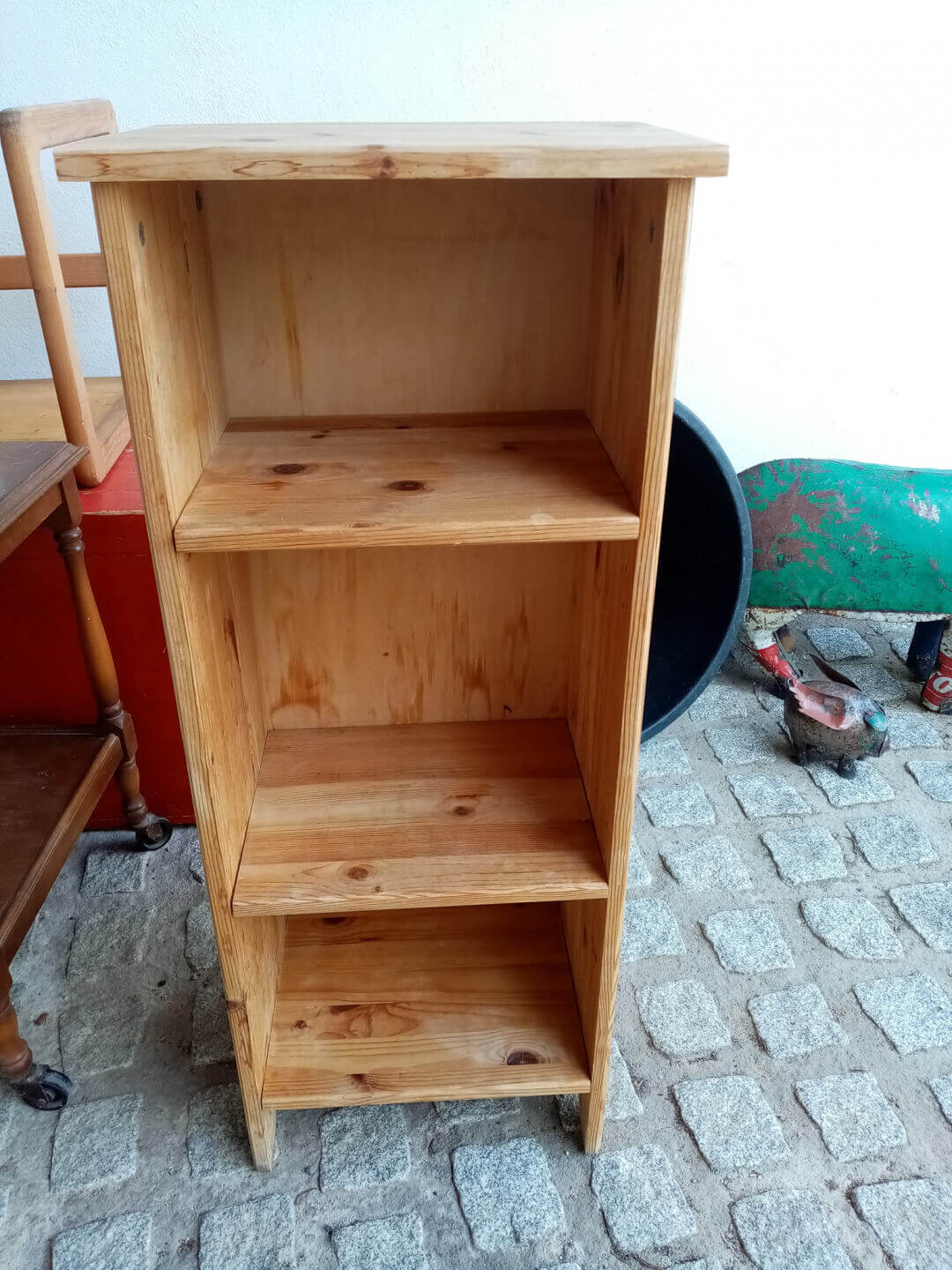 Before
- A very simple shelf. Our customer had a lot of imagination and a vision of what it could become.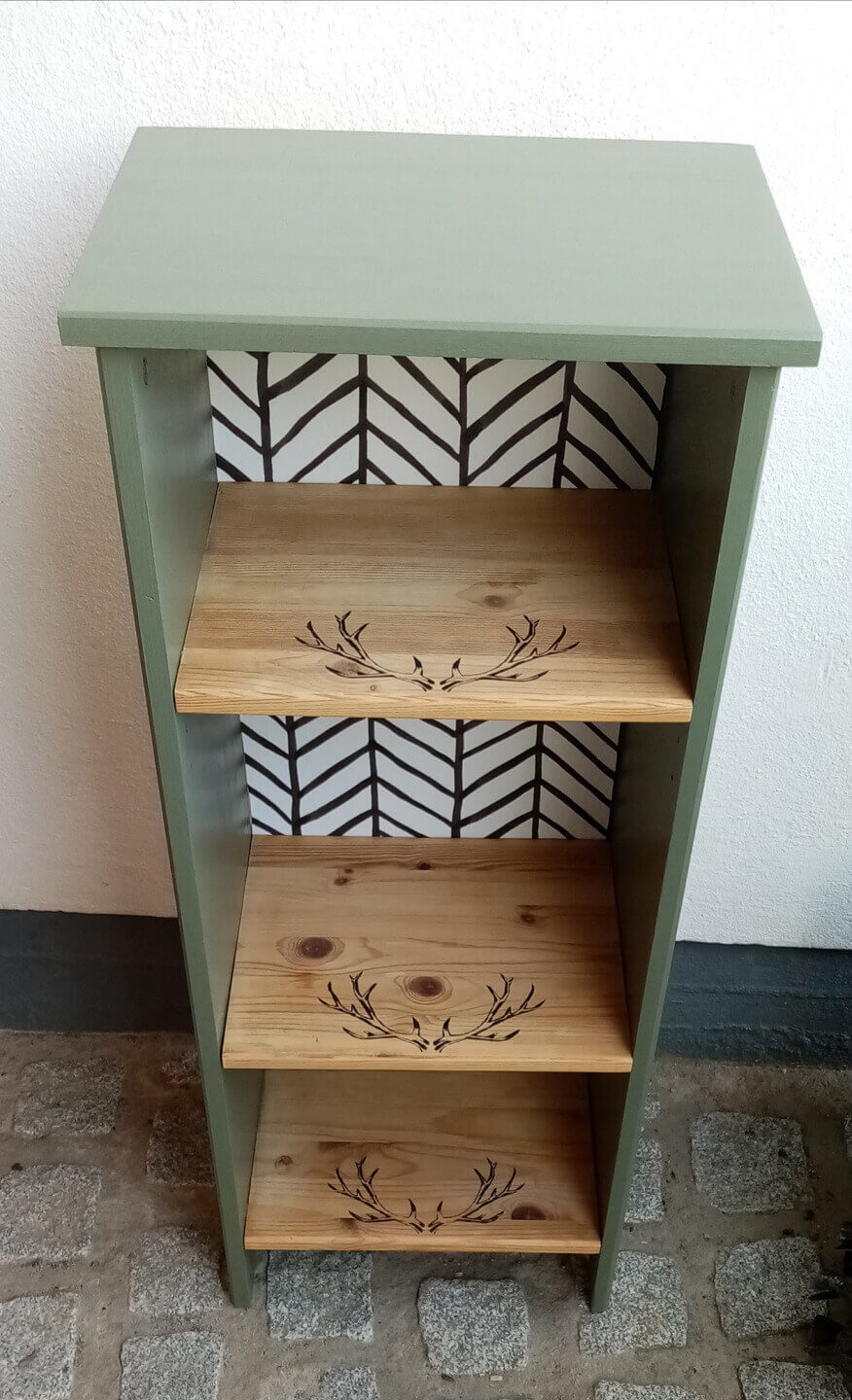 After
- Due to the mix of materials, the shelf became a wonderful unique piece.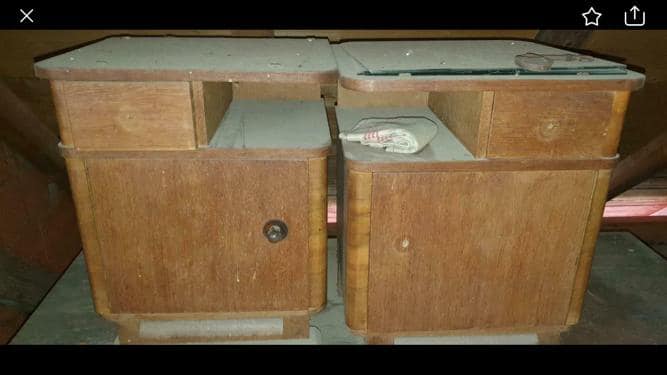 Before
- These bedside cabinets were a classic classified ad find and were just crying out for a makeover. How good it is to be able to paint veneered furniture.
MissPompadour Beige with Cashmere - Eggshell Varnish 1L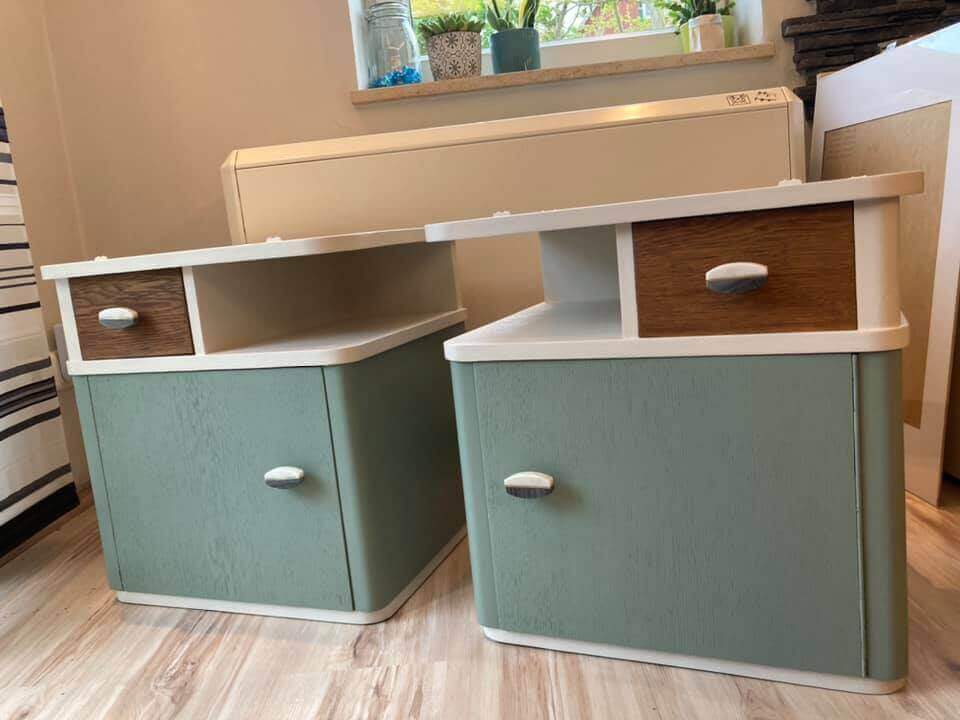 After
- With a new colour, the cupboards can now move into a new bedroom.
Before
- Our customer found this chest of drawers too old-fashioned. And also simply too dark and massive.
MissPompadour Green with Forest - Eggshell Varnish 1L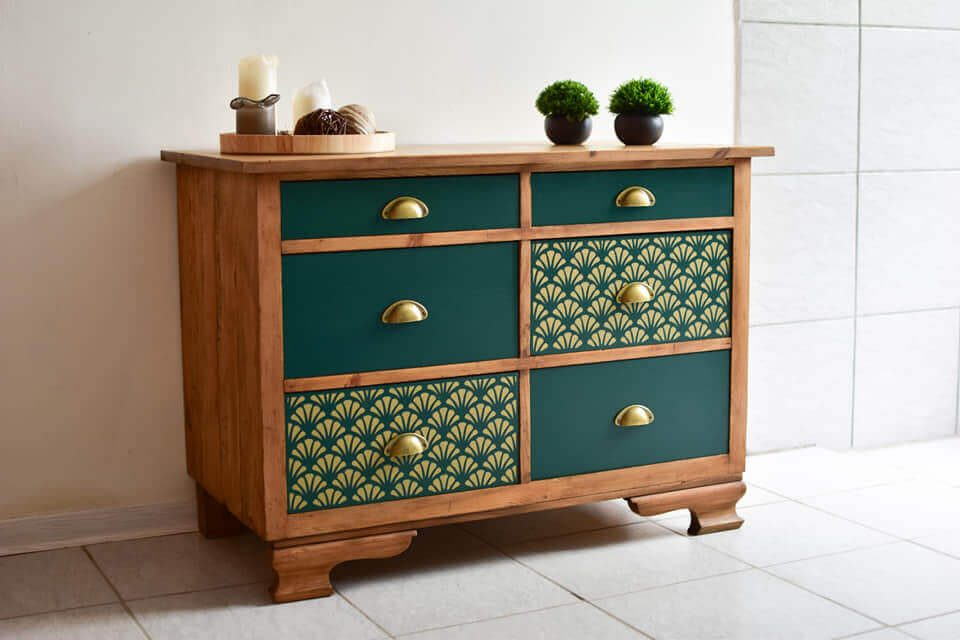 After
- Why not just change the drawers and handles?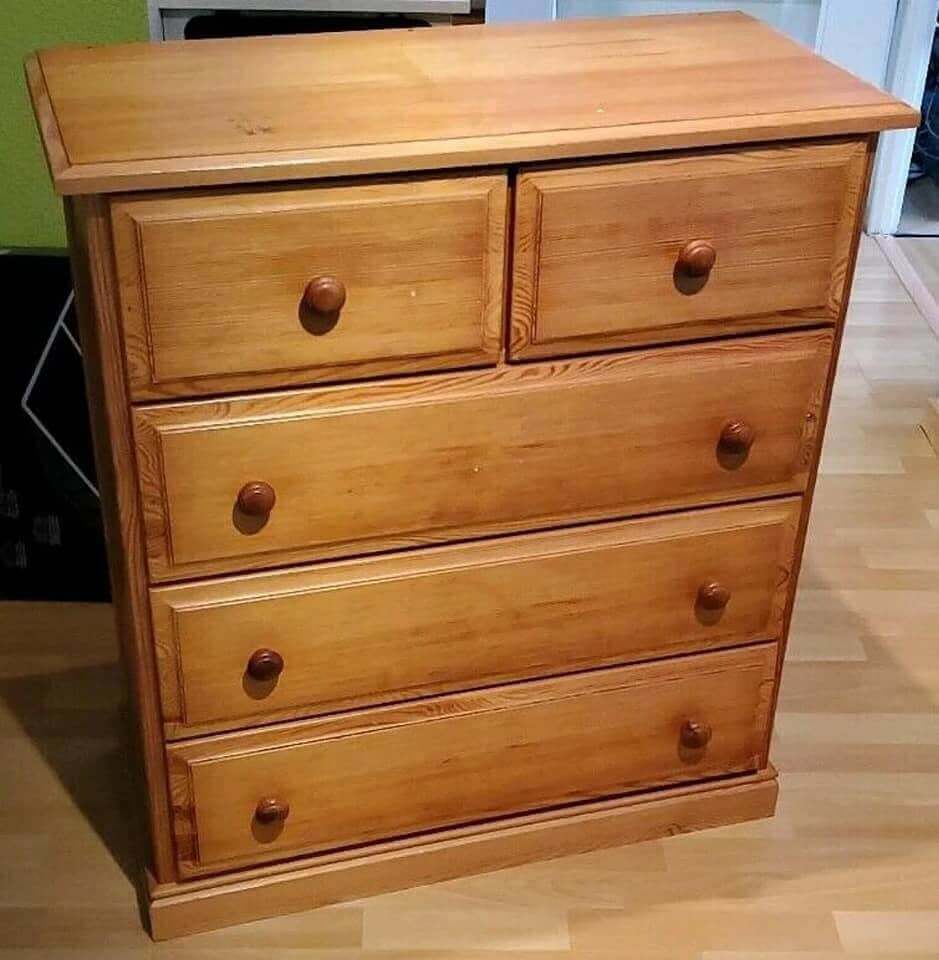 Before
- A really quite normal and frankly boring wooden chest of drawers. We can hardly believe the after picture ourselves.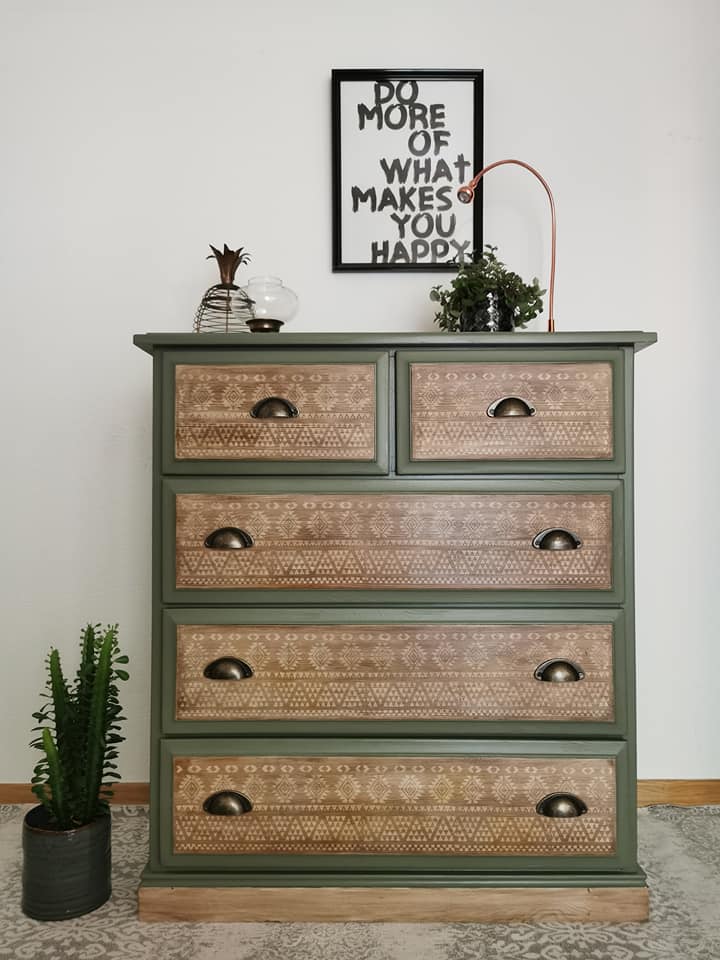 After
- You can also just paint the body of the wooden chest of drawers? The drawers have been sanded and stencilled.
Step-by-step instructions: How do I paint wooden furniture properly?
Step 1: Choose a varnish
Our
MissPompadour Eggshell Varnishes
are particularly suitable for a satin finish. This quality is the most robust and very easy to clean. For a matt finish, choose your favourite shade from
MissPompadour Matt Varnishes
. If you are still looking for a matching colour shade, simply order the colour cards in advance.
Step 2: Prepare the surface
Remove handles, hinges and everything that is not to be painted beforehand. If the old varnish on your workpiece has damaged areas, you should first sand them smooth. Cracks and other damage can be repaired with
To Fill - MissPompadour Filler
. Then simply smooth with sandpaper. In the
FAQ
you will find instructions for lye-finished, waxed and oiled wooden furniture.
Step 3: Clean the workpiece
Clean the surface best with
To Clean - MissPompadour Cleaner
to get it completely free of dust and grease. Old furniture in particular should also be cleaned properly in all corners and edges. It is important that you wash the cleaner off the surface with clear water and allow everything to dry thoroughly. Do not use any harsh cleaners or solvents when to-clean.
Step 4: Prime surfaces
If you want to
paint natural wood furniture with a light colour shade
, use
To Bond & Block - MissPompadour Primer to
make sure that ingredients from the wood do not stain the new paint. This discolouration is called "
bleeding
". Especially oak, tropical and coniferous woods tend to do this. Old glazes and stains can also discolour the new paint. If you want to
paint veneered furniture
, the stain block can also be useful, because veneer made of real wood can also bleed under certain circumstances. Make sure that you always use clean tools for our primer.
Wait 8 hours or overnight
after priming.
Step 5: Paint the furniture
Now paint! Do as many coats as you like until you are satisfied with the result. Often 2 coats are enough for an opaque finish, but you may need to paint a third time for perfect coverage, possibly only in places. Each coat should dry well, 4-6 hours is usually sufficient. An intermediate sanding is not necessary, because you will get a great result even without it. With each day the surfaces become more stable and after 10 - 14 days they are already well impact resistant.
Step 6: Sealing the result
If you have chosen the
silk-matt varnish quality
, you basically do not need a topcoat, as it is very robust. If you are expecting a lot of wear and tear, you can use
To Seal - MissPompadour Topcoat
to ensure that your paint will last as long as possible. You can also protect the
matt varnish quality
with the clear lacquer MissPompadour To Seal. Alternatively, you can apply a protective layer with
MissPompadour Colourless Wax
or accentuate with a coloured wax. Apply the wax with the
wax brush
and let it dry for 24 hours. Then you can polish it with a lint-free cotton cloth.
Furniture like new: this is why you should paint your old furniture
You know it's possible to paint your old furniture. But you might be wondering why you should do it. There are many reasons!
For example, have you
inherited
an
old wardrobe
with which you have many childhood memories, but which just doesn't find the right place in your home? It just doesn't fit in anywhere? With a new coat of paint, you can adapt it to your style. And your childhood memories will still be there.
Want to paint an old piece of oak furniture? We'll explain the best way to go about it in
Rustic Oak Painting
.
Or can you no longer see your
chest of drawers
because you've had it for ages? But you don't want to give it away because the
storage space
is worth so much? With a little paint and possibly new handles or feet, a boring chest of drawers becomes an individual eye-catcher. Often, solid real wood furniture, for example pine or oak, no longer fits in well with modern furnishings. You can easily paint this wooden furniture and change it even more with other techniques and methods.
For example, use the
velvety matt chalk paints
from LittlePomp to give your furniture a shabby look. With a little wax, you can create a beautiful antique effect.
You can
also
use it to give
furniture with chipped or cracked areas
an
all-round
makeover.
It's simply fun to adapt the living environment to the current living situation every now and then and let your creativity run free. And it's always more sustainable than buying new furniture! So why throw it away when you can paint it?
Tip: Of course, you can also paint coated or foiled furniture. You can find detailed instructions, ideas, tips and tricks in our blog
Painting a MALM chest of drawers
.
FAQ: Frequently Asked Questions about Painting and Varnishing Furniture
1. Paint and tools
What paint do I use to paint wooden furniture?
If you want a silk matt look, MissPompadour Eggshell Varnish is the right choice. These qualities are the most robust and very easy to care for. If you like the matt look, choose your desired shade from the MissPompadour Matt Varnishes.
Which colour shade do I choose for my piece of furniture?
The question of the specific colour is often a very individual one. Of course, the colour shade should best match your furnishings and style. White is always popular and timeless, as it goes with practically every style - whether country house, modern or shabby. So you'll be pleased to know that you can easily paint your wooden furniture in one of our many shades of white! With white, simply calculate with 3 - 4 coats, depending on the substrate and white tone, sometimes a primer is appropriate. Then a clear white will also cover and give you the opportunity to change your old wooden furniture.
Brush or roller - Which painting tool do I need?
Paint all corners and edges as well as ornaments and hard-to-reach areas with the fine MissPompadour brush. For larger areas, use the varnish roller for water-based varnishes. Of course you can also paint your whole work with the brush. Our fine brushes are very flat and bevelled. This allows you to achieve very smooth surfaces. Just try what works best for you.
Can you paint wood without sanding it?
We distinguish between natural wood and wood that has already been varnished
With natural wood , you should always check whether it has been waxed or oiled in recent years. If so, you must sand the wood in any case, otherwise the paint will not adhere well
If the surface has already been painted, you can just paint it. And it doesn't matter whether they are coated with acrylic varnish or synthetic resin varnish. Only if the coloured lacquer is flaking off in places do you have to sand the corresponding areas.
Can I also paint waxed or oiled furniture?
If your piece of furniture to be painted is waxed, you must remove the wax before painting. You can do this with Painting the Past Remover or by sanding the wood. The wax must be completely removed for your paint to last.
With oiled furniture, the question is how long it has been since the last oiling. If you have always re-oiled in the last few years, you should also sand the surface and give it a good clean. If your 20-year-old piece of furniture was oiled once at the beginning and then never again, you do not need to sand it.
Since waxed or oiled furniture is natural wood, we recommend priming with MissPompadour To Bond & Block.
When do I need to apply a primer?
If you work with the varnish qualities and want to paint already varnished furniture, you do not need a primer. A primer coat of MissPompadour To Bond & Block is appropriate if you are painting a natural wood.
Oak, tropical and softwoods tend to "bleed out". This means that tannins are released from the wood and cause unsightly stains in the varnish. Of course, this effect is most visible on light and medium-light varnishes. So if you paint very dark, you can do without the primer. If you want to paint your furniture with MissPompadour Matt Varnish, you can do this wonderfully on natural woods. Of course, you will need our primer here too if your wood could bleed. If you paint Matt Varnish on an already sealed, i.e. lacquered surface, you can use To Bond & Block to ensure that the paint adheres better to the substrate.
How do you paint a wooden cabinet to cover it?
Our paints and varnishes all have a very high opacity and are therefore wonderfully suitable for painting wooden furniture. In most cases, you can achieve a great, opaque result with just two coats. Sometimes, however, more coats are needed. Please note our instructions for priming.
How many coats are necessary and how much paint do I need?
For many projects, you can achieve a very beautiful result with just 2 coats. Of course, it also depends on the painting technique, the surface and the desired colour how many coats you need. In our practical quantity calculator, which you will find next to each colour shade, you enter what and how many square metres you are painting. You will then get the estimated consumption for two coats.
How can I paint transparently so that the wood grain is preserved?
Our varnishes and paints have a very high opacity. They can be thinned with water to achieve a transparent look. Please note that this can be at the expense of durability. Also, you cannot use a primer with diluted paint, as it would show through. So if you are painting wood that tends to bleed, we advise against thinning the paint.
How long does the paint last on furniture that is subject to heavy use?
How long a coating lasts is, of course, always dependent on the wear and tear. Every painted surface is subject to a certain amount of wear. In addition, the durability also depends on the substrate. If the surface is stable and well cleaned, our varnishes and paints have a very good durability. With MissPompadour To Seal you can additionally protect furniture that is subject to heavy use. However, as every painting fan has a different opinion of the use of their furniture, we cannot make any predictions as to how many years your paint will last perfectly. In a pinch, chipped spots or scratches are really easy to repair.
Do I need to seal my furniture?
The silk matt varnish qualities MissPompadour Eggshell Varnish are very robust. If you expect a heavy load, you can use MissPompadour To Seal to make the surfaces even more resilient. The matt qualities MissPompadour Matt Varnish are not quite as robust. Here you can also use MissPompadour To Seal for a more robust surface. You can also seal the matt qualities wonderfully with our wood wax. For this, 1-2 coats of the colourless wax are often enough. Take a look at our blog post on this.
How do I clean and maintain my painted furniture?
Cleaning your lacquered furniture is very easy! Dust with cotton cloths - do not use microfibres, as they have an abrasive surface and gradually remove the varnish. For stains, wipe carefully with a damp sponge and dishwashing liquid. Generally, gentle cleaners are more suitable because they do not attack the varnish.
It is important that you do not expose the paint to standing moisture, as it does not like this and it can dissolve it.
However, the painted surfaces do not require any further care.
Can I also paint my furniture indoors?
Our paints are low-odour and can be used indoors without difficulty. When painting, make sure there is a good exchange of air.
Video tutorial painting wooden furniture - furniture upcycling with paint by MissPompadour
These are the accessories you need to Paint your favourite wooden pieces
In addition to the varnishesn, there are other tools that can be useful when changing your furniture:
Screwdrivers for removing fittings: This is the cleanest way to work and saves you a lot of tedious taping.
Sandpaper or sanding pad in different grit sizes: For all places where old varnish has flaked off. These should be sanded smooth first.
Cleaningcloth and bucket to thoroughly clean your workpiece first: The surface must be free of dust and grease for your paint to hold well.
To Mask if you don't wantto paint certain areas. It's best to remove the masking tape before the paint is dry, so you get a clean edge.
plastic drop cloth or newspaper: To protect your floor.
Brush, varnish roller and paint tray: It is best to pour the varnish into the paint tray. Use the brush to paint corners and edges, and the paint roller to paint surfaces.
Finished reading yet?
Here you will find more exciting topics
Looking for the perfect colour shade?
A selection of our most popular colours for furniture
For your perfect project
Our accessories for painting furniture