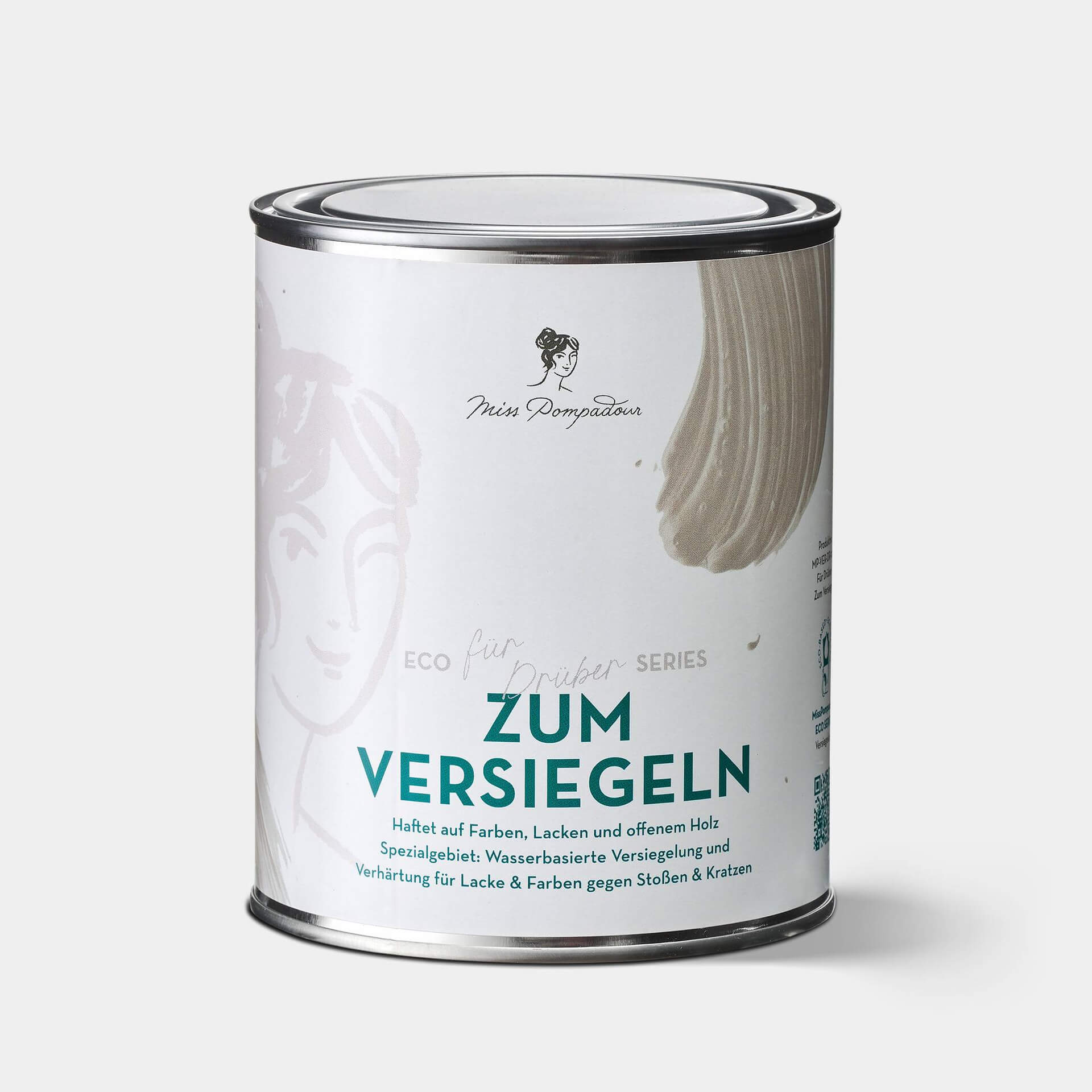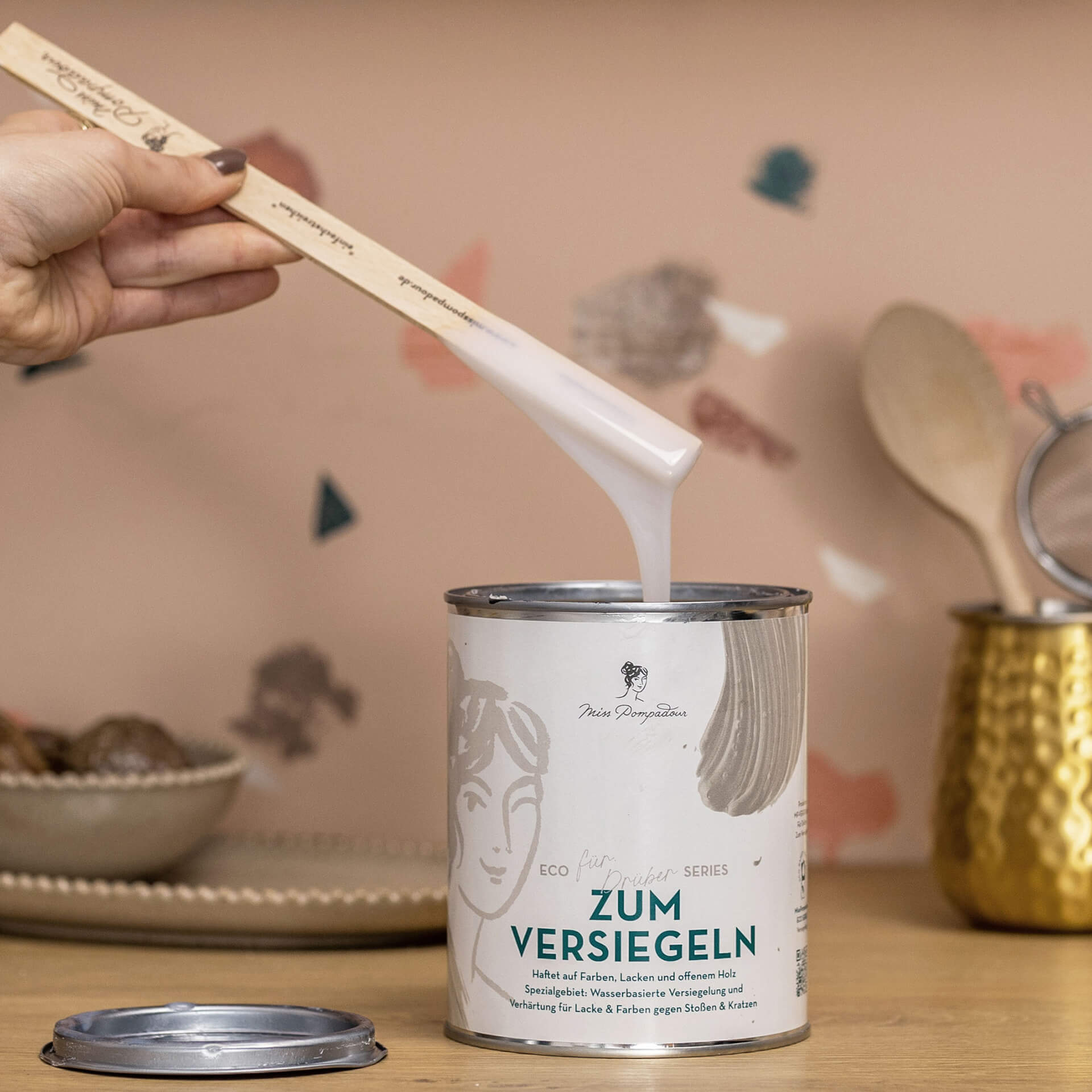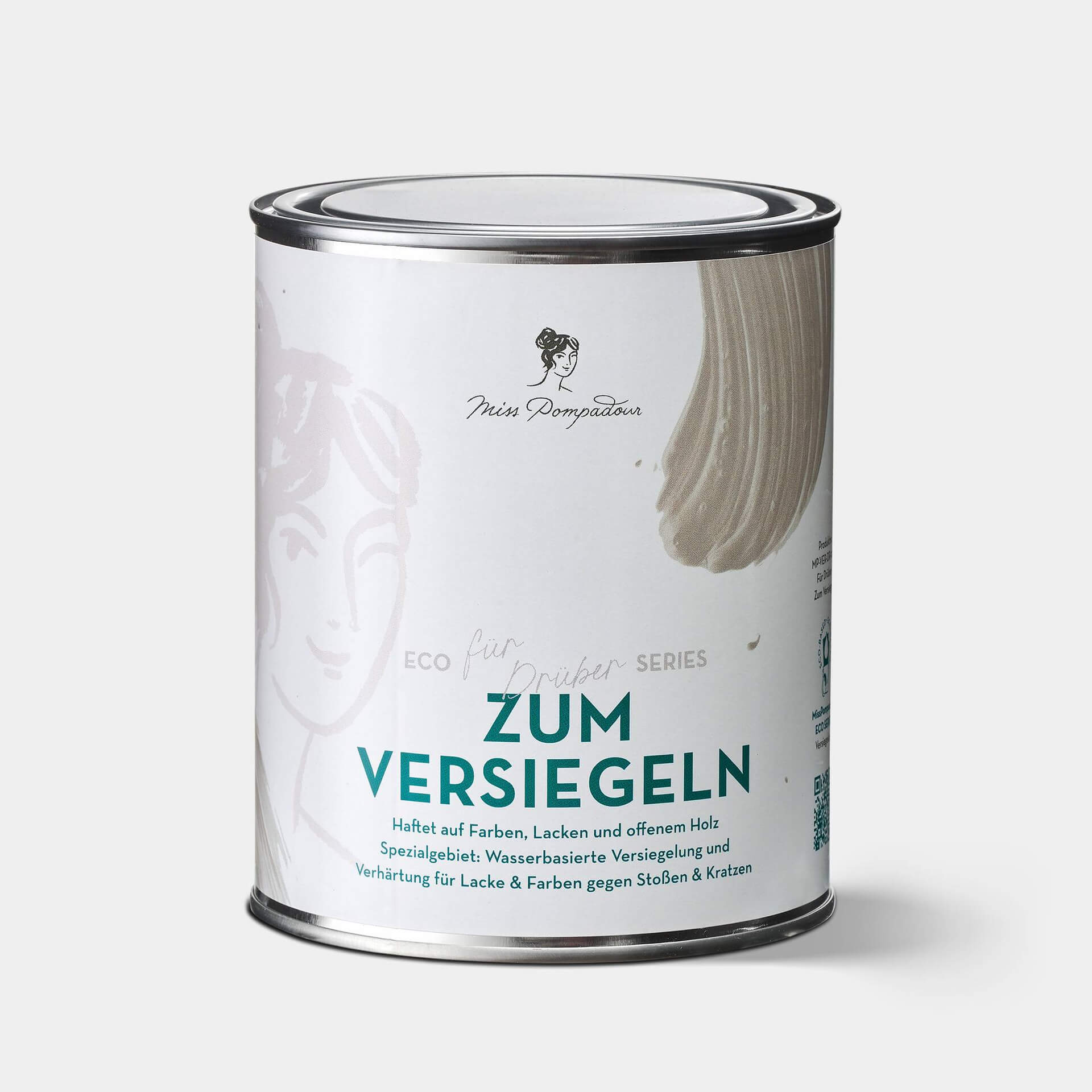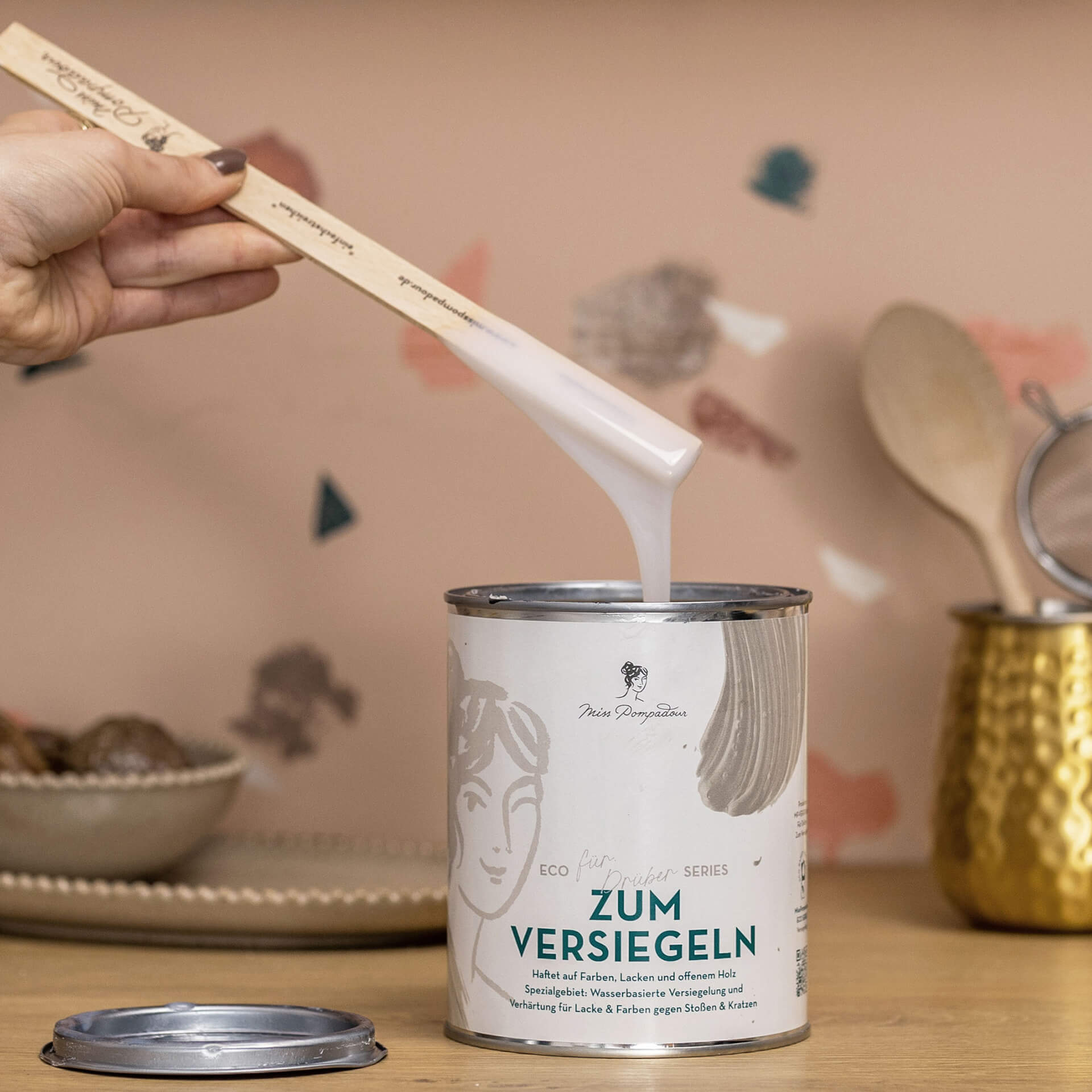 MissPompadour
To Seal - Topcoat
MissPompadour Topcoat can be applied to all interior painted materials. With it, you create a smooth, extremely resilient surface. MissPompadour Topcoat ensures that the painted surfaces remain matt. In addition, it does not turn yellow later on, even when exposed to light.
Shock and scratch resistant


Matt surface
Water- and plant-based
For all types of painted surfaces
Low solvent
Available, delivery time 2 to 4 Working days
This is what our customers say
Once you have sealed a surface, you can use it longer without having to repaint. Thanks to To Seal, it is better protected against impacts and abrasion. Through this use, you can contribute to sustainability in a relaxed way - because you don't need new varnish, furniture or tiles for a longer period of time. As the icing on the cake, you even save money this way.
"To Seal - MissPompadour Topcoat
Our varnishes in Eggshell Varnish or Eggshell quality are known to be extremely durable. Nevertheless, there are sometimes surfaces that have very special requirements. Maybe you want to paint the steps of a staircase or a floor. Or a kitchen worktop. Or the floor tiles in the hallway need a makeover. Whenever it comes to extremely stressed surfaces, we recommend our product "To Seal". This topcoat is a high-quality, water-thinnable matt lacquer based on acrylate technology. It can be applied incredibly smoothly. It is also characterised by its high transparency, so that it does not change the underlying varnish colour. Thus, after drying, it creates a uniform and, above all, matt surface. But despite its mattness, the sealed surface is quite smooth at the end. You will already notice when applying the MissPompadour Topcoat that it is practically odourless. That's because it contains almost no solvents. By stabilising with "To Seal" you get an extremely hard-wearing surface. This will not turn yellow later on, even under the influence of light.
The application of MissPompadour Topcoat
MissPompadour "To Seal" is suitable for all varnishes applied indoors. No matter whether you have painted wood, metal, stone, tiles or plastic. By applying this topcoat over the varnish, you will always get an extremely resistant surface. You can even stabilise old varnish surfaces afterwards. Before doing so, however, you should sand the surface a little. You do not need to thin this sealant, it can be applied as is. Let your varnish coat dry for four to five hours. Then apply the sealer. It is best to use the roller for small surfaces for topcoat. It will give you a particularly even result. MissPompadour "To Seal" is dry to the touch after one hour and dry after about five hours. The sealant is fully hardened and ready for maximum wear after 14 days.
If you use To Seal during a heating period, turn off the heating before painting and dust the surrounding area around your project. The topcoat tends to attract dust and lint statically. It is also helpful to hang damp towels.
Storing MissPompadour Topcoat
It is important that you store MissPompadour "To Seal" in a cool and dry place. Unopened, it will keep its quality for about twelve months. Once opened, the tin should be used as soon as possible. MissPompadour Topcoat contains as few preservatives as possible. Otherwise, bacteria and mould could appear. "To Seal" is an impact protection, it is not suitable for surfaces with a lot of heat or water
| | |
| --- | --- |
| Application: | MissPompadour To Seal can be applied 4-5 hours after the varnish application. The seal can be used undiluted. |
| Environmental information: | Water-based sealer for water-based varnishes. Protects against bumping and scratching. |
| Quantity: | 1 litre |
| Reach: | 1L is enough for 10 to 15 m2 |
| To Seal: | Download technical data sheet |