Painting Tiles in Kitchen and Bathroom: the MissPompadour DIY-Tutorial
15 min reading time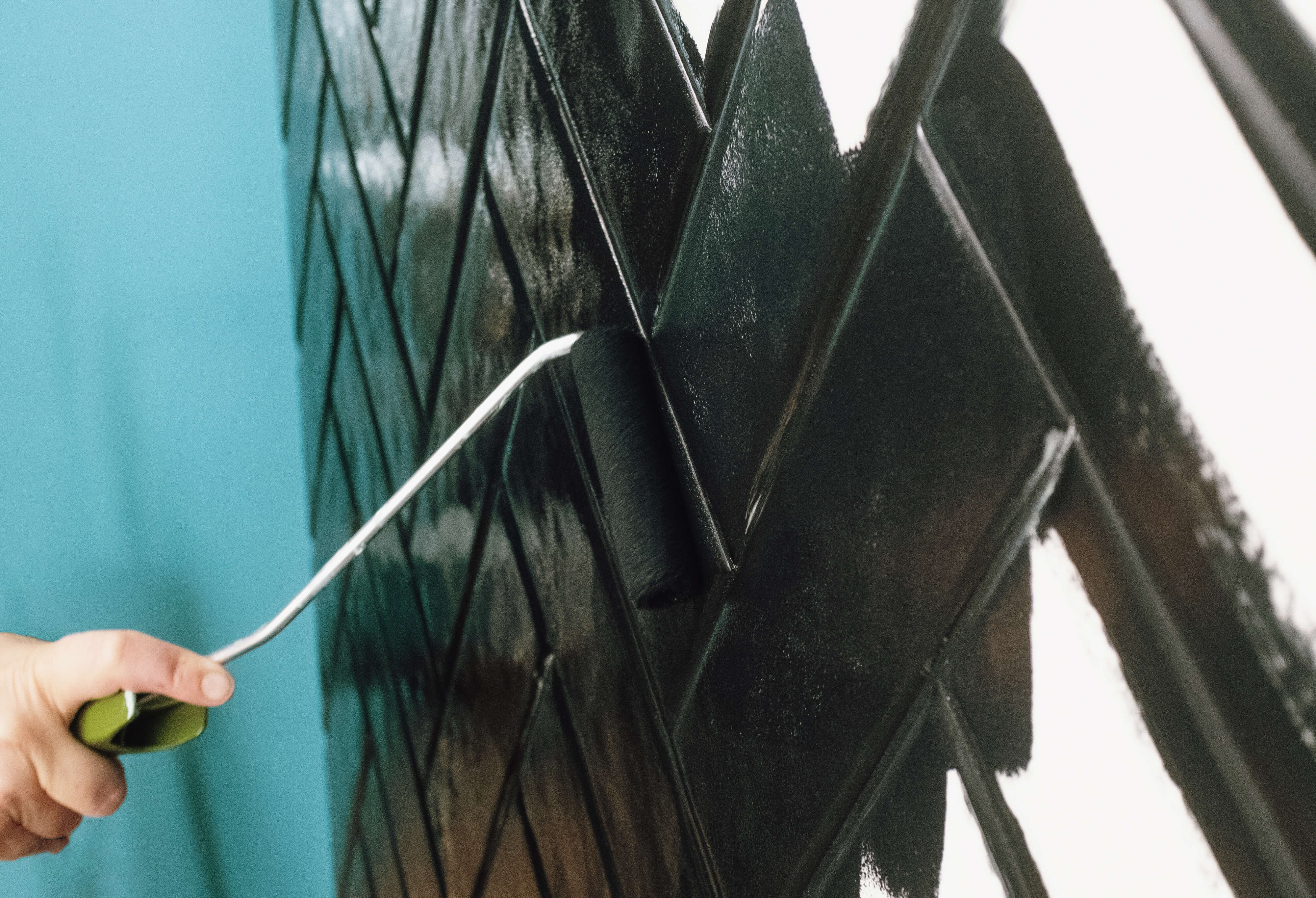 New house, new flat - but the tiles in the bathroom and kitchen are unfortunately anything but modern! The budget is exhausted for now, but you still don't really want to put up with the tiles. What can you do? We say: simply paint them!
Whether bathroom, kitchen or floor tiles. We explain here how you can embellish your tiles with the help of our varnishes!
Painting Tiles: Before/After pictures from our painting community
Why should you paint your tiles? Because you can! With relatively little effort, you can transform your old, unattractive tiles into modern, beautiful eye-catchers. Our customers have already beautified hundreds of bathrooms and kitchens and given some really ugly tiled surfaces a new look. Take a look and let yourself be inspired!
Wall tiles in the bathroom
Painting bathroom tiles can take courage. But the result is all the more convincing! Take a look at how our customers have embellished their bathrooms.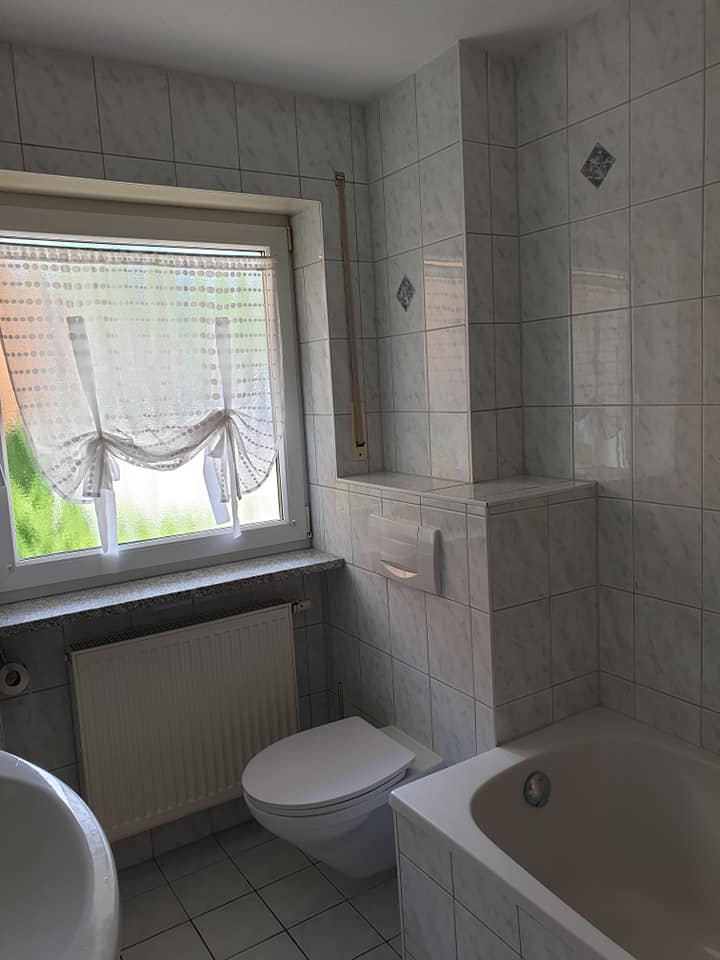 Before
- Too dull and boring, our customer said to herself. A change was needed!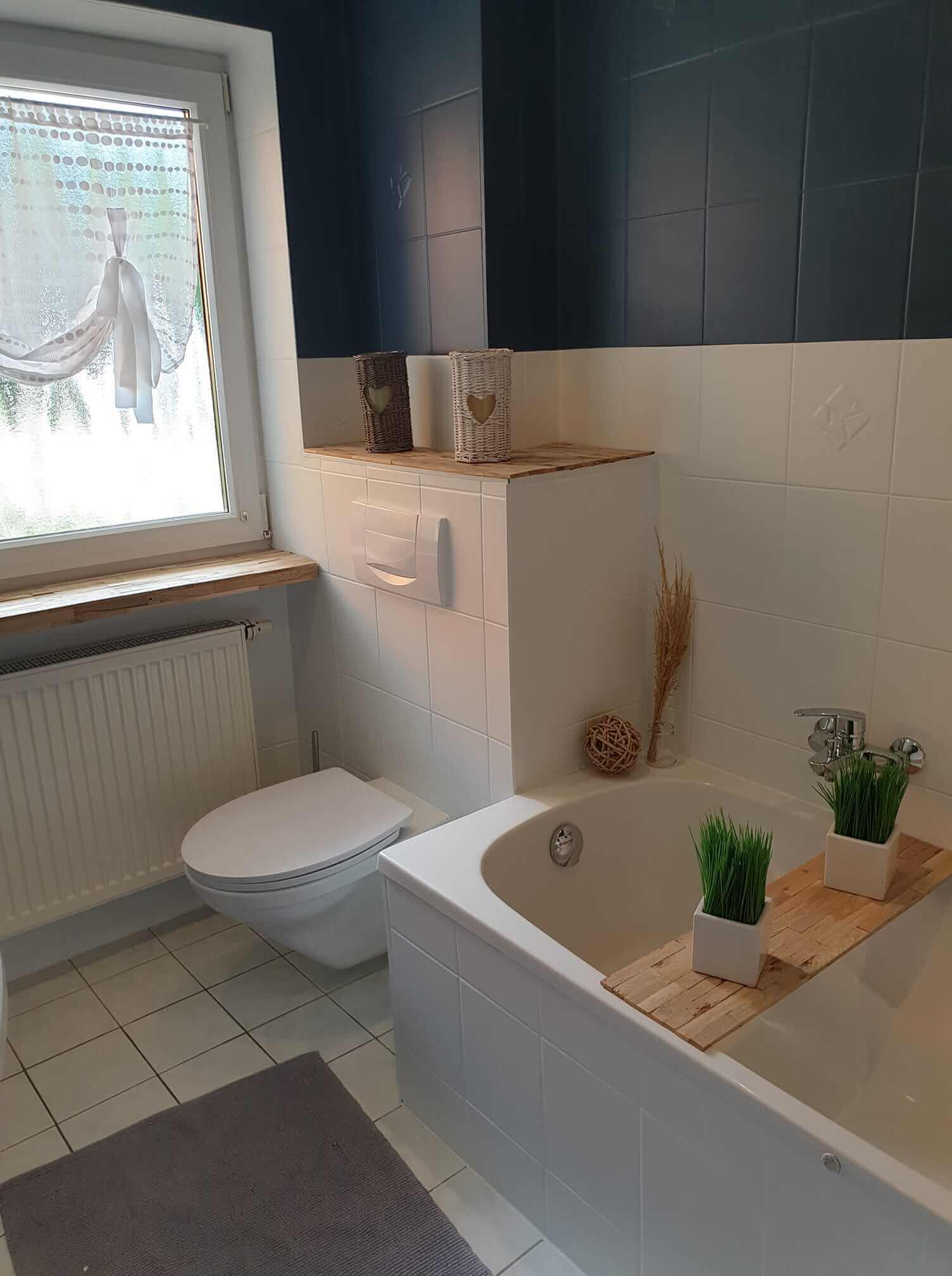 After
- The colour division has given this bathroom a maritime yet modern touch.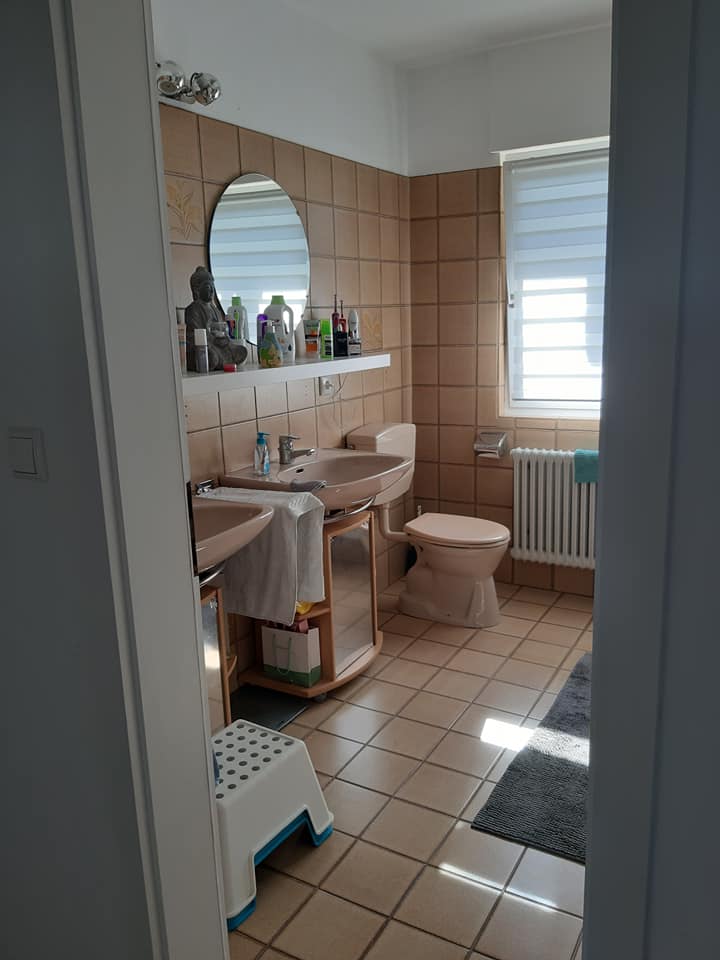 Before
- The 80s just jump out at you in this bathroom. Time for an update!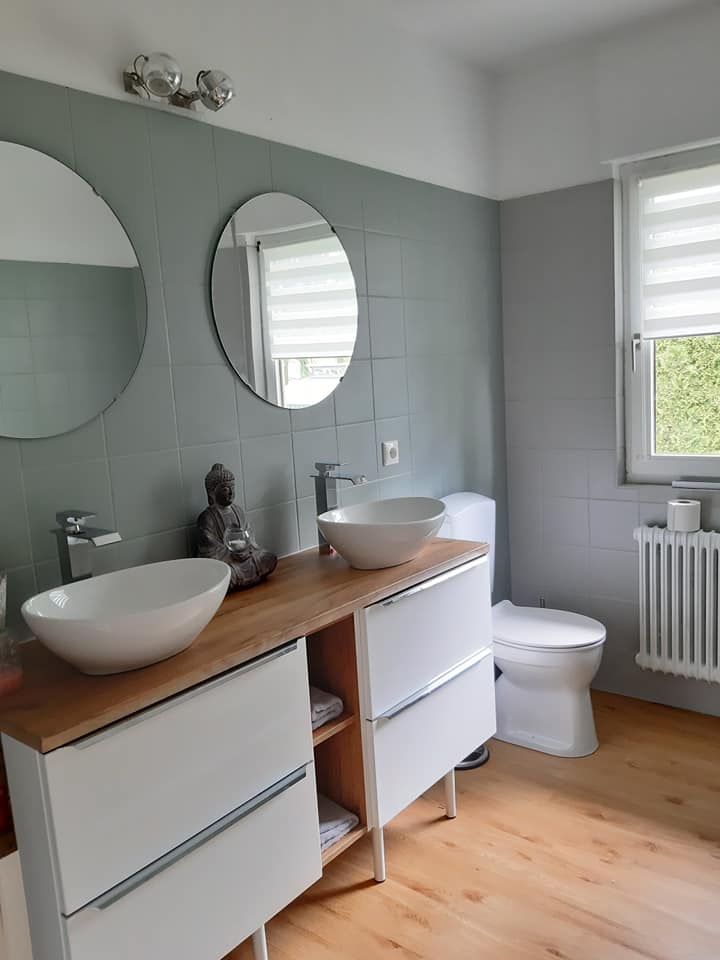 After
- New paint, new floor and new ceramics. Nothing is left of the dusty image.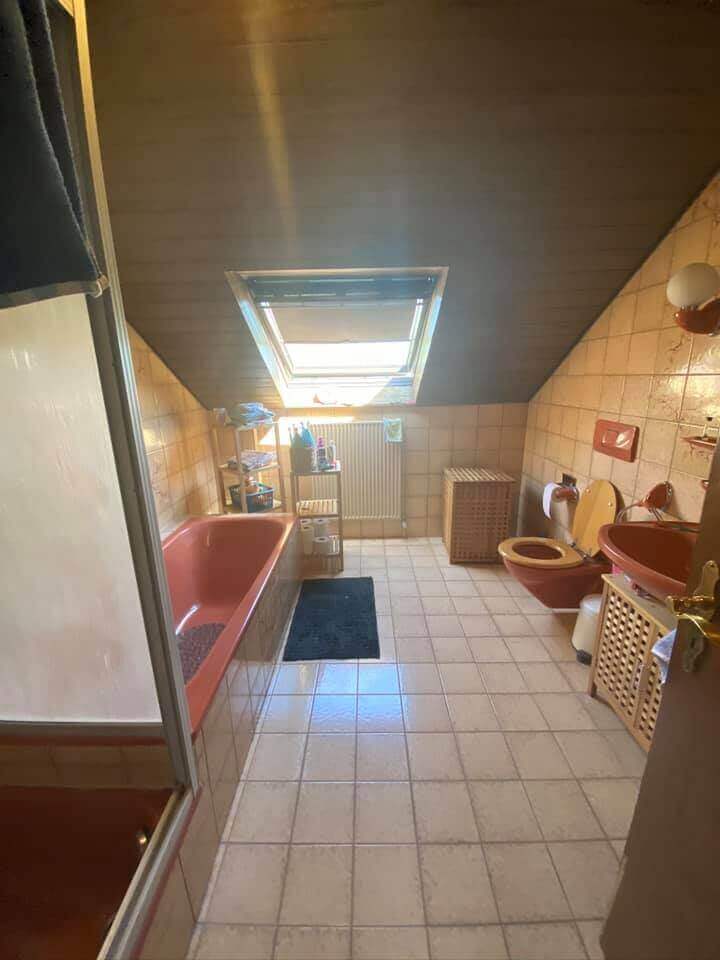 Before
- Brown tiles, red ceramics and then the dark wooden ceiling. There is a lot of room for improvement in the design!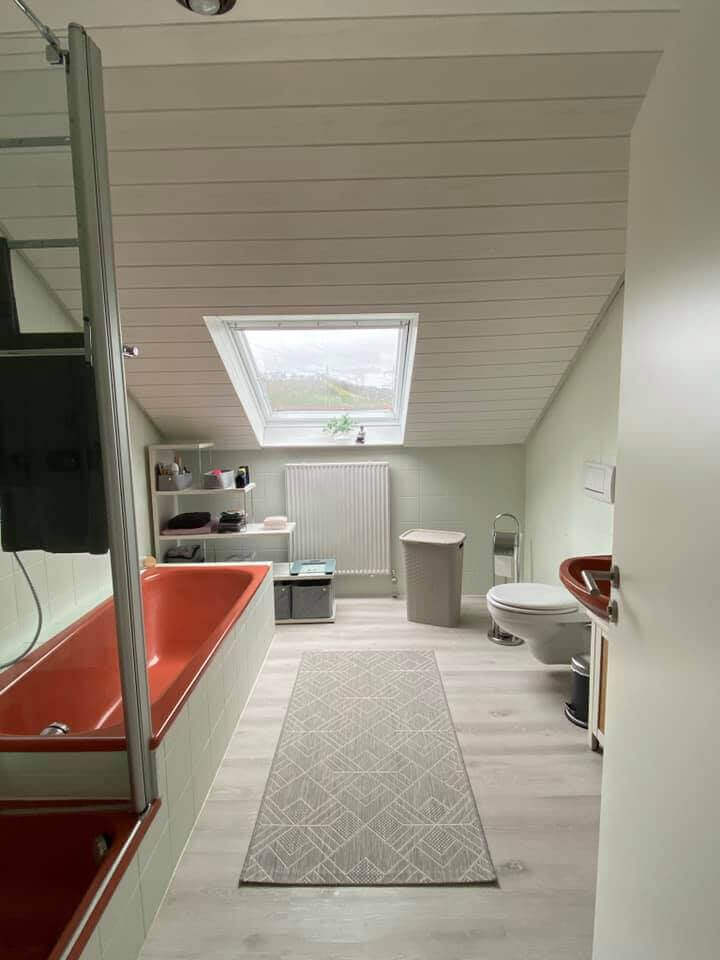 After
- In connection with the white ceiling and the soft green painted tiles, the red bathtub becomes an eye-catcher!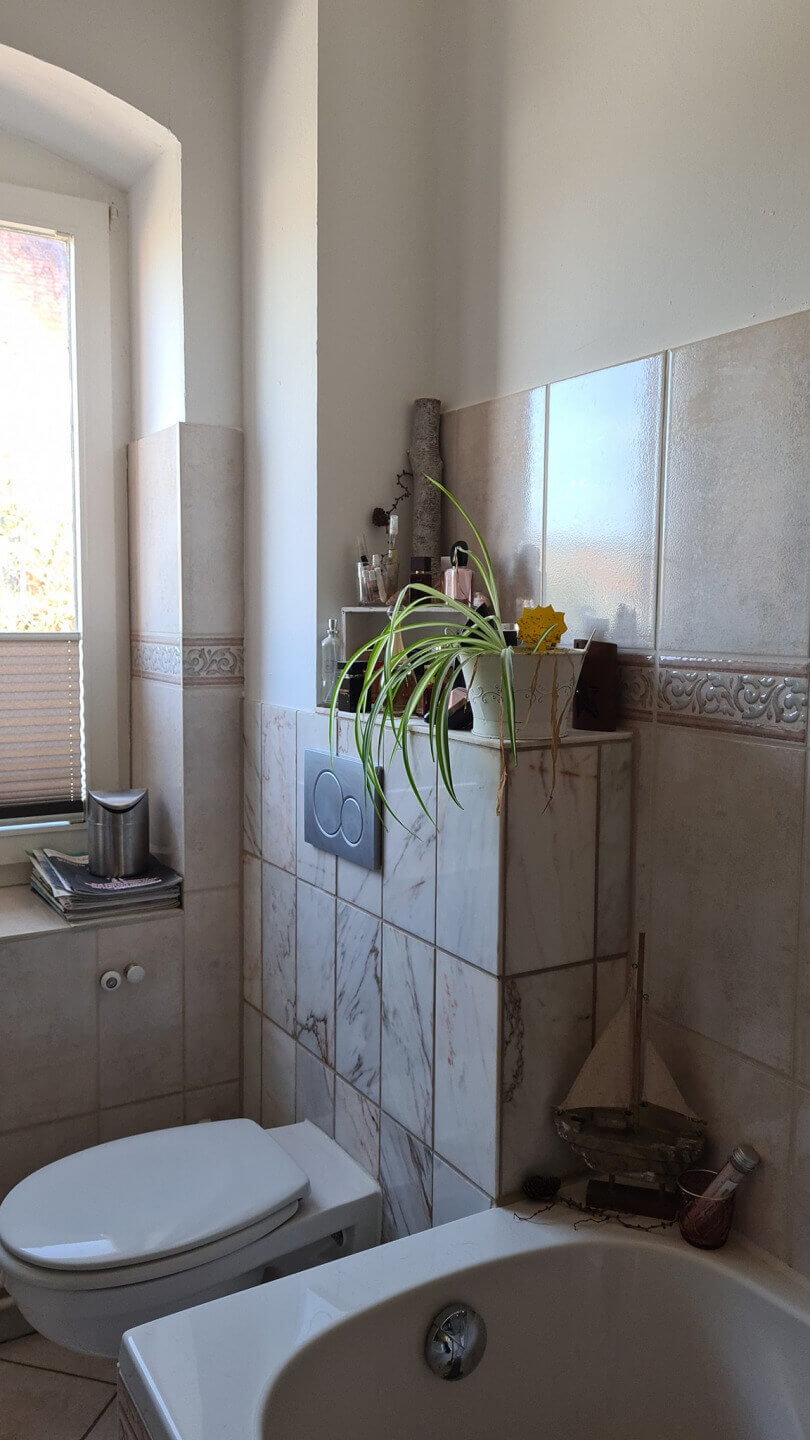 Before
- Our customer simply didn't like the somewhat drab bathroom any more. She wanted a completely new style.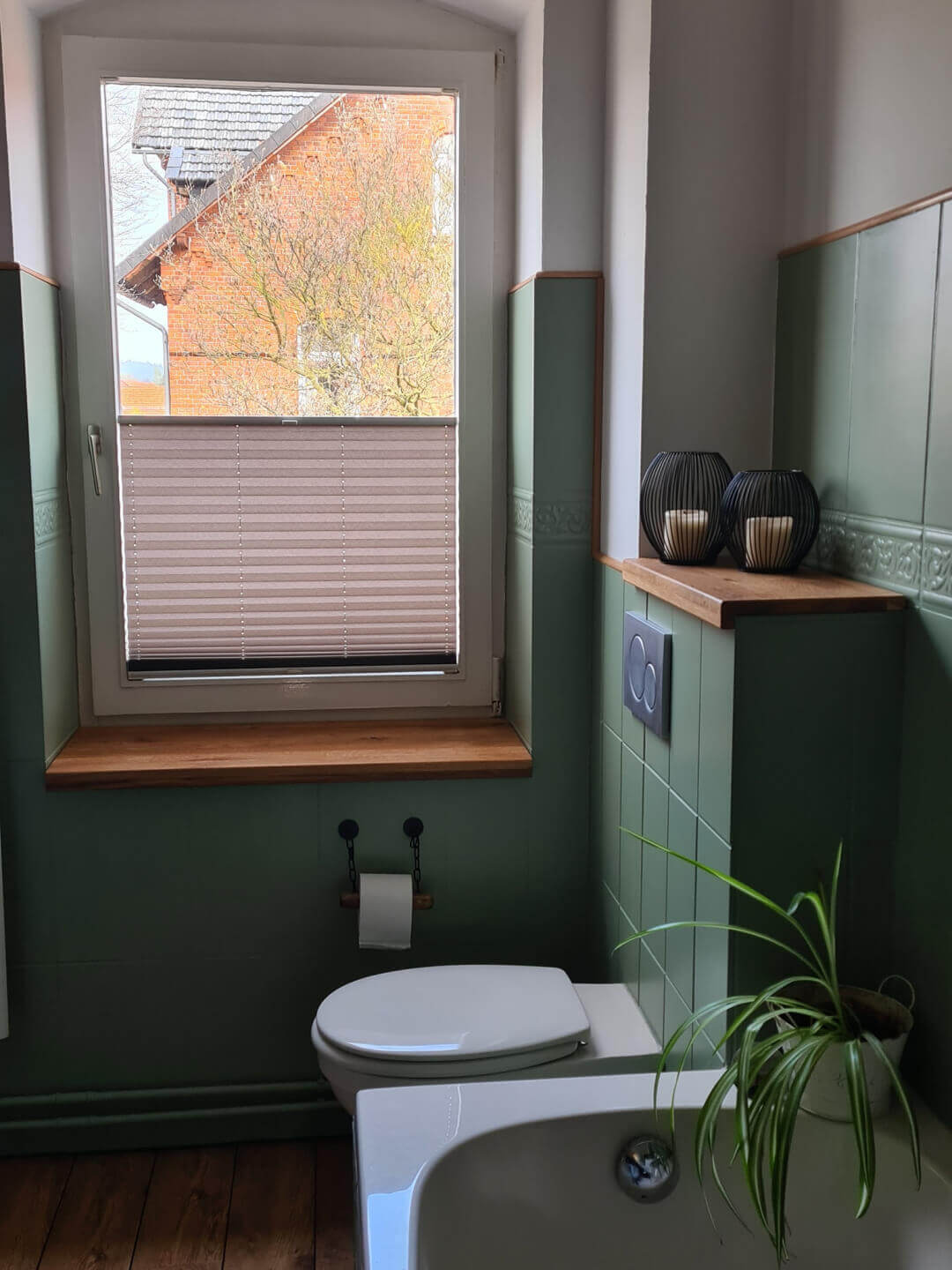 After
- And she succeeded. A great example of how chic painted relief tiles are.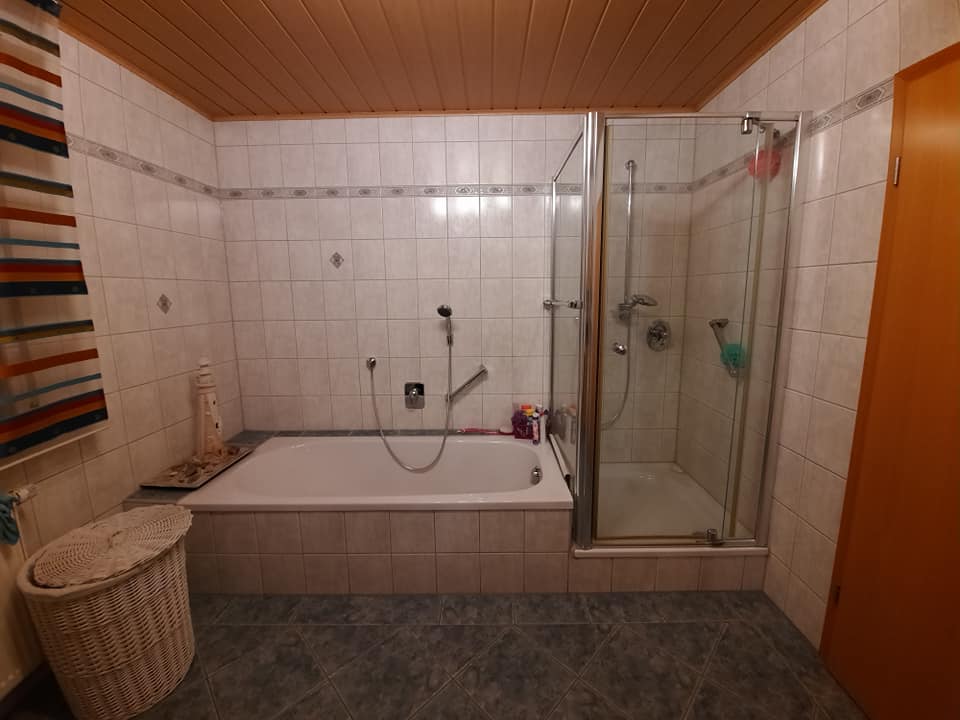 Before
- This bathroom was dark and dreary. But it had potential, you just had to bring it out.
MissPompadour Grey with Concrete - Eggshell Varnish 1L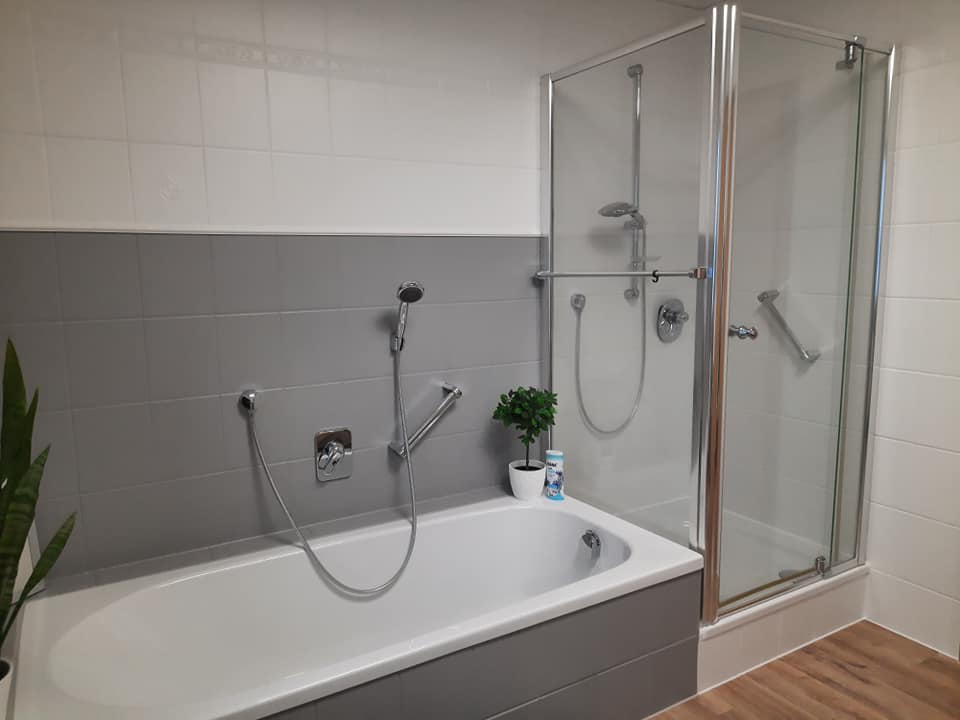 After
- Hard to believe this is the same room. Lower tiles painted with MissPompadour Grey with Concrete, upper tiles and wooden ceiling painted with MissPompadour White with Melting.
Kitchen tiles
Sometimes all it takes is a little fresh paint to change the overall impression and make an old kitchen look modern again.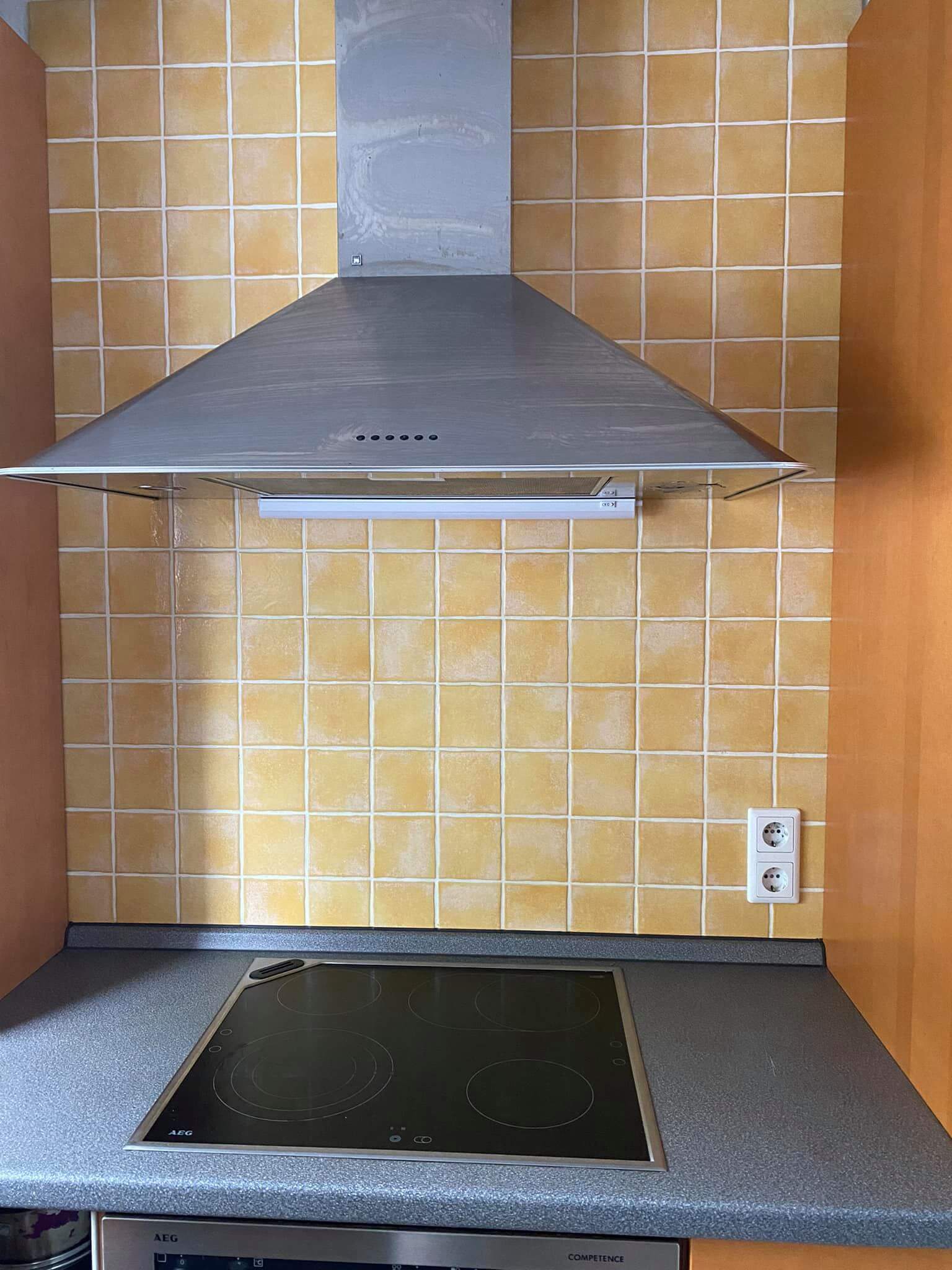 Before
- As the kitchen was to be painted grey, the tiles also had to be given a matching colour.
MissPompadour Grey with Warmth - Eggshell Varnish 1L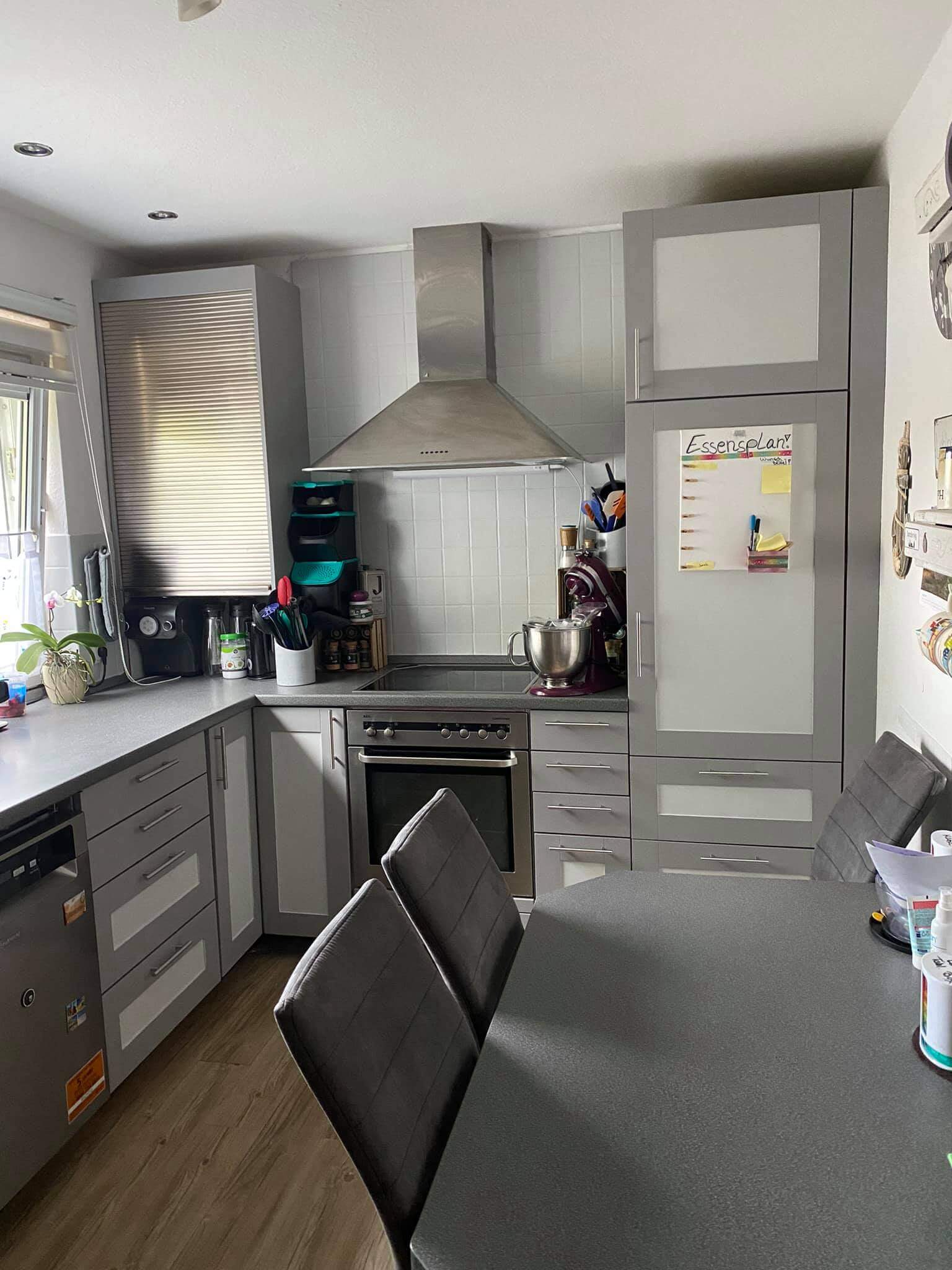 After
- A completely new impression has been created. The kitchen was painted with MissPompadour Grey with Concrete and Grey with Warmth, the tiles with Grey with Warmth.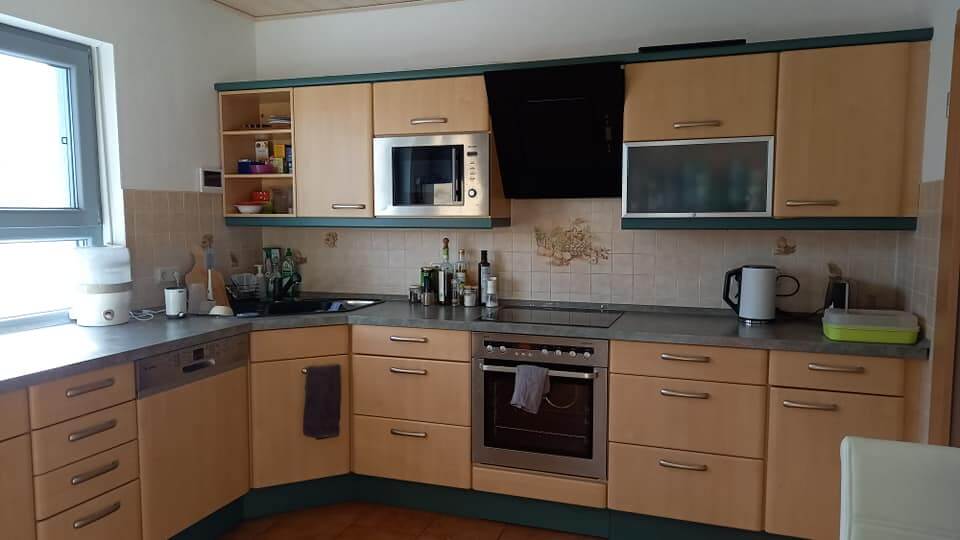 Before
- A standard kitchen in beech. The tiles were decorated with a fruit design. Contemporary? Not at all.
MissPompadour Grey with Concrete - Eggshell Varnish 1L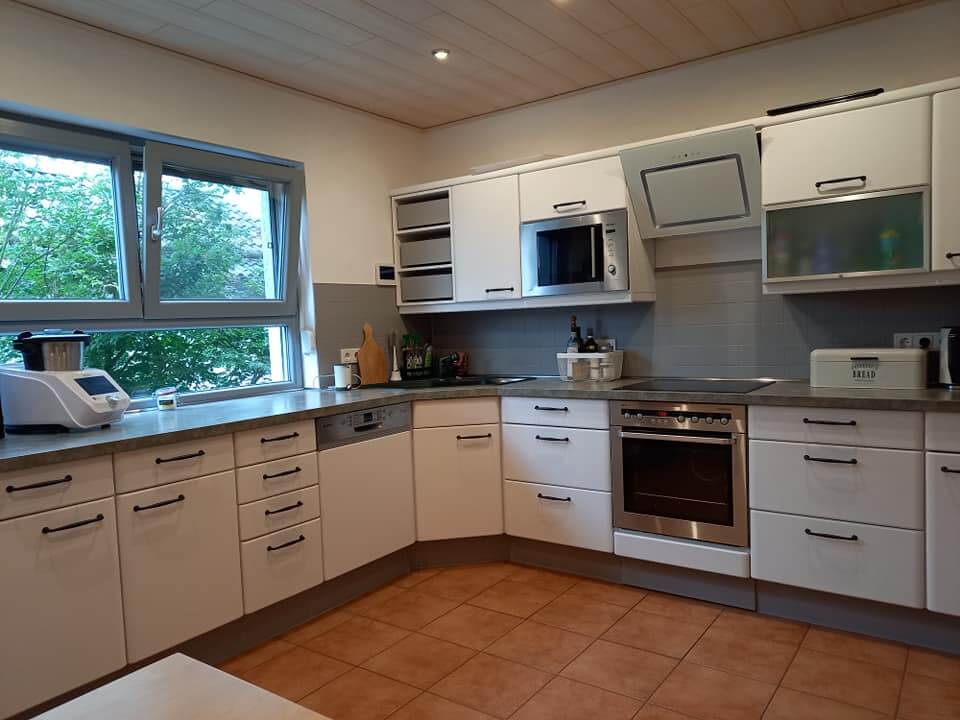 After
- Hello, new kitchen! The kitchen was painted white. The tile backsplash with MissPompadour Grey with Concrete, which is beautifully repeated in the skirting board.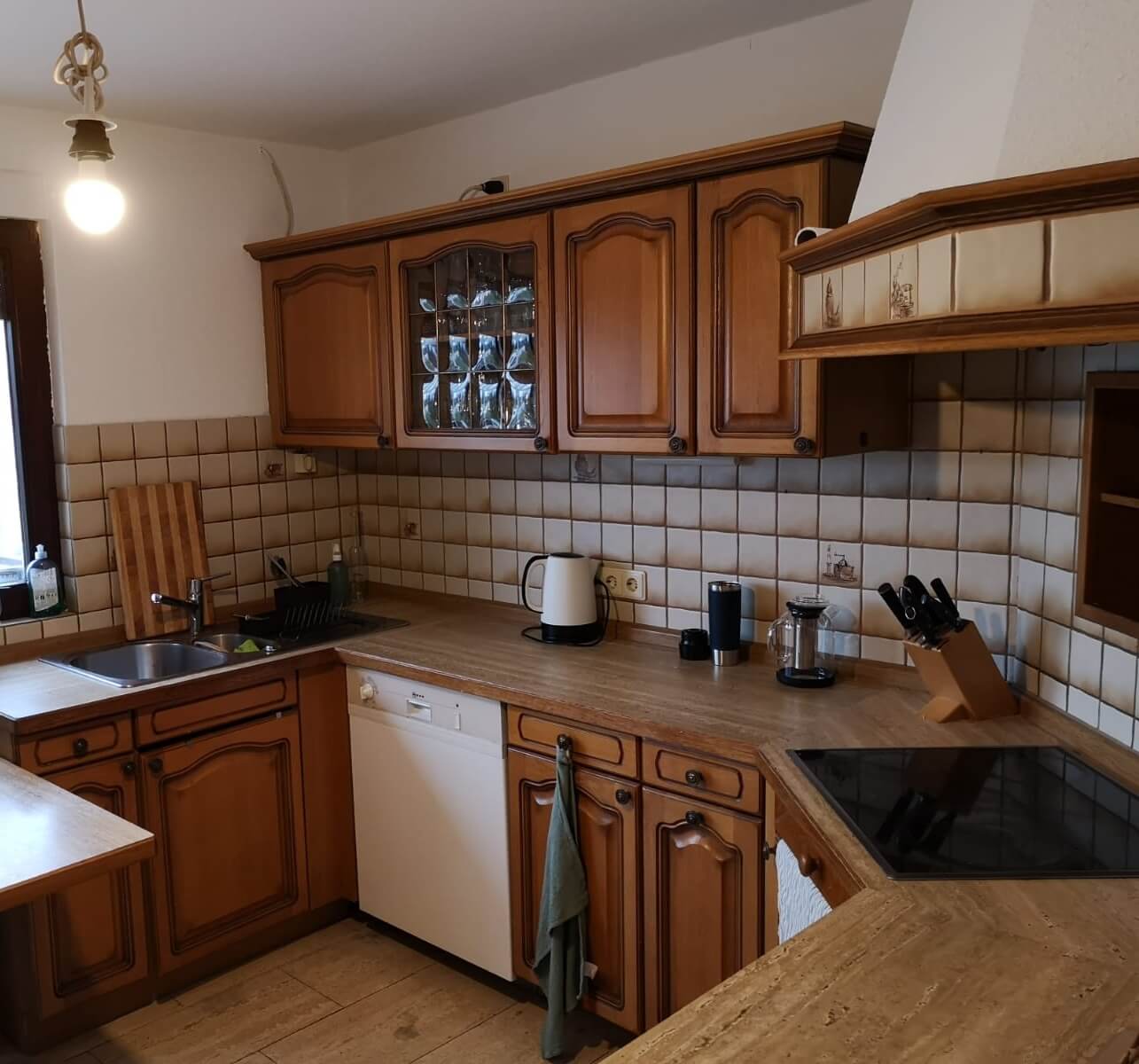 Before
- This kitchen makes a somewhat old-fashioned impression. It's understandable that the customer wanted a change.
MissPompadour Grey with Green - Eggshell Varnish 1L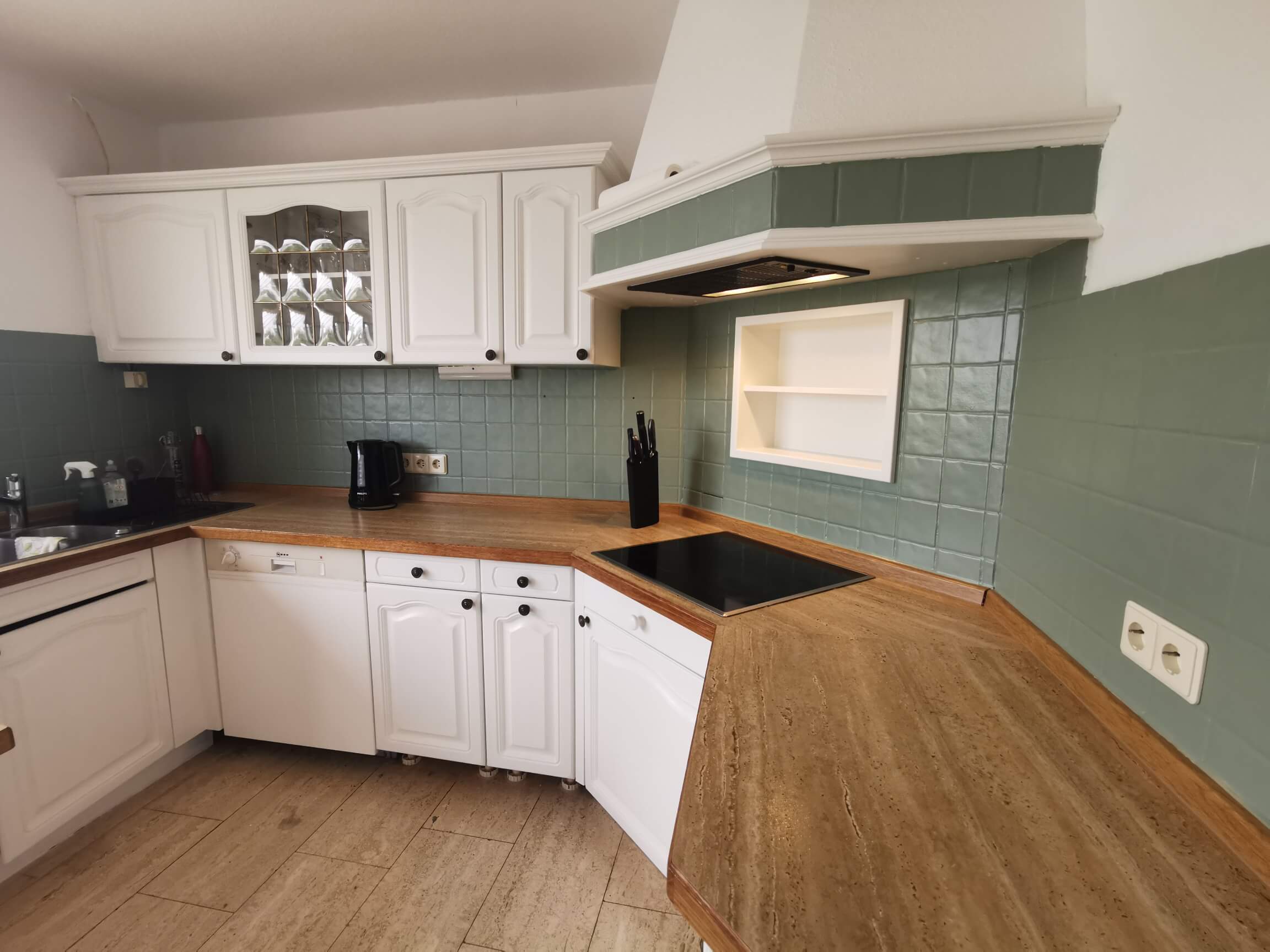 After
- Rustic oak became a modern country house kitchen. A great change!
Floor tiles
From ugly duckling to beautiful swan - that also applies to these floor tiles. See for yourself how much the impression can change with a little colour!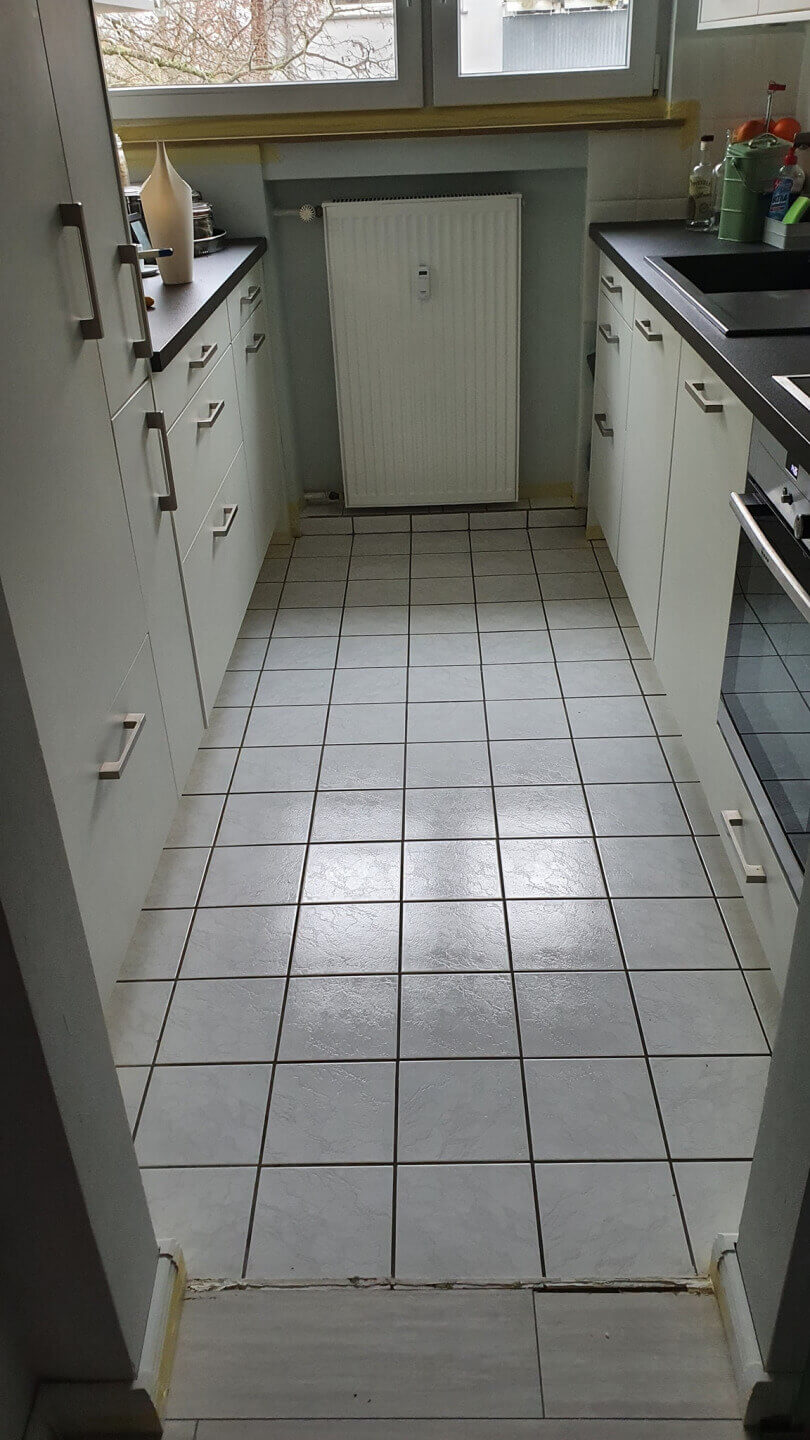 Before
- This boring kitchen floor had been a thorn in our customer's side since she moved in.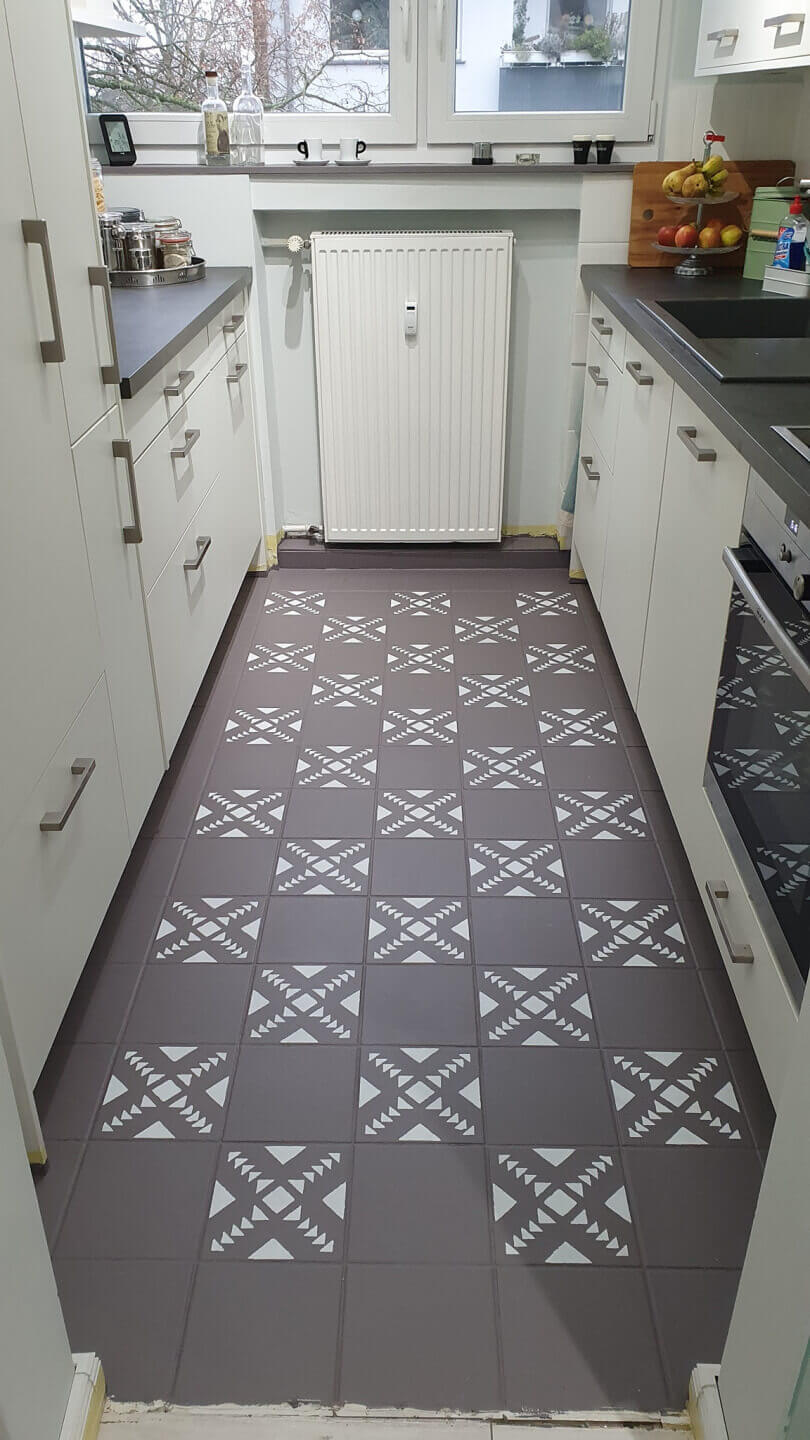 After
- With the help of a stencil, the small kitchen was visually loosened up.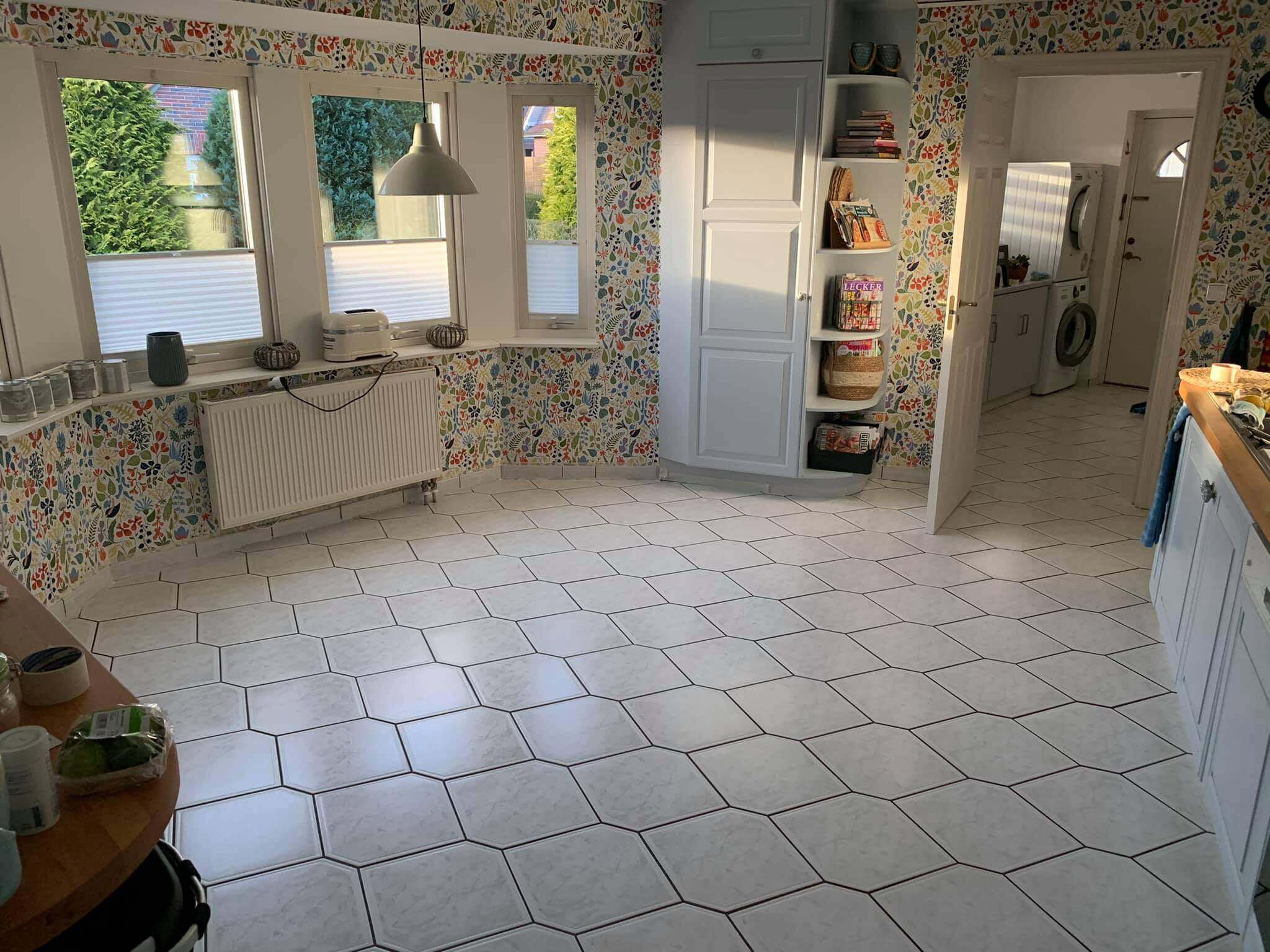 Before
- The floral wallpaper should stay. In combination with the floor, the overall impression was too restless.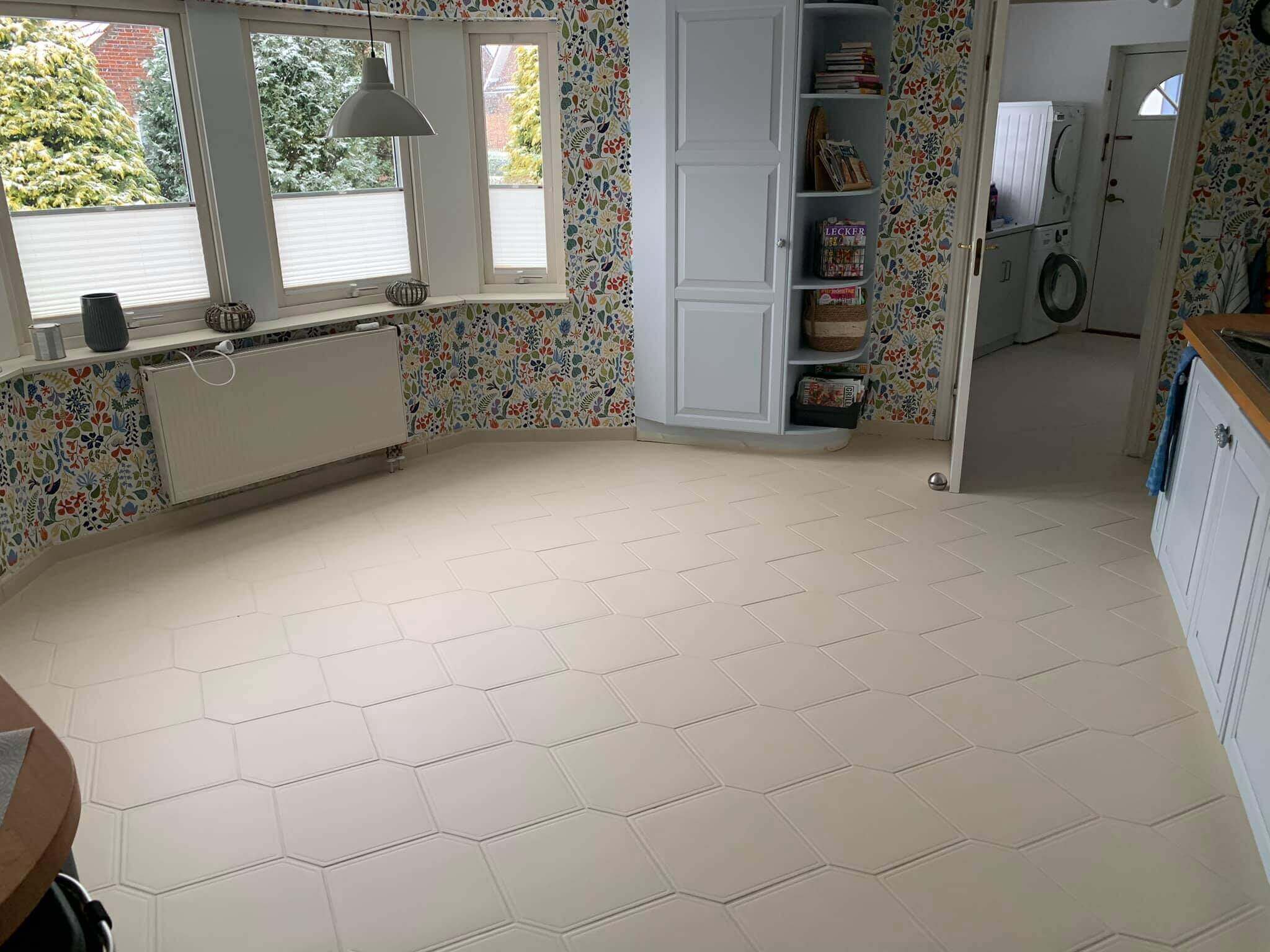 After
- The painted floor gives the room a sense of calm and the colourful wallpaper comes into focus.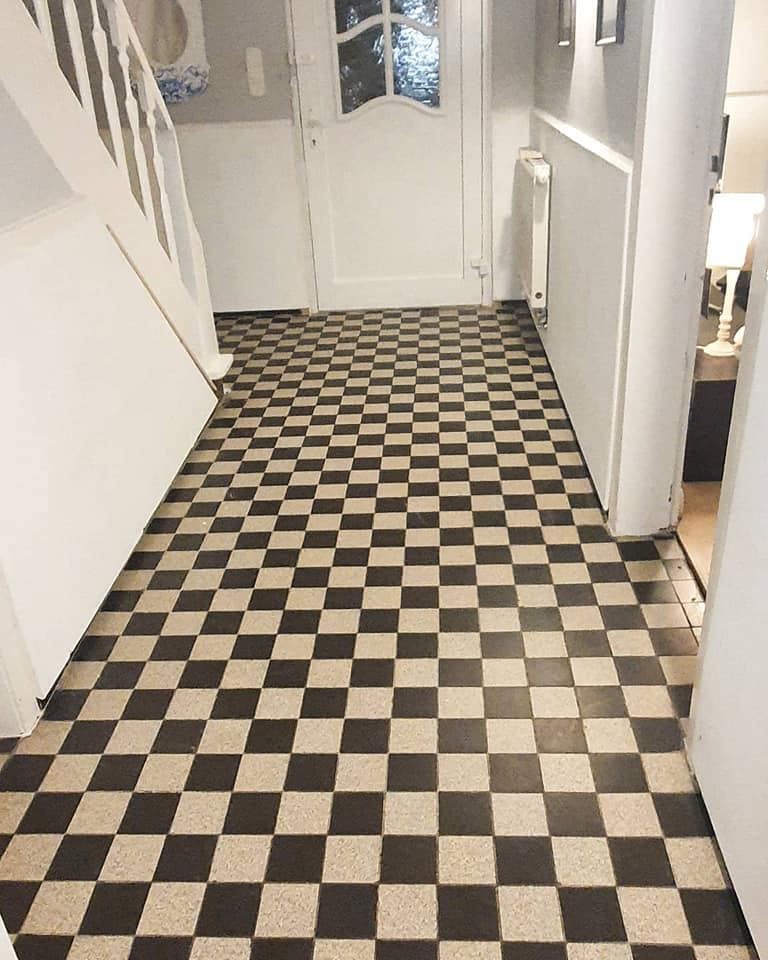 Before
- This entrance area should appear more noble, so that the beautiful staircase is also embedded in a more dignified way.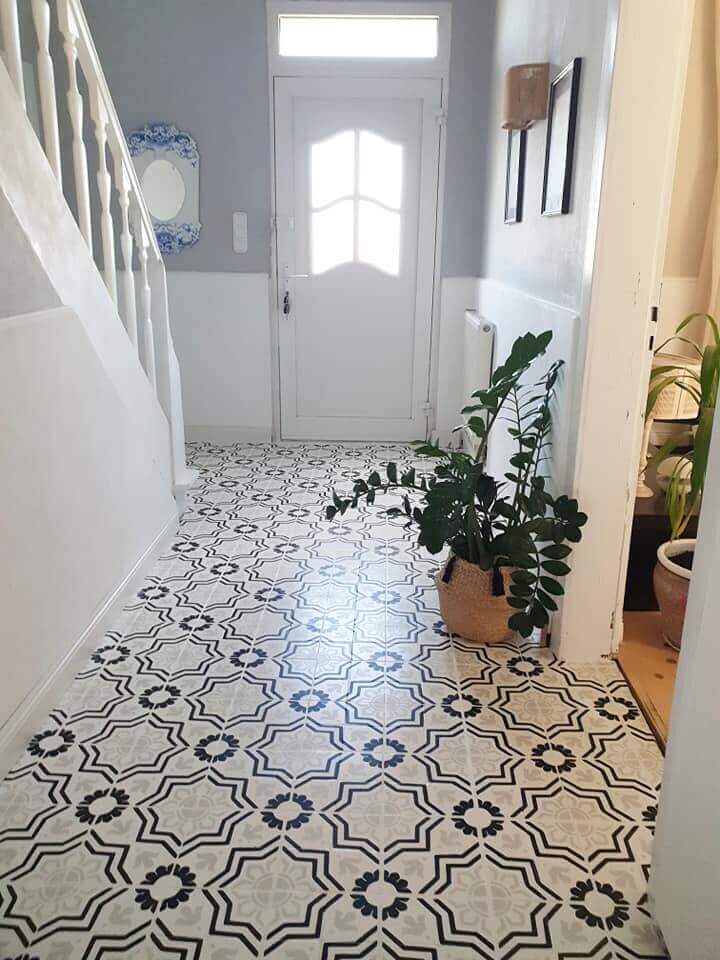 After
- A noble atmosphere now prevails in this entrance area.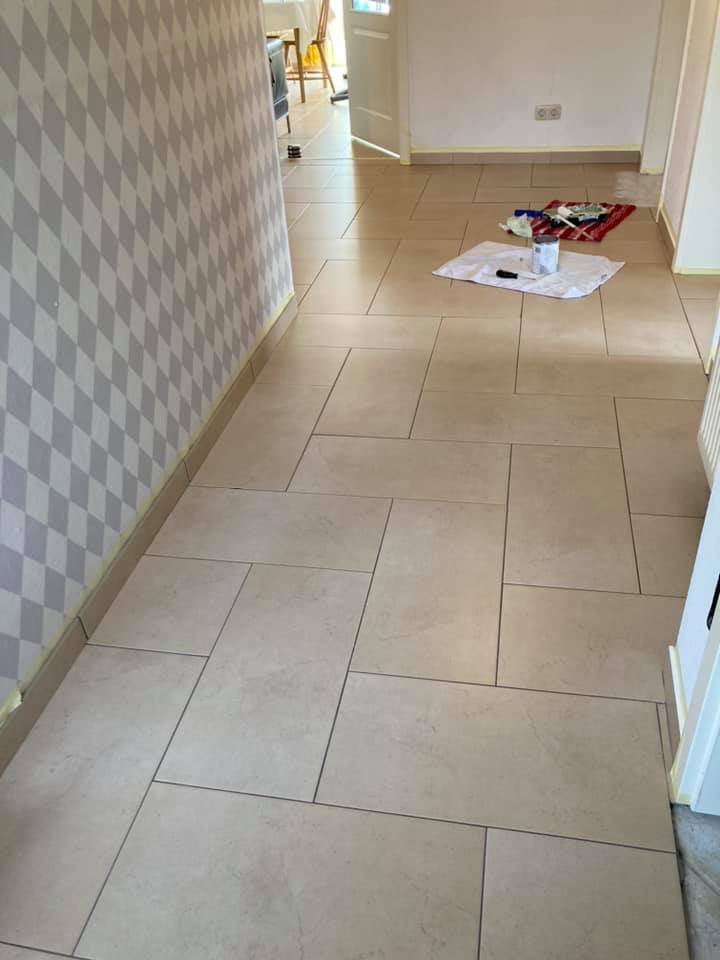 Before
- Here, the style of the tiles simply didn't match the furnishings. Something completely different was needed.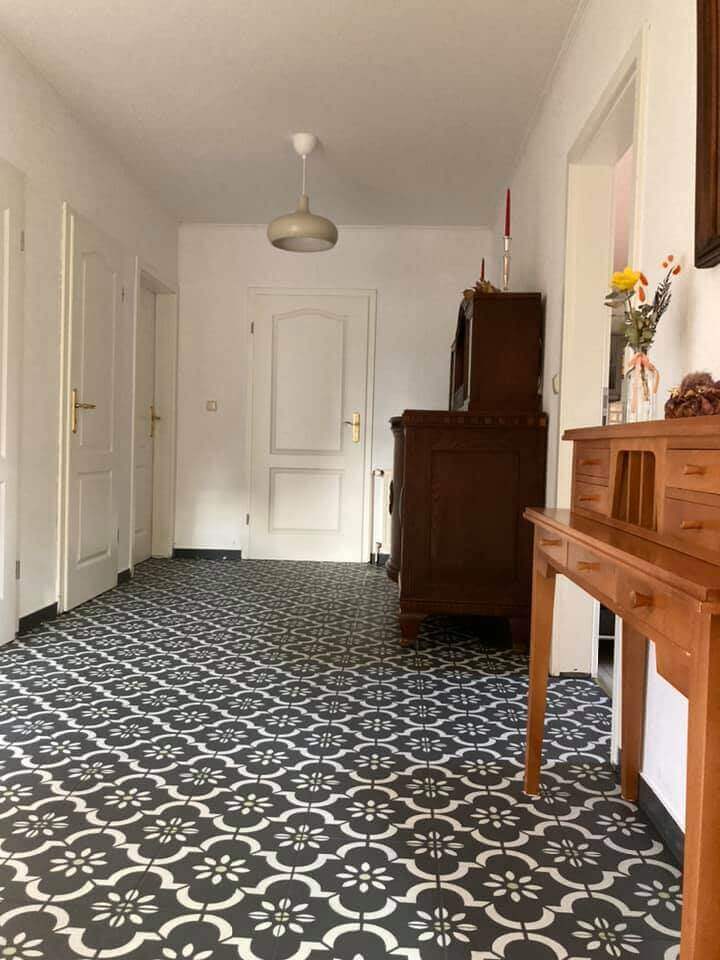 Step-by-step instructions for painting tiles
Step 1: Choose a varnish
You can paint your tiles with chalk paint or our tile varnish. The MissPompadour Eggshell Varnishes are particularly suitable. With our wide range of colours, you are guaranteed to find a colour shade that matches your tiles! Our colour cards will also help you.
Step 2: Prepare the surface
What is not to be painted can be dismantled beforehand. Drill holes and cracks can be repaired wonderfully with To Fill - MissPompadour Filler. Then simply sand smooth with fine sandpaper.
It is very important for the durability of the paint on the tiles that they have no coating. Remains of floor mop care, floor polish and lotus coating must be thoroughly removed with special clean ers before painting.
Step 3: Clean the tiles
To ensure that the surface is completely free of dust and grease, clean it with To Clean - MissPompadour Cleaner. To remove particularly stubborn stains such as limescale, you can also use a bathroom cleaner. Please refrain from cleaning grout with chlorine or mould stop. This can build up and damage the paint later. It is important to rinse off the cleaner with clean water and let everything dry thoroughly.
Step 4: Prime surfaces
When painting floor tiles and very smooth wall tiles, you can use a thin layer of To Bond - MissPompadour Primer to make your paint adhere even better to the surface. Cold exterior walls, small rooms and high humidity sometimes cause the primer to take longer to dry properly. In such cases, simply take longer breaks and apply the first coat of paint only after 6 - 8 hours or after an overnight stay.
Step 5: Paint the tiles
Now you can apply the varnish layers. Apply as many as you like until you are happy with the result. Often two coats are enough for an opaque finish, but it can be more. Let each coat dry very well. Usually 4 - 6 hours are enough, but depending on the environmental conditions it can take longer. The surfaces become more stable from day to day and will have reached a very good stability after 10 - 14 days. The joints are best pre-painted with To Paint - Fine MissPompadour Brush in 25mm. Then paint the tiles with the varnish roller for water-based varnishes. Make sure to work as wet in wet as possible. To do this, first paint a few joints and then roll the corresponding tiles, then go a little further.
Step 6: Sealing the result
If you are painting floor tiles or other heavy-duty tiles, To Seal - MissPompadour Topcoat will ensure that your coat lasts as long as possible. Wall tiles that are often exposed to moisture, such as in the shower or behind the cooker, can be protected with Painting the Past Sealer. Surfaces painted with the sealer are also very easy to clean.
For floors in bathrooms or other areas exposed to moisture, Painting the Past Topcoat is best. After the last coat of paint, it's best to wait a night before you start sealing.
Pro tip #1: If there are silicone joints to be painted over, you can prime them with MissPompadour To Seal Silicone beforehand and then simply paint along.
Pro tip #2: Always remove tape immediately after painting while the paint is still wet. This prevents the new paint from peeling off with it. Then reapply the tape for the next coat.
Note : Please note that horizontal tiles are always a special surface. Whether they are used as a shelf or floor, they are exposed to higher loads, which must be assessed by each individual. We can therefore not guarantee durability.
Which paint is suitable?
Which paint is suitable for painting my old tiles?
The best colours are the easy-care and robust varnish qualities. Especially our MissPompadour Eggshell Varnish provides you with a silky matt, durable surface.
What distinguishes tile paint at MissPompadour?
With our varnishes you can paint your tiles almost odourless. In contrast to conventional tile paint, it is not necessary to mix a 2-component varnish, which - in addition to the strong odour - always has to be applied immediately. Instead, you can decide for yourself whether to take a break and when to continue painting. Especially because the transitions in our varnishesn are completely seamless. And the velvety look of our silk matt varnishes and chalk paints simply cannot be matched by conventional tile varnish.
Painting tiles with chalk paint
Chalk
paints
or chalk varnishes are also suitable for varnishing your tiles. If you want to paint tiles in the bathroom or in wet areas, the Painting The Past varnish Eggshell is best suited. On all other tiles this can be used as well as Mylands Wood & Metal Eggshell. Once the chalk paint is completely dry, it is waterproof and hard-wearing. Of course, our MissPompadour Eggshell Varnishes are also suitable, although they are not based on chalk flour but on renewable raw materials, but have the same great properties.
Frequently asked questions about painting tiles
1. General questions about painting tiles
Can you simply paint over tiles?
Yes, you can! Basically, you can paint almost all tiles, but it's especially easy with chalk paint and our varnishes.
You can paint almost all tiles. Unfortunately, we have to make a few exceptions: it is difficult with waxed or otherwise impregnated tiles. Terracotta tiles, for example, are often sealed to make them easier to clean. Modern surfaces with a lotus effect cannot be painted either. Furthermore, there are floor care products that have an impregnating effect. Outdoor tiles that are exposed to rain are also not a suitable surface for painting. Of course, every surface is different and reacts differently to a coat of paint. Unfortunately, we cannot give a guarantee for durability.
Which paint roller and brush do I need to paint tiles?
It is best to work with a combination of our fine MissPompadour brush and the varnish roller for water-based varnishes. Pre-paint the grout lines with the brush held lengthwise and then the tiles with the roller. Always try to work wet in wet. So first paint a few joints and then roll the corresponding tiles. Then paint the next joints and tiles. You'll soon get the hang of it.
How long does the colour last?
We cannot guarantee the durability of tile painting. In fact, how long a coat of paint lasts on tiles depends very much on how it is used. Every painted surface is subject to a certain amount of wear and tear, and this wear and tear depends on the amount of use. For example, a tiled floor in a single household without pets, where shoes are consistently taken off at the front door, is naturally subject to different wear and tear than in a family of 5 with a dog and cat, where people sometimes walk into the entrance with dirty rubber boots. In addition, every floor is treated differently and everyone has a different perception of how a floor is used. You have to decide for yourself and your family whether you want to paint a floor or whether you would rather look for another alternative. You can also protect heavily trafficked areas with a runner.
Do I have to repaint the tiles at some point?
It is possible that wear and tear will appear over time. If there are scratches or small chips, you can touch them up very easily. You sand the areas a little with the Sanding Pad and simply paint over them again with your varnish or chalk paint. A painted floor can be a good solution for a few years. And if you don't like the colour anymore, just paint over it with another of our fantastic colour shades.
Why can I scratch the varnish off with my fingernail?
If the paint has not yet hardened, it can be scraped off just like that. This is normal. Please do not do a scratch test with your fingernail. After 14 days the colour is already quite stable, but even then it hardens from day to day and can no longer be scratched off.
Can I also paint tile relief?
Yes! Most of the time, textured, old-fashioned tiles actually look really cool when painted.
Can I attach suction cups to the painted tiles?
As long as you don't put too much pressure on the hook on the suction cup, it shouldn't be a problem. Please note that the surface may be too rough for the suction cup to grip. It is important that you do not attach it until it has been fully cured for at least 14 days. Before that, the varnish cannot hold it.

Are you allowed to paint the tiles in the rented flat yourself?
Whether you are allowed to paint the tiles in the rented flat must always be clarified with the landlord. After all, it's his property and a coat of paint cannot be completely removed. It is always best to get permission in writing. That way you are on the safe side when you move out.
2. Questions about preparatory work, priming and sealing
When do I need to prime my tiles?
It all depends on what kind of tiles it is. We have answered the question depending on whether it is bathroom, kitchen or floor tiles.
When do I need to seal my tiles?
It all depends on what kind of tiles are to be sealed. Because depending on whether it's a backsplash in the kitchen, wall tiles in the shower or a floor, we have different recommendations. And all of our sealants tend to be matt, so you don't have to worry about extra shine.
What do I do with silicone joints?
Silicone cannot be painted over. You can renew silicone joints after a new coat of paint or prime them with MissPompadour To Seal Silicone and then paint over them. If the joints are already old and worn, e. g. in the shower, it is advisable to renew them. When using new silicone, make sure that you use an acid-free one. This will not attack the paint.
How can I mask off to paint tiles in two colours on freshly painted surfaces?
If you plan to paint with two colour shades, you should, if possible, only mask off after 14 days, when the first colour has dried completely, and start with the second colour. You can use our masking tape for this. First, stick the tape to your jeans or T-shirt so that fine fibres adhere and the tape does not stick so strongly. Then carefully stick it to the desired area. When you peel it off, don't pull it towards you, but carefully to the side so that there is as little tension as possible and your paint is not damaged. It is important to always remove the tape while the paint is still wet so that the paint film does not tear. It's best to reapply the tape for each coat.
Which bathroom tiles can I paint?
It's especially easy to paint wall tiles. Our varnishes are also great in the shower area, as they are water-based but not water-soluble once they have hardened. Bathroom floor tiles can also be painted. However, you must remember that varnishes and chalk paints do not tolerate standing water. Damp towels on the floor or bath mats could therefore soften the varnish under certain circumstances. It is therefore important to avoid standing water on the floor. We would not paint the floor tiles in floor-level showers.
Do I need a primer for my bathroom tiles?
If you want to paint very smooth wall tiles, you can use MissPompadour To Bond to make the paint adhere better. If you are painting your bathroom floor, you should always prime with To Bond, as it is more exposed. A thin coat is enough.
Should I seal my bathroom tiles?
Our stable varnishes are waterproof and robust even without a sealer. Walls that get wet again and again, e. g. in the shower or behind the bathtub, can be additionally protected from moisture with Painting the Past Sealer
You should seal a bathroom floor with Painting the Past Topcoat to make it more robust. The durability of a painted tile floor depends greatly on the type of tile, the finish and, above all, the individual wear and tear.
How long can I not shower after I have painted my bathroom tiles?
You should wait at least a whole day, if possible longer, before showering again. During the first two weeks after painting, it is advisable not to take extensive wellness showers. In the first few days, also make sure that no very hard water jet comes into contact with freshly painted tiles and that the shower head does not hit the wall, and refrain from intensive cleaning.
4. Painting Kitchen Tiles
Painting tiles in the kitchen?
Your backsplash in the kitchen doesn't match the freshly painted kitchen? No problem! Even by painting your kitchen tiles, you can create a completely new look with our water-based varnishesn and chalk paints.
Do I need a primer for my tiled backsplash?
If the tiles are very smooth, you can use the primer MissPompadour To Bond for better adhesion. A thin layer is enough. It is best to leave it to dry overnight.
Should I seal the painted backsplash?
You can protect the tiles behind the cooker and sink from steam and grease splashes with Painting the Past Sealer. This makes them super easy to clean.
Kann ich alle Bodenfliesen streichen?
Auch, wenn wir Dich immer gerne zu deinen Projekten ermutigen, haben leider auch unsere qualitativen Lacke ihre Grenzen.
Den Anstrich sehr stark belasteter Bodenfliesen und vor allem solcher, auf denen Wasser stehen bleibt, können wir nicht empfehlen. Dazu gehören unter anderem Duschböden, Ablageflächen in Dusche und Wanne, so wie auch ein Eingangsbereich, auf dem eine feuchte Fußmatte liegen bleibt.
Do I need a primer for my floor tiles?
Since a floor is always subject to a lot of stress, it makes sense to prime the tiles with a primer such as MissPompadour To Bond. This simply allows the paint to adhere better. A thin coat is all that is needed.
Should I seal my lacquered floor tiles?
Here, too, it is better to be safe than sorry because of heavy loads. With MissPompadour To Seal you protect your paint from mechanical stress.
How long do I have to let paint or varnish dry after varnishing the floor tiles?
You should give your painted floor tiles at least four hours before carefully walking on them with socks. Your painted tiles will be cured after a drying time of about 14 days, and even after that the varnish will become more stable day by day. If you have a lot of foot traffic, you can lay out a cotton cloth during the day for the first two weeks. However, please remove it overnight so that the paint can cure properly.
Do I have to take special care of a painted floor?
Since a painted surface is always subject to a certain amount of wear and tear and a floor, for example, is subject to a lot of stress, you should treat it with some care. Always glue felt gliders under furniture and place a runner, for example, on paths with a lot of foot traffic. In our experience, painting floors is quite suitable for everyday use if you take a little care.
6. Painting balcony and patio tiles
Can I paint my balcony and patio tiles?
Floor tiles on balconies and terraces can certainly be painted. However, we find it difficult to make predictions about durability in this area. Because here, too, the following applies: if the areas are exposed to moisture or humidity, the varnish can soften. In addition, our brands do not offer a suitable sealant for these areas that could provide additional protection for the varnish. And the impact of footwear outdoors may be greater than indoors. So you should carefully consider whether to varnish your outdoor floor tiles.
However, if the tiles are on the wall, they can be painted without any problems. The only important thing is to use a varnish that can be applied outdoors. We recommend our MissPompadour Strong & Eggshell Varnish. It is particularly robust and weather-resistant.
Video tutorial: Painting instead of re-tiling
You still need these accessories for your tiles
Cleaning bucket, sponge and cloth: The surfaces to be painted should be free of dust and grease. Lime deposits should be removed as best as possible.
Screwdriver for dismantling: It is best to remove all towel rails, hooks and furniture. This is the cleanest way to work and saves you a lot of tedious masking.
Masking tape for masking: It is best to always remove the masking tape when the paint is not yet dry, so you get a clean edge. Please also read the instructions in the FAQs.
plastic drop cloth or newspaper: This protects the areas that should not get any paint.
Brush, varnish roller and paint tray: It is best to pour the varnish into the paint tray. Paint corners and edges as well as all joints with the brush, the surfaces with the varnish roller.
Sandpaper or sanding pad: To be on the safe side, it's a good idea to have something to sand with. This way you can easily touch up small blemishes such as noses on the joints and continue working.
Finished reading yet?
Here you will find more exciting topics
Your new tile colour
A selection of our most popular colours
How to make your project a success
The perfect accessories for painting tiles