You Want to Paint Your Kitchen? Here's How!
12 min reading time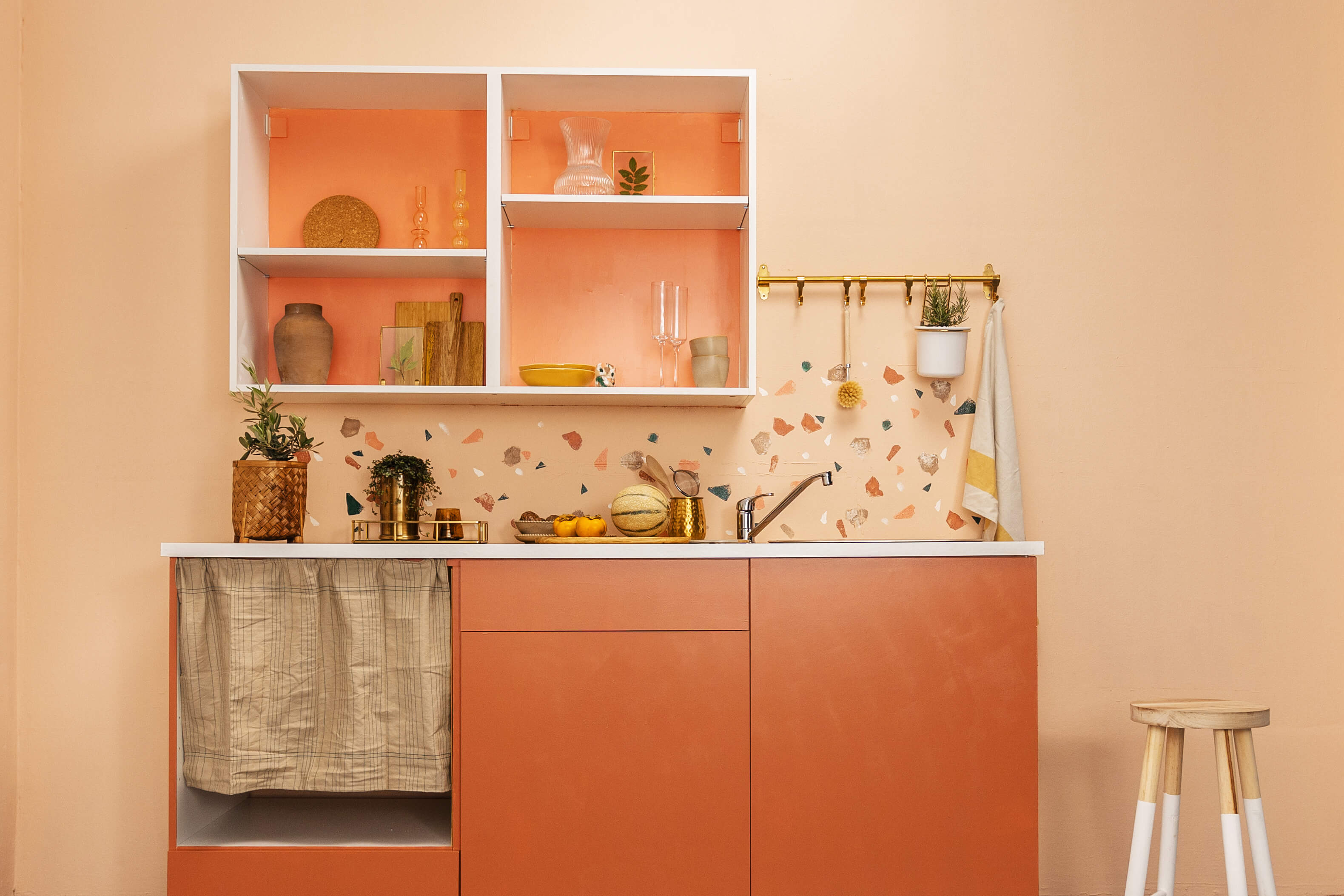 You've had your kitchen for many years. And it is technically in perfect order, all drawers run silently. Every item has its place and you can find everything you need at the flick of a wrist, even when you're sleeping or at night in the dark. But visually it leaves a lot to be desired? Then just paint it!
Painting kitchen furniture: Before/After sample photos from our customers
Why should you paint your kitchen? Because your fully functional kitchen deserves to continue to serve you faithfully AND look great doing it. Take a look at what our customers have done with their old kitchens!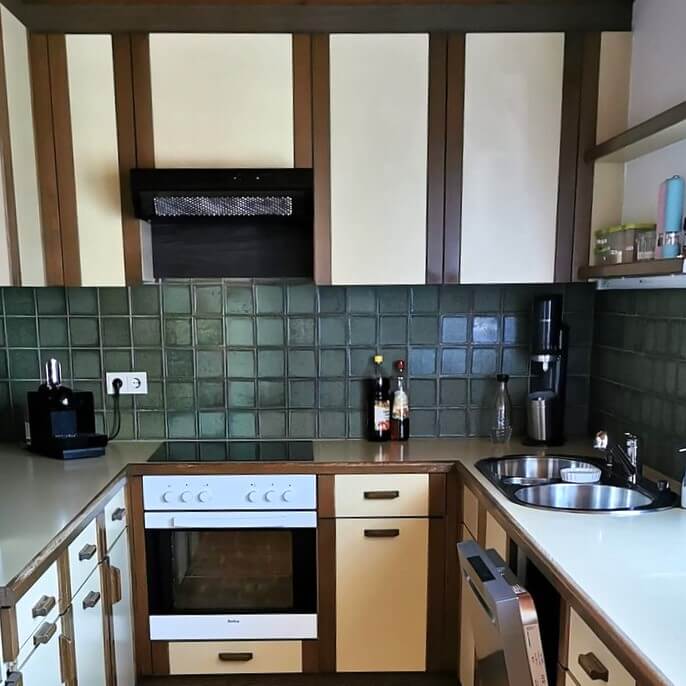 Before
- The 90s could not be denied here. Kitchen in top condition, but no longer modern.
MissPompadour White with Character - Eggshell Varnish 1L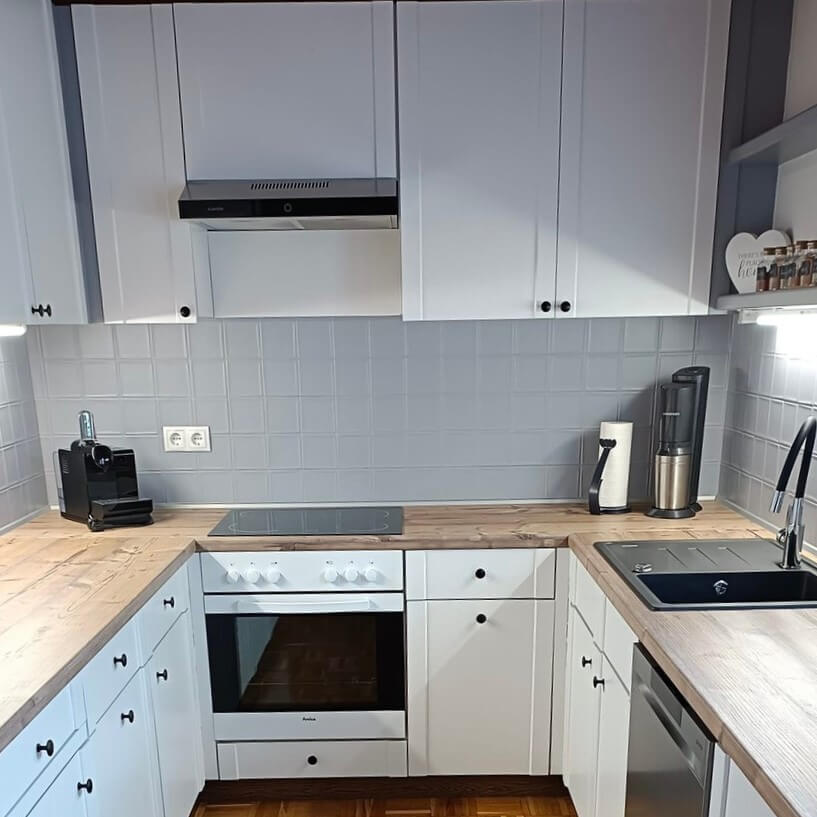 After
- With MissPompadour Green with Sage, the kitchen has shaken off its dusty image.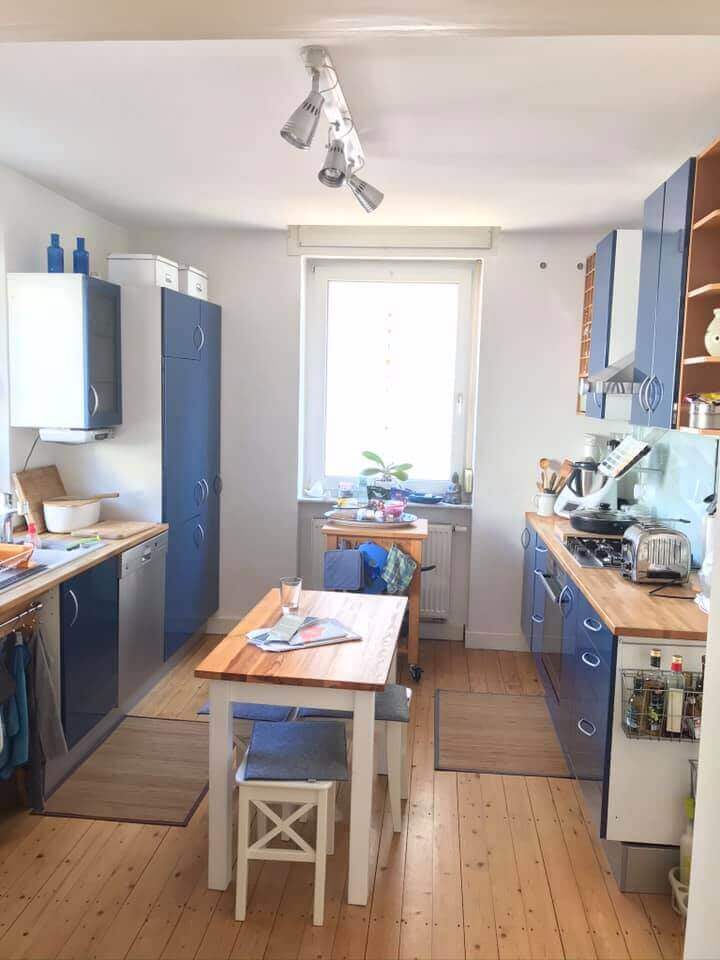 Before
- Our customer found the maritime style too boring in the long run.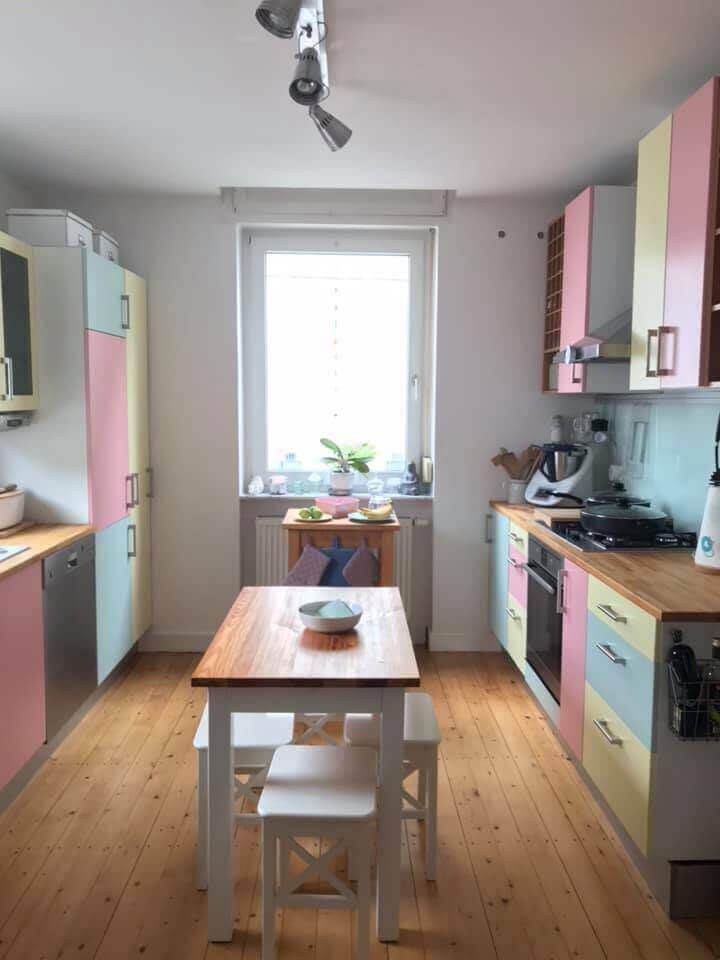 After
- With just three colours, she has conjured up a unique and vibrant kitchen!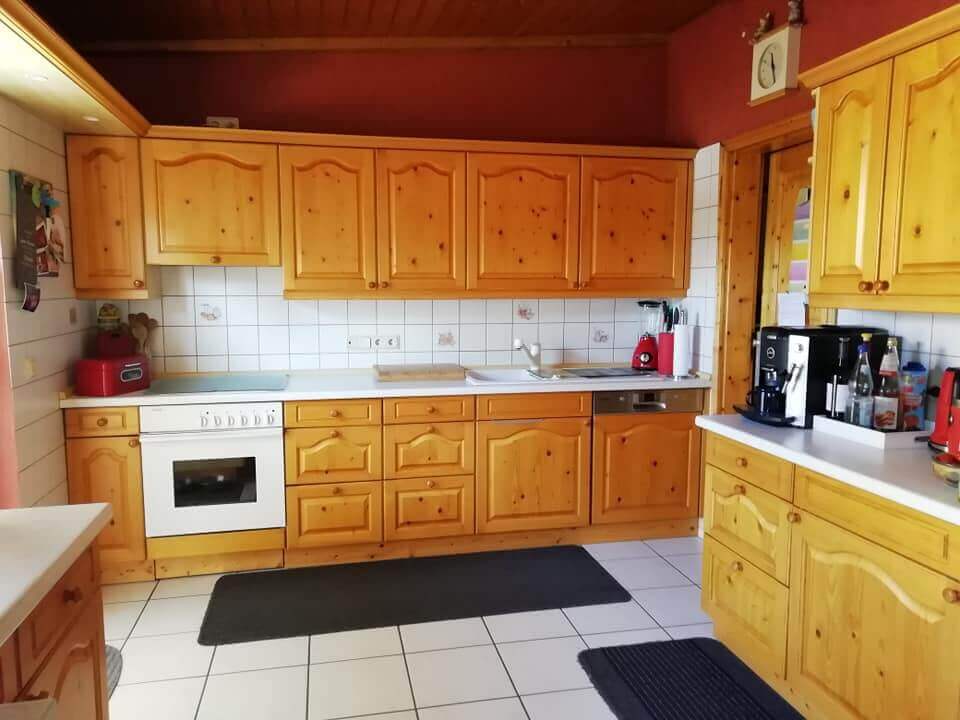 Before
- Here it was simply far too dark and oppressive for our customer.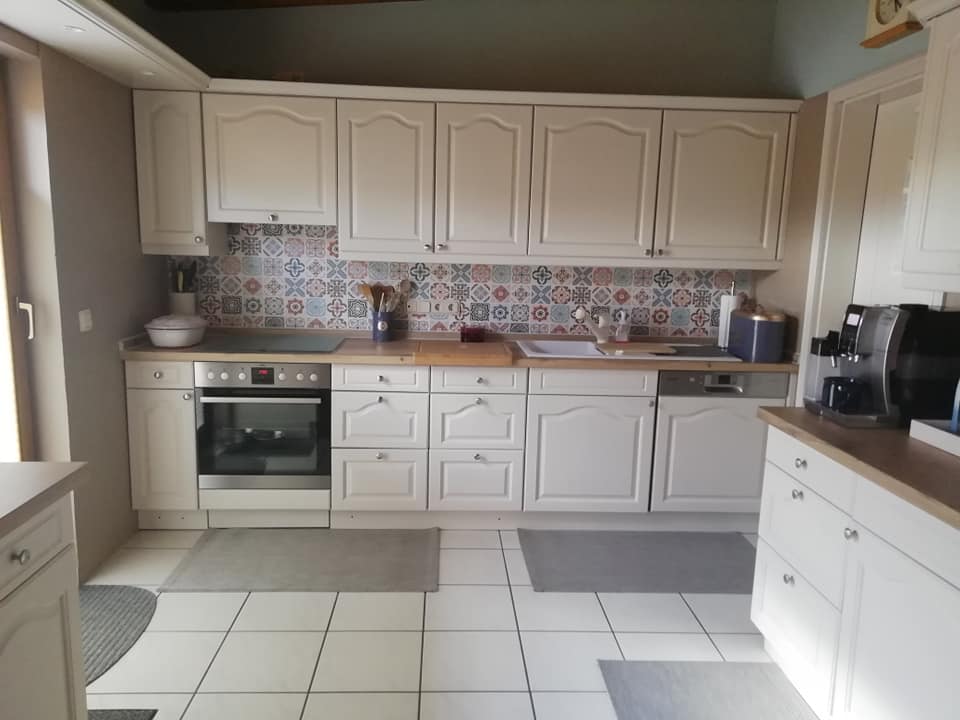 After
- A new coat of paint made the kitchen bright and friendly. There was also a new worktop.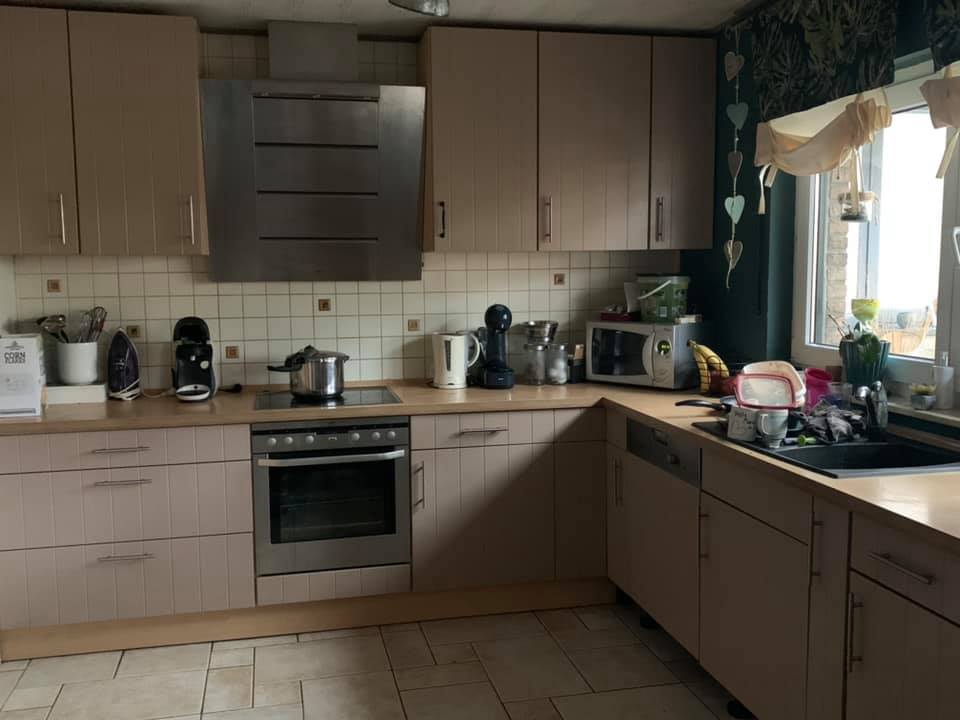 Before
- This kitchen was too massive and drab before its big makeover.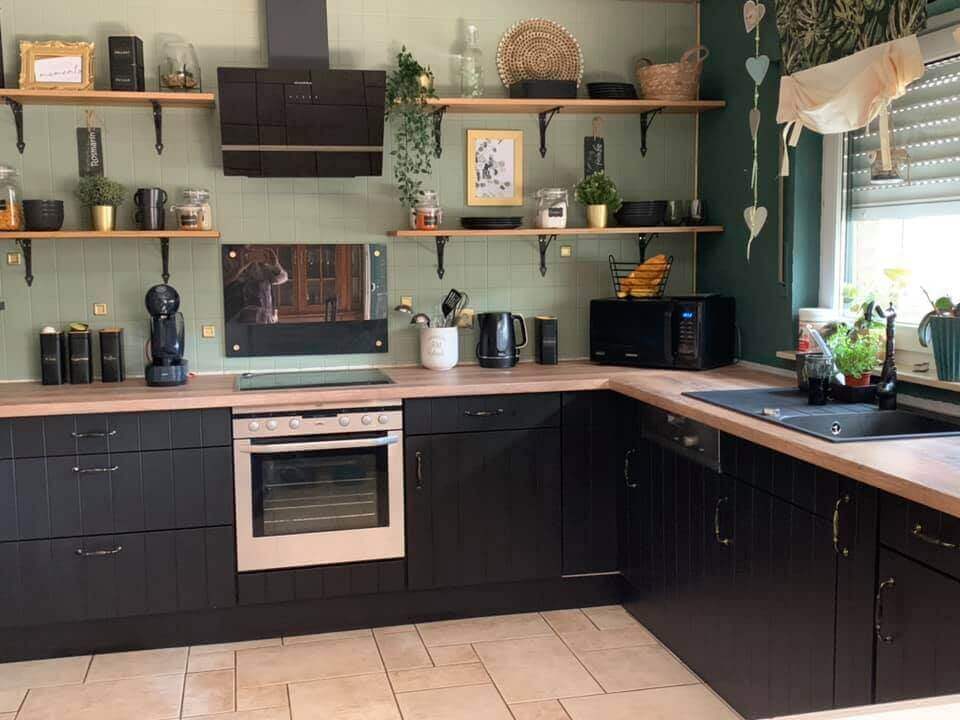 After
- A few wall units less - and you have a completely new kitchen.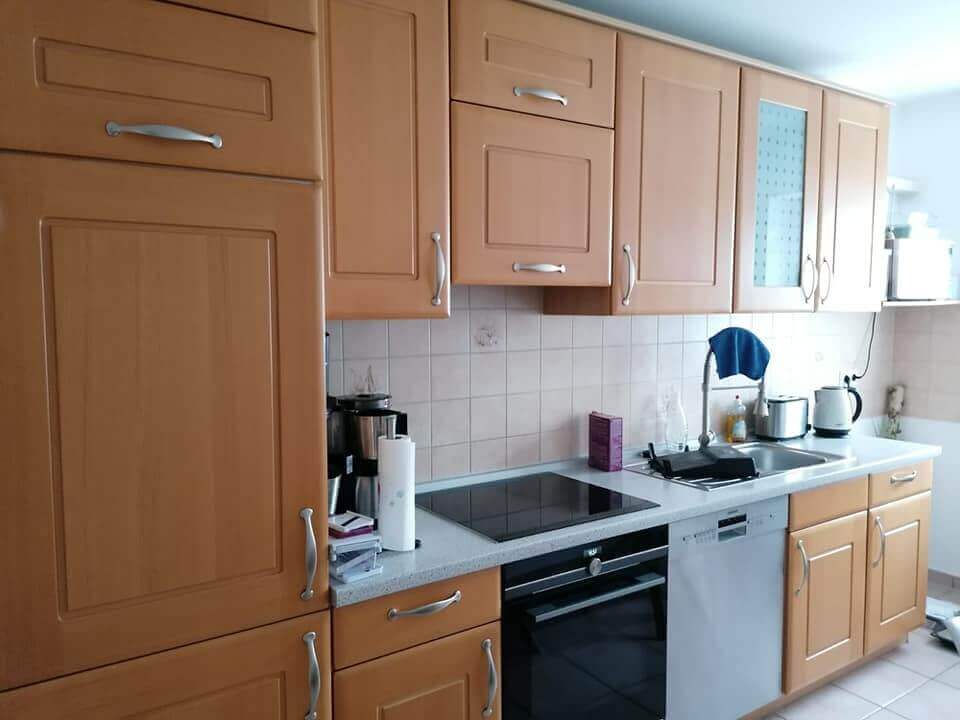 Before
- Our customer simply couldn't stand this beech kitchen any more and was longing for something new.
MissPompadour White with Character - Eggshell Varnish 1L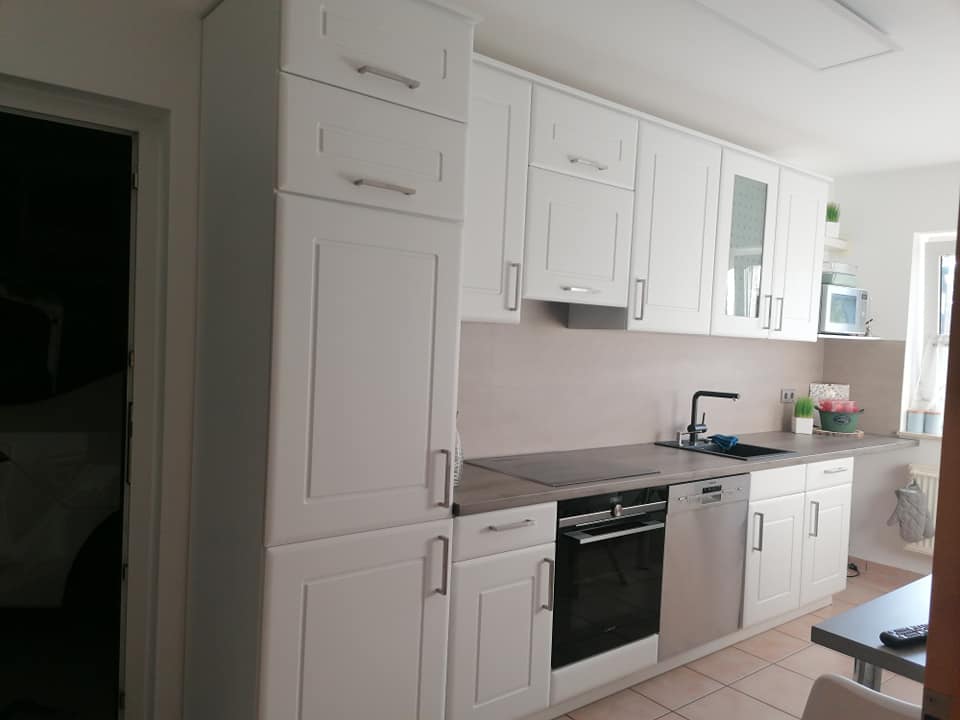 After
- MissPompadour White with Character and a new worktop have absolutely upgraded this kitchen.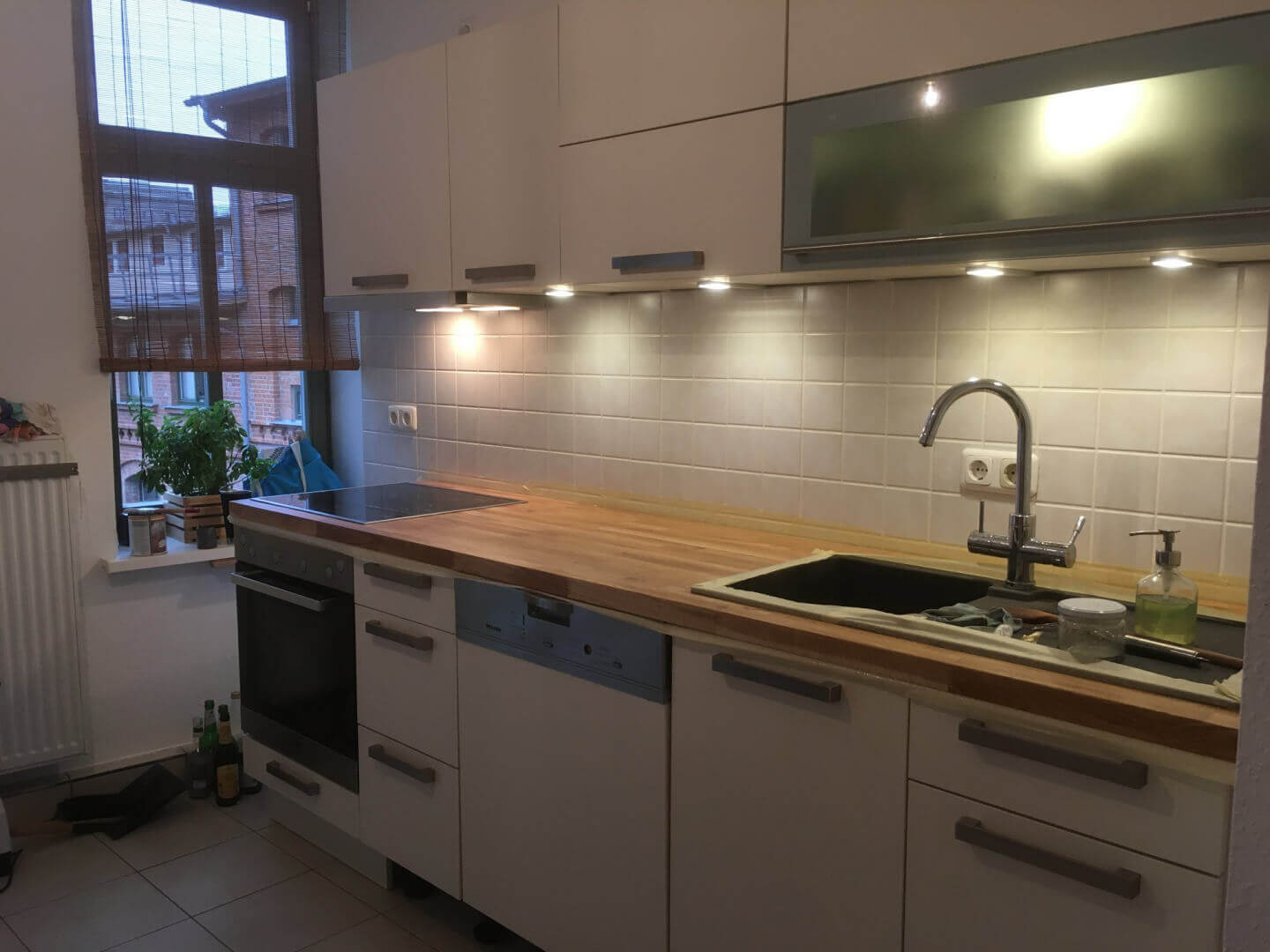 Before
- Taken over from the previous tenant and somehow still good - but not at all individual.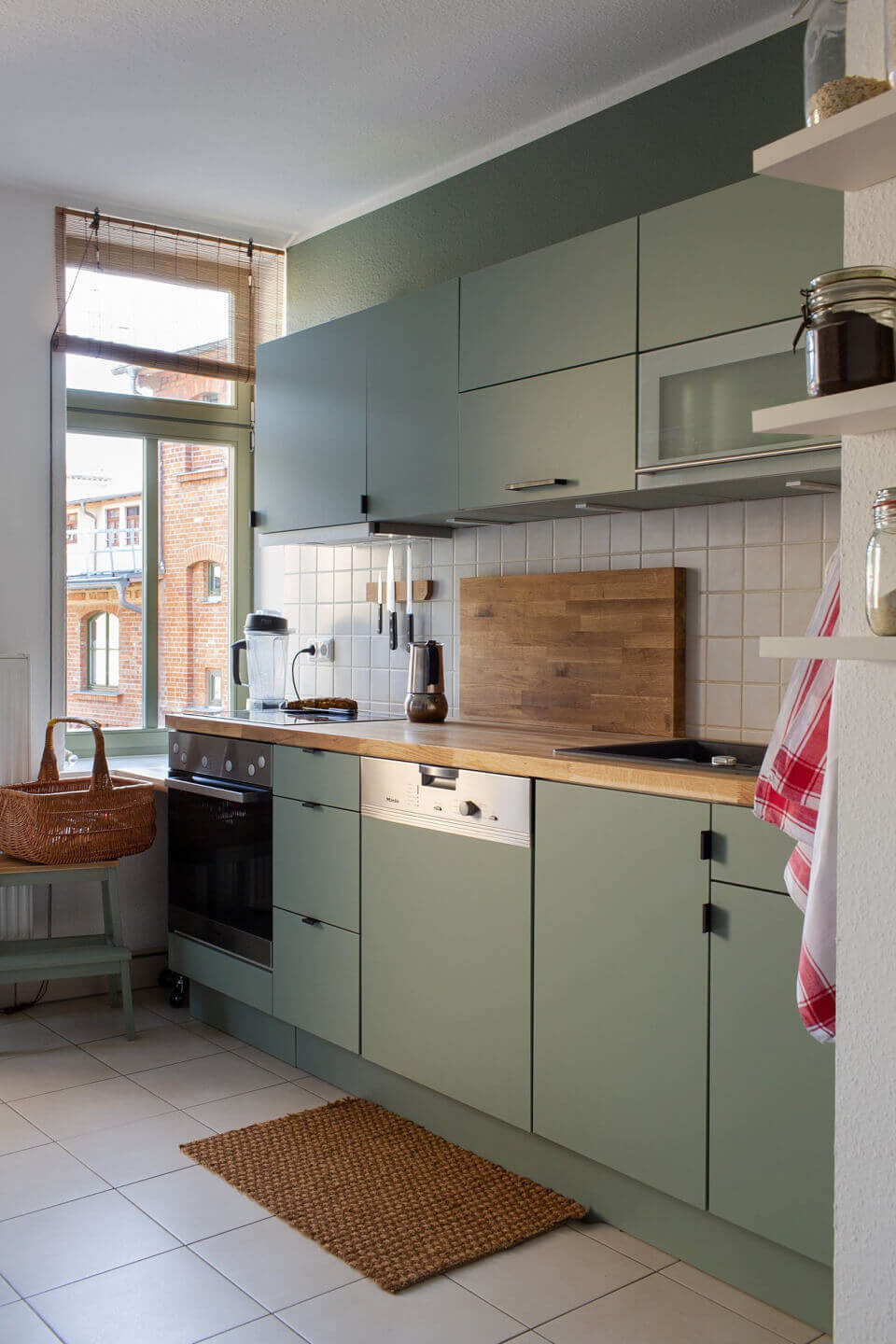 After
- New handles and a new colour give this kitchen its own individual look.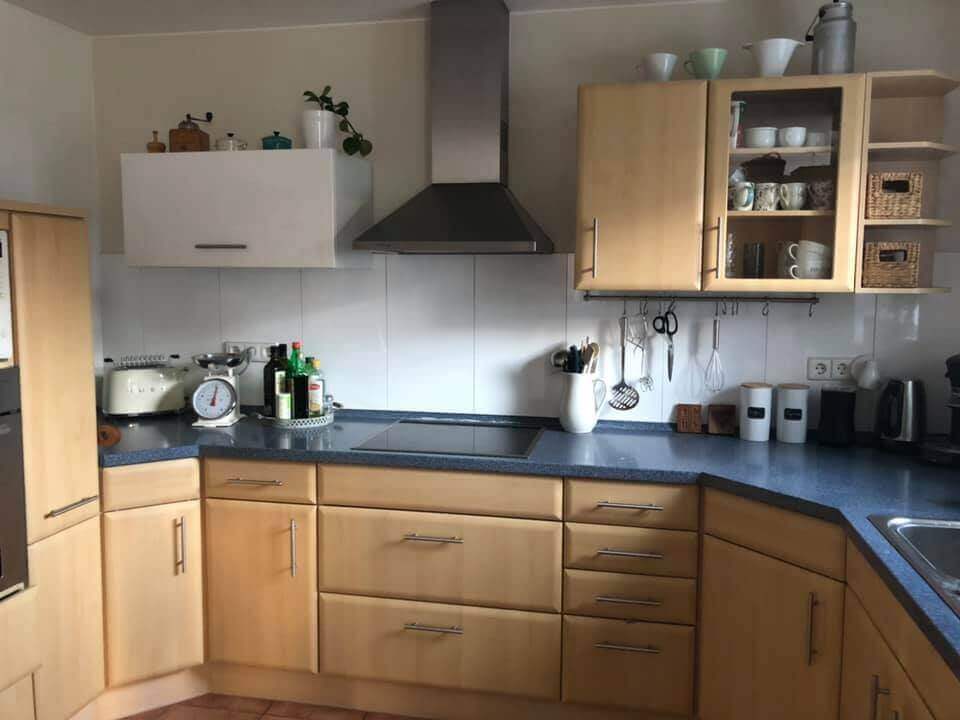 Before
- Who doesn't know the classic book kitchen? Nowadays, unfortunately, it's simply no longer fashionable.
MissPompadour White with Melting - Eggshell Varnish 1L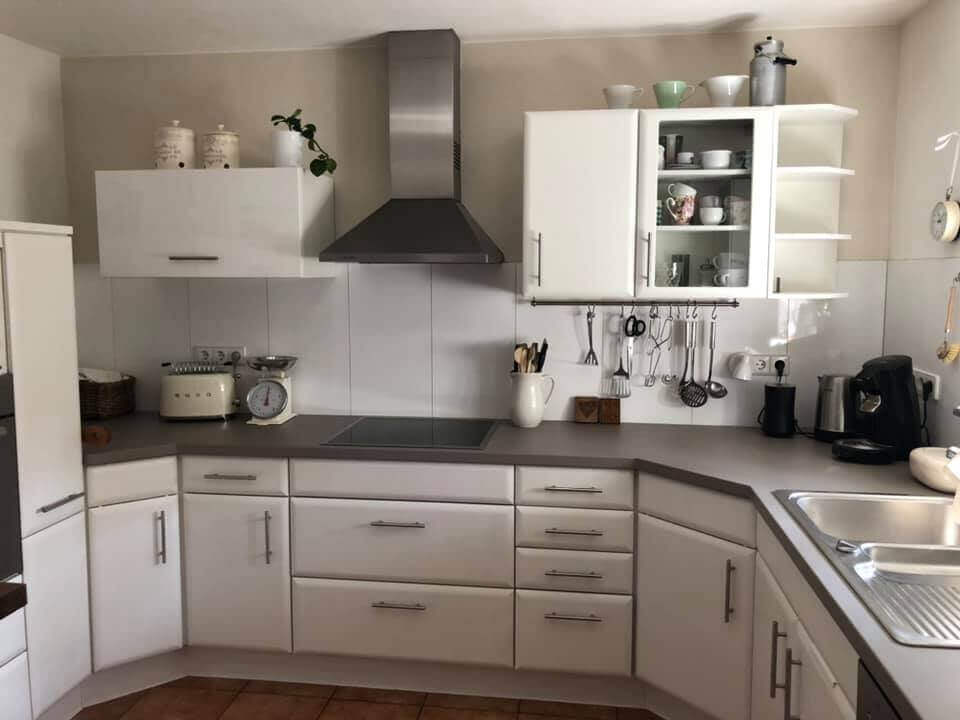 After
- White always goes! MissPompadour White with Melting, for example, gives this kitchen a whole new charm.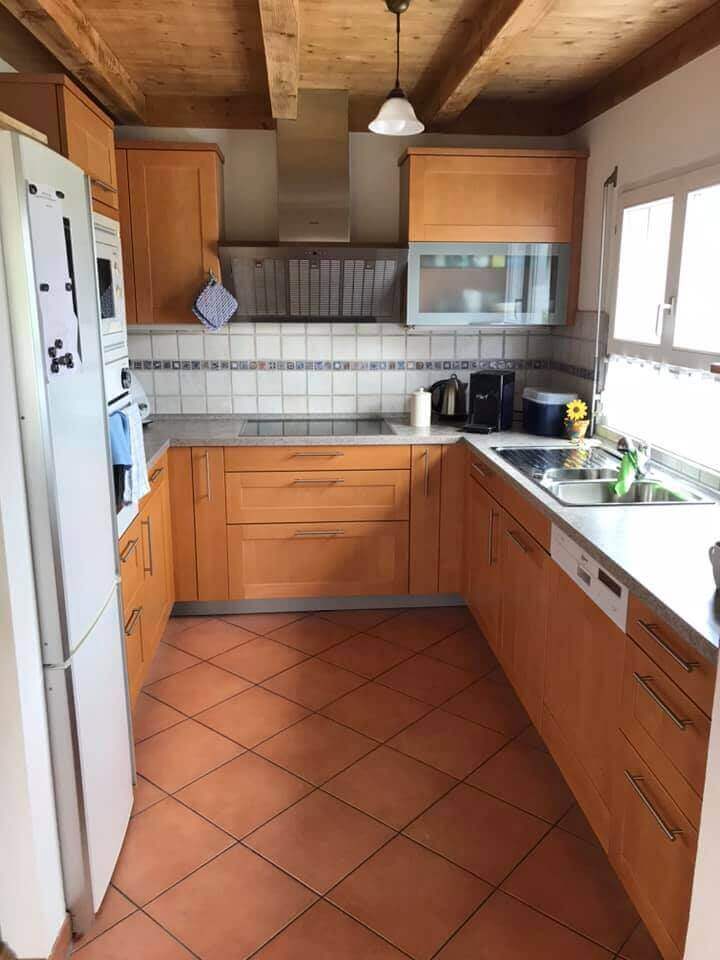 Before
- Too much wood here made the small kitchen oppressive and cramped.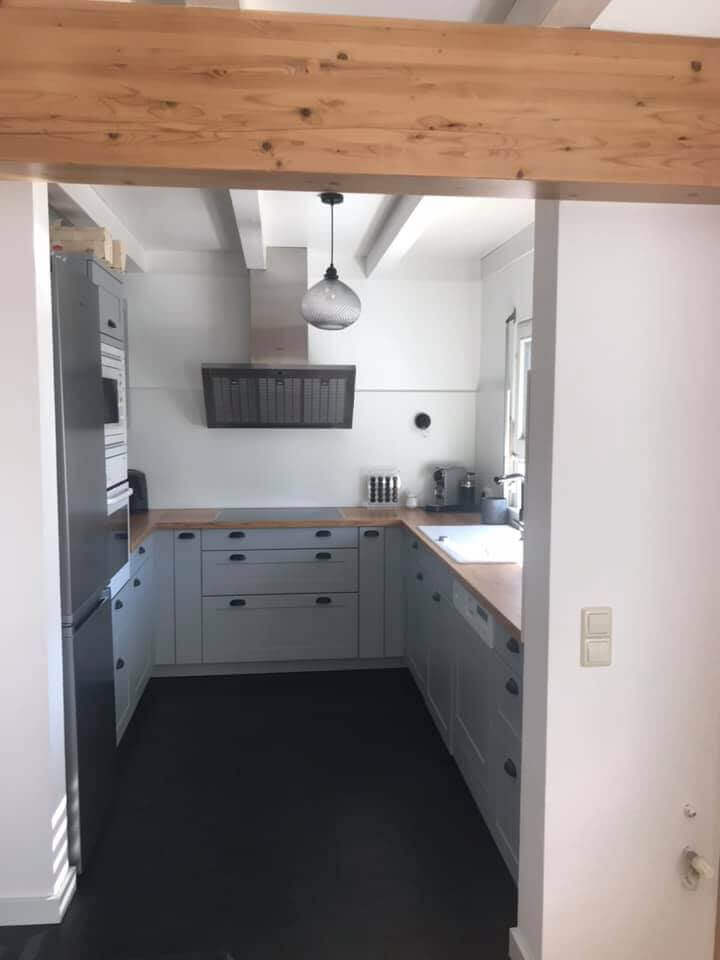 After
- Fewer wall units and new handles. Plus a painted ceiling - like new!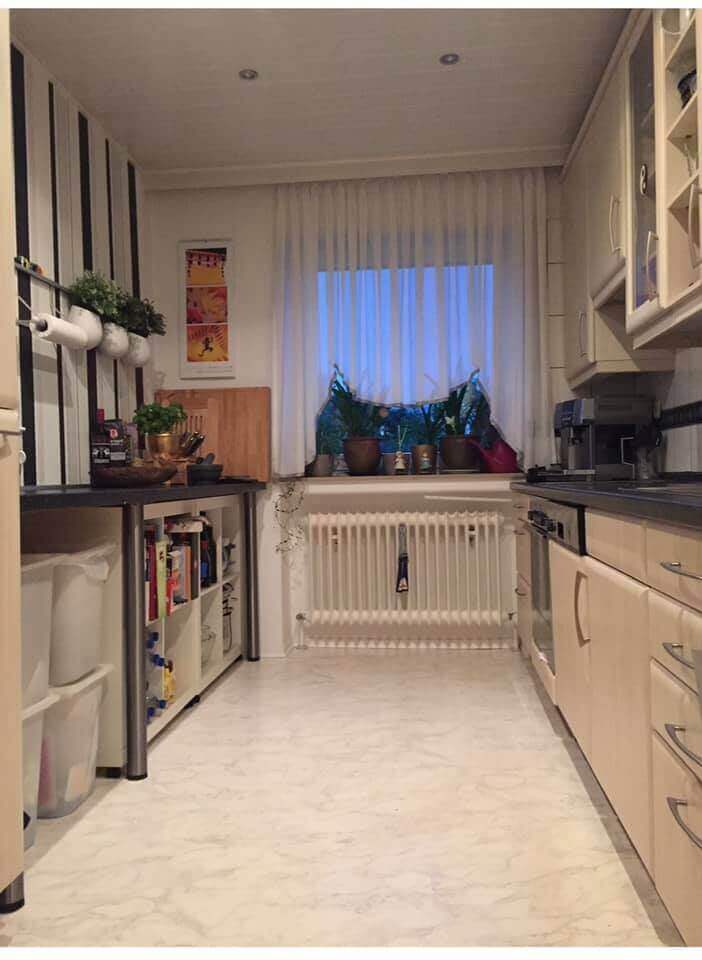 Before
- Nothing here fitted into the living concept any more, so our customer decided on a complete renovation.
MissPompadour Green with Sage - Eggshell Varnish 1L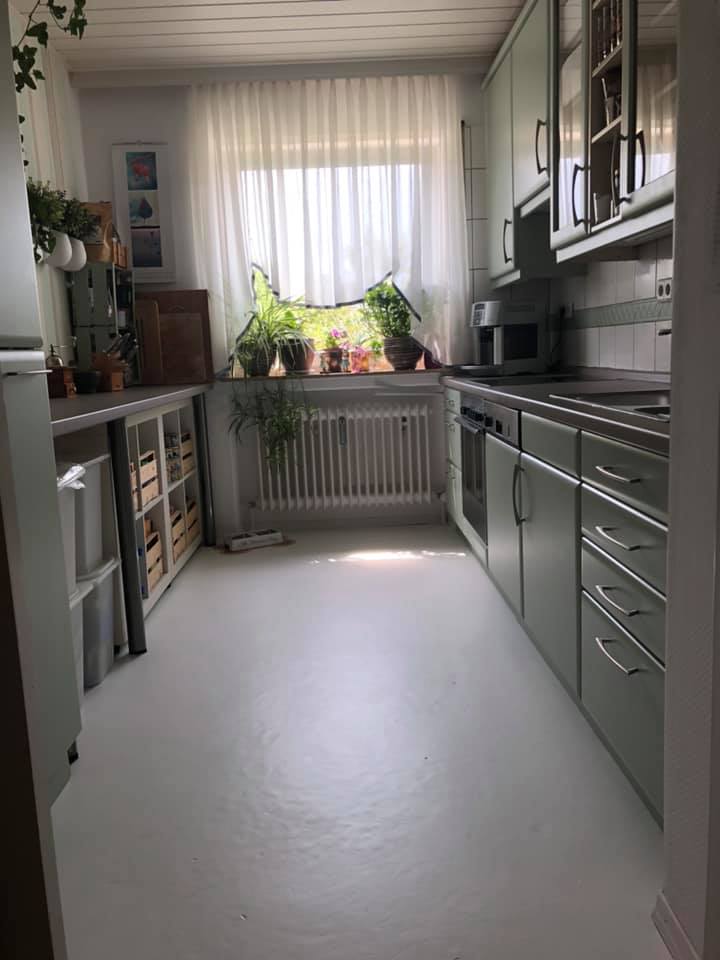 After
- Painting the kitchen furniture with MissPompadour Green with Sage was not enough. The floor also got a new colour.
Step-by-step guide: How do I paint my kitchen?
Step 1: Choose a varnish
Step 2: Prepare the kitchen
Simply paint over the sturdy base of your painted kitchen if it's still OK. The beauty is that you can paint your kitchen
without sanding
. If your kitchen has individual scratches in the varnish, you can sand them down a little to create an even surface. In the case of
laminated kitchens
, you can simply start as long as the film does not come off. However, if the foil does come off, see if you can remove it completely. You can easily
conceal
scratches or holes with
To Fill - MissPompadour Filler
. Handles can be removed. Doors can be painted hanging or unhinged.
Step 3: Clean the kitchen
Preparatory
cleaning is very important, especially in a kitchen. To ensure that the surfaces are completely free of dust and grease, it is best to clean them with To Clean
- Miss
Pompadour Cleaner. For particularly
stubborn greasy dirt
, you can also clean with
oven cleaner
or similar. It is important that you rinse the cleaner off well with clear water.
Step 4: Prime the surfaces
For
real wood
, use To Block
-
MissPompadour Stainblock to ensure that your kitchen cabinets do not bleed. For
plastic surfaces
or
high gloss lacquer
, you can apply a thin layer of
To Bond - MissPompadour Primer to
ensure better adhesion of the paint. After priming, wait a few hours or overnight. If there are silicone joints to be painted over, you can prime them with MissPompadour -
To Seal Silicone
and then simply paint them as well.
Step 5: Painting the kitchen
Now you can apply the varnish coats. As many as you like until you are happy with the result. Often two coats are enough. Let each coat dry thoroughly. Usually 4 - 5 hours are enough, but depending on the environmental conditions it can take longer. The surfaces will become more stable from day to day and will have reached a very good stability after 10 - 14 days.
Step 6: Sealing
Pro Tip:
If you have enough space, you can dismantle your fronts for painting. You can also proceed in stages or simply paint them in place.
How do I choose the right colour for the kitchen?
What colour suits my kitchen?
If your kitchen is rather small, a warm white, such as
White with Melting
, can fit well. The beauty is that you can combine it with almost any wall paint. For a sophisticated look, paint the walls
Brown with Nougat
.
Green is also appetising and fresh - for a more subtle style, use Grey with Green on the fronts. If you like it more powerful and intense,
Green with Apple
is a good choice. Then add
White with Sun
to the kitchen wall and your kitchen becomes an oasis for the whole family.
With a
dark kitchen
, you're right on trend at the moment. Admittedly,
Black with Velvet
takes a bit of courage, but the wow effect is guaranteed! You can add a creamy white, such as
White with Vanilla
, or another pastel colour shade to the wall.
But our chalk paints also look great on your kitchen fronts with their powdery, velvety finish. Choose between the classic colour shades from Painting The Past and the diverse colour scheme from Mylands. The chalk paints will definitely make an impression on your kitchen walls too.
If you can't quite decide on a colour or are unsure what suits your style best, simply contact our free
colour consultancy
!
Frequently asked questions about painting the kitchen
1. Can I just repaint my kitchen?
The short answer is: Yes! You can. We have explained below what you need to look out for with different surfaces.
Can you paint a fitted kitchen?
Yes, you can paint a fitted kitchen. In most cases, the quality is still perfect, it's just that they don't look right anymore. And because our paints are so easy to use, you don't necessarily have to dismantle the kitchen to paint it.
Can you paint a plastic kitchen?
If you have a kitchen made of plastic veneer or laminated fronts, you can prime with MissPompadour To Bond. This will give your paint a good grip and at the same time ensure that the varnish adheres well. By the way, you can paint To Bond with the same paint roller as the subsequent varnish or chalk paint!
Can you paint a wooden kitchen white?
Wooden kitchen fronts can also be painted very easily. The classic rustic oak kitchen should be primed with MissPompadour To Block. Kitchen cabinets made of softwoods and tropical woods also need a primer. Otherwise, the wood may discolour your varnish if the original sealant is no longer in top condition. If you paint your kitchen in beech, you don't need a primer. You can find out more about painting wooden furniture in our magazine on painting wooden furniture.
Can you paint any kitchen front?
We can't really think of any kitchen surface that can't be painted. Plastic, melamine, foils, high gloss, wood decor, wood veneer, solid wood, metal decor... #justpaint!
It might be difficult with modern materials with a lotus effect, you'll have to try it out.
Can I paint kitchen cabinets without sanding?
Yes, as a rule you don't have to sand the cabinets before painting them. However, if the kitchen has already been badly damaged and an old coat is flaking off in places, you should at least sand the relevant areas smooth. You can use a sanding pad or a finer sandpaper.
Can I also paint my tile backsplash?
You can also paint the backsplash directly. Conveniently, the same varnish qualities are suitable for this as for the kitchen fronts. The varnishes and chalk paints are particularly suitable: MissPompadour Eggshell Varnish, Mylands Wood & Metal varnish and Painting the Past varnish Eggshell. For smooth tiles, use To Bond & Block to create a good base. Behind the cooker or sink, you can apply an additional protective layer with Painting the Past Sealer. You can find detailed information on how to beautify your backsplash in our article Painting Tiles.
How can I paint the adjacent walls to protect them from dirt?
If you want to change the wall in addition to your kitchen furniture, you can use the wall paints from MissPompadour, for example. Choose The Valuable Wall Paint for a matt finish in low-traffic areas. The Functional Wall Paint is particularly suitable for areas exposed to dirt, such as behind the dustbin, because it is perfectly washable. Despite their matt finish, they offer a smooth surface. The chalk paints from Painting the Past are also wonderful for the kitchen, as they offer an incredibly smooth surface thanks to their chalk content. We also recommend the Painting the Past Sealer here, so that your walls can be easily freed from stubborn stains.
Can I also paint the kitchen worktop?
Basically, you can also paint a kitchen worktop. Plastic and stone worktops are best primed with MissPompadour To Bond. Then you can paint with the varnish in the colour of your choice. MissPompadour Eggshell Varnish and the Eggshell-chalk varnishes from Mylands and Painting the Past are particularly suitable. A paint roller is the easiest way to achieve a beautiful result. You can either apply one more coat or finish with Painting the Past Topcoat.
Please note that a painted worktop is never as robust as an unpainted one. A worktop is often subject to a lot of wear and tear. Moisture around the sink should always be absorbed immediately, and if you are cutting something, a chopping board is indispensable. Light colours can sometimes discolour, and very dark colours are susceptible to limescale stains or stains from cleaning agents. Whether you paint your worktop is something you should always consider carefully and certainly depends to no small extent on how passionately you use your kitchen.
Professionaltip: Paint only the front edge of your worktop! This is a visual change that is not at the expense of stability. This is often enough to make the old worktop look new and fresh.
3. Painting the kitchen: What do I need to consider?
Do the colours actually smell strong?
Our paints are very low in odour and after a few days you will no longer smell anything. Good air exchange during painting and drying is always useful.
Paint or varnish kitchen fronts?
If the fronts of your kitchen cabinets are smooth and without trim, you can easily paint them with the roller. Simply use the varnish roller. If, on the other hand, your kitchen fronts have many ornaments, we recommend using the fine MissPompadour brush. Thanks to its bevelled end, you can reach all corners without having to mask them and can also paint narrow areas without any problems.
Of course, you can also spray your kitchen fronts with our colours. Please follow the instructions on dilution for the selected colour.
Do I have to seal or can I do without?
The sealer is an additional transparent protective layer over the colour varnish. Most of our customers paint with the stable varnish qualities without sealant with super resilience. If things are very turbulent in your kitchen, then seal again with To Seal.
Brush or roller - Which painting tool do I need?
All corners and edges, as well as mouldings or recesses are easily painted with our fine MissPompadour brush in 25 or 50 mm. You can then paint surfaces with the varnish roller for water-based varnishes. Make sure to work as wet in wet as possible. For example, pre-paint the trims of a front with the brush and then roll the corresponding surfaces. This way you will get an even result.
How do I clean my painted kitchen?
To clean painted furniture, you can use a normal kitchen cleaner. Please check whether it is suitable for painted surfaces; this is indicated on the label. Do not use chlorine-based cleaners or alcohol-based disinfectants. It is also better not to leave strong acids on for a long time. By the way, our To Clean is also a great cleaner for after painting. Please avoid microfibre cloths and use normal cotton cloths instead. Microfibre can finely abrade the surface and damage the paint layer over time.
Video Tutorial: Big Kitchen Makeover | DIY | repaint old kitchen
Accessories and recommended products to paint your kitchen
You will also need the following things to paint your kitchen like a real pro. Of course, you can find all the painting tools in our shop:
Screwdriver to remove the handles. This saves you having to mask them. Put the finishing touches on your kitchen with new handles.
Cleaning bucket and cloth: Thorough cleaning of all surfaces to be painted is essential for a perfect result.
Maskingtape: It is best to remove the masking tape when the paint is not yet dry, so you get a clean edge. Please also read the instructions in the FAQs.
plastic drop cloth or newspaper: Use this to protect the areas that should not get any paint.
Brush, varnish roller and paint tray: It is best to pour the varnish or chalk paint into the paint tray. Paint corners and edges with the brush and surfaces with the varnish roller.
Sandpaper or Sanding Pad: To be on the safe side, it is a good idea to have something to sand with. This way you can easily touch up small blemishes like noses and continue working.
Finished reading yet?
Here you will find more exciting topics
Your new kitchen colour
A selection of the most popular colours Your tools and accessories
How to make your kitchen perfect