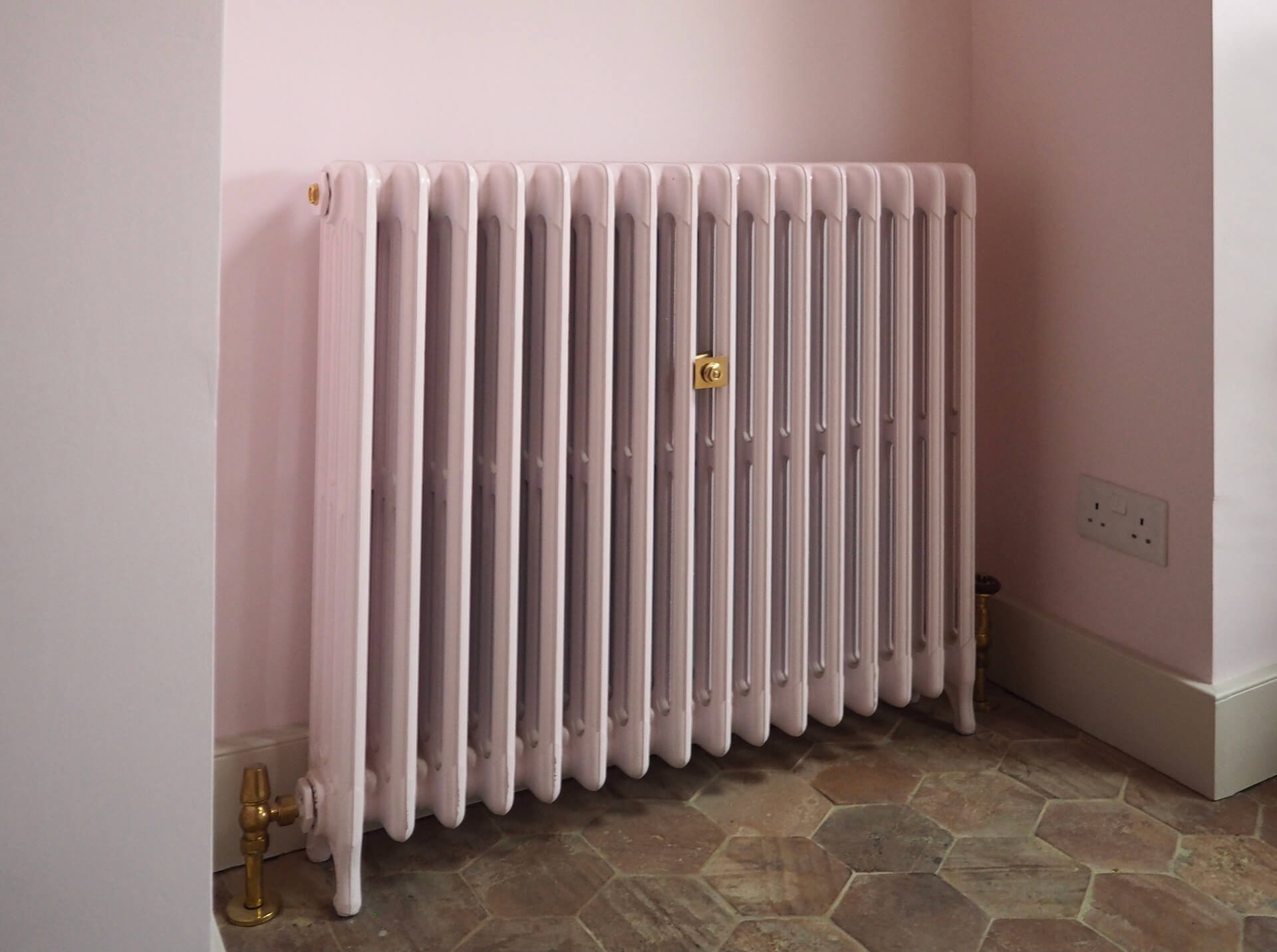 Colours and varnishes for metal: what you need to know
Whether you just want to paint the hinges on your cupboard, the hardware on your door or whether your whole fridge could do with a new colour shade - with our metal paints you can succeed in any project.
Our versatile varnish colours for metal can be used wonderfully in your home.
They are silk-matt, particularly stable and low-odour. The great advantage of our varnishes is that you can also use them on other surfaces. For example, if you paint a door, you can also paint the metal fittings in the same coat without having to use another colour. For the hard-to-reach areas and ornaments, pre-paint with a brush and for the surfaces, simply use a varnish roller.
Which metals can I paint or varnish?
You can easily paint the following metals with our varnishes:

Iron

Steel
Copper
Aluminium
Stainless steel
However, the paint is not suitable for metal finishes such as chrome or anodising, as it cannot achieve durability there. If you want to paint freshly galvanised sheetmetal, you should wait a few weeks.
If, for example, youhavea plastic attachment on your handrail, why not paint it too?
When to use metal paint?
There are no limits to your imagination. The garage door needs a new coat of paint? With one litre of varnish you can do two coats on a normal garage door. The letterbox too? The toaster doesn't match the kitchen cupboard? The fridge doesn't match the kitchen unit anyway? The radiator is yellowed? The metal paint on the staircase banister is peeling? The dark green garden fence has never been to your taste? The list could go on and on. Take a look around your home to see which metal objects have always bothered you and find the right colour here!
If the surface is intact and does not rust, you can choose from all the beautiful colour shades. If you see the ravages of time, simply prepare the surface accordingly. Painting metal is just as easy as painting furniture or walls.

Which MissPompadour Paints are suitable for which metals?
For a silk-matt, robust and easy-care finish, choose your desired shade from these qualities:

MissPompadour Eggshell Varnish
Mylands Wood & Metal Eggshell
Painting the Past varnish Eggshell
For a matt look, use:

MissPompadour Matt Varnish
Mylands Wood & Metal Matt
Painting the Past varnish Matt
If you like a glossy finish, you're right with:

Mylands Wood & Metal Gloss
The right paint for outdoors
For outdoor use you can choose MissPompadour Eggshell Varnish, the Mylands Wood & Metal varnishes and Painting the Past outdoor paint. You do not need an additional protective varnish.
If you have painted your iron garden furniture, make sure it is protected from the rain. Even though our metal paints tolerate all kinds of weather, they do not like standing water. This can dissolve the paint.
However, it is sufficient to simply tilt your painted table, for example, so that the water runs off.
If you paint outside, the temperature should not drop below 12°C, even at night. While the varnish is curing, it tolerates temperatures between about 12°C and 25°C best. If it gets colder or warmer, it will not dry properly or may become brittle. Once your paint has cured, it is ready for all seasons.
As with all painting projects, you first need to prepare the surface. The good news is that you only need sandpaper for chipped areas or dents. You do not need to sand intact surfaces. Then clean thoroughly. If your metal is already coated with a metal protection lacquer, you can simply paint over it; if not, we recommend priming with To Block. You can find detailed instructions on painting metal and what you should bear in mind in our blog article Painting
Metal
.
Spraying metal objects with the spray gun
With the Wagner spray systems you can also spray the paints and varnishes. A garden fence, for example, shines in new splendour very quickly. For this purpose, the paints are diluted with approx. 10% water. Have a look at our video! This type of coating is particularly suitable for very fine ornaments.
Can the metallic paint be used as rust protection?
Our water-based paints themselves do not provide rust protection. So if you paint raw metal, you should prime it first to provide corrosion protection. A primer coat of our To Block - MissPompadour Stainblock, for example, works wonderfully as a metal protection paint. Unlike conventional chemical rust protection paints, this method gives you the choice of all our fantastic colour shades.
Order metal paint & metal lacquer in the MissPompadour Shop
Already during the production of our varnishes we pay attention to an ecological production. Their content of solvents and preservatives is as low as possible and compared to conventional varnishesn you don't have to worry about a chemical smell.
In addition, their extremely long durability makes repainting a sustainable solution. The colours have a very high UV stability and are easy to applyeven without prior knowledge.
Your garden furniture could do with a new coat of paint and the weather forecast for the next two weeks shows only good weather? Then take advantage of the time and order our metal paints now!
And if you have a preferred payment method, we are sure to have something for you. Whether you want to pay classically by instant transfer or prepayment, or prefer to have the amount collected by direct debit - the choice is entirely yours. If you prefer to pay later, you can use the purchase on account option.
You can also use
PayPal Plus
- either with an account and direct bank transfer, or
without an account
and enjoy all the benefits of the payment system.
So get started and bring colour into your home!
Can't decide which colour shade is right for you or need help choosing the right quality? Then simply contact our free colour and customer advice service!