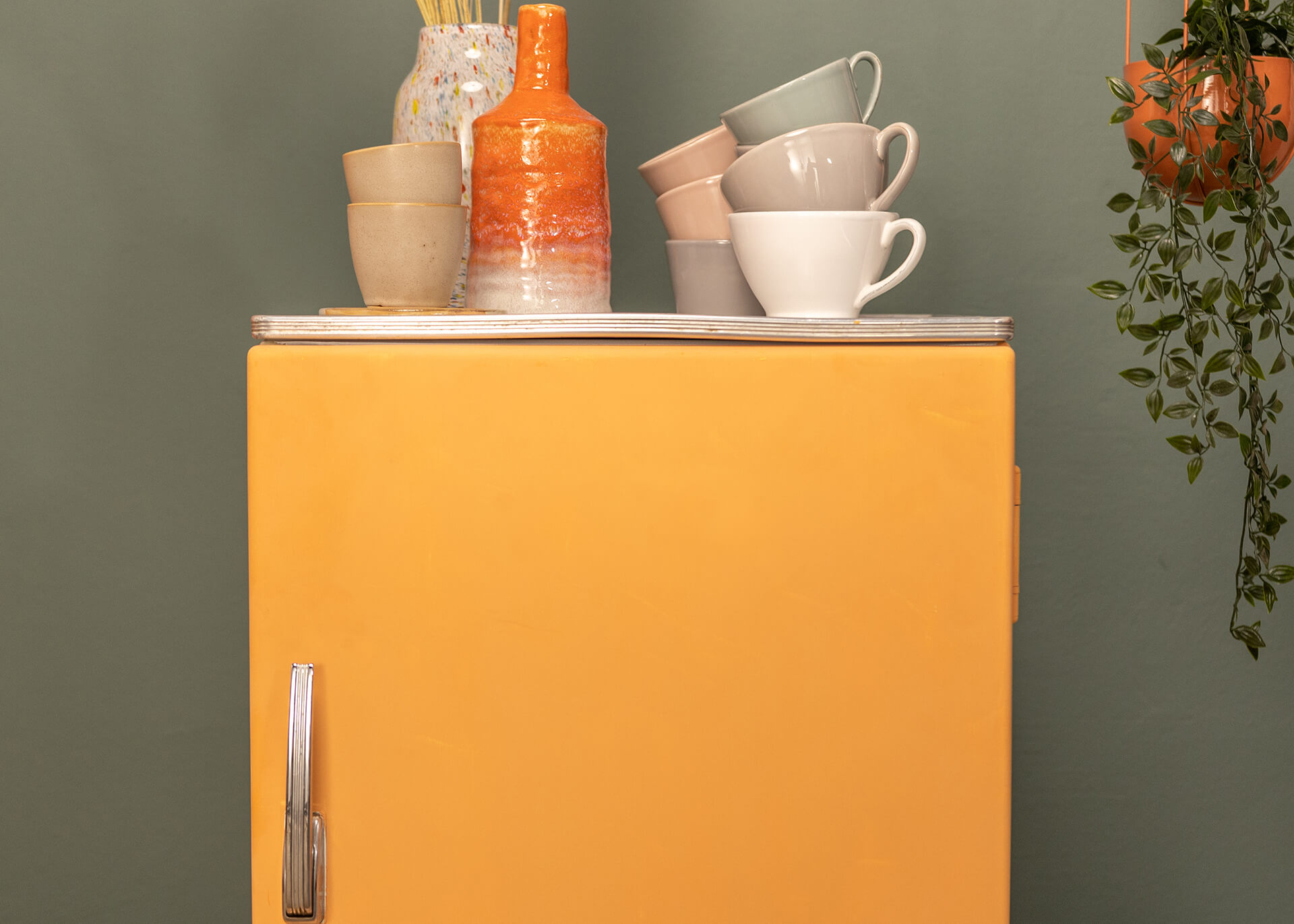 High-quality paints and varnishes for plastic: what you need to know
With plastic and laminate, you have a wider choice of colour shades than with wood. Nevertheless, it can happen that the colours no longer match the furnishings or have aged unsightly. That's where our plastic colours come in
With our plastic paint you can easily paint plastic and also laminate. Choose between three gloss levels: matt, satin and gloss. The powdery chalk paints can also be used for painting decorative items.
Sanding is not necessary.
On exposed surfaces, such as flooring, you simply use a primer to increase the durability of the paint. You can also matt high-gloss surfaces with a sanding pad to improve adhesion to the substrate.
Whether you apply chalk paint to foil, want to paint your PVC or laminate floor or the plastic window needs a new colour - choose a beautiful colour shade from our plastic paints. Then clean and simply paint!

Are you unsure whether your material is suitable?
Try it out first on an inconspicuous area.
When is plastic paint used?
It is hard to imagine everyday life without plastic, PVC and laminate. However, it often happens that these very surfaces simply no longer look nice over time. Since plastics are materials that are not particularly environmentally friendly even during their production, it is definitely sustainable to extend their lifespan with a new
coat of paint. Maybe it's your windows, your best friend's foiled kitchen or your parents' plastic front door. Nevertheless, you find it difficult to replace the respective piece, as this would mean a large purchase.


That's where our plastic paints come in, because they work on almost all plastic surfaces. Use them to paint your plastic window or your laminate floor.

You can also use them to give yellowed doors or other surfaces with an outdated decor a fresh coat of paint. The preparation is easier than on real wood
If you want to paint your plastic doors, the varnish should be durable and last well, as a door is used frequently and intensively. But also when varnishing your plastic windows, the varnish must be uncomplicated, stable and adhesive. We explain to you which vinyl colours are best suited for your projects and will meet your requirements both inside and outside and offer the most beautiful result.
Which MissPompadour Paint is suitable for plastic?
Almost all of our colours are suitable for painting your plastic surfaces.

If you want to paint a heavy-duty surface such as a veneered kitchen or laminate floor, we recommend our satin matt varnishes - MissPompadour Eggshell Varnish, Mylands Wood & Metal Eggshell, and Painting the Past Eggshell.

On decorative furniture that is not subject to wear and tear, you can also use the matt versions, such as
MissPompadour Matt Varnish
, as well as Mylands Wood & Metal Matt and Painting the Past Matt.

You can even embellish small furnishings such as picture frames, clocks and other decorations with a residual wall paint.
The right paint for outdoor plastic
If you have an old plastic garden set, why not use our plastic paints to freshen it up?
Paints
for outdoor plastic are the
MissPompadour varnishes
in Eggshell Varnish
, Painting the Past Outdoor and all colour variations of the Mylands Wood & Metal varnishes.

With the new paint you are perfectly prepared for the next garden season.
The right synthetic paint for veneered furniture
Nowadays, real wood furniture has become rather rare, many manufacturers now resort to veneer.

Contrary to popular belief, however,
veneer is not plastic, but thin sheets
of wood. These are glued onto chipboard and then lacquered.

Nevertheless, even these pieces of furniture can use a change now and then, because they often look far too massive and clunky in the room to fit into a modern interior.

Fortunately,
our chalk paints can be easily painted on veneer
. They give your furniture an individual, interesting look. With its silk matt look, chalk paint on veneer creates a noble and elegant effect.

Choose from our silk matt varnishes such as MissPompadour Eggshell Varnish, Mylands Wood & Metal Eggshell and Painting the Past Eggshell. These stable varnishes are particularly suitable for veneered kitchens or well-used living room furniture.

If you want to add a wax finish to your painted surface, use one of the matt varnishes, provided the furniture is not subject to wear and tear
If you find that there are wooden elements, for example oak, on the furniture, you can of course also paint them.
You can find paints
for lacquered or heavily used wood
in the
MissPompadour Paint
online shop
.
Plastic paint for PVC & laminate floors
You can not only paint PVC with these colours, but also use them as laminate varnish.

We generally recommend the
silk matt varnishes
. These are more stable on heavily loaded surfaces and you achieve a smooth result with them. You will see that painting laminate is really fun and the change in the room will be incredible.
However
,
you should
always
seal
floor surfaces after the final
coat.

You can also paint your entrance floor with our plastic paints. If you also want to change your heavily used hallway walls, simply use our
hard-wearing & washable wall paints
.
Painting plastic: a few tips for application
Plastic is a really good substrate for your painting projects. However, there are a few points to consider.
Professional pre-treatment for plastic & laminate
Plastic and laminate usually have a smooth surface on which it is difficult to imagine painting.

Therefore, the right preparation is also important for plastics.

First
clean
the surfaces with a non-greasy cleaning agent, such as our To Clean.

It is important that you then wipe with clean water and dry the surface well before painting.

Finally, prime the smooth surface with To Bond - MissPompadour Primer.

Then you can start with your chosen colour!
The right sealant for laminate paint
Once you have painted your floor with our laminate paint, you should seal it.

The
best product for this
is
To Seal - MissPompadour Topcoat
. If the floor is in an area that is exposed to moisture, such as the kitchen, use Painting the Past Topcoat. This will tolerate the moisture better and can protect your floor well.
Order plastic paint & laminate paint in the MissPompadour Shop
By the way, we use almost no plastic for shipping. To ensure that your paints arrive safely, we pack them with recyclable paper and reused cardboard from our deliveries. Only if this is not enough to protect your cans, we apply additional armour tape.