Wall Paints & Varnishes in Petrol & Turquoise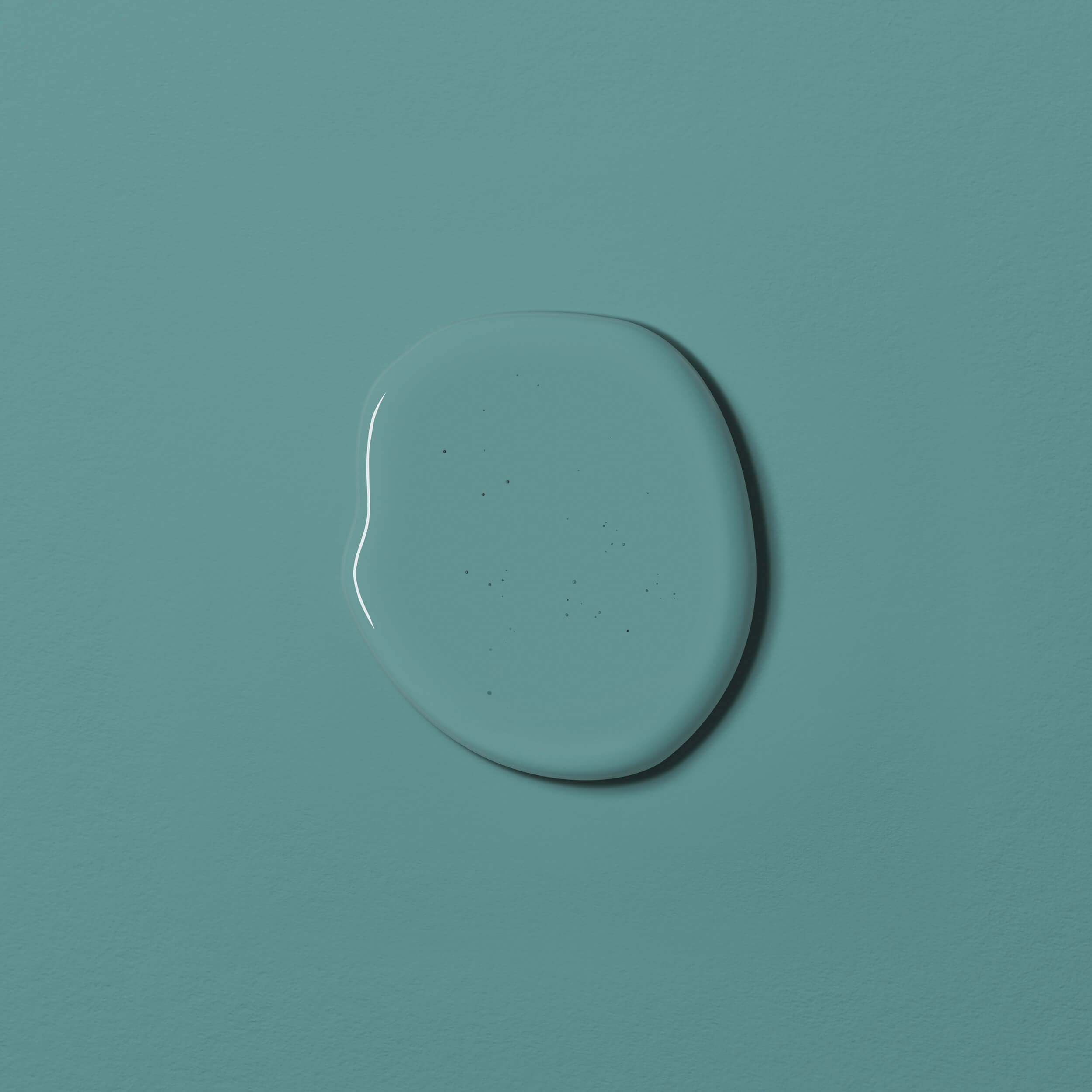 What colour shades are available in petrol and turquoise?
In general, the colour petrol belongs to the darker colour range. A paraphrase for this colour family is also blue-green or sea-green. Petrol in particular comes in different shades. Depending on whether the blue or green part predominates, this trend colour has a different effect. The colour intensity also varies, so you can cover all areas with petrol colour, from pastel shades to a strong accent colour
Turquoise is a lighter version of petrol that contains more green or yellow pigments. Both colour shades with their different nuances belong to the aqua shades.
Which shades are available?
With some petrol shades, the
blue component
predominates, so that you perceive the effect more as a greenish blue.
Sapphire
by Painting the Past or
Dark Blue with Green
by MissPompadour, for example, have this effect.
Alternatively, the effect can
tend
towards the greenish
.
Peacock
from Painting the Past is one such shade.

colour shades that balance green and blue are
Green with Teal by MissPompadour and Petrol by Painting the Past.
Eucalyptus and Aloe Vera are tinted with Grey and therefore not quite as strong, with a higher proportion of Blue or Green in each case.
Green with Emerald and Green with Turquoise by MissPompadour are intense and at the same time lighter. These shades both go in the turquoise colour direction.
Effect of petrol and turquoise as wall paint
If you decide to buy Petrol as wall paint, you can set great accents with it. Above all, this colour shade radiates a strong sense of calm and has a relaxing effect on the observer. Petrol is extremely elegant and profound. The effect varies - depending on which component predominates
Petrol blue wall paint encourages reflection and promotes concentration.
If you use petrol-green wall paint, you tend to achieve a friendly, natural and unaffected atmosphere. Another effect of the greenish variant is a feeling of safety and security. With wall paint in a petrol pastel you also achieve a soft atmosphere. If you use wall paint in dark petrol, you will intensify the cosy effect in your room. Light petrol wall paint gives a sense of space and lightness, while grey petrol wall paint radiates calm.
Turquoise walls generally have a cool, but invigorating and refreshing effect. Turquoise can promote emotional balance. Decide between different types of turquoise in the colour scheme: If the green component predominates, your wall paint will appear mint turquoise. There are shades of turquoise in which the blue component dominates, giving you a maritime effect. If you don't want it to be quite so colourful, opt for a turquoise grey wall paint. In your bathroom, a light turquoise wall paint is clarifying and fresh. With wall paint in dark turquoise you achieve a cosy atmosphere and with wall paint in turquoise green you underline the natural and casual effect of this beautiful colour shade. As you can see, there are no limits to your ideas with turquoise.
Are petrol and turquoise warm colours?
Since both blue and green are warm and cool, there is no general answer to this question. Depending on which colour components predominate in petrol, it can appear cool or warm. The radiance of pet rol can best be described as intense and deep. Turquoise tones, on the other hand, always appear rather fresh.
Are the colours petrol and turquoise still modern?
Petrol and turquoise are real colour classics. Depending on the colour context in which petrol is used, it looks calm, serious, noble or even businesslike. Turquoise, on the other hand, as a lighter shade, appears rather airy, cool and refreshing.
For which rooms are Petrol and Turquoise suitable?
In the bedroom
, petrol radiates great cosiness as a dark contrast, for example on just one wall. In combination with warm white or light
wall paints in grey
,
you achieve a very special atmosphere
Petrol also comes into its own in the living room as a deep colour shade. Combined with furniture in light natural wood colours, you can achieve cosiness with petrol. Accessories in gold or copper underline the elegant effect of this colour. Strong colours such as red or orange shine all the more against the background of this neutral colour, while delicate pastel shades form a gentle contrast to the intense petrol.
In the children's room, turquoise walls provide balance. Darker turquoise is equally invigorating for playing and balancing for a relaxed wind-down in the evening.
Used in the office or home office, the sober and clarifying effect of this versatile colour shade comes to the fore. In workspaces, the colour can be combined with clear white to create a concentrated atmosphere in which it is particularly easy to work.
Tips on the elegant trend colour petrol
As an interesting alternative to
pure
blue
or
green
,
you can create a wow effect in your
interior with petrol.
Living styles and trends in petrol colours
Due to their wide range, petrol and turquoise cannot be assigned to just one interior design style.

Both colours are
core elements of an oriental style. Combined with sandy beige and warm natural woods, you are sure to have a successful interior.
Turquoise also shows its charming side in the Mediterranean
style of living. In combination with oak and warm white tones, you will feel transported to the Greek coast.

Petrol tones can
go
just as well
with a
classic ambience with antiques
or in a modern interior with clear forms. Those who appreciate natural furnishings will find what they are looking for in petrol tones just as much as those who want to display their art collection on the walls.
Which colours harmonise with petrol and turquoise?
Because of its adaptability, petrol can be combined with many colour shades. Wall paint in dark petrol can be combined with all cool, light tones if it is used as an accent colour. Blue with Snow or White with Linden Green from MissPompadour, for example, go wonderfully with all petrol shades.
Petrol forms a magical bond with all aqua shades. You can achieve an exciting effect with colours like Green with Aqua, Green with Turquoise or Green with South Sea by MissPompadour Paint. Copper Green or Museum by Mylands are also attractive in combination with petrol. These colour shades shine especially brightly against a petrol background. That's why I also like to combine petrol and turquoise.
If you love pastel shades, colour shades like Purple with Lavender, Rose with Cherry Blossom or the delicate Yellow with Sun by MissPompadour are a very special colour combination. Morning Tea or Something Blue by Painting the Past also go well with the blue-green colour shades.
If you have decided on turquoise shades, you can combine all earth tones like MissPompadour Brown with Choc. Light grey and beige shades also go very well.
If you like bright colours, you can show off your favourite strong accent colour against a muted petrol background: For example, what do you think of the warm Yellow with Saffron, Pink with Peony or the Red with Cherry from MissPompadour?
What can I combine petrol and turquoise with?
As petrol is an elegant colour shade, it looks particularly elegant with accessories in metallic shades. Gold in particular is a great eye-catcher in combination with petrol. Precious materials such as leather or velvet also go wonderfully with this colour.
If you use turquoise in combination with pastel shades, natural materials such as linen, silk and natural wood are a nice addition.
If you use petrol in the office, you can complement it with clean materials such as white furniture, chrome elements and plants in light green to emphasise the clarifying and businesslike effect of the colour.
What colours can I order from MissPompadour Paint?
At MissPompadour, the colours Petrol and Turquoise are available in all different finishes, so you can paint these great colour shades on all surfaces. Walls, tiles, floors, furniture and decorative objects can all be embellished with the colour.
Wall paints in petrol and turquoise
Depending on the requirements your wall has to meet, you can choose between
wall paint with chalk from Painting the Past

the wall emulsion from Mylands and

the matt wall paint The Valuable Wall Paint by MissPompadour
choose. If you want to paint walls in a heavily used environment such as a staircase or your kitchen, then go for The Functional Wall Paint by MissPompadour, as this quality is extremely robust, wipeable and abrasion-resistant.
Varnishes in Petrol and Turquoise
Not only walls can be decorated in the colour petrol. We also offer all petrol and turquoise shades as varnishes, so that you can design your furniture, tiles, stairs and even metal with this colour.
Qualities
You can choose between different varnish qualities for petrol and turquoise.
There are, for example, the matt varnishes that create an almost powdery surface. They are very suitable for furniture in the living area and conjure up a homely, cosy atmosphere. These include the Matt Varnish quality from MissPompadour, the Matt varnish from Painting the Past and the Wood & Metal varnish from Mylands in the matt finish.
For redesigning kitchen furniture and doors, we recommend you use the varnishes in the robust satin matt quality. These include the Eggshell Varnish quality from MissPompadour, the Eggshell varnish from Painting the Past and the Wood & Metal varnish in the Eggshell variant from Mylands.
If you would like to underline the noble radiance of this colour shade with a high-gloss varnish, you can do so with the Gloss variant of the Wood & Metal varnish from Mylands.
Order wall and chalk paint in petrol and turquoise online at MissPompadour
At MissPompadour we attach great importance to sustainability. That's why we pack your order in the most resource-friendly way possible. We do not use plastic and instead use paper.
We shred old cardboard boxes as filling material and our adhesive tape is also free of plastic. DHL GoGreen delivers your order climate neutrally within a few days.
Once you've found your favourite petrol shade, your parcel can be delivered to you with the smallest possiblecarbon footprint. Do you need help with so much choice?
Then contact our free
customer advisory service
right away
!