Wall Paints & Varnishes in Pink & Rose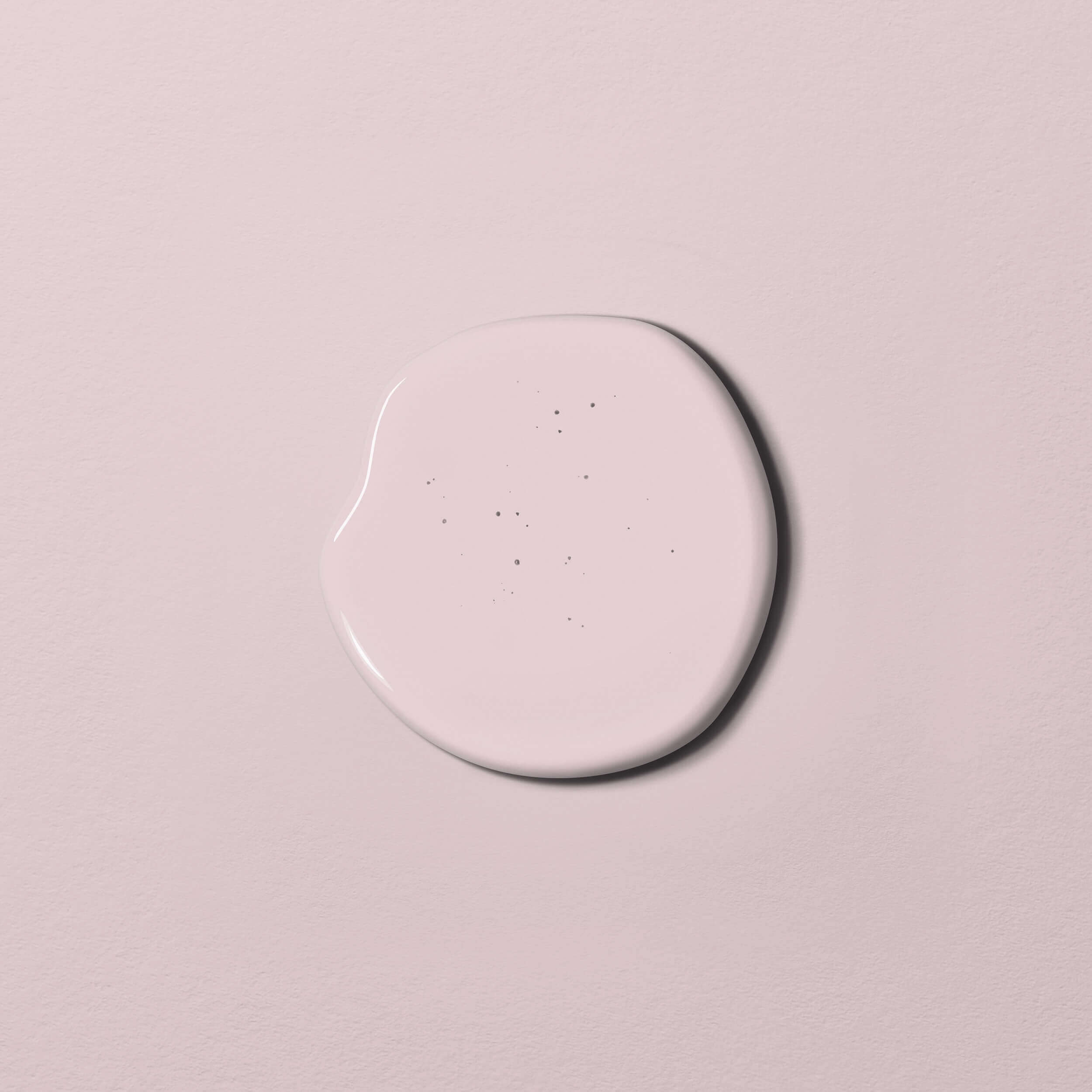 What shades of pink are there?
There are countless shades of pink colour, ranging from a soft pinkish white to a rich dark pink. This means that the colours can create a very different effect in the room
From dusky pink to pink: what shades are there?
The palette is huge! Let's start with shades with a hint of pink, such as White with Powder from MissPompadour. This almost white colour shade is minimally tinted with a soft terracotta tone, which creates this subtle rosé colour. This shade is also known as powder pink
Moving on to pastel shades of pink, commonly known as baby pinks. These include Rose with Warmth by MissPompadour and Floris by Mylands. These have a high white content, but you can clearly recognise them as pink.
Dusty pink refers to light shades of pink that have a brown or beige component. The colour shades Soho House by Mylands, Rosewood by Painting The Past and Rose with Brown by MissPompadour are great examples. All these colours are perceived as warm pinks. These shades are also called nude in a light version.
Dusky pink
goes in a similar direction. However, dusky
pink wall paint
is usually tinted with grey pigment and is therefore often perceived as a grey pink. Mylands
Bloomsbury
is a classic example of this shade. Dusky pink and pastel shades of pink can also have hints of violet, the transitions are fluid.
Then, of course, there are the strong
pinks
. These have a high proportion of
magenta
, which is one of the three basic colours in subtractive colour mixing.
In fact, magenta is a really strong pink colour.
Depending on which pigments are added to it,
different shades
are created.
Pink with Grey
by MissPompadour already has its orientation in its name.
Hippy
from Painting the Past is a rather reddish pink, while
Pink with Peony
from MissPompadour is a
strong, warm pink with bluish pigments
. An accent wall in
pink wall paint
is certainly an eye-catcher!
What is the difference between pink and rose?
Pink refers to very strongly pigmented colour shades. Pink, on the other hand, is always more or less tinted with white. The best known of these is the delicate pastel pink. Pink and rose can both be mixed with grey, brown, orange or umber pigments. A warm pink colour can be achieved by adding a little blue pigment.
Pink wall paint and its effect
Pink is generally known as a feminine colour. However, pink is not only suitable for girls, as the colour has become a trend colour and is in vogue. In a room painted pink, you feel balanced and calm. It looks fresh and light, reduces aggression and can even lift your mood. You can also paint large walls in pink with a clear conscience and enjoy the effect of pink wall paint.
Which rooms is pink suitable for?
As pink has a very broad colour scheme, this versatile wall paint is suitable for almost all living areas. Simply give free rein to your ideas.
Its sleep-inducing properties and the calming effect of pink make it an ideal interior colour for your bedroom.
Pink is also a good choice for children's rooms thanks to its calming effect. Apart from the fact that it is probably the most common colour of choice for little girls, your child will find it easy to calm down in a room painted pink.
In the kitchen and living room, pink walls can create a cosy atmosphere. Combine pink walls with grey-grey or black tones to create a sophisticated and mature character.
Tips for the trend colour pink
Such a versatile colour can be used anywhere. Whether living room, bedroom, bathroom or kitchen - pink is an enrichment in any room.
Living styles and trends in shades of pink
Due to its versatility, pink can be integrated into various living styles, which is why we think it should be used more often.
Perhaps the first thing that comes to mind is a romantic living style, also known as cottage style. Here, pink finds a perfect setting with other pastel colours and lace fabrics, as well as playful accessories. Use additional elements in gold or silver to create elegance. Although this style is reminiscent of Rosamunde Pilcher stories, you can avoid a kitschy look with the right decorations. After all, pastel colours are known for their relaxing and soft effect
If shabby chic has already found its way into your home, use a soft pink to set colourful accents between white and grey.
A pink accent wall also skilfully sets off the industrial elements in a completely opposite industrial chic style. Ifyou paint a small area with pink wall paint, it will certainly attract attention as an accent.
The glamour style combines pink with golden and velvety elements for a sublime and eye-catching effect.
If you prefer a modern style, pink is the right colour for you. The trend colour pink can also be used to create perfect accents in this straightforward style. This style also works well with a neon pink wall paint.

Light, brownish shades of pink go perfectly with the natural elements of the boho style.

If you want to make a clear statement, use one of our
red wall paints
instead
.
Which colour shades go well with rose, pink & co
Combine grey and beige tones with pink if you want to achieve a harmonious and calm effect. Dark anthracite and black emphasise the soft effect of pink. If you like it pastel, you can choose from the entire colour scheme of pastel shades.
In general, both strong and weaker colours go well with pink. If you want to emphasise pink, it is best to combine strong colours such as a bright blue. If you want to go for depth of colour, paint an accent wall in a strong, dark blue such as Blue with Ink and place a piece of furniture in front of it that you have painted pink with varnish. Choose a pastel pink colour to achieve the ideal composition.
The complementary colour green also supports the luminosity of this expressive colour. But also combine olive green with pink to achieve an extraordinary look. Matt wood varnish in pink
is particularly suitable
if you want to create a restrained impression.

Pastel shades such as a soft yellow or green also soften pink. Avoid too many bright colour shades in a small space, otherwise you can quickly create a garish effect.
What can I combine the pink wall paint with?
Depending on your style of living, you can
combine
pink wall
paint
in
a variety of ways. If you like it playful and romantic, lace fabrics and floral prints are the right choice. Natural elements such as wood, linen or grasses are ideal if you have a boho style interior. If you prefer straight lines, combine pink with Grey and black or silver metal elements. Copper, gold and rose gold - used sparingly - look elegant with pink
If you want to go in an intensely kitsch direction, apply wall paint in pink with glitter. To do this, apply the first coat of pure wall paint and mix the rest with special glitter. With decoration in pastel colours, a wall can become the ideal eye-catcher in the children's room - and not just there.
You can order these colours from MissPompadour Paint
As usual, we offer all shades of pink and pink in different colour variations, so you can decorate not only walls, but also furniture, floors, tiles, etc. with your favourite pink.
wall paints in pink
When you buy our wall paints, you get a highly opaque quality that is suitable for almost all surfaces. For your walls, choose between the matt chalk pain ts from Painting the Past, the marble powder-based wall paints from Mylands or the MissPompadour wall paints. Our sustainable wall paintThe Valuable Wall Paint with a dull matt finish is odourless and VOC-free.
If you are
looking for a
paint for walls that need to withstand a little more
,
our abrasion-resistant and robust paint quality The Functional Wall Paint
is
the right
choice.
Pink varnishes for painting indoors and outdoors
Each colour shade is available in different varnish qualities. We also offer a large selection of pink colours for exterior use. Use a pink varnish to accentuate your favourite piece of furniture.
Colour in different qualities & gloss levels
If you want to
decorate
wood, tiles or other materials with pink or
rose varnish
, you can choose between matt, semi-gloss and gloss varnishes
.
The matt varnishes include MissPompadour Matt Varnish, Painting the Past varnish Matt and Mylands Wood & Metal Matt. These varnishes are particularly suitable for furniture that is not exposed to particularly heavy loads. They are often used for shabby-style furniture, for example, and can be customised with furniture wax. You can emphasise matt wood varnish in pink with golden accents
For a semi-gloss finish, choose from MissPompadour Eggshell Varnish, Painting the Past varnish Eggshell and Mylands Wood & Metal Eggshell. The semi-gloss varnishes are the most robust and easy to clean. Coloured varnishes in pink have an attractive effect as accents, but can also be used over large areas. Go for a varnish in pink to set the scene for a built-in cupboard or your coffee table. The velvety colour of these coloured varnishes stands out thanks to their silky matt appearance
If you prefer a glossy surface, choose Mylands Wood & Metal Gloss.
The
vibrant colours of our varnishes in pink in particular unfold their full luminosity in this variant.

The outdoor paints from Painting the Past, MissPompadour Eggshell Varnish and Mylands Wood & Metal varnishes are particularly suitable for outdoor painting.
Buy pink wall paint in the MissPompadour online shop
If you need help choosing pink wall paints and pink varnishes, just get in touch with our
free colour consultancy
. Our team will be happy to help you with your selectionand advise you on your painting project. That way, you'll also know what else you need.
As soon as you have ordered your colours, we will send them to you sustainably packaged and as quickly as possible via DHL GoGreen. You can pay with us in many ways, including by invoice. Get started and simply paint!