Painting Stairs: Simple Step-by-Step Guide & Tips
11 min reading time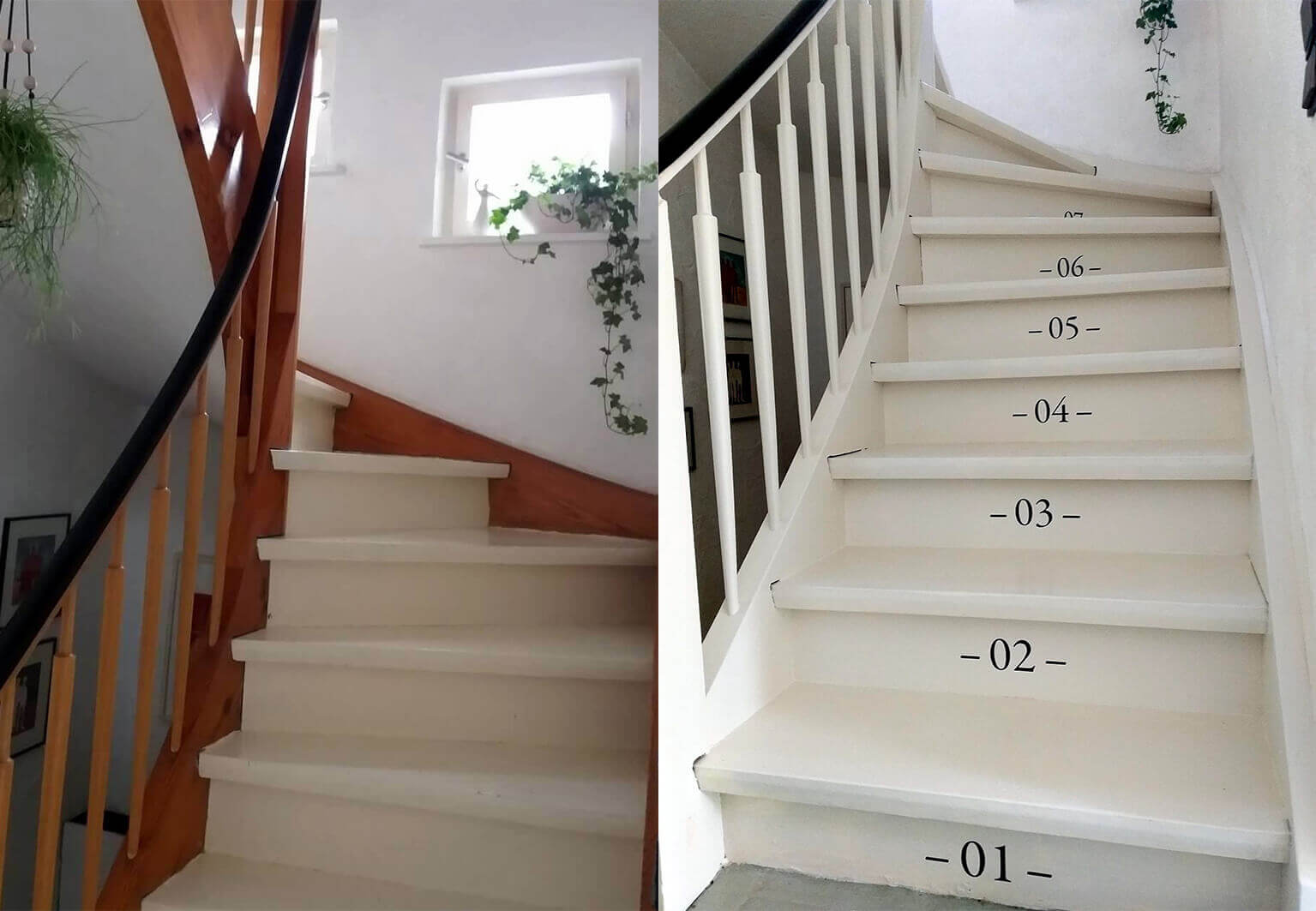 Painting stairs with water-based varnishes works wonderfully! Of course, there are a few things to bear in mind, because stairs are subject to a lot of wear and tear. And it goes without saying that you will achieve a fantastic result with our great colours. But that alone is not enough! After all, this result should not only look fantastic, but also stay beautiful for a long time.
Turning old into new: Before/After photos from our painting community
Why should you paint your stairs? Because it was once valuable custom work and a new coat of paint will make it chic again! That way you can easily adapt it to your style of living. Not to mention the expense of having a new staircase built. Take a look at what our customers have achieved with their stairs and let yourself be inspired!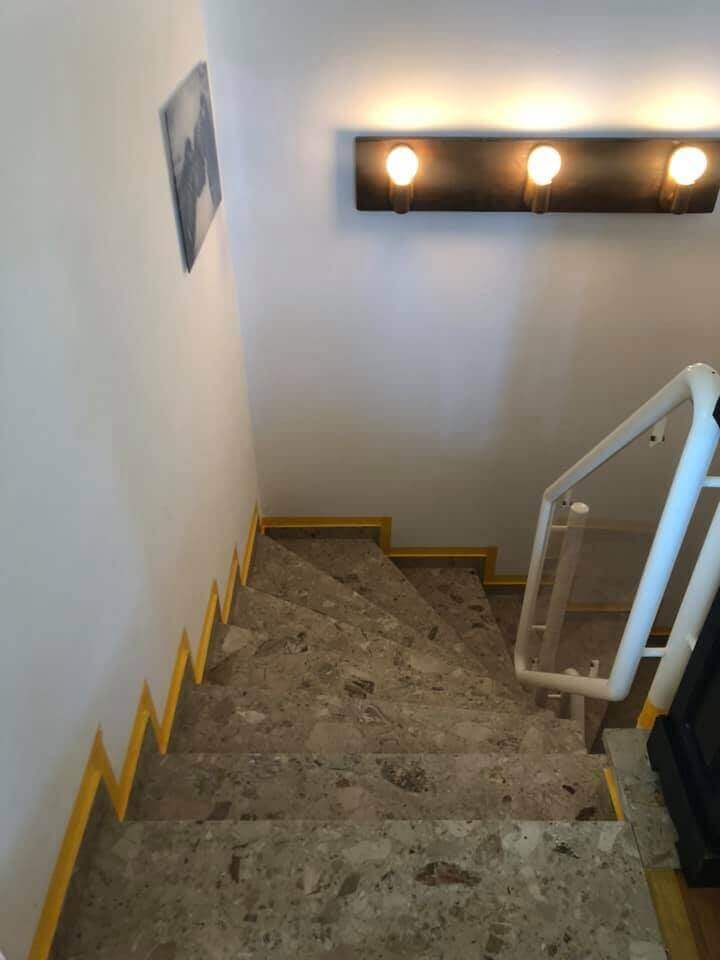 Before
- This stone staircase was no longer in keeping with the times. A change to match the style of living was required.
MissPompadour Black with Slate - Eggshell Varnish 1L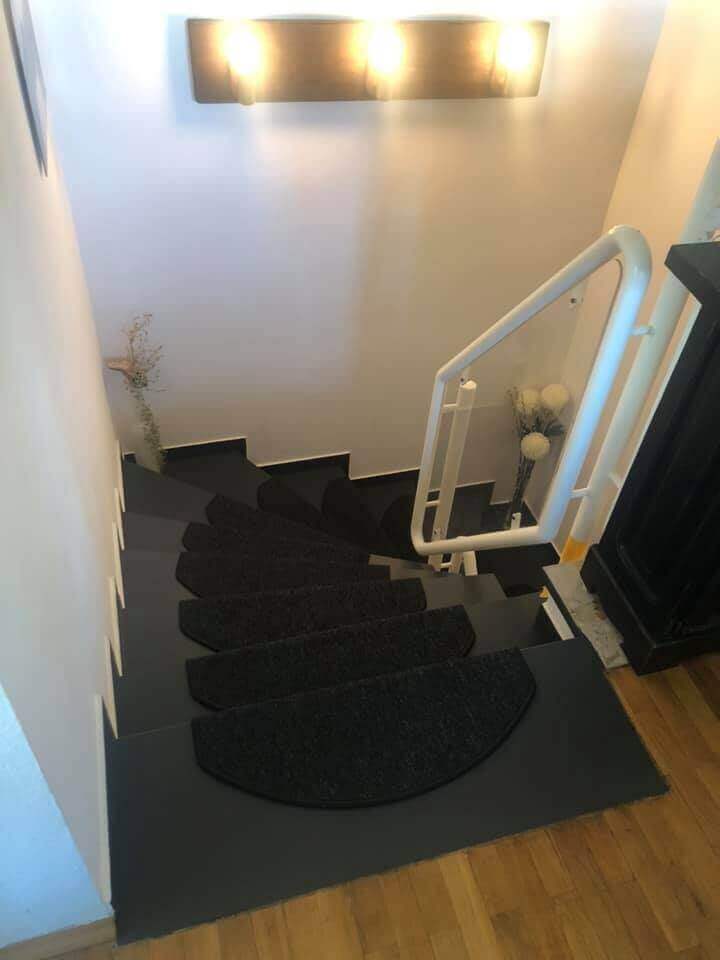 After
- The new paint gives a modern look! The stair railing blends in great again.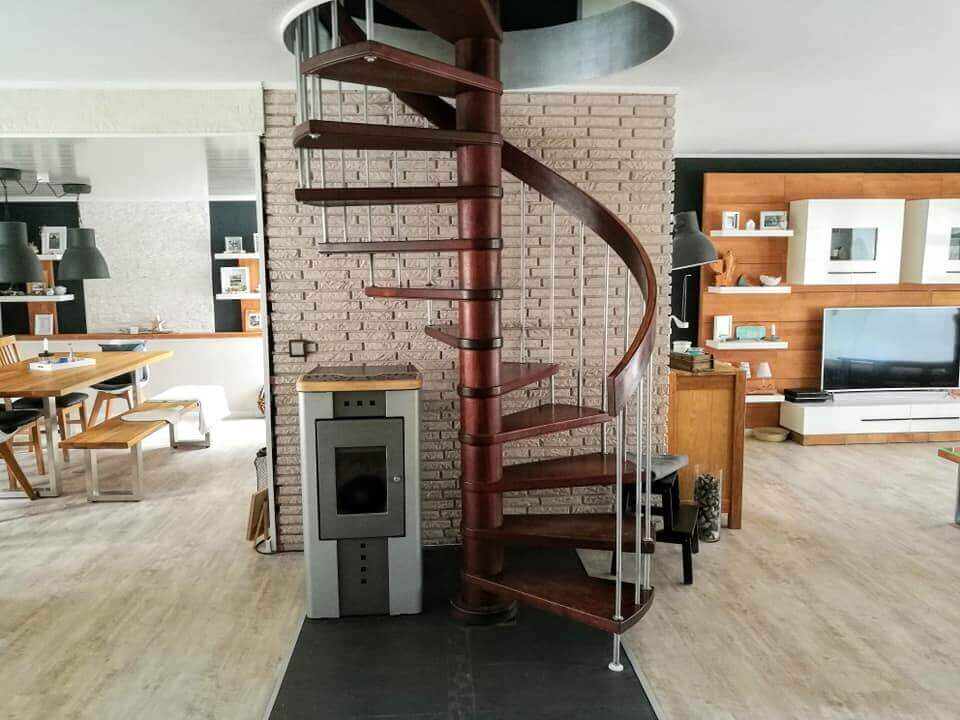 Before
- "Our spiral staircase no longer fits our new living concept!", said our customer.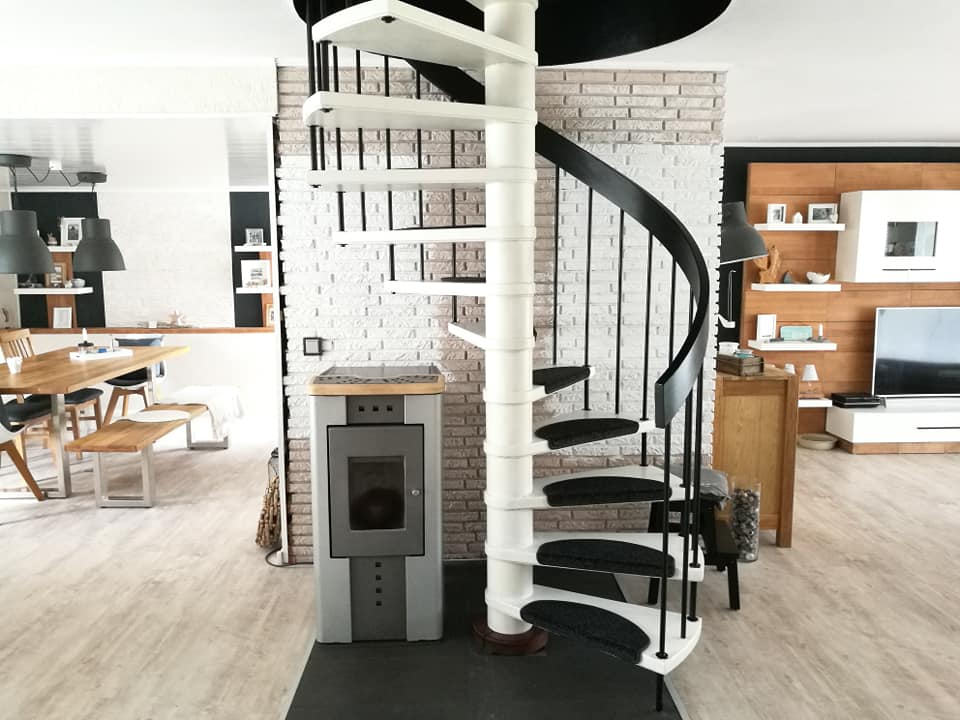 After
- The living space became much brighter and more coherent. Now it fits again!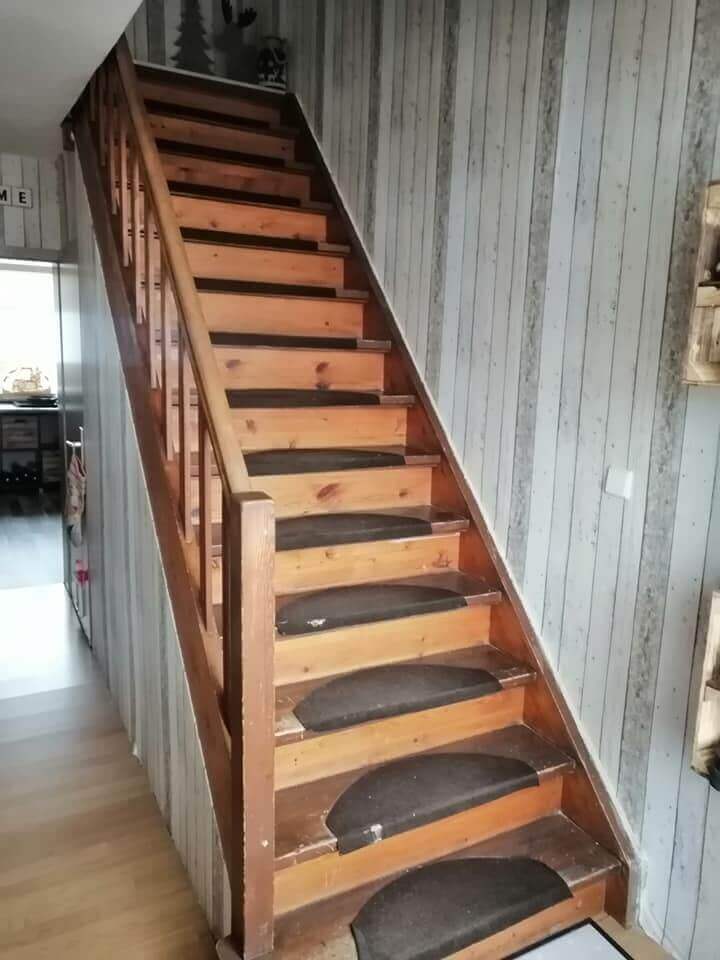 Before
- The old wooden staircase with its step mats was simply no longer in keeping with the rest of the house.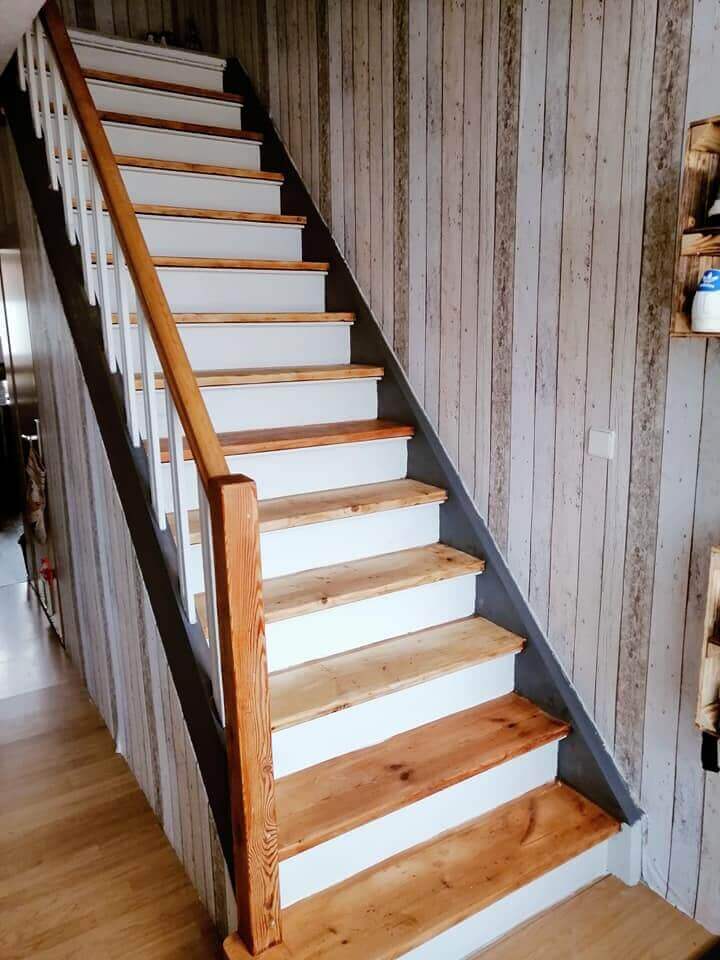 After
- Painting the risers and stringers gave this staircase a lightness again.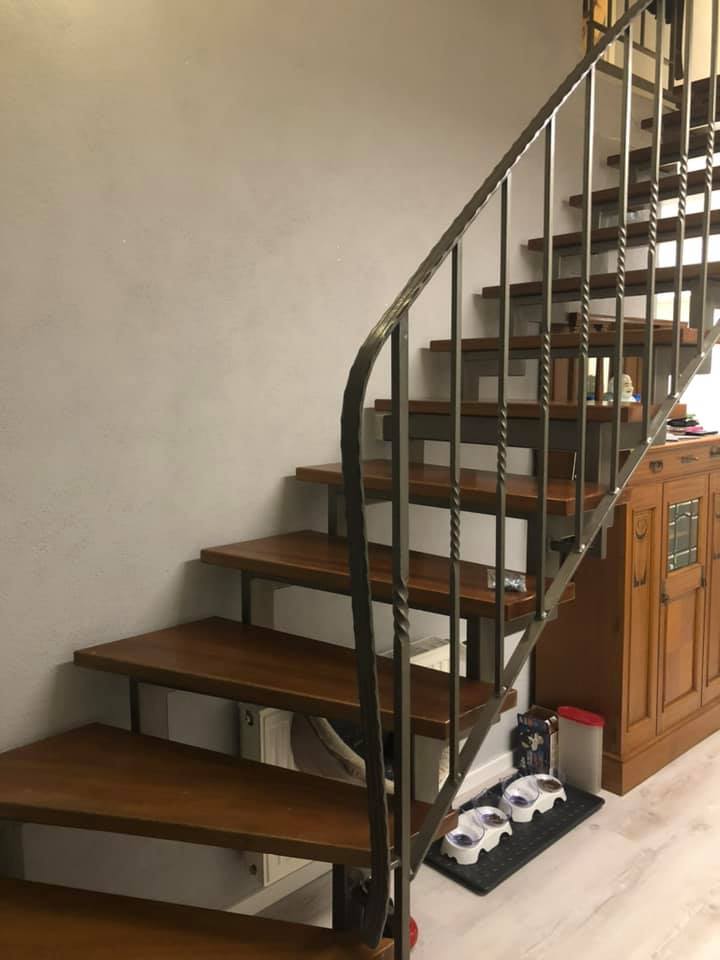 Before
- This staircase was dark and old-fashioned. A new look was needed to go with the new floor.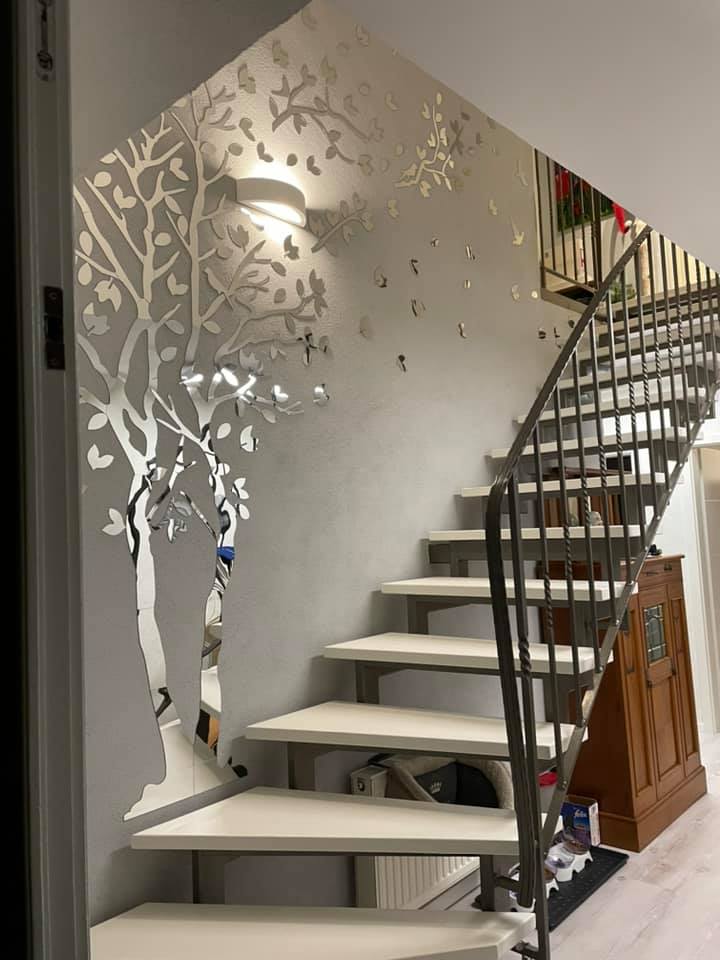 After
- The wooden steps were simply painted. Just a new wall paint and the staircase has a completely new image.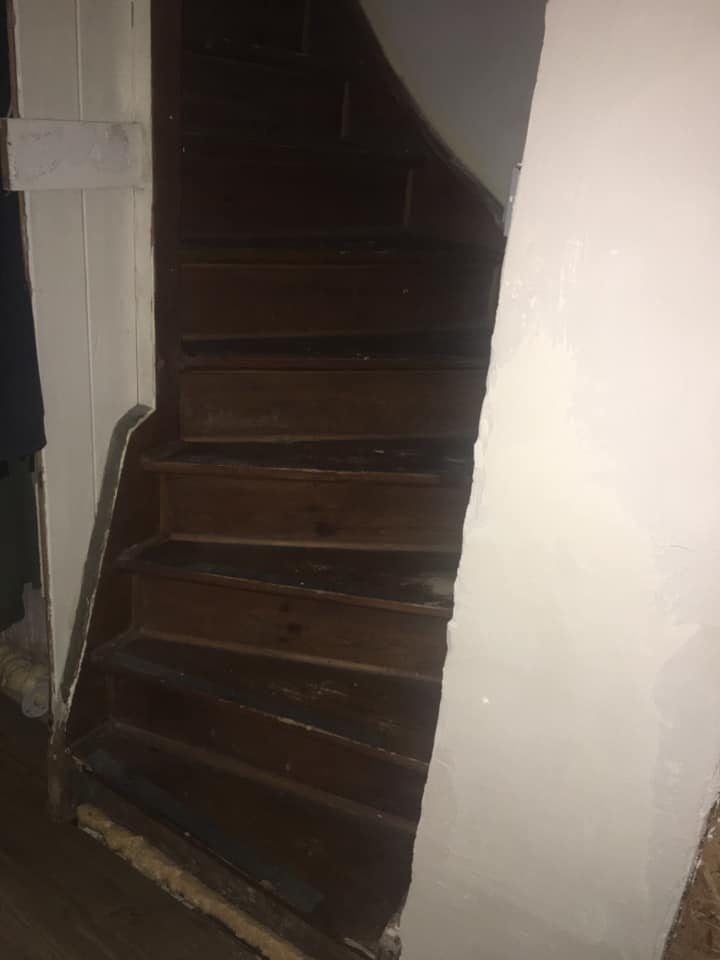 Before
- This staircase was almost spookily dark. It was definitely not meant to stay like this.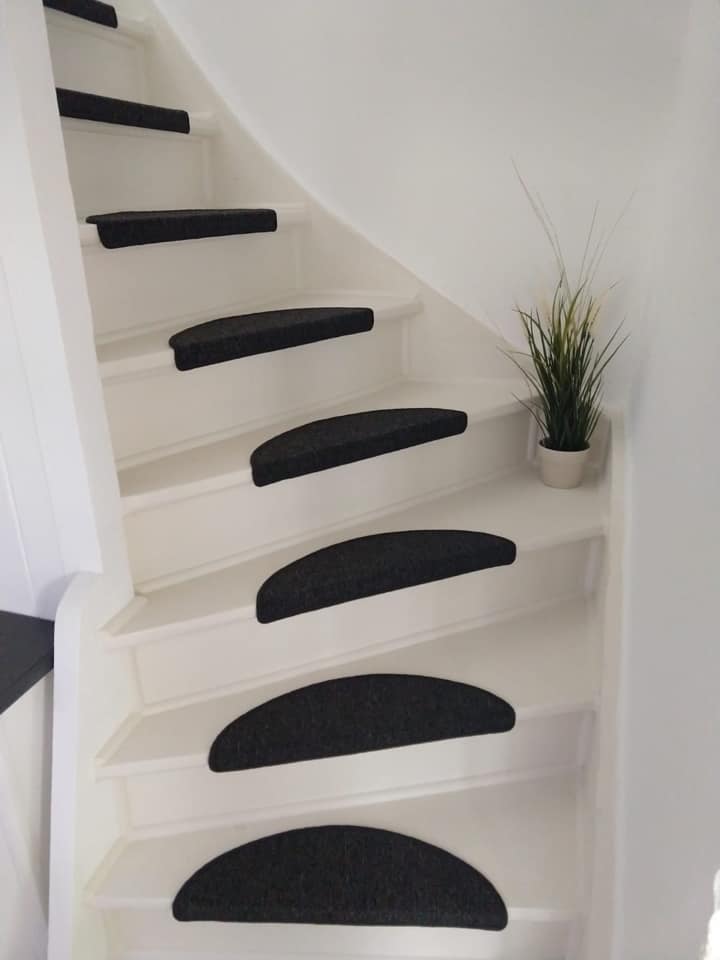 After
- Hard to believe it's the same staircase. Friendly and modern!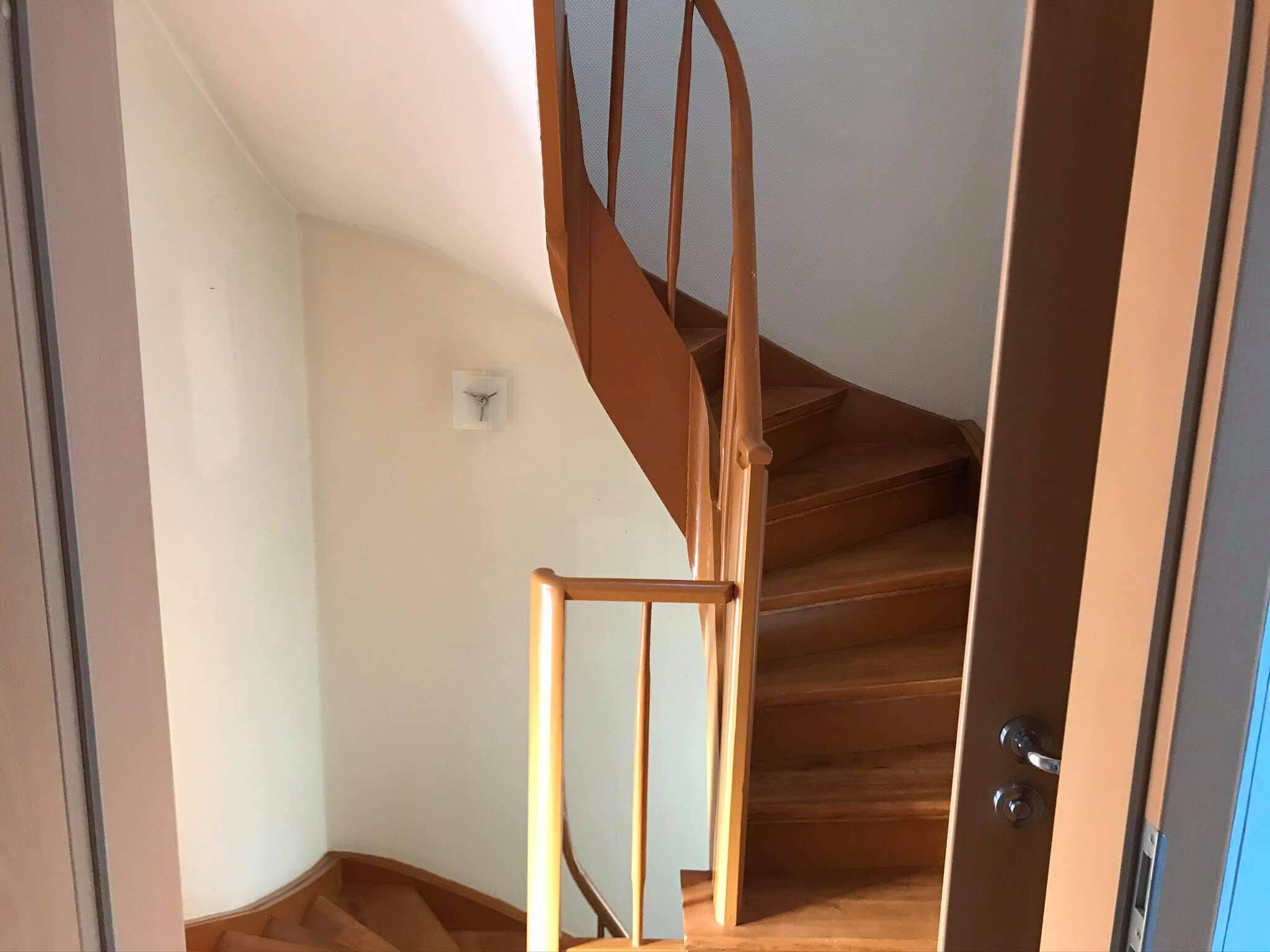 Before
- A modern, relaxed look was called for here.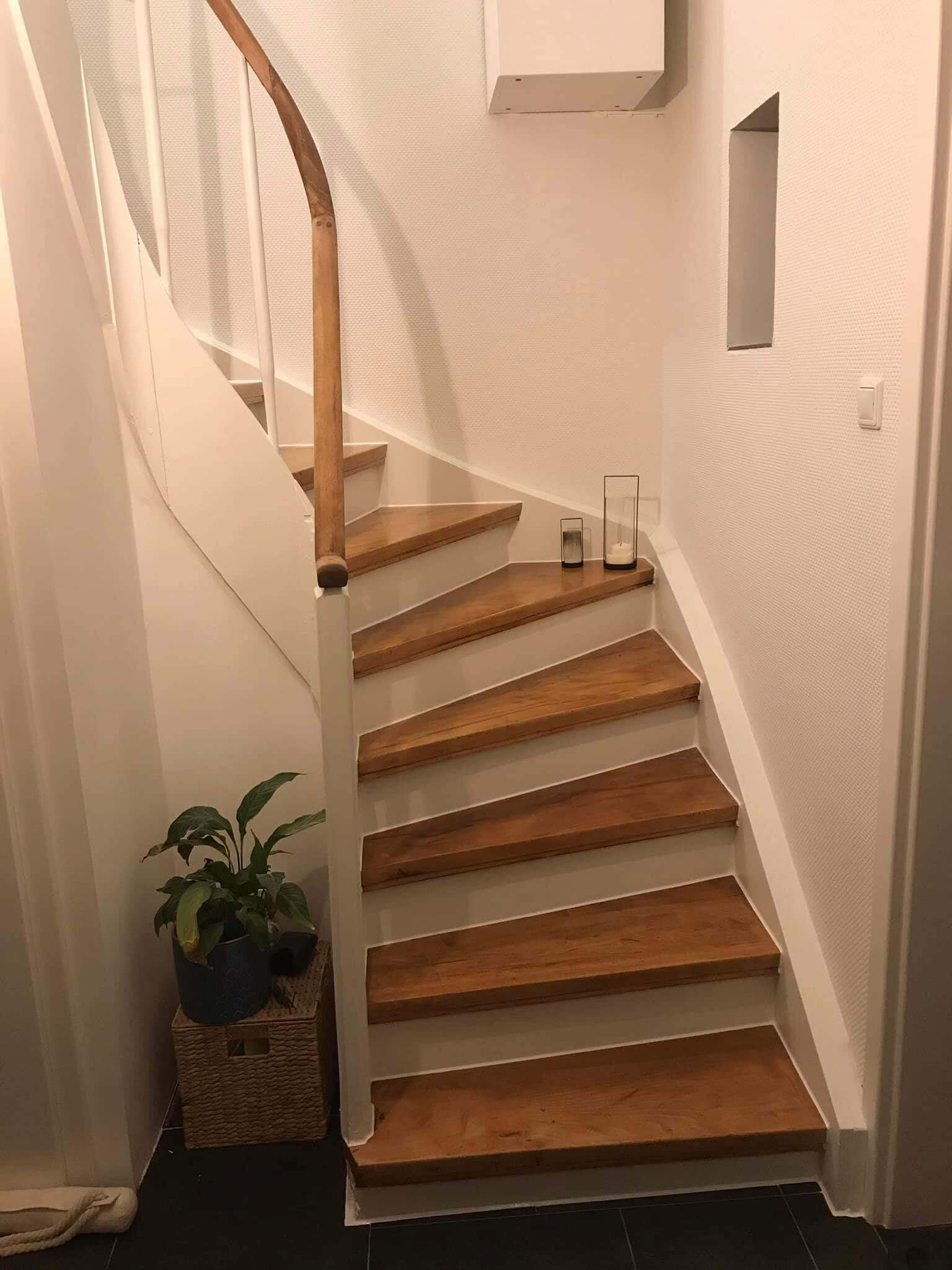 After
- Painting the risers and stringers made them light and modern.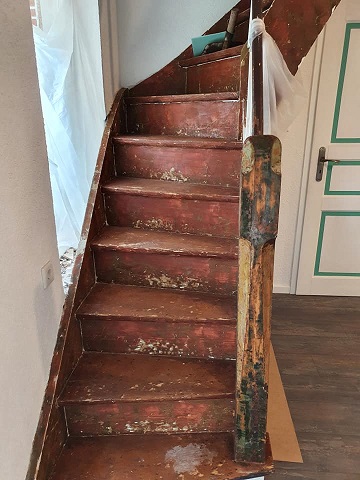 Before
- This staircase is 150 years old. Genuine workmanship, but really no longer beautiful.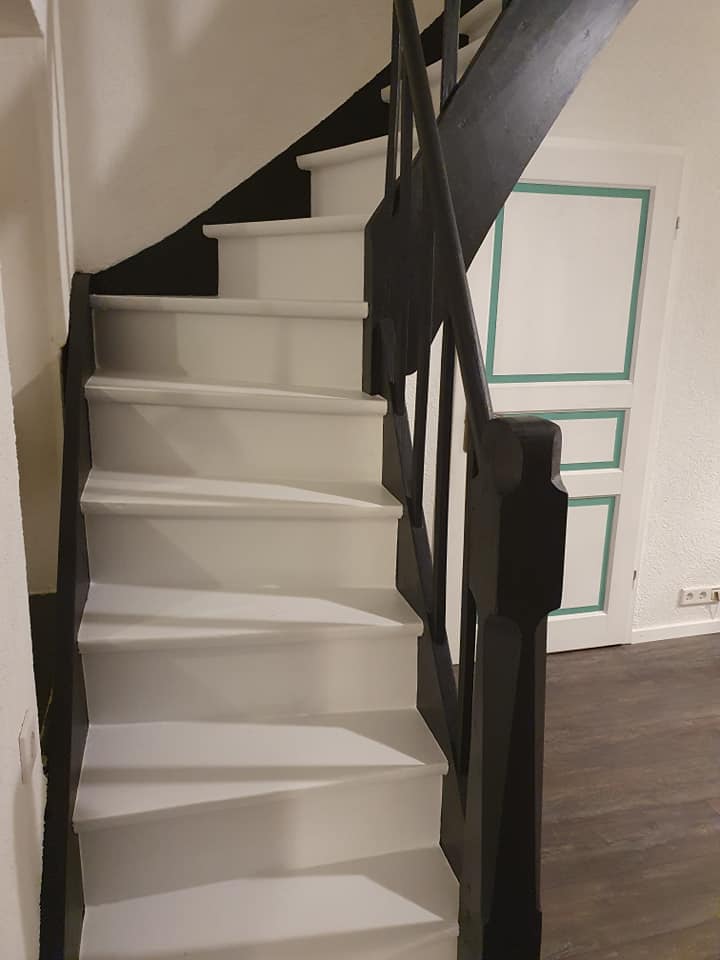 After
- What an update! Painted, the stairs look like new.
Step-by-step instructions: Painting the staircase
Step 1: Choose a varnish
Step 2: Prepare surfaces
Prepare the surfaces by sanding
off any flaking varnish
. If you want to remove the old varnish completely, the environmentally friendly and low-odour
Painting the Past Remover
is suitable for most old coats. You can easily conceal any cracks or holes with
To Fill - MissPompadour Filler
.
Step 3: Clean the stairs
Clean the stairs to prepare them for painting. The best way to do this is to use
To Clean - MissPompadour Cleaner
and lukewarm water to degrease the stairs. Then wipe well with clean water. It is important that the surface is free of dust and grease. Residues of floor polish or other care products hinder the adhesion of the new coating and must be removed.
Step 4: Prime the surface
Prime the surface to be painted with a barrier or primer to ensure durability.
If you are paintinga wooden staircase, play it safe by priming once with To Block - MissPompadour Stainblock or another stain block . For more details on priming wooden stairs, see the FAQs.
For smooth surfaces such as tiles and concrete , prime with To Bond - MissPompadour Primer.
After priming, wait 4 - 6 hours or preferably overnight.
Step 5: Painting the stairs
Now paint the varnish. Apply as many coats of paint as necessary until you are satisfied with the application. The result is usually opaque after 2 - 3 co ats, but a double coat is always recommended. Allow each coat to dry for 4 - 6 hours. The surfaces become more stable with each day - after about 14 days they will have reached a load-bearing stability.
Step 6: Sealing
Seal the steps after the last coat of paint if you are not installing a runner or step mats.
To Seal - MissPompadour Topcoat
is perfect for this. You apply this after the paint has dried overnight or so. The seal is considered the final coat - about 14 days after sealing, the varnish is stable enough to be used normally again.
What paint is suitable for painting stairs?
Which varnish is suitable for wooden stairs and what else do I need?
The following varnishes are particularly suitable for a beautiful and stable painting of your stairs:
The sustainable varnish:
MissPompadour Eggshell Varnish

Mylands Wood & Metal varnish
Painting The Past varnish Eggshell
Additional products for preparation and finishing:
To Clean
stainblock "To Block" by MissPompadour to prepare substrates for painting and prevent bleeding
Sealant "To Seal" from MissPompadour
Which colours are suitable for concrete stairs or stone stairs and what else do I need?
You can also use our paints for concrete and stone stairs in a relaxed way. They are particularly suitable because you can apply them to almost any surface! They are also practically odourless and easy to apply.
You need these varnishes for your stairs:
MissPompadour Eggshell Varnish
Mylands Wood & Metal varnish
Painting The Past varnish Eggshell
Use this to prepare and refinish your products:
To Clean
primer To Bond by MissPompadour to prepare substrates for painting
To Seal - MissPompadour sealer
What can I paint the stair railing with?
depending on the material: MissPompadour To Block for handrails and banisters made of wood and metal, MissPompadour To Bond for plastics
MissPompadour Eggshell Varnish
Mylands Wood & Metal varnish
Painting The Past varnish Eggshell
To Seal
Video: Painting Stairs Project: Suitcase Camera with Kathleen (MakeOver)
Frequently asked questions about painting stairs
1. General questions about painting stairs
Can you simply paint over stairs?
In principle, you can paint almost all stairs. What is important here is the correct preparation and follow-up. Only with PVC is it impossible to make a statement, as it may contain plasticisers that impair durability.
Should you paint stairs without sanding?
If the old varnish on the stairs is still in good order and undamaged, sanding is not necessary. Even concrete and stone stairs do not need to be sanded before painting, as long as they are even. If the varnish is very smooth and glossy, you can lightly matt the heavily used surfaces with fine sandpaper in preparation.
How long must the painted stairs dry?
After the last coat, the staircase needs about 24 hours to be walked on carefully, on socks or over a towel. To be normally loadable, the staircase must dry and harden for approx. 14 days after painting.
How much paint do I need?
There are so many different stair designs. How much paint you need depends, of course, on how much surface area your staircase has. The best thing to do is to roughly estimate the square metre of a step and count the number of steps. Next to each of our colour shades you will find the practical paint quantity calculator, where you can enter the square metres to be painted. The calculated consumption is valid for two coats. Often these are enough. However, you may always need more coats.
How can I to mask to-paint the stairs on freshly painted surfaces?
If you plan to paint in two colours, you should, if possible, only mask off after 14 days, when the first colour has dried completely, and start with the second colour. You can use our painter's masking tape very well here. First, stick the tape to your jeans or T-shirt so that fine fibres adhere and the tape does not stick so strongly. Then carefully stick it to the desired area. When you peel it off, don't pull it towards you, but carefully to the side so that there is as little tension as possible and your paint is not damaged. It is important to always remove the tape while the paint is still wet so that the paint film does not tear. It's best to reapply the tape for each coat.
2. Questions on: Painting wooden stairs
The old varnish on my stairs is crumbling away, what do I have to do?
If the old varnish is crumbling, you should sand off the loose parts of the wooden stairs. Sand the edges of the old varnish carefully to have a smooth surface. varnish that does not come off can stay on.
Do I have to prime the wooden stairs?
Once your staircase has been completely sanded and the varnish removed, prime the staircase with our MissPompadour To Block stainblock. A stainblock is also recommended on the already lacquered wood if you want to paint the stairs a light colour.
Should I seal the stairs?
Once you have painted your steps, be sure to seal them. This heavily used surface benefits from additional protection. The same applies to the handrail. However, risers and stair stringers are sufficiently stable even without sealing, provided they are painted with the stable varnishesn.
3. Questions about painting tile and stone stairs
Can I paint every stone and tile?
The same restriction applies to stairs as to other tiles. The vast majority of tile and stone stairs can be painted. One of the exceptions is coated terracotta tiles, as well as other water-repellent coated surfaces.
Do I need to prime the tile/stone stairs?
Stairs made of stone, tiles and concrete should be primed with a thin layer of To Bond before painting. This prepares the smooth surfaces particularly well for the varnish coat. If the concrete is porous, you can also thin the first coat a little or harden the surface again with a special concrete sealer.
Should I seal the tile or stone stairs?
You should also seal the stair treads on tiles and stone if you don't put a carpet over them. You can use MissPompadour To Seal for this.
How easy is it to maintain a painted staircase made of tiles, stone or concrete?
A painted staircase can never be as low-maintenance as your old tiled, terrazzo or stone staircase. These materials are almost indestructible surfaces. If you're worried about the turbulence of your household, consider painting only the banisters, stringers and risers, leaving the treads in the unloved terrazzo! In addition to its resilience, a finely patterned stone will forgive many a dirty shoe print, which will be so immediately noticeable with a noble black look.
4. Questions about painting stair railings
My railing is made of wood - how should I pre-treat it?
If you want to paint your banister, first dust and degrease it with a gentle cleaner, e.g. our MissPompadour To Clean. Open wood can then be primed with the MissPompadour To Block stain block, or with another stain block from our range.
My railing is made of metal - how should I pre-treat it?
If your railing is already painted, you can either prime it with MissPompadour To Bond or paint it completely without primer. Simply clean the railing with MissPompadour To Clean or another gentle cleaner and you're ready to go. If your railing is rusting or tends to rust, remove the loose rust and prime the derusted areas with MissPompadour To Block to prevent further rusting.
Can I also paint my plastic handrail?
Yes, a plastic handrail is also no problem. You can prime it with MissPompadour To Bond beforehand and then paint it with one of the varnishes mentioned above.
Should I seal the railing?
Like the stair treads, the handrail should also be protected by an additional seal. To Seal protects the varnish from the stress of hand perspiration and abrasion.
Pro tip:
Again and again we get the question: How should I paint stairs that are the only way up, into the cellar, to the front door, etc.?
The solution is a bit awkward, but works wonderfully: Just paint every 2nd step at first. And when those are done, tackle the rest.
What you need: Accessories and other products To Paint in the MissPompadour Shop
Of course, there are other materials you need and should have at hand for To Paint!
Sandpaper or sanding pad: For all areas where old varnish has flaked off. These should be sanded smooth first.
Cleaningcloth and bucket to thoroughly clean the stairs first: The surface must be free of dust and grease so that your coat of paint will hold well.
Masking tape: Always remove the masking tape when the paint is not yet dry, so you get a clean edge.
plastic drop cloth or newspaper: To protect the parts that are not to be painted
Brush, varnish roller and paint tray: It is best to pour the varnish into the paint tray. Paint corners and edges with the brush and the surfaces with the paint roller.
Already finished reading?
Here you will find more exciting topics
Your new favourite colour for your stairs
A selection of our most popular colours
How to make your project perfect
Our accessories for painting stairs