Wall Paints & Varnishes in Red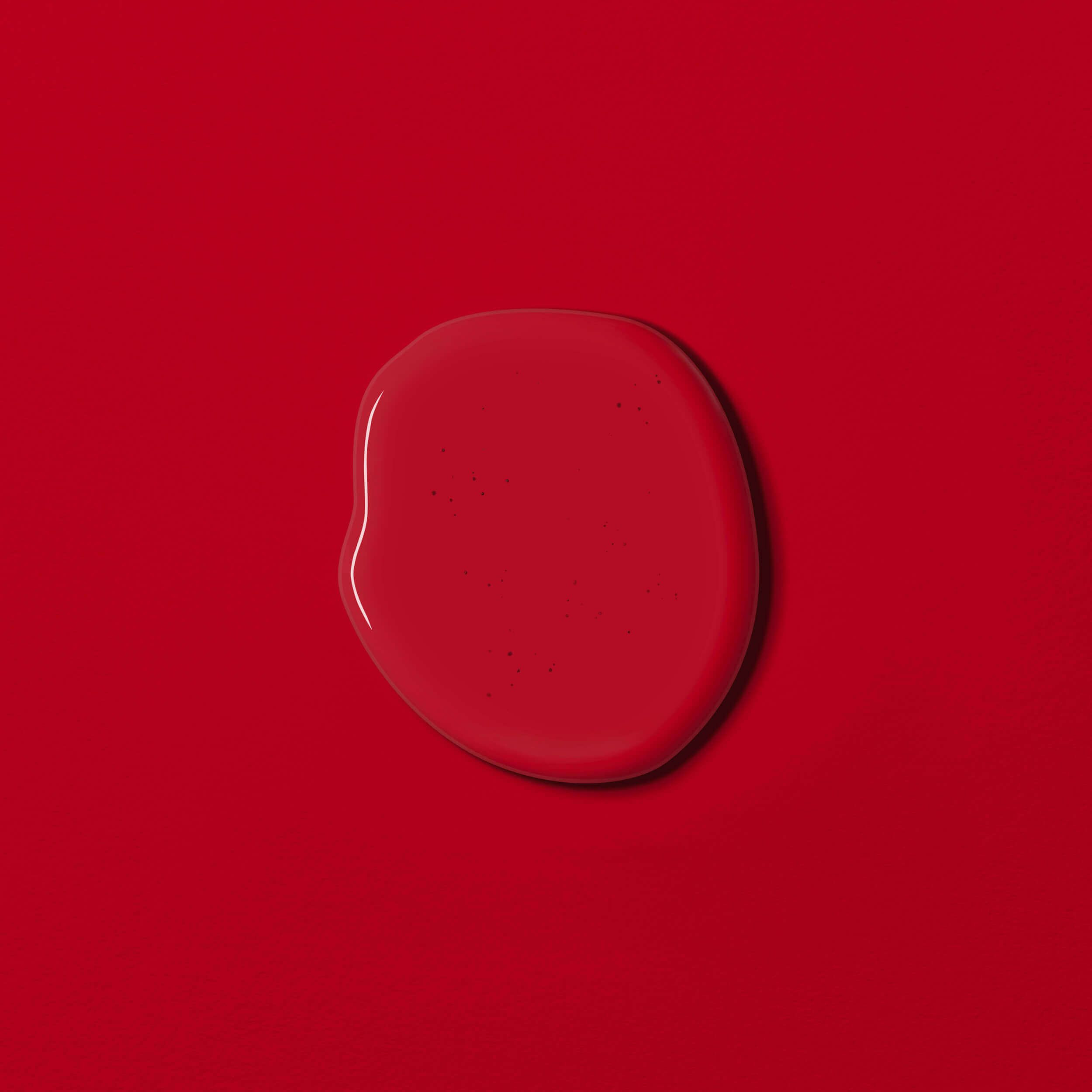 What shades of red are there?
The red colour scheme ranges from Bordeaux and wine red, dark red to cherry red and light red. Depending on the living area you want to design and the effect you want, a warm or a cool red is the right choice. You can find all shades in our shop so that you can start your red project right away.
What shades of red are available?
If you're considering light reds, you'll quickly end up with reds that are mixed with other colours and where red isn't necessarily the main focus. These include
MissPompadour Red with Coral

MissPompadour Red with Raspberry
Both are subtle colour shades that can be used as pleasant accent colours in many rooms, for example in the bedroom or living room, without pushing themselves into the foreground.
Strong, warm red tones create a cosy, stimulating and inviting atmosphere. They are suitable for the design of your dining room, for example. A typical example is Dining Room Red by Painting the Past or Indian Lake by Mylands, which is reminiscent of Indian summer. Even warmer is Red with Chili by MissPompadour, which belongs to the warm spice shades. Clear and almost pure reds are reminiscent of summer and Swedish cottages. These include Red with Sweden and Red with Cherry by MissPompadour.


Here is an overview of our favourites:
Painting the Past Dining Room Red
Mylands Indian Lake
MissPompadour Red with Chili
MissPompadour Red with Sweden
Red with Cherry by MissPompadour
Darker and almost mystical in appearance are wine-red tones tinted with blue and violet. The following colours from our range are fantastic examples:
Red with Merlot by MissPompadour
Huguenot from Mylands
What effect does red have as wall paint?
A wall paint in red tones has different effects depending on its composition: first and foremost, red has a stimulating effect. It also gives positive energy, exudes a lot of energy and can not only stimulate the appetite but also have a cheeky effect. If you want to fill your rooms with energy and feel vitality when you live there, red accents are the ideal solution for you.
For which rooms are red walls suitable?
Because of its appetising effect, the use of red colour scheme is ideal in the dining room or in your red kitchen. You can decide whether to use wall paint in red tones or paint your country kitchen in red. In either case, the effect will be stunning. Or maybe it's just the backsplash that you want to add red accents to your anthracite-coloured kitchen furniture. This is also an ideal solution for brightening up your rooms.
In the bedroom, red wall paint is sensual and warm. An accent wall painted in wine red gives your cosy retreat an inviting and mysterious atmosphere. And in the living room, too, red can contribute to your well-being in the right mix and dosage. Use a dark, warm wine red in these living rooms, which has a more subdued effect, to create a relaxing mood
Tips on the trend colour red
Since you might think of red in the first place, it is doubly worthwhile to take a look at our wide range of red t ones. You'll find that there are great uses for red in your home too. Especially as an accent, red in its various shades can bring life into your living spaces.
Living styles and trends in red tones
In the
outdoor sector
, red wood paint for exteriors is an absolute classic. In the style of the Swedish cottages, you are sure to be right with red wood paint for your garden cottage. The Swedish red can also be perfectly applied to the
Scandinavian style
indoors in almost all rooms. Here, however, you must be careful to use the red sparingly. In combination with
wall paint in earth tones
, the red complements each other wonderfully and does not appear obtrusive at any time.
If you want to bring oriental and Asian elements into your style of living, you are right on target with rich and clear red tones. Here, the red complements black and clean lines perfectly. For the Asian style, you can use the glossy quality with varnishesn. If your heart is more oriental, the warm spice tones are the right colour for you.
If you're inspired by the retro style of the 50s and 60s, go for clear reds. Paired with white or grey
wall paint
, your interior style will take you straight back to the
Swinging Sixties
.
Which colour shades go well with red?
In terms of the many possible combinations, red is a real jack-of-all-trades. The question of what you combine red with depends on the effect and mood you want to achieve with it.
Of course, all white and natural tones go very well with red. Ideally, you should make sure that the neutral tone contains red elements. This way you achieve a coherent overall result. An example of this is Mylands Holbein Chamber, which contains pink pigments and thus creates a harmonious overall picture with red.
Light reds
with
earth t
ones look
warm, summery and close to nature
. Red has a similar effect with green tones.An
accent wall painted with burgundy or wine-red
wallpaper
colour sets off a
sage-green chest of drawers
very nicely
Grey tones, whether light or dark, make a fascinating combination with red. Mouse grey makes red shine particularly intensively, while a dark grey takes the edge off the red. Against a background of dark grey, the red appears muted yet luminous. For relaxed and stylish living, this is an extraordinary colour combination....
A classic colour combination is red with blue. The warm-cool combination is enormously expressive and makes both colours appear much more striking. A light blue or aqua blue wall with a deep red sofa in front of it creates a surprising constellation that is sure to be a highlight in your home.
Last but not least, you can also combine red with pastel shades. This combination even allows you to use red in the children's room. Have you ever thought of combining red with pink? You will be amazed at how wonderfully these shades harmonise with each other.
What can I stylishly combine the red colour scheme with?
The materials you can combine with red are as varied as the shades of red. If you use Swedish red for the Skandi style,
natural woods
look aesthetically pleasing. This style is ideally complemented by cosy cushions and blankets, candles and fur rugs.
The combination of antique furniture made of dark woods and red walls looks particularly elegant. Because with a bold shade of red, antiques can visually connect with today's world.

If you prefer a more glamorous use of red,
gold accents and accessories made of velvet and silk
will suit your interior style. Picture frames in baroque style really come into their own on a red wall in your living space and emphasise the noble mood.

Graphic patterns
and furniture with clear lines go well withretro
style.
Which colours can I order from MissPompadour?
At MissPompadour you can get every colour shade in all colour qualities, so that you get the right colour quality for all areas of application.
Colours in red: for your interiors
For your accent wall in red, you can choose between The Valuable Wall Paint and The Functional Wall Paint from MissPompadour. The Valuable Wall Paint is our odourless ecological wall paint, solvent-free, which does not splash or drip. The Functional Wall Paint is extremely impact resistant and wipeable. This quality was developed for demanding applications where the paint has to withstand a lot, i.e. stairwells, hallways, workshops or practice rooms. You will also find red chalk paint from Painting the Past, as well as the wall emulsion with marble powder from Mylands. Both wall paints are ideal for a velvety matt finish that you can enjoy especially in the bedroom.
varnishes in red: for wood, metal and plastic
In addition to the wall paints, there is also wood paint in red. But not only wood can be painted with our varnishes. Metal, tiles and plastic can also be redesigned and refreshed with the varnishes.
Gloss levels and different qualities
You can choose between different gloss levels for the varnishes. The silk matt qualities include
Eggshell Varnish from MissPompadour

Wood & Metal Eggshell from Mylands

Eggshell varnish from Painting the Past
They are suitable for all those areas where the paint has to withstand a lot. Tiles, kitchen furniture or doors. Even if you simply like the silk matt look, this is the right quality for you.


If you prefer a matt look and want to wax your furniture after painting, the matt varnishes are your choice.

Here you can find
MissPompadour Matt Varnish

Mylands Wood & Metal varnish Matt

Painting the Past den varnish Matt
For a particularly modern look, opt for the high-gloss version of Mylands, the varnish Wood & Metal Gloss.
Order red wall and chalk paint online at MissPompadour
Did you know that we mix the colour of your choice from MissPompadour and Mylands ourselves? So you always get a colour that is specially tailored to you.
By the way, you can choose between many payment methods: PayPal, prepayment or credit card are just three of many options. We ship your colour quickly after your order with DHL GoGreen
and also attach great importance to the reuse of materials in the packaging and do without plastic. If you are unsure about your colour choice, our great colour cards and
free advice
are
guaranteed to
help
you
.
We are also there for you at all times during your project. This way, you are completely covered throughout the entire process, should you have any questions or need any help. So nothing stands in the way of your living in red!