Painting Your IKEA KALLAX: DIY-Tips and Inspiration for a Beautiful Ambience
5 min reading time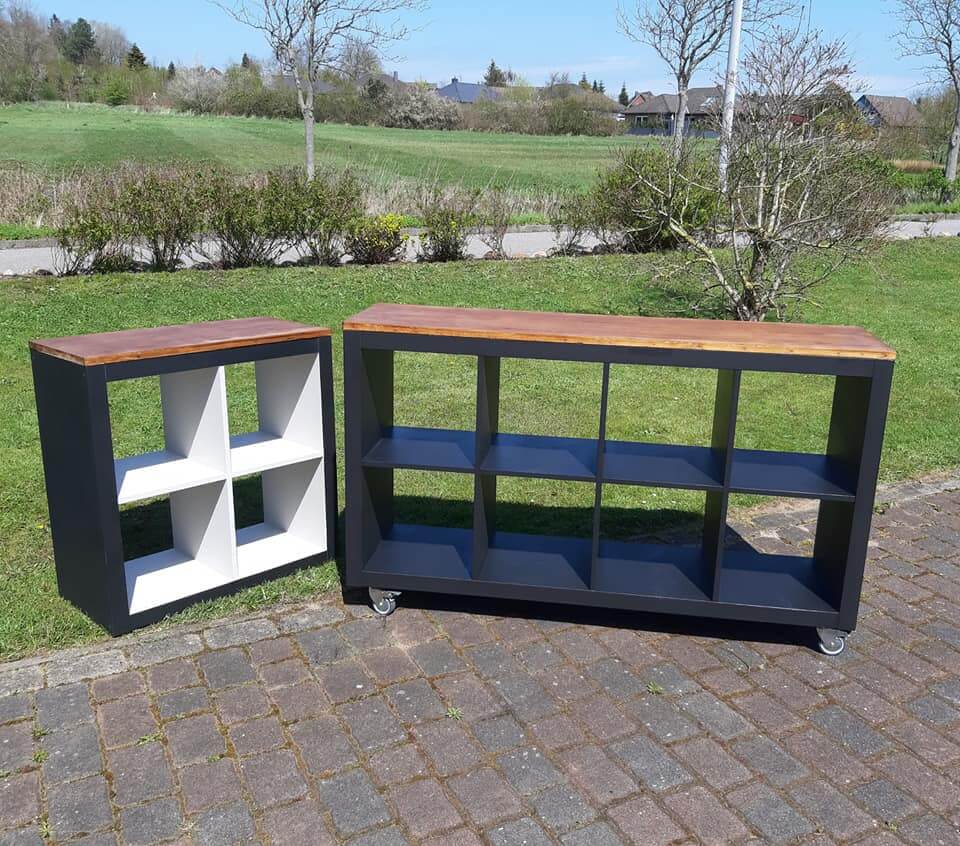 Who doesn't know the indestructible, practical and inexpensive shelves from IKEA that offer so much welcome storage space? Unfortunately, there's only a limited choice of colours, so you might miss a bit of individuality too. So if you want to turn an ordinary piece of furniture into something really special, grab a paintbrush and paint your KALLAX shelf.
Turn old into new: repainting KALLAX shelves
You're probably asking: Can KALLAX shelves be painted? Will the paint hold on a smooth plastic surface? Yes, all IKEA furniture with plastic veneer can be painted without any problems and without sanding!
Painting furniture with plastic surfaces is a popular IKEA hack. At MissPompadour you will not only find the right paint and the perfect painting tools - here you will also find ideas and inspiration. And the exact instructions you need to pimpyour EXPEDIT or KALLAX .
Inspiration: This is how you could use your new KALLAX shelf and showcase it
As the KALLAX shelf is open and without a back panel, you can not only place it against the wall, but also use it as a room divider. If you want to paint it, consider painting not only the outer walls but also the inner walls. It may look good to paint the front edges a different colour.

Another option is to
paint
the
IKEA shelf
exactly
in wall paint
. This gives it a restrained and discreet look. This is especially recommended for smaller rooms. If you have matching pieces of wooden furniture, paint them in a matching colour as well. In our article on painting wooden
furniture
, we show you how to do it easily!
With new legs and matching doors, which you can also colour, your KALLAX will easily become an individual chest of drawers.
Why the re-use? This is why you should paint your KALLAX and not buy a new shelf or chest of drawers
One thing about IKEA shelves is that they are sturdy and virtually indestructible. And why throw away something that can last for many years to come?
By giving your KALLAX or EXPEDIT a new coat of paint with our colours, you get a new piece of furniture. Your KALLAX will probably look like no other in the world. And the environment will be happy about it. Why not give your other IKEA furniture a new, individual look? We show you how to easily paint your
MALM
chest of drawers.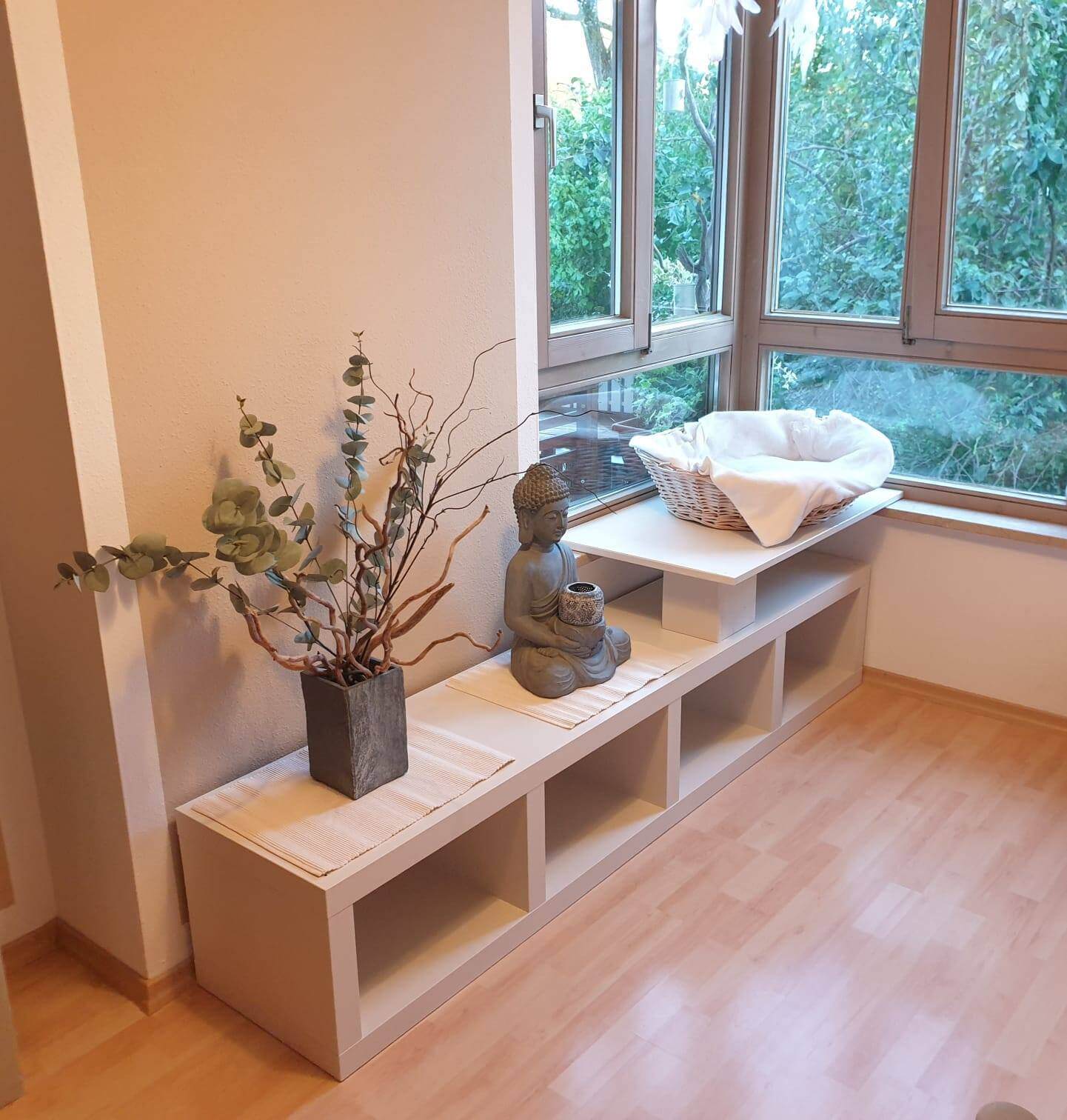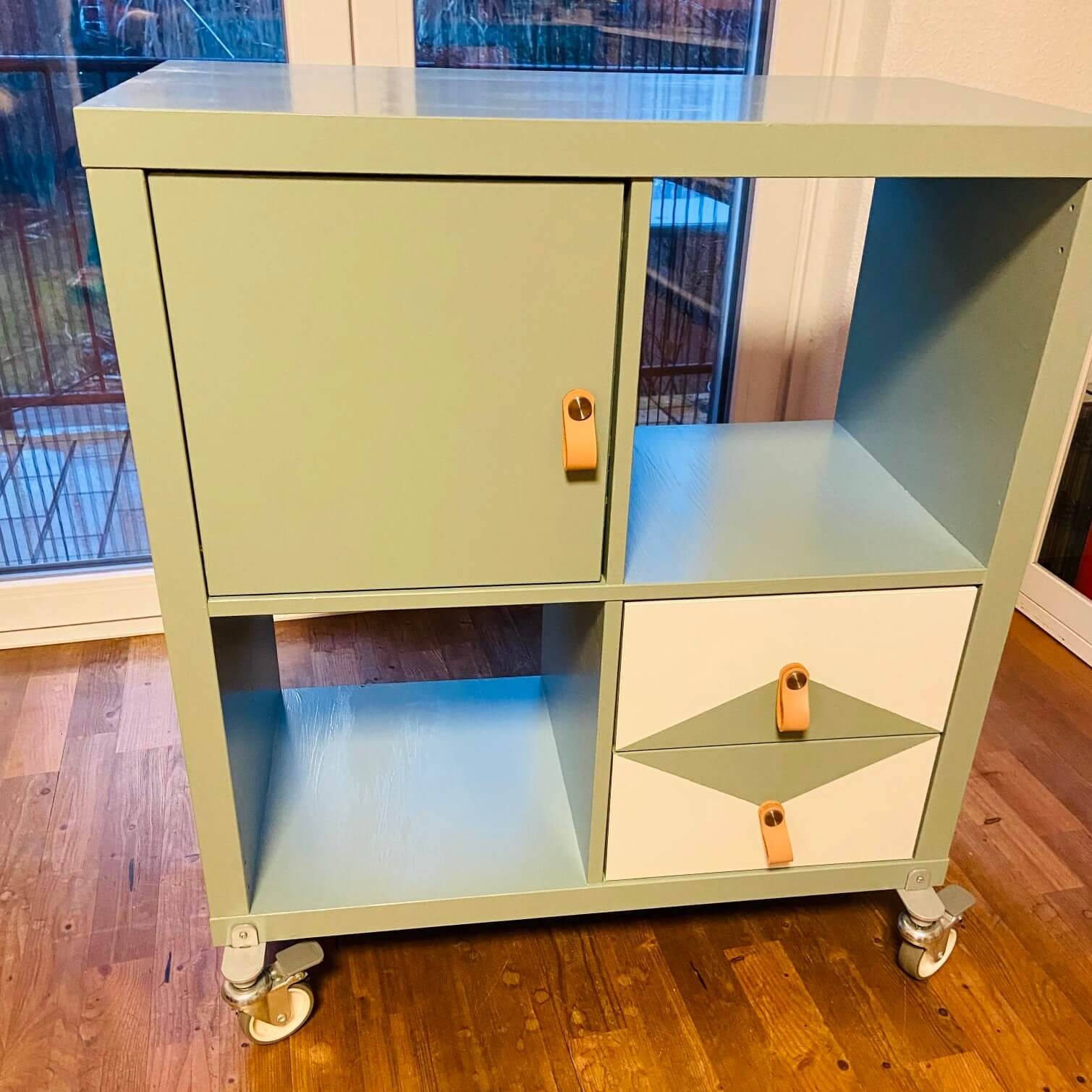 How to paint an IKEA KALLAX shelf
With precise instructions, you can achieve a perfect
result
even if you're a "painting layman". If you really don't know what to do, just contact our friendly and competent
customer service
team, which is there for you almost around the clock.
Degrease, sand or simply paint?
Cleaning and de greasing IKEA furniture before painting is absolutely necessary. The paint must be able to adhere well.
The best way is to use
our mild
MissPompadour Cleaner To
Clean
. Even if your KALLAX is completely new, you must clean it thoroughly. Even new furniture has residues of grease or silicone. Rinse well with clean water and allow the furniture to dry thoroughly before painting.
KALLAX chests of drawers have a smooth non-porous surface made of plastic. You should
not
sand them
.
If
you want a secure hold for your paint, we recommend our
primer MissPompadour
To
Bond
.
This
primer
creates a perfect base for your paint
.
Tips for Painting the Plastic Surface of the Shelf
The smooth plastic surfaces of IKEA shelves are easy to paint. Allow the primer todry for about 4 hours, or better still overnight. Now start painting your EXPEDIT or KALLAX. No matter which varnish quality you choose, always paintat least twice
. For the smooth surfaces of the KALLAX, we recommend
using
a
varnish roller
.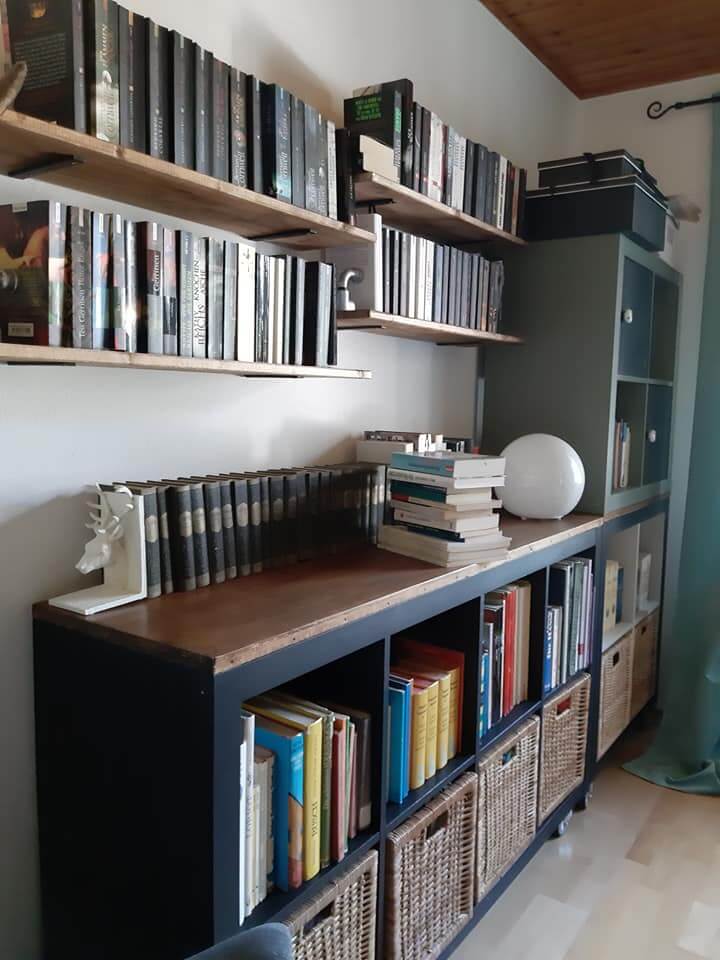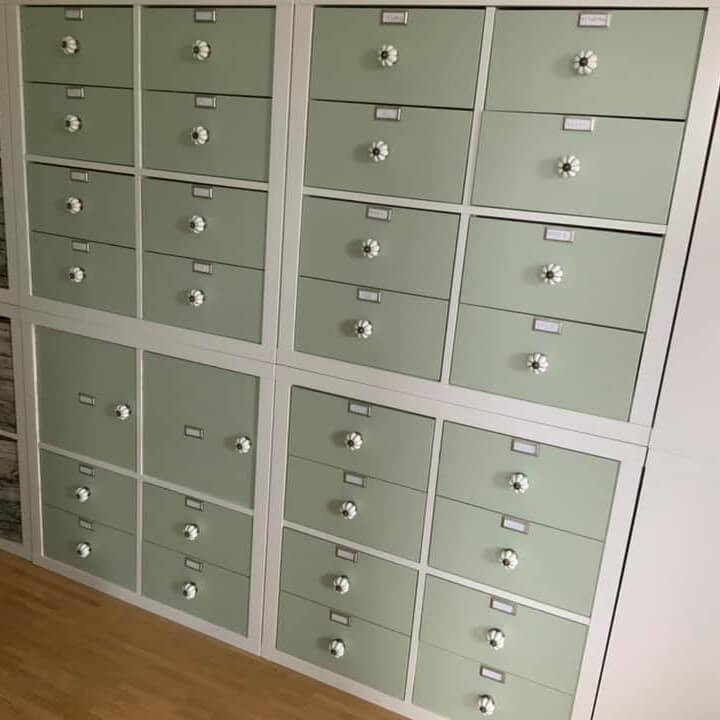 DIY Skandi look or Shabby style - colours and varnishes for your new KALLAX shelving unit
The colour choice should match the rest of the room. Light colour shades that go well with the Scandinavian interior style emphasise the character of KALLAX. Or choose an intense colour to give your KALLAX shelf a new coat of paint. With the appropriate decoration, it becomes a real eye-catcher. With its strict geometric shape, KALLAX is less suitable for shabby style. But with a soft pastel shade, it can also find its place in a vintage interior. By the way, it's no problem to paint a black KALLAX white, because the varnishes from MissPompadour cover fantastically.
Which colour you use to paint your KALLAX depends on your personal taste, of course. In any case, we recommend varnish. Choose between our slightly glossy MissPompadour Eggshell Varnish or our matt MissPompadour Matt Varnish. Both are available in many great colour shades. If you are having trouble deciding which colour to paint your KALLAX, our colour cards will help you.
You can also paint your KALLAX with chalk paint. Note, however, that wall paints do not have the same durability on furniture as varnishes.
Little helpers: Buy accessories from MissPompadour
Every handyman and do-it-yourselfer knows it: without good tools, the job won't work. You also need the right tools to paint your IKEA furniture. First, cover the floor under your work well. MissPompadour has a particularly environmentally friendly film for this, which is even compostable. If you like to work with a paint roller, we also recommend our compostable paint tray. Our environmentally friendly paint rollers make working on larger surfaces much easier. If you prefer a brush to paint your IKEA shelf, we recommend our fine MissPompadour brush . With its soft trim, you will achieve completely smooth surfaces without brush marks. How practical, order your painting accessories at the same time and save yourself a trip to the DIY store!
Finished reading yet?
Here you will find more exciting topics
Now it's getting colourful
A selection of our most popular colours
For your perfect project
Our tools and accessories for painting the IKEA KALLAX