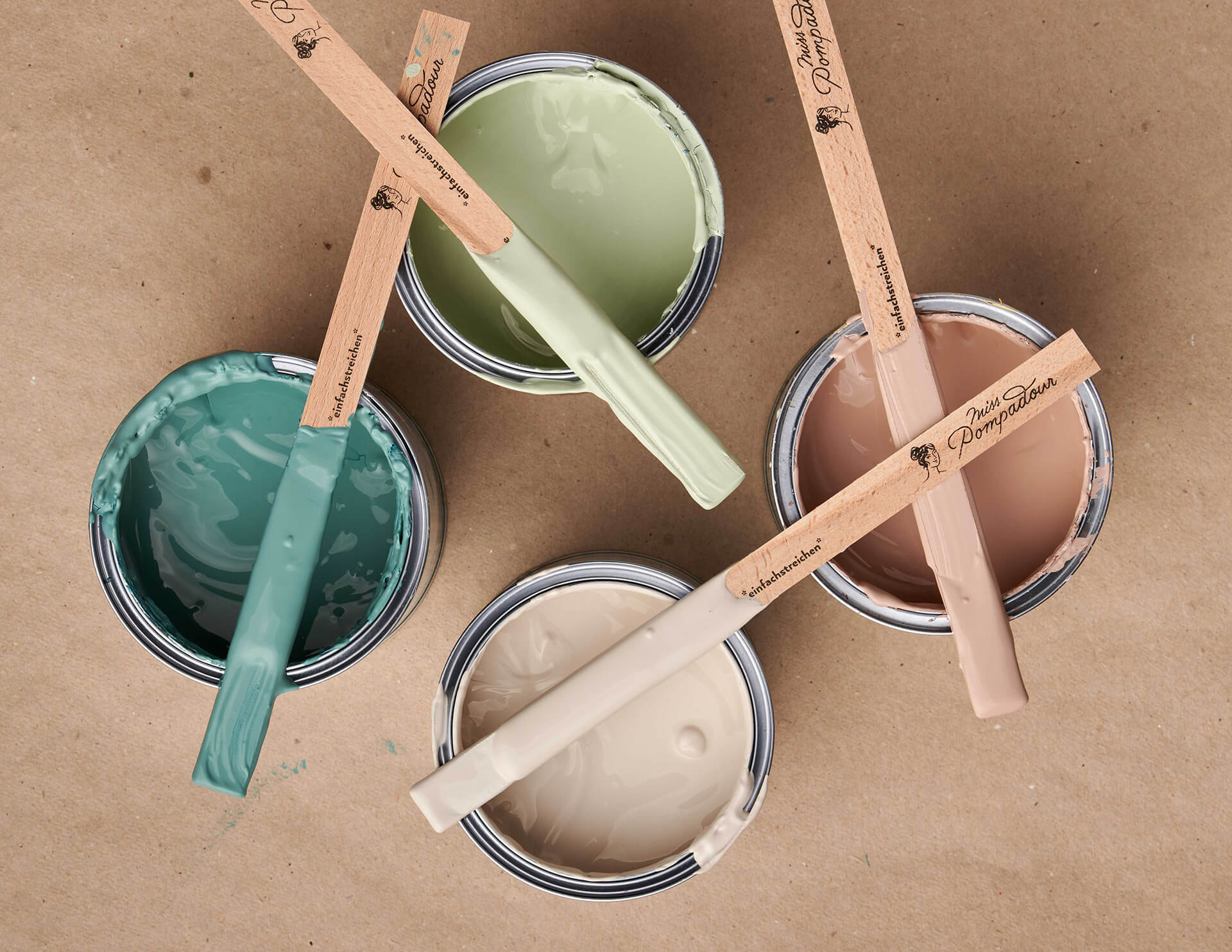 What is varnish?
Probably the first thing that comes to mind when you hear the word "varnish" is a shiny surface, unpleasant smell and bright colours. But there are other types of varnishes that you can use in different areas.
The difference between varnish and paint
Varnish is what we call wall paints. These differ from varnishesn as they have a different composition to them and therefore need a rough surface to hold. They are less impact-resistant on smooth surfaces.
v arnishes, on the other hand, bond better to the substrate, are usually thinner and can be painted well on smooth surfaces. It depends on the substrate and not on the varnish whether you need a primer.
Wood surfaces, pieces of furniture, but also iron and steel can be beautified with our varnishes. For metals, it is important to apply an effective rust protection, such as our To Block, before painting.
Areas of application: What you can paint with varnish
As varied as the surfaces in your home are, so are the areas of application for our varnishes.
Use furniture varnish to customise your IKEA furniture, match heirloom pieces or upgrade old furniture. With a varnish you can change the effect of your furniture without much effort. There are no limits to your creativity. If you want to embellish your staircase, use the wood varnish and the metal varnish for struts and other metal elements.
Did you know that you can paint your radiators yourself? Use the metal paint as radiator paint and make your radiator either disappear into the wall or stand out as a special accent.
If you can no longer see the 80s tiles in your kitchen or bathroom, paint over them with tile varnish. The special thing is that you can use these tile paints in the bathroom, because once they have hardened, they can also withstand water splashes. You can even use the tile paint for floor tiles. First apply a primer and then seal to ensure the highest possible stability. In the bathroom and kitchen, it is important to check whether the joints are sealed with silicone. In this case, Fexsil is the right primer before you paint. You don't need a two-component varnish for your tiles. This means you don't have to mix anything and can take breaks in between without affecting the tile paint
Even foiled kitchens and plastic doors are no problem for the right varnish. Use plastic paints to freshen up your doors or to make your kitchen more colourful. Of course, you can also use the plastic paints in other areas.









Which varnishes can I order from MissPompadour?
In our shop you can easily buy varnishes for almost all areas online. What makes our varnishes so unique is that you can often use one quality of paint for many different projects.

If you decide to buy paint from MissPompadour, you have the choice between our own brand and traditional paint manufacturers.
With Painting the Past and Mylands you will also find chalk paints, as well as furniture paints with chalk content
All three manufacturers offer you a matt and a silk matt gloss level. While the matt varnish is best suited for surfaces that are not exposed to much wear and tear, you can also use the silk matt varnish on surfaces that are subject to wear and tear, such as kitchens and wall tiles.
In addition, the manufacturer Mylands offers a glossy furniture v arnish. With a gloss level of 80%, this varnish is the glossiest and most liquid in our range. If you prefer colours in the Skandi and Shabby style, we recommend the colour scheme by Painting the Past, which is characterised by its variety of muted grey and beige tones. Mylands, on the other hand, delivers bold and coordinated colours alongside a variety of white and natural tones.
With the varnishesn from MissPompadour we have filled colour gaps, which is why you will find a little bit of everything in this colour scheme: a strong apple green, a rich pink, but also restrained tones like grey with different nuances. As you can see, you'll find a range of different products in our online shop, so there's something for your project too.









Colourful all-rounders: The great properties of varnish
With varnishesn you can easily and inexpensively change furniture, tiles, kitchens and much more. Choose from a wide range of different colour shades. From subtle and modern to colourful and eye-catching, you can buy varnish paint for
every surface
. Paint easily and without sanding if the old varnish does not come off. All you have to do is clean it thoroughly beforehand and you're ready to go.
Try out an exciting colour and have a look at our
red tones
. If you ever get tired of this powerful colour, you can paint over it without having to remove the paint. Change to a fresh
turquoise
, for example, which will revitalise your senses.
Or maybe you want to paint your kitchen with a
green varnish
that stimulates the appetite and is also trendy. If you want to buy varnish online and can't decide between the wide selection, our
colour cards
will help you.
No matter which colour shade you ultimately choose, all our varnishes have in common that they
hardly smell, have no harmful
vapours and are
water-based
. With these advantages, you can also paint indoors without any worries.
Frequently asked questions about our varnishesn
At first glance, painting tiles and furniture seems tedious and confusing. But at MissPompadour, buying paint doesn't have to be complicated. That's why we answer the most important questions here.



What is the difference between varnish and glaze?
You paint the varnish to get a covered surface. Varnishes contain more pigments than glazes. The latter are not opaque, because you want the surface to show through. Often it is the wood structure that should still be recognisable. However, the small amount of pigments also limits the variety in the choice of colours; strong colours are not feasible with glazes.



How robust is tile paint?
As with all surfaces, it also depends with tile varnish how much the coating is subjected to stress. When applied correctly, our varnishes are so robust that they work wonderfully as tile paint on the floor or even in the bathroom. On smooth tiles, we recommend a primer, our base varnish, which ensures particularly good hold.
Basically, the varnish will withstand normal everyday wear and tear after curing for 14 days. It will continue to cure for several weeks. On wall tiles, the load is usually less, so we find this coating unproblematic. Floor tiles, on the other hand, should always be sealed. Since the stress on the floor can vary greatly from person to person, we recommend that every customer assess for themselves whether a coat of tile varnish is suitable.



Which roller do I ideally use for varnishing?
Many people like to paint with a foam roller. We used to use these as well. However, we have had better experiences with the short hair rollers, which can be found under varnish roller. Therefore, we always recommend this roller for painting and varnishing.









Order varnish in the MissPompadour Shop
Save yourself the trip to the DIY store and buy varnishes, wood paint and metal paint online at MissPompadour. We ship with DHL GoGreen, which offsets the resulting emissions. We also use no plastic in our shipping, from the packaging to the tape. Get some tips and tricks from our magazines or directly from our free customer and colour consultancy while you wait for your delivery. Once you've finished your project, feel free to share it with us!