Nursery: Colours and Their Effects
6 min reading time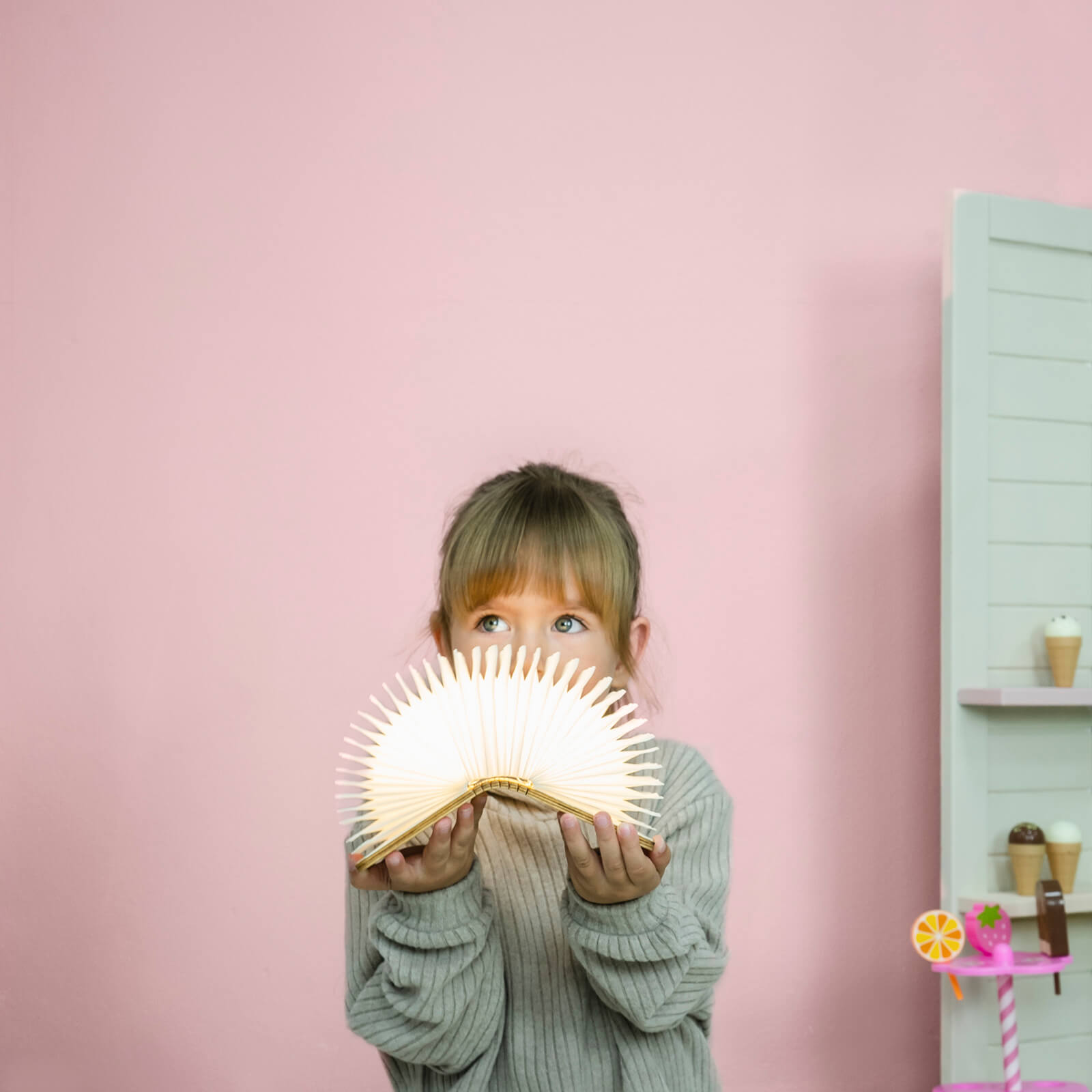 Like everything around us, colours also have an effect on us. That is why people have always been concerned with colour theory and psychology. They study how we are influenced by the colours of our surroundings. Thanks to them, we know that colours have a great effect on the atmosphere of a room and the mood of its inhabitants. They evoke emotions, can be stimulating and also calming. That's why it makes sense to think carefully about the colour scheme of your child's room.
The effect of colours: What to consider!
The different colour shades have an influence on the subconscious of every human being. Even newborns can perceive and distinguish colours at the age of a few weeks. Therefore, it is important to consider the effect of colour in the children's room as well.
First of all, a short description of the primary colours follows: These are colour shades that cannot be formed by mixing other tones.

We associate the colour red with energy, danger, passion and love. Red tones have a stimulating effect and increase blood pressure.
The basic colour blue is associated with calm and serenity. Blue tones are reminiscent of still waters and reduce the heart rate. Often they seem rather cool because of their freshness.
Yellow, on the other hand, we associate with light and brightness, with creativity and cheerfulness. It belongs to the warm colours and, in a subdued version, can provide a sense of security. If yellow is too bright, it looks like a signal colour and is rather disturbing. It has been proven that babies cry more in intensely yellow rooms than in other colours.
Green is the most important secondary colour. It stands for nature, for purity and freshness, growth and productivity. Green tones have a soothing and calming effect on the mind and body and lower the metabolism.
You will often find the findings from colour psychology implemented in kindergartens - where they are used to create the perfect atmosphere for children. The colour concept in kindergartens or daycare centres includes both calming wall paints in bedrooms and colours that encourage the children's creativity.
These colours encourage children's creativity
Far too often, toddlers, but also children of school age and older, are presented with too many colours. Toys, clothes, backpacks - everything is bright, in a wide variety of often very strong colours. But too much visual unrest is not good for children - and let's face it, adults too.
If you want to achieve a certain effect in your child's room with colour, set priorities. To encourage your child's creativity, green tones are particularly suitable, but so are contrasts. For example, choose a strong colour, such as a clear green, for a single wall and complement it with a light yellow or apricot tone. The latter creates an exciting contrast because orange, or apricot, is the opposite colour to green. With yellow, you create warmth and concentration.
Another option is to combine a strong colour shade such as yellow on an accent wall with a subtle, more natural tone on the rest of the walls.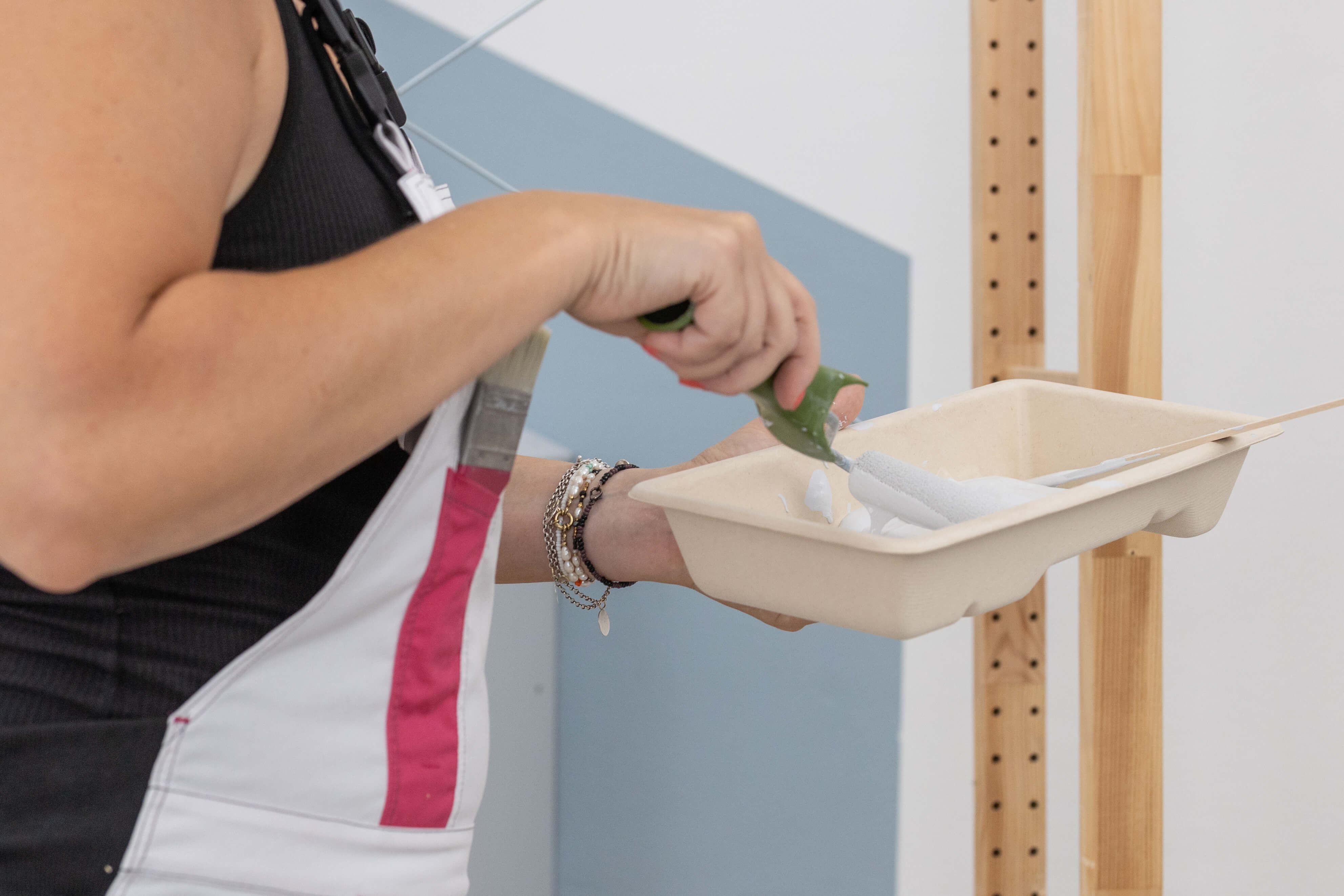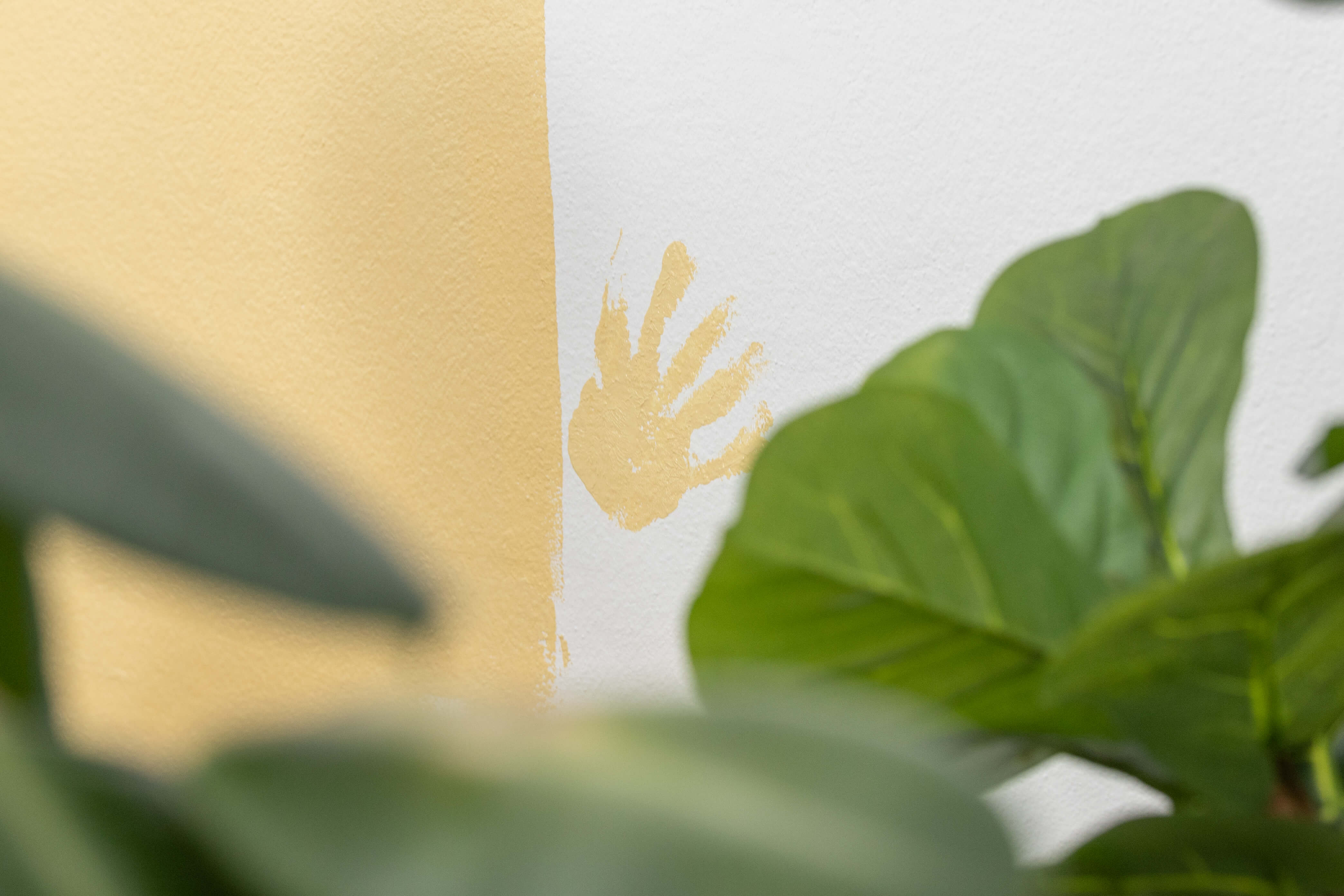 These colours have a calming effect
Combine the yellow mentioned above with a soft blue, as the interplay supports the calming effect of the individual colour shades.
For a baby or children's room, parents primarily want a calming environment for their offspring. For this purpose, all primary and secondary colours are suitable for the wall paint in the children's room, but as soft pastel shades.
A light green, a light blue or a delicate rosé create an atmosphere of security and calm in which your child can feel at ease. But a pastel orange and a soft yellow also contribute to a sheltered mood.
These colours promote concentration in children
When your child reaches primary school age, the children's room will change from a bedroom and playroom to a study. It's ideal to visually separate a corner of the room from the rest. Paint the wall or corner with the study table in a special colour that supports your child's concentration but stands out clearly.
Combine a natural beige with a fresh, cool shade ofblue or green on the work wall. A tinted white also supports the effect of the fresh colours.
The following colour pairs are perfect for both concentration and relaxation:

Beige with Sand & Blue with Cloud
Beige with Sand & Green with Aqua
White with Vanilla & Green with Glacier
These colours ensure a peaceful sleep
Since children's rooms are not only used for learning but also for sleeping, you should not choose colours that are too bright. To avoid this and still promote both concentration and relaxation, the above-mentioned combinations are also suitable.
Both blue and earth tones help to calm down and support your child in a restful sleep.
Influence of colours on the room
Colours on the wall not only have a direct effect on the inhabitants of the room, but also on our impression of the room. We have compiled some information on how you can consciously use the influence of colour.
Can I make a small children's room look bigger?
Often the baby's room is not big. This is not a problem in itself, because the newborn is not yet very mobile in the first year of life. But parents are also happy to have a certain amount of space in the nursery. After all, there are ways to make a room seem bigger with the help of colour.
First of all, it is important to choose a light, friendly colour. Make a room look bigger by painting the walls and furniture in the same colour shade. Use our LittlePomp chalk paints for this.
This way the furniture fades into the background and gives you more space. While you're painting the walls with a paint roller, you can find the perfect MissPompadour brushes for colours.
We generally recommend light colours for small rooms, as they always create a sense of space. Cool colour shades such as turquoise and blue also make the room appear larger because they visually recede.
As you can see, you can achieve several desired effects with just one colour!
Which colours should I avoid in the children's room?
In principle, you can always use light and soft colour shades in a child's room. If it is only one wall, it is also possible to use an intensive colour.
However, there are some colour shades that are less suitable for the children's room. These include red, grey and black. An intense red provides energy, but makes large areas restless. Even though grey is modern and fits practically everywhere, it can be too dreary for your child. So it's better to go for pastel wall paints in the children's room. The same applies to black, because although this dark colour looks elegant and bold, it has no place in a child's room because of its constricting effect.
A little more creativity for children's room walls - what is possible?
Uniformly painted walls can be boring. But how do you break this boredom and support your child's creativity at the same time?
Transformable walls with magnet paint
Tip: Simply paint our MissPompadour magnet paint under the wall paint.
It contains metallic pigments and is dark grey. Then paint over the magnet paint with the desired wall paint. As LittlePomp chalk paints are fantastic, you won't see any of the magnet paint after painting the walls. Now your child can attach notes, the timetable or their own small artwork to the wall with magnets.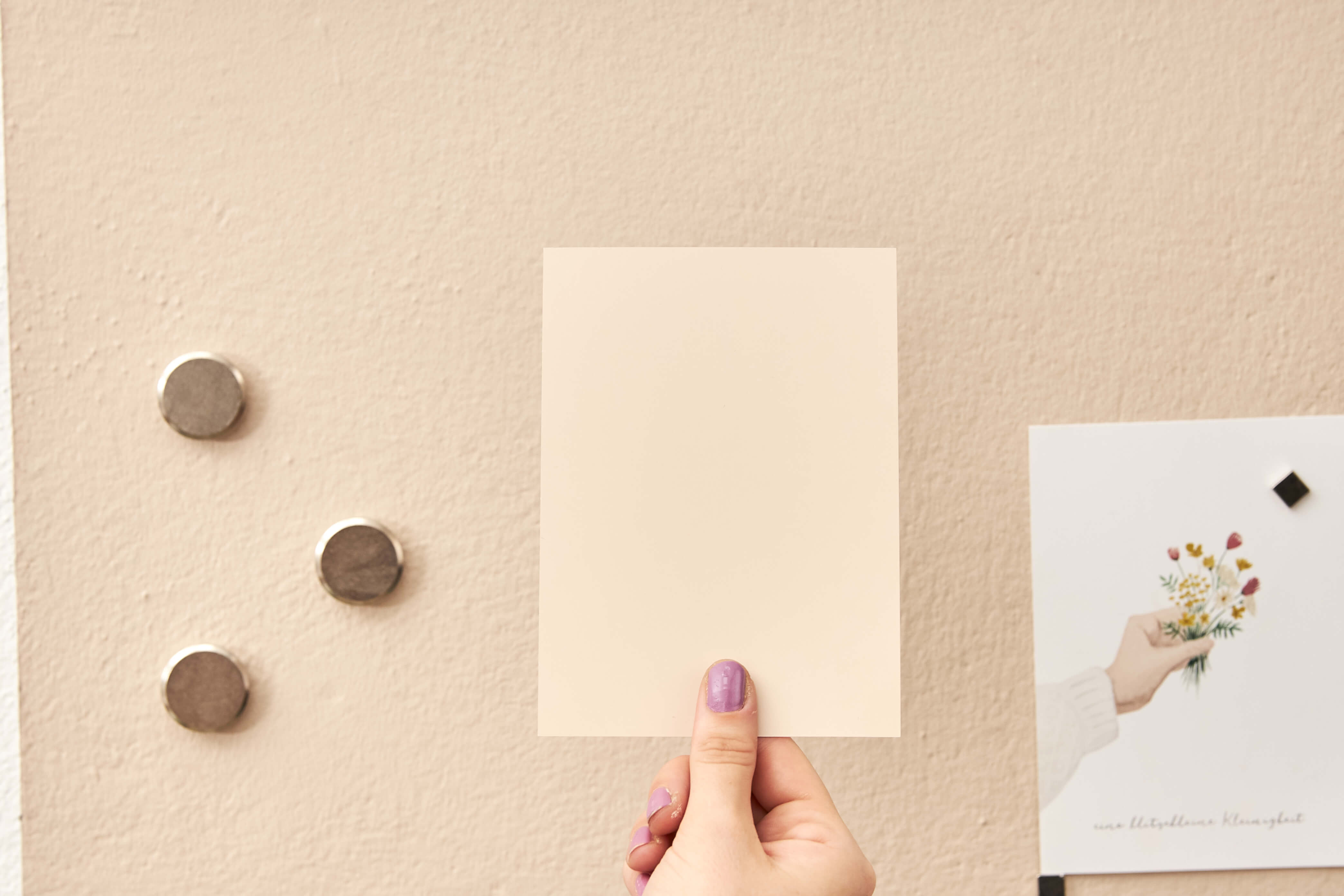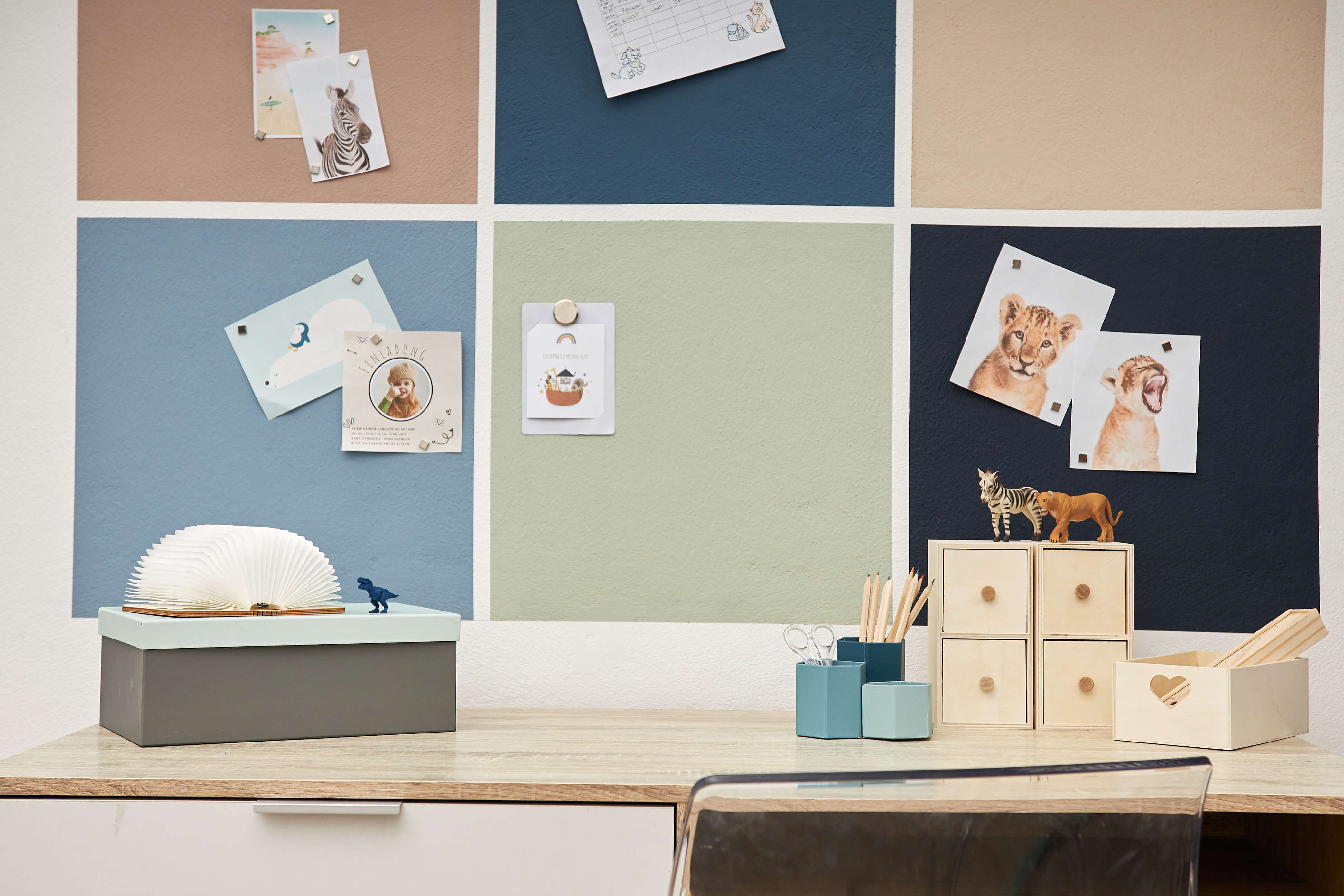 Contrasts, symbols and stencils
Walls in children's rooms do not have to remain monochrome. It is possible to use several colours in one room.
Divide the room horizontally and set an edge at a height of about 120 cm. Paint a matching, lighter colour over it. Finally, accentuate the edge with a border.
It is also possible to create an accent with a wall painted in a more intense colour. You can print beautiful motifs on the wall with our creative stencils for children.
Creating atmosphere with colours from MissPompadour LittlePomp
A child's room should be a room that simply makes you feel good. As your child develops and changes, so will the nursery. From a gentle calming baby room, to a creativity stimulating toddler room, to a work and living space for the school child. With the LittlePomp chalk paint collection, you'll find the right colour for every age of your child. Easily adapt the children's room to the respective needs of your child with small colour changes.