Varnish for Wood
Are you stuck with an old piece of furniture that doesn't match the colour of your interior? You don't want to throw it away, but what can you do? We say: simply paint it! It's so easy with
our wood varnishes
.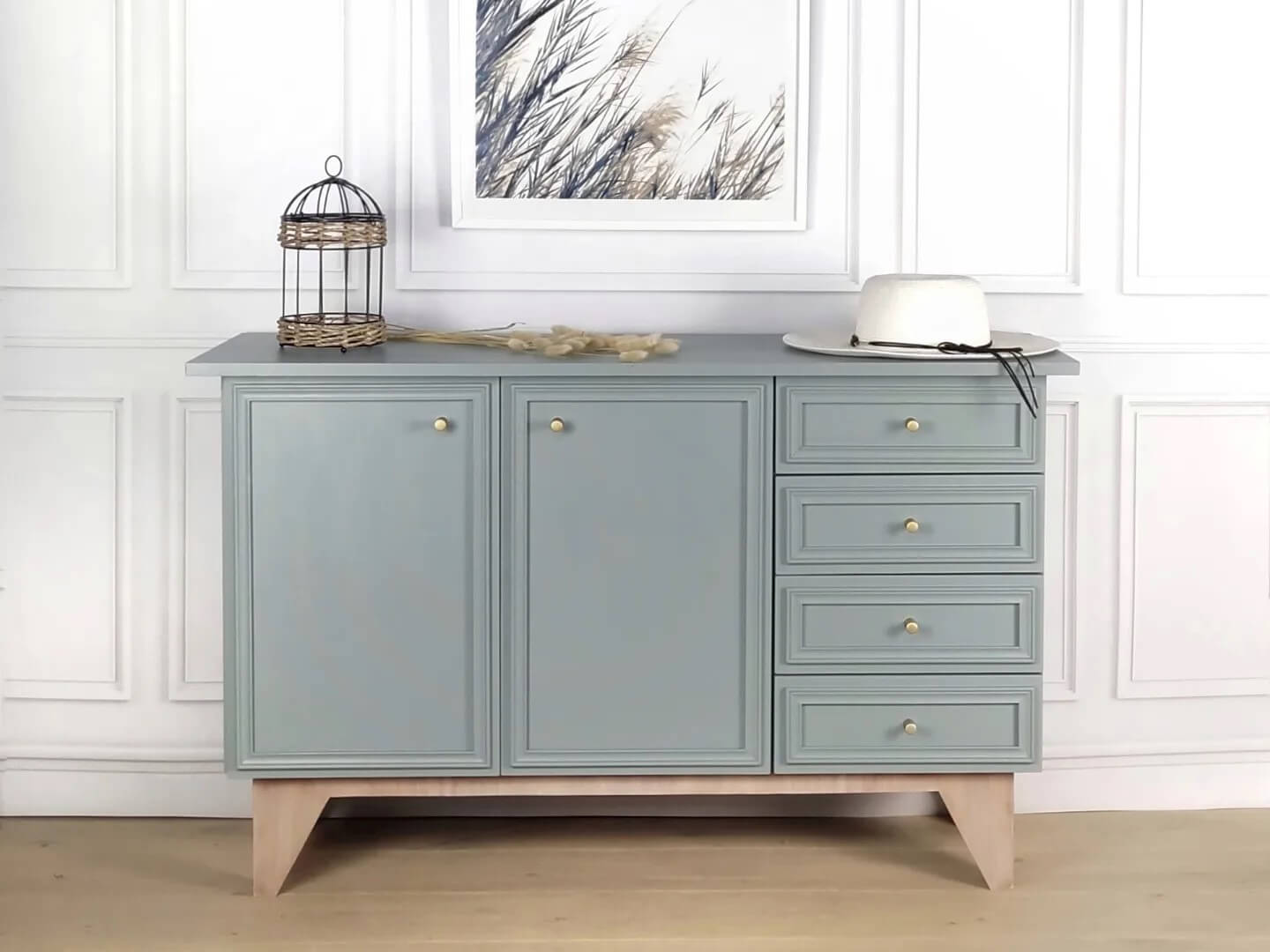 Paints and varnishes for wood & furniture: what you need to know
There is no doubt that wood has a special charm in its natural surface, with all its annual rings and knotholes. But not all wooden furniture is of such high quality that it can develop its full charisma with a transparent coating. For individual customisation, it's best to choose a beautiful colour shade from MissPomapdour's colour scheme. Because you can easily paint furniture with our wood colours.

In order to achieve a durable, hard-wearing and beautiful surface, a wood paint must adhere very well to the substrate and be of high quality. If it is also easy to apply, painting your furniture will be a great pleasure.
Weoffera wide range of wood varnishes and paints that do not require sanding. You can choose between three gloss levels for the varnishes: gloss, satin and matt. It is also possible to paint open wood with the completely matt wall paints.
Which wood can I paint or varnish?
You can actually paint all types of wood. For some projects it is worth taking a closer look. Is there already a varnish on the wood? Do you need to touch up scratches and scratches that can get in the way? Has the wood previously been stained, oiled, waxed, glazed or varnished? Even if you are not sure, you can still achieve a great result with the right primer.
You don't know what to do? Then simply send our customer advisory service a WhatsApp or email with a photo of your project! We will be happy to help you.
When can I use wood paint?
Wood paint is always used when you want to make a change. No matter if your wooden floor, your wall panelling, your wooden beams or furniture no longer look fresh - just choose the colour and get started!

Whether you want to paint indoors or the wood varnish is for an outdoor project, the colours can be used anywhere.
Depending on the properties of your wood and how you want to use the piece of furniture, various wood paints and varnishes from our range are suitable.
Heavily used wood
- MissPompadour Eggshell Varnish
- Mylands Wood & Metal Eggshell
- Painting the Past Eggshell
→ Matt varnishes can be made more stable with a sealant
Unpainted wood
- MissPompadour Matt Varnish or Eggshell Varnish
- Mylands Wood & Metal Matt, Eggshell or Gloss
- Painting the Past Matt or Eggshell
→ increased stabilityis possible with sealing
Outdoor wood
- MissPompadour Eggshell Varnish
- Mylands Wood & Metal
- Painting the Past Outdoor
Which MissPompadour Paint is suitable for wood?
If your project is more heavily used, for example a wooden floor, kitchen furniture or the shoe cupboard you use every day, it's worth choosing one of the sturdy varnishes. On wooden surfaces, the silk matt MissPompadour Eggshell Varnishes, Mylands Wood & Metal and Painting the Past varnishes are particularly robust. Not sure if your kitchen is made of real wood or laminated? You don't have to worry about that either, with the silk matt varnishes you can also paint plastic.
The matt colours from these manufacturers are suitable for wooden surfaces that are not subject to much wear and tear, and with an additional sealant they are also easy to clean and wipe clean.
These are particularly convincing if you want to make a piece of furniture "disappear" in front of the wall. Simply paint the wall behind it with the same wall paint and the oversized wall cupboard recedes discreetly. Even worn walls are no obstacle for our paints.
The right wood paint for outdoors
You can also use wood paint to create harmony and individuality on the outside. Whether it's a summer house, garden furniture or a children's playhouse - the projects are painted in no time and ready for the next outdoor season. No matter whether it's varnished and heavily used wood or a completely new piece of furniture: You can paint it with the wood varnishes. Of course, you should also pay attention to the preparation of the surface. The wood must be suitable for outdoor use and if it is exposed to the weather, it should be impregnated accordingly
As long as no rainwater or snow remains on the painted surfaces, the painted surfaces are durable, waterproof and weatherproof. Suitable for outdoor use are the silk matt qualities of MissPompadour Eggshell Varnish, the Wood & Metal varnishes from Mylands and the outdoor paints from Painting the Past.
Even though the varnishes are not wood protection paints and do not protect the painted wood additionally from the weather, you can apply the weatherproof wood varnishes outside without worrying. This is because they are also stable outdoors and offer a weatherproof exterior coating.
Wood paint for lightly used wood indoors
If you want to apply your wood varnish indoors, you can do so without worrying because our paints are practically odourless and do not splash.
Less stressed open wood surfaces, i. e. unpainted and unsealed wood surfaces, can also be painted very well with the matt varnish qualities and even the extremely high quality wall paints. These include, for example, wooden ceilings in living rooms, purely decorative pieces of furniture and home accessories. The wall paint is particularly suitable as a base for sealing with decorative waxes such as metal effect, antique or white wax.
To paint, by the way, you can use a flat brush, because brush strokes in particular create the perfect shabby look on matt furniture.
Not all wood is the same and everyone has his or her own preferred technique. We have therefore explained here what else needs to be considered when painting wood.
The right primer for wood
As a natural material, wood can react a little unpredictably to a new coat of paint. If you apply the new paint to an open wood surface, ingredients may be activated that can cause discolouration in light colour shades. This leakage of stain, tannins and earlier contaminants is called " bleeding". Fortunately, you can avoid the risk of bleeding by simply priming with a stain block.
This often lends itself to stairs and wooden ceilings, as these are usually made of bleeding wood. Especially on very porous surfaces, you can create a stable varnish layer by painting a primer with a wood primer such as Woodprimer from Mylands.
Which is better: varnishing or staining?
A wood stain is a varnish layer with fewer colour pigments and fillers. This way you can still see the wood grain after painting. Each of our paints and wood varnishes can be thinned and applied as a glaze. By diluting with water, the varnish is no longer as hard-wearing. Also, priming cannot be done under the varnish as the primer already covers the grain. It takes a bit of practice to achieve an even colouring with a wood varnish on large surfaces.
The aim of varnishing is that the colour is applied opaquely and thus achieves full resilience.
Order wood paint & wood varnish in the MissPompadour Shop
MissPompadour offers you the possibility to beautify your wooden furniture and surfaces without much effort. You can take advantage of our free customer advice in advance, who will be happy to help you with your project. They are also there for you if you have any questions during the project - 6 days a week, by mail, WhatsApp, phone...
Not sure which colour is right? Our free colour and customer advice is here for you!