Chalk Paint
Chalk paints are becoming more and more popular.
Find out here
what makes chalk paints so special and start your own project!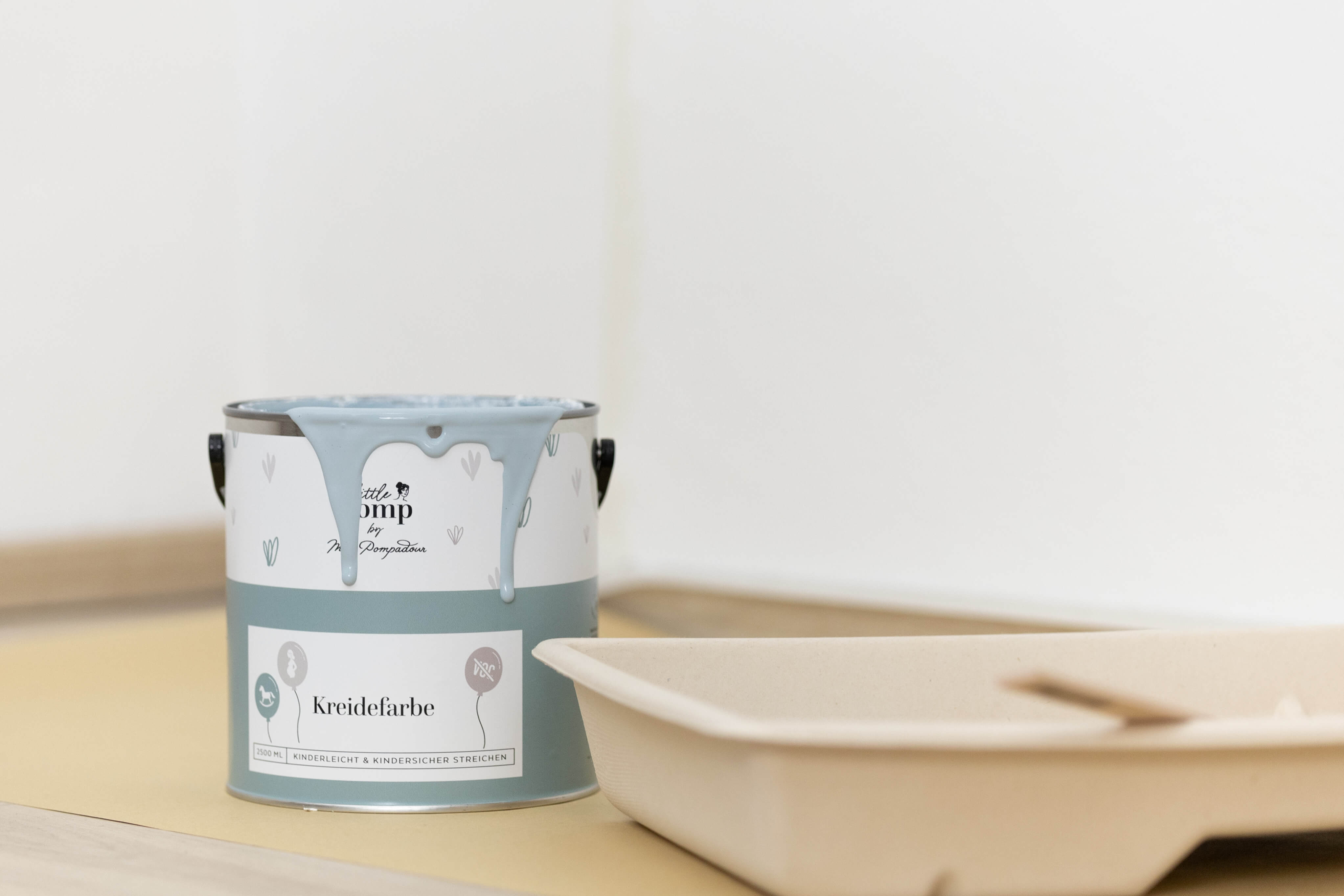 What is chalk paint?
The term chalk paint is used to describe colours to which chalk of various origins has been added to give a special effect. These paints are characterised by their viscous consistency and particularly velvety-matt surface. This is why they are particularly popular when painting furniture in the Shabby Chic style. Paint your furniture with chalk paint and enjoy the characteristic result.
Chalk paint is the term we use for wall paints containing chalk. These are water-based and contain little to no solvents and very little binder. Therefore, they are best applied on porous surfaces such as plaster or open wood - on smooth surfaces they are not as durable as the varnish.
The chalk varnishes, on the other hand, have a higher binder content, which makes them more stable. They bond more strongly to the surface and can therefore be applied to smooth surfaces. This is the most important reason why you can apply chalk varnishes to practically any surface.
We are often asked what makes these high-quality paints so special and why you should buy chalk paint rather than the usual coloured paints from the DIY store.

Here are three good reasons why you should buy high-quality chalk paints:
chalk paints and chalk varnishes are ecologically safer than the usual paints and varnishes from the DIY store. In contrast to solvent-based synthetic resin paints, the water-soluble varnishes are less harmful to health, more environmentally friendly and much more pleasant to work with.
The difference between chalk paints and varnishes and conventional DIY paint is already noticeable in the smell. chalk varnishes emit only a discreet odour, which makes painting with them much easier and also enables painting indoors. In addition, the smell dissipates quickly - so you don't have to put up with any acrid odours from your painted furniture. The chalk paints for walls also spare you unpleasant odours in the long term, which makes painting in closed rooms such as the hallway or cellar particularly pleasant
A decisive advantage of chalk varnishesn is that you can paint practically all surfaces with them. There is no need to sand down varnish-covered furniture where the old varnish still holds. On tiles, the chalk varnishes also hold without you having to use a complicated 2-component varnish. And you can also embellish your wooden floors with chalk varnishes, with the right preparation and especially aftercare. You can apply it with a brush or roller, or even spray it.
chalk paint is primarily intended for walls. You can apply it to plaster, other wall paints, wallpaper and many other rough and porous surfaces. You can also use chalk paint as a wood paint on exposed wood, as it soaks into the wood. With chalk paint you achieve the most matt and powdery result.
The chalk varnishes on the other hand are suitable for all other surfaces, especially smooth surfaces benefit from the strong bond that these varnishes form with the substrate. That's why chalk varnishes are often used for foiled furniture, lacquered wood and tiles, because you don' t have to prepare these surfaces in a complicated way before you can paint them. This saves you the hassle of sanding.
We distinguish between matt and silk matt varnishes. Their matt, powdery effect allows you to paint in a shabby-chic style. The silk-matt varnishes, on the other hand, are more hard-wearing and therefore perfectly suitable for wood that is subject to wear and tear. They have hardly any shine, but you can still create a smooth and easy-to-wipe surface on your furniture.
Another special feature of chalk varnishesn is that you can apply them outdoors. Whether for your garden furniture, your fence or the garage door - with the chalk paints for outdoor use you can easily paint everything that is exposed to wind and weather.
You can order various high-quality chalk paints in our shop. Depending on the manufacturer, the colours and varnishes are more suitable for different areas of application:
Brand

Quality
Application
colour shades
Mylands

varnish Matt
varnish Eggshell - silk matt
varnish Gloss - glossy
Marble Matt Emulsion - dull matt

Interior & exterior, stressed & unstressed surfaces
Interior & exterior, especially suitable for stressed surfaces
Interior & exterior, stressed & unstressed surfaces
wall paint with marble powder, interior

large selection of white and natural shades, all bright colours from light to dark in various shades. Gradations,
special collection of intense colour shades
Painting the Past

varnish Matt
varnish Eggshell - silk matt
wall paint - dull matt
Outdoor paint

Interior, surfaces subject to little wear
Interior, exterior possible, suitable for smooth and stressed surfaces
wall paint chalk-based, for interior walls
varnish for outdoor use

many colour shades with a grey component, many natural shades, primarily discreet, 12 shades of outdoor paint
Colourful all-rounder: The great properties of chalk paint
Chalk paints and varnishes are not only safer as far as your health is concerned. They also have many other properties that speak for them.
If you have painted your first project with chalk paint, you can certainly understand all the advantages. Chalk paint is not only very easy to apply, but also absolutely suitable for everyday use. On the wall, you can simply wipe off stains with water without damaging the paint and it can also withstand a knock without difficulty. In addition, chalk paints are highly diffusible, which is a great advantage from a building biology point of view.
Of course, the same applies to the chalk varnishes. A surface painted with them can easily be wiped clean with a gentle cleaner and water, without the varnish itself being affected. Even on a dining table that needs to be rubbed down again and again, the chalk varnish remains steadfast.
When wet, chalk paints and varnishes are water-soluble. This means that you can simply wash out paint splatters or blotches, even on fabric, under running water. However, once the varnish has hardened, this can be a difficult task. This is because chalk varnishes and chalk paints are waterproof. But that's why they are so wonderful to paint fabrics with!
FAQ: Frequently asked questions about our chalk paint
Painting the Past and Mylands belong to the absolute upper class of chalk paint manufacturers. This is especially evident in their opacity and durability.
What is the opacity of chalk paint?
Depending on the manufacturer, the opacity of the chalk paints can vary. With Painting the Past and Mylands, 2-3 coats of chalk paint and chalk varnish are sufficient on average to achieve an opaque and rich result. How many coats you need depends not only on the colour shade you choose, but also on the surface you want to paint.
Some also prefer a translucent coat when it comes to open wood. This is usually the case when the piece of furniture is to be embellished in shabby style. For this purpose, the varnish can be diluted with a little water and applied with a brush - and you have your desired effect.

How long does chalk paint last?
It is difficult to predict the general durability of paints. It often depends on how the surface is used and how much it is subjected to wear and tear.

If you use chalk paint on furniture, you will enjoy it for many years. With the right preparation of the surface, it will be your companion for years and you will buy new chalk paint for your furniture because you no longer like the colour shade. But not because the paint doesn't last any more.

It's a good thing you can always buy chalk paint online with us.

When painting your furniture, you also have the option of sealing your varnish. Simply use the topcoat from Painting the Past - it also contains chalk particles, so your furniture retains its matt finish.

If you spread chalk paint on your wall, there is no limit to how long it will last
How is it different from chalk paint?
The most important difference between chalk paint and lime paint is the main ingredient. Chalk paints contain ground chalk, whereas lime paints are produced with slaked lime, so-called marsh lime.
Chalk paints can only be applied to mineral substrates such as concrete and stone and it is demanding to achieve a perfect, evenly covering result with them. Since lime paint is corrosive, hands and especially eyes must be protected during application. Pure lime paint sets mineral and does not need any added binding agents. It is therefore more open to diffusion than chalk paint. With all its advantages, lime paint is a niche product that is used especially in the professional sector and in the preservation of historical monuments
you can also paint chalk paints for walls on plastered or wallpapered walls. They are easy to use to achieve an even result. They are thick and ecologically safe. chalk paints as wall paint give you a velvety-powdery surface and thus give your walls a very distinctive look.
What is the difference between chalk paint and wall paint?
Chalk paint is a wall paint that contains a low percentage of binder and a high percentage of high-quality chalk and pigments. This makes it superior to normal emulsion paint in terms of ingredients. It is water-based and, thanks to its composition, can be painted on many surfaces. It is also environmentally friendly and regulates the indoor climate. Chalk paint allows moisture to pass through, which prevents mould growth and is particularly useful for wet rooms
How can I remove chalk paint?
Depending on the surface, chalk paint can be easily removed with Painting The Past Remover. Sandpaper and a wire brush can also help remove old paint.
Which roller do I use for chalk paint?
Short pile rollers are best for spreading chalk paint on furniture, as they are more suitable for smooth surfaces. With long pile rollers, chalk paint can be painted very well on textured surfaces. Depending on the size of the piece of furniture or the wall, you can then choose the roller size. We have the paint roller for chalk paint 18cm on offer foryou .
Order chalk paint in the MissPompadour Shop
When you order chalk paint in our shop, you not only get high-quality wall and furniture paints that are safe for you and your home. You also get environmentally friendly paint with short delivery routes - our MissPompadour chalk paints are produced in Europe.
Of course, you also benefit from our years of experience and the expertise of our customer advisors if you have any questions.
If you
need help with your project
,
simply contact our
free colour and customer advice service
.