Ecological paints and varnishes
You want to beautify your home with a new coat of paint and attach great importance to ecological products and sustainability? Then MissPompadour is the right place for you! Find out here why our paints and varnishes are particularly environmentally friendly!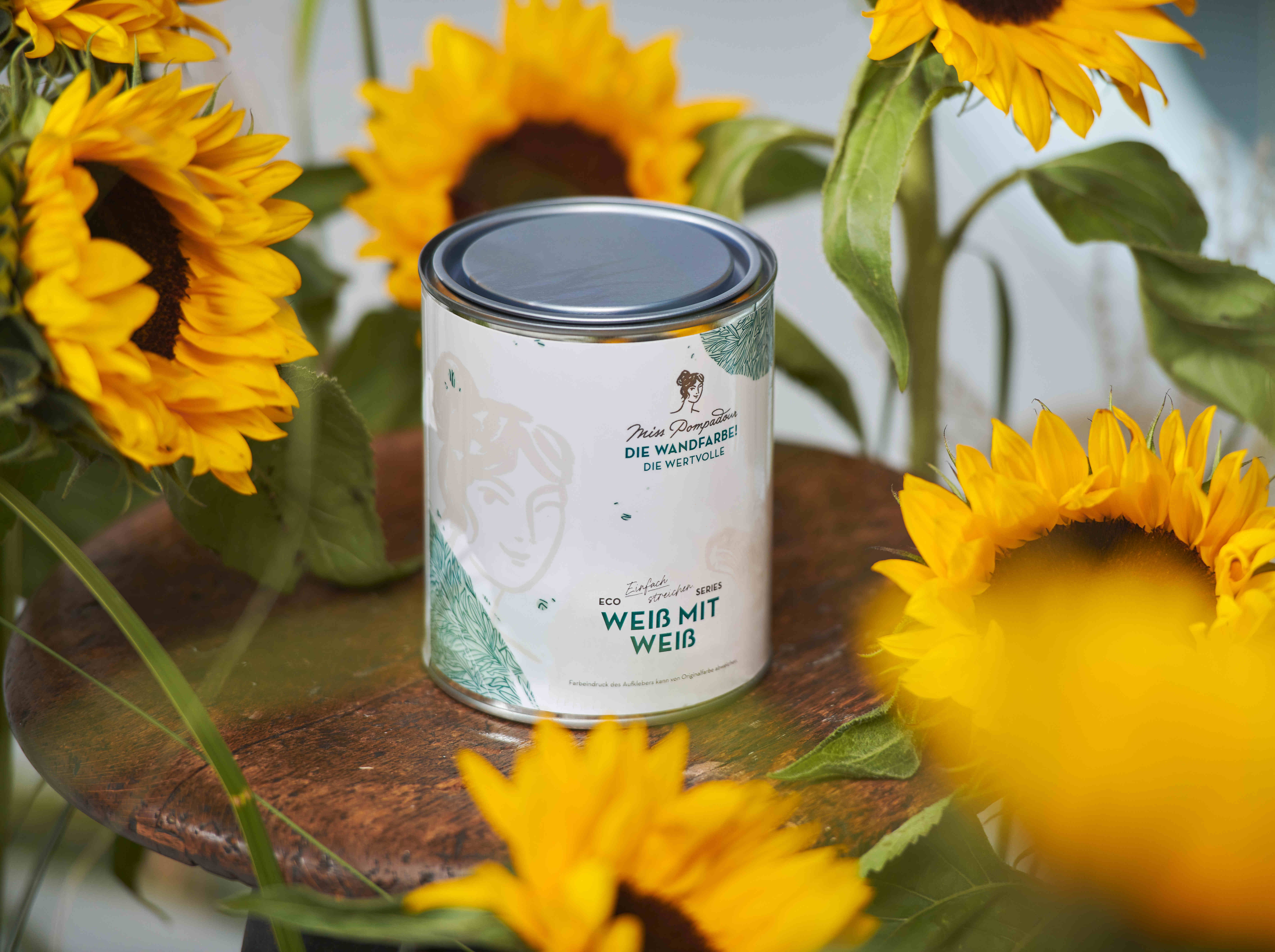 You live a healthy and environmentally conscious lifestyle and want to keep your carbon footprint as low as possible, even in DIY projects? We can understand that, because after all, we only have this one world. That's why we at MissPompadour Paint have been thinking hard about how we can make our paints and varnishes as sustainable and eco-friendly as possible.
Our sustainable colours in the range
As an ecologically oriented company, we only have paints in our range that fit our philosophy. Our chalk paints suppliers use natural chalk or natural marble flour as a base. The colours are water-soluble and the proportion of solvents is very low
For our house brand MissPompadour, we went one step further and looked for an alternative to conventional fossil binders. We found what we were looking for in the food industry - more precisely in the production of olive or sunflower oil. The resulting residues, a kind of pomace, form the basis of our innovative colour technology and consist of at least 96% renewable raw materials, which are regrown in Europe within a few years. The production of this binding agent is not at the expense of valuable agricultural land or food production for humans and animals.
Solvent-free and environmentally friendly varnishes
With our MissPompadour Eggshell Varnish, we offer you a water- and eco-based varnish that is not only characterised by its silky matt surface, but also by its long durability
The varnish is almost completely free of so-called volatile organic compounds, VOCs for short. These are solvents that are released during painting and are responsible for the typical chemical smell of paints. These solvents are partly responsible for the formation of ground-level ozone. With our MissPompadour varnishesn you don't have to worry about inhaling toxic fumes during application. That's why the varnish is perfectly suitable for outdoor surfaces as well as for indoors and holds on rough wood as well as on smooth surfaces like tiles, metal or plastic.
Sustainable wall paint from MissPompadour
Our sustainable wall paint MissPompadour - The Valuable Wall Paint - is made with a lot of passion and sustainability. Developed entirely from organic raw materials, it convinces with its beautiful, matt surface and meets the highest demands.
Its properties are convincing, because it is
odourless
water soluble and dilutable
completely solvent-free, so no toxic pollutants are released
easy to apply, rather thick and therefore does not splash.
In addition, MissPompadour - The Valuable Wall Paint holds on any stable surface and can be painted over almost all other paints such as emulsion paints or silicate paints. Only with clay paints and chalking paints should you first test whether the paint will hold
In addition, this environmentally friendly Bio wall paint is characterised by a very high diffusivity (SD value class 2). This means that it is also suitable for old buildings or new buildings that are not yet completely dry.
Reasons for Bio wall paints
The biggest advantage of Bio wall paints is that they are odourless and pollutant-free. This alone makes working with them much more pleasant, and no chemical substances escape during the drying process. So you don't have to worry about your health . At the same time, with our ecological paints and varnishes you don't have to forego good, splash-free workmanship or long durability and robustness. On the contrary: you can look forward to beautiful matt surfaces and choose from countless creative colour shades
What's more, when you choose an ecological paint, you are always opting for
more sustainability in the use of raw materials
short transport routes and
recycled or recyclable packaging.
Areas of application for organic paints
Thanks to their odourlessness, organic paints are particularly suitable for painting children's rooms or bedrooms. Due to the absence or absolute minimisation of solvents and preservatives, the paints are absolutely harmless to health and also contain little to no allergens. The good diffusivity of MissPompadour - The Valuable Wall Paint also contributes to a good regulation of the air humidity and ensures soothing sleep
Especially furniture in the interior - for example in the kitchen or dining area - should always be painted with paints that are harmless to health. Our robust varnishes also prevent paint from chipping or rubbing off, even under heavy use
Ecological paints and varnishes are also clearly the better choice for outdoor use. Even when painting or varnishing, paint can unintentionally land on plants or penetrate the soil. For example, do you want to paint the inside of your greenhouse as well as the outside? With solvent-free varnishes you don't have to worry about your tomato, cucumber or pepper plants being damaged by ground-level ozone.
Our Eco Series paints: sustainable, water-based and solvent-free
With our Eco Series paints we are able to make you a promise with a clear conscience
We use the lowest possible amount of preservatives and solvents for sustainable storage
We pay attention to sustainability without sacrificing quality.
Our varnishes and colours are water-based.
We keep our carbon footprint low by sourcing our raw materials from Europe, producing in Germany and using DHL GoGreen to ship the goods
The packaging for our paints is made from either recycled plastic or recyclable aluminium. When it comes to packaging for shipping, we do not use plastic at all and rely on recycled cardboard and paper tape
All these points are on our way to becoming a sustainable company. Even though we have already been able to implement a lot, we are still continuously working on improvements that will benefit our world and thus all of us.
Sustainable painting tools
For us, sustainability also means doing without plastic wherever possible. With our product line Sustainable painting tools you can see for yourself how plastic can be replaced by great, renewable raw materials without sacrificing functionality or quality. Where plastic or metal is used, we use recycled materials, keeping valuable materials in the production cycle for as long as possible
Instead of plastic, the handles of our sustainable paint brushes are made of bamboo, a rapidly renewable and biodegradable raw material. The EcoUnion paint trays also do without plastic, as they are made entirely from sugar cane.
And although we can't completely do without plastic in the Eco Union plastic drop cloth, it is made of so-called oxo-degradable plastics, which, unlike conventional plastic, decompose quickly. Even our tape is 100% compostable as it is made from natural rubber, while still being water repellent and adhering perfectly to smooth surfaces.
Organic certified colours
In order for paints to receive the EU organic certificate, all steps from raw material extraction to production must be organic. This is conceivably difficult for paints, but we are on our way to bring as many of our paints as possible up to this important certificate. With MissPompadour - The Valuable Wall Paint, we have almost achieved it. Even without this strict certificate, our paints are safe for your health and nature.
Order organic paints in the MissPompadour Shop
Order your premium quality organic paint now in our MissPompadour Shop. We would especially like to recommend our own brand - the MissPompadour wall paints and varnishes, which, thanks to revolutionary new technology, do without fossil binders such as chalk or marble and instead contain vegan residues from cooking oil production. You can also rest assured that all our raw materials come from Europe and we produce directly in Germany.
Don't forget to also order the corresponding sustainable painting tools! Thanks to DHL GoGreen, your plastic-free package will be delivered directly to your door in aCO2-neutral way.