Wall Paints & Varnishes in Purple & Violet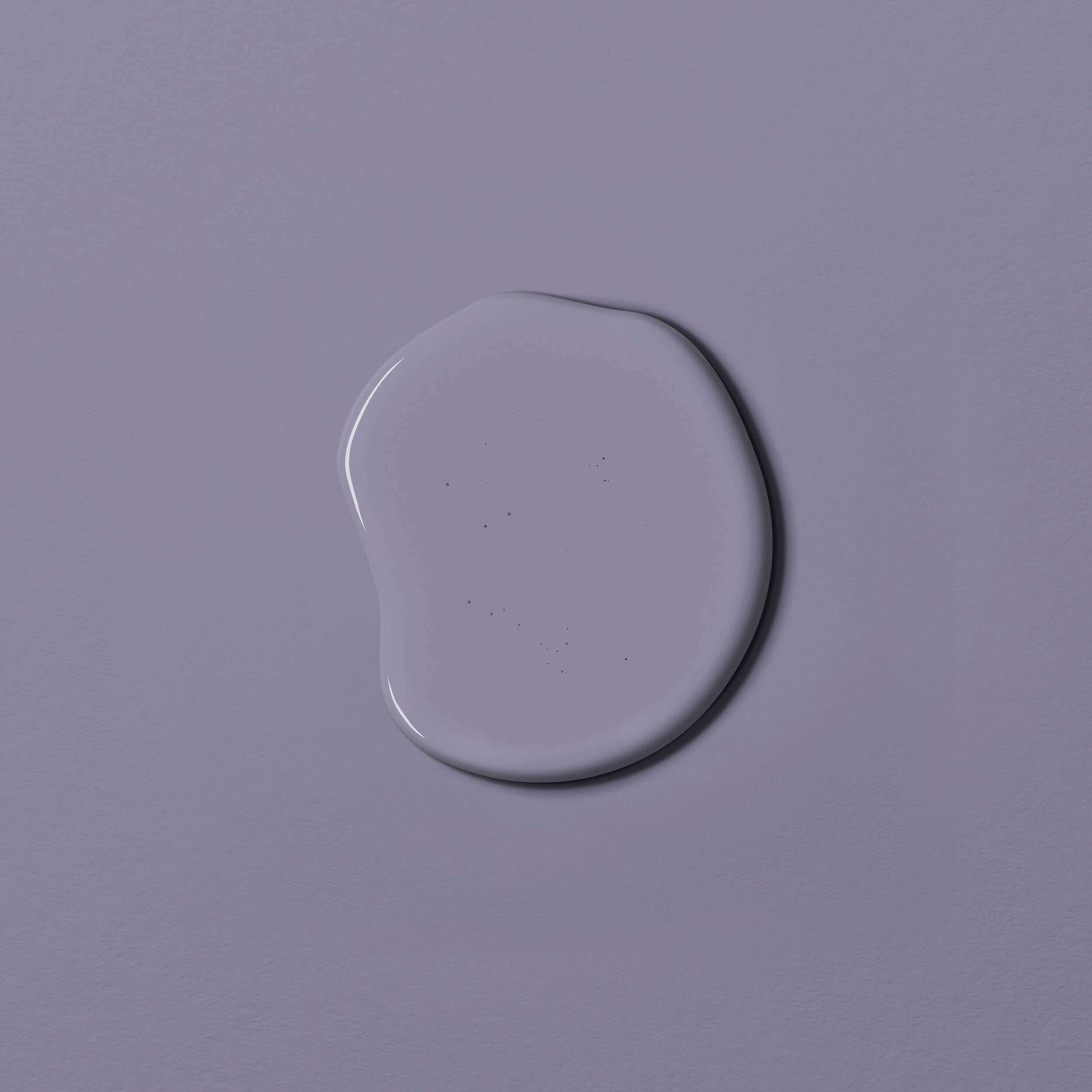 What shades of purple are there?
As a secondary colour, purple is mixed from blue and red. Depending on which proportion predominates and how many white or dark pigments are added, purple can create a very different effect.
Which nuances are available?
Especially with such a diverse colour it is important to get a colour shade overview.
Let's start with the very light purple shades. Adding white pigmentscreates fine, delicate pastel shades, often called lilacs, like MissPompadour Purple with Lavender or Early Lavender by Mylands. Oyster by Painting the Past is also a pastel purple to which a portion of grey pig ments has been added. Mauve is a bluish, more or less greyish, purple. Mylands Rose Theatre is a beautiful example of this shade of purple.
Our wall paints of the light purple shades in the overview:
MissPompadour Purple with LavenderPainting
the Past OysterMylands
Early LavenderMylands
Rose Theatre
Violet and purple refer to stronger purple tones that are highly pigmented. MissPompadour Purple with Provence is a "classic" purple, Velvet Plum from Painting the Past is a rather red-tinged one. Mylands Duke's House is probably the darkest, almost black, purple in our colour range
Then, of course, there are the brownish-greyish purples like Purple with Blueberry, which are more subtle and erwax. Lily from Painting the Past can also be classified here
Examples of our colours in strong purple tones:
MissPompadour Purple with Provence
MissPompadour Purple with Blueberry
Painting the Past Velvet Plum
Painting the Past Lily
Mylands Duke's House
Whether you're looking for a light or strong purple for your interior, you're sure to find it here!

Effect of purple and lilac as wall paint
Purple is a strong colour and its colour effect is as varied as its nuances.
As a mixture of the two primary colours blue and red, which stand for water and fire, it unites opposites and thus has a calming and balancing effect. Lilac appears feminine, light and awakening. Dark purple, on the other hand, stimulates reflection. Overall, purple promotes creativity and creative power
What effect does purple have on the mind?
Purple originally appeared in the church setting, where it stood for priestly solidity and modesty. Today, shades of purple have evolved into a multi-faceted surprise. The colour scheme appears spiritual, restrained and at the same time unusual. Through the union of red and blue, feminine and masculine, fire and water, this colour scheme has a meditative and balancing effect on our mind. This is why it is recommended indoors, especially for rooms in which you want to draw strength and peace. Purple is particularly suitable for
Bedroom

Living room

your favourite retreat such as the reading, meditation or yoga room
Lightened to a bright lilac, it adds lovely accents while calming the mind, helping you find your inner centre.
For which rooms is violet suitable?
Due to their meditative effect, light shades of purple are wonderfully suitable as an interior wall colour for yoga rooms and rooms where people meditate and relax. Purple and violet are also suitable as wall paint for the practice rooms of alternative practitioners and other healing professions. They are said to have not only a balancing but also a pain-relieving and cleansing effect
In the bedroom, a bluish purple can promote sleep and relax the mind. Since a wall paint in violet tones sometimes has a very calming effect, we recommend a slightly reddish purple for more togetherness. This way, the colour shade also brings its stimulating aspect into the bedroom.
Combined with earth tones and reduced decoration, a wall paint in grey-purple gives your living room its very own self-confident look. But wall paint in dark violet, applied behind a sofa in spicy or light natural shades, also creates an almost mystical effect.
Little princesses often want purple as the colour for their nursery. You can fulfil this wish with wall paint in lavender or lilac. You can also achieve a purple colour shade with wall paint in pink violet. At the same time, these shades create a relaxing and balancing atmosphere. In addition, creativity is encouraged
Tips on the trend colour violet
Especially with a colour as versatile as purple, it can be fun to try out different variations. After all, that's what makes this colour shade so special. If you are still looking for design tips, we have put together some more information for you.
Living styles and trends in purple tones
Strong colours are often found in the Orient. If you like the oriental style of living, you can go for a strong purple. In combination with golden and orange accents, rooms look like something out of the Arabian Nights.
The colour purple also works well in the Boho style. This style thrives on the mixture of woven fabrics, macramé, retro influences and a mix of patterns. Bold colours go wonderfully with it.


The Whimsical style conjures up a fairytale atmosphere in your home. Here you can play with bold violet, gold and curlicues.
If you like to decorate romantically in pastel shades, paint a wall in a delicate pastel purple, as you can combine it perfectly with all other pastel colours.
But this versatile colour shade is also ideal for a modern style.
Design tip: combine purple and violet with chrome, silver or glass to create a contemporary interior.
Do you already have a clear idea of how you want to design your rooms? Then find your favourite purple colour shade in our online shop now and start your painting project!
Which colour goes with a purple wall?
The complementary colour of purple is yellow and makes a great contrast to dark purple. But other strong colours also go well with purple. For a playful look, you can combine other pastel colours such as pink, light yellow or light blue with pastel
shades of purple. If you prefer a more purist look, combine it with grey.

Colour schemes that use purple together with greens create a
calm and interesting effect. Deep purple combined with a bright, fresh green creates a sensational effect.
If
you paint an
accent wall in a really dark purple,
wall paints in beige t
ones
on adjacent surfaces really
bring it
out.
What can I combine purple with?
You can combine natural materials and plants
with light and pastel violet. Fabrics in natural colours and
grey wall paint
also
go well with it. Purple and violet also go well with grey wood, white furniture and colours that tend towards grey - such as beige with cashmere.

If you have painted a strong, dark purple, golden
and velvety elements go wonderfully with it. Cushions or pictures in orange and yellow also make a great impression. If you want to create a modern style, use black furniture and decorations, as they also go perfectly with violet. They also support each other's colour effect.
Which colours can I order from MissPompadour Paint?
Whether walls, furniture, floors, tiles... with us you will find all shades of purple in the right colour quality and in different containers! Depending on the paint can, the basic price per litre differs.
Wall paints in purple
If you want to paint your walls purple, you can use our sustainable wall paint The Valuable Wall Paint. It has an elegant matt finish, is odourless and solvent-free and does not splatter. And it has unbelievable opacity, because it stands out with opacity class 1. If you need an emulsion paint that is scrub-resistant and robust, go for MissPompadour The Functional Wall Paint. You can also choose from the rich chalk paints by Painting the Past and the marble flour-based wall paints by Mylands. All of our interior paints are safe to use in any room.
Varnishes in purple
To paint your furniture, kitchen, tiles or floors, we have the right choice for purple varnish with our varnish qualities. There is hardly anything you can't paint with it, because our varnishes are suitable for a wide variety of surfaces.
By the
way
, in
our
guide
you will find articles on various painting projects with tips and many useful application
hints.
From matt to glossy: our different qualities
Which quality of varnish is right for your project depends on the stress on the substrate and your individual taste. If you are painting a heavily used surface such as a kitchen or a floor, you should go for the silk matt varnishes. These are particularly robust and impact-resistant. You can choose from, for example:
MissPompadour Eggshell Varnish

Mylands Wood & Metal Eggshell

Painting the Past varnish Eggshell
If you like a really matt finish, choose from the matt varnishes MissPompadour Matt Varnish, Mylands Wood & Metal Matt and Painting the Past varnish Matt. You can seal these with wood wax to give them a personalised look.
Tip: If you want to accentuate your beloved piece of furniture made of wood or metal, choose the Mylands Wood & Metal Gloss varnish. Especially dark violet and purple tones unfold their unique effect in this quality.
Order wall and chalk paint in violet online at MissPompadour
Dare to try purple!
Hardly any other wall paint is so versatile. If you want to see the colours in real life first, you can use our
colour cards
. Mylands and Painting the Past also offer testers that you can try out on a wall. On screen, the colours may differ from their actual effect
Don't be afraid to place this small first order, because you can do so with a clear conscience. We ship not only small, but also large parcels without plastic and with DHL Go-Green. No matter how many litres you order from us, our packaging is made of recyclable and often directly recycled paper.
Do you already know our Facebook group? There are now around 60, 000 members exchanging ideas. Use the group search to get more impressions of how the colour purple can be used. If you are still unsure about which tone and colour quality is right for you, just ask our
free colour consultancy
. We will be happy to help you!