Topcoat
If an area is particularly stressed, or you simply want to apply extra protection to your paint, simply seal your coating result. With our topcoats, you will retain a matt effect.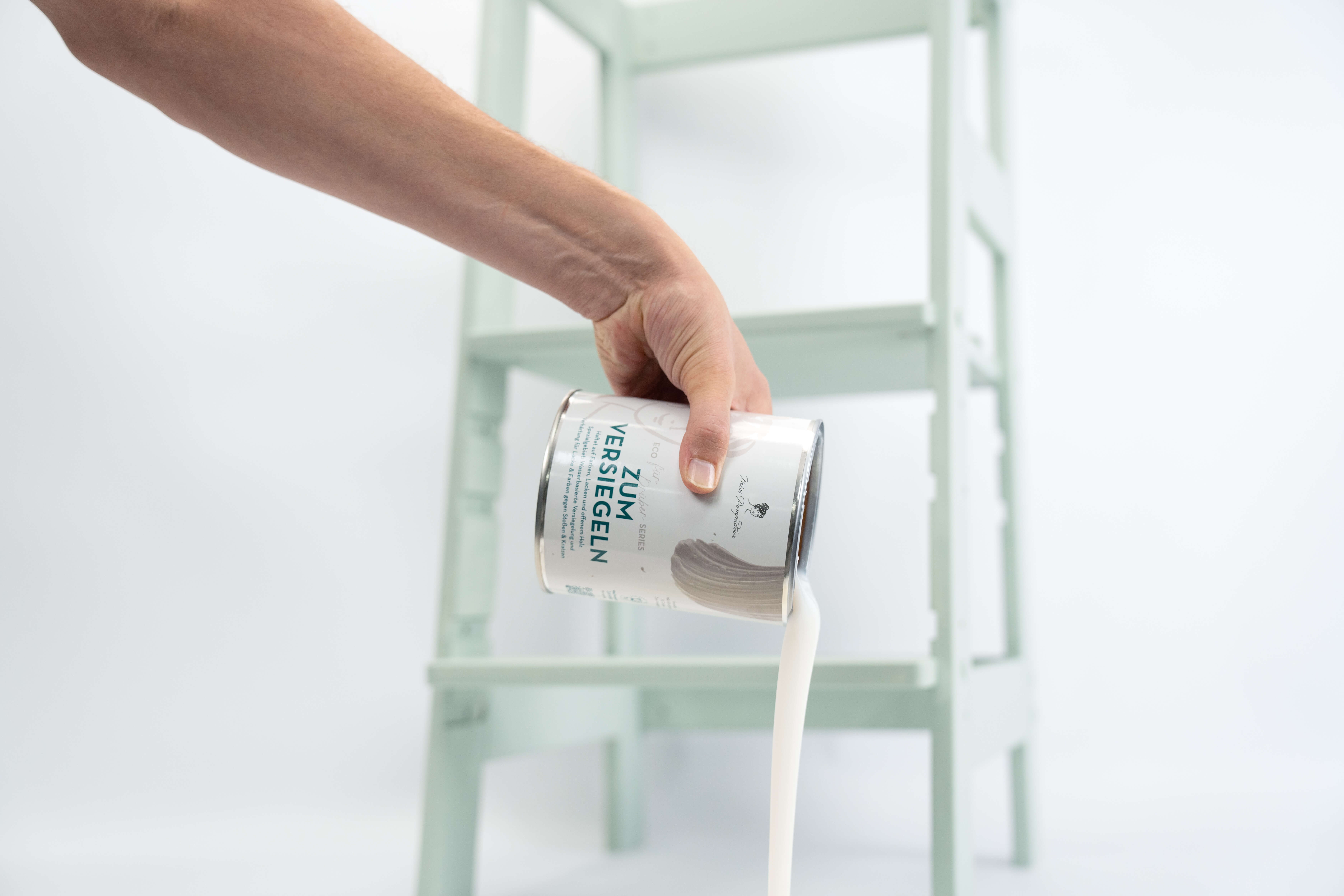 Sealer for varnishes and chalk paint
chalk paints are extremely stable as wall emulsion and also as chalk varnishes in all varnish variants. This means you can remove stains from the wall with a damp cloth. In addition, chalk paint can be easily touched up at any time. You will see that the colour adheres perfectly to the repaired area and is no longer noticeable after a short time. But the sealing comes at the end.
All chalk varnishes can of course be wiped off wet and do not shy away from contact with cleaning agents. The following applies: the shinier a varnish is, the less sensitive and easier to clean it is.
Sealing is important
Nevertheless, there are situations where it makes sense to work with a sealant.
If you have a very worn wall that is often exposed to water splashes, we recommend sealing with a sealer. It does not change the colour and is relatively matt. Sealing with a sealer can also be helpful in children's rooms or staircases. It is often sufficient to protect only the lower part of the wall up to a height of about 150 cm.
If you want to work on a piece of wood or metal with wall emulsion, you should always stabilise the surfaces with matt clear lacquer.
Matt clear varnish as a sealant
If you want to make a surface painted with chalk varnish even more durable, we recommend sealing it with a topcoat, especially for painted floor tiles, but also for kitchen worktops and similar surfaces. It is colourless, completely transparent, but contains chalk. And this ensures that your surfaces remain matt. You can also use To Seal from MissPompadour, because it is just as matt.
Surfaces that have just been treated with matt varnish, or natural matt wall emulsion, can also be sealed with a colourless wax. This causes the surface to lose some of its mattness. Instead, it acquires a well-groomed, noble shimmer. It is also resistant to soiling and easy to clean.