Blackboard Paint and Magnetic Paint at MissPompadour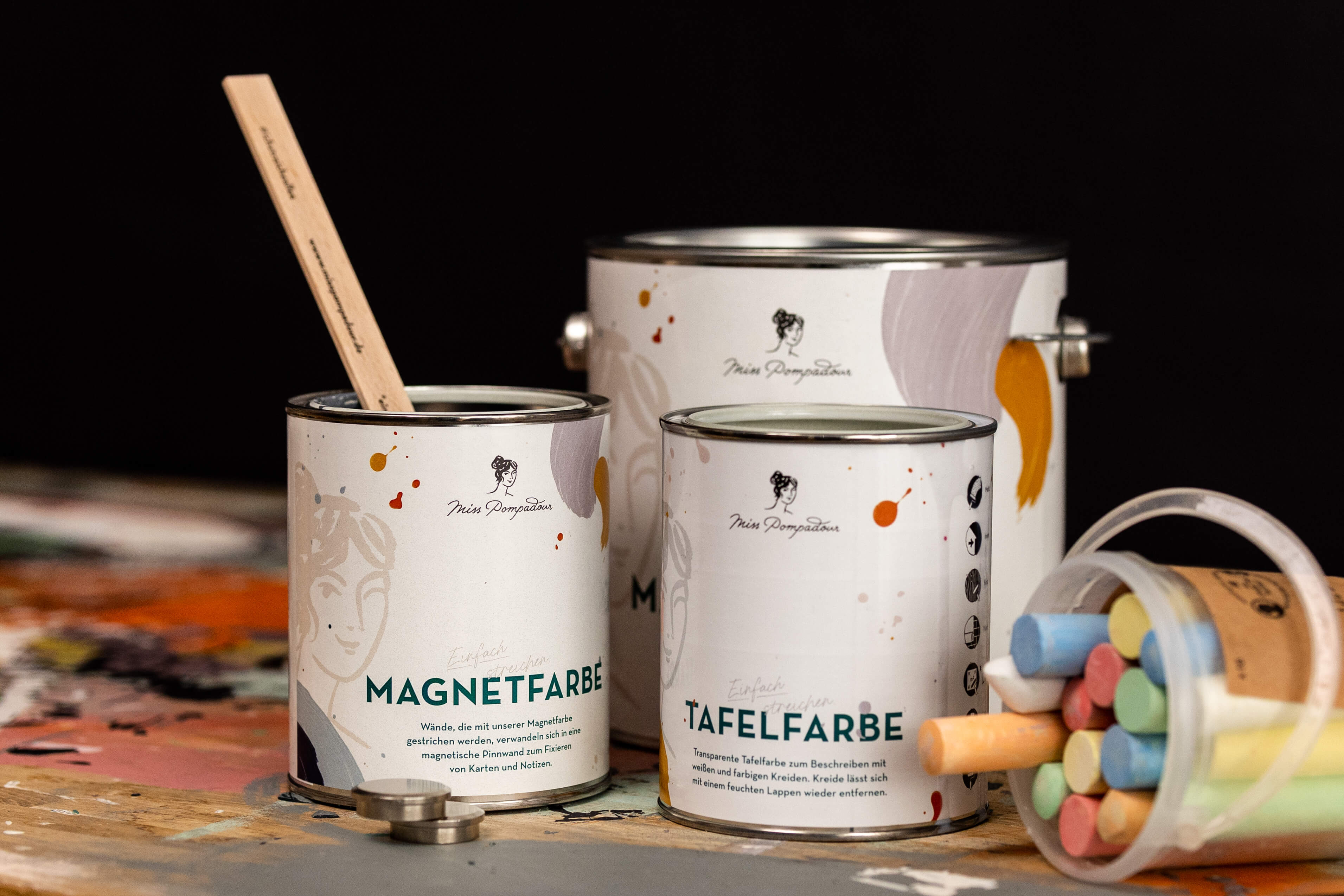 You like the idea of writing on your walls with chalk and chalk pens, but the dark black and green are too powerful for you? Then our colourless blackboard paint is the perfect product for you.
Paint blackboard paint on your wall and then use this surface as a blackboard. The special thing about it is that you can paint it directly over your wall paint without it discolouring.
Whether it's a shopping list in the kitchen, a to-do list in the hallway or office, or whether you simply want to write messages to your loved ones. The chalkboard paint can be used universally without changing the atmosphere in your rooms. Simply wipe the chalk away with a damp cloth and write on the surface as often as you like.
Do you like the idea of putting up a magnetic wall without drilling and hammering and also designing it in your favourite colour shade? Then the MissPompadour magnet paint is made for you.
Stir well and apply our magnetic paint to the prepared wall - the more layers, the more magnetic it becomes. This is because magnet paint contains iron particles to which your magnets adhere. We recommend between 3 - 4 coats for a good hold.
Painted in the colour of your choice, your new magnetic wall will no longer be noticeable. Magnetic paint adheres to woodchip wallpaper as well as to any painted or plastered wall.
How is the magnetic paint used?
Our magnetic wall paint is a special product. Not only does it replace a pinboard, it also has a different consistency and slightly different application method.

Because of the iron particles it contains, we recommend using a brush to apply it. This makes it easier and allows you to apply a fuller layer.
When painting, make sure you don' t apply it too thickly. The chips make the paint heavier than normal wall paint and it will slide down the wall if the layer is too thick.
Once the magnetic wall paint is dry, you can apply the colour shade of your choice. It's up to you whether you want to mask it off and define the colour or paint it the same shade as the entire wall. In our blog you will find creative painting ideas and instructions for painting with magnetic paint.


Which surfaces are suitable for magnetic and blackboard paint?
Use both magnetic and blackboard paint on the surface of your choice. Whether you want to use your kitchen front as a magnetic board
or the veneered door makes no difference to these two marvels. Don't forget to paint or varnish the surface between these colours! Then this useful wall will blend in perfectly with the rest of the environment.
You can paint the blackboard paint just as well on a metal surface as on a wall surface. The same applies to magnet paint, but since it has the same properties as metal, you can simply skip this step.
Use the blackboard paint as a finish on your painted - or unpainted - surface.
What are the advantages of magnetic paint?
What makes our magnetic paint so special is easy to explain:

You can apply it anywhere without drilling, screwing or hammering.

It is suitable for wood, veneer, plastic, foil and walls.
Paint over it with the colour shade of your choice.
If you no longer like the colour shade you have applied, you can simply paint a new one.
Blackboard paint for office, kitchen or children's room
As diverse as your needs are, so diverse is the application of blackboard paint and magnet paint. And you don't have to do without the colour of your choice! Compared to the usual blackboard paint, which is usually black, our blackboard paint is transparent.
Create a blackboard wall on which you can write down daily tasks or a weekly schedule. Wipe away or check off completed tasks - the choice is yours. Write on your self-painted blackboard as often as you like with chalk and note down important things in a sustainable way and without using paper.
A menu list on the kitchen cupboard makes a classic impression. If you are planning together with your family or friends, just write down your ideas there. The shopping list also looks good, because you always have a writable surface at hand. Write down what comes to mind and photograph the list with your smartphone.
Voilá, you have created a shopping list completely without paper.

If your child likes to decorate the walls with colourful drawings, our blackboard paint is a lifesaver. Paint it on the wall, put coloured chalk in your child's hand and you can create works of art that you can easily remove again. You don't even have to repaint the wall every time. What's more, your child will be delighted to finally be able to let off steam on the walls!



The application of our blackboard paint is as uncomplicated as you are used to with our colours and varnishes. Nevertheless, it is important to follow one or two tips:
Apply the paint with a brush or a paint roller. Note that the difference between a painted and unpainted area will be visible if you don't paint the entire area.

Make sure the surface is clean by wiping away dust immediately before painting.
Add a sip of the colour you want to paint over to the blackboard paint. This will prevent the blackboard paint from fogging. This is especially important with dark colour shades.
Also, make sure you apply a thin coat, because too much blackboard paint can also cause an unsightly haze.
Magnet paint and blackboard paint in the MissPompadour Online Shop
Would you like to buy blackboard paint but are still looking for fresh ideas? Then just write to our friendly customer service. Because at MissPompadour Paint you don't just order paint - you also benefit from extensive advice on the selection and application of the colours. Let the projects of our community inspire you in advance!
Thanks to our various payment methods, you are guaranteed to find the right one for you.