Durable & Washable Wall Paint
Mud splashes from your last autumn walk decorate your hallway walls? Your children love to express their creativity on their bedroom walls?
Find out everything
you need to know about washable wall paints!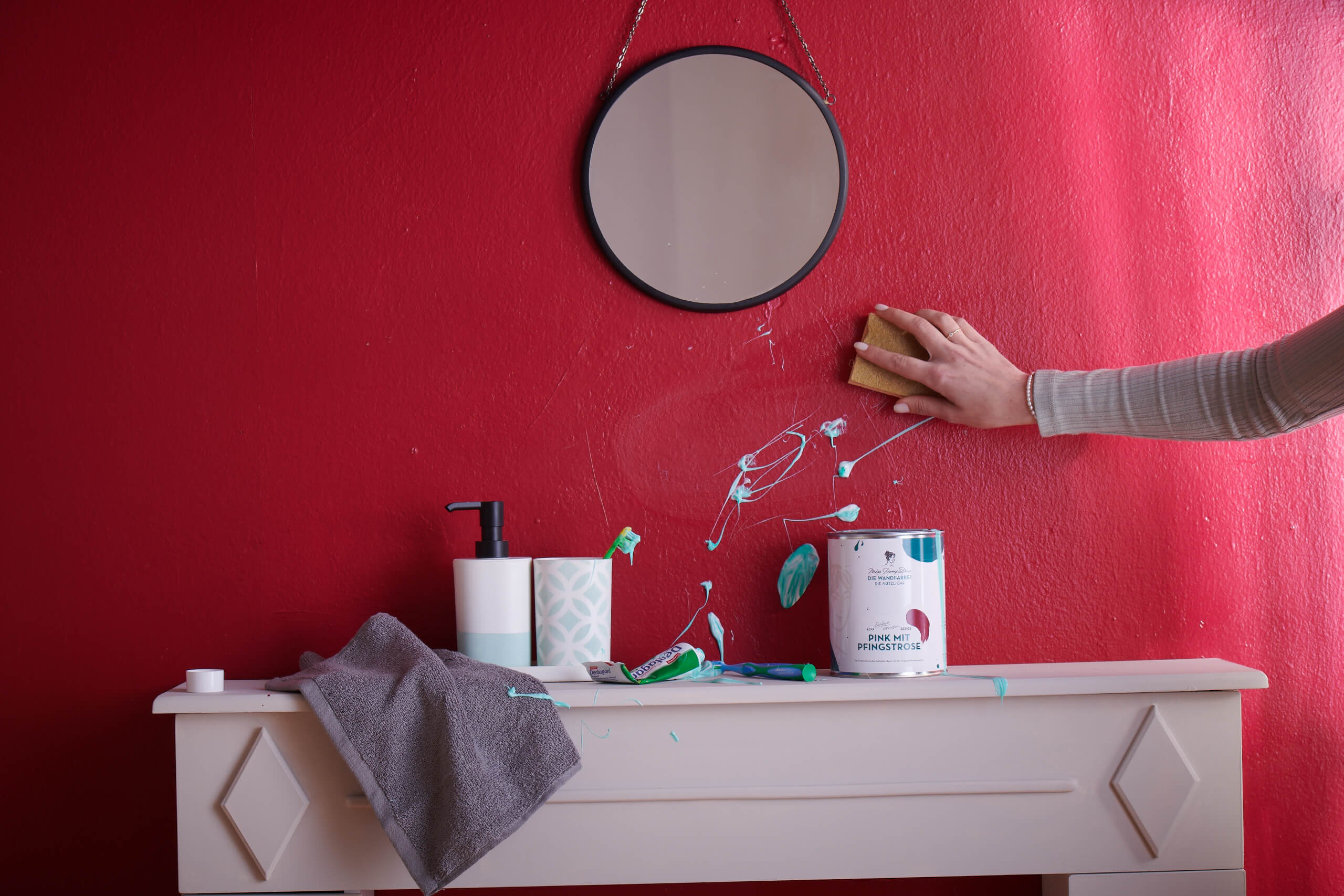 Washable wall paint for heavy use: What you need to know
Dirt-repellent and wipeable wall paint gives you a long-lasting wall that is easy to wash and clean, so stains won't harm it. The wipe-resistant paint is ideal for your interior walls. Especially for kitchens, wipeable paint is super practical and increases the life of your painted surface enormously. The wall paint has a high opacity, is scrub-resistant, hard-wearing and also beautiful to look at
If you paint your walls with wipeable wall paint, they can be easily wiped clean with a damp cloth. The smooth structure of the abrasion-resistant and robust paint makes it particularly easy to clean. There is no limit to how often you can wipe it off.
Although the hard-wearing wall paint is similar to latex paint in its properties, unlike latex paint it is more matt and can be painted over without any problems. With stain-resistant paint, stains on the wall are a thing of the past.
Especially in rooms where the walls are exposed, hard-wearing wall paints are recommended.
These include:
Hallway
Kitchen
Bathroom
Toilet
Children's room
The wipeable wall paints are not varnishes, but breathable wall paints. Due to their smooth surface, water vapour and toothpaste stains can be easily wiped off. But you can also use them in the kitchen or in the children's room, where the odd stain can occur.
If you have tiles in the bathroom or shower that you want to improve, paint them with the
hard-wearing tile pain
ts. You can
wipe them off with a damp cloth
and they will also withstand normal moisture without any problems.
Our robust and washable wall paints have another special feature: if you no longer like the colour shade, you can simply paint over it.
Of course, you can also redesign already painted walls with our paints. It doesn't matter whether the surface was painted with emulsion paint or another wall paint
When is dirt-repellent paint best used?
Washable and dirt-repellent wall paint is particularly suitable for interior walls that are exposed to dirt. This could be the dining room or the wall directly behind the kitchen waste bin. The smudge-proof paints are especially useful and sensible in the kitchen.
But even if your dog likes to rub along the hallway wall after an autumn walk, spreading wet soil and water from outside on it, you should simply paint with our smudge-resistant paints. The Functional Wall Paint is a wall paint that is particularly suitable for interior design. Even the
staircase in your apartment building, the clubhouse or the waiting room of your practice
can be decorated with this abrasion-resistant wall paint in the complete colour scheme
.
Dirt and stains on the painted walls
can be
easily washed off with a damp cloth
.
Choosing the right paint for heavily used walls
Even if you know you want to paint your walls with a hard-wearing interior paint, the question remains: which paint is suitable for painting? Different rooms are used differently and require different levels of resilience.

For really heavy-duty walls, it's best to use The Functional Wall Paint. This hard-wearing wall paint is completely washable thanks to its high wet abrasion class. Yet it still impresses with its unrestricted colour brilliance. Whether you paint it in the kitchen, the hallway or even in the workshop - this smudge-proof paint is guaranteed to make you happy.
Because it's perfect for all surfaces that need to be cleaned regularly.
But The Functional Wall Paint is not only scuff-resistant, but also scratch- and impact-resistant. In terms of water vapour permeability, The Functional Wall Paint is classified as V2. So despite the excellent robustness and wet abrasion resistance of Class 1, it is "breathable".
On less busy walls that still need to be wiped down from time to time, you can also apply the wall paints from Painting the Past or Mylands. These abrasion-resistant and matt chalk paints captivate with their velvety surface and delicate look. Up to a height of approx. one metre
, we recommend using the
sealer
as a sealant. This smoothes the wall and makes it easier to clean. Note that you can see the difference between sealed and unsealed surfaces.
You can also use The Valuable Wall Paint in exactly the same way. Like the chalk paints, it is abrasion-resistant, matt and has a velvety look.
Compared to elephant skin, you achieve a smooth, texture-free surface with our hard-wearing wall paint (as long as the surface has no texture of its own).
Painting with washable paint: a few tips for application
Our hard-wearing wall paints are just as easy to apply as all our wall paints. It is important that the substrate is stable and not too absorbent
. Because the wall paints are super opaque, you don't need to paint over the old colour shade with white paint. Use
a
small paint roller for water-based
paints to quickly paint
smaller areas. For larger walls
,
the
paint roller
is
also suitable
.
And if you no longer like the colour shade you have chosen, you can simply paint over the abrasion-resistant wall paint again.
Are washable wall paints diffusion-open?
The more washable and impact-resistant a wall paint is, the more it seals. Anyone who has ever used a latex paint knows the particularly smooth, glossy surface. However, The Functional Wall Paint still has a medium water vapour permeability (class V2), even though it is a hard-wearing paint.
Do the walls with wipeable wall paints still remain breathable?
Painting with the washable wall paints is in the good medium range as far as breathability is concerned.
Order washable wall paints for heavy use in the MissPompadour Shop
Painting with MissPompadour means painting sustainably
Not only that we pay attention to short delivery routes for our paints. We supply our warehouses with solar energy and use recyclable paper for packaging. You can either easily dispose of it in the paper waste or simply use it for your own packages.
Thanks to the durability of our paints, you don't have to paint often. What's more, our paints are based on sustainable raw materials that don't require extra mining. These bio-based raw materials wax within the lifetime of the paint, so there is no overexploitation.