Outdoor Paint
It's not just your indoor furniture that deserves a refresh.
Find out here
how to give your garden table or fence a coat of our outdoor paints!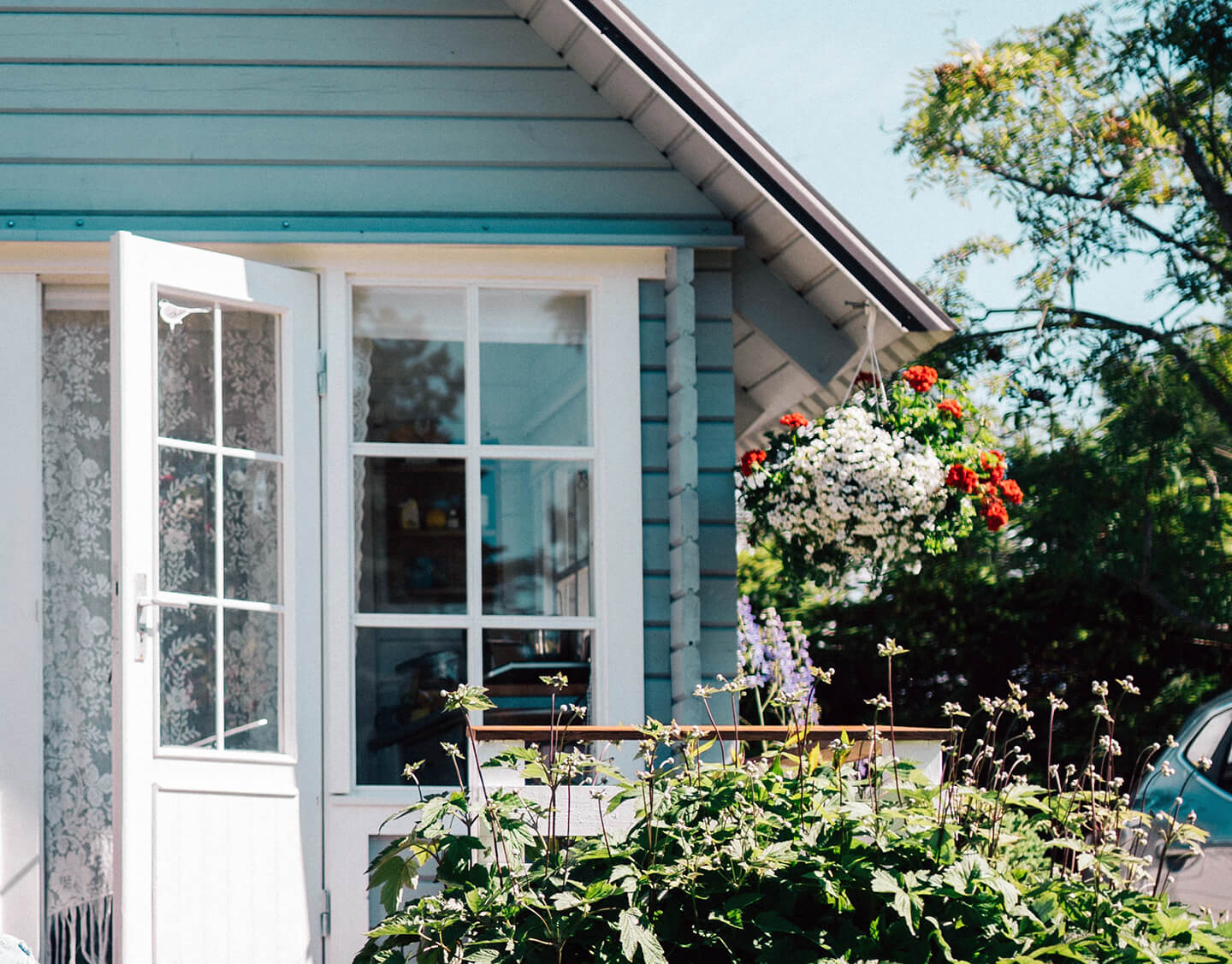 Colour for the outdoors
When the days get longer and the sun really warms up again, you look forward to spending time in the garden. Finally, you can relax outside again and enjoy the sun's rays.
A first glance at the garden reveals: the garden table has suffered from the last autumn rain, your fences have lost some of their colour and even the garden shed used to look fresher. But that doesn't have to spoil your mood. Luckily, MissPompadour Paints offers you outdoor paints to give your garden set a new shine, easily and inexpensively.
Our outdoor paints have many special features.

If you paint
with
MissPompadour varnishes
, you can choose from a wide colour scheme of sustainably produced water-based
varnishes.
If you decide on Mylands, you have the high-quality varnishes from England at your disposal.
These are applied
by professionals to front doors and fences in rainy Britain.

Choose from
one of the many colour shades, as they are all available as outdoor paints.
If you
prefer the powdery look of Painting the Past chalk paint, you can choose from 12 matt colour shadesn. This chalk paint for outdoor areas has an
additional
UV protection that protects your paint from fading.

All our
outdoor paints can withstand
wind and
weather
as well as intense cold and heat. Despite their stability, they are odourless and do not require any additional respiratory protection - both outdoors and indoors.
There is a whole range of outdoor surfaces that you would like to paint? You can paint most of them with our outdoor paints without hesitation. Whether it's a painted metal table, plastic garden chairs or the unpainted Hollywood swing, our outdoor paints can be applied to all surfaces. Thanks to their high durability, you can even apply them to window frames made of wood and plastic.

Even the flower pots and decorations made of concrete tolerate painting with the outdoor paints well and are grateful for a
refresh.
Even vertical tiles on the outside can be painted over with the outdoor varnishes.
For example,
you can match your clinker cladding to your front door.

Please note that our
varnishes
and
chalk paints
for outdoor use are water-based and
do not tolerate standing
water
.
Therefore, you should not paint horizontal surfaces that are not protected from the rain.
As diverse as our colour scheme is, so are the substrates to be painted. Read here what you should look out for in your project.
Outdoor paint for garden furniture
If you want to paint your garden furniture, you have a choice of three manufacturers. Use the Eggshell Varnishes from MissPompadour, the Wood & Metal varnishes from Mylands or the outdoor varnishes from Painting the Past. It makes no difference what material your furniture is made of.

Our outdoor paint is just as suitable for wood as it is for metal and plastic.

As with all surfaces, it is also important to clean and degrease them first.


If you want to use pallet
furniture in the garden, you should sand the wood before you start painting it with outdoor paint for pallets. Especially on open wood, we recommend a primer to prevent the wood chips from setting up when they come into contact with the outdoor wood paint.

Use Mylands Wood Primer as the first coat
. If you have chosen
a light-coloured
outdoor paint
, use a stainblock instead
, such as MissPompadour
To Block, as this will prevent substances from seeping out of the wood.

For
plastic furniture, you can use a primer such as our To Bond to ensure that the paint adheres well to
the smooth surface.
Exterior paint for fences & garden sheds
Often garden sheds and fences are more affected by wear and tear from the elements than garden furniture. Especially when the old varnish is peeling off, it's time for a new coat of paint. With our outdoor paint and outdoor chalk paints for wood, this is child's play
First remove all loose old varnish from the wood. You can simply sand off the affected areas. If you have a lot of open wood, use a primer here too. Wood Primer ensures that the paint is not absorbed by the wood,
and To Block prevents substances from
leaking out and discolouring your light-coloured paint.

If your garden shed needs additional weather protection, we recommend using a suitable wood protection varnish as
a primer.
This is the ideal preparation for the surface.

Then paint over the surface with the exterior wood
paint.
To
paint the
metal
on your fence or garden shed, first
sand off
all the rust and remove the dust
thoroughly
. Then prime with MissPompadour Stainblock. This protective coating prevents new rust from forming and affecting your paint.
Then paint with the outdoor paint et voilà, your fences will look like new again.
You can find more varnishes
for metal
surfaces in our shop.
Outdoor paint for windows & doors
Use one of our many outdoor wood paints to give windows and front doors a new coat of paint. The weatherproof Painting the Past outdoor chalk paints are also suitable for plastic window frames. The special thing about our outdoor paints is that they are just as suitable for indoor use.
Because they are odourless, you can also use them
to paint your
windows and doors from
the inside if you want an even look. You can use white exterior paint to make yellowed window frames shine again or green exterior wood paint to give your front door a whole new look.
Don't be put off by the first coat, because our varnishes only build up their colour strength and coverage with the second coat.
Painting flower pots & plastic planters
For glazed flower pots, simply use one of the outdoor-ready lacquer qualities. This way you can always adapt them to your current taste. If you want to paint plastic planters, it may be worthwhile to prime them with To Bond.
This will give the smooth
plastic more grip and the paint will adhere better to it.

Note
that with unglazed terracotta pots, moisture from the soil can seep out and peel
off the varnish.
In this case, we recommend using one of our wall paints, as these are absorbed by the clay and do not seal the surface.
Painting outdoor furniture & decoration: a few tips for application
As with all surfaces, it is important to clean your outdoor furniture first. Remove dust and dirt with an air or water pressure cleaner. Thesame applies to verdigris that may have accumulated in damp places.
Old parts of the lacquer that are peeling or chipping off should first be sanded smooth. Further sanding is not necessary with our outdoor paints. Before painting with an outdoor varnish, it is often a good idea to apply a primer. This provides a protective layer for the substrate and more hold for the paint. With our fine MissPompadour brushes in different sizes you have the perfect tool for many outdoor projects. Choose the 25mm brush for furniture with lots of small pieces or the 75mm brush if you want to paint large areas on your fence or garden shed. The paint roller is also ideal for all surfaces.
The temperature for painting outdoors should not fall below 10 °C for long periods. Therefore, wait until it is no longer so cold at night so that your paint can harden very well. In summer, you can paint in the early morning or in the evening. Avoid direct sunlight for an even result.
For everything else
you need
to know about painting
your outdoor furniture, read our
To Paint
Garden Furniture
blog article
.
What outdoor paints are available at MissPompadour?
In our shop you can order various high-quality outdoor paints and chalk paints.


Outdoor chalk paints from Painting the Past
Painting the Past outdoor chalk paints are water-based and very durable, as well as weatherproof. The outdoor paint is suitable for many surfaces, such as furniture, window frames and garden sheds. Even on concrete and stone, the outdoor chalk paint offers high coverage with easy application.
The chalk varnish can be used on many substrates without primer and can be applied with abrush, a paint roller, but also with a paint spray system


MissPompadour Outdoor paint
MissPompadour Eggshell Varnish is a light gloss varnish suitable for indoor and outdoor use and can be applied to many substrates, such as wood, smooth surfaces and metal. With Eggshell Varnish you achieve a smooth and easy to clean surface for your outdoor project.
Wood & Metal Outdoor varnishes from Mylands
Mylands chalk paints for outdoor use are highly abrasion-resistant and exceptionally hard-wearing. It is available in 3 different qualities:

This outdoor paint is particularly suitable for wood and metal surfaces indoors and outdoors. Mylands Wood & Metal is environmentally friendly and offers the surface up to 10 years of protection when properly cared for. For an optimal result, we recommend the use of a suitable primer.
Once you have planned your project, you can order everything you need from us. In our shop you will find a wide selection of high-quality outdoor paints:
MissPompadour Eggshell Varnishes

Mylands Wood & Metal Eggshell chalk varnishes
Painting the Past chalk paints outdoor
In addition, you can get the suitable primer as well as all accessories from us. Save yourself a trip to the DIY store. If you are unsure which materials you really need, please contact our
free customer advisory service
. We will be happy to help you!
Your order will be shipped climate-neutrally via DHL GoGreen. We also attach great importance to sustainability when it comes to the packaging of our parcels. That's why we only use cardboard and paper as packaging and old cardboard as filling material.