Ecological Wall Paint: The Valuable Wall Paint
Often you have to decide: Do I paint sustainably or opaque? Should the paint be stable or have a low odour? If you don't want to do without any of these properties, we have the
perfect wall paint
for you.
Read all about ecological wall paint!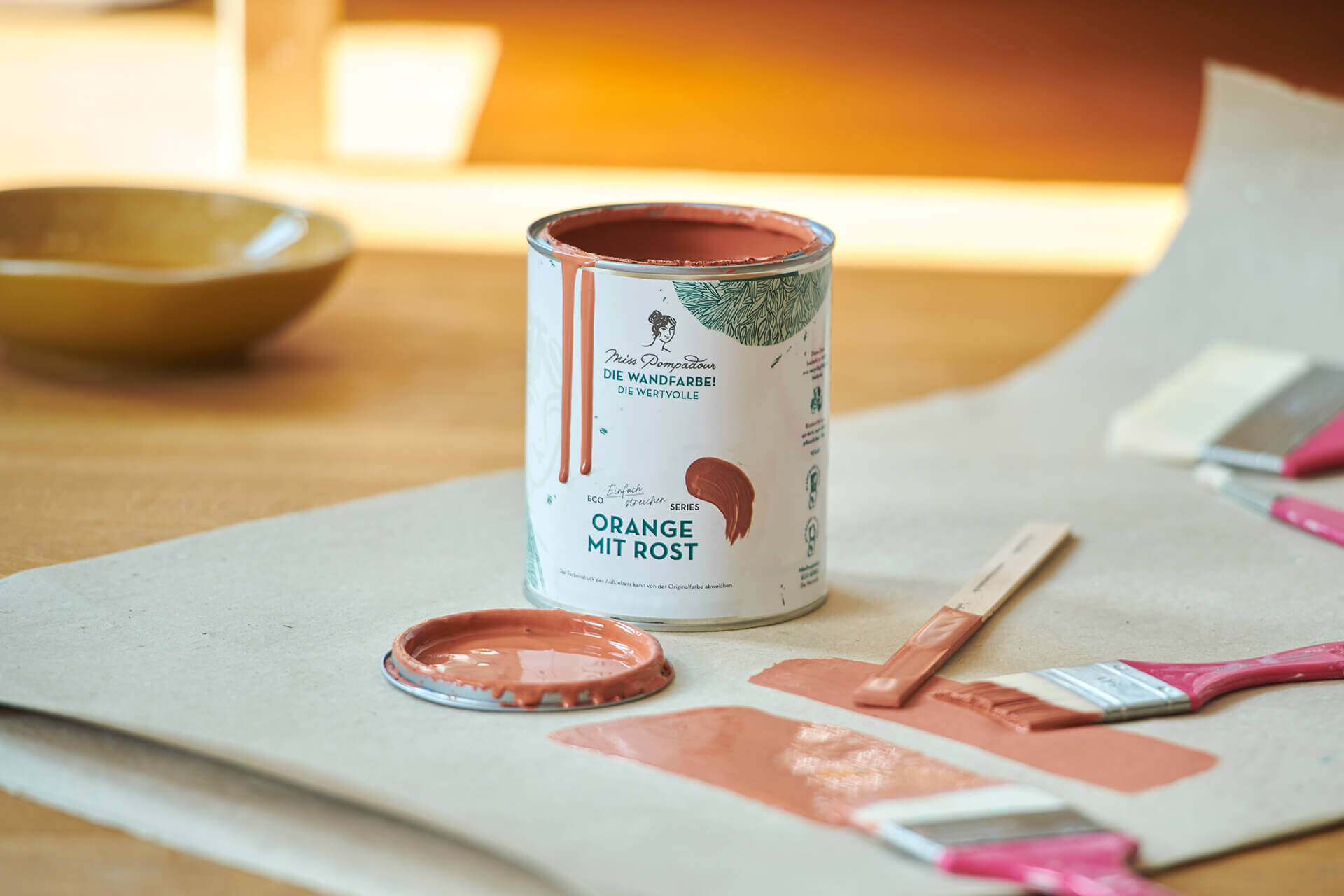 Reasons for ecological wall paint:
What makes The Valuable Wall Paint so valuable?
We put all our heart and soul into the production of The Valuable Wall Paint. Sustainability and a good finish were our top priorities. The best thing is that the ecological wall paint is also convincing in terms of quality and durability!
Processing of the ecological wall paint
As soon as you open the bucket, you will notice that our high-quality wall paint is practically odourless. This is a welcome feature in any room, because even when painting, the ecological paint remains odourless
Due to the high proportion of pigments and high-quality fillers, it is so thick that you can do without covering large areas because the paint does not splatter. You can also use ecological wall paint to cover a coat of emulsion paint, silicate paint, clay paint and lime paint. However, make sure that the substrate is load-bearing and absorbs evenly. With distemper and other chalky old coats, you should first try out whether the paint holds well
If you're impatient when it comes to decorating, we have more good news: The environmentally friendly paint dries really quickly
Painting result of the ecological paint
The result of our high-quality wall paint is impressive. It not only impresses with its excellent covering power. With it, you achieve a noble, matt and very velvety coating that is particularly robust with a 1st class rub resistance
Thanks to its great flowing properties and viscosity, you always get an even coating result whose strong colour brilliance really sets off your walls. With a class 2 SD value, The Valuable Wall Paint is a highly diffusible paint.
Health benefits of pollutant-free wall paint
Thanks to our ecological paints, you don't have to worry about your health when painting.
The premium wall paints are
odourless
,
water-dilutable
and
completely solvent-free
.
In addition, they are
water-based
, which makes them easy to wash off hands and painting tools as long as they have not
dried.
You can apply them in children's
rooms
without hesitation, because they do
not
emit any harmful substances either during painting or afterwards. We have already painted
children
's rooms with The Valuable Wall Paint!
By the way, you can use it in combination with our magnetic
and blackboard paint
.

Our environmentally friendly wall paints are not only beautiful to look at, but also
completely harmless
! Especially in old buildings and ecological construction methods, the use of breathable paints makes sense.
Environmental aspects of sustainable paints
With The Valuable Wall Paint, the ecological and environmentally friendly aspect was particularly important to us. Therefore, the natural paints are produced directly in Europe and Germany and thus have particularly short delivery routes. Also during the production itself, theCO2 emission
is low.

No separate raw materials
are
mined
for
our ecological paints
.
Instead, we use biomass waste from the oil production of olive oil, for example. This is used to produce the binder.
Compared to fossil raw materials such as chalk, our bio-based raw material is a renewable resource. It can wax within the lifetime of the wall paint and is therefore not produced at the expense of people, nature and animals.
The performance of paints always depends on the quality of the binders. Our bio-based binders are not only environmentally friendly, but also of high quality - because only what lasts is sustainable.
The packaging is also a winner: the production of the buckets is water-saving and made of plastic for which 100% consumer waste is used. The tin cans and the transport packaging of our plant-based paints are also made of completely recyclable materials.
Frequently asked questions about ecological wall paint
If you want to paint ecologically and sustainably, you also have to think about processing, the painting result and, of course, durability. We have therefore compiled the most important information for you here.
What is the covering power of ecological wall paint?
Due to the high quality of the binders and pigments, our ecological paints have a
particularly high covering power
. On a suitable and stable surface, one coat can be enough.
If you use a light colour shade on a dark wall, two coats may of course be necessary. However, you do not need to prime with another colour beforehand.
Does ecological wall paint last as well as conventional paint?
The high-quality ingredients ensure that our premium wall paint is extremely durable. Not only is it long-lasting: you can also wipe it off easily because it is scrub-resistant.
Are ecological wall paints suitable for allergy sufferers?
We work with as few additives as possible and without solvents. In addition, all preservatives are declared on the cans.
Nevertheless, allergies are very individual. Therefore, there is no blanket answer to this question.
What do I have to bear in mind when applying ecological wall paint?
There are not many special features that you have to consider when applying ecological wall paints compared to conventional wall paint. The paints are very easy to apply, even for painting beginn ers
It is not necessary to cover a large area of your floor; instead, simply pull the painter's fleece along in the painting process. Since the paint does not splatter, other areas are not contaminated.
Not only our paints are ecological: also the shipping, which is done via DHL with GoGreen, isCO2-neutral.