Painting Wooden Ceilings and Wall Panelings: How to Beautify Old Wood Panels
10 min reading time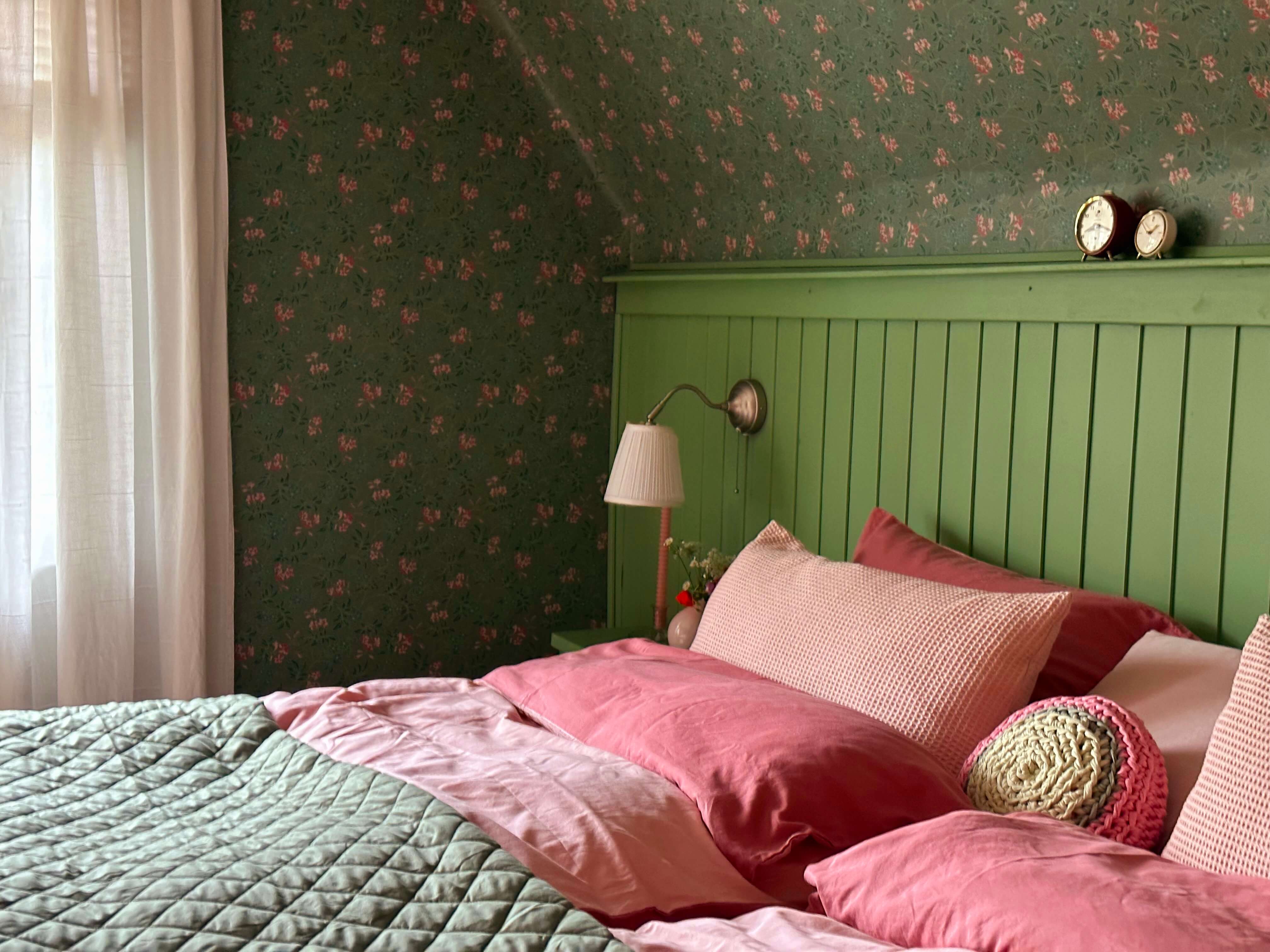 Until the 1980s, panelled ceilings were modern. Unfortunately, they no longer fit in with our modern interpretation of cosiness. Most of the time, the softwood of these ceilings develops an unattractive yellow tinge over the years. Or it is stained dark from the start and then the ceiling literally presses down on your head from above. Sometimes the panels are also made of plastic, which looks old-fashioned and oppressive. Fortunately, ceilings and wall panelling can be painted quite easily. Then they look really chic in no time at all.
The right colour choice for your wooden ceiling
How often do you just want to paint your wooden ceiling white? But right away questions arise! For one thing, not all white is the same - anyone who has ever been on our site will recognise this immediately. On the other hand, many people find it difficult to imagine that it can be so easy to go from brown/dark brown to white. We have explainedwhat you need to consider and how best to proceed in our instructions!

Perhaps you are wondering whether you can really paint over a brown or dark wooden ceiling? Yes, it is possible with our colours and varnishes. Take a look at our customer photos in the next section and let us convince you.
White and other light colour shades are often particularly suitable as ceiling colours, as they make rooms appear larger and wider. This is a particular advantage in narrow hallways, low ceilings and small rooms.

What you need to bear in mind when painting the ceiling white: If you want to paint your wooden ceiling white, a primer is also important here. However, our paints and varnishes also cover dark surfaces. Note, however, that when painting from dark to light, you always have to expect more coats than usual!
Before/After sample photos of painted or varnished wooden ceilings and wall panels
Why should you paint your wooden panels? If you want to remove wooden ceilings or wall panels, it often means a lot of dirt, work and maybe some nasty surprises. By painting your ceiling and wall panels, you can optically recede or create a very individual eye-catcher. And who doesn't like to change their walls occasionally, whether plastered or with panels? Take a look at how our customers have changed their rooms and let yourself be inspired!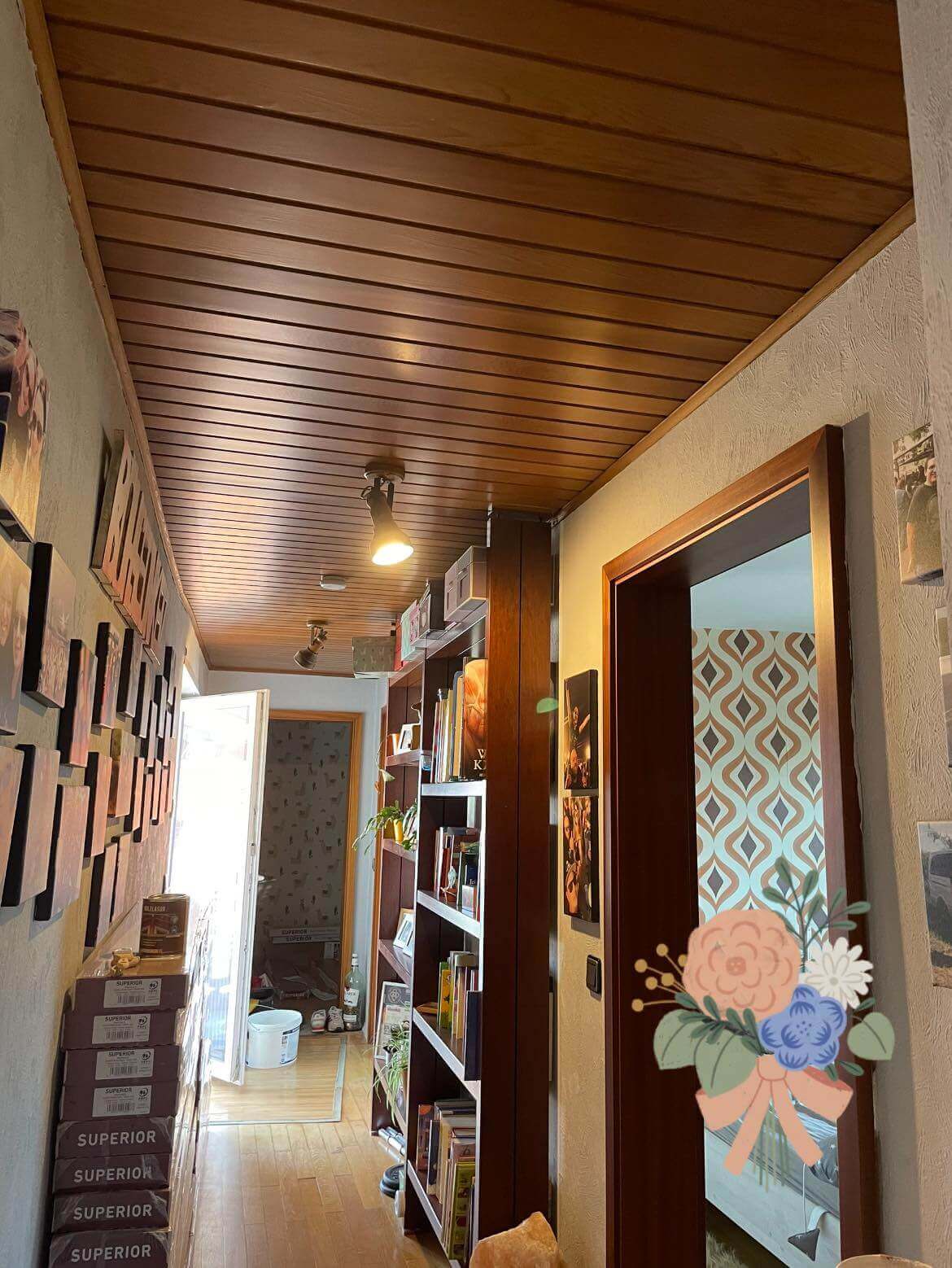 Before
- Due to the many dark wooden elements, this corridor seemed oppressive and narrow.
MissPompadour White with Melting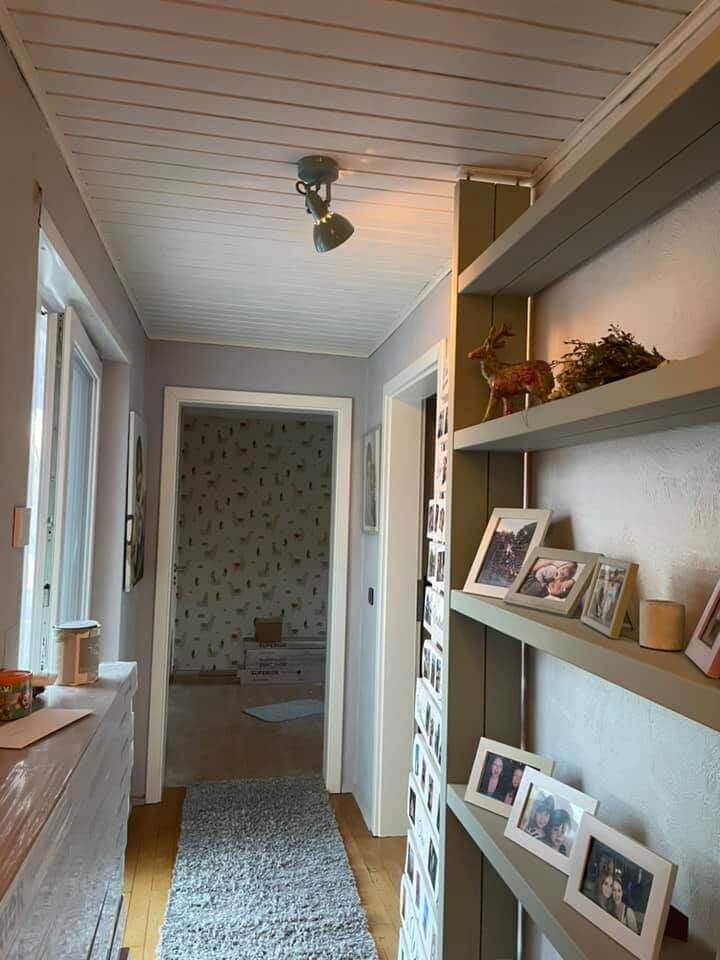 After
- Here, not only the ceiling was painted. The hallway is given breadth and lightness.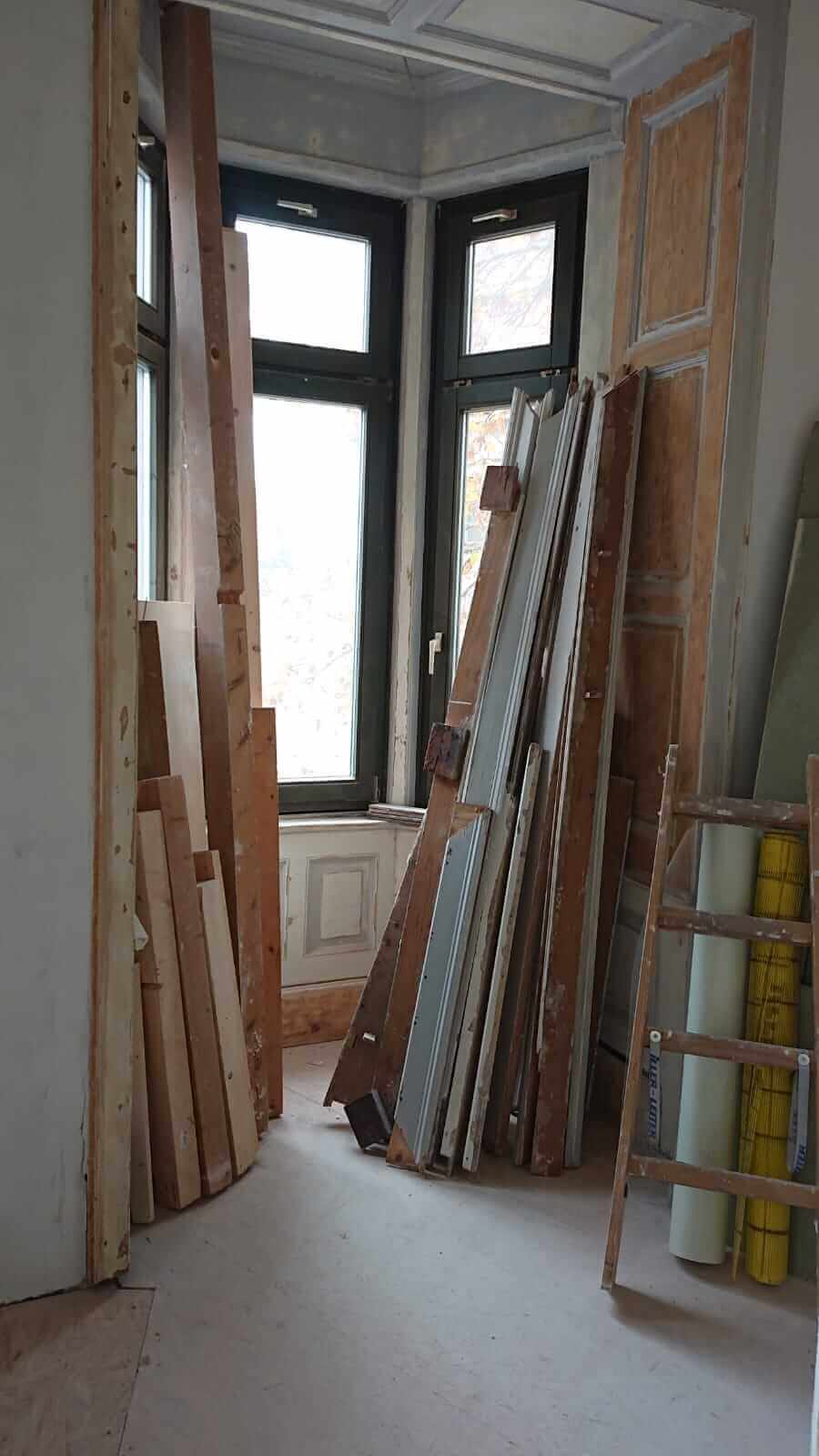 Before
- After removing a built-in cupboard, the panelled bay window should really come into its own.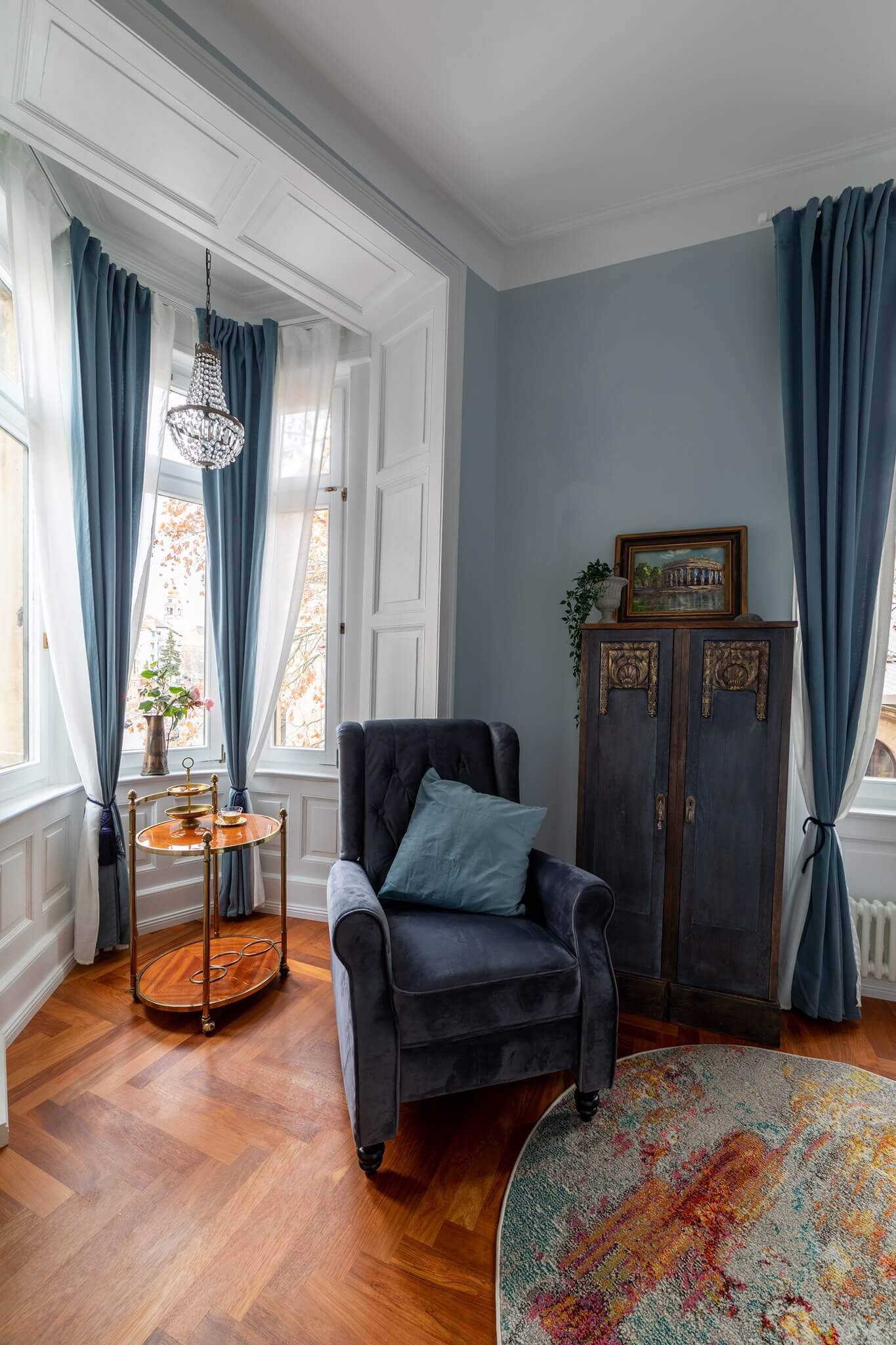 After
- The painted panelling now makes this bay window look stately and noble. What a transformation!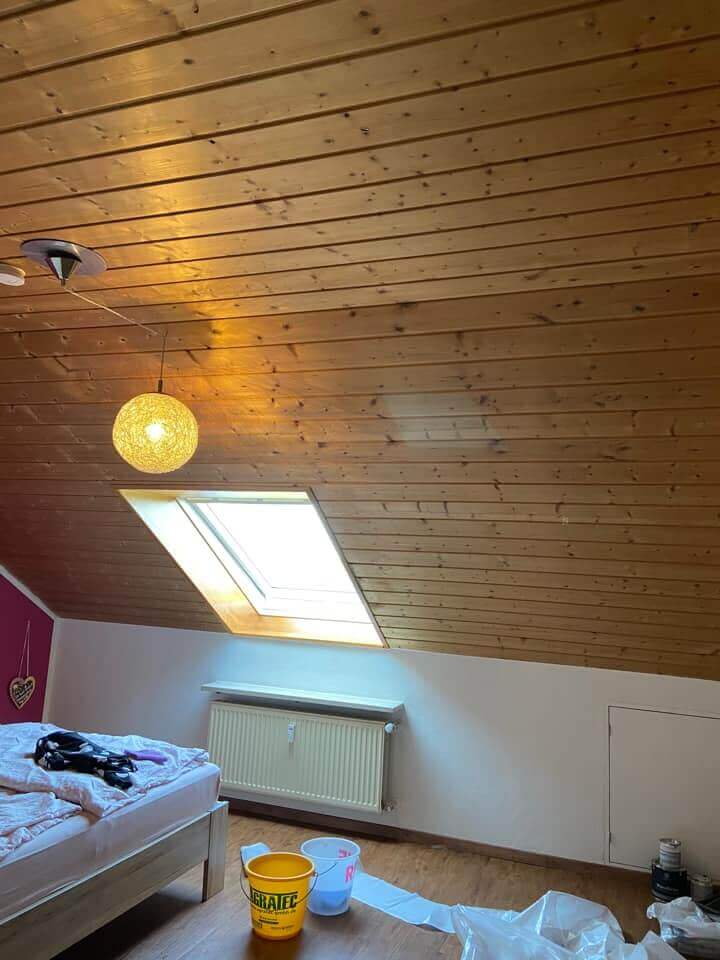 Before
- The classic, darkened wood panelling on the slope made the room look dark and oppressive. In the 80s, that was the trend.
MissPompadour White with Character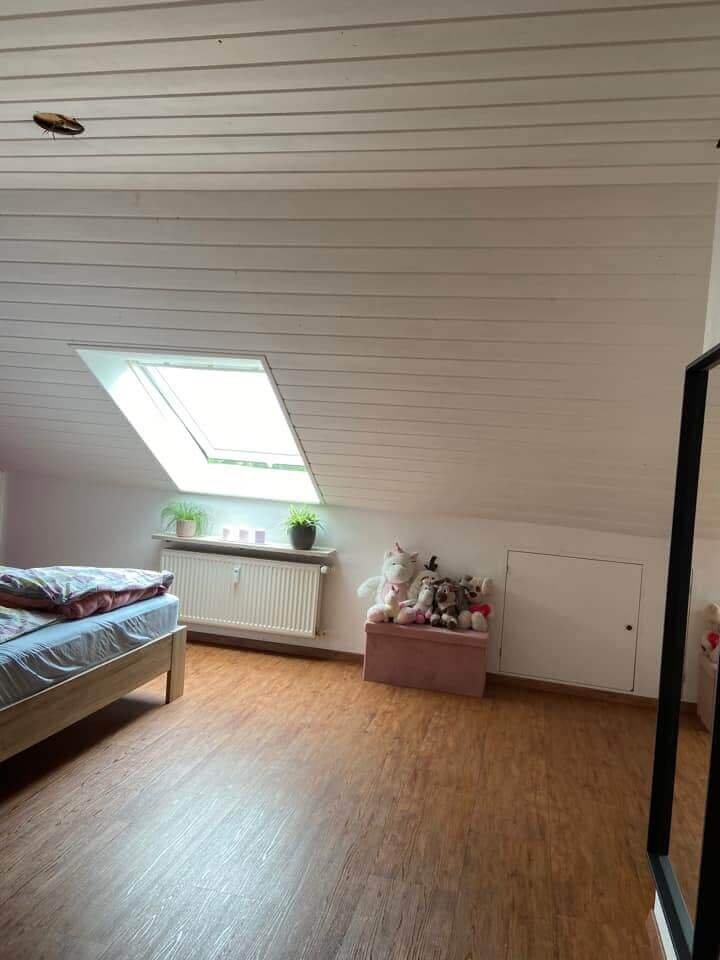 After
- The painted ceiling panels make the slopes recede and the room appear larger and more open.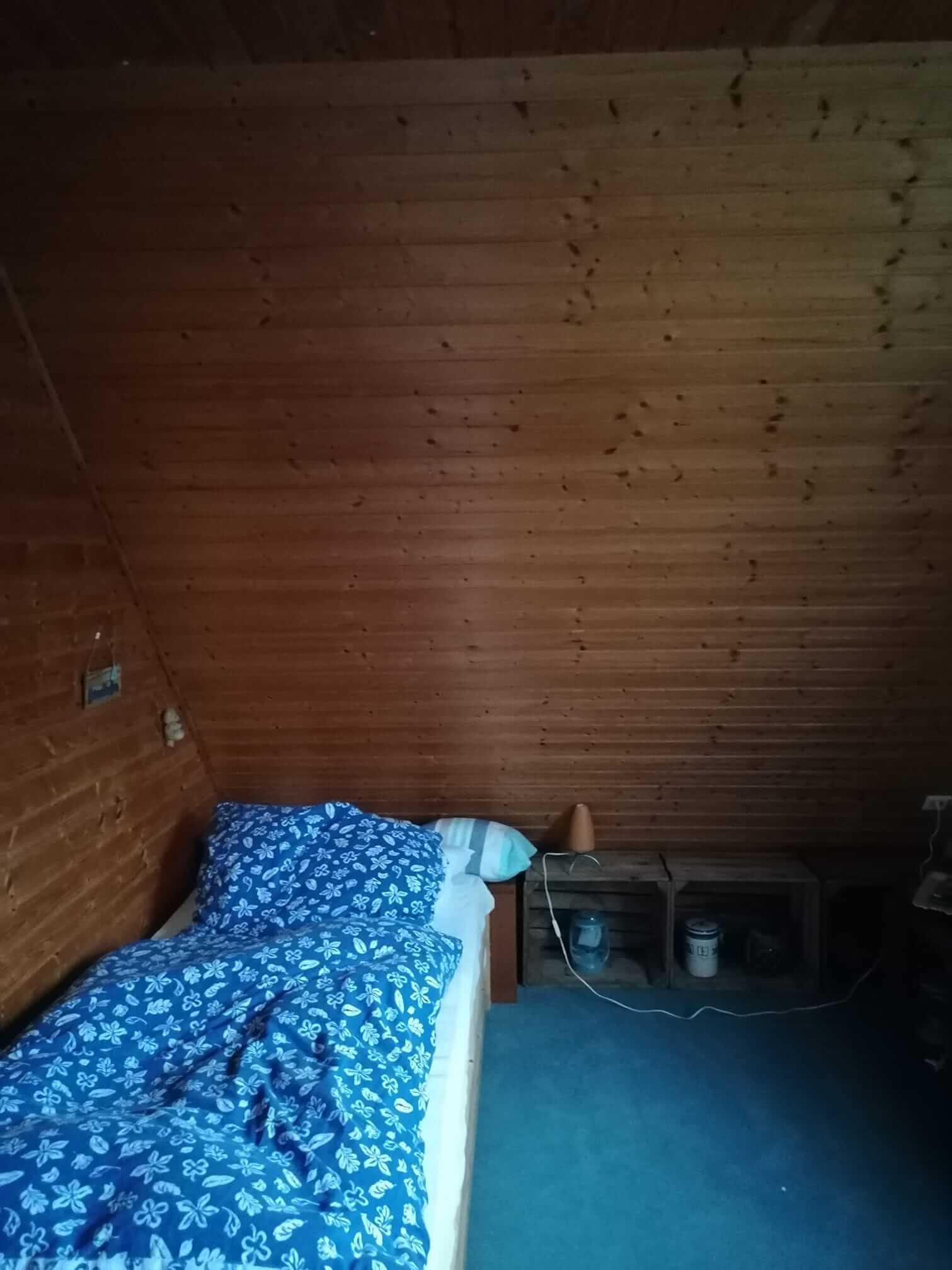 Before
- Here, too, the dark slant was uninviting. It hasn't been modern for a long time.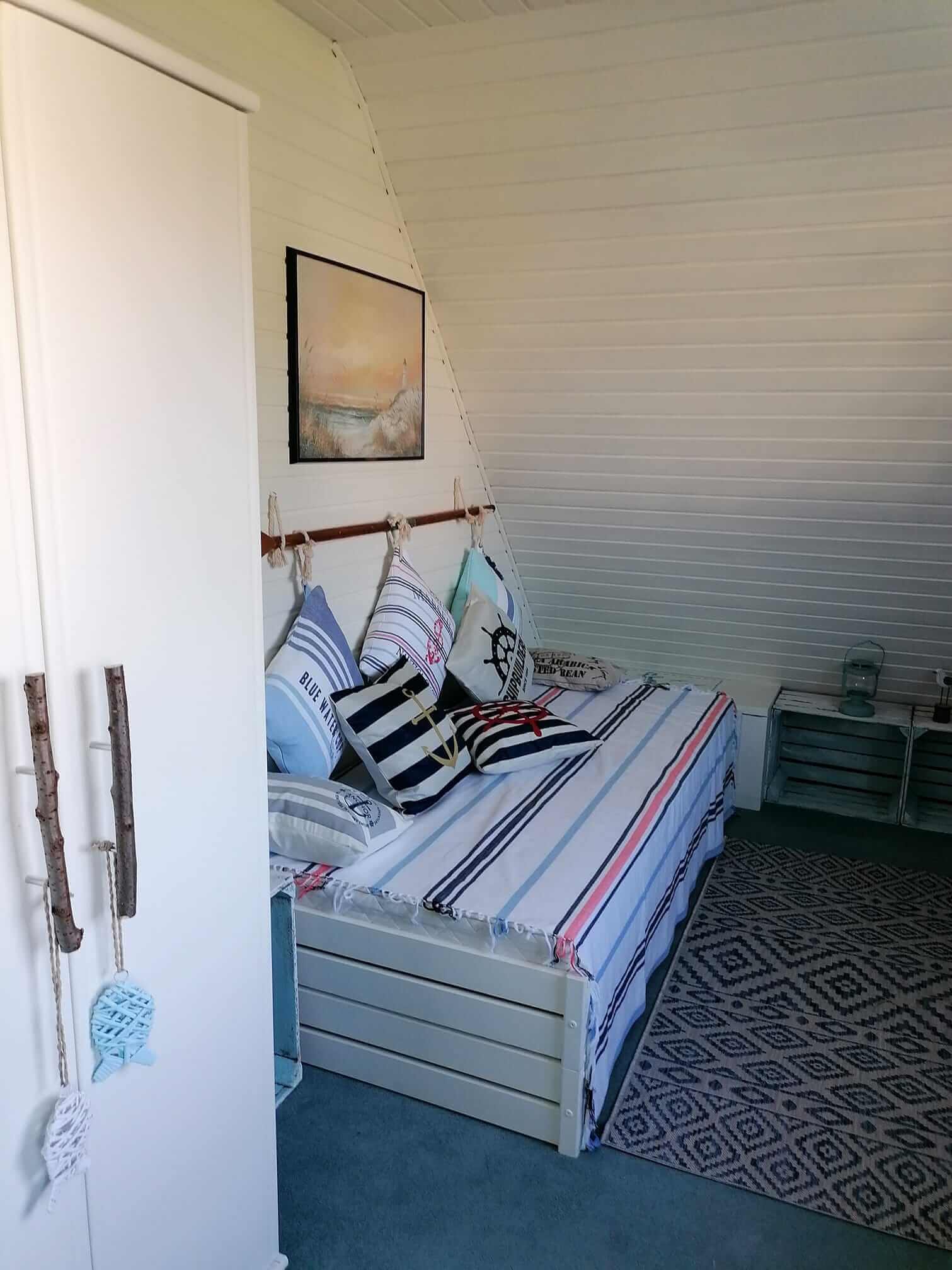 After
- Not to be compared with Before is the bright, friendly look of this room.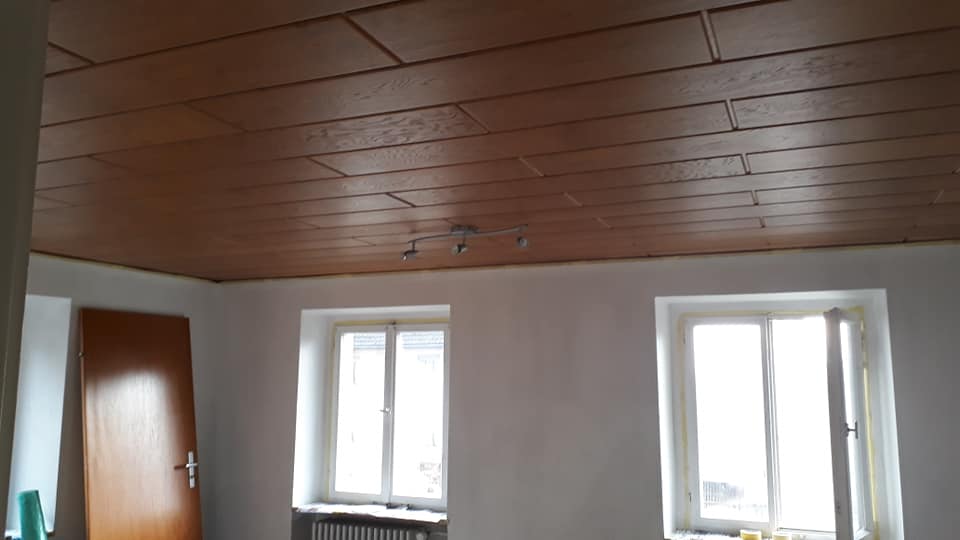 Before
- The dark wood dominated the ceiling and pushed the room down enormously.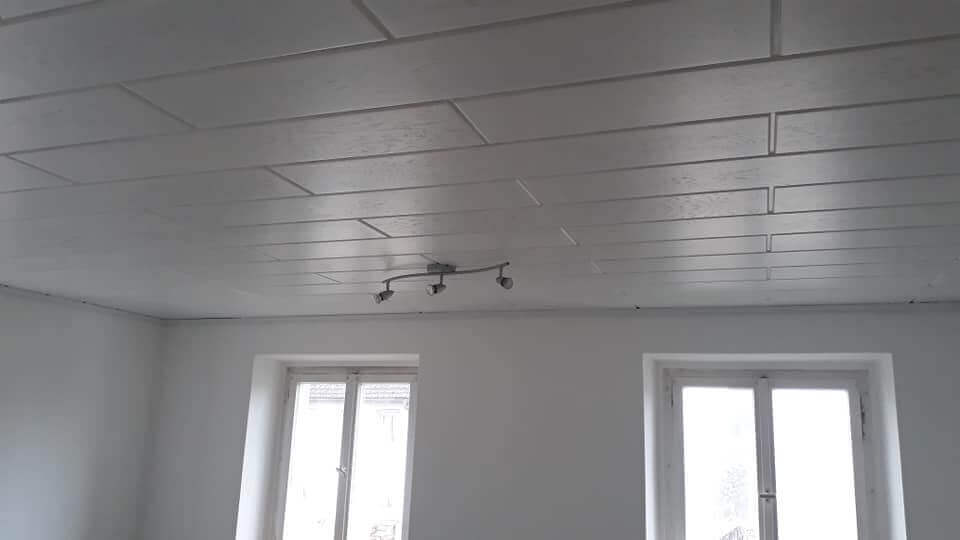 After
- This room has been visually opened. Nothing has remained of the oppressive atmosphere.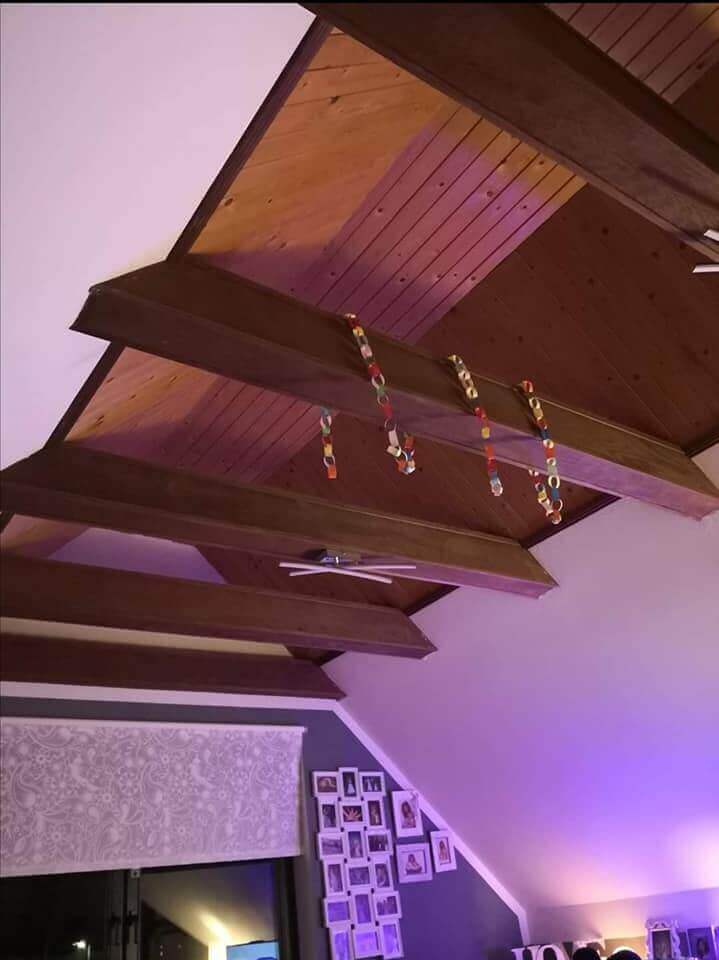 Before
- The gable of this actually very open, high room was too dark and dominant for our client.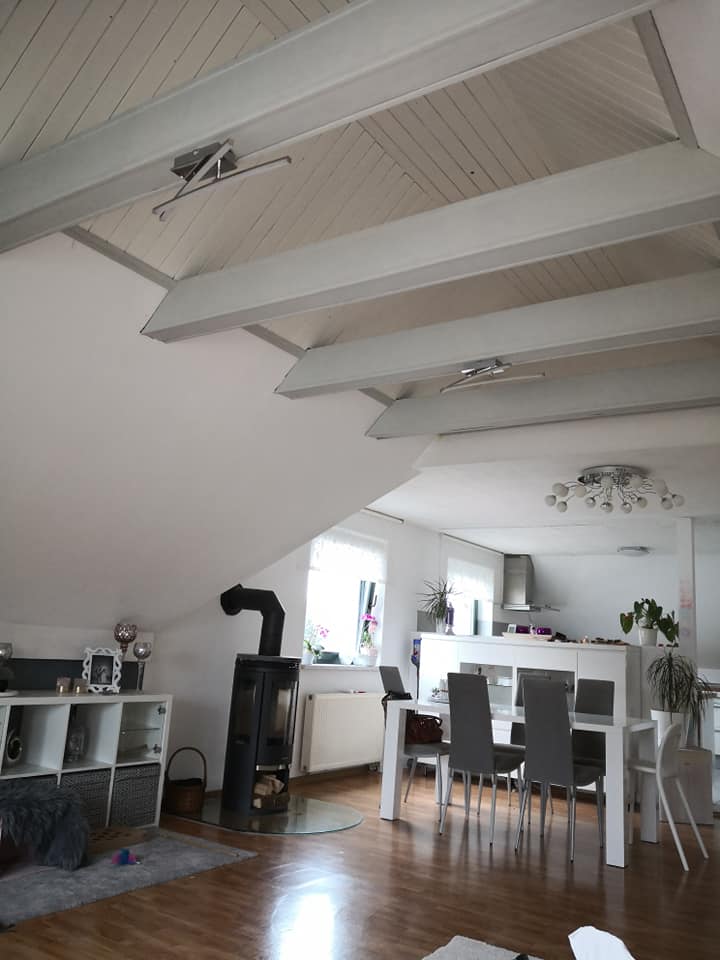 After
- Simply repainted. The result is a unique, bright and inviting space.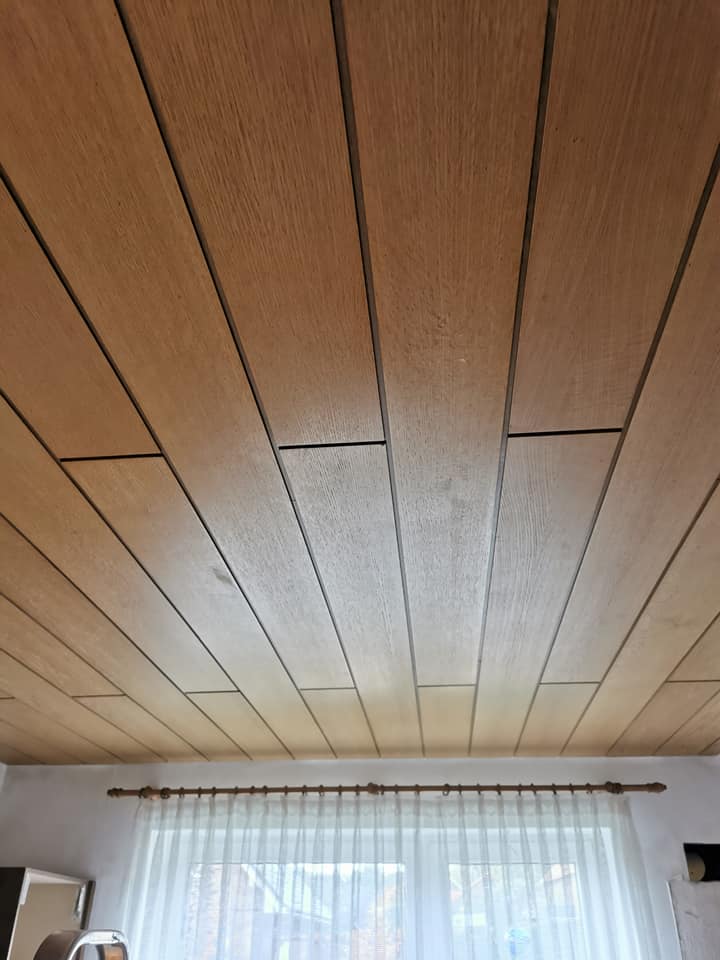 Before
- Our client found this room old-fashioned and too contrasting because of the solid wooden ceiling.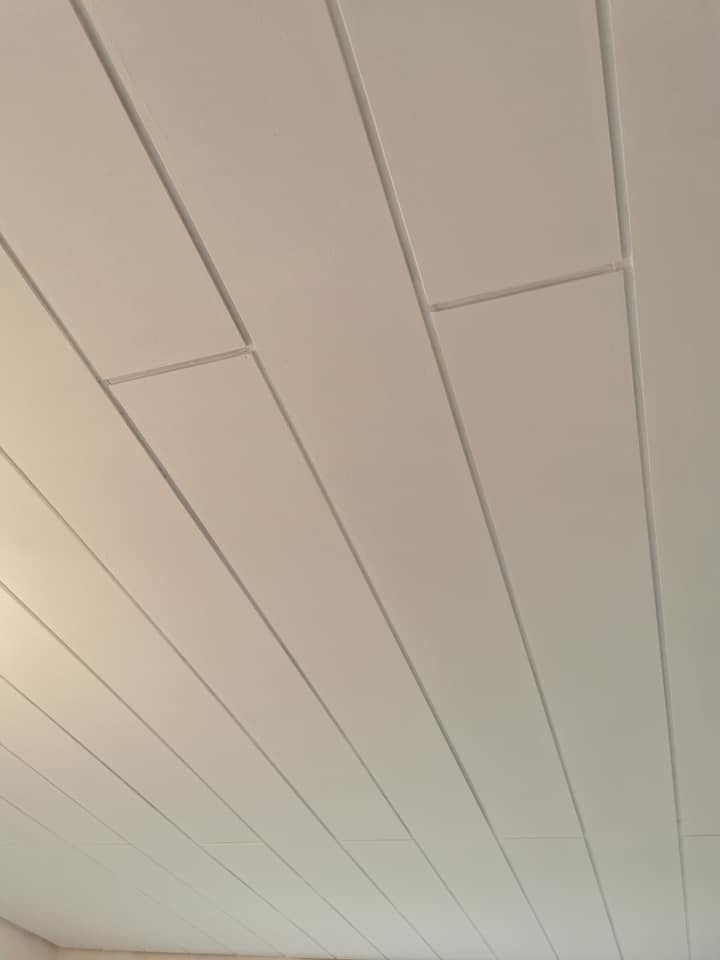 After
- With the new colour, the wooden ceiling elegantly recedes. It becomes light and chic.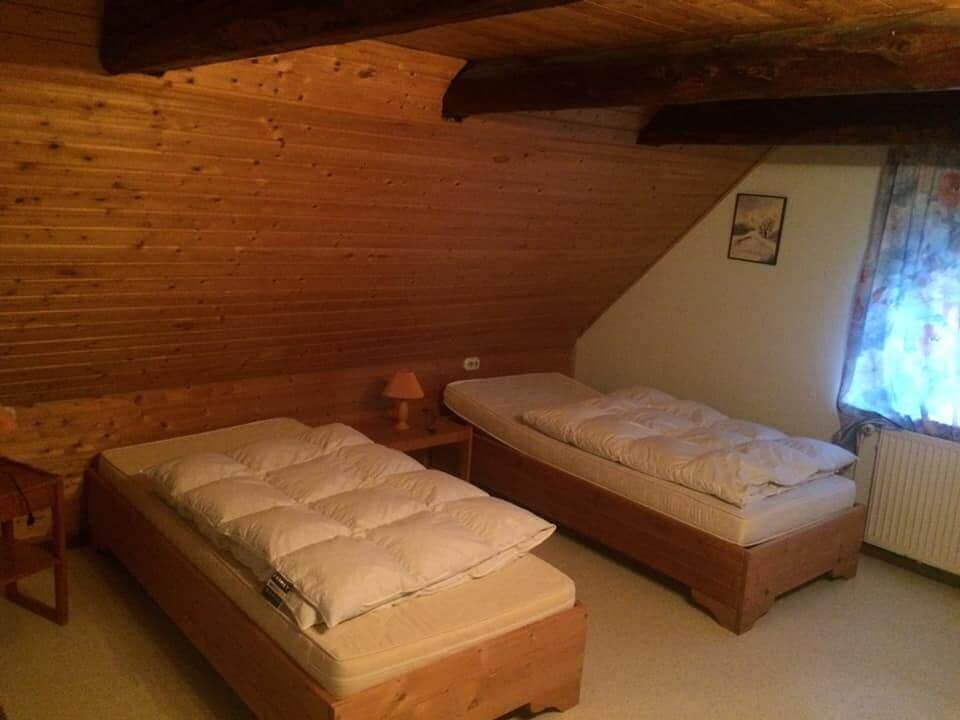 Before
- Our client's granny annexe did not meet her expectations at all. More light, please!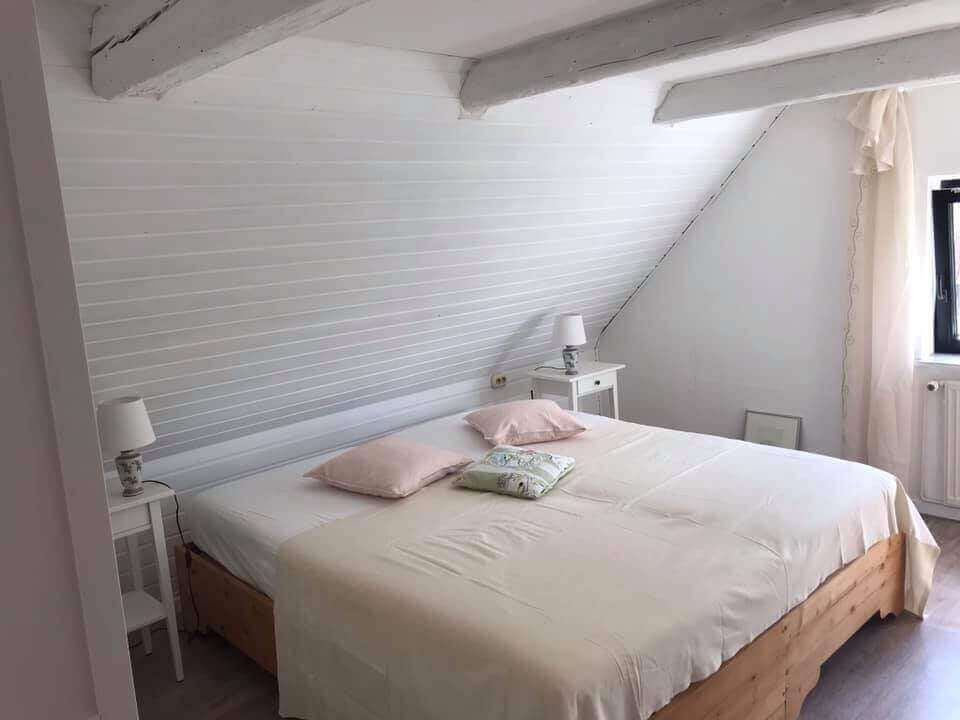 After
- The dark beams and wood panelling shine in pure white. A completely new, romantic look.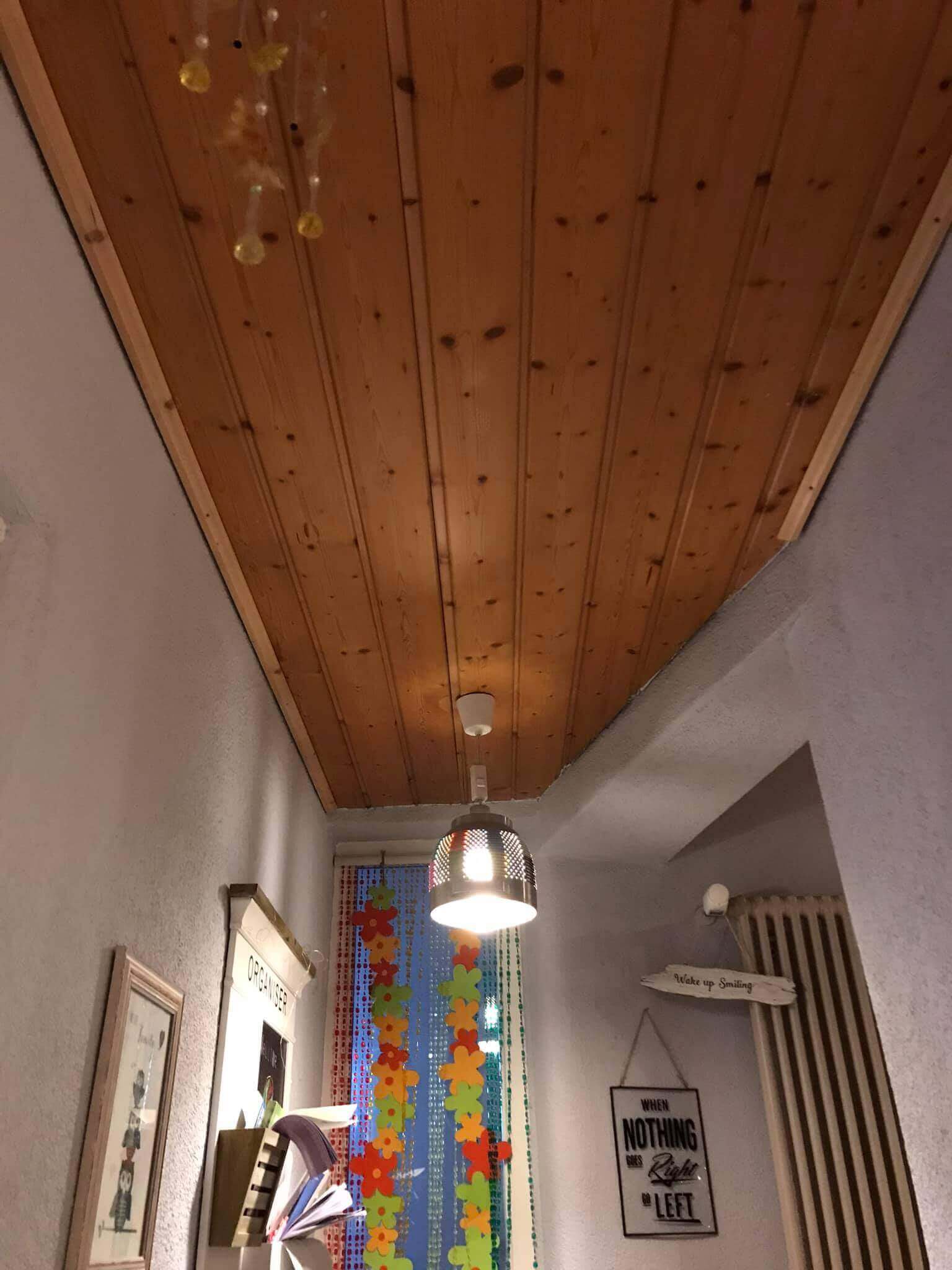 Before
- Here, too, the hallway was simply old-fashioned and dark due to the wooden ceiling.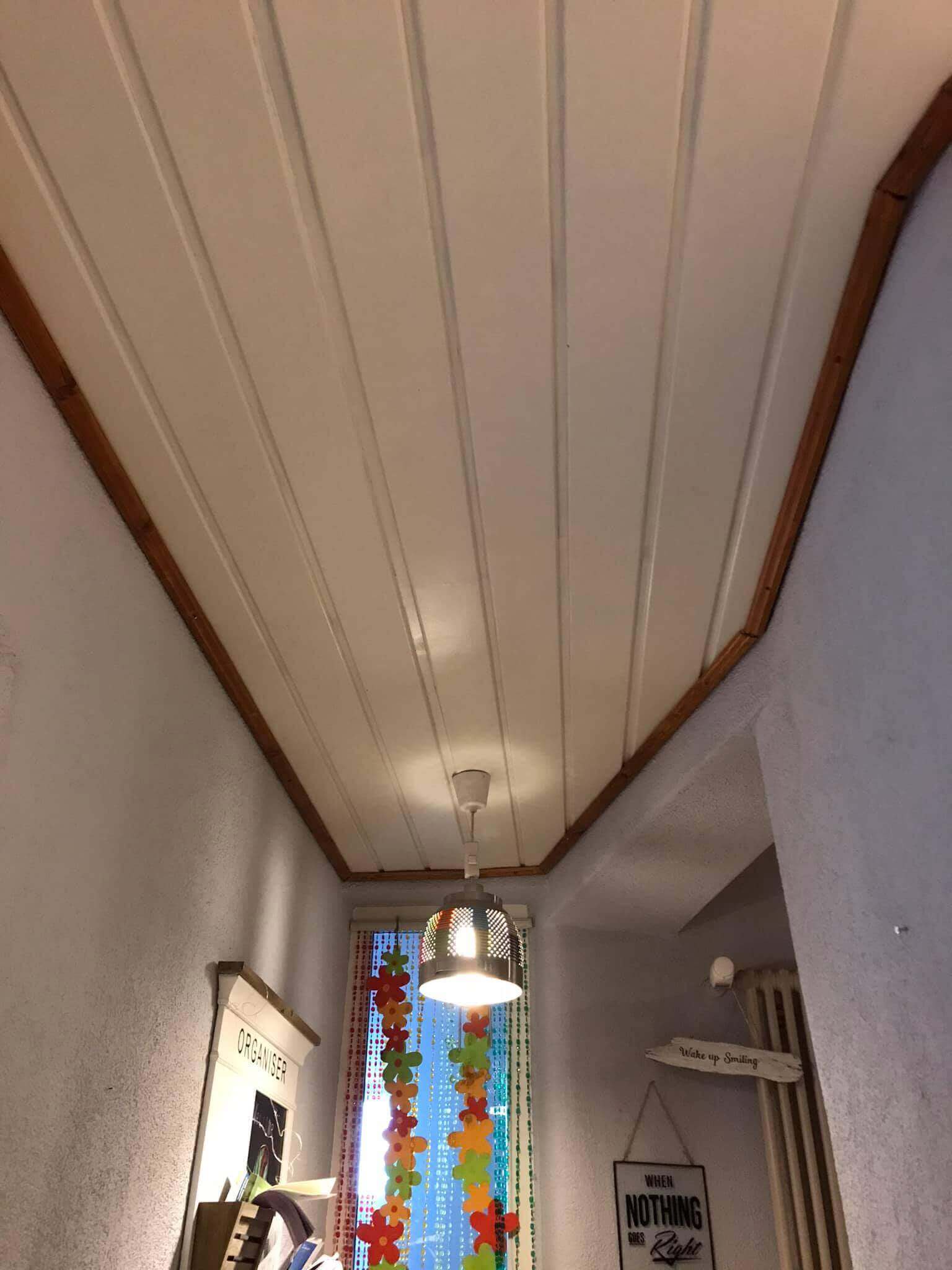 After
- With the help of the new paint, the hallway has become airy and bright.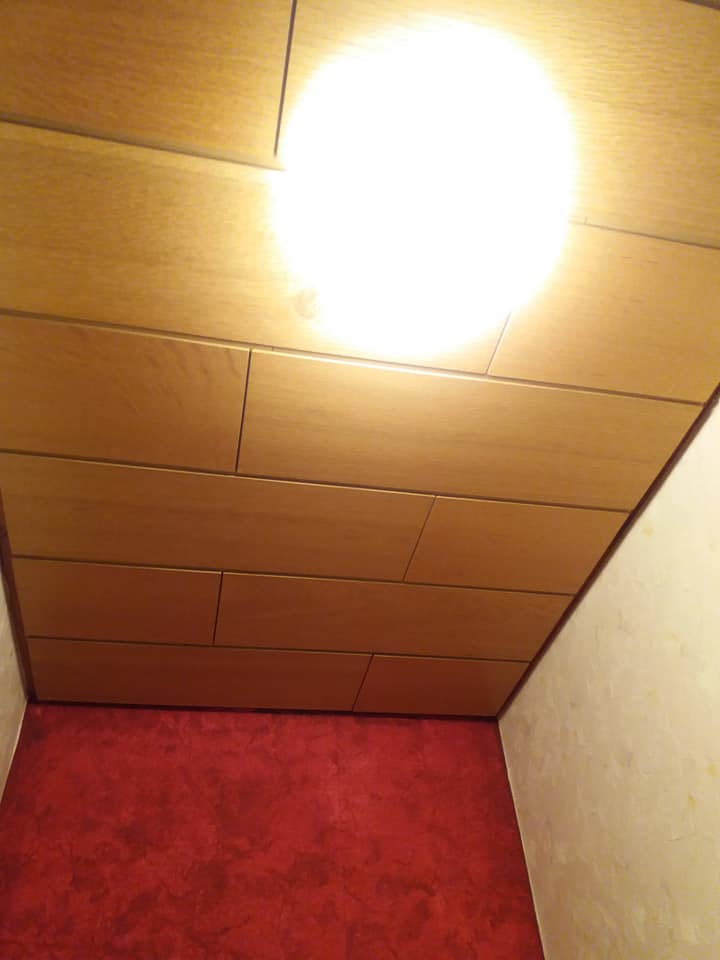 Before
- It was impossible to feel comfortable in this guest toilet. The ceiling literally crushed you.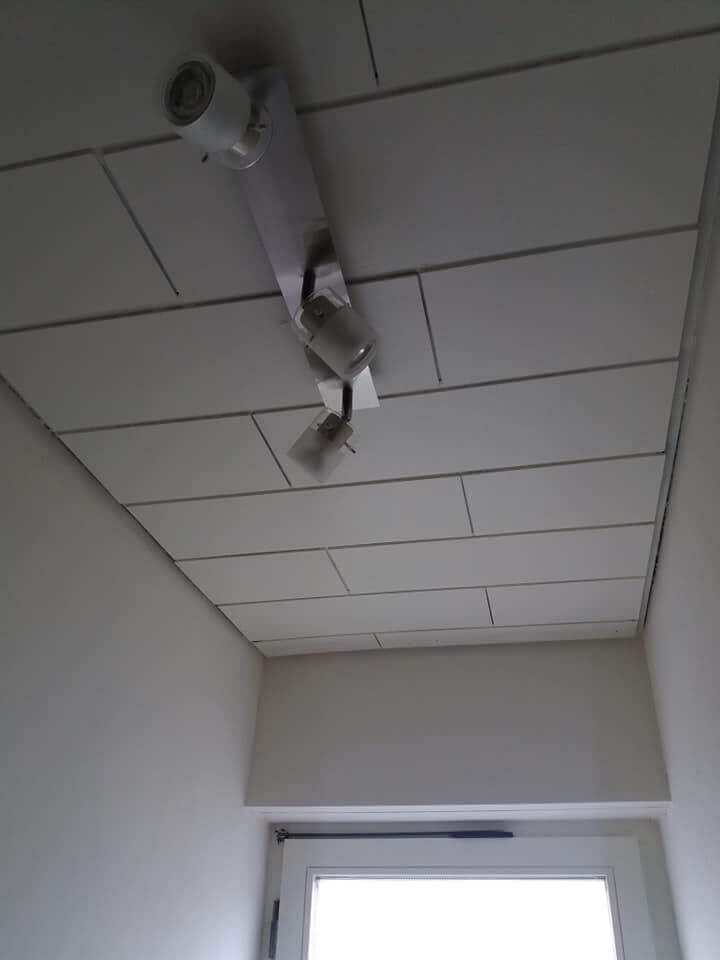 After
- With new wall and ceiling paint, the ceiling takes a back seat. There is no longer any trace of an oppressive atmosphere.
Step-by-step instructions: How to paint and varnish ceiling panels correctly
Step 1: Choose a colour
To paint your wooden ceiling and wall panels, you can basically choose any colour quality, regardless of the material. If you want a silk matt look, choose our MissPompadour Eggshell Varnish. For a matt look, we recommend our MissPompadour Matt Varnish. You can also use wall paints, for example to paint the ceiling in the same look as the wall. For example, choose MissPompadour - The Valuable Wall Paint or the chalk paints from LittlePomp. If you can't decide on a matching white, order the colour cards!

Step 2: Prepare surfaces
Lightly sand any dents or scratches on your panelling, if there are any. You can use a fine-grit sandpaper for this. Then conceal them with To Fill - MissPompadour Filler. You can also close knotholes in this way to prevent them from leaving dark stains in your paint.

Step 3: Clean the wooden ceiling or wall panels
Clean the surfaces to prepare them well for painting. Dust can be vacuumed away first. Then use To Clean - MissPompadour Cleaner and lukewarm water to degrease the surfaces. Then wipe well with clean water. It is important that the surface is free of dust and grease. Everything must dry well before painting.

Step 4: Prime surfaces
Wood:

If you have a natural wood ceiling or wall panelling, you should prime with To Block
-
MissPompadour
Stainblock
. With real wood, there is always the risk that
tanning agents
or
stains
will leave stains in your new light varnish. If you want to paint the wooden ceiling white, this step is especially
important
. Let the primer dry overnight.
Plastic:
If you expect an
increased load
, then prime plastic panelling or already painted surfaces with a thin layer of
To Bond - MissPompadour Primer for
better adhesion of the paint to the substrate. This is not
necessary
for
ceilings
, as they are not exposed to heavy loads. With plastic wall panelling, you should be on the safe side and prime with the primer if you want to paint with the wall paints.
Step 5: Paint the surfaces
Now paint the colour of your choice. Apply as many coats of varnish as necessary until you are satisfied with the result. The result is usually opaque after 2 - 3 coats, but a double coat is always recommended. Allow each coat to dry for 4 - 6 hours. The varnish layers become more stable with each day - after about 14 days they will have reached a load-bearing stability. If you are painting tongue and groove boards, you can pre-paint the grooves, i. e. the joints, with our fine MissPompadour brush, e. g. in 50mm. Then paint the surfaces with the varnish roller for water-based varnishes.
Step 6: Sealing wall panels
You do not need to seal ceilings, as they are hardly exposed to manual stress. For wall panels, you can use To Seal - MissPompadour Topcoat for an even more robust surface. Especially if you have painted with the wall paints, it is advisable to seal the surfaces depending on the load. Apply the sealant after the paint has dried overnight.
Video: MissPompadour Campus: Project Painting Ceiling Beams
Frequently asked questions about painting wall panels and wooden ceilings
1. Things to know about preparation
Do I have to sand the wood before painting?
Basic sanding is not necessary. Only if parts of an old coating on the wooden panels come off should they be sanded smooth.
Do I need to prime the ceiling or wall panels?
For real wood panels, use MissPompadour To Bond & Block as a primer to ensure that the wood does not release discolouration into the new paint. This is especially important with oak, tropical woods and softwoods, as these tend to release tannins. Stained and glazed woods can also discolour your paint.
For plastic surfaces, you can use MissPompadour To Bond & Block as a primer. The paint will then adhere better to the surface and the surface will be perfectly prepared for painting.
How do I determine the right amount of paint?
Next to each colour shade in our shop you will find the practical quantity calculator. Simply enter the square metres to be painted and you will get the estimated consumption for two coats.
Can you paint a wooden ceiling with wall paint?
Yes, you can paint wooden ceilings not only with varnish but also with wall paints. You can sand the wood first so that it absorbs the paint better. Especially if you want the ceiling to blend into the background, you can use wall paints to adapt the look of the ceiling to that of the walls.
Do I need to seal the ceiling or wall panels?
If you want to paint your
wooden
ceiling, you can save on the sealant here. Ceiling panels are usually not exposed to heavy loads, so sealing is not necessary.
However, depending on the location, wall panelling can be subject to heavy loads. Our varnish qualities are very robust even without sealing. However, if you anticipate a heavy load, you can play it safe with MissPompadour To Seal. If you have chosen a wall paint for your wall panels, you can make them more robust and easier to maintain with To Seal.
2. Painting overhead made easy
How do I paint without dripping?
Our colours and varnishes are all sufficiently thick and do not tend to drip. Depending on the painting technique, this can still happen. We recommend that you do not dip the brush completely into the paint, but only about ⅔ of the bristles. Then the paint is really spread and does not drip down the brush. Never place the roller in the paint tray with the handle in the paint, otherwise the paint can drip off the handle. Please still protect your floor and furniture with plastic drop cloth, painter's fleece or paper
Which roller do I need to paint the wooden ceiling?
Most wood panelling - and also that made of plastic - has grooves, i. e. small indentations. These can be pre-painted very well with our fine MissPompadour brushn. Then use the varnish roller for the surface.
Can I also spray the paint?
Let's face it - painting a wooden ceiling is exhausting. So if you want to paint your ceiling panels, you can speed up your project considerably with the help of a Wagner paint spray system. Dilute the paint with approx. 10% water. It is best to practise on a test piece or an inconspicuous area first. You will quickly learn the right way to use it. Please note that MissPompadour To Block is not suitable for use with the spray systems.
Can coated panels and ceiling laminate be painted?
Yes, you can even do that very well. On the ceiling, you can simply paint with the colour of your choice. If you prime it with MissPompadour To Bond, you make it a little easier on the first coat. The paint can then be applied more evenly on the smooth surface. Plastic panels on walls should always be primed with To Bond, as they are usually exposed to a much higher load than ceilings. The paint then adheres better and the first coat is easier to apply for a beautiful result.
How can I preserve the wood grain but still lighten the ceiling?
If you like the look, but your wooden ceiling is too dark and oppressive overall, you can also finish it with a white wax. As the number of layers increases, so does the brightness and opacity. Make sure to spread the wax evenly.
Since wooden panels are often made of wood, which tends to bleed, it is not advisable to use a glaze. In this case, the panels first need a primer, which, however, already covers the grain. Therefore, wax is recommended.
However, if you only have a wood look and the panels themselves are made of plastic, you can work with a glaze. Mix your desired colour with up to 50% water to obtain a glaze.
You will also need these accessories
Of course, there are also a few tools and aids that you need and should have at hand for painting!

Cleaning cloth and bucket: to clean the surfaces thoroughly first: The surface must be free of dust and grease in order for your paint to adhere well.
Sandpaper or sanding pad: for all areas where old varnish has flaked off. These should first be sanded smooth with fine grit.
Masking tape: It is best to always remove the masking tape when the paint is not yet dry, so you get a clean edge.
plastic drop cloth, painter's fleece or newspaper: To protect your floor and furniture.
Brush, varnish roller and paint tray: It is best to pour the varnish into the paint tray. Use the brush to paint corners, edges and recesses, and the paint roller to paint the surfaces.
Ladder or small work platform: to get better access to the ceiling.
Finished reading yet?
Here you will find more exciting topics
Your new favourite colour for your ceiling
A selection of our most popular colours How to make your project perfect
Our painting tools - everything you need