Rustic Oak Paint: A new look for oak cupboards and doors
6 min reading time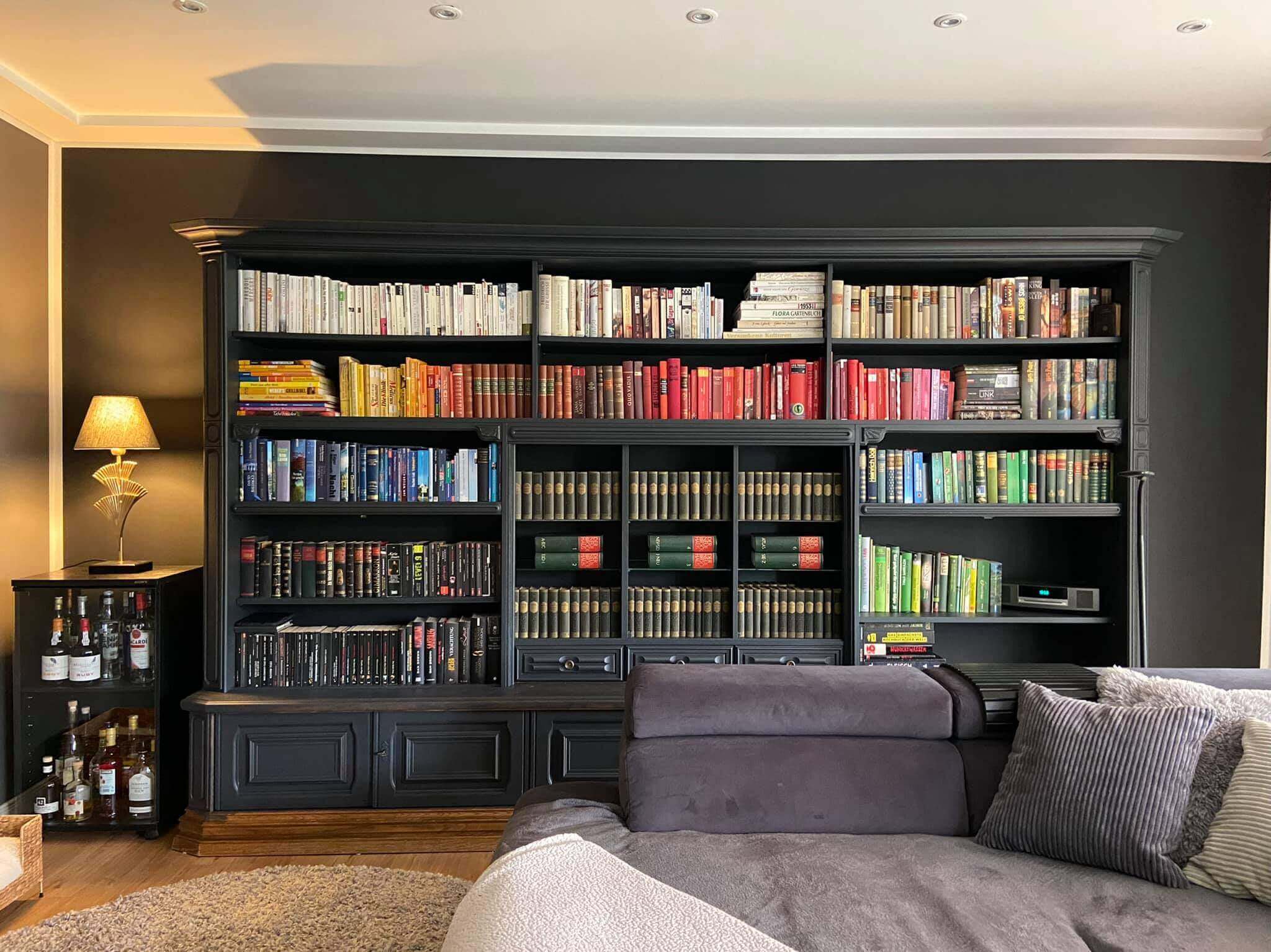 You are probably familiar with rustic oak furniture from inherited or bought houses. For the most part, these are made of wood, coated with oak veneer.
They are characterised by a dark grain - because "rustic" in this context means that they are stained particularly dark. Thanks to their good durability and high quality, you can still find many kitchens and doors in this style. However, nowadays it rarely inspires, as this furniture is often heavy and massive.
Cupboard walls in particular no longer fit in with modern furnishings - but this quality work is too good to throw away. What can you do instead? Grab paint and a brush and give it a facelift without much effort!
Preparation for painting your oak furniture
Oak furniture has special characteristics, yet it is not much more complicated to paint it.
Start by cleaning your furniture as usual, because the surface must be free of dust and grease to ensure good adhesion. Use
To Clean
, which you can also use after painting with a clear conscience. Whether your furniture is lacquered or unlacquered, you should use the primer
To
Block on oak before the first coat of paint.
This applies if you want to paint in light or medium colour shades - because oak secretes tannins, regardless of the age of the wood. These can be found in the paint when painting and are easily recognisable as yellowing, especially in white shades. If, on the other hand, you paint very dark shades, the primer is not so relevant.
Do I have to sand down Oak Rustic?
Sanding before painting is not necessary as long as the old varnish is intact. Above all, you must be careful not to destroy the thin veneer layer when sanding.
Inspiration: How to spice up rustic oak furniture
With one colour you can totally change your furniture. A coat of white paint gives this often heavy and clunky furniture a new, light look.
Even with a coat of chic black or dark blue, you won't recognise your furniture. With solid cabinet walls, you can remove some or even all of the doors to create more transparency and "open up" the piece of furniture.
Rustic oak furniture is particularly suitable for creating a shabby style. Their wood shows many projections, pilaster strips and ornaments. You can sand these out wonderfully or emphasise them with antique wax.
Remember: vintage style doesn't always have to be white: a soft purple, a light beige, a greyish green and many other colour shades are suitable to make your furniture an eye-catcher!

When it comes to painting, let yourself be inspired by our customers who have already taken the plunge.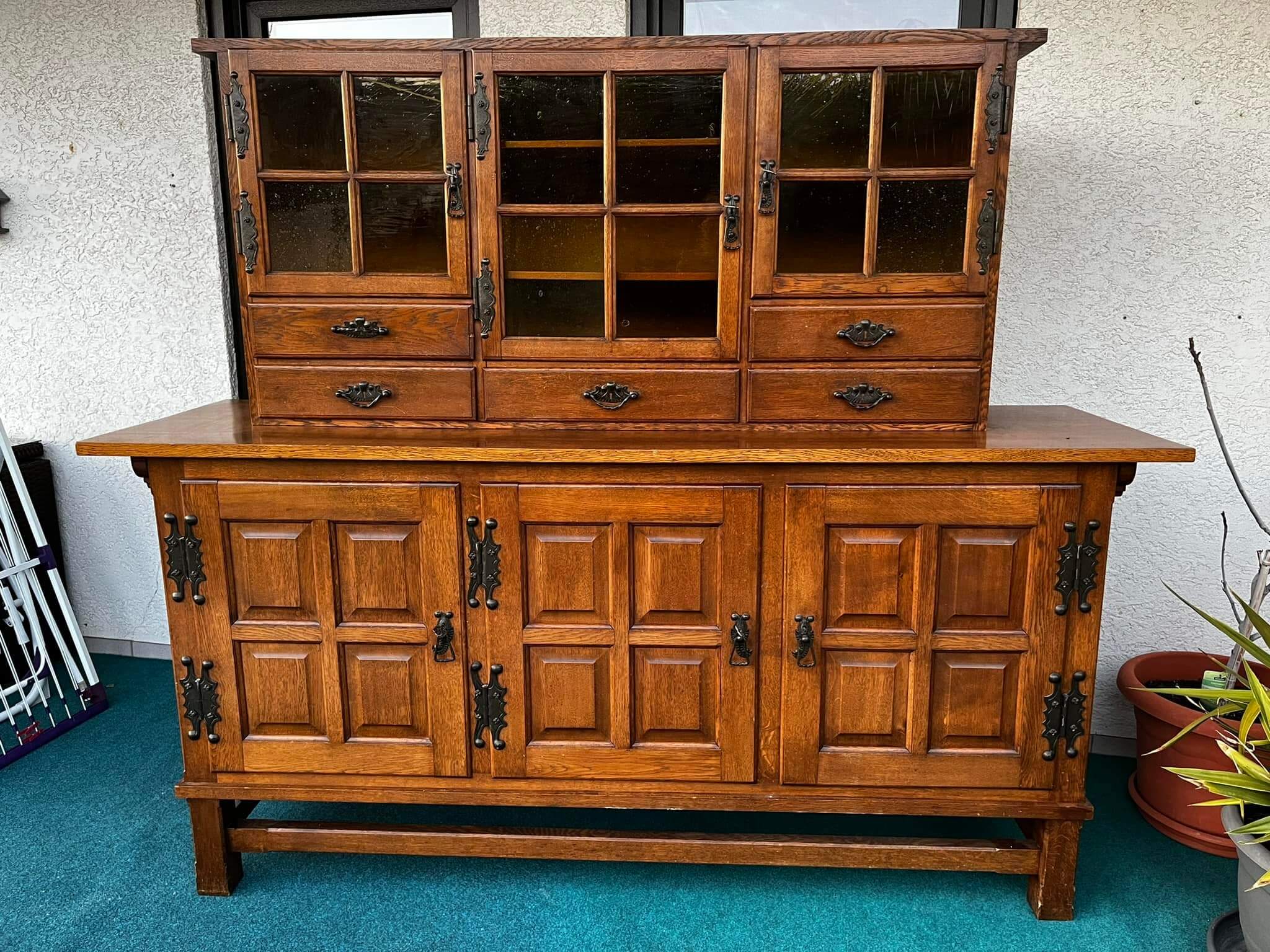 Before
- A typical oak chest of drawers - our customer found it too old-fashioned.
MissPompadour Black with Slate - Eggshell Varnish 1L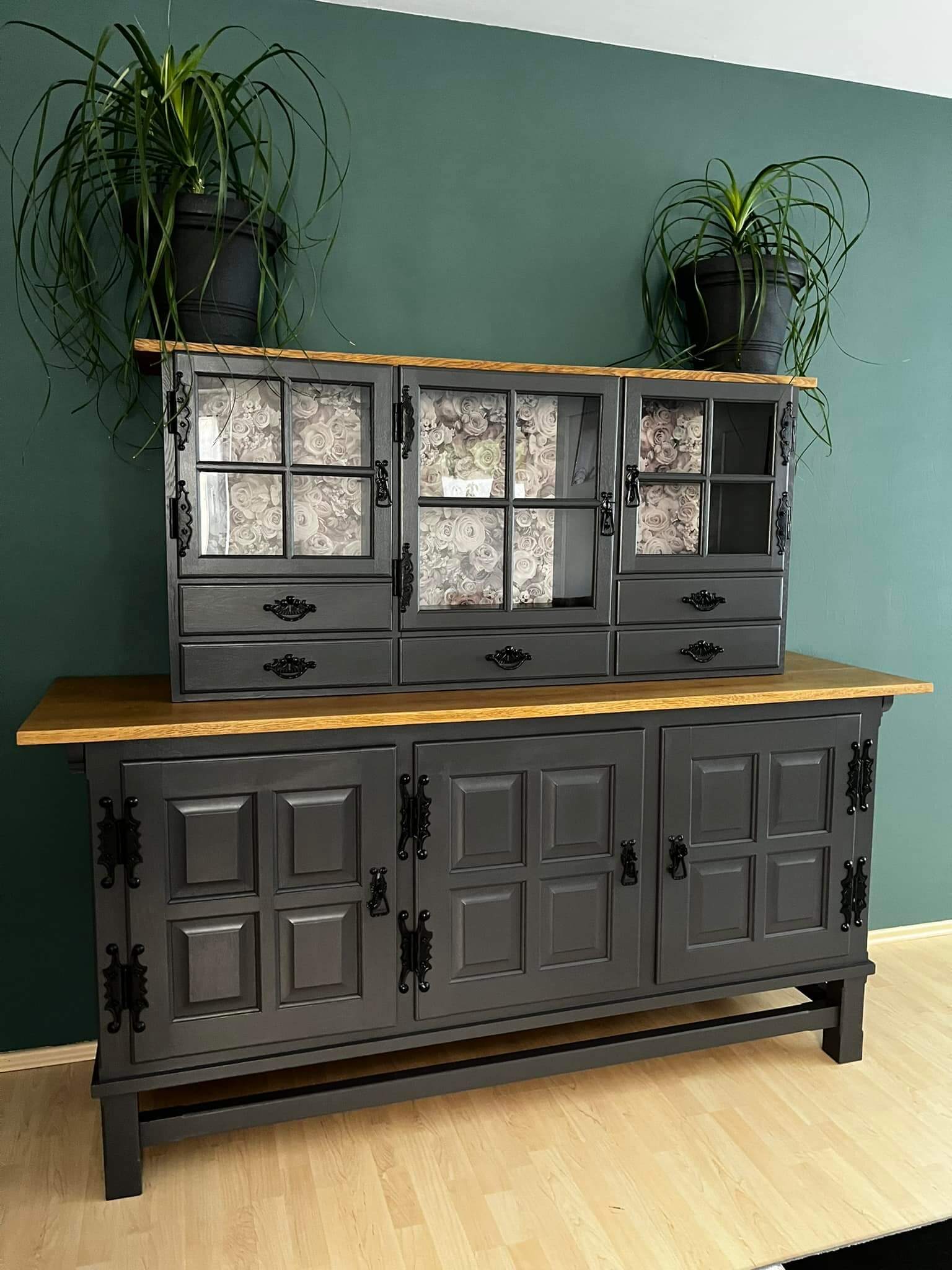 After
- Thanks to a little colour, the individual elements are now elegantly staged.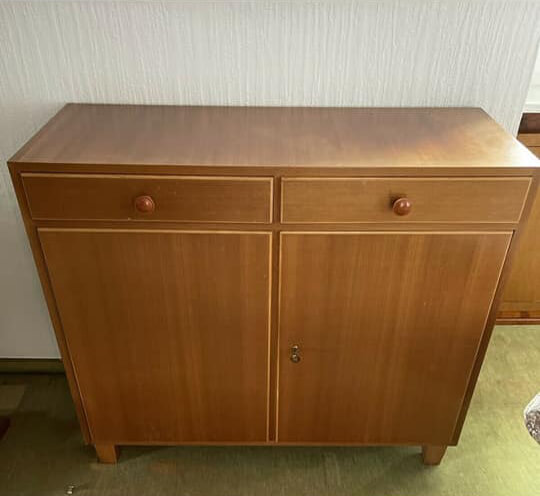 Before
- A typical chest of drawers from the 70s - not very attractive.
MissPompadour Green with Olive - Eggshell Varnish 1L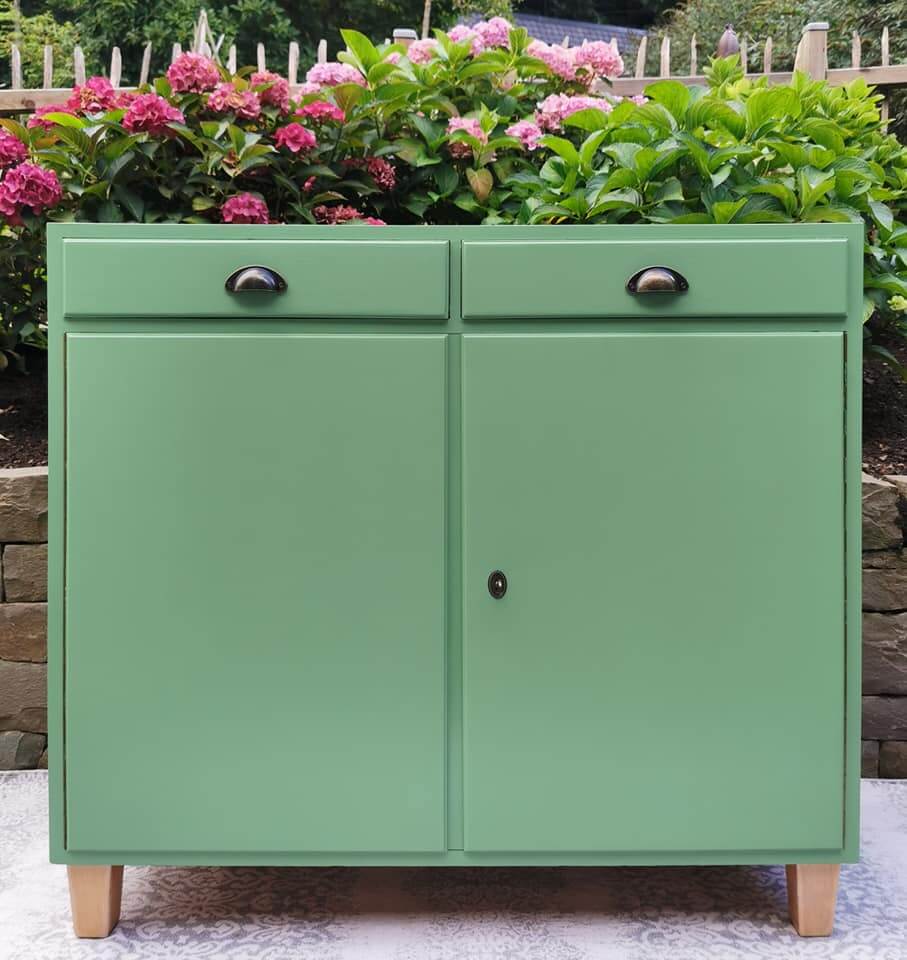 After
- New colour, new handles - now it fits perfectly with the eclectic style.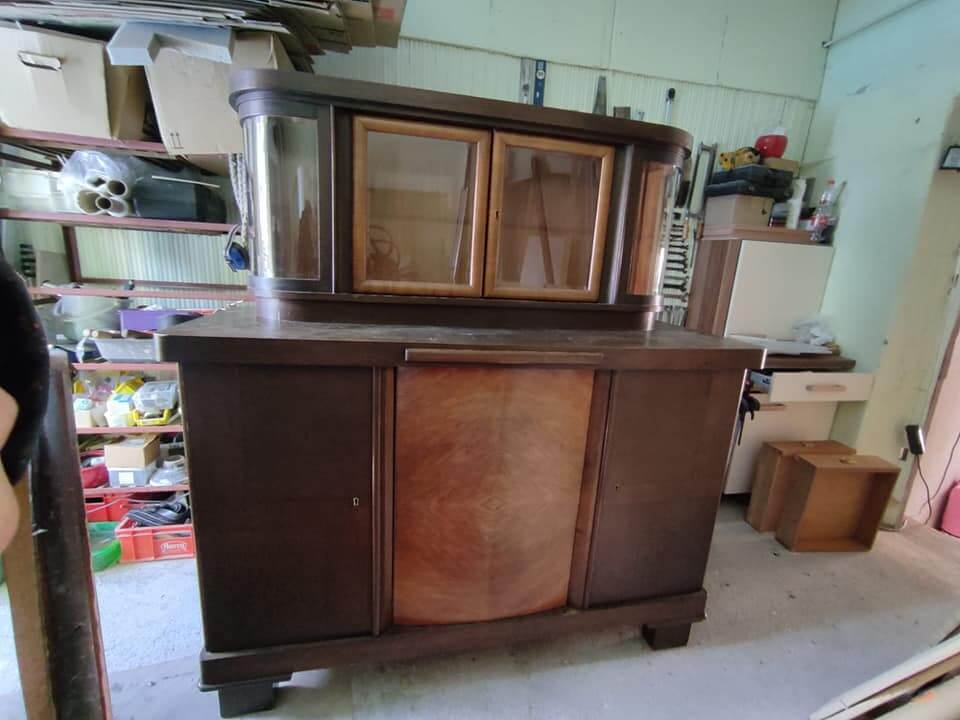 Before
- This high-quality chest of drawers was too chunky and dark for our customer.
MissPompadour Green with Forest - Eggshell Varnish 1L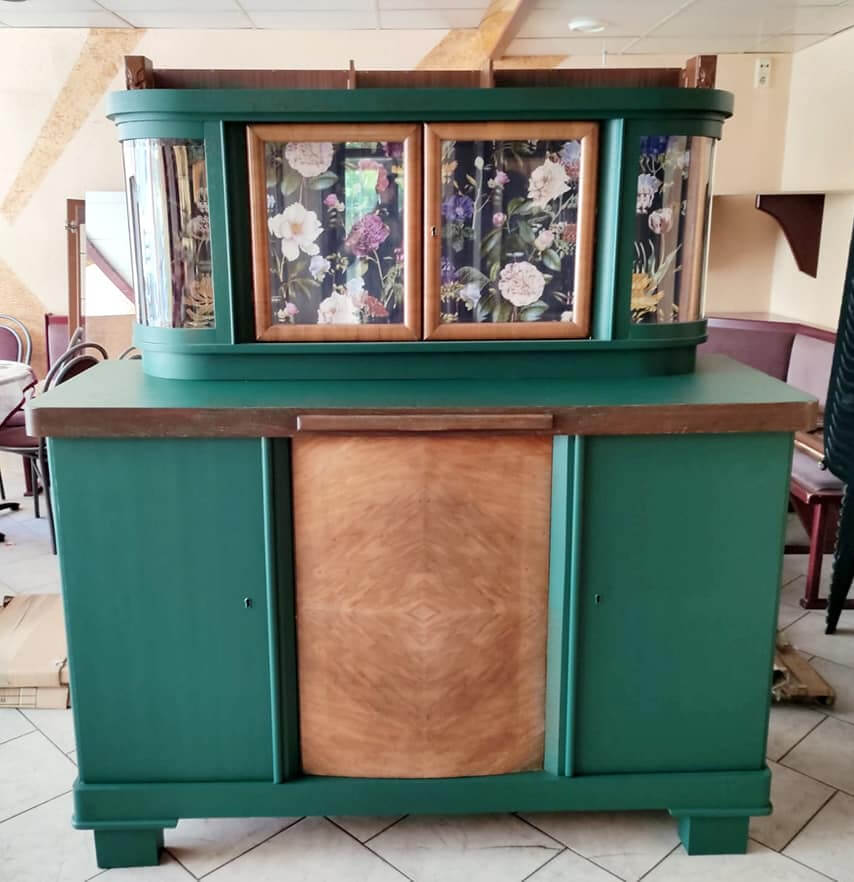 After
- The colour in combination with wooden elements is definitely worth seeing!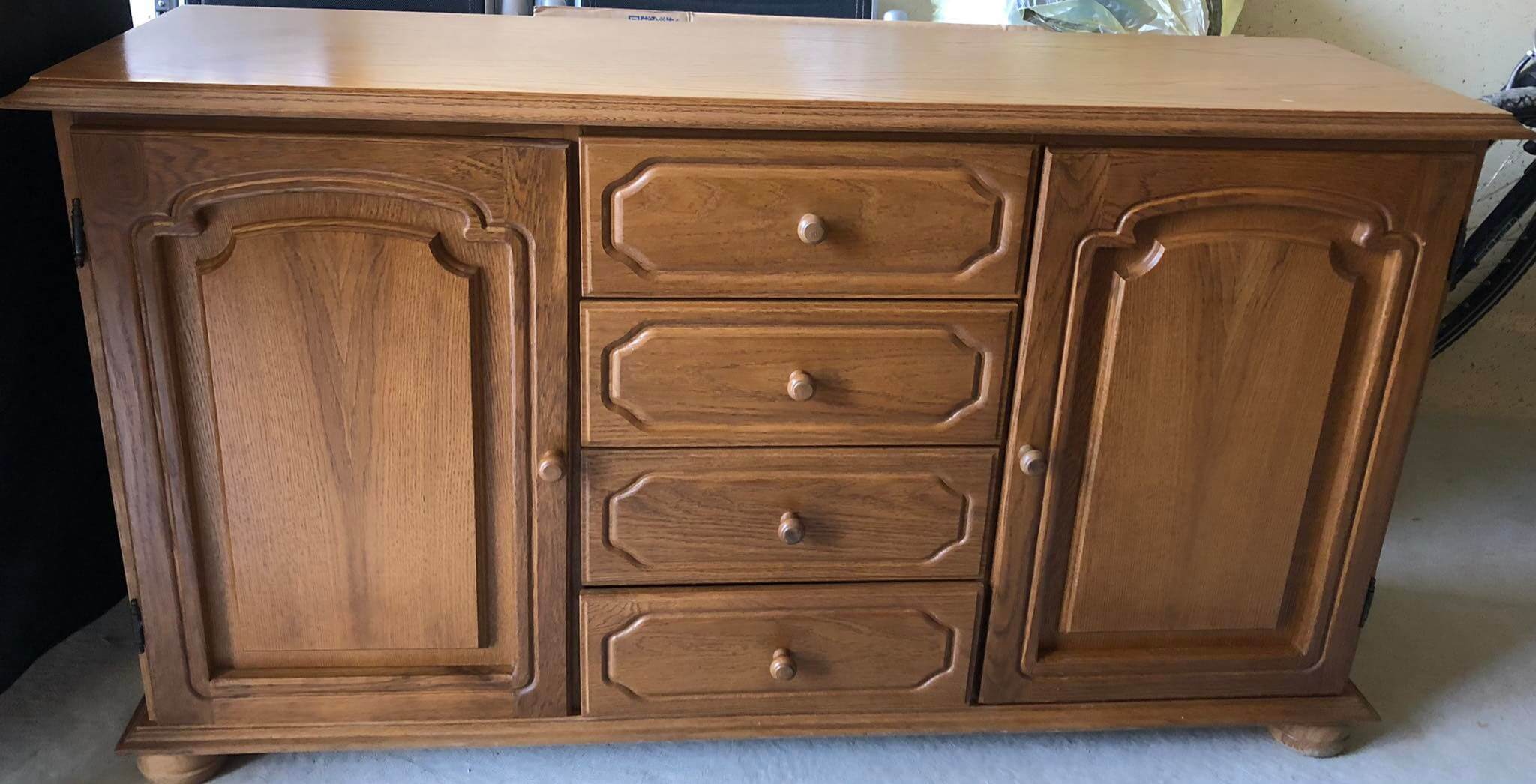 Before
- A high-quality chest of drawers made of real wood - but our customer found it too monotonous.
MissPompadour Grey with Warmth - Eggshell Varnish 1L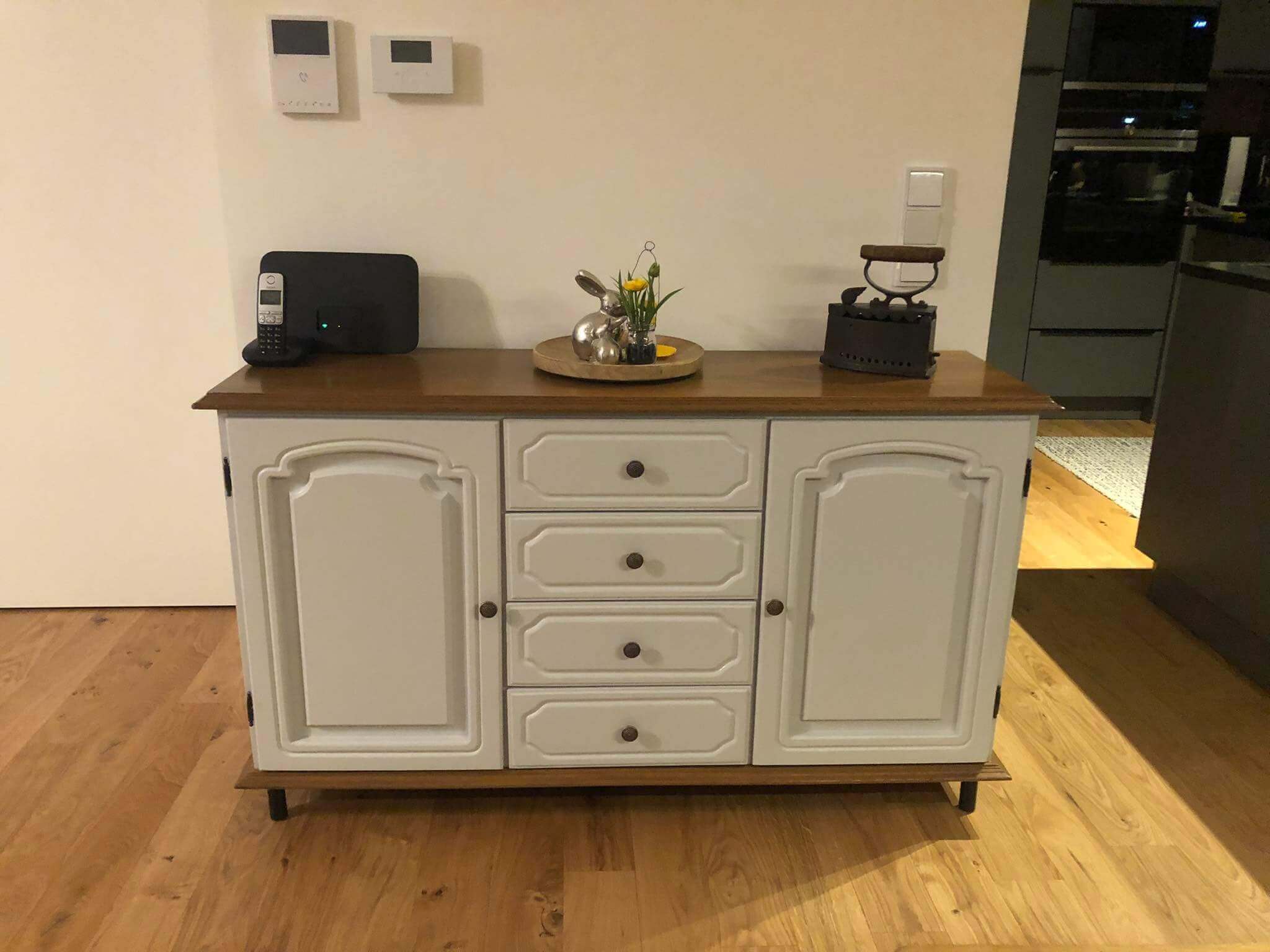 After
- One sanding, one varnish: this is how the old chest of drawers becomes a piece of furniture in country house style.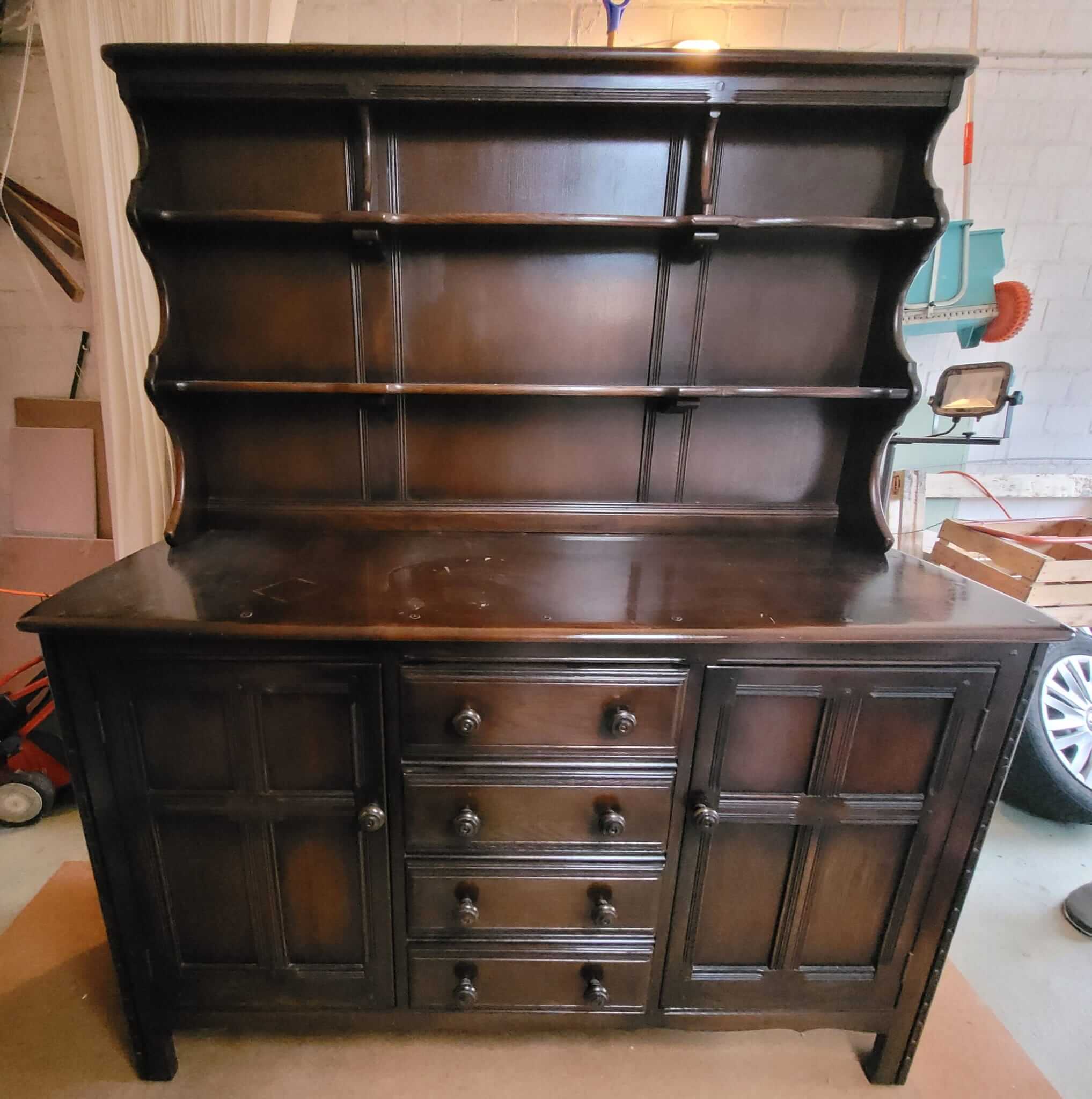 Before
- A beautifully crafted buffet - but far too sombre for a modern interior.
MissPompadour Blue with Midnight - Eggshell Varnish 1L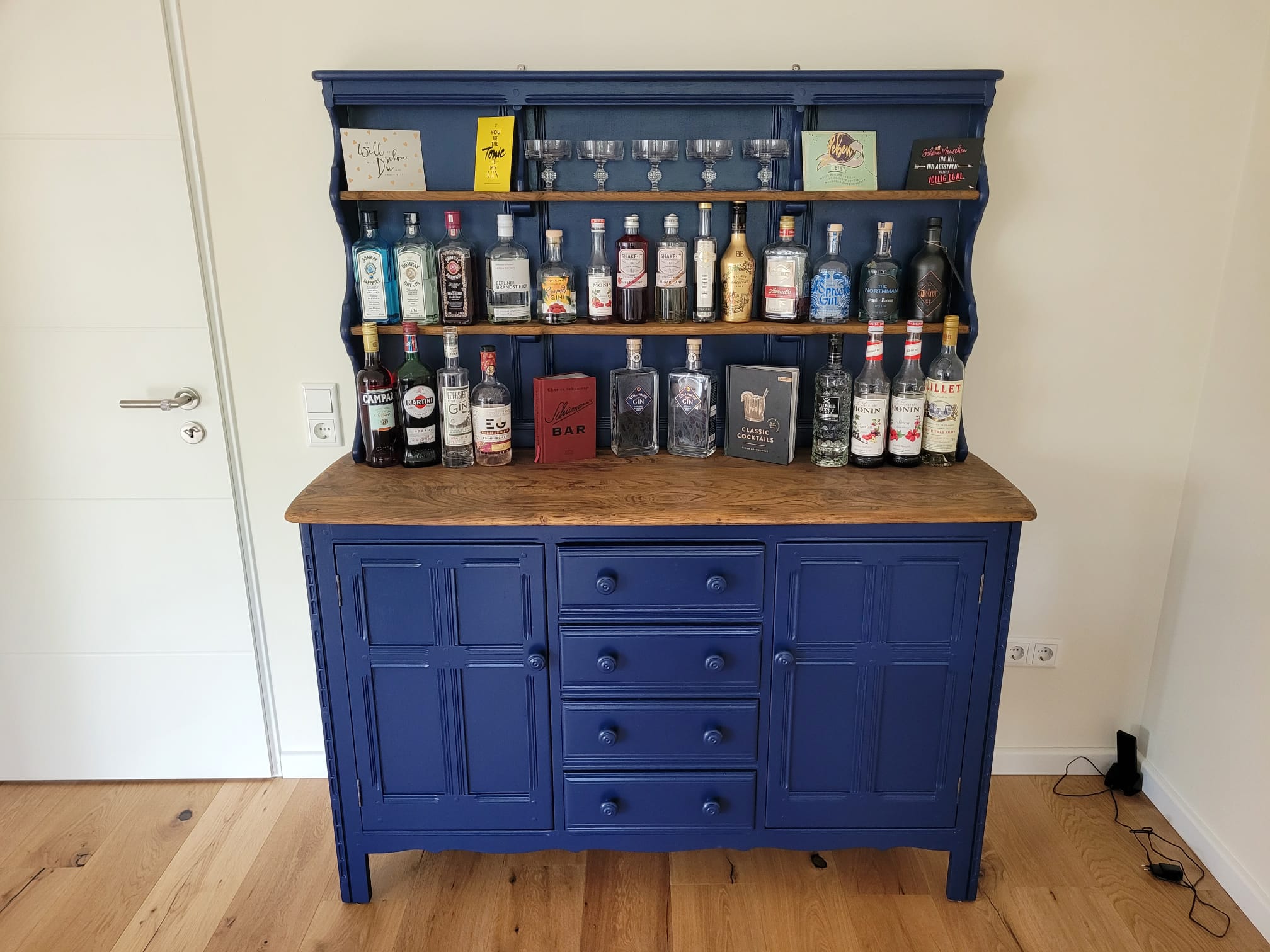 After
- A little sanding, the right colour and the buffet looks much fresher.
Are you looking for more inspiration and instructions for wooden furniture? Read our magazine to find out how to paint other types of wooden
furniture
.
Also
room doors and ceilings
made of wood in the oak rustic style that you can't or don't want to simply remove. Modernise them easily with paint and a brush. Find out how to update wooden
ceilings
in our "Painting a wooden ceiling" guide.
Painting oak furniture white
Especially with light colour shadesn it is important to start with a primer. The water-soluble stainblock To Block creates the perfect base for a white coat.
Apply the first coat of paint after the prim er has dried. This takes about 12 hours, but also depends on the external conditions. Then allow the varnish to dry thoroughly.
Follow with the second coat to get a great result. If another coat is necessary, which is especially the case with light colours, simply paint over it again
Depending on how you want your finish to look, paint with either
MissPompadour Eggshell V
arnish or
MissPompadour Matt Varnish
. Eggshell Varnish gives this piece of furniture a light, subtle sheen, while Matt Varnish gives it a sophisticated, powdery matte finish.
Professional tip:
Choose a very lightly
tinted white
. If you use a pure white, it can quickly look too clear and garish. In addition, pure white generally needs more coats of paint because it contains fewer pigments.
White with Melting or White with Character
are perfect as tinted variants. Both have many pigments and therefore cover well. This saves you too many coats. Both colours are available in different colour qualities, each of which is ideal for painting oak.
Brightening oak wood
We are often asked whether oak wood can be lightened afterwards. This is rather difficult. One possibility is to work with
white
wax. However, since the substrate always plays a decisive role in the final result when working with wood wax, the surface may end up looking rather grey. Simply try out your desired technique on an inconspicuous area. This way you can better judge the result.
Instructions for Painting Oak Rustic Furniture
Step 1: Cleaning

Clean your piece carefully to remove grease and dust. Our cleaner To Clean is ideal for this.


Step 2: Priming

Prime the wood with stainblock To Block. As the stainblock needs about 12 hours to dry, simply leave your piece of furniture to rest overnight.


Step 3: Paint

Paint your piece with the chosen colour, let the paint dry well, between 4 and 6 hours, and then paint a second time


Step 4: Sanding

If you want to achieve a vintage look, sand the edges and pilaster strips - slightly protruding design elements - to finish.
FAQ: Frequently Asked Questions about Painting Rustic Oak
You can paint oak just like any other wood. As oak tends to secrete tannic acid even after years, which could change your colour, prime with MissPompadour Stainblock To Block for light tones.
Open-pored, untreated oak is particularly easy to work with varnish. If you notice that the wood fibres are standing up, you can simply add an intermediate sanding.
Can I paint Rustic Oak white?
With the varnishesn from MissPompadour you can even paint dark oak wood opaque with white paint.
What colour do I use for Rustic Oak?
The varnishes Eggshell Varnish and Matt Varnish are excellent for painting oak. Note that the more pigmented the paint, the better it covers.
Can I paint oak rustic furniture?
Yes, any colour shade from the collection is suitable. For very light shades, especially whites, you have to precoat with the Stainblock To Block.
How do I make oak lighter?
You cannot achieve a lighter wood colour with paint. However, if you want to preserve the wood structure, you can work with white wax.
Be sure to try it out first on an inconspicuous area! The result cannot be predicted, as the substrate plays a major role with wax.
Already finished reading?
Here you will find more exciting topics
Looking for the perfect colour shade?
A selection of our most popular colours for furniture
For your perfect project
Our accessories for painting furniture