Painting the Inside of a Caravan: How to Pimp Your Old Motorhome
6 min reading time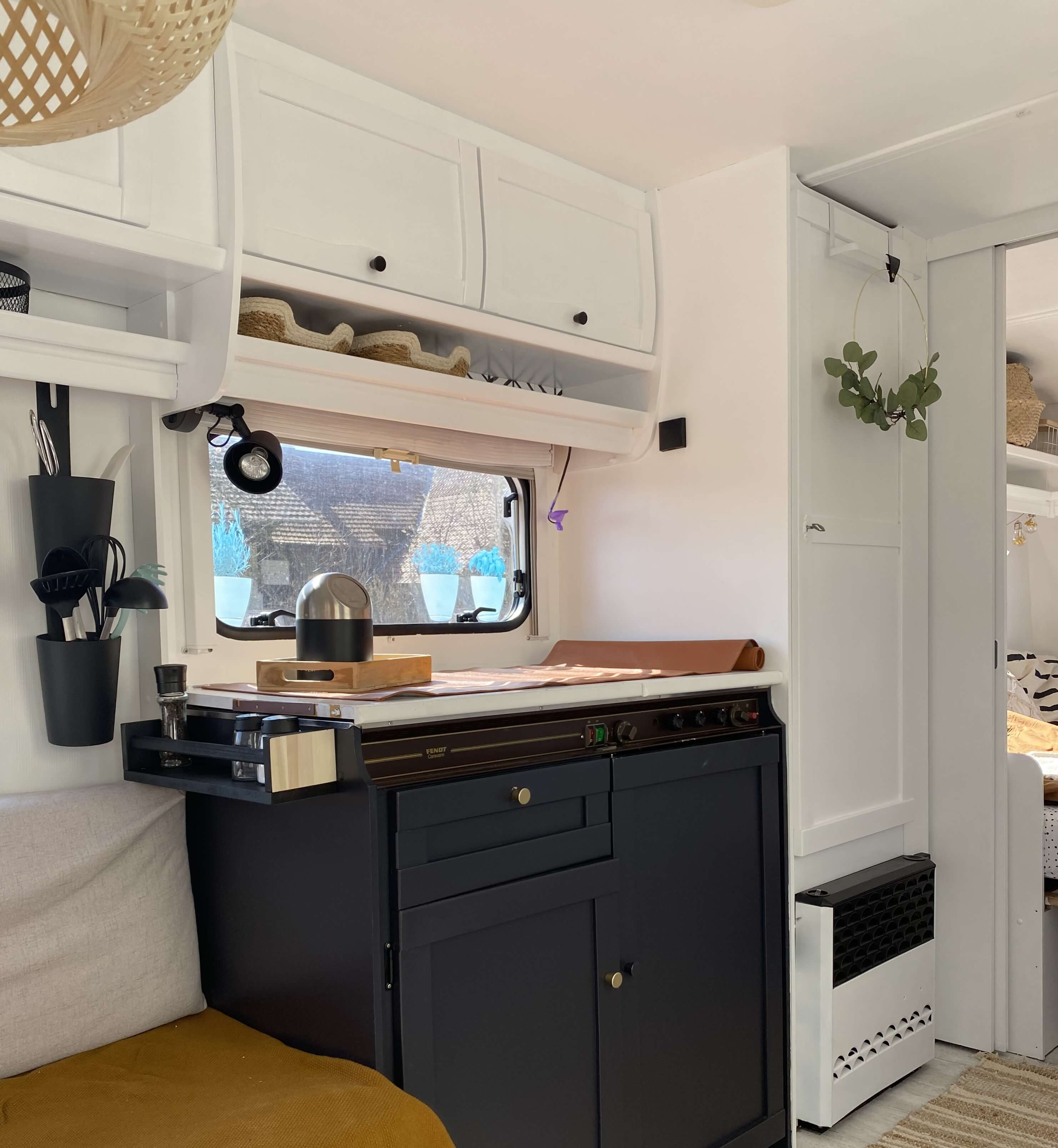 Would you like to paint the inside of your caravan? Use our product set for a perfect result!
For many people, a caravan is like a second home. But is it more difficult to redecorate than a home? Not at all!
We explain to you how you can paint the inside of your caravan, easily and without having to sand.
New paint for your old caravan and inspiration
Paint your caravan - just like that! You don't believe it? Look what our hard-working customers have changed with a little paint.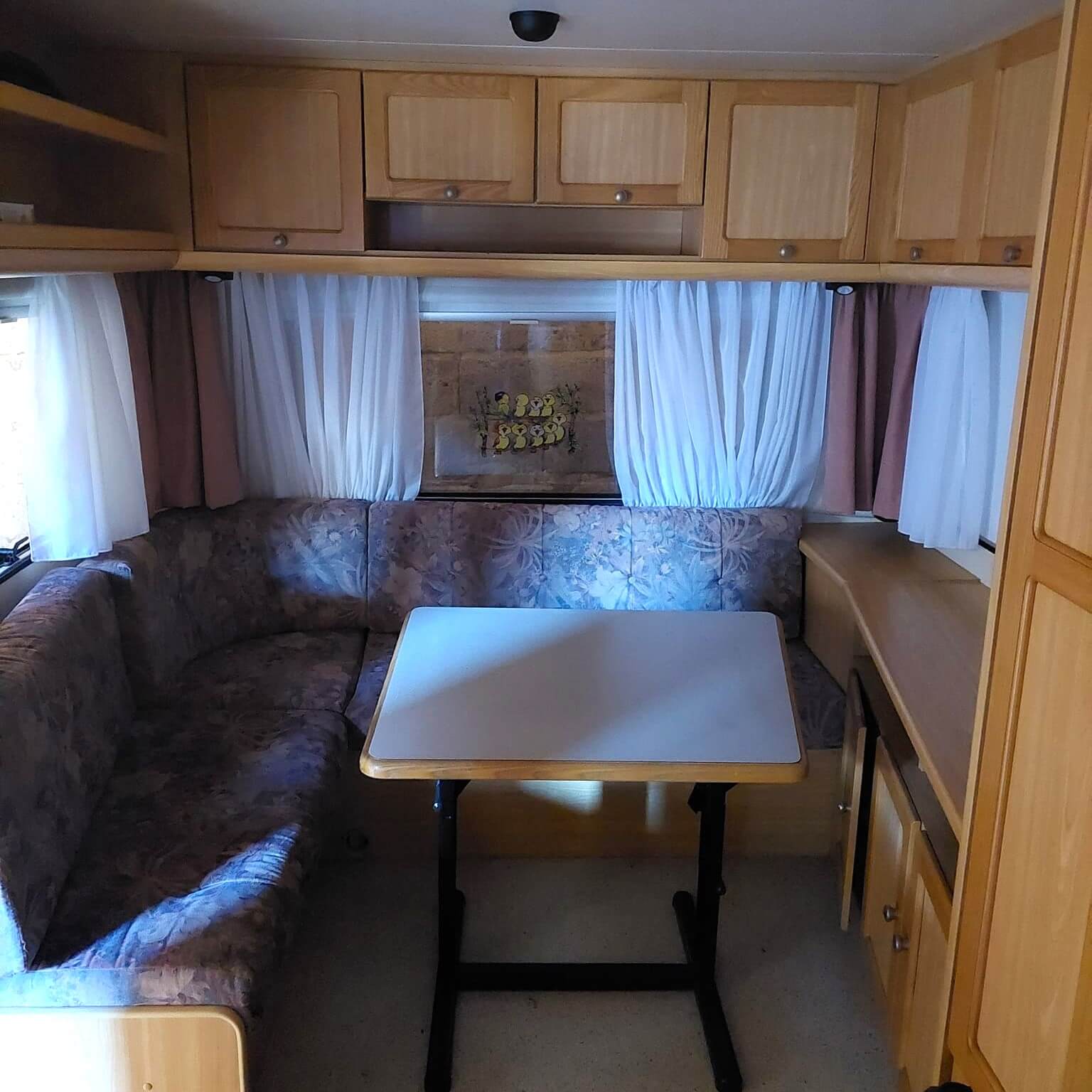 Before
- A typical caravan. Our customer found it too old-fashioned.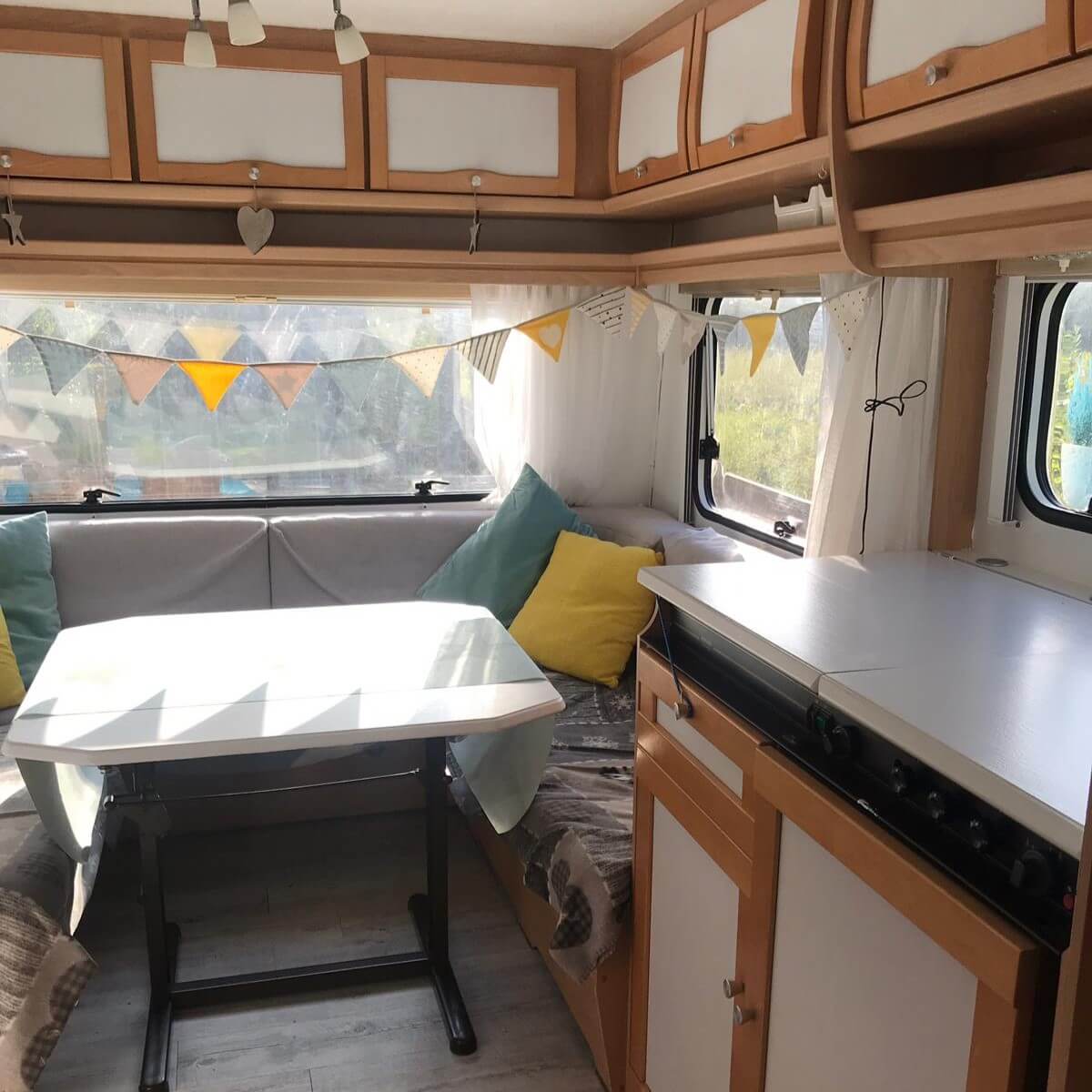 Before
- The old caravan was getting a bit long in the tooth.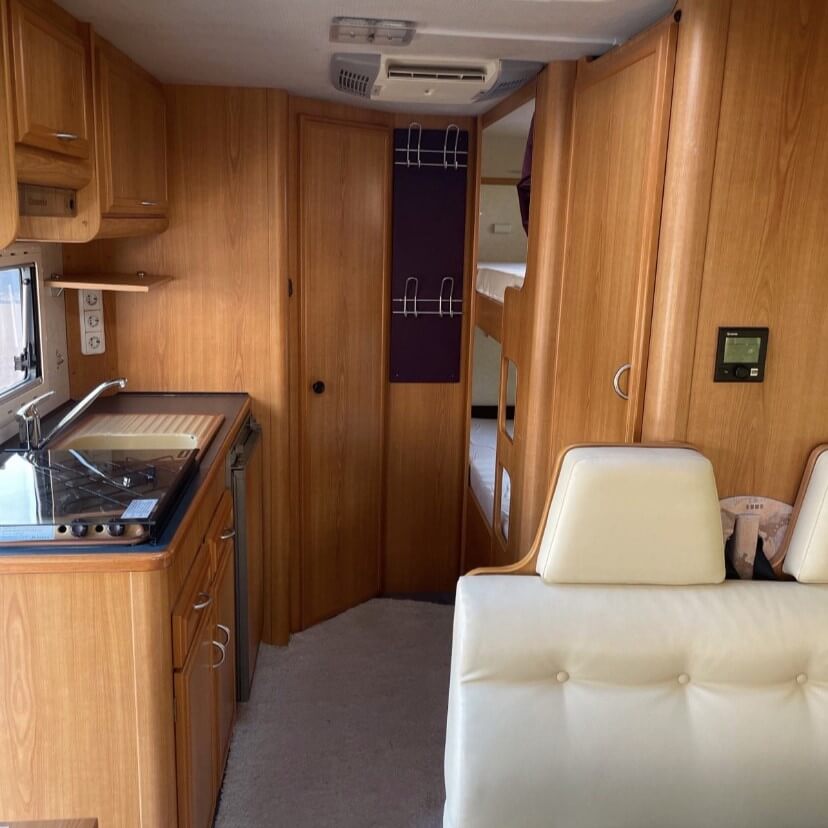 Before
- The wood panelling seemed too gloomy and cramped.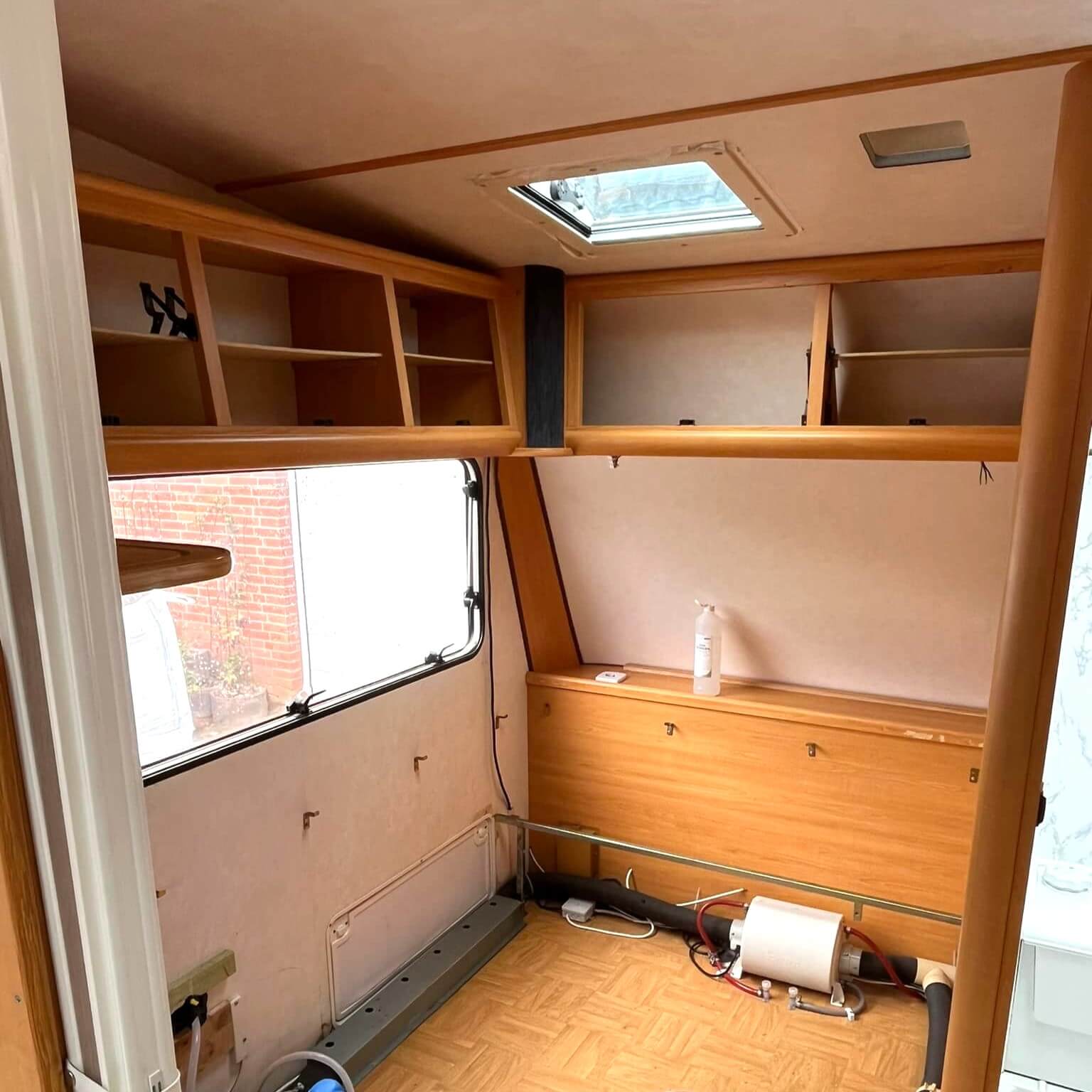 Before
- This motorhome had already been through a lot and was in desperate need of a change.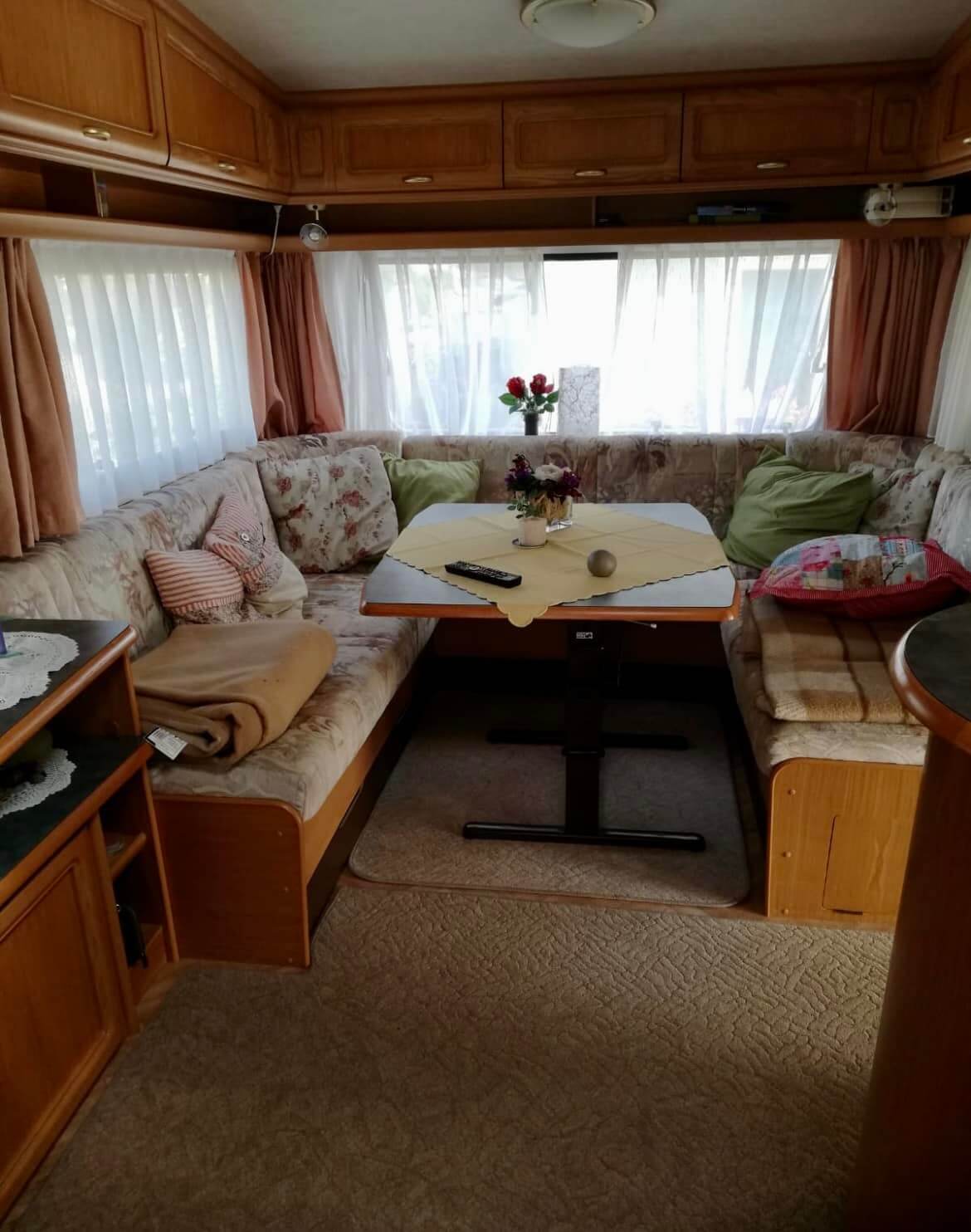 Before
- What used to be cutting-edge is now outdated.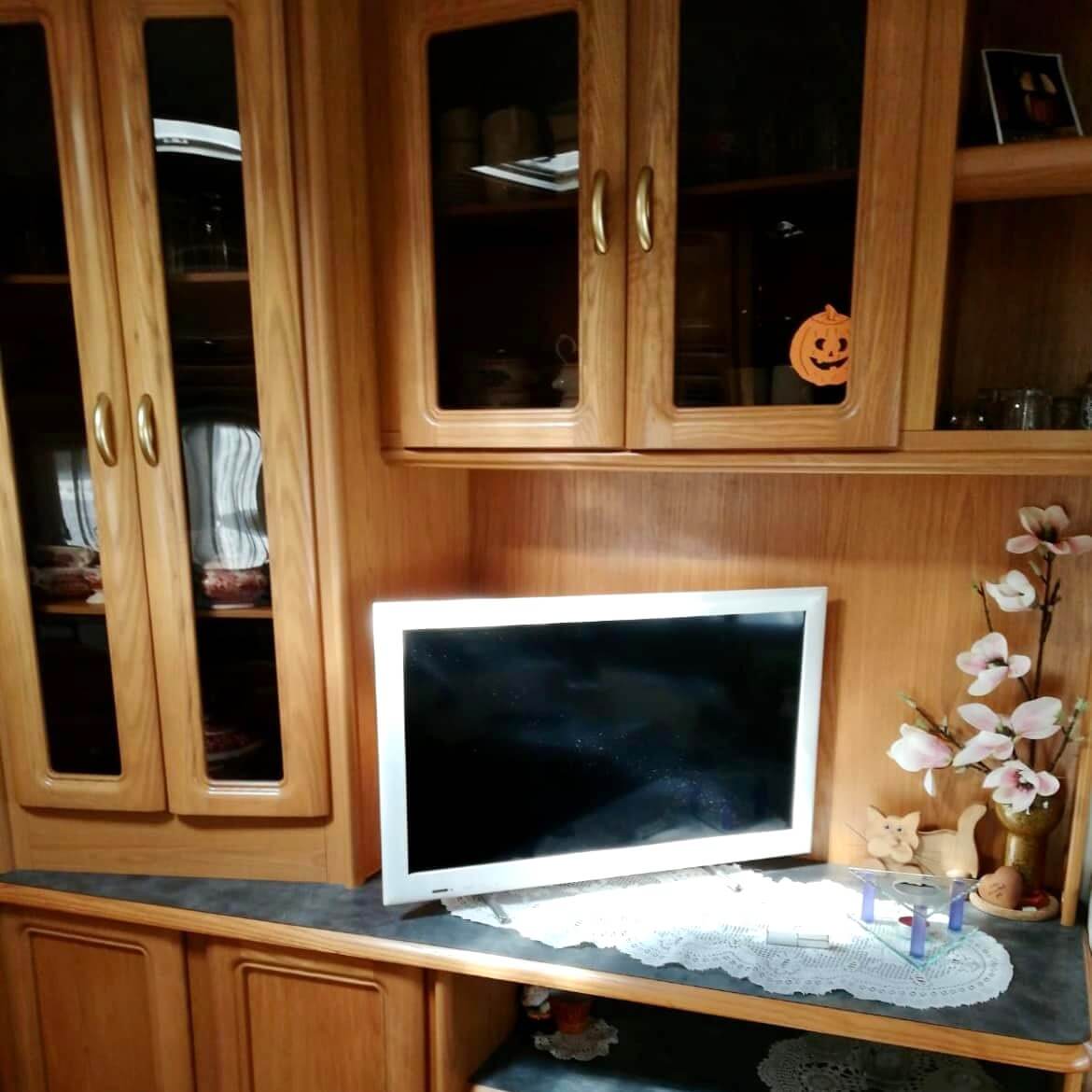 Before
- The old wood look was no longer to our customer's taste.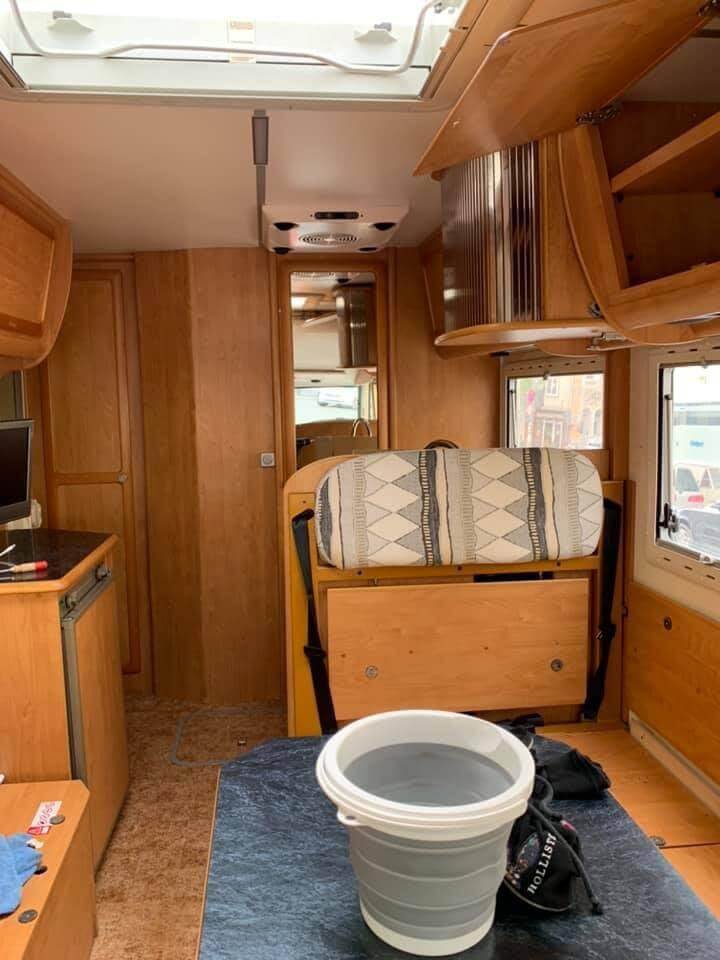 Before
- Many fond memories were in this motorhome, but the colour no longer appealed.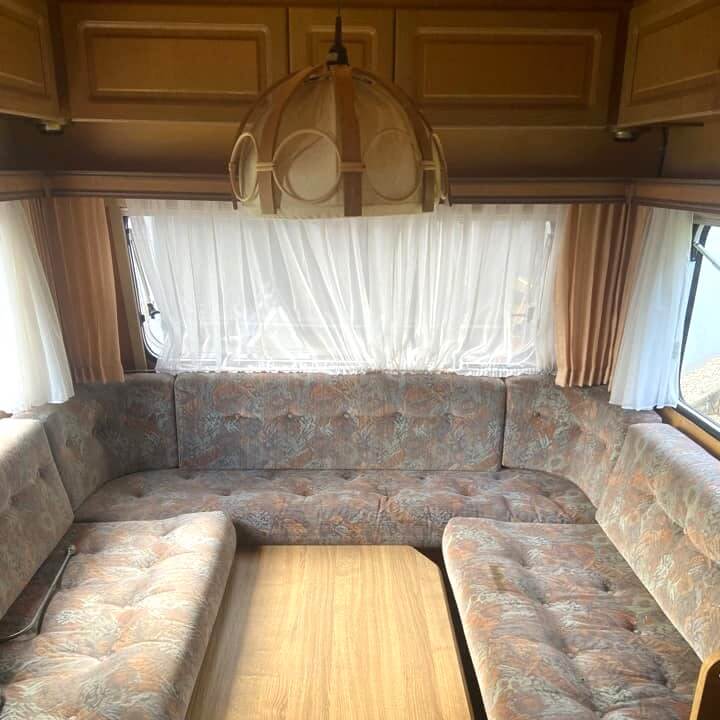 Before
- What was fashionable in the past simply no longer fits the times.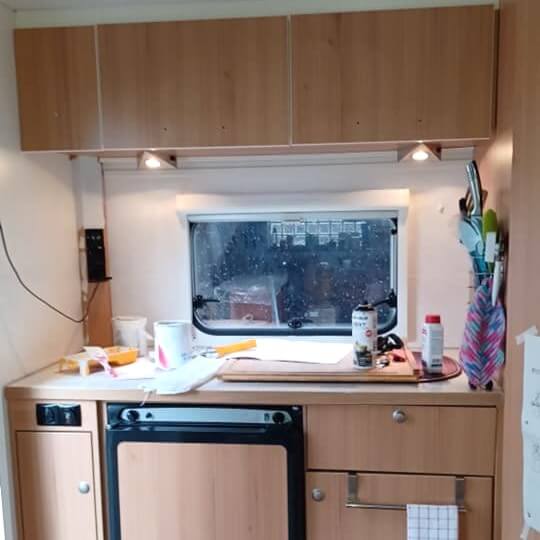 Before
- The old camper van kitchen was longing for some colour.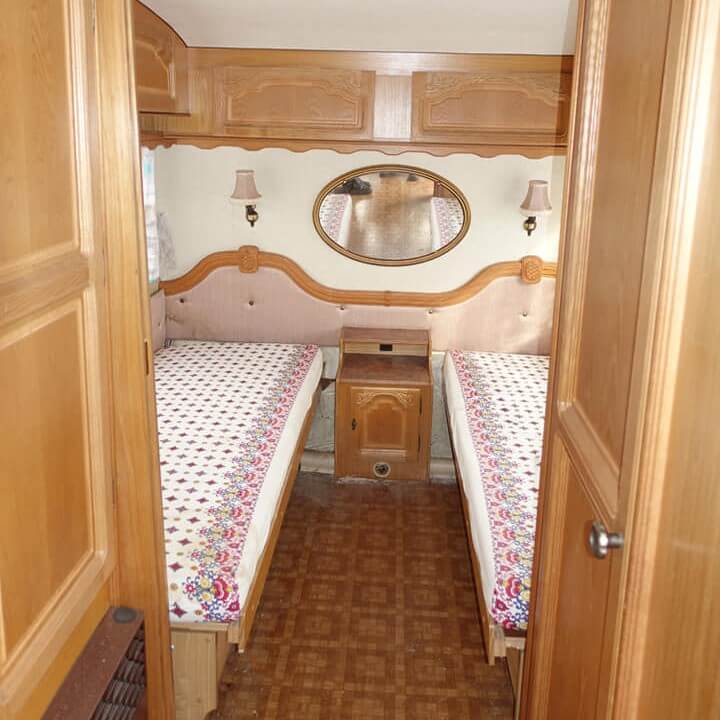 Before
- The special style of the caravan should be brought out here.
Campers are now not just for the older generation - more and more young people are discovering camping and its advantages. However, many find the wooden fronts old-fashioned, not in keeping with their personal ideas and rack their brains over
how they can bring a breath of fresh air into their caravan
.

Perhaps you have already used foil to change the surfaces. In the process, you've probably noticed how difficult it can be to cut neatly in rounded areas and get a nice result. The idea of doing this procedure on all surfaces doesn't seem very attractive.

However, that doesn't mean you have to give up on redesigning your motorhome.
Simply paint it with water-based paint, which also saves you sanding.
You don't have to worry about an unpleasant smell either, because our varnishes and paints are virtually odourless.

If you want to renovate your caravan and give it a new look, you'll find the best and easiest
tips and tricks here.
Paint the inside of the caravan or paint it with chalk paint?
You want to renovate your camper, but the choice of colours is causing you agony? Find out about the advantages of our varnishes and chalk paints here. Just choose the colour that best suits you and your needs!
These are the advantages of varnish
There are
many
ways to change your caravan. But many of them quickly reach their limits in the confined space. You need a lot of patience and know-how to apply the foil, and wallpapering can also be exhausting due to the lack of space.
But if you paint the surfaces with varnish, you can be sure of a beautiful result with just a few tools. Our narrow brushes, especially the narrow angled brush, can easily get into every corner.
In some cases,
you can even
do without
masking
.
Because our
varnishes
are basically odourless, you can use them even in poorly ventilated areas. This makes them perfect for the interior of your motorhome.
These are the advantages of chalk paint
If you want to replicate the soft, matt look of your walls in your motorhome, use our velvety chalk
paints
and varnishes. The chalk varnishes in particular are
also
suitable for use
on smooth surfaces of
your plastic walls. With To Bond, you also ensure a strongly adhesive surface.
chalk paints are low-odour, offer you
an
elegant look
and
impress with their
smooth application
. With the velvety coating, you can easily upgrade the surfaces in your motorhome.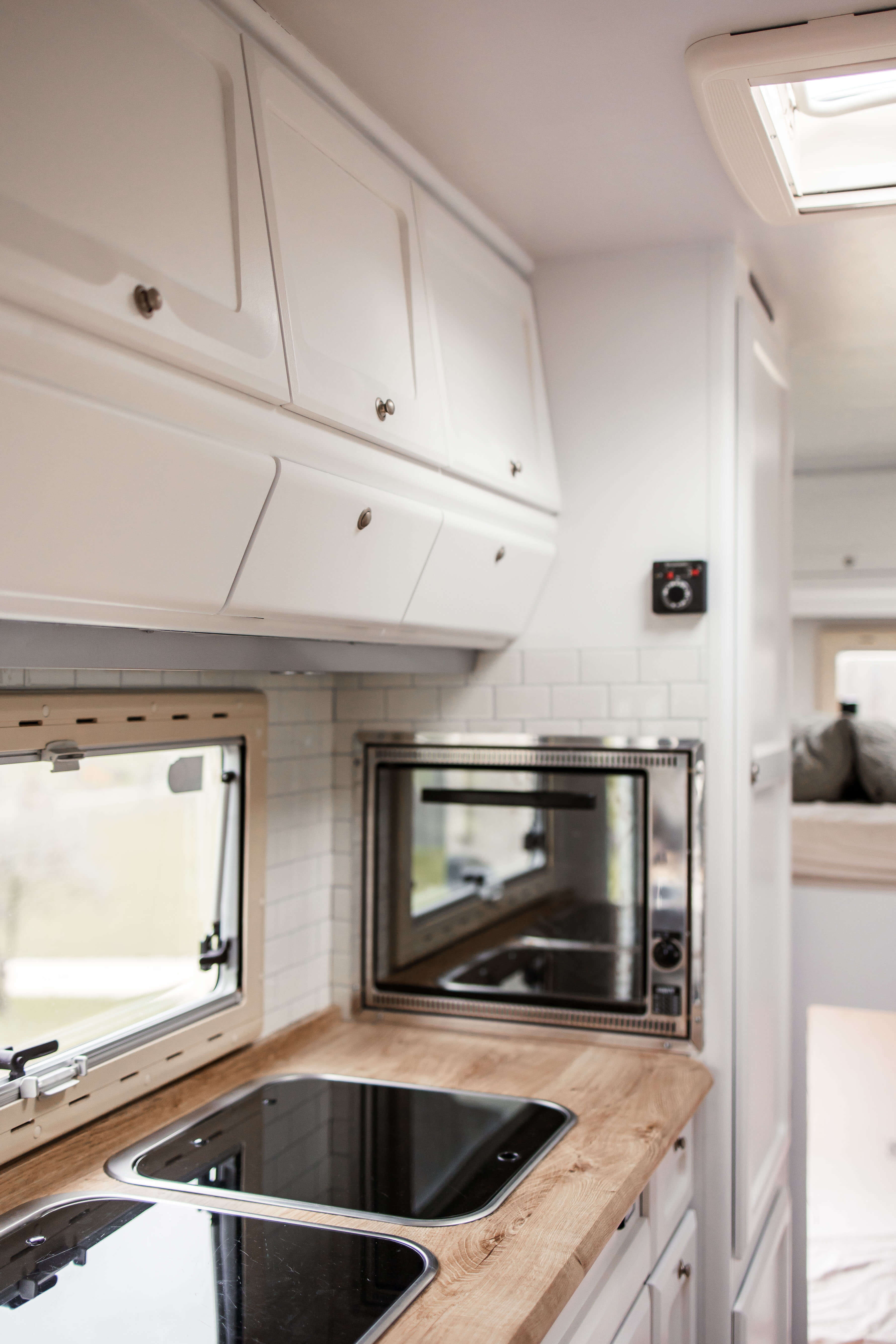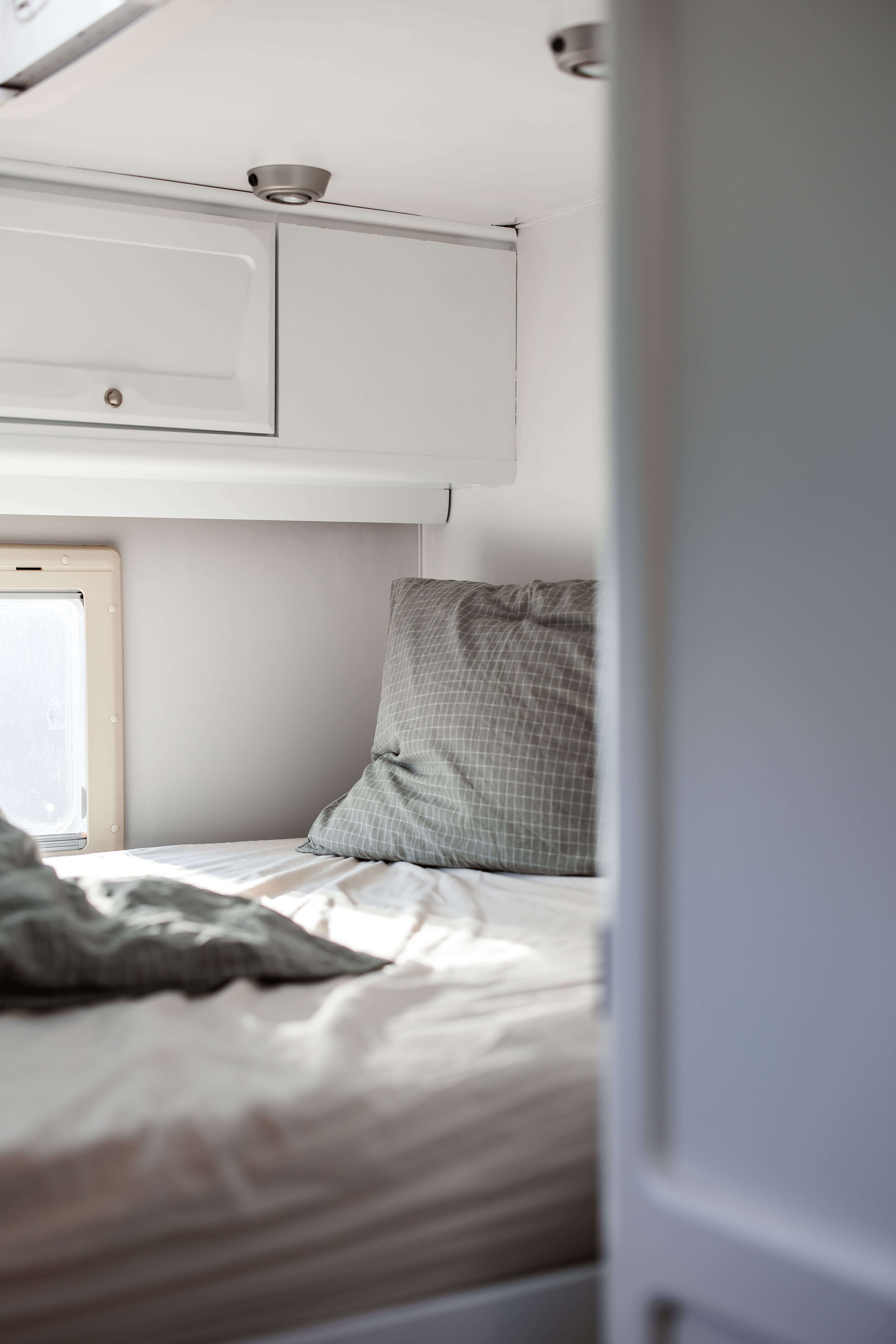 Instructions: How to paint the interior of your camper van
Painting the inside of your caravan may seem overwhelming at first. Our instructions make it easy. True to our motto: Just paint!
DIY: Painting the inside of a caravan with varnishesn and chalk paints

With our step-by-step guide, you'll have no questions left unanswered! Learn how to paint your caravan effectively and for a long time.
Step 1: Dismantle and mask off
Preparing
your project is just as important as the renovation itself. First remove all doors from your furniture that you want to paint. The same goes for any small parts that you can remove. Simply tape and cover the areas you don't want to paint and can't remove.


Step 2: Cleaning
Now clean all surfaces to be painted, as they must be free of dust and grease before painting. Use our To Clean for this, as you can also use it for the painted furniture, as well as for other areas in your caravan.


Step 3: Prime the surfaces
If your surfaces are laminated or veneered, it is worth applying a primer for better adhesion. For your plastic surfaces To Bond is the perfect product, for veneer we recommend To Block. With this insulating primer you prevent substances from bleeding from the wood into the paint and at the same time ensure optimal hold. Let this coat dry for about 4 hours.


Step 4: Painting
Now the big moment has arrived: it's time for your coat of paint. Varnish best with a varnish roller or a brush. Especially for corners and small areas, our MissPompadour To Paint brushes are perfect. You can use them to paint corners without having to mask them off.
Give the varnish4 - 6 hours to dry after each coat. Then you can apply another coat of paint.
Don't be fooled by the first coat - after 2-3 more coats and curing, you will get a perfect result that is guaranteed to impress you.


Step 5: Sealing
Especially in the motorhome, an additional sealant is extremely useful and sensible. In confined spaces, it can happen that you bump into the painted surface with a pan or an edge. Protect your new paint with
MissPompadour To Seal
.
Video: Project camper van paint: MissPompadour Suitcase Camera - Susan paints her new motorhome!
FAQ: Frequently asked questions about motorhome renovation
Maybe you have a few last questions before you dare to start renovating your camper. Here you will find answers to other questions you might have before starting such a project.
What other colours are suitable for painting the inside of motorhomes?
We recommend our chalk varnishes, as well as our sustainable varnishes and colours. You can start using them right after cleaning.
Can I paint the inside of my caravan without sanding beforehand?
With our paints, you do not have to sand smooth surfaces first. You only need to correct and remove any marks and stubborn dirt beforehand.
Can I also wallpaper and paint the inside of my caravan?
You can wallpaper the walls inside your motorhome before painting the furniture. Vinyl and non-woven wallpapersare best suited for this. Make sure that you use a stable adhesive for the wallpaper, because compared to a plastered wall, the wall in the caravan is very smooth.
All tips for the interior makeover of your caravan in the overview

Choose a soft colour that is not too dominant. This will give you an open and cosy atmosphere
when you paint the inside of your caravan.

Finally, embellish your camper with matching decorations.
If you're
still
looking
for the perfect accessories
to start your trip
,
check out
Wildnest
- their shop
is full of sustainable
and useful products
that you won't want to miss on
your next
trip.
Conclusion: The work is worth it
After painting, you will notice how much friendlier and more modern your camper can look. Although painting is a difficult decision for some, our customers are happy to have taken this step afterwards.
And if the colour shade eventually goes out of fashion, choose a new colour.
Because with our colours, you can just paint!
Finished reading yet?
Here you will find more exciting topics
Your new favourite colour
A selection of our caravan paint colours
How to make your project perfect
Our accessories for painting caravans