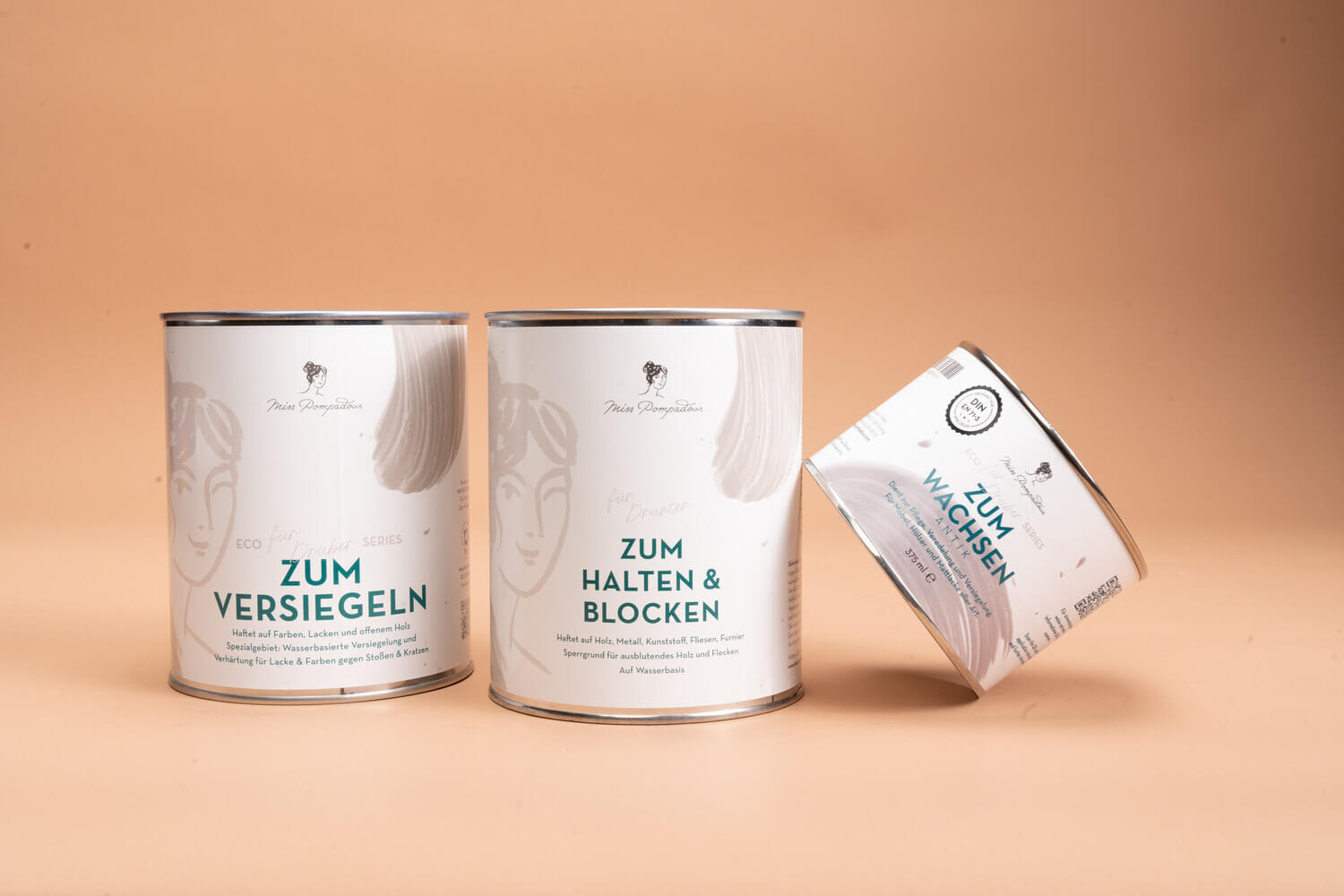 Buy primer
The right preparation and primer before painting are at least as important as the right varnish and wall paint. If you want to know which primer you should buy to prepare your surface correctly and ideally, just read on here.


If your surface to be painted is dirty , rusty or highly absorbent, use a primer
as the first coat.

If the surface is
very smooth, our primers provide a base on which varnishes can find perfect hold.


A primer is the first coat you apply to the surface you are painting.
It has different purposes, depending on the substrate.


Deep primer for plaster and surfaces with high absorbency
If
it
is a
freshly plastered wall surface
or a wall that
is
highly
absorbent
due to its
nature
, the deep primer prevents the plaster from swallowing the
paint.
Use
the
Wall Prim
er
from Painting The Past to prepare your absorbent surface for painting
.
You can use it as a primer for chalk paint as well as for our sustainable MissPompadour-wall paints.
Primer for wall paints
A primer for wall paints can be an insulating primer
to keep old dirt from penetrating the new coat of paint.

This can be grease stains, as in the kitchen, yellowing from nicotine, or soot around fireplaces.

In this case, spread To
Block
from MissPompadour, or a Stainblock. These are available in water-based form from Painting The Past or, for particularly stubborn stains, in solvent-based form from Mylands.
It doesn't matter whether you have to prime wallpaper, plasterboard or fresh plaster. The only important thing is that you touch up with filler before priming. Only when your walls are completely ready for painting should you apply the deep primer.

Primer for metal
If you are looking for a primer for metal
, it depends on its condition. Without rust stains and for interior use, the Metal Primers from Mylands and Painting the Past are suitable. They act as a primer for smooth metal surfaces.

For metal that tends to rust and whose rust stains you can't sand off, simply prime with
To Block from MissPompadour. Not only is it the perfect insulating primer, it also prevents rust from spreading.


Tile primer
As a tile primer, To Bond is suitable for both wall and floor tiles. This is a primer specially designed for smooth surfaces. It ensures a stable bond between tiles and paints.
Primer for wood
Whether you need a primer for wood depends on what kind of wood it is and how your piece of furniture was previously treated. You can buy the right wood primer for
your needs in our online shop.

Certain types of wood that tend to bleed should be primed with
To
Block when painting with light colours. These include pine, tropical woods and any wood with knotholes.

If the surface has been oiled or stained before, start painting with To Block or a Stainblock from Painting the Past or Mylands. Here, too, the stainblocks isolate the surface and prevent substances from the wood from being released into the paint.

If you want to paint
unfinished wood, prepare it for painting with Wood Primer
from Mylands. This first coat ensures that no paint is drawn into the wood and prevents the wood chips from setting up. This way you don't need an intermediate sanding and save The Valuable Wall Paint.
Plastic primer for smooth surfaces
If you are painting a smooth plastic surface, such as a laminated kitchen, start your project with To Bond. This plastic primer provides a first coat of paint on which your desired colour will adhere better. No matter which of our stable varnishes you want to embellish your surface with, the plastic primer will help you achieve a perfect base.
Buy wall sealer
If your wall is exposed to particular stress, for example in the hallway or kitchen, the sealant protects your wall paint
from dirt and abrasion. We'll tell you what else the sealant can do and what else you need to look out for.
In every case where you want to protect your wall paint, you should also seal it. This can be in the hallway, where the walls are increasingly exposed to mud splashes and dirt. Sealing wall paint is also worthwhile in the kitchen, both behind the cooker and around the waste bin. It makes it easier to wipe down the walls
and prevents dirt from getting into the paint.

Simply use the Painting The Past sealer for these areas. It's easy to apply and doesn't have a strong varnish smell.
If you have painted surfaces that are often subjected to wear and tear or rough handling, sealing with clear lacquer will protect the paint from abrasion. Whether on the wall on tiles or on your dining table, sealing is a useful protection in any case.
For this, we recommend To Seal from MissPompadour, as well as Topcoat from Painting The Past if it's floor tiles. You can also use both products as a plastic sealant. This will make your originally foiled kitchen bombproof.
Sealer from chalk paint
With chalk paint, too, if it's a high-traffic area or one that gets wiped down often, a chalk paint sealer is your saviour. It provides an extra layer of protection
that prevents direct abrasion. Our sealers also provide a smooth, easy-to-wipe surface on otherwise rough wall paint that you can simply clean with a damp cloth. The sealer is also perfect for chalk paint to protect it and make it easy to wipe off.
To Seal your chalk paint surface, there are more than just clear lacquers. Why not use a transparent
wax to give your paint a particularly matt finish? With the coloured waxes you can also create a wonderful patina yourself. You can achieve a beautiful
shabby look
that
also works well on natural wood. Sealing with transparent wax is also suitable for giving natural wood a final matt finish.
Order wall sealer and primer in the MissPompadour Shop
In our shop you will not only find the sealant for your wall paint, but also the wall paint itself. Choose between chalk paint, wipeable wall paint and sustainable wall paints. But it doesn't stop there:
use our sustainable painting
tools
to paint our harmless wall paint
. This means you don't have to use plastic without having to forego the reuse of the accessories.

You'll notice that painting has a completely different feel!