Painting Bedrooms: Creative Ideas & Tips for Choosing the Right Colour
6 min reading time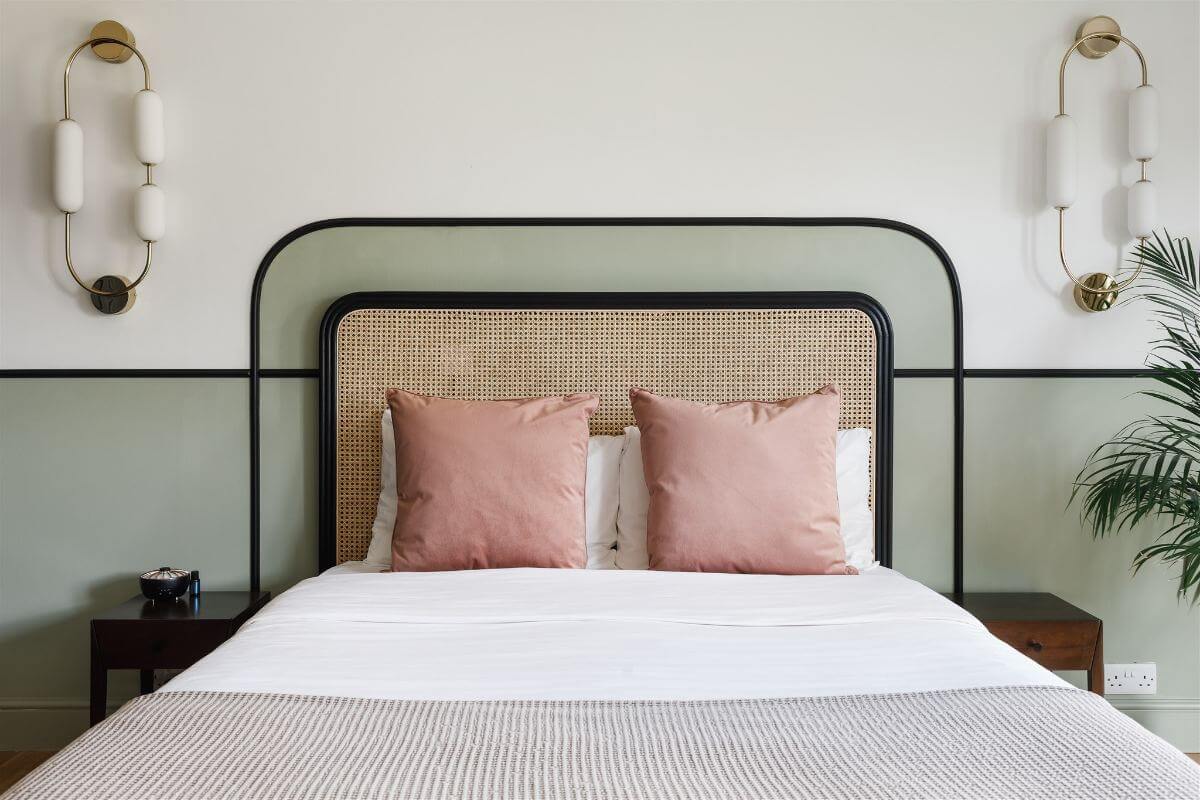 The bedroom is a place that should above all radiate peace and cosiness. The question of the perfect colour therefore arises for many people. We show you tips & tricks on how you can easily transform your bedroom into a place full of security and relaxation with a little colour, helping you to leave the stress of everyday life behind.
Cosy ideas from our community
Our community has already impressively redesigned so many bedrooms. And our group members have documented this in admirable pictures. They provide you with great ideas for wall design in the bedroom with colour. Get inspired!
Soothing colour shades to paint the bedroom
There are indeed colours that lower blood pressure and calm the pulse. These are of course particularly suitable for a bedroom. MissPompadour has beautiful colour shades that really invite you to dream. We recommend soft grey or blue shades, such as the gentle Blue with Grey or the soft Blue with Fog. Or check out the light Grey with Morning Dew or Grey with Linen. If you prefer something more feminine, Rose with Brown or Beige with Peach are sure to delight you. All these shades have a relaxing and calming effect. Take a look at our article on painting walls. There you will find even more inspiration and detailed instructions on how to paint your bedroom walls.
Colours for a peaceful sleep
The bedroom is not just for sleeping. It is a real retreat for singles and couples. That's why it's important that its colours convey a sense of calm and security even before you fall asleep. If you fall asleep calmly, your sleep will also be restful throughout the night and you can start the new day actively.
Feng Shui Colours for the Bedroom
According to Feng Shui teachings, the bedroom is the most important room in the house. According to Feng Shui, it is important that all 5 elements are evenly represented in the room.
Since in Feng Shui red is the colour of sexual energy, red or pink tones should also be present in the bedroom. We recommend not necessarily using these strong tones as wall paint, but working with accessories in these colours. However, soft peach tones such as MissPompadour Rose with Peach Blossom are certainly suitable as wall paint. By the way, all shades of blue that are associated with the element of water stand for turning towards the partner and should support the contact between the partners.
You should not use these colours
Not only from a Feng Shui point of view should you not use hard white. All garish, overly intense colour shades, no matter which colour family they come from, are also not suitable for a bedroom. However, dark colour shades such as a rich blue or violet can be very beautiful and give the room a cave-like effect that is also calming. Use the intense colour only on a single wall to avoid making the room look too small. The wall behind the bed is particularly suitable.
The most beautiful ideas for your bedroom
There are many ideas and suggestions for designing a bedroom. At the end of the day, tastes are different. A room that inspires enthusiasm in one person may not appeal at all to another. Nevertheless, there are general rules for the harmony of shapes and colours.
Painting a bedroom with a sloping roof
A bedroom with a sloping roof can be very homely. A sloping roof often has a cosy and protective effect. We have a few ideas for you on how to paint a bedroom with a sloping roof. Since a room with a sloping roof is usually not very bright, choose a friendly, light wall paint. If the bed is directly under the slope, it's better not to paint it a darker colour than the rest of the walls. The incidence of light makes the sloping part of the wall look darker by nature.
Colouring a small bedroom
Always choose a light colour for a small room. Design as much of the room as possible in the same colour: walls, furniture, curtains and bed linen. This makes a small room seem more spacious.
Painting Patterns in the Bedroom
Apply patterns to your walls with the help of the great MissPompadour creative stencils. Create a border or print an entire wall. There are no limits to your creativity. Nevertheless, make sure that the overall impression is calm. After all, you want to sleep well in this room.
Ideas for a dark bedroom
There are a few rules for not-so-well-lit rooms. First of all, it is important to create a homely atmosphere with the help of lamps. Most of the time, a bedroom is used at night and daylight is not so important. Nevertheless, choose wall paints that are not too dark and bring a little freshness into the room.
Video: Melina paints her house! Part 1: DIY bedroom painted with MissPompadour colours!
FAQ: Frequently asked questions about bedroom design
There are questions that come up again and again in connection with a bedroom design. We would like to answer a few of them here. If you have any further questions, simply contact our friendly and competent customer service. They are available almost around the clock via WhatsApp, telephone and e-mail.
Can I sleep in a freshly painted bedroom?
Whether or not you can sleep in a freshly painted room depends entirely on the paint you use. If you use The Valuable Wall Paint by MissPompadour, you can sleep in your room again right away. The Valuable Wall Paint is bio-based and does not emit any toxic substances when it dries. You'll notice that there are no odours as soon as you paint. The same goes for our LittlePomp chalk paints.
Which wall should I paint in the bedroom?
Basically, all walls in the bedroom are painted. Of course, you can set offone wall in the room with a more intense colour. The wall behind the bed is usually a good choice. If a bed stands as a single piece of furniture in a corner of the room, you can also emphasise this part of the room with colour. In this way, the bed is virtually enveloped in a colour and this has a very cosy effect. Often, part of the bedroom has to serve as a home office. In this case, we also recommend that the colour of the work area is different from that of the rest of the walls. This visually sets this area apart from the rest area. This is important for a restful sleep.
Can I also paint the bedroom wardrobe?
Most of the time, the bedroom wardrobe fills an entire wall. Often it even reaches up to the ceiling. If the "north wall of the egg" in your bedroom is too much for you, simply paint it. Since all wall paints from MissPompadour are also available in varnish colours, you can paint your wardrobein the same colour as the walls. This way, even a large piece of furniture no longer looks bulky. If your wardrobe is made of natural wood, we recommend pre-painting with the To Block primer from MissPompadour. This prepares the wood surface perfectly for the paint. If your wardrobe has a plastic veneer, use MissPompadour To Bond to create the ideal base for the varnish.
Tips for Painting Walls in the Bedroom
Don't forget how many hours you spend in your retreat every day.
Take your time and choose a colour that makes you feel comfortable. If the bedroom is occupied by 2 people, the colour shade must be suitable for both. Do some soul-searching: Are you more of a cave person or do you like a fresh atmosphere?
Choose the right paint: bio-based, water-based and therefore solvent-free. After all, you don't want to breathe in toxic fumes during the night.