Painting Plastic Garden Furniture
8 min reading time
Is your plastic garden furniture past its prime and looking like wilted flowers? With varnishesn and outdoor paints that adhere well, you can conjure up a new look in no time. Painting plastic furniture is easy!
In this "How to" we focus on plastic garden furniture. For tips on how to paint wooden or metal garden furniture, see the tutorials Painting metal garden furniture and Painting and varnishing wooden garden furniture.
White plastic garden chairs - they are practical - but often they look cheap. At the latest when scratches and weathering have left their mark, they look shabby. So do you throw them in the bulky waste bin and produce even more plastic waste?
No, your plastic furniture deserves a second life. Whether you want to paint your table, deck chair or plastic garden bench, in just a few hours everything will look like new - and maybe even really classy.
Ideas for Painting Plastic Garden Furniture from the MissPompadour Painting Community
White, dark green or anthracite are the classic colours of plastic furniture for the garden. Somehow they almost always fit, but they often look... yes, exactly: boring!
You can paint plastic furniture just as you can paint wooden furniture - if you want, in many different colours. As Pippi Longstocking said: "I make the world widdewidde as I like it.... !"
You can find great colour shades in our collections with which you can paint plastic garden furniture. How about bright Green with Turqoise from MissPompadour? But subtle grey tones like Greywith Concrete also make good colours for plastic garden furniture. Are you brave? Then combine these shades with MissPompadour Yellow with Saffron or Yellow with Lemon in the great adhesive Eggshell Varnish quality. Let the colour selection in the MissPompadour shop inspire you.
For more clever ideas on how to paint your plastic table or garden bench, visit the MissPompadour painting community.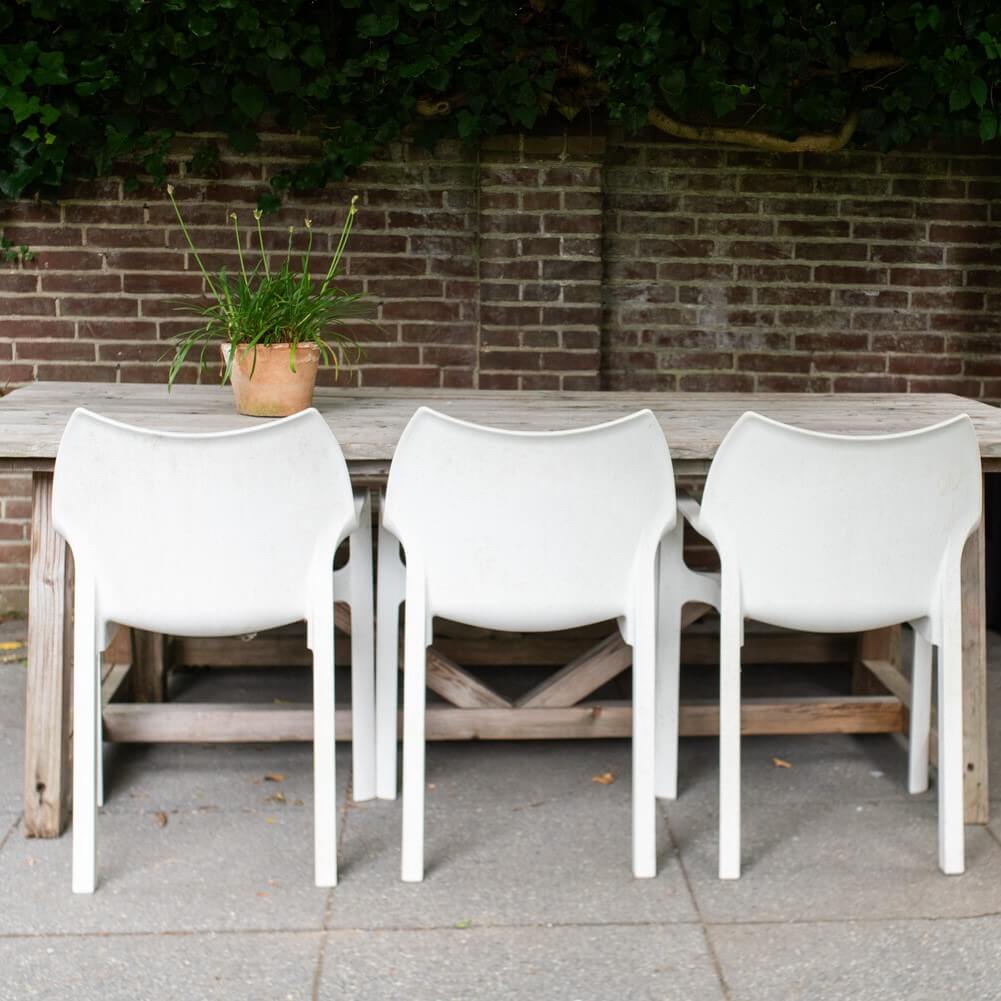 Before
- The chairs are just a bit too drab and could use some colour.
MissPompadour Orange with Rust - Eggshell Varnish 1L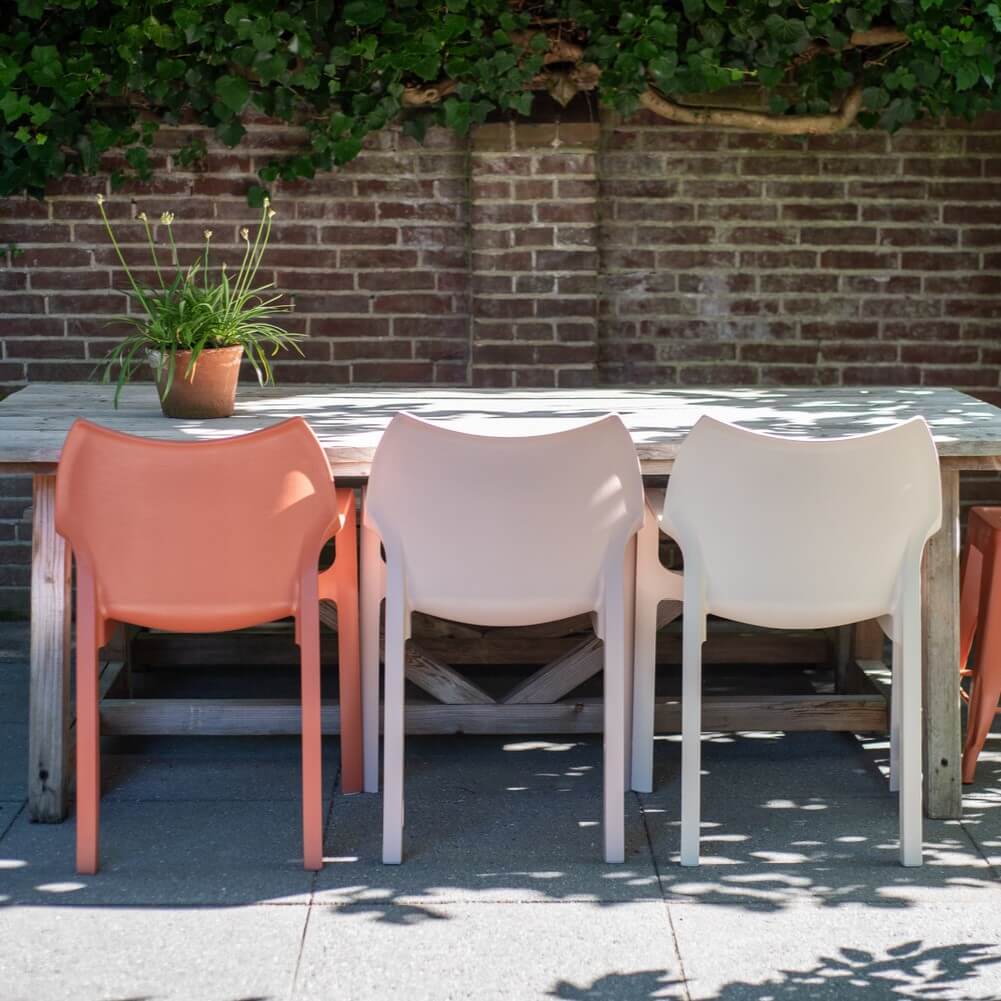 After
- The paint not only looks good, but also brings freshness on hot summer days.
MissPompadour Grey with Black - Eggshell Varnish 1L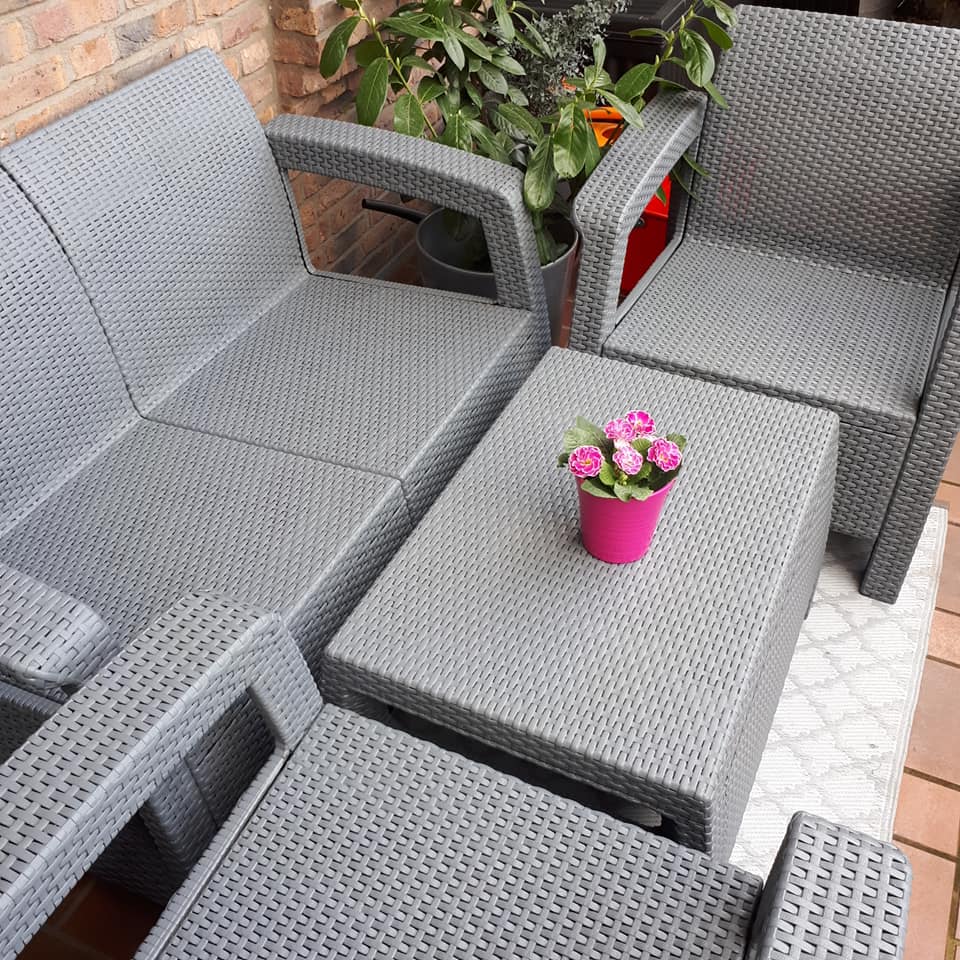 This seating group looks fresh and modern thanks to the new paint.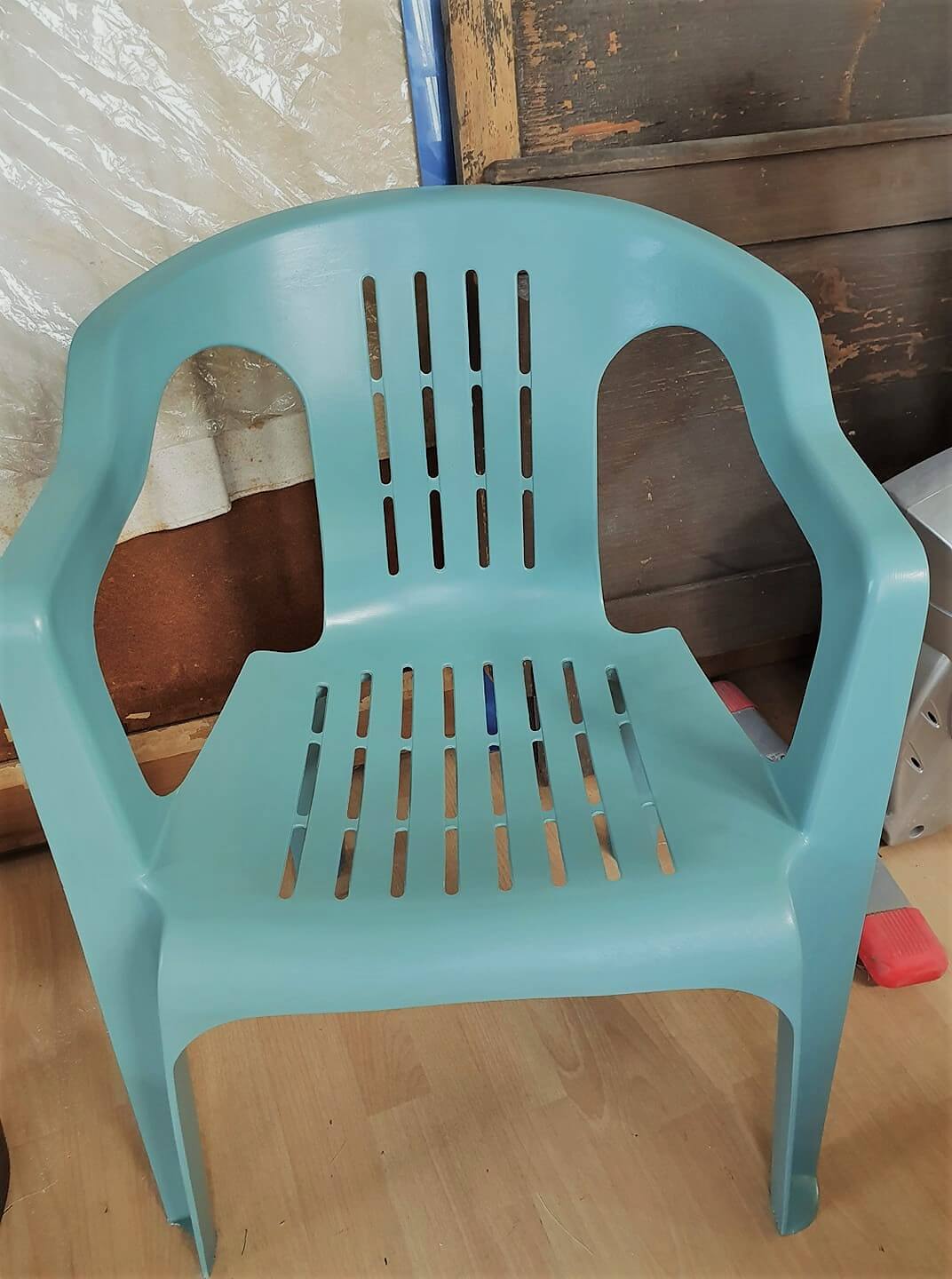 The new colour really suits the old chair.
Preparation: Choose the right colour for your plastic garden furniture
Many garden owners ask themselves: Can I paint my plastic garden furniture?
Clear answer: Yes! Painting plastic garden furniture is as easy as painting the furniture itself. To make the surface as hard-wearing as possible, use our environmentally friendly
outdoor paints
.
Which plastic garden furniture do you want to paint?
Whether table, bench or chair - you can paint all plastic furniture with our water-based paints for outdoor use.
The varnishes mentioned work on most common plastics. You can even give garden furniture made of rattan-like wickerwork a new look.
Professional tip: With the paints mentioned, you can also paint elements made of wood or metal in your garden furniture to match the plastic furniture.
What effect do you want to achieve?
Matt colour shades are less suitable for painting plastic garden furniture.

Matt effect: Matt paints are inherently rougher and therefore less robust and weather-resistant. They also adhere less well than silk matt, glossy colours or special outdoor varnishes. If you still want to work with matt effects, then preferably only on furniture that is less exposed to wear and tear and is protected from the weather.
Silk matt/glossy effect: Silk matt colours and outdoor varnishes are the most hard-wearing and have the highest protective effect. MissPompadour Eggshell Varnish varnishes are ideal. You will find them in over 90 colour shades. You will enjoy them for a long time!
Painting plastic garden furniture the right way: Instructions from MissPompadour
We explain how to freshen up your plastic furniture for the garden season in our step-by-step guide.
Step 1: Cleaning
Clean your plastic furniture thoroughly before varnishing and remove greasy residues completely. MissPompadour To Clean does the job perfectly. Afterwards, you only need to wipe with water and let the surface dry well.
Step 2: Sanding - yes or no
Before you paint a plastic garden bench or table, you do not have to sand the garden furniture. You should only do this if old paint is flaking off. Very smooth plastic can be lightly roughened with fine sandpaper or a Sanding Pad. This makes the varnish adhere even better.
Step 3: Primer
For optimal adhesion, apply a good covering coat of MissPompadour To Bond & Blocken primer with a very clean brush. Allow the primer to dry for at least 3 hours.
Step 4: Varnish
Now apply the varnish layers with another brush - as many as you like until you are happy with the result. Two coats are usually enough. After about two hours drying time, you can start the next coat with a varnish roller or brush. If you want to paint large areas such as a plastic garden table or hard-to-reach places, you can use a paint spray gun.
Important: You must add 10 % water to the paint.
Professional tip: To Paint, find a place that is as shady as possible and protected from dust and wind.
Step 5: Curing
Have you finished painting your plastic garden chairs? Then wait a little longer before sitting on them. It takes 14 days for the varnish to cure and reach its full robustness. Keep your furniture dry during the drying time.
FAQ: Frequently Asked Questions about Painting Plastic Garden Furniture
You want to freshen up your weathered plastic garden furniture and still have questions? We have compiled the most frequently asked questions for you here.
Can I paint plastic garden furniture without sanding it?
Yes, you can do that. Only very smooth plastic surfaces should be roughened with fine sandpaper or a sanding pad.
Can I also use matt varnishes to paint plastic garden furniture?
Matt varnishes are less resistant and adhere less well. Silk matt varnishes are therefore ideal.
Can I also paint plastic garden furniture?
Yes, that is quite simple. Often you can even save on sanding. To Paint you proceed in a similar way as when painting metal garden furniture. You can find out exactly how it works in the instructions for painting plastic garden furniture.
Can I paint plastic flower pots?
You can also easily embellish plastic flower pots with paint to match your plastic garden furniture. Our outdoor varnishes are ideal for this.
Can I leave my painted plastic garden furniture outside?
Yes, you can. Pay attention to the weather, because the varnishes do not tolerate standing moisture. So place them tilted or under a canopy.
You need these accessories if you want to paint plastic garden furniture
Here you'll find some great tools to help you paint plastic garden chairs and the like.
Finished reading yet?
Here you will find more exciting topics
Weatherproof colours for your garden furniture
A selection of our most popular colour shades
For your perfect project
Our accessories for painting garden furniture