Painting Wooden Garden Furniture
7 min reading time
Let's go to the paint concert in your own garden! With fresh and environmentally friendly paints, your garden furniture will be an eye-catcher. Paint your garden furniture, give it a stylish look, weatherproof your wooden garden bench - it's all so easy.
The temperatures are rising. The sun beckons us outside. Being able to enjoy the warm days in the garden is balm for the soul. With the right colours and the right know-how, painting
garden furniture
is pure pleasure. Thanks to a few brushstrokes, you can turn the green lung in front of your house into a cosy oasis of well-being. On top of that, you're also doing something for the environment.
Because renovating is always
more resource-efficient than
buying
new furniture
In this "How to" we focus on wooden garden furniture. For additional tips on how to paint plastic or metal garden furniture, see the tutorials Painting
Metal
Garden Furniture and Painting
Plastic Garden Furniture
.
Ideas for Painting Garden Furniture from the MissPompadour Painting Community
Clearly, white and grey are the classic colours for painting garden furniture. You'll find great colour shades in our collections. But why not try something more? You can bring more colour into your garden not only with flowers. Here you'll find original ideas for painting your garden bench, varnishing your garden table or painting teak.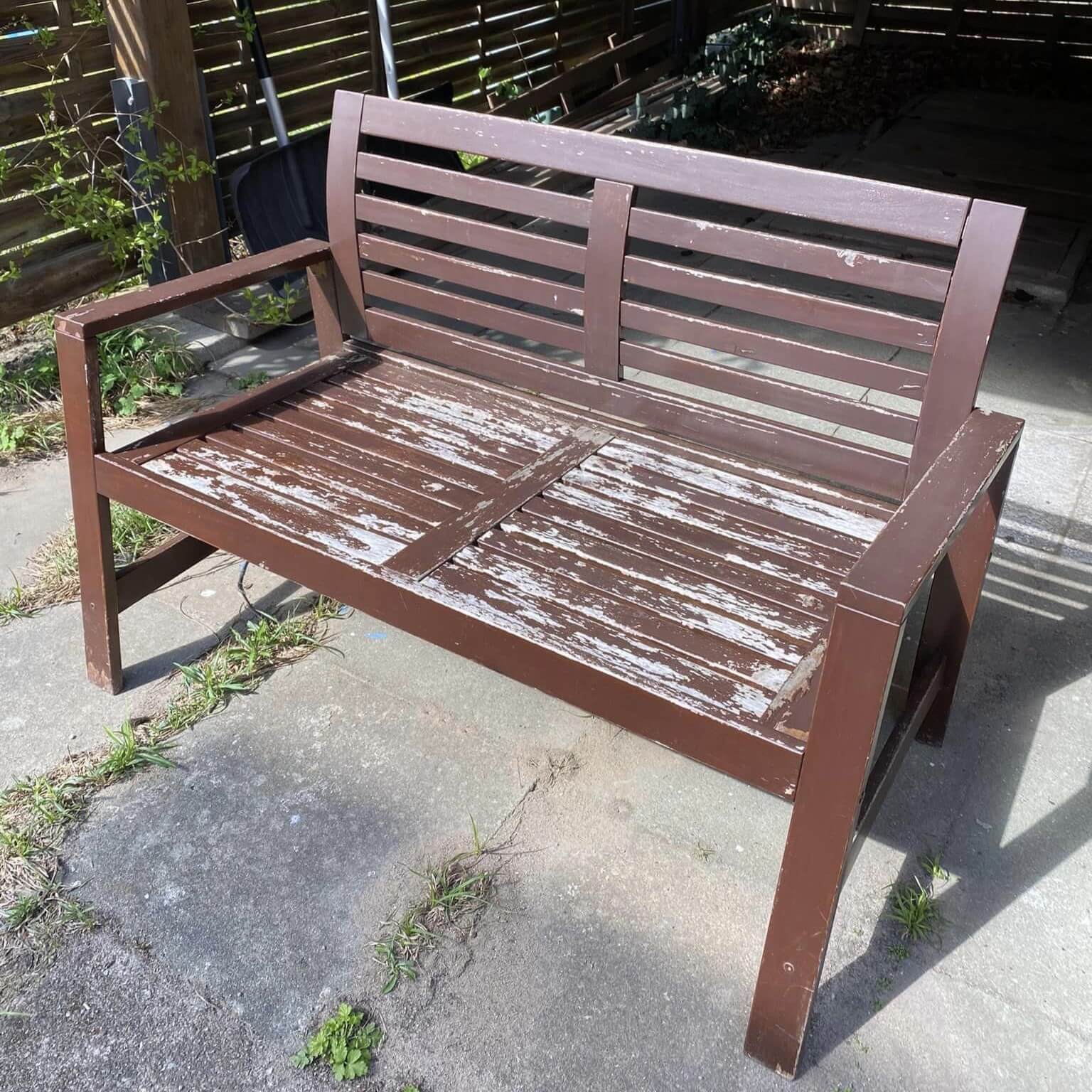 Before
- The old garden bench had earned a new coat of paint.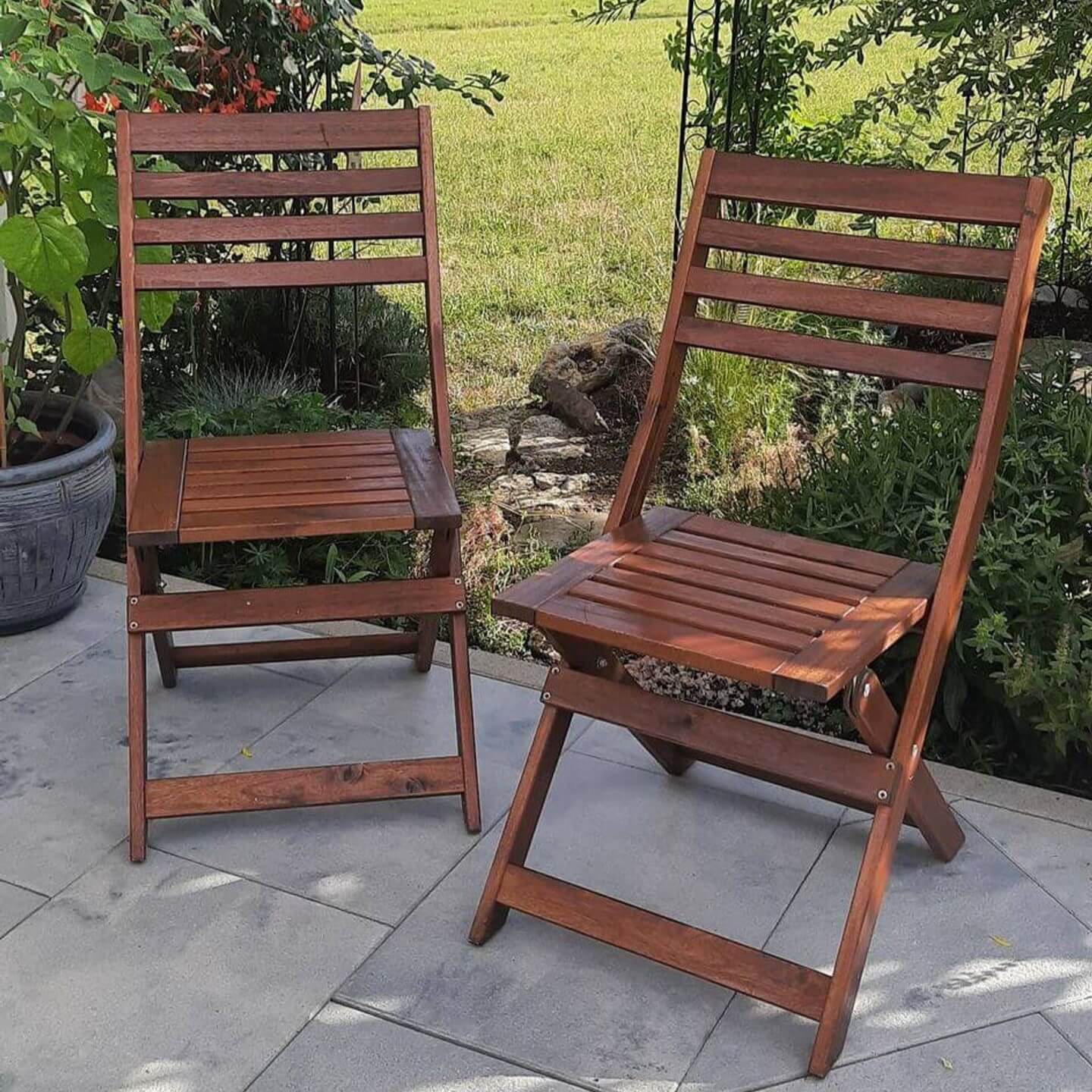 Before
- The brown wooden chairs could become a real eye-catcher with new paint.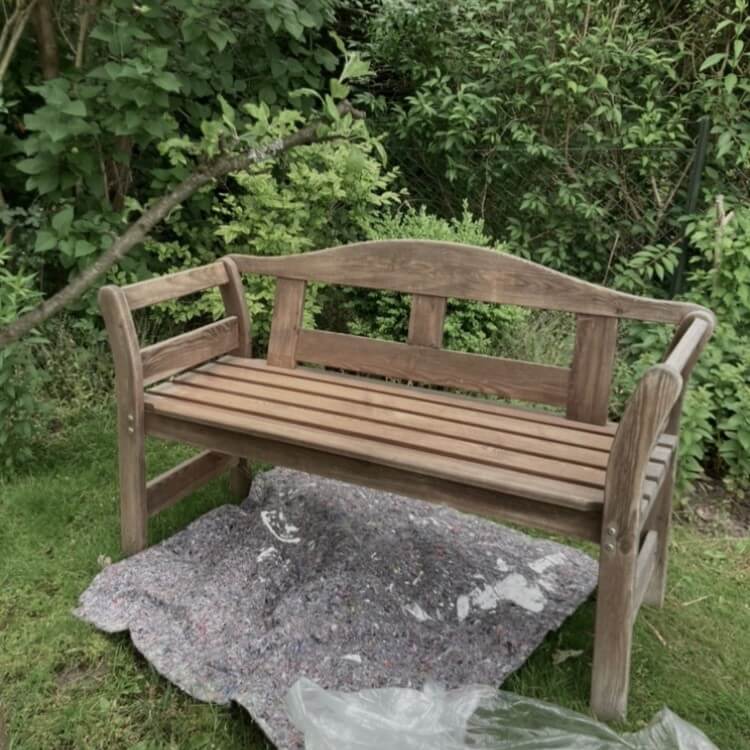 Before
- Even though it's anything but beautiful, it would be far too bad to throw this bench away.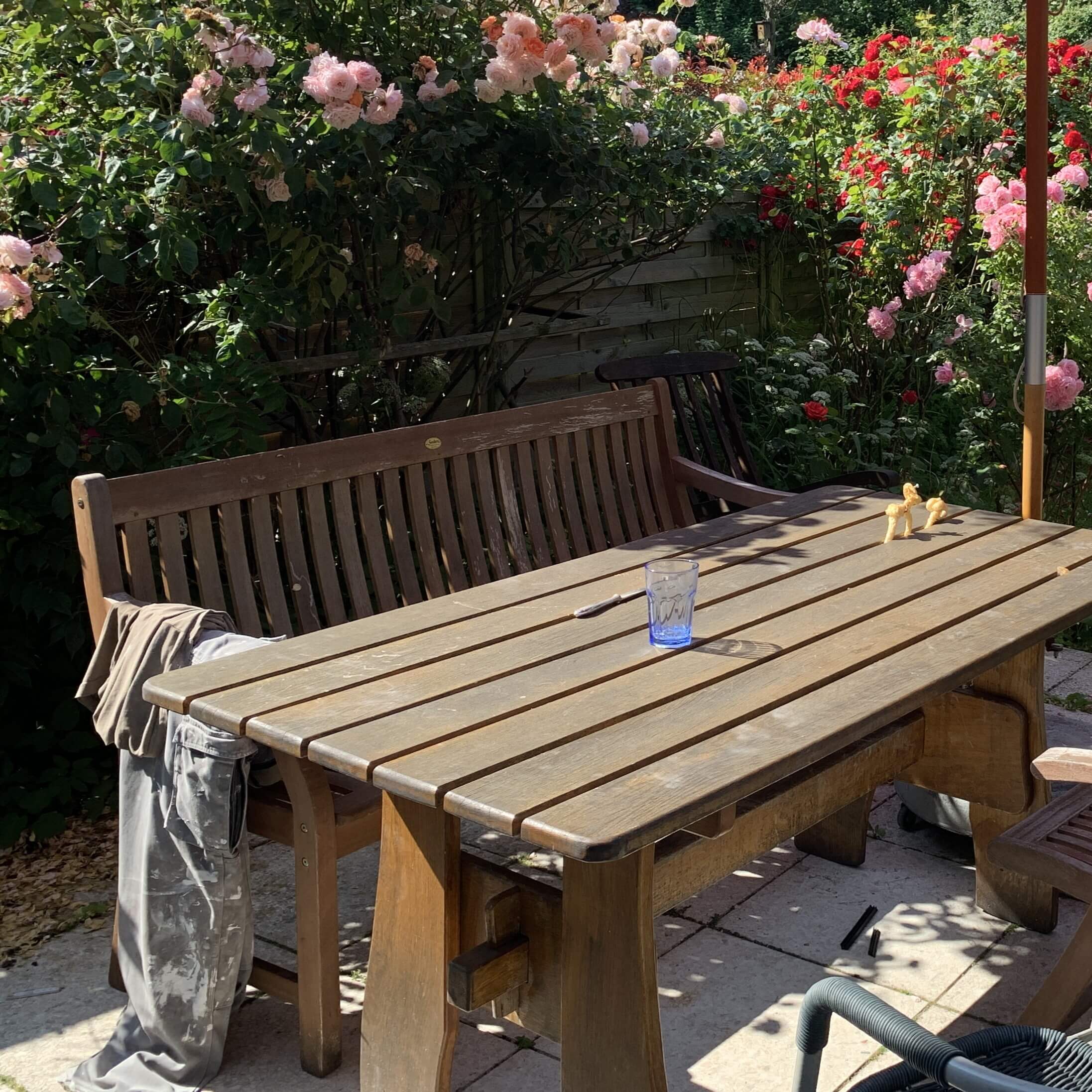 Before
- The wood was discoloured and worn in many areas. The furniture was no longer in keeping with a tidy style.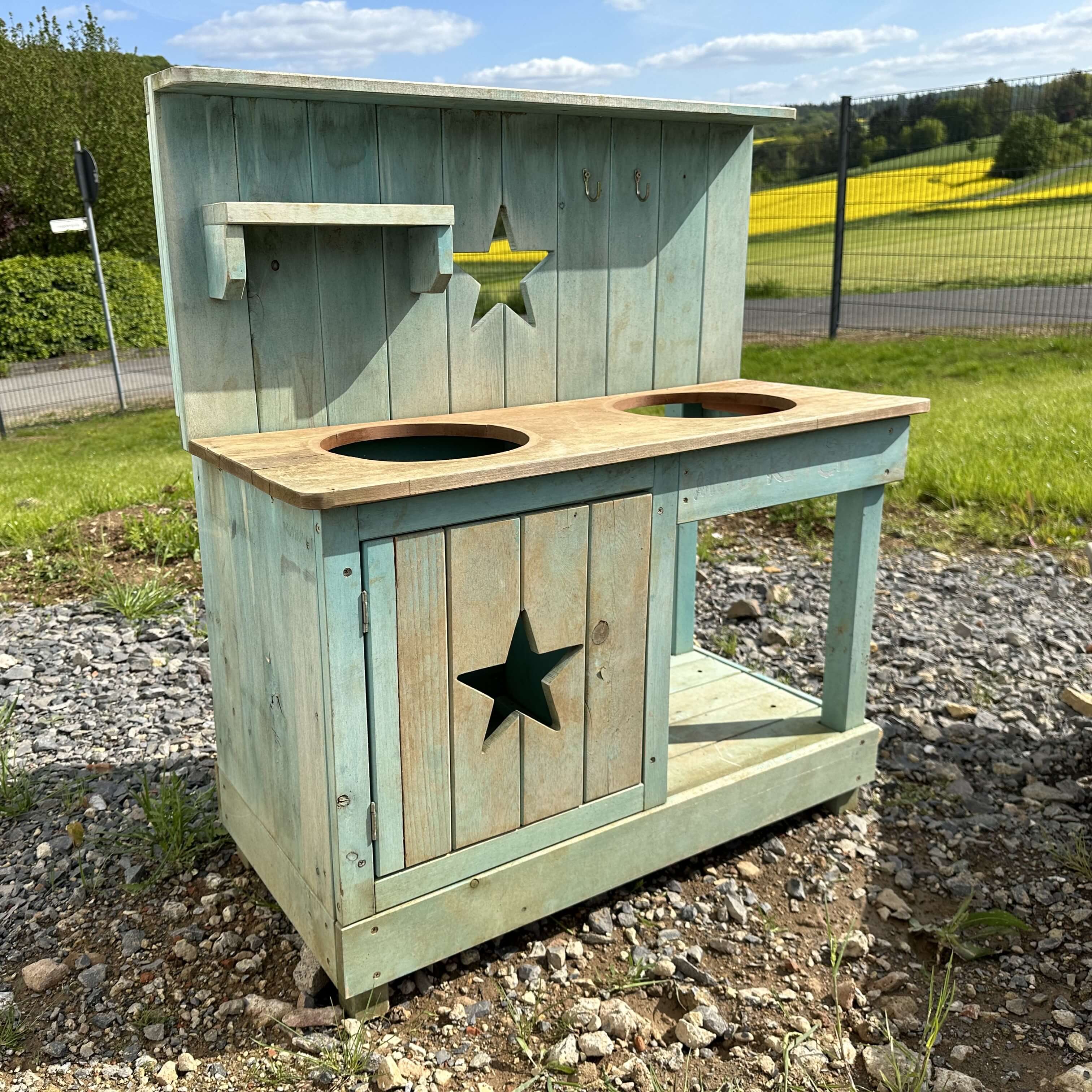 Before
- To ensure that children can enjoy this mud kitchen for as long as possible, it should be protected from wind and weather.
What do you think of a light, summery blue like MissPompadour Blue with Grey? Or would you prefer something a little stronger? Then take a look at MissPompadour Blue with Night. If you want garden furniture to hide in your greenery, go for MissPompadour Green with Forest. This sophisticated shade of green comes straight from nature. It looks classic and natural at the same time. There are no limits to your creativity when painting garden chairs or garden table. Let yourself be inspired by our outdoor colours - one colour is more beautiful than the other. And next year you might already have a new colour idea!
Preparation: How to choose the right colour for your garden furniture
You are probably asking yourself the question: Which paint or varnish should I use to paint my wooden garden furniture? And will it last on the furniture? It's all very simple!
Colours and varnishes: You can paint your wooden furniture with a variety of colours from our collections. The water- and eco-based MissPompadour Eggshell Varnish is also perfect for outdoors. Whether wood, metal or plastic, it's no problem. In order for the paint to last as long as possible, the garden furniture painted with it should be placed protected from rain.
Which garden furniture do you want to paint?
Paintwooden benches, a teak table or rattan furniture - whatever you want. There are hardly any limits. You can also give wooden privacy fences a colour treatment to match the garden furniture.
What material do you want to paint?
You can paint all types of wood with the varnishes mentioned. You can even give rattan furniture a new look.
Caution: Even the best varnish does not turn indoor furniture into weatherproof garden furniture. The former lacks structural wood protection. Many pieces of indoor furniture are made of wood laminates that swell when exposed to moisture.
Professional tip: You can also paint flower pots or garden lamps to match the garden furniture - let your creativity run wild.
Which varnishes are suitable?
Painting your garden furniture colourfully is not only pleasing to the eye. You also protect the wood and metal surfaces. Your furniture will thank you with a long life.
Some types of wood, such as oak, tropical woods and conifers, release natural substances that react with the paint. The result is unattractive, yellowish discolouration. Here, a primer is important to prevent this bleeding.
Prime
here with ourTo
Bond & Block - MissPompadour primer
. This is especially important if you plan to paint in a light colour shade. This step is not necessary with dark colours because the bleeding is not visible with dark shades.
If you paint a dark substrate with a very light colour or if the substrate is very absorbent, several coats may be necessary. As a rule, however, 2 coats of varnish will give a good result
The first choice for painting your garden furniture are very
stable and weatherproof varnishes
, such as our discreetly shiny, silk-matt
MissPompadour Eggshell Varnish
. It is available in many great colours. So you can design your furniture just the way you like it.
Painting garden furniture the right way: Instructions from MissPompadour
You've got your project all planned out, the sun is shining but you're still lacking concrete steps to dare to take? With our guide, there's nothing stopping you from sprucing up your garden furniture.
Before painting
Before the new paint is applied, the old paint must come off if it is already flaking. If it still adheres well, you can simply paint over it. Make sure you sand off any flaking paint first. If there are metal parts on the piece of furniture, you should always sand rusty areas carefully and apply a primer
Step 1: Remove varnish
Can garden furniture be varnished without sanding? Yes! However, it must be ensured that the old varnish still adheres very well to your furniture. If it starts to flake off, you should remove it. Do smaller sanding jobs with medium-fine sandpaper or our Sanding Pad
To Sand
. For stubborn varnishes or large areas, use an electric sander.
Read more about this in our "How
to
remove old paint
"
.
Step 2: Filler
To fill coarser defects, simply use
To Fill.
After the filler has dried, sand the surface smooth.
Step 3: Cleaning
Clean your garden furniture thoroughly, remove oil and grease - and you're ready for the first coat of paint. Even if cleaning is not your favourite activity - only after cleaning will you achieve a beautiful and stable painting result. To
Clean
creates grease-free, absolutely clean surfaces and is the basis for an even and long-lasting paint finish.
Here's what you should pay attention to when painting
Step 4: Masking off
Now the real painting concert begins. Either remove fittings and parts such as handles or knobs beforehand or mask them in this step before painting.
Step 5: Priming
Priming is particularly useful on very smooth and dark surfaces.
To Bond & Block
creates a base on which paint and varnish layers adhere securely. If discolouration occurs after the first coat, apply several coats and allow to dry thoroughly for 8 hours or overnight. Make sure to use clean tools.
Step 6: Painting
Now apply your desired colour. The first coat does not have to be perfectly opaque. Let the paint dry and paint over it again 4 hours later. This way the colour will be nice and even. The good piece of furniture will shine in new splendour.
Step 7: Drying
Oh yes - even if the garden bench looks so inviting after painting: Don't sit on it just yet. After 1 to 2 days you can sit on it carefully with a cushion. However, the varnish is only fully loadable and scratch-resistant after the full curing time of 14 days. Protect your furniture from moisture during the drying time. Always avoid standing water, as this will dissolve the varnish.
How do I treat natural wood and rattan?
Rattan furniture
can be painted in the same way as wooden
garden furniture
. Make sure that you use little paint. Otherwise, you will cover the rattan weave structure too much with the varnish. For a second coat of paint, a wax brush is a good idea. This effectively closes gaps in the colour. Alternatively, you can use a
paint sprayer
Professional tip:
You can achieve a beautiful, subtle effect if the natural rattan shade still shimmers through slightly.
How do I paint wooden garden furniture in Shabby Chic or Vintage Look?
Vintage look furniture looks really good in the home garden. Creating the Shabby Chic style yourself is not magic.
Watch our video to learn how to paint and sand in detail to achieve a protective used-look wax finish.
FAQ: Frequently Asked Questions about Painting Wooden Garden Furniture
Can I varnish wooden garden furniture without sanding it?
If the surface is in good condition and the old paint still adheres firmly to the furniture, you can start painting immediately after cleaning

Treat garden furniture with oil
Use special wood oils to spice up natural wood furniture in colour shade and make it more resistant to wind and weather.
Oil penetrates deep into the wood, cares for it and brings out the natural wood grain and colour shade. Lightly sand the wood before applying.
Painting garden furniture: oil or stain?
Both oil and stain are suitable for painting your wooden garden furniture to make it more weather resistant and durable. Both penetrate deep into the wood and reveal the wood grain.
In a direct comparison between wood oil and glaze, however, the oil performs better because it has an intensive and caring effect. It also has a silky sheen on the surface, which makes your garden furniture look really beautiful.

How often should I glaze my garden furniture?
Whether you glaze or oil your garden furniture, you should always repaint it when it is no longer beautiful
The speed at which weather-related damage appears depends not least on where you have placed your furniture. Standing water on surfaces always puts a lot of stress on it. That's why you should put your garden furniture out in the dry in bad weather. How often you need to glaze, oil or paint your garden furniture depends on several factors and can vary between 3 and 6 years.
Any questions about painting garden furniture?
So, now you know how to turn your old wooden furniture into real gems again. Your painting concert will impress your friends at the next garden party.
A good opportunity to share your tips - for more colour in our gardens and in our lives.
These are the accessories you need for varnishing garden furniture
With the right tools and brushes, playing with colours is twice as much fun - and they turn out better. These accessories will help you give your outdoor furniture a new look
Finished reading yet?
Here you will find more exciting topics
Bring colour into your garden
A selection of our colours for painting garden furniture
How to make your project perfect
Our accessories for painting garden furniture