Painting Metal Garden Furniture
10 min reading time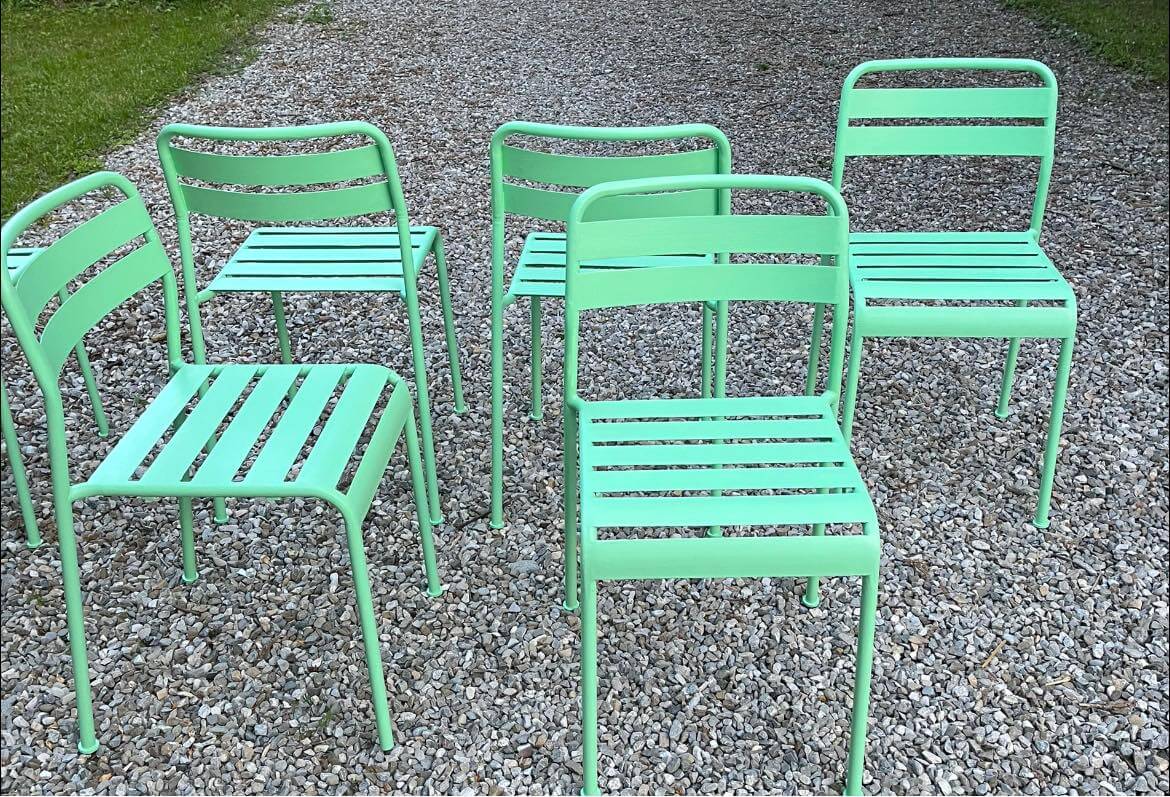 Steel or aluminium garden furniture basically lasts a lifetime - but only with proper care. Otherwise rust and corrosion will eat away at it. This is how you can weatherproof metal garden benches and the like and give them a new shine with robust varnishes.
You snooze, you rust. The message is clear: if you don't take enough care of your metal garden furniture, rust will eventually gnaw away at the good stuff. And then its splendour is quickly gone.
But don't worry: with our tips for varnishing metal garden furniture, you can turn even battered pieces of furniture into graceful pieces again.
In this "How to" we focus on metal garden furniture. For colour tips and instructions on how to paint wooden or plastic garden furniture, see the tutorials Painting
Plastic
Garden Furniture and Painting
Wooden Garden Furniture
.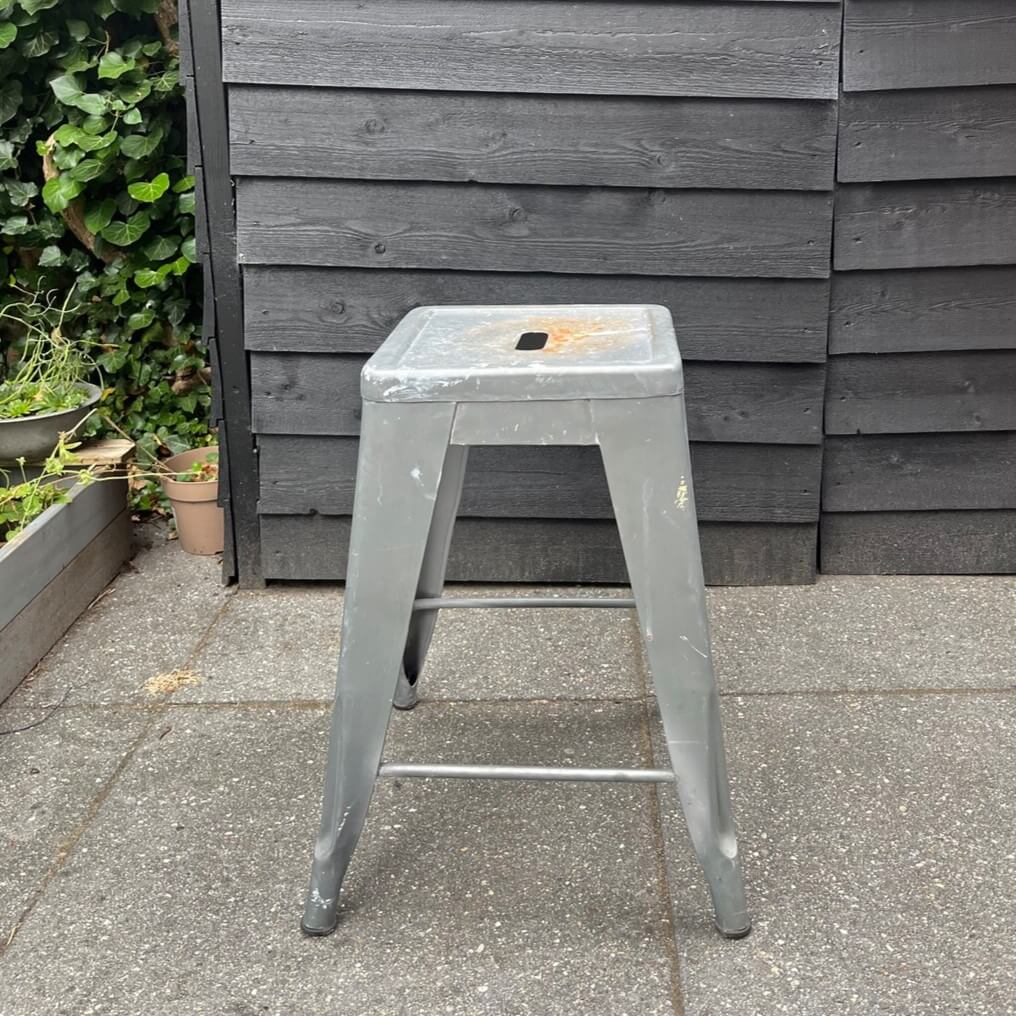 Vorher
- Der Hocker hat der Witterung nicht standgehalten und braucht eine Überarbeitung.
Sometimes painted white, sometimes anthracite - metal garden furniture is often very plain. But why not go a little more colourful or even really bold?
Just look around at the
outdoor colours
. We recommend the
Eggshell Varnishes
from MissPompadour. The perfect selection of great colour shades. Play the colour game when you paint your metal garden furniture.
Use the same varnishes as for wood or plastic to repaint your metal garden furniture.
Isn't that convenient when you want to give furniture made of different materials a new look? Our water-based and environmentally friendly paints are also ideal for metal surfaces. You don't need an additional protective lacquer. Our Eggshell Varnishes from MissPompadour are the first choice.
Which metal do you want to paint?
Use the above colours to paint almost all metal furniture, as they are ideal for this purpose. You can paint metal garden chairs, repaint metal garden tables or weatherproof a metal garden bench. To ensure that the varnish adheres perfectly, it is worth applying a primer.
Only anodised, unpainted aluminium cannot be painted over. No primer will help there either

Professional tip: You can also use leftover paint to paint lanterns or garden lamps in the same look as the metal garden furniture.
What gloss level do you want on your furniture?
Matte effect: Matte colour shades are less suitable for painting metal garden furniture. Matte varnishes are naturally rougher and have a lower varnish content. This makes them less robust and weather-resistant. They adhere less well than silk matt, glossy paints or special outdoor varnishes. If you still want to go for matt effects, then only use them on furniture that is not exposed to much wear and tear and is well protected from rain and dust.
Silk matt/glossy effect: The glossy and silk matt colours and outdoor varnishes are the most hard-wearing. As already mentioned, our MissPompadour Eggshell Varnishes are excellent.
Painting metal garden furniture the right way: Instructions from MissPompadour
Your metal garden furniture is still intact but no longer looks nice? It's rusty and you don't know how to paint it now? Just follow our step-by-step instructions and start your painting project.
Before painting
Before you apply new paint, the old paint must come off if it is already peeling. Be sure to remove rusty areas completely. If the paint adheres well, you can simply paint over it.
Step 1: Sanding
Painting metal garden furniture without sanding - is that possible?

Yes, with one restriction: the furniture must not have any rust or corroded spots. This can only be removed by sanding. Sanding is therefore the most important step before varnishing metal furniture

Loose rust should be removed with particular care. Otherwise the rust will continue to blossom under the varnish and soon cause it to flake off again. For sanding, use medium-fine sandpaper or, on smooth surfaces, our Sanding Pad

To Sand

. On heavily textured metal surfaces with lots of small bumps and dents, a wire brush will work well. Of course, you can also use an electric sander with the appropriate attachments

Professional tip: Put on a protective mask and work gloves when sanding. The metal dust is not good for your health. In the case of verdigris on copper, it is even downright toxic.



Step 2: Cleaning
To be ready for the first coat of paint, you only have to clean the garden furniture thoroughly from oil and grease.
To Clean
by MissPompadour also creates a grease-free, absolutely clean surface on metal and is a great basis for an even and long-lasting coat of paint.
This is what you should pay attention to when varnishing the metal furniture
Step 3: Masking off
Tape off the parts that are not to be painted or that are to be painted in a different colour.
Step 4: Priming
A metal primer provides solid corrosion protection before painting metal garden furniture.
Always apply a thin layer of primer. You don't need to prime galvanised metal, but if in doubt, it won't hurt. We recommend our
To
Block from MissPompadour for this.
Step 5: Painting
Now apply the colour of your choice. Make sure to paint rather thinly. Let the paint dry well and then paint over it again four hours later. This way the paint will be nice and even
If you paint metal garden furniture outside, the temperature should not drop below 10°C, even at night. The varnish hardens best at temperatures between 10°C and 25°C.



Step 6: Drying
You'll probably want to sit on it as soon as you've painted your metal garden bench. But it's better to wait a week to ten days before putting the furniture to full use. Only then will the varnishes and paints have dried and hardened optimally

Professional tip: You have painted your metal table?
In future, make sure that no standing water forms on the garden furniture. So put the table and chairs down on their side after use. Otherwise the paint may peel off over time.



Spray on metallic paint
Metal chairs and tables often stand out because they are particularly ornate. The playful shapes are beautiful, but difficult to paint with a brush because you can hardly get into the tight corners.
It's much quicker, easier and, above all, more even when you spray the varnish onto the previously cleaned garden furniture with our handy paint spray
system
.
In the next few steps, we will show you exactly how this works and what you need to pay attention to
Cover the floor under your garden furniture with sufficient foil before you start, for example with our
plastic drop cloth
.
Step 1: Prepare Varnish
All our water-based varnishes are sprayable. First stir the paint well in the can. The varnish is ready to spray when it drips evenly from the stirring rod without leaving any residue. Now fill the paint container with the desired amount of varnish. Dilute the varnish with a dash of water to make it easier to spray. Then screw the paint container onto the spray head.



Step 2: Adjust the paint spray system
As your garden furniture is on the ground, you will mainly spray downwards. Therefore, point the spray wand forwards. Now adjust the spray jet.
There are three ways to do this
For spraying from left to right, set it vertically
When spraying from top to bottom, use the horizontal setting
For precise spraying, select the pinpoint detail spray.
Now is the time to adjust accordingly: Always wear gloves, goggles and a respirator when spraying paint
Step 3: Test spray
To get a feeling for the spray pattern, you should carry out a test spray. Simply take a cardboard box and try it out. Now you can also adjust the paint quantity until you get the desired colour jet

Professional tip: Spray at an even pace and keep about 15 cm away from the surfaces. When you have reached the end of the spray object, release the trigger and only then change direction. The best result is achieved by spraying in overlapping lanes of about 30%.



Step 4: Varnish the metal furniture
Now the tension is rising: you're ready to go. Turn the chair upside down so that you can start with the inside of the legs and the underside of the seat. Then turn the chair upside down and spray first the legs, then the seat and finally the front and back of the backrest.
Do the same with the table: First turn it over, spray the legs with the precise spray setting and then the underside of the table surface.
To do this, switch to the horizontal or vertical spray setting. Now turn the table over and repeat the same steps, starting with the table legs.

Afterwards, the table and chairs must dry thoroughly
To provide your garden furniture with good protection against wind and weather for as long as possible, you can apply another coat after about 6 hours.
FAQ: Frequently Asked Questions about Painting Metal Garden Furniture
Do I need to sand metal garden furniture before painting?
If there are even small spots of rust or corrosion on the metal, there is no way around sanding. Only if the metal structure is still completely intact can you do without sanding.
Can I paint all the metal garden furniture?
Our outdoor-ready, water-based paints adhere very well to most metal surfaces. Exceptions are anodised, not colour-treated aluminium or very freshly galvanised iron.
Can I also paint plastic garden furniture?
Yes, that is quite simple. Often you can even save sanding. To Paint you proceed in a similar way as when painting metal garden furniture. You can find out exactly how it works in "How to paint plastic garden furniture".
Can I paint over painted metal?
Whether you glaze or oil your garden furniture, you should always repaint it when it is no longer beautiful
The speed at which weather-related damage appears depends not least on where you have placed your furniture. Standing water on surfaces always puts a lot of stress on it. That's why you should put your garden furniture out in the dry in bad weather. How often you need to glaze, oil or paint your garden furniture depends on several factors and can vary between 3 and 6 years.
Any questions about painting garden furniture?
So, now you know how to turn your old wooden furniture into real gems again. Your painting concert will impress your friends at the next garden party.
A good opportunity to share your tips - for more colour in our gardens and in our lives.
These are the accessories you need for varnishing metal garden furniture
This accessory helps you to give your outdoor furniture a new look:
Finished reading yet?
Here you will find more exciting topics
Your new favourite colour
A selection of popular colours for painting garden furniture How to make your project perfect
Our accessories for painting garden furniture